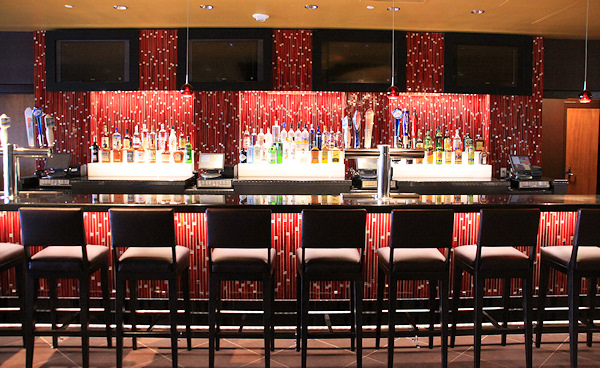 With the Nats just a few days away from starting play at their stadium, it was time for the annual
Nationals Park
media tour for the ink-stained newspaper wretches (plus their cohorts, the blow-dried TV folks and the Cheetos-munching bloggers), to highlight what's new at the ballpark and what fans should know in trying to arrive for the first two games of 2010.
Knowing that there will be a number of news stories tonight listing all the changes, I concentrated more on taking photos,
which you can see in this gallery
. The splashiest change is the complete renovation of the PNC Diamond Club, which has exchanged its former sports bar/take me out to the ballgame motif for a much sleeker feel. (The new bar is pictured above.) They've also tweaked the Red Porch and Red Loft, adding two more rows of tables and chairs on the field side of the Porch while removing the seating on the balcony of the Loft and adding in drink rails.
The Scoreboard Walk now has lounge furniture (so you can pretend you're in South Beach rather than Near Southeast), and the "Party Nights" with music, $5 pre-game beers, games, and other entertainment will now be at all Thursday, Friday, and Saturday night games, with the gates opening 2 1/2 hours before first pitch. (It'll all be running on Opening Day, too.)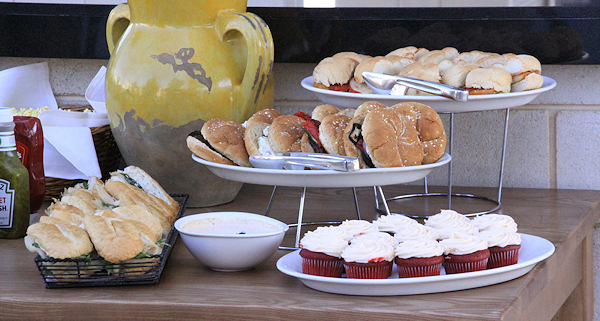 There's also all sorts of new food offerings, starting with the new "Triple Play Grill" next to Hard Times Cafe in the Center Field Plaza, offering shrimp po boy and crab cake sandwiches, and a "Florida Foot Long SeaDog," which is actually a cod sandwich. They've also reworked the "Taste of the Majors" offerings, creating five foot-long hot dogs for the National League East teams. A new outlet called Change Up Chicken, in Section 130, will have a chicken and waffle sandwich, along with other chicken specialties and waffle fries. The Dupont Deli in Section 227 will have a triple-decker grilled cheese sandwich on Texas Toast, along with grilled Italian, and turkey sandwiches. There's also going to be three Flippin' Pizza outlets (sections 115, 214, and 311), and a Healthy Plate Cart in Section 110. And, if I may say so, if you're lucky enough to happen upon the red velvet cupcakes (at the Red Porch), don't pass them up.
As for Opening Day, the team is of course very excited that President Obama will be throwing out the first pitch, but they are reminding fans that a presidential visit plus a sellout crowd will make for long lines to get in, which is why the gates will be opened at 10 am for a 1:05 pm start. (But if you're one of the first 20,000 fans who try to beat the rush, you'll get a replica batting practice hat.) And there was talk of the new parking options for 2010 (no more Nats Express and the new economy lots).
Read my earlier entry today
for more on that. But, if you're a season ticket holder, at least you'll have your own red-carpet line to stand in at the Center Field Gate--for all games
after
Opening Day.
Having *still* never really gotten warm again after the damp cold Opening Day of 2008, I have my fingers crossed that the weather on Saturday and Monday will be about what it was like today (warmer, actually). It almost felt like spring out there!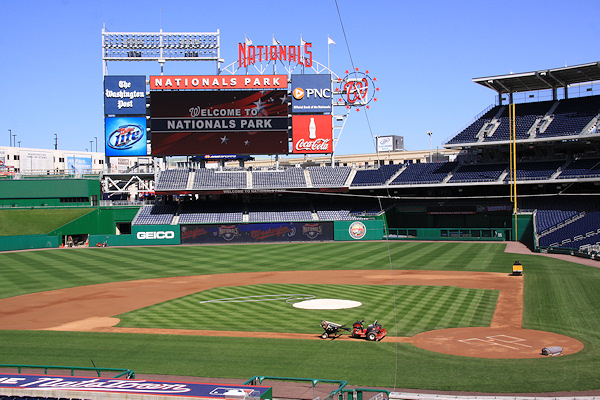 Check back for links to additional media coverage.
UPDATE:
Here's stories from
Fox5
and
WJLA
. (Though points deducted from WJLA for saying that one of the economy parking lots is at 6th and M *SW*. Sigh.)
* The folks at the BID have passed along the news that the Circulator will be running its Union Station/Navy Yard route on Saturday (April 3) for the 4:05 pm Nats/Red Sox exhibition, even though it wasn't originally listed on their
2010 Baseball Extended Service schedule
(it is now).
*
WTOP writes about the two new economy lots
for stadium parking; you might want to check
my Stadium Parking map
for a graphic that's a little clearer, and that also shows non-official cash lots. One item in the piece that I'm checking on, though--it says that piers at the
Yards Park
and will allow private boats to be docked there starting in July. But everything I've seen up to now has said that the piers and marina are to be built
in the park's third phase
, which isn't expected to come online until after 2012. Am waiting for a response from Forest City for clarity.
UPDATE: Forest City confirms that the piers are not coming this summer, contrary to what the article reports; they are planned for later phases.
* WAMU had two short pieces on Near Southeast on Monday: "
Ballpark Hits Old Reputation Out of Field
," and "Population Near Nationals Park Doubles in One Year," which now seems to have disappeared from their web site.
* Be prepared for another slew of stadium-related news stories later today, with the annual ballpark media day on the agenda. And the weather's nice for once!