Near Southeast DC: Past News Items - Jan 16, 2012
Go to Full Blog Archive
---
1 Blog Posts
Final 2012 Tax Assessments: Back Over $6 Billion in Value
Jan 16, 2012 10:06 AM
In March 2011, I posted on the
proposed 2012 tax assessments
for the 900-plus tax parcels that I track as Near Southeast properties, which valued the neighborhood at just a teensy bit under $6 billion ($5.994B). But there's a reason those are just "proposed": property owners need a chance to prostrate themselves before the city to try to get their assessments revised. In addition, new properties come onto the rolls during the year as projects get completed.
So, I can now report that the 2012 tax assessment total for Near Southeast is: $6.06 billion. Since the final assessments for 2011 came in at about $5.81 billion, 2012's number is a $248 million increase for actual assessments year-over-year.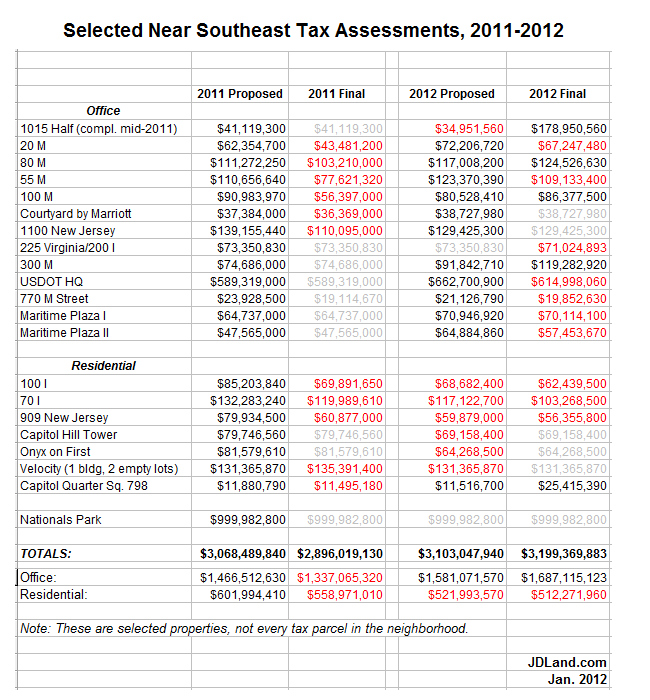 There were 15 properties that received reductions for their 2012 bills, totaling about $148 million. The big property owners managed a few hefty cuts, with JBG's
US Department of Transportation
building leading the way with a $47.7 million reduction to just under $615 million, followed by CSX's empty lots near the freeway north of I Street getting a $46.3 million haircut down to $66.2 million. Many of the other shiny new-ish buildings of the neighborhood also got their tallies reduced, such as apartment buildings
70/100 I
and
909 New Jersey
and office buildings 20 M,
55 M
,
225 Virginia
, and Maritime Plaza I and II.
But these reductions were offset by $216 million in upward revisions. Most of this is thanks to
1015 Half Street
finally being completed, taking that parcel's assessment from last year's $41.1 million to just a hair under $144 million. Three other buildings (80 M, 100 M, and 300 M) received higher final assessments as well. Plus, 32 townhouses in Capitol Quarter came onto the rolls as completed buildings, bringing just under $14 million in new tax revenue. (Yes, yes,
PILOT/payment in lieu of taxes
--don't stop me when I'm on a roll.)
And, because people always want to know, the ballpark's assessment for 2012 remains the smidgiest smidge under $1 billion, unchanged from 2011, at $999,982,800.
Alas, I can't give good year-to-year comparison numbers on final assessments in previous years because I didn't really grasp this whole revision thing until last year (oops), but I can say that proposed assessments were just a mite over $6 billion in both 2010 and 2011, after having been at $4.47 billion in 2009. My March post has the
year-by-year proposed assessed values
for the neighborhood, if you want those numbers.
If you feel like digging deeper (since you don't pay me enough to just post all my numbers for you to use), here's the
the current assessments database
, which you can search yourself. Tune in this March to see what the city proposes for 2013 values, and then in January for what the values really end up being....