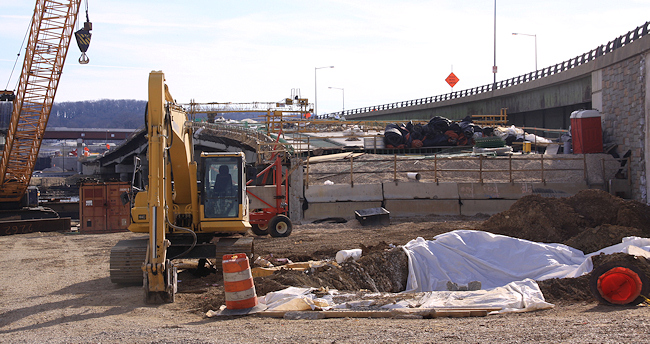 The news of the two freeway spans of the
11th Street Bridges
opening
over the past few weeks
is of course the most interesting part of the current state of the project's construction, but there's plenty of work still happening on the Near Southeast side of the Anacostia River, from the new "11th Street Local" bridge that will open this summer (seen at right) to various other new ramps and flyovers.
Back in February, the
National Community Church
applied for a raze permit
for the Miles Glass site on the
southwest corner of 8th and Virginia
that it acquired along with a number of adjoining lots on
Square 906
in
2010
and
2011
. However, perhaps something was not quite right, because two new raze permit applications for 733 Virginia are now in the city's database, along with a separate new one for the car garage next door at
701 Virginia
, the lot that
finalized NCC's footprint
.
Last week,
NCC representatives told ANC 6B's Planning and Zoning Committee
that they plan to have the demolitions completed by March, and will "then move to establish a temporary parking lot and community green space for an estimated two-year period" while the church continues to work on its final plans for the site, which in the past
have been described as
being a combination of coffee house, performance space, and church offices.
Any goings-on at the site, though, will be impacted by CSX's planned Virginia Avenue Tunnel construction, and
in October
NCC head Mark Batterson told the Washington Business Journal that "it doesn't make sense to do our project and then have them come through and rip everything up and make it difficult for us to even access our property."
Meanwhile, a couple blocks to the southeast, two raze permits have also now been filed for
816 Potomac
, the long-closed-up brown apartment building on the northwest corner of 9th and Potomac. This property is one of the lots on Square 930 that
Madison Marquette now co-owns
as part of its "joint venture" with ICP Partners.