Near Southeast DC: Past News Items - Jan 10, 2008
Go to Full Blog Archive
---
4 Blog Posts
Friday Reminder: Council Hearing on Ballpark Traffic
Jan 10, 2008 8:38 PM
A reminder that on Friday (Jan. 11) at 10 am there's a
public oversight roundtable
by the city council's Committee on Economic Development on
parking and traffic plans
for the
stadium
. Note that this is not the official hearing on the
legislation introduced this week
by Tommy Wells to regulate on-street parking in areas around the stadium and Capitol Hill, though I would imagine it should get touched on. But there's plenty of other issues to talk about as well--parking lots, traffic and pedestrian flow, Metro, and so many other items that fans and neighbors are waiting to hear about. It's going to be broadcast live on DC Cable 13 (and on the
web simulcast
), but I'm expecting this hearing to be so lively and informative that I'm actually going to shut down the laptop, take off my fuzzy slippers, and attend in person. (For less brave souls, the hearing should be available via both
replays
and
on-demand viewing
within a few days.) Watch for my summary of it all later Friday afternoon.
UPDATE:
I have indeed survived the hearing, but will need some time to pull together a summary. In the meantime, the one headline worth passing along immediately is that
Nationals season ticket holders should expect to get their parking information in the mail next week
. A package showing lot locations and prices is at the printer as we speak, and recipients will choose their preferred location and cost and return it to the Nationals; they'll then receive their parking pass and exact parking location after that.
More to come.
Another Day, Another Parking Lot (And Other Tidbits)
Jan 10, 2008 4:25 PM
In the past few days I've mentioned the
start of construction
on the first of the temporary surface parking lots at
Capper
and the transformation of an existing lot at
1100 South Capitol
into
a monthly lot
managed by Colonial Parking. Today I see that the dirt is being dug up at
1000 South Capitol
, which had a public space permit approved a few weeks ago for the construction of a parking lot. This property is owned by
Lerner Enterprises
(yes, the same Lerners that own the Nationals) and they have
eventual plans
for an office building on the site, but it shouldn't be a surprise that they would give this land over at least temporarily to the
Ballpark Parking Cause
.
Additional dispatches from today's drive-around:
* Equipment has arrived on site at
1345 South Capitol
, presumably for the start of excavation for this 276-unit residential project across the street from the ballpark.
* The DC Foreign Car Shop at 31 K Street and the buildings along First Street and N north of the ballpark are still standing;
* A very affable-looking "Hospitality Ambassador" from the
Capitol Riverfront BID
was answering questions with a smile at the Navy Yard Metro entrance;
* The amount of construction and roadwork from New Jersey Avenue west to South Capitol really is unbelievable. (I rarely drive through the neighborhood during the day on weekdays, so most of you long-suffering residents and commuters are already well aware of this.) But seeing it in full swing just reinforces my New Year's resolution to restrict my photo treks to Sundays, when the commotion is taking its Day of Rest.
UPDATE:
One more tidbit: a permit has been approved to remove the underground storage tanks at the
BP Amoco at South Capitol and N
. I had thought that maybe it was only temporarily closed because of the construction on N Street, but this probably means it's gone for good. As for what might appear in its place--the land is part of
Monument Realty
's vast holdings north of the ballpark, but no development plans for the site have been announced. In the meantime, I bet it would be a handy spot for a parking lot!
'Nationals' Letters Going Up on Stadium Exterior
Jan 10, 2008 9:04 AM
I haven't seen it with my own eyes yet, but reports are trickling in that work began yesterday to hang letters on the
southwest side of the ballpark
that presumably are on their way to spelling
NATIONALS
. I'll try to retrieve photographic evidence of it today.
UPDATE:
Pat, I'd like to
solve the puzzle
: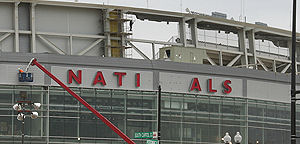 WTDW: Another Thrilling 'I Don't Know' Edition
Jan 10, 2008 8:12 AM
Time to dip back into the
What's the Deal With...?
mailbag, where once again I'm being asked fabulous questions that I don't actually have any answers for. But that hasn't stopped me yet....
* Readers B. and K. are the most recent readers to ask about the
Public Space Storage building
on South Capitol between M and N, just a few feet north of the
ballpark
, wondering whether it has any plans to close. I know that
Monument Realty
was interested in acquiring the building, since it owns the lots just to the building's south as well as all other parts of the block not owned by WMATA, but that was before Metro awarded the
Southeastern Bus Garage
and its parking lot (on the north side to the storage building) to Akridge. It's certainly a valuable piece of land, and I don't think it's going out on a limb to say that I doubt it will be there many years from now, but as of this point I've heard of no deals.
* Reader R. has asked about
Canal Park
, which continues to appear stalled, with no public pronouncements on it in months. (And with that "Spring 2008" still displayed for all to see on the sign at Second and M.) Is it still the school buses throwing up the roadblock, which is what we last were told? Is there some new wrinkle? I haven't heard anything, I'm sad to report.
* Reader F. asks about
Ann's Beauty and Wig Shop
, the dazzlingly pink building sandwiched between
St. Matthew's
and
Onyx
at 125 L Street, wondering if it's going to be sold. Ann's came to this block in 2005, after I believe being forced out of Waterside Mall in SW, and the owner has apparently been pretty vehement with potential suitors that she has no intention of selling. Perhaps the
pending sale of St. Matthew's
to Ruben Companies could change that, but as of now, I've heard nothing.
That's the best I can do for now--absolutely no useful information at all! No doubt there's scuttlebutt on each of these that I'm not privvy to, but I continue to be unsuccessful in my quest to get all city officials and private-sector parties operating in Near Southeast to inform me at all times about all their dealings. It's almost like they think I'm just some sort of powerless pesky neighborhood blogger or something....
Got a WTDW question? (maybe even one that I might know the answer to?)
Pass it along
. But I'll close with a hint--when it comes to oft-discussed projects around Near Southeast, as soon as I hear information that I can confirm, I post it. (I do tend to stay away from posting rumors, and considering some of the ones I've heard over the years that have turned out to be fabulously incredibly wrong, I don't regret this.) If you haven't seen any updates lately about Canal Park, or
Capitol Quarter
, or the
Post Plant
, or any other project, it's because nothing new has come my way. I'm as desperate to post the latest news flashes as you are to read them....