I have been lazy, l-a-z-y, about getting to some of my more far-flung photo spots in recent months, but the guilt of a new year finally overwhelmed me on Sunday, and I ventured up onto the
Douglass Bridge
and over to Poplar Point with camera in hand, mainly to get updated shots of the now-cleared
Florida Rock site
(above) and the
Yards Park
, Yards/Teague Bridge, and other waterside sites.
And, if you want to see almost the entire Near Southeast waterfront in one (panorama'ed) shot....: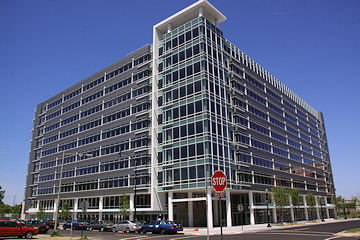 *
1015 Half Buyer
: On Friday the Post debuted a "What's Going On With....?" feature at their new
Where We Live Real Estate blog
(reminds me of my old "What's the Deal With...?" days), and
the first item
was on the empty office building at
1015 Half Street
. One tidbit not mentioned there, or at JDLand before now, is that apparently Prudential Real Estate Investors is buying the building, with the deal supposed to be closing this month, according to
Bisnow
. Bisnow says that the deal was always for Prudential to buy out Bank of America's stake in the building when it was finished, even back when it was Opus East doing the developing, not current receiver Douglas Wilson Companies.
*
Navy Yard Riverwalk Closure
: It was
announced on Twitter last week
that the
Navy Yard
Riverwalk will be closed from Jan. 5 to Jan. 17 to install fences around the piers. (What? You thought I meant the entire Riverwalk and not just the portion controlled by the Navy Yard? Why ever would you have thought that?)