Near Southeast DC: Past News Items
zoning
Go to Full Blog Archive
---
A Smattering of Ballpark and Soccer Links
May 29, 2008 9:41 AM
* The
Post's DC Wire blog is reporting
that at 5 pm today DCRA will be having a lottery for the 28 street vending spots near
Nationals Park
. "Winners will enjoy their spots for one month, starting on June 1. Then the process starts all over again with a lottery on the last Tuesday of each month until the baseball season ends." (Vendors grumbling about neon-green On the Fly's vending on Half Street have found out that the eco-vendor is actually on private property.)
* From
the Examiner
: David Catania gets back into the baseball carping business, saying the city should get its money back from the consultants who predicted in 2005 that the Nats would average 39,000 fans in the first year at
Nationals Park
, since there's only been an average of 29,000 fans during the first third of the season. Catania says "that ERA may have seriously overestimated ticket sales, which represents a major portion of stadium-related revenues." However, DC CEO Natwar Gandhi has replied that "the ballpark bonds are structured in such a way "that a significant drop in attendance would not hinder our ability to pay debt service" and that "in a worst-case scenario, total attendance at the new stadium could drop to approximately 10,000 people per game without affecting debt-service payments." The Examiner also says: "Ticket prices at the new ballpark are 20 percent higher than the consultant predicted, Gandhi said, which will drastically reduce the effect of reduced attendance." I wonder if the consultants factored in cold and miserable April weather?
The Post's DC Wire
has more on this.
* The Nats announced earlier this year that tours of the ballpark are available on non-gamedays; yesterday
they sent out word
that proceeds from those tours will benefit the team's Dream Foundation, which currently has a number of initiatives underway, including the Neighborhood Initiative that's providing three years of funding to the
Earth Conservation Corps
. Info about the tours
is available here
.
* My
Ballpark and Beyond column
in today's District Extra is short and sweet, with blurbs on the
RiverFront/Florida Rock
zoning approval
and the
almost-arrival
of 700 new residential units at
70 and 100 I Street
.
* Also in the District Extra is
a big piece
on whether the diversity of the Nats' roster, "combined with their state-of-the-art stadium, will be enough to attract young blacks and Latinos to the game in the District."
* DC United wants the city to pay $225 million for its Poplar Point stadium, which
the Post says
is "far more than some city leaders say they would support" and that "even the amount officials have considered, $150 million, has raised some concern with D.C. Chief Financial Officer Natwar M. Gandhi, whose analysis has concluded such a deal could push the government above a Wall Street debt ceiling that he recommended last year." In the meantime, Marc Fisher
thinks it's all a bad idea
.
Square 700 Alley Closing Hearing Thursday
May 28, 2008 4:08 PM
It's nowhere near as exciting as zoning hearings (then again, what is?), but I see that the City Council hearing on the bill to close a 2,400-sq-ft alley on Square 700 is happening
tomorrow (May 29)
, after having been
canceled back in February
. The alley is just north of what used to be the BP Amoco station on
South Capitol Street at N
(which is now Nats Parking Lot N). Monument Realty is requesting this closure to allow for the combining of both the Amoco site and the parking lot to its north, with plans to build what was described in January as a residential building with 150-200 units and 14,000 sq ft of ground-floor retail space, as part of Monument's
Half Street projects
. Additional details are in
my January report
on Monument's request for ANC 6D's support (which they didn't get, thanks to a 2-2-1 vote). The bill is
B017-0552
, if you'd like some light afternoon reading. The hearing is
scheduled be televised
/
streamed
on DC Cable 13, starting at 10 am.
This Week in Zoning: 250 M, Yards Park
May 27, 2008 2:03 PM
There's two Near Southeast projects with hearings in front of the Zoning Commission this week:
* On Wednesday (5/28) the ZC will hear the request to extend the height of the office building planned for
250 M Street
. I've written about
this here
, and you can read the
Office of Planning's final report
for much more detail on the request (and see the latest design). OP recommends approval of what is technically a modification to the
Capper/Carrollsburg
second-stage PUD (yes, this office building is part of the Capper redevelopment). After initially refusing to vote on the plan because of a lack of community benefits, ANC 6D voted 3-3 on it at its May meeting, which means there will be no support from the ANC. (I wasn't at this meeting, so I can't give you the specifics of what the developer offered to the ANC, or why the resolution didn't pass.) It's possible that 250 M will begin construction this year, but there's no confirmation of that.
Florida Rock Gets Its Final Zoning Approval
May 23, 2008 10:35 AM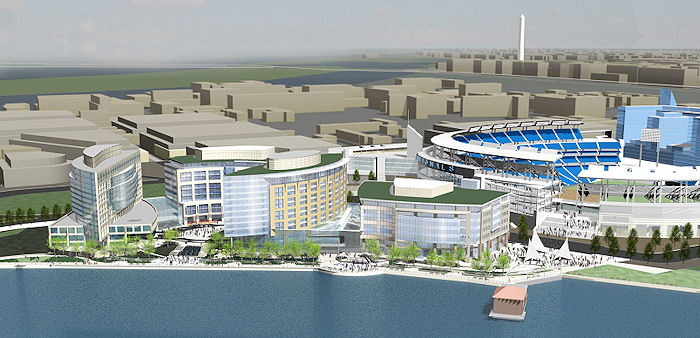 With a unanimous 5-0 vote after a brief discussion, the Zoning Commission approved last night the plans for "
RiverFront
," the 5.8-acre mixed-use project on the Anacostia River south of Nationals Park, ending the decade-long trip through the zoning process for the site long known as
Florida Rock
.
Before the final vote, chairman Anthony Hood quoted from the
recent ruling
by the National Capital Planning Commission that the RiverFront project "would not adversely effect" any federal interests. Remarking that the passage "says it all," Hood read: "This project is expected to bring activity and amenities to the Anacostia waterfront and is respecting the planning for the
South Capitol Street
corridor and the new
Frederick Douglass Memorial Bridge
. Furthermore, it is enhancing the connection of the
Nationals Baseball Park
and surrounding district to the Anacostia waterfront, goals supported by the Anacostia Waterfront Initiative[.]"
Now it's onto construction drawings and a trip through the city's permitting process. It's not expected that work will begin until sometime in 2009 on the first phase of the site, which includes an office building with ground-floor retail and a public plaza across Potomac Avenue from the ballpark's grand staircase. [see update below for caveat]
If you want to know more (dear heavens, I'm not going to go through all the details AGAIN), look at
my project page
for renderings and also
scroll through five years' worth of news items
on it all.
UPDATE:
The
press release is out
, and I'll note that it gives no indication of when the first phase could start. Given the
Monument Realty news
of financing troubles,
Camden's pause
at 1345 South Capitol, and the commercial real estate biz in general, it's probably best to now be pretty skeptical of start dates until permit approvals start popping up and shovels start digging into the ground.
Monday ANC Meeting Agenda Items
May 11, 2008 3:37 PM
The agenda for Monday's ANC 6D meeting has been sent around (although not posted on their
web site
, sigh), and it has a couple of Near Southeast items. There will be a presentation on the plans for the
Waterfront Park
at The Yards, in advance of a
May 29
Southeast Federal Center Overlay District
Review covering new structures that will be built to house retail pavilions at the park. There's also apparently a public space permit application from the Onyx folks at 1100 First Street for a fence along L Street, plus garden masonry piers and light fixtures. And the developers of the
250 M Street
office building are back again, after having
not gotten very far at last month's meeting
with their request for support for a second-stage PUD modification at a
May 28 zoning hearing
to increase the building's height (but not its square footage) from what was originally approved, since the commissioners wanted a new round of community benefits in return for their support, which W.C. Smith balked at given that the project isn't requesting to take any new amount of public space. We'll see if there were any negotiations since then. The meeting will be at 7 pm at St. Augustine's church at 6th and M streets, SW.
401 M Review, Five Guys Sidewalk Cafe Approved
Apr 25, 2008 8:31 PM
Just a quick note that both the
zoning review
and special exception applications for the office/residential/grocery project planned at
401 M Street
at
The Yards
and the Public Space Committee's consideration of an application for Five Guys to operate a sidewalk cafe appear to have been approved. (I didn't get to see either meeting, so I know nothing more than that.) See
the entry below
for additional links and details to find out what the heck I'm talking about. And normal posting here on the blog will resume very soon (I promise), since the JDLand batteries are now just about recharged.
Thursday Meeting Preview (WMATA, Yards, Five Guys)
Apr 23, 2008 10:36 AM
A somewhat busy Thursday (April 24) is on the boards:
* We might be getting some news on the state of Monument Realty's lawsuit against WMATA over the sale of the
Southeastern Bus Garage
to Akridge--the WMATA
Board of Directors is meeting
at 11 am, and the
agenda for their executive session
includes "Legal Issues - Monument vs. WMATA." I know nothing beyond that.
* Forest City's plans for the office/residential/retail project at
401 M Street
will be getting a
Southeast Federal Center Overlay District
Review in front of the
Zoning Commission
at 6:30 pm at Suite 220 South, 441 4th St., NW; you can also catch it via
live webcast
, if it's working. Read more about this from my
ANC 6D wrapup last week
and
an earlier entry on the project
.
* And, if you want to make your voice heard about the public space application by Five Guys for a sidewalk seating area, the
Public Space Committee
will be bringing it up at its monthly meeting, at 941 North Capitol Street, NE, 7th Floor, starting at 10 am. This is the application that ANC6D
refused to support last week
because of the lack of a community benefits package for the "loss of public space."
Pope Day Arrives in the Hood; This Week's Column
Apr 17, 2008 8:56 AM
So, the faithful are streaming toward the
ballpark
as we speak. Although the
55 M cam
showed the upper decks pretty empty with about 90 minutes to go, Channel 9 (already
on the air
with its coverage of the mass) gives a better view of the tens of thousands already inside. (48,000 people are expected.) How's everyone faring, either trying to get out of the neighborhood or into it for work? Or is everyone just staying home? And, for those reading this later today who went to the mass, how did your trip go?
In other news, my
Ballpark and Beyond column this week
is yet another one about stadium parking, taken mainly from my Monday night post about
ANC 6D's muted reaction
to parking and traffic issues (along with the Zoning Commission's approval of having additional lots built in Southwest if landowners want them). I also tossed in a quick roundup of the private cash lots springing up.
More ANC 6D Doings (Yards, 250 M, Five Guys, Vendors, Ziegfield's)
Apr 15, 2008 1:03 PM
I'm just going to bullet-point all this stuff. Follow links for additional background. (See
my entry from last night
for news on the ANC's discussion about parking and traffic issues during the first games at the ballpark.)
* The commissioners voted to support Forest City Washington's plans for an
office/residential/retail project
(including a grocery store) at
401 M Street
in
The Yards
. This support hinged on a Memorandum of Understanding on community benefits being offered by Forest City, including a lottery that could allow a 25 percent preference (or higher) for ANC 6D residents when it comes to the 30ish affordable housing rental units in the 194-unit project. (The final verbage of the MOU was hashed out at the meeting; talk about watching the sausage get made.) An audience member complained that LEED certification for the project should not be considered an amenity, but Forest City replied that the city's green building law does not go into effect until 2012, and these buildings are expected to be completed in 2011. Other components include preferences for ANC 6D certified business enterprises and a promise to report yearly to the ANC about the project. A lack of a community benefits package had tripped up this request for support at the ANC's April meeting. This project now goes to the Zoning Commission for a
Southeast Federal Center Overlay Review
on
April 24
.
* A request to support William C. Smith's
modifications
to its plans for
250 M Street
(raising the height of the building to 130 feet) was postponed, as the commissioners expressed their unhappiness at the lack of any community benefits. The developer's representatives said that community benefits were part of the original approval of the project as part of the
Capper/Carrollsburg
PUD, and that this modification is not resulting in any increase in square footage from that original plan. Commissioners had no suggestions for what benefits they would be seeking, only that they want more. This project may be back in front of the ANC at its May meeting, since the Zoning Commission hearing on the PUD modification isn't until
late May
.
* A request to support a public space permit request by Five Guys to add an outdoor seating area at its Second Street location was turned down, not only because the commissioners said that Five Guys had not provided information on the request to all the commissioners in a timely manner but because there's no offer of, you guessed it, a community benefits package in return for the "public space" being taken.
* A representative of the Department of Consumer and Regulatory Affairs updated the commission on plans to add 40 vendors on the streets surrounding the ballpark, thanks to emergency legislation
passed on April 1
by the council. The mayor is expected to sign the act today, at which point DCRA will have 21 days to identify sidewalk locations for the vendors to set up shop. It's not expected that any will be on South Capitol Street or on M Street (thanks to narrow sidewalks), and rules prohibit vendors on residential streets. However, in a few months a larger initiative will get underway, with the Capitol Riverfront BID's involvement, to create a "
Development Zone
" allowed for in the recent overhaul of city vending regulations, which will give the city and residents greater say in where vendors are placed, what they sell, and the appearance of their carts. And, in response to questions from commissioners and audience members: no cigarettes or alcohol will be sold at these carts, and there don't appear to be any concerns on the city's behalf about terrorism related to these carts or their operators. (I'm just reporting what was asked.)
* The commission voted to support the liquor license application of former O Street clubs Ziegfield's and Secrets
to reopen
at 1824 Half St., SW, at the site of the old "Lime" nightclub. A voluntary agreement with the clubs' owner was reached to address concerns about traffic, cooperation with police, and community input.
Zoning Approval for Possible Additional Surface Lots; ANC 6D Says Little About Ballpark's Debut; Community Meeting about On-Street Parking
Apr 14, 2008 11:12 PM
On Monday night, without much discussion, the Zoning Commission gave approval to the request to
add additional blocks
in Buzzards Point to the
zoning amendment allowing temporary surface parking lots
near the
baseball stadium
. The commissioners who spoke mentioned the need to give the Nationals the flexibility the team was seeking to be able to build new surface lots as development possibly takes away the lots currently in use. The vote was unanimous, although Commissioner Turnbull stated for the record his concern that lots north of Potomac Avenue, closer to the residential portion of Southwest, could introduce significant traffic. As of now, the Nationals have announced no plans to use any lots at Buzzards Point this season.
At about the same time the Zoning Commission was voting,
ANC 6D
was discussing how the first few games at the ballpark went, in terms of traffic and parking impacts on Southwest and Near Southeast. And, for a group of people who, shall we say, have not been shy over the past few years about voicing fears as to how the new stadium would impact their neighborhood, the reaction was surprisingly muted. Visitor parking passes did not seem to get to all residences, additional signage needs to be installed, issues with left turns and parking enforcement on G Street, SW will need to be addressed, and there were questions about whether the parking restrictions on M Street could be eased, but overall the commissioners seemed to feel that there had been no major issues. Commissioner Robert Siegel, who represents all of the ANC east of South Capitol, proclaimed himself "very pleased." (Though Commissioner David Sobelsohn did remark that things "will go smoothly as long as the Nationals keep losing.")
The meeting itself was pretty sparsely attended, with few of the residents who have been vocal about potential problems at previous meetings on hand. Only a couple people in the audience spoke up about any issues they'd had or seen, and did so without much emotion. The discussion was over in probably about 15 minutes. If you've ever attended an ANC 6D meeting, you know how astonishing this is.
Tommy Wells will be having a
community meeting to look at how the new on-street parking regulations are working
, both for residential streets and the retail stretches along Pennsylvania Avenue and Barracks Row, on
May 7 at 7 pm
, at the Capitol Hill United Methodist Church (Fifth Street and Seward Square, SE).
There's other items to report from tonight's meeting, but I'll write about those in an entry to come.
Yet Another Batch of Mostly Cloudy Photos; Monday Meeting Reminders; Pope Street Closings
Apr 13, 2008 2:21 PM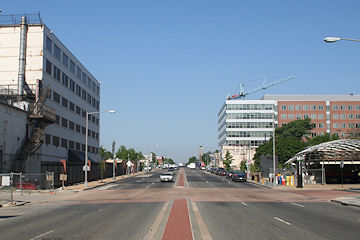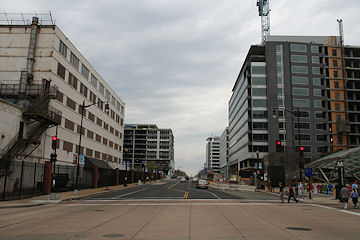 If you like photos of streetscapes taken under overcast skies, this has been the site for you lately. Yeesh. On Saturday, before the rains came, I updated my shots of the
western side of New Jersey Ave.
, showing how projects like
909 New Jersey
,
70/100 I
,
Onyx
, and
100 M
have changed the view in the past year. At least the sun was out for the brief time on Friday evening when I took new photos of the western side of the ballpark, along
South Capitol Street
. So, adding these to the photos I took earlier in the week of
First
and
Half
streets, the current state of construction in Near Southeast is pretty well documented. And now the sun shall come out, but I'll be waiting a few weeks until the next round of updates (probably early May).
Monday brings some meetings with Near Southeast items of interest. At 6:30 pm the
Zoning Commission
will have its monthly meeting, and is scheduled to vote on whether to open up additional blocks in Southwest to
possible temporary surface parking lots
(you can watch via
live webcast
). At 7 pm at St. Augustine's church at 601 M St., SW,
ANC 6D
will have its monthly meeting, and will be looking at Forest City's plans for office and residential buildings at
401 M Street/400 Tingey
at
The Yards
, and the request by the developers of the proposed
250 M Street office building
to increase its height to 130 feet. The project at The Yards has its hearing at the Zoning Commission
on April 24
, and 250 M's is
scheduled for May 14
.
And, for this week's visit from the Pope, the
Post has a huge graphic
of road closures and other information to help get through the festivities. Note that, in addition to the closure of South Capitol Street from 2 am to 2 pm Thursday, it shows that Van, Half, First, and Potomac in SE will be closed at some point, as will O, P, Q, and Potomac SW from Half Street to South Capitol. "Expect other road closures around the ballpark from 9 pm Wednesday until 2 pm Thursday," it says.
Yards/401 M Street at NCPC, ANC 6D (Again)
Apr 2, 2008 3:46 PM
As I wrote a month ago
in an entry
that was visible for about five minutes thanks to all of the ballpark news, the
first new-construction buildings
at
The Yards
are now winding their way through the zoning process. It's two buildings that look like one--a 320,000-square-foot 10-story office building at
401 M Street
and an 11-story 180ish-unit apartment building to its south at
400 Tingey Street
. They would both have ground-floor retail, but it's what's planned for 401 M that will probably have everyone's attention, because
a grocery store
is proposed for that space, just inside the historic wall and sentry tower on the southeast corner of Fourth and M. The office building would be LEED certified, and the 20 percent of the residential building would be affordable housing units (up to 50 percent of the area median income).
The Parcel D plans have already been reviewed by the
National Capital Planning Commission
in advance of its meeting tomorrow (April 3), with the
executive director reporting
that the buildings are not inconsistent with the Comprehensive Plan and do not adversely affect any other federal interests.
The Zoning Commission
Southeast Federal Center Overlay Review
of the plans and three associated variance requests is now
rescheduled for April 24
. ANC 6D will be bringing it up again at its April 14 meeting, after electing not to vote on the project at its March 10 meeting because of the lack of a community benefits package--see the
summary of the meeting
in the April Hill Rag (I was out of town, and so don't have any additional details).
As for start dates, documents earlier in the year had the office portion getting started in 2008 for a 2010 delivery, and the residential portion starting "based on market conditions." However, a reader is reporting that a sign now up at Fourth and M says "Coming 2011." I'll see if I can get any further details. (
UPDATE:
Yup, 2011 is now the current "estimate" for the project. So, don't stop shopping at the Capitol Hill Safeway just yet.)
In the meantime, work on renovating the
Boilermaker Shop
at Third and Tingey into a 46,000-sq-ft retail pavilion should be starting Any Minute Now, as should the rehab of the
Pattern Joiner Shop
across the street into a 170-unit apartment building. Both are expected to be finished in 2009. (Did you see the light displays being projected onto the Pattern Joiner building during the ballgames?) The
Factory 202
residential rehab of the old Gun Mount Shop at Fifth and M, which is a joint project between Forest City and
PN Hoffman
, also now has a "Coming 2011" sign.
Temporary Surface Lots in Southwest, Con't.
Mar 25, 2008 6:04 PM
There's not a lot to say about Monday night's continuation of the
Zoning Commission's hearing
on whether to amend the city's zoning laws to allow temporary surface parking on eight lots in Buzzards Point. This session was mainly to have representatives of the Nationals and DDOT available for questions from the commissioners, and most of the time was spent taking them through the
Ballpark Traffic Management Plan
.
The big question seemed to be the one that chairman Hood opened with: are additional lots (beyond
the ones approved
over the summer) required by the Nationals this year? Gregory McCarthy of the Nationals replied that the team has its parking-space inventory complete for the 2008 season, but that some of the lots being used could be lost to development projects in 2009, requiring the team to continue to find locations for parking. Commissioner May noted that some buildings in the area are already under construction and would have underground parking available when they open, but McCarthy said that "most" are residential buildings that wouldn't be able to offer stadium parking because of their need to have the bulk of their spaces available at night for tenants. (There are two office buildings opening in the next year which could be targets for Nats parking--
100 M
and
55 M
.)
There was also some discussion of the state of sidewalks (and lack thereof) in Buzzards Point, which the commission feels DDOT would need to address before allowing parking in that area. DDOT representative Karina Ricks was a little vague on whether new sidewalks would be DDOT's responsibility or whether it would be up to the lot owners at DDOT's behest to build acceptable sidewalks.
There were some questions about the routing of traffic toward existing parking lots and whether it is going to keep fans off the residential streets; McCarthy told the commissioners about the brochures going out with season-ticket parking passes giving the preferred routes to a fan's specific parking lot. If the ability to build new lots in Buzzards Point were to be approved, DDOT indicated that the current traffic management plans would be revised to take the additional traffic heading to that area into account.
(And speaking of this, apparently signs are now popping up along M Street to guide fans to parking lots based on zone color; there will also be signs about which freeway exit to take for which zones put up soon, according to McCarthy.)
It's expected that the commission will vote on this proposed amendment at its April 13 public meeting. If you want more information on this case (07-08A), here's the
Office of Planning report
, and you can also
read my discussions
of the original amendment for more detail on the limitations and rules of these lots. And, it should be emphasized that, if this amendment passes, it doesn't mean that surface lots will definitely be built on these blocks--this is just a change in zoning rules to allow the possibility of lots, if the landowners wish to build them.
Reminder: Zoning Hearing on Parking in Southwest
Mar 24, 2008 2:39 PM
Just a reminder that tonight at 6:30 pm is the continuation of the
Zoning Commission hearing
about whether to potentially allow temporary surface parking lots on some squares in Buzzards Point in Southwest. This is not approving lots themselves, just
changing the zoning
of certain blocks to give landowners the option to add lots if they wanted,
as was done last year
with a number of blocks in Near Southeast (only some of which now having parking lots on them). The hearing was continued so that DDOT and Nationals representatives could be there to answer questions. As of now, no Nationals parking lots are located in Southwest, except for one already existing surface lot right under the Southwest Freeway.
For more on all this,
read my entry
from before the first hearing, which includes the
Office of Planning's report
that has more details on which blocks would be covered, along with explanations of the rules governing these temporary surface lots (including that combined they may not total more than 3,775 spaces). There's also the
ANC 6D resolution opposing this change
. Tonight's hearing is at Suite 220 South, 441 4th St., NW, or can be watched via a
live webcast
, which is the preferred method of lazy bloggers.
Fourth Street Now One Way; Visitor Passes; Ballpark and Development; Recent Headlines Again
Mar 24, 2008 7:44 AM
* Within the past week,
Fourth Street between the SE Freeway and M Street
has been signed and striped to become
one-way southbound
. It's always been one-way southbound north of the freeway, but extending that another four blocks seems to be a bit of a surprise.
* If you live in Southwest or on Capitol Hill and received in the past few days a
nondescript envelope
addressed to "Ward 6 Resident" from DDOT, don't throw it out (like I almost did)--it's your
Visitor Parking Pass
. Guard this with your life.
* As soon as I
swear off
chasing every little story on the ballpark unless it somehow relates to the neighborhood, both
the Post
and
the Examiner
come out with stories this morning doing just that, talking about the development that's exploded in Near Southeast over the past few years. (And thanks for the hat tip, Michael.) Sayeth the Post, on A1: "
Nationals Park
opens this weekend and appears nearly complete. But it's surrounded for blocks by a construction zone. [...] Despite appearances, this is just the way District leaders hoped it would be: a ballpark set amid a vast Southeast Washington neighborhood in the middle of one of the biggest overhauls in city history. Some 500 acres are to be transformed, spreading south from Capitol Hill to the Anacostia River, sweeping away an accumulation of old auto body shops, sex clubs and debris-filled lots[.]" If you've read either of these stories and are looking to know more about all the development underway around the ballpark, I invite you to look at the
big ole' map
at the top right of my home page--moving your mouse across it gives you the basics on each project, and clicking the map takes you to pages chock full of additional details and photos.
Florida Rock Gets Preliminary Zoning Approval
Mar 21, 2008 10:13 AM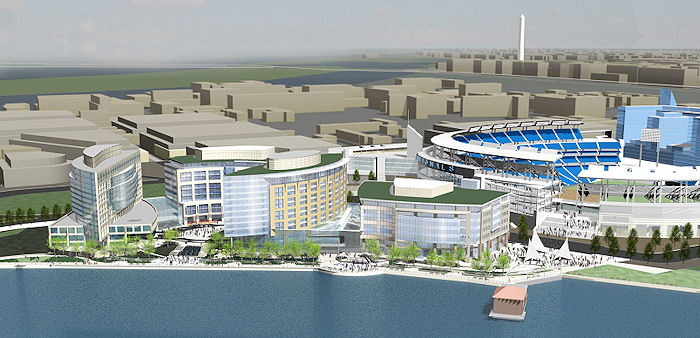 With a surprise motion at the end of last night's second-stage PUD hearing, the Zoning Commission has given preliminary approval to the design of
RiverFront on the Anacostia
(better known as Florida Rock), the 1.1-million-square-foot four-building mixed-use project nestled between
Nationals Park
, the Anacostia River, the
Douglass Bridge
, and
Diamond Teague Park
. It's been about 11 years since FRP Development first entered the zoning process for this site, and almost two years since the commission unexpectedly sent architects back to the drawing board for a design that better responded to the changes brought by the ballpark.
You can see a few
renderings of the latest design
on
my project page
, and
read about the specifics
(dear heavens, I'm not going to summarize it all AGAIN--read the
Office of Planning report
for more on this submittal). The one big addition to the design is a large sculpture to be placed on the public plaza ("Anacostia Place") across from the grand staircase of the ballpark, celebrating the Anacostia River watershed, which the commissioners seemed to respond to favorably.
The commissioners all remarked that the project has come a long way, and were pleased with the overall design. There were some concerns from commissioners Peter May of the National Park Service and Gregory Jeffries about the facades of the two western buildings that will face the proposed traffic oval on South Capitol Street at the foot of a
new Douglass Bridge
, that they aren't "animated" enough in terms of retail for such a prominent location. May had also called the project "too complex", with too much going on with different facades and finishes, but when longtime commissioner Michael Turnbull of the Office of the Architect of the Capitol said that he "liked the complexity," it was clear that there weren't going to be requests for large-scale changes to the design.
After 2 1/2 hours of presentations and questions, Chairman Hood brought up the idea of giving initial approval immediately, which, judging by the wide-eyed glances between the many representatives and consultants in the audience, was not expected. Commissioner May was not really in favor of moving forward, and Jeffries initially seemed to be leaning that way but then hemmed and hawed his way back to agreeing that the proposed action could go forward. (Earlier Jeffries had noted with some surprise that a project of this scope had not brought out a single member of the community in opposition.)
It was decided that the developers need to submit more detailed drawings of the plans for the South Capitol Street facades, and that no final approval would be given to the project until all commissioners approved of them. Commissioner May ended up abstaining on the vote, which was 4-0-1.
Architect Davis Buckley asked for six weeks to prepare the new renderings, and the commission scheduled a Special Public Meeting for May 22 at 6 pm to take final action.
This doesn't mean that earthmovers will arrive on May 23 to start building Anacostia Place and the eastern office building; construction drawings will have to be completed, and the trip through the vaunted DC permitting process will have to begin. But the notion of a Fall 2009 start date for the first phase of this project is looking closer to a reality. As for when the entire project could be completed, the western two buildings are dependent on the construction of the new Douglass Bridge before they can start. So, mark your calendar for about 2018.
I hope to snag some additional renderings included in last night's presentation; there was also a cool fly-over animation of RiverFront and its relationship with its surroundings, though it included the long-defunct Garages Wrapped With Development Goodness once envisioned for the north side of the ballpark, causing Commissioner Turnbull to spend some time lamenting What MIght Have Been.
Reminder: Florida Rock Zoning Hearing Tomorrow
Mar 19, 2008 12:50 PM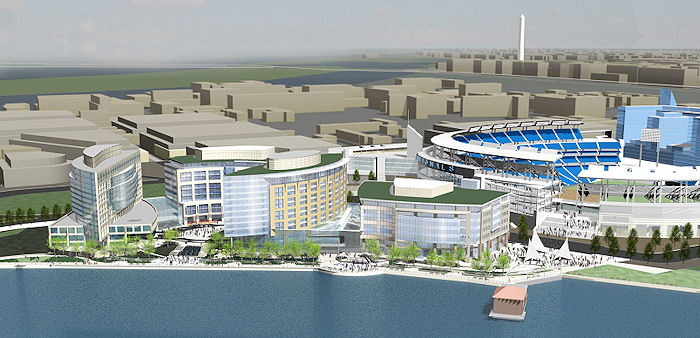 Just a reminder that Thursday (March 20) is the latest go-round in
Florida Rock
vs. the Zoning Commission. I'm not going to rehash the long history here (read the
old news items
if you need to get caught up), but tonight's hearing is on the revised design for what's now known as
RiverFront on the Anacostia
that first started showing up last summer. You can see renderings on
my project page
, and also read the
Office of Planning report
on tonight's hearing to find out the latest on the proposal. OP has recommended that this design be approved, subject to a couple of sign-offs from city agencies and a few other items. ANC 6D approved this plan (as it has approved most everything on this project) back in January--
my entry on that vote
contains a lot of information on where the project now stands as well. (Can you tell I'm in a rush?)
When could it all get underway? Quoting from
that January entry
: "As for when some movement will actually be seen at the site, David Briggs of Holland & Knight set out a
timeline
based on zoning approvals, construction drawings, and the vaunted DC permitting process that estimates the start of construction on the first phase (the eastern office building) in probably
fall of 2009
. He mentioned a number of times the amount of
pressure
that Florida Rock is under to shut down the concrete plant and to build temporary parking lots, but he explained that the site currently makes money for its company and shareholders, and there's little interest in closing it down sooner than necessary. (Briggs did say that a
temporary landscaping
of the eastern plaza, next to Diamond Teague, could be a possibility once the zoning approvals are received, but that the underground parking for RiverFront does extend beneath that plaza, and so excavation and construction work will need to be done there.)"
The hearing is at 6:30 pm at Suite 220 South, 441 4th St., NW; you can watch via
live webcast
, although that option has been problematic a few times lately. Watch this space late Thursday/early Friday for a report on it all, with perhaps further updates on timelines and whatnot.
1111 New Jersey Passes Zoning Review
Mar 12, 2008 2:52 PM
I wasn't able to see the meeting myself (I was at Madison Square Garden watching my beloved Roger Federer beat Pete Sampras), but on Monday night the Zoning Commission gave its approval on the
Capitol Gateway Overlay Review
for
1111 New Jersey Avenue
, Donohoe's 220,000-square-foot office building to be built just north of the east entrance of the Navy Yard Metro station.
At the first part of this hearing
a few weeks ago, there was much back-and-forth about whether the garage entrance should be on New Jersey Avenue (the developer's preference) or in the alley (DDOT's preference, which was not looked on fondly by the zoning commissioners). My sources tell me that DDOT has "somewhat grudgingly" agreed to allow the entrance to be on New Jersey after all, but that they expect Donohoe to work with them to better manage the public space on New Jersey and probably reduce the amount of parking offered. The
web site for the project
says that it will be completed in 2010, which would probably mean a start date later this year; we shall see if that indeed comes to pass. Read more about the
previous discussion on the garage entrance
and on
what exactly a CG Overlay Review is
, if you're wanting more information.
Hopefully soon I can post an update on what happened at ANC 6D on Monday, the *other* meeting I missed while in New York.
Monday Meetings; Parking Signs; Birds-Eye View
Mar 9, 2008 3:18 PM
* I mentioned this
a few days back
, but why not pass along another reminder that Monday at 7 pm is the
ANC 6D monthly meeting
, with presentations and votes on
401 M Street
, the
ballpark traffic management plan
, and the
South Capitol Street
Draft EIS
, plus a briefing by the Nats on the Opening Day "Fan Fest" activities. To get in on the fun, go to St. Augustine's Episcopal Church at 6th and M St., SW, starting at 7 pm.
* If the ANC isn't your bag, you can watch the Zoning Commission
take up again
the
Capitol Gateway Overlay Review
for Donohoe's planned office building at
1111 New Jersey
. It's a continuation of the
last hearing
, which revolved mostly around whether the garage access would be from New Jersey or from the alley. The hearing
starts at 6:00 pm
, and 1111 is also on the public meeting agenda at 6:30 pm, which perhaps is a display of optimism that Donohoe and DDOT will have the garage issue straightened out and the review ruling can be made.
Watch the webcast
, if you're so inclined. (I'm going to be missing both of these meetings, so it might be a few days before I can get the scoop on them.)
* The new
Enhanced Residential Parking Permit
signs, which allow non-Zone 6 parking only on one side of the street in certain areas near the
ballpark
, continue to get installed. They came to my street north of the freeway within the past day or so.
* I thought I did good with last week's find of a
November 2006 satellite photo
of the neighborhood, but reader JK has upped the ante with the "Bird's-Eye View" option
at Microsoft Live Search
, showing not-real-high-up images from March 2007. But be careful when you're scrolling around--if you go to fast, the images flip back to shots from early 2003. (Which is festive in its own fun-house kind of way.)
Hearings on First New Buildings at the Yards; Ballpark and South Capitol EIS Also on ANC 6D Agenda
Mar 7, 2008 8:49 AM
Beginning the trek through the approvals process are
the first new-construction buildings
planned for
The Yards
--a 320,000-square-foot office building at
401 M Street
and a 170ish-unit apartment building to its south at
400 Tingey Street
. They would both have ground-floor retail, but it's what's planned for 401 M that will probably have everyone's attention, because
a grocery store
is proposed for that space, just inside the historic wall and sentry tower on the southeast corner of Fourth and M. (No, which grocery store it could be hasn't been announced yet.) Recent documents have said that 401 M could begin construction in late 2008, with delivery in 2010; the residential building's start depends on "market conditions." (Uh-oh.) A few more early renderings are on my
401 M/400 Tingey page
. (See my
Yards First Phase
page for information on the
retail
and
residential
projects that are getting underway this year.)
There's a Zoning Commission
Southeast Federal Center Overlay Review
of the plans
scheduled for April 17
, and ANC 6D will be voting on whether to support the project at its
March 10 meeting
.
Also at Monday's
ANC 6D meeting
will be presentations and votes on plans for the Opening Day Fan Fest at the
ballpark
, the ballpark
Transportation and Residential Curbside Management Plan
(formerly known as the TOPP), and the
South Capitol Street
Draft Environmental Impact Statement
. I attended Wednesday night's public meeting on the Draft EIS, and while the slides from the meeting haven't yet been posted on its web site, the DEIS's
executive summary
is a good substitute for the information that was available at the meeting--you can read
my summary of the plans as well
. There wasn't much public comment (maybe seven or eight speakers), and the concerns seemed to be more about making sure DDOT does a good job of handling the inconveniences and resident issues as a result of the planned changes, rather than any real opposition to the plans themselves. The
public comment
period ends March 31, and the Final EIS is expected to come out late this year.
Alas, I won't be able to attend this ANC meeting that's so chock full of Near Southeast goodness. But I'm guessing that spending that evening watching the Roger Federer-Pete Sampras exhibition at Madison Square Garden might be a bit more enjoyable.