Near Southeast DC: Past News Items
The Yards
Go to Full Blog Archive
---
New Yards Park/Teague Park Bridge Dedication Scheduled for Nov. 22
Nov 7, 2011 3:27 PM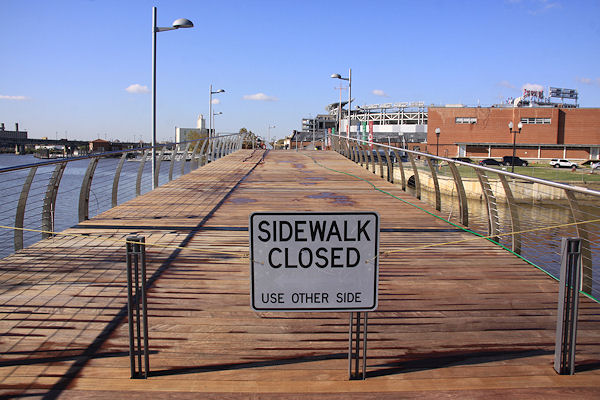 The word is going out that the official dedication of the new pedestrian bridge connecting the
Yards Park
and
Diamond Teague Park
will be held on
Tuesday, Nov. 22, at 1:30 pm
. The mayor is expected to be there, along with George Hawkins of DC Water (since the bridge runs right past the
main pumping station
) and I'm sure a slew of other dignitaries.
This is the bridge that will allow for an easier and more enjoyable stroll between the Yards Park and
Nationals Park
, depositing stadium-goers right across the street from the Grand Staircase/1st Base Gate at 1st Street and Potomac Avenue. And it will also allow water taxi customers disembarking at Teague Piers to get to the Yards Park without having to hike up to Tingey Street and then over a few blocks. (Eventually the Yards Park will have its own marina and water taxi piers, but not for another few years.)
It is part of the
Anacostia Riverwalk Trail
, and eventually will also connect to a larger public plaza adjacent to Teague Park, as part of the easternmost development of the
FloridaRock/RiverFront
project.
Hope they have good weather for the ribbon cutting!
First Look Inside the Foundry Lofts Building at the Yards
Nov 1, 2011 1:52 PM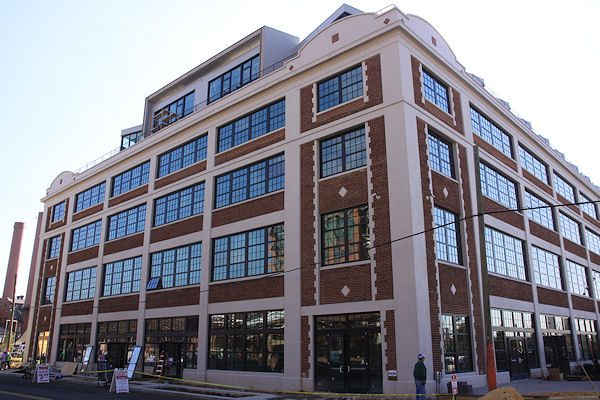 The fine folks at the
Foundry Lofts
leasing office
were kind enough to give me a hard-hat tour of the still-under construction building today, and of course I went with camera in hand. It was hard to pare down my photos to a manageable amount, but I think this
Foundry Lofts Construction Progress Gallery
does a good job of showing the general aura of the building's units and public spaces. (I even got to visit a few of the penthouse units, although there's still much work to be done on them.)
The 170-unit building is now about 43 percent leased, and the first residents are expected to move in at the end of this month. And within the next month or so, Potbelly Sandwich Works and Kruba Thai and Sushi will start work on their ground-floor spaces, with both looking to open during the first quarter of 2012.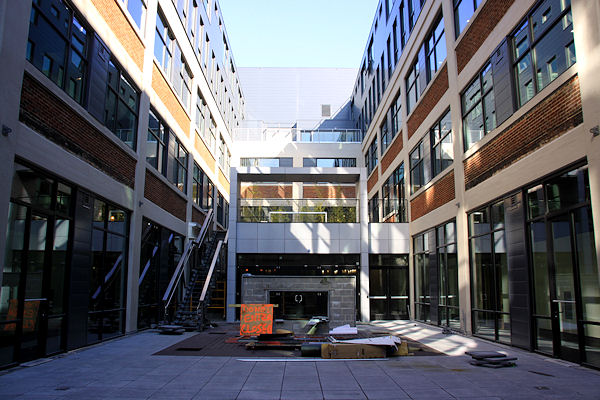 One aspect of the building's design that many people may not be aware of--since it isn't visible from the outside--is the large interior open-air courtyard, which even includes a yoga platform complete with bamboo. (I did confirm, though, that attendance at the daily yoga sessions will not be mandatory for residents.)
And, because I can never resist, I also got a couple photos of the so-close-to-being-finished bridge between the
Yards Park
and
Diamond Teague Park
(which should be opening Any Minute Now), as well as the increasingly naked
Boilermaker Shops
building. Those photos are at the bottom of the
gallery
.
For more about the project, see my
Foundry Lofts project page
, which includes many "before" photos that are worth looking at to be reminded at just what an amazing job has been done in transforming this 1918 building. And for much more detail about floor plans, available units, and other information, visit the
official leasing office web site
. Rents, according to the web site, start at about $2,000 a month for the one-bedroom units, $2.900-ish for two-bedroom units, and $3,200 and up for the two-story penthouses. (The corner ones with the great views run at about $4,500 a month.)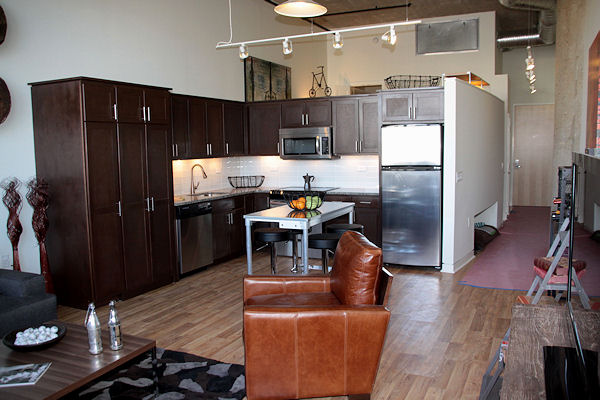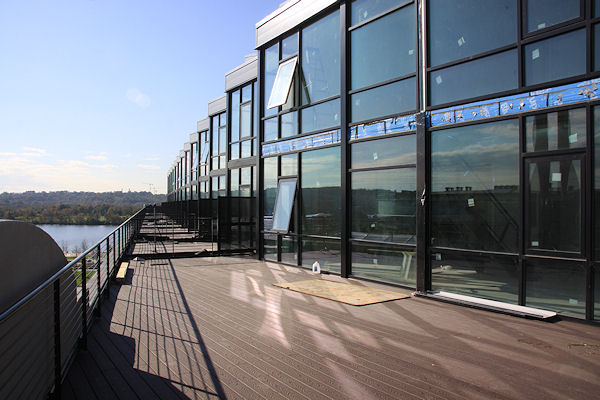 Clean Rivers Project Launches, Work Zones Coming (Eventually)
Oct 26, 2011 11:45 PM
Two weeks ago, while I was busy biking around Florida's Space Coast,
DC Water
(aka WASA) had the
groundbreaking
for its massive
Clean Rivers Project
. This is a 20-year, $2.6 billion initiative to control the city's "combined sewer overflows," which is what happens when the current system where wastewater and rainwater move in single pipes gets overwhelmed during "certain rainfall conditions", causing the diluted sewage mix to empty into local waterways before it can get to DC Plains to be treated.
This
map gives a good overview
of where the Clean Rivers work will be done along the Anacostia, and it should be no surprise that Near Southeast is on the docket for some of the construction zones, given that
DC Water's main pumping station
is that lovely 1905 Beaux Arts building nestled between
Nationals Park
and the
Yards Park
. There are two components of the project that will directly impact the neighborhood:
The
first workzone
("Division E") will appear next spring, to allow for digging along M Street SE between 9th and 14th Streets, with the work expected to take about two years. Parking along M will be restricted between 8th and 9th streets and 12th and 13th streets, and M will be completely closed during the project at the not-quite-an-intersection with 14th Street and Water Street.
The
second workzone
("Division I") will be in a more central location, and for a longer period of time, as 1,200 linear feet of combined sewers and other infrastructure needs will be installed on Tingey Street SE between 2nd and 5th streets. (For those of you not 100 percent familiar with the grid, Tingey is the street just behind the US Department of Transportation that runs through
the Yards
.) They are estimating this work will begin in the fall of 2013 and last until the summer of 2017. But no major hauling during stadium events, they say! There will be some lane closures along Tingey, and parking will be restricted along Tingey as well.
These two projects, along with the much larger
Tunnel Project That Shall Not Be Named
along Virginia Avenue, will no doubt try the patience of residents and office workers, but DC Water says they are working closely with all manner of stakeholders (including the Navy Yard, the BID, DDOT, the Nationals, CSX, WMATA, and the Maritime Plaza folks) and will be coordinating with ANCs as well. (They gave a presentation on the project at the October ANC 6D meeting, which I alas missed.)
Tidbits: Truckerboo, Teague/Yards Bridge, Espresso Bar, Red Sox
Oct 17, 2011 6:06 PM
I'm back from a week by the beach in Central Florida--yes, of course we went to Disney, and the Kennedy Space Center, along with logging more than 100 miles of biking along A1A. Here are some small items while I regain my blogging legs:
* The October instance of the Truckeroo food truck festival, appropriately dubbed "
Truckerboo
," is scheduled for Friday, Oct. 28, from 11 am to midnight at Half and M Streets, SE. In addition to the usual lineup of trucks and the drinks flowing at the Das Bullpen bar, there will be "truck trick-or-treating" for kids from 3 to 5 pm, along with costume contests (kids, individuals, and groups). They're requesting a "one buckaroo" donation this time around, with all proceeds benefitting the King Greenleaf Recreation Center in Southwest.
More info here
.
* The bridge between
Diamond Teague Park
and the
Yards Park
is close to finished, as you can see in this
not-totally-fabulous cellphone pic
. When it opens, visitors will be able to walk along the west bank of the Anacostia from 1st Street SE (at
Nationals Park
) all the way to 11th Street SE (as long as the Navy Yard's stretch of boardwalk is open).
* Awnings for
Lot 38 Espresso
have now gone up at the
old Little Red Building site
across from Canal Park (
reader photo here
), along with a "Coming Soon" sign. The owner, Yung Park, told me this afternoon that he's shooting for a Dec. 1 opening date.
* The Nationals have announced that they will be playing a
home exhibition game against the Boston Red Sox
on Tuesday, April 3, 2012. The team's regular season gets underway on April 5 at Wrigley Field, with the home opener scheduled for April 12, against the Cincinnati Reds. No game times have been announced yet.
Site Closure Ceremony for NGA at 1st and M SE Next Week
Sep 22, 2011 10:03 AM
A little birdie tells me that the
National Geospatial Intelligence Agency
folks are having a "site closure ceremony" sometime next week for their operations on the
southeast corner of 1st and M, SE
. (You know, the place with hardly any windows and the guys out front with guns.) As part of the Base Realignment and Closure (BRAC) process, their operations have moved to
swank new digs
down at Ft. Belvoir.
The closure ceremony is apparently for "cleared personnel only."
This site, officially known as Building 213 from the old Navy Yard/Southeast Federal Center days, is on the footprint of
the Yards
and as expected to be home to an office building someday, but not anytime soon.
In the meantime, maybe that parking lot will become available to the public?
This Week's Events Lineup: Bikeshare Bash, Opera, Nats Finale
Sep 20, 2011 5:20 PM
On the calendar for the rest of the week:
* Thursday, Sept. 22 brings both the
Capital Bikeshare 1st Birthday Bash
at the Yards Park and this year's
Opera in the Outfield
at
Nats Park
. Bikeshare's bash runs from 6 to 9 pm; Opera starts at 7:30 pm.
* The Nats play their final home games of the 2011 season against the Braves this weekend, and the team is promoting it as a
FAN-tastic FAN-ale
. There will be fireworks after Friday night's game (and perhaps during the game, since Strasburg is scheduled to be on the mound). Saturday and Sunday, both afternoon games, have limited $2 tickets available along with food and drink specials and giveaways.
Details here
.
* And on Saturday the 24th the Yards Park is hosting
Blocktoberfest
, with multiple stages, more than 10 acts, food, and of course beer. There were complaints from residents
about
noise levels
during a 10-hour event at the park on Sunday the 18th; one reply from the BID to a resident in the aftermath says that they "have learned a valuable lesson about events in the Park and the noise level," and that they are evaluating the types of events that are appropriate rental use for the park.
What will I be doing for the next few days? Praying that my beloved Google Nexus One phone comes back to life after an overnight seltzer soaking (thanks,
cat
). It's in a Ziploc bag full of rice drying out as we speak....
New NGA Campus Done
Sep 16, 2011 10:59 AM
Clark Construction has delivered the new
National Geospatial-Intelligence Agency
campus at Ft. Belvoir, says
CityBiz Real Estate
.
(Not coincidentally, the federally legislated deadline for BRAC moves was yesterday.)
New Photos: Catching Up on a Lot of Change in a Lot of Spots
Sep 12, 2011 2:32 AM
I took a lot of photos on Sunday, so many that I'm not going to waste time trying to come up with some pithy introduction. What you see below are just a taste of all the new images I posted, so be sure to follow the links for more.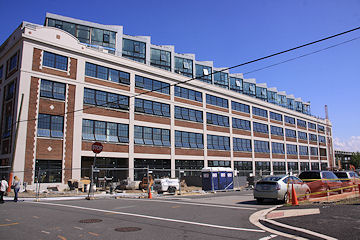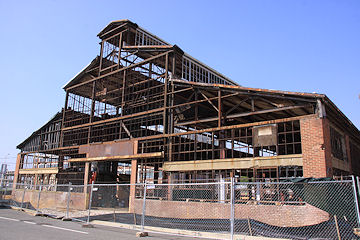 At
the Yards
, the
Foundry Lofts
(left) are looking close to done, and it's striking to compare it to its
Before
shots to see just how well the exterior of the building has been cleaned up. Meanwhile, the
Boilermaker Shops
(right) is now defrocked, with work underway to transform it into the 46,000-square-foot retail space that will open about a year from now.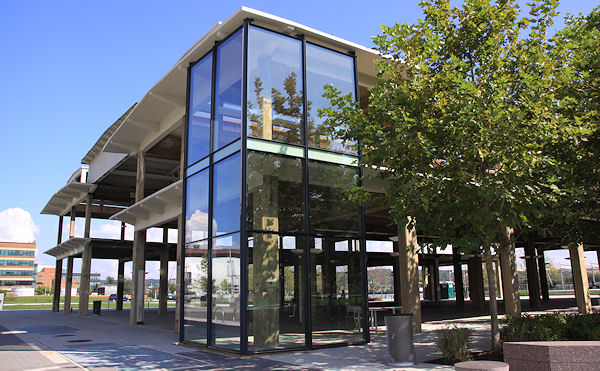 In the
Yards Park
, work will start this fall to make the
Lumber Shed
into another retail space, and earlier this summer
test panels were hung
on one corner of the building (left) to show how currently bare structure will look when it is completely enclosed in glass. And, over on the western edge of the park,
the new bridge
that will connect Yards Park to
Diamond Teague Park
(and
Nationals Park
) is coming along (right), with a number of the signature curved "fence posts" already installed. The bridge is scheduled to open in a few months.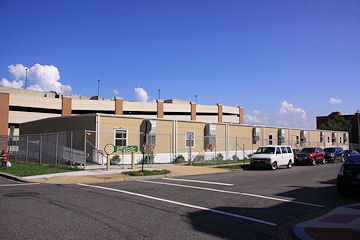 I finally got some not-very-exciting shots of the under-construction pavilion on the south end of
Canal Park
(left), along with updating what photos I could of the perimeter (the fencing around 2nd Place in particular puts a cramp in my methodology). This pavilion is where a restaurant is planned, which could be home to the latest Xavier Cervera offering
if a deal is finally reached
. The park is expected to open next year. Plus, I captured the
temporary home
of the Capitol Hill Day School (right), so that some day many years from now there will be a record of the modular classrooms that stood for nine months or so on the site of the eventual
Capper Community Center
at 5th and K.
And change is happening at a ridiculously rapid pace at
Capitol Quarter
, so much so that a trip through the
Phase 2 Extended Photo Archive
is definitely recommended to see all of the new vistas in comparison to the old
Capper
footprint. Less showy but still moving forward is the transformation of
225 Virginia/200 I
, including the beginnings of the work on the parking deck at 3rd and I.
Want to plow through all 213 new images?
Have at it
.
ANC Agendas, Possible Bus Route Change, NCPC Doings, Singles at Harry's, Crime at Capper, and a Rant About Dying Data
Sep 8, 2011 11:02 AM
Apologies for the torrent of words that follows:
*
ANC Meetings:
The
agenda is now out
for Monday's meeting ANC 6D meeting. In addition to the Capper apartments time extension request
I just wrote about
, there will be a discussion of the
proposed Single Member District boundaries for 6D
. (Ditto on both counts for the
ANC 6B meeting the next night
.) There is also an agenda item on the proposed renaming of both the Navy Yard and Waterfront-SEU Metro stations, with a DDOT representative. The 6D meeting is at 7 pm in the DCRA offices at 1100 4th St., SW, 2nd Floor.
*
Changes to P1/P2/P6 Buses:
WMATA has come up with a
list of proposed changes to bus routes
, and one of them would eliminate the P1 and P2 buses that run along M Street SE during rush hour and would re-route the P6 bus down M Street SE to 4th Street SW, away from its current route that runs along Virginia Avenue and through the southern part of Capitol Hill before heading to Federal Center SW and then across the Mall and into downtown. This could impact the residents of the
Capper Seniors building
at 900 5th St., SE, which has an eastbound stop right on its corner. (I'd also note that the planned closure of Virginia Avenue south of the freeway for two-plus years would necessitate a rerouting anyway.) And, in the interest of full disclosure, I'll say that this rerouting would have an impact on the JDLand household, since we often use this bus (which stops right at our corner) to get to and from downtown. This is not final yet, with public meetings on this and the other proposed changes still to come.
*
NCPC Doings:
Last week the National Capital Planning Commission approved
by consent
Forest City's plans to
temporarily put their offices in the second floor of the Lumber Shed building
at the
Yards Park
. NCPC also approved an installation of
solar panels at the Navy Yard
, while humminah-hummining that though the commission had said back in 2010 that "no future submittals at the Washington Navy Yard will be considered until an updated master plan is submitted," they decided that "this proposal is a minor one that does not increase the population at the installation, does not include any interior space, will have 'no adverse effect' on historic resources and is comprised of elements that reduce the installation's energy consumption." Plus, the report says the commission staff has been meeting with the Navy and expects a draft document for updating the Navy Yard master plan to be submitted to NCPC by the end of this year.
*
Beer! And a Cookout:
In tastier news, the folks at Harry's Reserve tell me they are now
approved to sell single beers
, and already are building their inventory of 32-40 oz craft beers, imports, and the like. Meanwhile, the
Great Heartland Cookout
is happening on Saturday at the Yards Park, benefitting the Fisher House Foundation, which donates "comfort homes" built on the grounds of major military and VA medical centers for families of hospitalized service members. Cookout tickets start at $40.
*
Crime At Capper, Before and After:
The Urban Institute has published "
Movin' Out: Crime Displacement and HUD's HOPE VI Initiative
" that uses the crime statistics around Capper and other DC rehabilitated public housing communities to show that crime not only remains low in the immediate area after a HOPE VI renovation, but is lower in nearby areas as well. The report is a bit hard to read (I have to admit I gave up pretty quickly), but
MetroTrends gives a good summary
. You can also look at the
crime statistics I've archived since 2005
to see how crimes in the neighborhood have changed over the years, while keeping in mind that the initial move-outs began at Capper in 2003. (The huge spike in Theft from Autos in 2006 was mostly a result of the neighborhood being empty except for the cars of construction workers, which were then pretty easy pickings during the daytime when they were busy at Nationals Park or the other projects at the time.)
*
Waah Waah Waah:
And, speaking of the crime statistics.... I have been downloading those reports from the city's
Data Warehouse
on a near-daily basis since they were first made available as XML feeds. I've also been able to get
Public Space Permit Applications
and
Approved Building Permit Applications
via XML for a number of years, and the many data feeds that were created are something that the city received numerous accolades for during the Fenty administration. However, the Public Space Permits feed now has not been updated since mid-July, and the Building Permits feed hasn't been updated since August 23.
Multiple e-mails to the data warehouse e-mail address have gone unacknowledged (after years of pretty prompt response, even if it was just to say "we know, we're working on it"). The Twitter accounts for both the
Data Warehouse
project and for
OCTO Labs
are equally moribund. I've let DCRA and DDOT know about the problems with the feeds, since they are the originators of the data, but if these data feeds are going to go to seed it's going to be a real loss for having easy access to this sort of data (even if I'm probably one of the few people who's ever bothered to take advantage). And, if the data isn't dying and is just getting worked on, a little bit of communication would go a long way (like, say, replying to any of my e-mails). Hopefully the crime feeds won't suddenly stop working, since that one certainly gets the most interest of any of them. (My complaints about the loss of depth in the city's web site offerings after the big redesign are for another day.) Just wait until OCTO moves into 225 Virginia next year and I can start picketing out front.
Bikeshare Birthday Party, Blocktoberfest, and Other Tidbits
Sep 5, 2011 11:33 PM
First, some events coming to the neighborhood later this month (if anyone can think past the return of Stephen Strasburg, weather permitting, ahem):
*
Capital Bikeshare
is
celebrating its first birthday
at the
Yards Park
on Sept. 22 from 6 to 9 pm, with live music, food, games, giveaways, and moonbounces. Note that this is the same evening as
Opera in the Outfield
a few blocks away, so you can double your pleasure and double your fun.
* Two days later, on Sept. 24, the park will host
Blocktoberfest
, "DC's Largest Oktoberfest Music Festival." I believe there is beer involved.
See the web site
for info on tickets, etc.
* In a more professional vein (i.e., probably no live music or moonbounces), the
2nd Annual Anacostia River Business Summit and Expo
is being held at 100 M St. SE on Sept. 20 from 8 am to 12:30 pm. Former mayor Anthony Williams is scheduled to be one of the speakers, and there will be three separate panel discussions. There will also be boat tours given afterwards, though space is limited.
* And I mentioned it in my last tidbits post, but why not pass along again that the next
Truckeroo
is scheduled for Sept. 30.
Other pieces of this-and-that:
* The city's Office of Motion Picture and Television Development named the Yards Park the "
One City Location of the Month for August
," calling it "one of the city's most beloved, yet fairly untapped, attractions." The agency is doing this to promote "cinematically compelling locations that are available to film and television producers."
* Should have mentioned this sooner, but the
Foundry Lofts
folks ran a "
Twitter Tour
" of the building on Aug. 25, then posted
some additional shots
of the interior and the views.
* The Washington Business Journal
reported last week
(subscribers only) that Kaplan has abandoned its search for space to open a law school in the DC area. Late last year it had been reported that they had been
looking for up to 130,000 square feet
of space in Near Southeast. [Full but probably unnecessary disclosure: in my real life I work for the Washington Post newspaper, which is under the same Washington Post Co. umbrella as Kaplan.]
* The Sunday Post Magazine's cover story
focuses on the McDonald's
at 2 I St. SE, its staff, and its manager, Raul Reyes, who in 2009 won a Ray Kroc Award as one of the top 1 percent of managers from the 14,000 McDonald's nationwide.
Willie's Brew and Que Coming to Boilermaker Shops; Pizza and a Raw Bar at Canal Park?
Aug 31, 2011 4:31 PM

After a bit of a
false start a few months ago
, Forest City is now confirming that Capitol Hill restaurant magnate Xavier Cervera will be opening "Willie's Brew & Que" in the
Boilermaker Shops
at
The Yards
. On the Yards's
just redesigned web site
, Willie's
is listed
as opening in Fall 2012, along with the other Boilermaker Shops restaurants
previously announced
(
Austin Grill Express
,
brb
,
Buzz Bakery
, a craft brewery by the
Churchkey folks
, and
Huey's 24-7 Diner
).
In a Going Out Gurus post today about
Cervera's purchase of the Hawk 'n' Dove
, Willie's is described as a sports bar, with the "'Cue" in the name referring not to pool but to barbecue that will be smoked on site. Plus, "Cervera promises 'the audio and video system is going to be very cool in there' when the place opens in 2012, including custom-built 12-foot plasma screens." (Note that GoG says it's "Brew & 'Cue", while Forest City's web site says "Brew & Que.")
Look for some new signage on the fences around the Boilermaker within the next few weeks, trumpeting all of the announced restaurants. (And I'll also point out that the
web site says
"more to come.")
The
Going Out Gurus post
also says that Cervera will be opening a restaurant at
Canal Park
, which they say will be
LEED-certified
, serving Neopolitan pizzas and featuring a raw bar. I've got a request into the Canal Park folks for confirmation and/or details. The park is expected to open in spring 2012. (
UPDATE:
The leasing negotiations for the Canal Park site are apparently not yet finalized, so don't consider this a done deal just yet.)
Tuesday Tidbits: Ballpark Labor Day Weekend Doings and More
Aug 30, 2011 1:05 PM
A whole lot of little stuff:
* The Nationals have a lot of events on tap at the
ballpark
for "Grand Slam Labor Day Weekend":
There are still
$5 tickets available
for Friday night's game against the Mets, and there will be post-game fireworks as well. (I very strongly suggest heading over to the
Yards Park
and getting a spot right on the water for optimum viewing; I watched the last post-game fireworks there a few weeks back, and you are pretty much directly beneath the rockets' red glare.)
Saturday night's game will be preceded by "Team On-Field Photo Day," where for the first time fans will be able to go down to the warning track to take photos before the game. After the game, there will be a free concert by the band Lifehouse (but you have to have a game ticket in order to go to the concert.)
Sunday's 1:35 pm game is $1 Kids Day, plus the seventh annual "Kids Run the Show Day." And, following the game, there will be a softball game between the Wounded Warrior Amputee Softball Team and a group of DC-area celebrities. If you purchase tickets to this game through
nationals.com/woundedwarriorsoftball
, each $20 ticket purchased will result in a $5 donation to the softball team.
Finally, for Labor Day Monday's 1:05 pm game against the Dodgers, there is another $5 ticket special.
You can read more about all these goings-on (and the other offers for these games) in
this press release
.
UPDATE:
And it seems to be all but official that Strasmas returns to the neighborhood next week, with
Stephen Strasburg expected to pitch
against the Dodgers on Tuesday, Sept. 6.
* In non-baseball stadium doings,
Opera in the Outfield
will be back again, on Thursday, Sept. 22 at 7:30 pm with a free simulcast of the Washington National Opera's performance of
Tosca
(and
What's Opera, Doc?
, which really should be the headlining feature). You can bring food and a blanket to sit on, but no alcoholic beverages can be brought in, and bags can't be any larger than 16" x 16" x 8".
* In other concert news, the BID has extended the Friday summer concert series at the Yards Park through Sept. 9. The concerts are from 6 to 8 pm, and food trucks and other offerings will be on hand.
* Speaking of food trucks,
Truckeroo 4 is scheduled for Sept. 30
.
* The Capitol Hill Day School's move to its temporary home at 5th and K SE is in full swing, and the school is doing
a great job of blogging it
(along with the renovations on their Dent School digs).
* A raze permit application has been filed for 1008 3rd St. SE, a few doors south of Cornercopia. This rowhouse had a
partial roof collapse
along with cracks in the walls during the Feb. 6 2010 blizzard.
* Seems like the neighborhood fared just fine through Hurricane Irene, except for the
flood of DC residents
on Friday wanting sandbags from the DPW operations at New Jersey and K, SE. (The city ended up moving the sandbag operations to RFK on Saturday.) This should be the last time this happens, since DPW is expected to be moving out of the old trash transfer station this fall (perhaps even by mid-October).
Pre-Leasing for Foundry Lofts at the Yards Now Underway
Aug 15, 2011 6:45 PM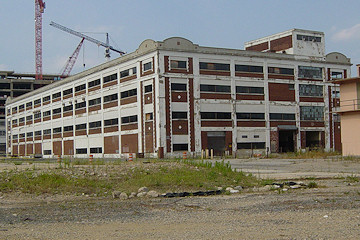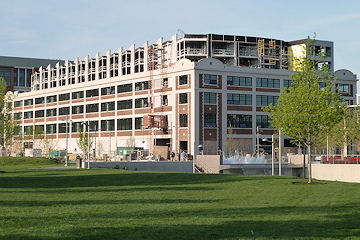 In a big milestone for the continued transformation of the old walled-off Southeast Federal Center into the huge mixed-use development known as
The Yards
, pre-leasing has begun for the
Foundry Lofts
, which developer Forest City has been transforming from its previous incarnation as the historic Pattern Joiner Shop building in Navy Yard shipbuilding days into a 170-unit apartment building. (Pre-leasing was officially supposed to begin today, but with the leasing trailer on site and open to visitors for the past week or so, interest from potential residents overtook the planned launch and leasings actually have already started.)
The units will have 12-14' ceilings, exposed brick, and concrete beams (befitting the term "loft"), along with the hardwood floors, stainless steel appliances, and granite countertops that would be expected in this sort of building. Rents will start at $2,000 a month, going up to $3,100 a month for one of the 33 two-level penthouse apartments in the new floors added to the top of the original building. (There are also a small number of affordable units available as well, though I don't have details on those.) Forest City expects move-ins to begin in October.
And,
as previously announced
, a Potbelly Sandwich Works and Kruba Thai and Sushi will occupy ground-floor retail space early next year. Plus it's pet-friendly, too!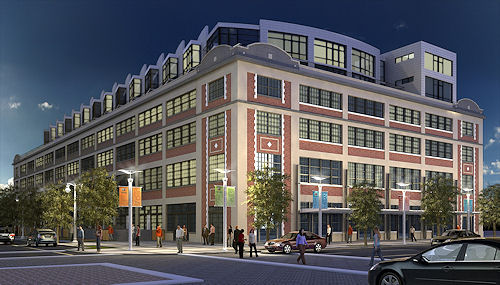 With its location on Tingey Street SE, immediately north of the
Yards Park
(and surrounded by parking lots used by fans heading to
Nationals Park
), the Foundry Lofts building is probably already familiar to many people who've come to Near Southeast over the past few years. It's the first residential component of the huge Yards redevelopment to be coming to completion, and will be the first multiunit residential building to open in the neighborhood since 2009. The renovation of what used to be known as Building 160 began in 2008, but was halted for well over a year at the height of The Economic Difficulties before
work began again
in August of 2010.
There is also plenty of construction activity right around the Foundry Lofts that will bring additional offerings to the Yards over the next two years. Just to the north, work has begun on the renovation of the
Boilermaker Shops
into a retail pavilion (to house a number of restaurants when it opens later in 2012), and soon work should get underway a block to the east on the second Yards residential project, the apartment building at
401 M Street
that will
have a Harris Teeter
in the ground floor. Plus, construction on the Lumber Shed building in the Yards Park to make it a retail pavilion (and home to Forest City's offices,
temporarily
) should begin later this year.
For more information, you can visit the leasing trailer now open from 9 am to 6 pm at 3rd and Tingey, SE, or go to
FoundryLoftsDC.com
, which hopefully will have some more complete information soon. (There's also their
Facebook page
, or
Twitter feed
, if you're feeling particularly social media-y about it all.) I haven't made it to the leasing office yet, having been gloriously unplugged in Wyoming for most of early August, but I hope to get there this week. And my
Foundry Lofts
page gives additional before-and-during photos of the construction and a few additional renderings, including one of the building's interior courtyard.
Friday Tidbit Overload (Isn't August Supposed to Be Slow?)
Aug 5, 2011 2:30 PM
A slew of tidbits, some already
tweeted
, some not:
* The third
Truckeroo food truck festival
is now scheduled for next Friday, Aug. 12, from 11 am to 11 pm. They'll keep doing them monthly, through October.
* This isn't news for anyone who's seen the big holes punched in the sides, but work on the
Boilermaker Shops
retail space at
the Yards
is finally underway. It's expected to take about a year. This is where the new brewpub by the Churchkey folks
will be
, along with Buzz Bakery, Austin Grill Express, BRB, and Huey's 24-7 diner.
* Along with their announcement of a new Circulator route that will run from east of the river across the 11th Street Bridge and up 8th St. SE over to Potomac Avenue, DDOT has also announced that the Navy Yard Circulator route will no longer go into the Union Station garage. Instead, it will stop at a new location near the flagpoles in front of the building. There won't be any stop at Louisiana and D anymore, either. (See the
DDOT presentation posted by DCist
for the details, with the Navy Yard route stuff being on page 7.)
* The Capitol Hill Day School's
blog
is doing a good job keeping track not only of the renovation work at Dent School, but also on the progress on their temporary location at 5th and K, SE. The modular classrooms
are arriving
, plus
there's now power
!
* For people who don't stay glued to comment threads (for shame!), ANC commissioner David Garber recently posted with more details about the
Georgetown University Health Disparities office
moving into the retail space at Capitol Hill Tower: "I was reassured that this will not be a health clinic, and that it is better to think of it as the research center's "home base" on this side of the city. It will mostly be office space, and employees will spend most of their time outside the office at sites in Wards 6, 7, and 8, facilitating research on environmental health, obesity, and breast cancer research. I was told that no more than five clients would be visiting the office each day -- not as a medical clinic-- but that the space would likely also be used to hold meetings for the center's organizational and community-based task forces/committees."
*
The Hill is Home gives an update on the 8th Street underpass
, where a mural is about to be created to spiff up the space, and where the public parking lot is going to get new signage, lighting, and pricing to encourage Barracks Row visitors to use it.
* President Obama gave a
big speech on jobs at the Navy Yard
this morning, which will be notable mostly for how my Google News Alert for "washington navy yard" will take days to get back to normal.
There's probably more than this, but this has already cut into that mini-break I was trying to take....
A Few Photos Before Downshifting into the August Doldrums
Aug 1, 2011 3:31 PM
I'm anticipating that the next couple of weeks will be pretty quiet, at least the
Foundry Lofts
start their pre-leasing on Aug. 15, followed by the
Ward 6 Redistricting Task Force
release of its first draft of proposed new ANC/SMD boundaries on or about Aug. 18. So here's a bit of a potpourri, and then I'm going to probably take a blog-breather unless really big news breaks. (As always, I'll still be popping up on
Twitter
or
Facebook
with tidbits here or there.)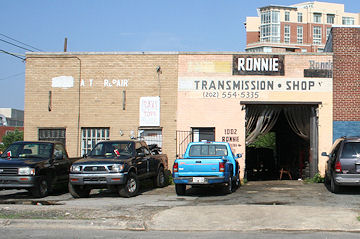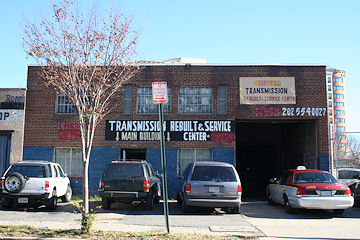 A smidge belatedly, I've added the three garages demolished a week ago on the southeast corner of 1st and K to my
Demolished Buildings Gallery
, as entries 163, 164, and 165. (It might soon be time to create a Not Demolished Gallery, which would be far far smaller.) I was surprised when digging in my archives to find a couple of photos of the garages still in operation (above), from 2006 and 2007. You can also see how that stretch of 1st has changed since 2003, looking
south from K
and
north from L
.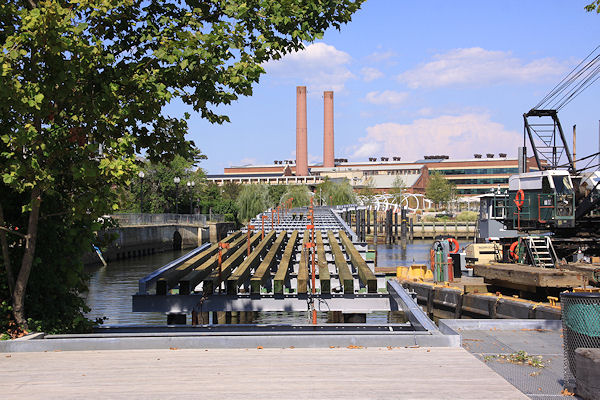 I also
grabbed a quick photo
of the progress on the new bridge bring built by the city that will link
Diamond Teague Park
to the
Yards Park
, scheduled to be completed this fall. (And I guess it's time to also officially get rid of the "floating bridge" nomenclature, because, as we've seen for months, there are big ole' piles in the river.) It'll be interesting to see if usage of the First Base Gate at
Nationals Park
at 1st and Potomac increases noticeably next season with this new riverside walkway available. (It will also make arriving at Teague Piers via water taxi to attend events at the Yards Park involve a much more enjoyable walk, compared to schlepping up to N Street and over.)
And, with people now moving into the first completed houses in phase two of
Capitol Quarter
, I updated my photos of
3rd Street between I and K
. And it reminded me how the intersection of 3rd and I has become quite an
illustration of change in all directions
, with not only new townhouses replacing old public housing but also seeing lots of new high-rises in the distance. (The White Monolith that was the old Post Plant on the northwest corner
getting a facelift
is an added bonus.)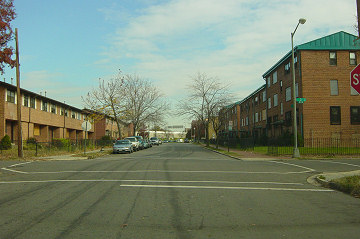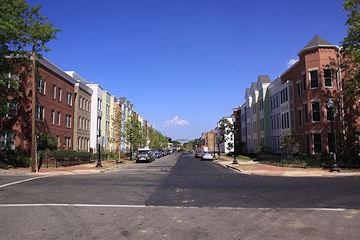 If you're looking for other links to help kill time over the next few weeks, take a look at the
JDLand Headlines
to be sure you haven't missed any big items lately.
Rudimentary Ward 6 Block Population Map Tool; Other Tidbits
Jul 22, 2011 10:11 AM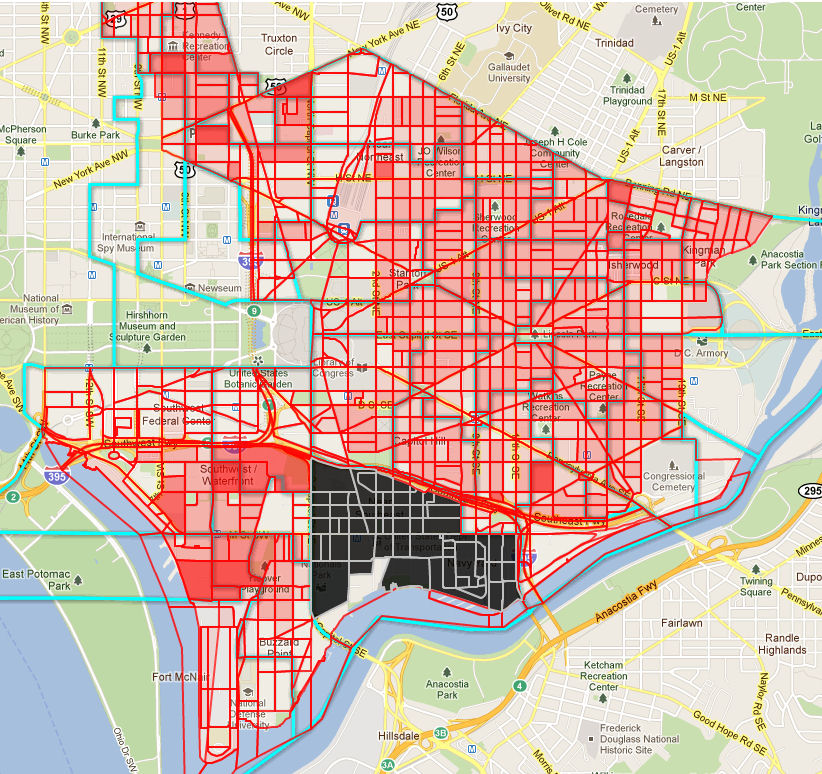 * It's not as slick and ultra-cool as SOME online redistricting tools, but with huge thanks to Cody Rice for getting the data in order, I've built a rudimentary
Ward 6 Census Block Population Map
. Right now it's mainly just for clicking on a bunch of blocks and having the populations tallied for you (and you can then have a URL to send to someone showing just those blocks). I will be continuing to tinker with it, so we'll see what additional options I add in. It's a bit of a beast, so be prepared for slow loading.
The Ward 6 Task Force on Redistricting has now
set up a blog
, and has started its "listening sessions" in each ANC. They'll be having their ANC 6D meeting on July 28 at 6:30 pm in the DCRA Hearing Room at 1100 4th St., SW. The ANC 6B meeting (which may also be of interest to folks south of the freeway, given the realities of the numbers) is on Aug. 1 at 6:30 pm at St. Coletta's School, 1901 Independence Ave., SE.
* For those wondering about the lack of progress on the Little Red Building version 2.0 (the former Star Market on the northwest corner of 2nd and L, next to the Courtyard by Marriott), the new building permits finally came through last week, and the owner tells me that construction should be starting again soon. He says the new Lot 38 Espresso should be open in three months, though he hopes it's sooner.
Zoning Commission Approves Office Space in Yards Lumber Shed
Jul 7, 2011 7:33 PM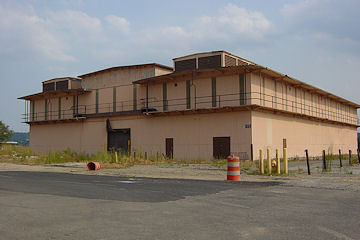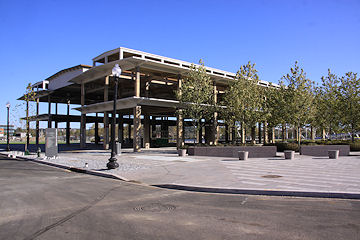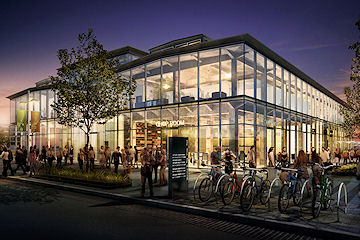 In a wonderfully short hearing on Thursday night, the Zoning Commission voted 5-0 to approve Forest City Washington's
request
for an amendment to the current
Southeast Federal Center Zoning Overlay
to allow the company to temporarily move its offices to the second floor of the historic Lumber Shed building at the
Yards Park
.
The company made the request because, while there has been "great interest" from potential retail tenants for the first floor of the building, the second floor has not as yet been as enticing, and filling the ground-floor spaces alone is not enough to get construction financing secured. Because Forest City is "anxious" to get the building started, their move to occupy the second floor can settle the financing issues and finalize deals with interested tenants, which means that construction on the 34,000-square-foot building could begin this year and be open by early 2013.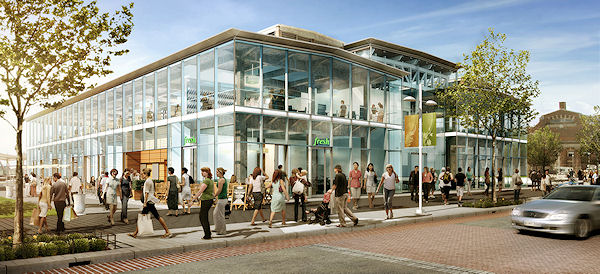 There had been some concerns at the setdown hearing
back in April
about the "temporary" request being for a period of 20 years, but Forest City's representatives emphasized (as they also
did to the ANC
in April) that their intent is to be in the Lumber Shed only until there is office space elsewhere in the Yards to which they can move. Alex Nyhan of Forest City explained that getting retail uses into the second floor is currently "challenging" because the building is "by itself" at the Yards (without much built out around it), which is exacerbated by the fact that it's a somewhat seasonal destination. But Forest City feels that once the other projects in the first phases of the Yards are built out, there will be a demand for the second floor, plus "the onus is on us" to make the Yards into a location where second-floor retail not only at the Lumber Shed but
in
other
Yards buildings is attractive to tenants.
The discussion seemed to satisfy the zoning commissioners, and with the
Office of Planning in support
of the change and no voices in opposition, the unanimous vote came quickly.
Nyhan also gave the commission a quick update on the status of the other first-phase Yards projects, to help illustrate that "after many years of planning" things are starting to move:
* The
Foundry Lofts
170-unit apartment building will
begin pre-leasing in August
, and will open in October;
* The
Boilermaker Shops
retail space has
announced five restaurant tenants
, and will begin construction this month, opening in Fall 2012;
* And
401 M Street
, home to a
planned Harris Teeter
and 200ish-unit apartment building, is expected to start construction this fall.
Holiday Weekend Events: Baseball, FreedomFest, and More
Jun 29, 2011 10:32 PM
With July 4 being nice enough to fall on a Monday this year, the three-day holiday weekend is particularly chock full of events, with plenty of goings-on in Near Southeast. Here's a rundown. (Though, judging by how sparsely populated my office already is, just on Wednesday, I'm not sure how many people are left in town to read this.) And, for neighborhood residents, even if none of these events are on your dance card, you still might want to be prepared for heavier than normal crowds wandering around.
* For a headstart on the weekend, there's two events on Thursday, June 30. Ryan Zimmerman will host his 2nd annual "
Night at the Park
" fundraiser for his
zIMS Foundation
, which raises money for Multiple Sclerosis. It starts at 6 pm, and tickets are still available. Country star Rodney Atkins will be performing, as will David Blaine (for the VIP ticketholders). More details at the
official web site
.
* A few blocks away, in what could be considered a bit of counterprogramming, the Capitol Riverfront BID's
Outdoor Movie Series
will be showing "
Shakespeare in Love
," starting at 8:45 pm at Tingey Plaza behind USDOT.
* On Friday, the weekly
Yards Park
concert series
continues, with
rhythm and blues by the group Special Occasion
rhythm and blues band Framewerk [my boo-boo, sorry], from 6 to 8 pm.
* The weekend at
Nationals Park
will be a busy one, starting with Saturday's doubleheader against the Pirates, the first of the Nats' upcoming 11-game homestand leading into the All-Star brealk. The first game (which won't be broadcast on TV, by the way), is at 3:35 pm, with the second game starting at 7:05 pm or later. The $2 tickets are sold out, but tickets bought for Saturday get you in to both games. And, bang zoom, there will be
fireworks
after the second game, "presented by Marvel Studios' new motion picture Captain America: First Avenger." (Might be interesting to wander to the Yards Park to watch from there, to see if it's a good vantage point.)
Sunday's 1:35 pm Pirates game is also "Nickelodeon Day" at the ballpark, with all sorts of family-friendly activities featuring SpongeBob SquarePants and Dora the Explorer.
And, on Monday, July 4, the Nats will be hosting the Cubs at 1:05 pm, which will probably be a hot ticket. There's a series of special ticket offers for this "
Patriotic Series
" game.
See this
Nats press release
for additional details on all the promotions and festivities.
* Meanwhile, on both Sunday and Monday, the
National FreedomFest concert
will be in full swing at the
Yards Park
, from 2 pm to 9 pm on Sunday and 1 pm to 9 pm on Monday. The organizers say there will be more than 40 bands and DJs on five stages, along with food vendors, craft vendors, and more. Tickets start at $25, and are available via
the web site
, along with more information about the lineup and other details.
(Note that the concert and the baseball, running at the same time, may make finding spaces in the neighborhood surface parking lots a bit tougher than usual.)
I was going to
include
some
other
upcoming
events
in this post, but nobody's reading this anyway, so I'll save those for another time.
As always, if you want continuing updates on these sorts of events, my
Near Southeast Businesses/Organizations
Twitter list, which are also displayed in a box on the JDLand homepage, will give you all the news and late-breaking tidbits.
Forest City Announces Restaurants at the Yards; Teeter Confirmed
Jun 27, 2011 8:48 AM
A press release went out this morning with the news that so many residents and office workers have been waiting for: the initial list of restaurants that will be opening at
the Yards
, along with confirmation that Harris Teeter is coming to the building at
401 M Street
.
At the
Foundry Lofts
apartment building currently heading toward completion, there will be a
Potbelly
, plus
Kruba Thai and Sushi
, from the
operators
of Teak Wood Thai and Sushi, Regent Thai, and Galae Thai and Sushi. Both are expected to open in the first quarter of 2012. (Pre-leasing of the residential units is expected to
begin in August
, with move-ins starting in October.)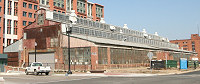 The
Boilermaker Shops
, the 1919-era building nestled between the Foundry Lofts and the US Department of Transportation, will have a number of different offerings:
* There will be
Buzz Bakery
, a full-service bakery, coffee shop, and "dessert lounge," plus an as-yet-unnamed
craft brewery
, both operated by the
Neighborhood Restaurant Group
, the people behind the Evening Star Cafe, Vermilion, Rustico, Tallula, EatBar, Columbia Firehouse, Birch and Barley, and ChurchKey.
*
Austin Grill Express
, a "casual, funky Tex-Mex restaurant drawing on the experience of Austin Grill to deliver a unique menu and environment."
*
BRB
("be right burger").
*
Huey's 24/7 Diner
, a "classic diner experience." (But will it actually be open 24/7?)
It's expected that Huey's, Austin Grill, and BRB will open in the fall of 2012, with the others in "late 2012."
And, at the
401 M Street
residential building (the only one of the three buildings that is 100 percent new construction), a
Harris Teeter
will be coming to the ground floor, which has been rumored for a number of years but is now finally confirmed. The press release says it will open in 2013, though for that to be the case, they need to start work on the building pretty much, um, now.
More as I get it, and you can read the
official press release
for additional details. For more on each project, see my
Foundry Lofts
,
Boilermaker Shops
,
401 M
, and main
Yards
project pages, or see the
official Yards web site
. Especially don't miss the photos from the interior of the
Boilermaker Shops
, which is a space very much unlike anything else in DC.
UPDATE, June 2012:
Because this post is linked to in so many places, it's necessary to update that in late June 2012 it was revealed that Austin Grill Express and BRB would not be coming to the Boilermaker Shops after all. However, Willie's Brew and Que sportsbar had been announced as another tenant in
late 2011
.
Weekend Events: E.T., Concert, Ward 6 Family Day, Blood Drive
Jun 23, 2011 3:14 PM
A few items on the events agenda for this weekend that might be of interest. (And the Green Line is the only subway line that *won't* be having
track work
this weekend, so you might as well take advantage). The lineup:
* You can actually start your weekend tonight (Thursday), with E.T. as the offering in the
Summer Outdoor Movie Series
. It's at Tingey Plaza (behind USDOT, at New Jersey and Tingey), starting at either 8:45 pm or sundown (can't ever quite figure out what "8:45 pm/sundown" signifies--whichever comes last?).
* Friday night has the weekly free
Yards Park
concert, from
6 to 8 pm
. This week's act is Jimi Smooth, for your Motown listening pleasure. There will also be
BBQ and other food options
.
* On Saturday (June 25), Tommy Wells is hosting his annual
Ward 6 Family Day
, bringing it to the
Yards Park
for the first time. It's from 1 to 5 pm, and will have free food, live music, and all sorts of activities (including "arts and crafts projects to build boats to race in the water park"). There will also be a Diaper Drive (no, really), accepting both unopened and open packs of diapers. There's more information on
Tommy's web site
.
* If you want to add some additional community service to your Saturday, either before or after Family Day you can head to
Nationals Park
for the first of their two
summer blood drives
. The drive is from 8 am to 4:30 pm in the conference center, and "in exchange for their generous donation, those who donate blood will receive two tickets to a future Nationals game and a limited edition Adam LaRoche t-shirt."
Appointments are required
: Interested donors should call 1-866-BLOODSAVES (256-6372) or visit inova.org/donateblood, click 'schedule an appointment', then 'donate blood' and enter sponsor code 7665. (The next drive will be on August 27.)
Read the Nats press release
for more info.
* And the
Yards Park
events actually spill over into Monday, when at 10 am
Mayor Gray will be giving
an "update on his job creation and economic development agenda" at the Lumber Shed. (Probably no music or dancing at this one.)