Near Southeast DC: Past News Items
The Yards
Go to Full Blog Archive
---
A Few Photos Before Downshifting into the August Doldrums
Aug 1, 2011 3:31 PM
I'm anticipating that the next couple of weeks will be pretty quiet, at least the
Foundry Lofts
start their pre-leasing on Aug. 15, followed by the
Ward 6 Redistricting Task Force
release of its first draft of proposed new ANC/SMD boundaries on or about Aug. 18. So here's a bit of a potpourri, and then I'm going to probably take a blog-breather unless really big news breaks. (As always, I'll still be popping up on
Twitter
or
Facebook
with tidbits here or there.)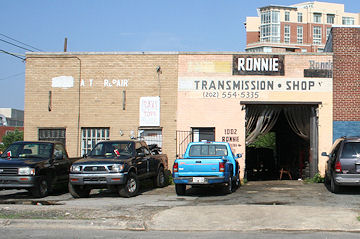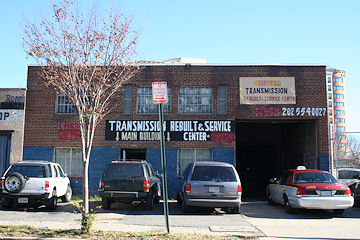 A smidge belatedly, I've added the three garages demolished a week ago on the southeast corner of 1st and K to my
Demolished Buildings Gallery
, as entries 163, 164, and 165. (It might soon be time to create a Not Demolished Gallery, which would be far far smaller.) I was surprised when digging in my archives to find a couple of photos of the garages still in operation (above), from 2006 and 2007. You can also see how that stretch of 1st has changed since 2003, looking
south from K
and
north from L
.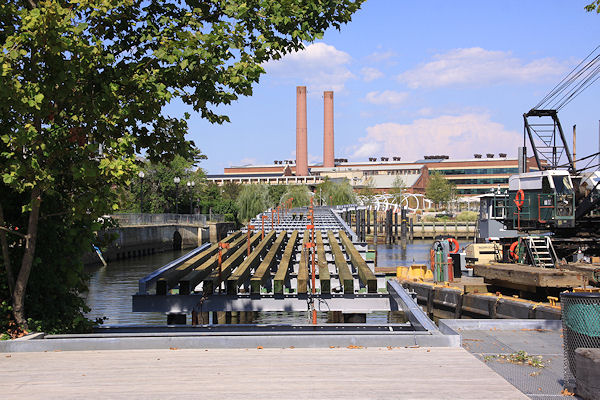 I also
grabbed a quick photo
of the progress on the new bridge bring built by the city that will link
Diamond Teague Park
to the
Yards Park
, scheduled to be completed this fall. (And I guess it's time to also officially get rid of the "floating bridge" nomenclature, because, as we've seen for months, there are big ole' piles in the river.) It'll be interesting to see if usage of the First Base Gate at
Nationals Park
at 1st and Potomac increases noticeably next season with this new riverside walkway available. (It will also make arriving at Teague Piers via water taxi to attend events at the Yards Park involve a much more enjoyable walk, compared to schlepping up to N Street and over.)
And, with people now moving into the first completed houses in phase two of
Capitol Quarter
, I updated my photos of
3rd Street between I and K
. And it reminded me how the intersection of 3rd and I has become quite an
illustration of change in all directions
, with not only new townhouses replacing old public housing but also seeing lots of new high-rises in the distance. (The White Monolith that was the old Post Plant on the northwest corner
getting a facelift
is an added bonus.)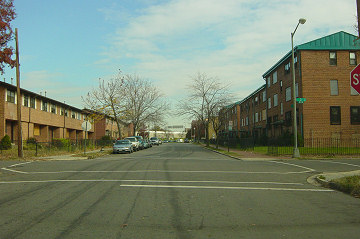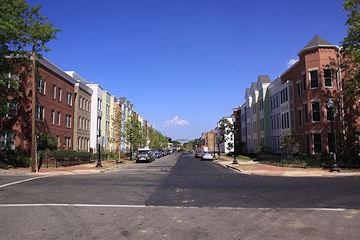 If you're looking for other links to help kill time over the next few weeks, take a look at the
JDLand Headlines
to be sure you haven't missed any big items lately.
Rudimentary Ward 6 Block Population Map Tool; Other Tidbits
Jul 22, 2011 10:11 AM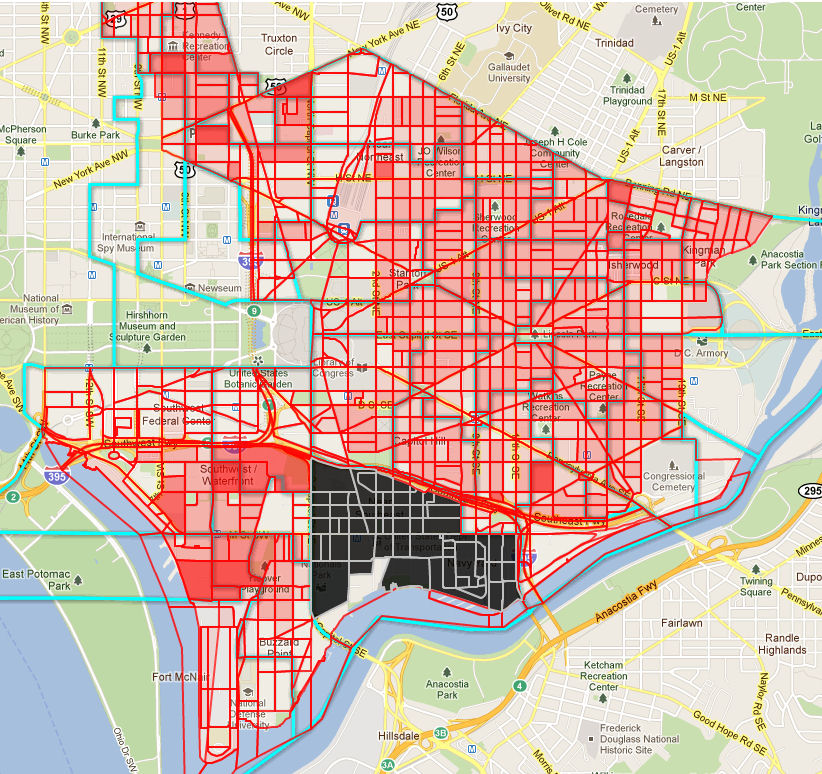 * It's not as slick and ultra-cool as SOME online redistricting tools, but with huge thanks to Cody Rice for getting the data in order, I've built a rudimentary
Ward 6 Census Block Population Map
. Right now it's mainly just for clicking on a bunch of blocks and having the populations tallied for you (and you can then have a URL to send to someone showing just those blocks). I will be continuing to tinker with it, so we'll see what additional options I add in. It's a bit of a beast, so be prepared for slow loading.
The Ward 6 Task Force on Redistricting has now
set up a blog
, and has started its "listening sessions" in each ANC. They'll be having their ANC 6D meeting on July 28 at 6:30 pm in the DCRA Hearing Room at 1100 4th St., SW. The ANC 6B meeting (which may also be of interest to folks south of the freeway, given the realities of the numbers) is on Aug. 1 at 6:30 pm at St. Coletta's School, 1901 Independence Ave., SE.
* For those wondering about the lack of progress on the Little Red Building version 2.0 (the former Star Market on the northwest corner of 2nd and L, next to the Courtyard by Marriott), the new building permits finally came through last week, and the owner tells me that construction should be starting again soon. He says the new Lot 38 Espresso should be open in three months, though he hopes it's sooner.
Zoning Commission Approves Office Space in Yards Lumber Shed
Jul 7, 2011 7:33 PM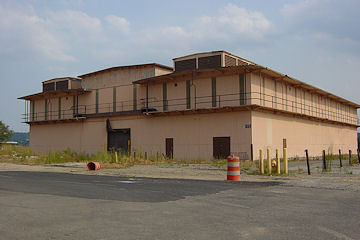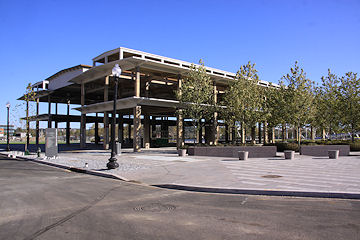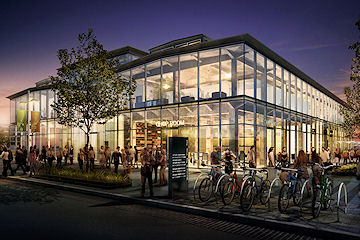 In a wonderfully short hearing on Thursday night, the Zoning Commission voted 5-0 to approve Forest City Washington's
request
for an amendment to the current
Southeast Federal Center Zoning Overlay
to allow the company to temporarily move its offices to the second floor of the historic Lumber Shed building at the
Yards Park
.
The company made the request because, while there has been "great interest" from potential retail tenants for the first floor of the building, the second floor has not as yet been as enticing, and filling the ground-floor spaces alone is not enough to get construction financing secured. Because Forest City is "anxious" to get the building started, their move to occupy the second floor can settle the financing issues and finalize deals with interested tenants, which means that construction on the 34,000-square-foot building could begin this year and be open by early 2013.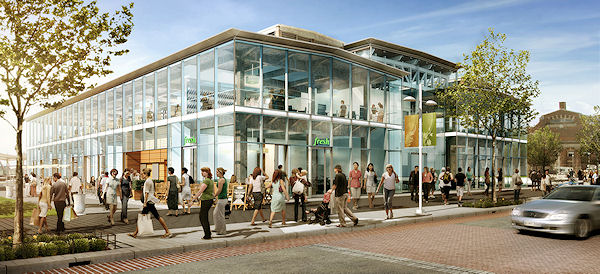 There had been some concerns at the setdown hearing
back in April
about the "temporary" request being for a period of 20 years, but Forest City's representatives emphasized (as they also
did to the ANC
in April) that their intent is to be in the Lumber Shed only until there is office space elsewhere in the Yards to which they can move. Alex Nyhan of Forest City explained that getting retail uses into the second floor is currently "challenging" because the building is "by itself" at the Yards (without much built out around it), which is exacerbated by the fact that it's a somewhat seasonal destination. But Forest City feels that once the other projects in the first phases of the Yards are built out, there will be a demand for the second floor, plus "the onus is on us" to make the Yards into a location where second-floor retail not only at the Lumber Shed but
in
other
Yards buildings is attractive to tenants.
The discussion seemed to satisfy the zoning commissioners, and with the
Office of Planning in support
of the change and no voices in opposition, the unanimous vote came quickly.
Nyhan also gave the commission a quick update on the status of the other first-phase Yards projects, to help illustrate that "after many years of planning" things are starting to move:
* The
Foundry Lofts
170-unit apartment building will
begin pre-leasing in August
, and will open in October;
* The
Boilermaker Shops
retail space has
announced five restaurant tenants
, and will begin construction this month, opening in Fall 2012;
* And
401 M Street
, home to a
planned Harris Teeter
and 200ish-unit apartment building, is expected to start construction this fall.
Holiday Weekend Events: Baseball, FreedomFest, and More
Jun 29, 2011 10:32 PM
With July 4 being nice enough to fall on a Monday this year, the three-day holiday weekend is particularly chock full of events, with plenty of goings-on in Near Southeast. Here's a rundown. (Though, judging by how sparsely populated my office already is, just on Wednesday, I'm not sure how many people are left in town to read this.) And, for neighborhood residents, even if none of these events are on your dance card, you still might want to be prepared for heavier than normal crowds wandering around.
* For a headstart on the weekend, there's two events on Thursday, June 30. Ryan Zimmerman will host his 2nd annual "
Night at the Park
" fundraiser for his
zIMS Foundation
, which raises money for Multiple Sclerosis. It starts at 6 pm, and tickets are still available. Country star Rodney Atkins will be performing, as will David Blaine (for the VIP ticketholders). More details at the
official web site
.
* A few blocks away, in what could be considered a bit of counterprogramming, the Capitol Riverfront BID's
Outdoor Movie Series
will be showing "
Shakespeare in Love
," starting at 8:45 pm at Tingey Plaza behind USDOT.
* On Friday, the weekly
Yards Park
concert series
continues, with
rhythm and blues by the group Special Occasion
rhythm and blues band Framewerk [my boo-boo, sorry], from 6 to 8 pm.
* The weekend at
Nationals Park
will be a busy one, starting with Saturday's doubleheader against the Pirates, the first of the Nats' upcoming 11-game homestand leading into the All-Star brealk. The first game (which won't be broadcast on TV, by the way), is at 3:35 pm, with the second game starting at 7:05 pm or later. The $2 tickets are sold out, but tickets bought for Saturday get you in to both games. And, bang zoom, there will be
fireworks
after the second game, "presented by Marvel Studios' new motion picture Captain America: First Avenger." (Might be interesting to wander to the Yards Park to watch from there, to see if it's a good vantage point.)
Sunday's 1:35 pm Pirates game is also "Nickelodeon Day" at the ballpark, with all sorts of family-friendly activities featuring SpongeBob SquarePants and Dora the Explorer.
And, on Monday, July 4, the Nats will be hosting the Cubs at 1:05 pm, which will probably be a hot ticket. There's a series of special ticket offers for this "
Patriotic Series
" game.
See this
Nats press release
for additional details on all the promotions and festivities.
* Meanwhile, on both Sunday and Monday, the
National FreedomFest concert
will be in full swing at the
Yards Park
, from 2 pm to 9 pm on Sunday and 1 pm to 9 pm on Monday. The organizers say there will be more than 40 bands and DJs on five stages, along with food vendors, craft vendors, and more. Tickets start at $25, and are available via
the web site
, along with more information about the lineup and other details.
(Note that the concert and the baseball, running at the same time, may make finding spaces in the neighborhood surface parking lots a bit tougher than usual.)
I was going to
include
some
other
upcoming
events
in this post, but nobody's reading this anyway, so I'll save those for another time.
As always, if you want continuing updates on these sorts of events, my
Near Southeast Businesses/Organizations
Twitter list, which are also displayed in a box on the JDLand homepage, will give you all the news and late-breaking tidbits.
Forest City Announces Restaurants at the Yards; Teeter Confirmed
Jun 27, 2011 8:48 AM
A press release went out this morning with the news that so many residents and office workers have been waiting for: the initial list of restaurants that will be opening at
the Yards
, along with confirmation that Harris Teeter is coming to the building at
401 M Street
.
At the
Foundry Lofts
apartment building currently heading toward completion, there will be a
Potbelly
, plus
Kruba Thai and Sushi
, from the
operators
of Teak Wood Thai and Sushi, Regent Thai, and Galae Thai and Sushi. Both are expected to open in the first quarter of 2012. (Pre-leasing of the residential units is expected to
begin in August
, with move-ins starting in October.)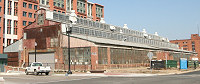 The
Boilermaker Shops
, the 1919-era building nestled between the Foundry Lofts and the US Department of Transportation, will have a number of different offerings:
* There will be
Buzz Bakery
, a full-service bakery, coffee shop, and "dessert lounge," plus an as-yet-unnamed
craft brewery
, both operated by the
Neighborhood Restaurant Group
, the people behind the Evening Star Cafe, Vermilion, Rustico, Tallula, EatBar, Columbia Firehouse, Birch and Barley, and ChurchKey.
*
Austin Grill Express
, a "casual, funky Tex-Mex restaurant drawing on the experience of Austin Grill to deliver a unique menu and environment."
*
BRB
("be right burger").
*
Huey's 24/7 Diner
, a "classic diner experience." (But will it actually be open 24/7?)
It's expected that Huey's, Austin Grill, and BRB will open in the fall of 2012, with the others in "late 2012."
And, at the
401 M Street
residential building (the only one of the three buildings that is 100 percent new construction), a
Harris Teeter
will be coming to the ground floor, which has been rumored for a number of years but is now finally confirmed. The press release says it will open in 2013, though for that to be the case, they need to start work on the building pretty much, um, now.
More as I get it, and you can read the
official press release
for additional details. For more on each project, see my
Foundry Lofts
,
Boilermaker Shops
,
401 M
, and main
Yards
project pages, or see the
official Yards web site
. Especially don't miss the photos from the interior of the
Boilermaker Shops
, which is a space very much unlike anything else in DC.
UPDATE, June 2012:
Because this post is linked to in so many places, it's necessary to update that in late June 2012 it was revealed that Austin Grill Express and BRB would not be coming to the Boilermaker Shops after all. However, Willie's Brew and Que sportsbar had been announced as another tenant in
late 2011
.
Weekend Events: E.T., Concert, Ward 6 Family Day, Blood Drive
Jun 23, 2011 3:14 PM
A few items on the events agenda for this weekend that might be of interest. (And the Green Line is the only subway line that *won't* be having
track work
this weekend, so you might as well take advantage). The lineup:
* You can actually start your weekend tonight (Thursday), with E.T. as the offering in the
Summer Outdoor Movie Series
. It's at Tingey Plaza (behind USDOT, at New Jersey and Tingey), starting at either 8:45 pm or sundown (can't ever quite figure out what "8:45 pm/sundown" signifies--whichever comes last?).
* Friday night has the weekly free
Yards Park
concert, from
6 to 8 pm
. This week's act is Jimi Smooth, for your Motown listening pleasure. There will also be
BBQ and other food options
.
* On Saturday (June 25), Tommy Wells is hosting his annual
Ward 6 Family Day
, bringing it to the
Yards Park
for the first time. It's from 1 to 5 pm, and will have free food, live music, and all sorts of activities (including "arts and crafts projects to build boats to race in the water park"). There will also be a Diaper Drive (no, really), accepting both unopened and open packs of diapers. There's more information on
Tommy's web site
.
* If you want to add some additional community service to your Saturday, either before or after Family Day you can head to
Nationals Park
for the first of their two
summer blood drives
. The drive is from 8 am to 4:30 pm in the conference center, and "in exchange for their generous donation, those who donate blood will receive two tickets to a future Nationals game and a limited edition Adam LaRoche t-shirt."
Appointments are required
: Interested donors should call 1-866-BLOODSAVES (256-6372) or visit inova.org/donateblood, click 'schedule an appointment', then 'donate blood' and enter sponsor code 7665. (The next drive will be on August 27.)
Read the Nats press release
for more info.
* And the
Yards Park
events actually spill over into Monday, when at 10 am
Mayor Gray will be giving
an "update on his job creation and economic development agenda" at the Lumber Shed. (Probably no music or dancing at this one.)
A Few More Nats Park Photos (Eateries Etc.), and Other Tidbits
Jun 15, 2011 9:29 AM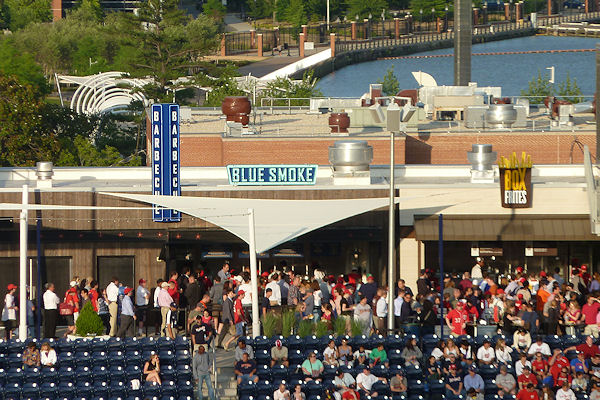 I wandered down to
Nationals Park
last night to take in the atmosphere of not only the four new eateries, but also the return of Ryan Zimmerman. It was a healthy crowd (26,700+), and only about half of them seemed to be in line at Shake Shack and the other new food concessions (though by later in the game, the non-Shake Shack options had no lines).
I took
another slew of photos
(since the
original batch
from Monday's preview event proved to be pretty popular) mainly trying to get shots of these new "
iconic
" ballpark features from various angles, along with a few other shots of interest. As you can see in the shot at right, you can look at Blue Smoke and Box Frites with the
Yards Park
"iconic" pedestrian bridge and Navy Yard riverwalk directly behind, or with an
east-of-the-river vista
. I also grabbed a view of the
progress on the bridge
between Diamond Teague Park and Yards Park, my first shots of Das Bullpen, and both the sunset and the moonrise. And they would have all been even better if I had brought the official JDLand DSLR camera and not my less-than-fabulous point-and-shoot.
Browse the gallery
, and then mock me for leaving in the top of the 7th inning.
Other recently
tweeted
tidbits:
* The Yards'
new Facebook page
now includes a
2 1/2-minute virtual tour
of what the neighborhood will look like when it's all built out. To see what it looks like now (and what it looked like a few years back), wander through my
Yards project page
.
* On Sunday morning a group of volunteers descended on the empty lot just east of the
Velocity
condo building to turn it into a
demonstration rain garden
. It's a project of the DC chapter of the
Surfrider Foundation
, and is being funded by
REI
and the
Cohen Companies
(developers of the block), among others. They are having a meeting at Velocity on June 20 at 6 pm to discuss the project, and there will be another work day on the site on Saturday, June 25. The
project's blog
has photos and a lot of details; it's officially named the David Stemper Memorial Rain Garden, in honor of a
Surfrider volunteer
who passed away in 2010.
* The
BID says
that the next
Truckeroo
food truck festival at Half and M SE will be on Friday, July 15.
* Last week CSX
sent a letter
out to residents who live near Virginia Avenue introducing the plans to rehab the Virginia Avenue Tunnel. (It was probably quite useful for people who don't read JDLand!)
Foundry Lofts to Start Pre-Leasing Aug. 15, Open in October
Jun 10, 2011 12:43 PM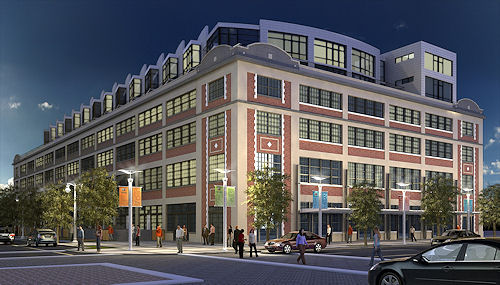 Just out from the
Foundry Lofts Facebook page
, a note saying "Mark your calendars Foundry Lofts fans! Pre-leasing starts August 15th, and we'll be opening this October!"
This is the old Pattern Joiner Shop on the southeast corner of 3rd and Tingey in the
Yards
, behind the
US Department of Transportation
building and just north of the
Yards Park
. Work to transform the 1918 structure into a 170-unit apartment building first began in 2008, but stalled later that year because of funding issues; work then re-started last August when new financing for the affordable housing units in the building
was secured
.
The building will also have ground-floor retail, with announcements on tenants expected "
soon
."
My Foundry Lofts page
has plenty of additional information, as well as before-and-during photos.
UPDATE: With a hat tip to reader mikescorpio in a different JDLand comment thread, here's the prices that the Foundry Lofts Facebook Info page list: "1-Bedrooms from $2,100s, 2-Bedrooms from $2,700s, Penthouses from $3,400s. Apartments Available October 15, 2011, Penthouses Available December 15, 2011."
Back from Across the Pond; Lots of Tidbits While I Recover
Jun 8, 2011 9:09 AM
I'm back in DC, having spent
11 wonderful days
in Madrid, Barcelona, and cruising across the Mediterranean to Pisa, Florence, Rome, the coast south of Naples, and Mallorca. Needless to say, while I checked in on the news back home from time to time and tweeted an item or two if the timing was right, I wasn't following developments closely, and I'm pretty out of the blogging groove at this point. So I'm going to start back slowly with some easy items.
*
Redistricting
: The city council voted Tuesday to approve a redistricting map that, as expected, keeps Near Southeast in Ward 6. This continues to make Marion Barry extremely unhappy, and the
Examiner reports
that he'll be "asking U.S. Attorney General Eric Holder to open a Justice Department review of proposed new D.C. ward boundaries because, Barry says, they violate residents' civil rights." There's still a final vote to be had on the plan, probably on June 21. As for the last-minute changes that ended up keeping much of Ward 6 intact (moving Reservation 13 to Ward 7 instead of other areas), you can read
Tommy Wells's blog
for more details.
*
Riverwalk
: The
Navy Yard
announced last week
that its portion of the riverwalk along the Anacostia River, running from the 11th Street Bridges to the
Yards Park
, will now be open from 5:30 am until "official sunset," seven days a week and including holidays; though there will still be closures as needed, which are announced on the
Navy Yard Riverwalk Twitter feed
. (I admit that I got a bit of a kick passing along this news
via Twitter
while riding on a train north of Rome.)
*
DPW Move
: The council passed
emergency technical legislation
on Tuesday that allows
Capper PILOT funds
to be used to build a new location for DPW operations in Northeast, which means that they should be moving from the 2nd and K site this fall (before "leaf season").
*
Ward 6 Family Day
: Tommy Wells's yearly event for Ward 6 residents will be held on
Saturday, June 25
, and will be at the
Yards Park
for the first time. It's from 1 to 5 pm, with "free food, live music, games and activities for the whole family as well as raffles featuring gift certificates from local businesses and sporting memorabilia from the Wizards, DC United and Washington Nationals."
*
ANC 6D
has its next meeting on Monday, June 13, at 7 pm at Arena Stage. The
agenda
is light on Near Southeast items, with only a resolution by David Garber about Near Southeast bike stations and requests by Cornercopia and Harry's Reserve to be exempted from the ban on the sale of "singles."
*
Food Truck Festival
: Bo Blair, the owner of the Bullpens and the organizer of Truckeroo on June 3, said in an e-mail that the event was a "massive, incredible success," with somewhere between 17,000 and 18,000 attendees and "zero problems." The next date for the event will be announced soon.
*
Construction and Destruction
: Construction has stalled on the Little Red Building v2.0 at
2nd and L
, which ANC commissioner Garber
says
is a "building permit issue that is in process of being resolved - construction should start back 'soon.'" Meanwhile, the "re-dressing" of
225 Virginia
is well underway, with the new exterior walls being hung on the north side of the building. And if it hasn't already happened, the
trailer
that was the original sales office for
Capitol Quarter
is being torn down, since construction of townhouses is now underway on that block. (Photos to come, at some point.)
*
The Yards on Facebook/Twitter
: I kind of stumbled across these (never saw any announcement about them), but the
Yards
now has an
official Facebook page
(which is available on
Twitter
, too) along with a separate one for the
Foundry Lofts
(its
Twitter account
is protected, though).
UPDATE:
And, since this just came across Twitter:
Dan Steinberg reports
that Shake Shack and the other new Nats Park restaurants will open next Tuesday, the beginning of the homestand vs. the Cardinals.
Comments
(28)
More posts:
225 Virginia/Old Post Plant/200 I
,
Alcohol/Liquor Licenses
,
ANC News
,
Fairgrounds/Bullpen
,
Capper
,
Capitol Quarter
,
cornercopia
,
Trash Transfer Site/DPW
,
Events
,
Restaurants/Nightlife
,
Foundry Lofts/Yards
,
Harry's Reserve
,
Little Red Bldg/Lot 38 Espresso
,
meetings
,
Navy Yard
,
redistricting
,
riverwalk
,
JDLand stuff
, The Yards
Tidbits: Redistricting Latest, Retail, Outdoor Movies, Kittens, Events
May 24, 2011 2:17 PM
News has gotten a little sparse of late, though there's suddenly plenty of little updates and whatnot, some that I've
tweeted
(and some that I haven't). Sorry that this is a bit of a monster post, but that just means you need to read it all carefully!
*
Redistricting:
With the redistricting committee's proposed map of redrawn boundaries coming out no later than their meeting at 1 pm on Thursday, news has begun to trickle out of what it will look like.
Mike DeBonis reported
on Monday that any part of the city west of the Anacostia River being moved to Ward 8 is "off the table," since the split neighborhood of Fairlawn is expected to be moved entirely into Ward 8, which would satisfy the ward's population requirement. (He also lays out some of the other "on the table" moves.) In an "op-ed" today at
The Hill is Home
, Tommy Wells says that Ward 6's new eastern boundary may be 17th Street NE and SE, moving Hill East and its landmarks (RFK, Eastern High School, Eliot-Hine Middle School, and Reservation 13) into Ward 7. After the committee votes on its map Thursday, there will be a public hearing at 6 pm on June 1, before the entire council votes on the plan on June 7.
*
Retail:
The big International Council of Shopping Centers'
REcon convention
is underway in Vegas, and the Post's Jonathan O'Connell is
tweeting
all the DC-related retailer news,
including
that Mayor Gray and members of the city council had lunch on Monday with representatives of Forest City, who gave a presentation on
The Yards
. Will there be an announcement soon on things getting started at the
Boilermaker Shops
, as Forest City said there would be
a few weeks ago
? A
Post feature
on Capitol Hill restaurateur Xavier Cervera mentioned that he has "deals in the works for 400-seat and 140-seat restaurants on the waterfront," the first of which would seem to be the sportsbar
rumored
for the Boilermaker space. The rumblings below the surface that the official Boilermaker announcement is coming soon continue to be strong (with any opening being at least a year away, since there's a lot of exterior work to be done to the building), but there's been no official announcement of this or any other Boilermaker lease.
* In an Examiner article about
Wegman's being wooed
for DC's Walter Reed site, it's mentioned that Michael Stevens of the Capitol Riverfront BID and city officials are meeting with AMC Theaters to discuss potential locations. The article describes a possible spot as "First Street, south of M Street and adjacent to Nationals Park." I'm a little skeptical of "First Street", mainly because
the big empty lot along First
(Nats parking lot F), owned by Willco and slated in the past for a mixed office/residential/retail development, hasn't seemed to be in play for any movement on any development. On the other hand, there's been talk that Akridge has been interested in having a movie theater as part of its
Half Street development
, also south of M and adjacent to Nationals Park, and construction
could be starting
there late this year. Either way, nothing is firm.
*
Kittehs:
Are you looking to adopt a cat? How about a
Market Deli
-branded kitten? Some residents have captured and spayed/neutered/vaccinated two of them, estimated to be 4-6 months old, and are looking for someone to adopt them. Here's the
additional information
. (I would have leapt at this, but my two cats, ages 17 and 14, would kill me in my sleep if I brought home new "siblings" for them.)
And, some
upcoming events
to note:
* The
Yards Park
folks have passed along the news that the
fountains are off
all this week for maintenance. No water-based frolicking for you!
* The
Capitol Riverfront Outdoor Movie Series
gets underway this Thursday (May 26). The theme this summer is Best of the Oscars, and they're starting off with "Casablanca." Movies start at 8:45 pm (or sundown), and there will be food trucks and snacks for sale. The movies have moved back to Tingey Plaza, just south of
US DOT
at New Jersey and Tingey.
*
Harry's Reserve Wine and Spirits
at 909 New Jersey is going to be having a free "
community cookout
" on their courtyard on Friday, May 27 from 5 to 8 pm, and again on Saturday, May 28 from 4:30 to 8 pm. They are doing it to thank the neighborhood for the support they've received since opening. There will be free "high-end" beverage tastings in addition to grilled offerings. The owners also want to pass along that they're getting fresh shipments of a variety of cheeses this week, and that they now have 800 beers in stock.
* Ryan Zimmerman's annual "
A Night at the Park
" fundraiser is scheduled for June 30, benefitting his
ziMS Foundation
. Tickets are now on sale, and it's
been announced
that country star Rodney Atkins is the featured performer.
Comments
(8)
More posts:
Akridge/Half St.
,
Boilermaker Shops/Yards
,
Events
,
Harry's Reserve
,
marketdeli
,
meetings
,
redistricting
,
Retail
,
Nationals Park
,
Stadium Events
,
Square 701
, The Yards
Thursday Tidbits: Bike to Work, New Tweeters, Crawfest, 55 M
May 19, 2011 12:26 PM
A roundup:
* Friday is
Bike to Work Day
, with the
Yards Park
being one of the morning "
pit stops
," from 7 to 9 am. If you're interested in joining in the fun, you need to
register
.
* The
Canal Park
folks have recently begun using their Twitter account,
CanalParkDC
. An update on the park's progress was
tweeted on Wednesday
, though it probably wasn't what park fans want to read: "Rain delays, water in our excavation preventing pouring foundations. Very frustrating!"
* The
Navy Yard
has
created a Twitter feed
for its portion of the Anacostia Riverwalk, to alert people to planned closings. This is in addition to the
web page they've set up
for hours and information about the riverwalk.
(I've added both of these feeds to my
Near Southeast Businesses/Organizations Twitter list
, which displays all the latest tweets in real time on the JDLand home page, for those of you who have remained blissfully outside of the Twitter vortex.)
* Louisiana State Society is having its
Crawfest
at the Yards Park on Sunday (May 22), with 4200 pounds of boiled crawfish, 150 pounds of jambalaya, sausage, corn, and potatoes, Abita beer, Louisiana music, and more. Society members get in for $45 per person, while non-members can pay $55 to attend. (Tickets for children 12 and under are $15.)
*
DDOT says
that its move out of the Reeves Center to Monument Realty's office building at
55 M
is almost complete.
* Speaking of 55 M,
it was named
"Best Urban Office over 150,000 SF" at the NAIOP Maryland/DC 9th Annual Awards of Excellence.
Spring Has Sprung Photos: 200 I, Capitol Quarter, Yards Park
Apr 25, 2011 9:18 AM
With the sun finally coming out, it shouldn't be surprising that I took camera in hand on both Saturday evening and Easter Sunday and did some wandering to catch up with the progress at two locations, and to get shots of a few new items I hadn't yet documented.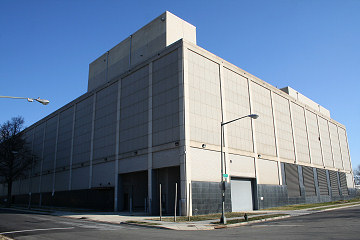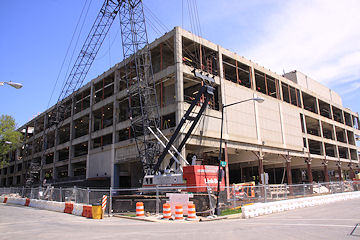 The old
225 Virginia
, on its way to becoming 200 I (boo), is now almost completely disrobed. (I think I'll go with that from now on rather than "deskinned.") It's been such a monolith for so many years that it's strange to see it broken up. You can take a
virtual walk around the block
to see how the old Star/Post plant looked before along with its current state, and visit my
225 Virginia project page
for more info and background. (If you haven't been following along, by this time next year 200 I is expected to be nearly complete, with three DC city agencies on the boards to move there.)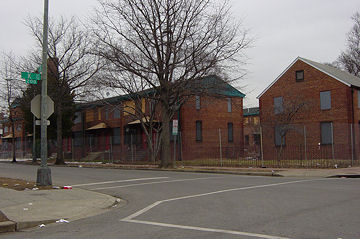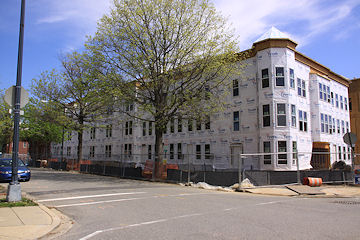 Just to the southwest, work continues on the first block(s) in the second phase of the
Capitol Quarter
mixed-income townhouse development, with bricking proceeding on the new houses along I Street while framing has made it around and up the new 3rd Place; plus, foundations have now been poured along 4th Street. Here's your
walk around the block
to be reminded of the old public housing units that stood there for a long time and to compare them with the construction going on now. For more information, see my
Capper
and
Capitol Quarter project pages
.
(If you want to see just the new photos taken Sunday,
here they are in one batch
.)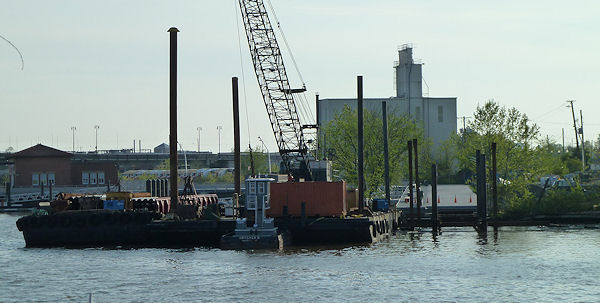 Meanwhile, down at the
Yards Park
, the flowers are in bloom, a geodesic dome that looks like the Earth is
hosting foodies,
and work appears to have begun on the floating bridge that will connect the Yards Park to
Diamond Teague Park
(right by
Nationals Park
) later this year. You can see my
quick gallery of photos
showing these items, along with a picture of the sign laying out the rules for using the Navy Yard portion of the riverwalk (since it was Saturday, I could only stand forlornly at the gate and look eastward), plus the progress on the
Foundry Lofts
building just to the north of the park. And some shots of the Navy Yard buildings that are adjacent to the park, just because I like being in a spot where I can take photos of them without having guards chase me down the street.
Outdoor Movie Lineup; FreedomFest; Harry's Grand Opening
Apr 22, 2011 9:33 AM
A couple of event tidbits:
* The BID has
announced the lineup
for this year's "Best of the Oscars" summer outdoor movie series, running on Thursdays from May 26 through July 28. The movies, which are free and open to the public, will start at 8:45 pm (or sundown) at Tingey Plaza, which is directly behind
USDOT
at the corner of New Jersey and Tingey. There will be food trucks, popcorn, cotton candy, and Micha's sorbet.
* The
National FreedomFest
, a two-day music and arts festival, is coming to the
Yards Park
on July 3 and 4. They are advertising "over 40 bands and DJs" on five stages, along with food and craft vendors (and yes, beer, since the event is co-sponsored by Budweiser).
Tickets
are $19.99 per day or $29.99 for a two-day ticket, or if you're feeling special you can get special VIP and/or "Taste of Freedom" tickets, which get you access to VIP areas, free beer, private bathrooms (!), and more, but which are a bit pricier.
* And, on a somewhat smaller scale (but sooner!),
Harry's Reserve
has passed along word of its official Grand Opening, scheduled for Saturday, April 30, from 4 to 7 pm. There will be appetizers, wine tastings, and "high-end whiskey tastings" (wheee!). Savita also tells me that they've added a selection of cheeses, patés, and salamis to their lineup, as well expanding their lineup of spirits. Harry's also does wine tastings every Friday and Saturday from 4 to 7 pm.
* I should also mention
Marcatus
, the "creative art market" being held on the first Sunday of every month at the Yards Park. It's from 11 am to 6 pm, and offers live music and food in addition to artists displaying their works. Next one is May 1.
* And, just as I posted this, the BID sent out the flyer on the
summer Wednesday lunchtime concerts
, running from May 11 to August 17 from 11:30 am to 1 pm in the Yards Park. This is in addition to the Friday evening concert series at the park that begins on
May 13
.
Roundup: Boilermaker Shops, WMATA Land Sale, Ward 6 At-Large Candidate Forum, Water Taxi News
Apr 18, 2011 11:37 AM
Catching up after a quick trip to Florida:

* A few readers have mentioned some work underway around the
Boilermaker Shops
at
The Yards
, but I'll burst the bubbles and note that it's not a sign of formal construction getting started on the 46,000-square-foot retail space. Forest City is taking care of some remediation on behalf of GSA, involving the paint inside the building along with some potentially tainted soil around the outside.
On the same subject, there was a tidbit in the
April Hill Rag
on
page 85
(hat tip reader J) in an article about Barracks Row restaurateur Xavier Cervera, who runs Lola's, Molly Malone's, the Chesapeake Room, and some other new ventures on the way: "And there's even more in his culinary sights: along the Southeast waterfront near
Nationals Park
, Cervera has leased half of the glass-and-steel Boilermaker building (1100 New Jersey Ave. SE) for a classy, 450 seat sports bar." (Ay-yi-yi on that really incorrect address!)
I asked Forest City about the report, and received this response: "Forest City Washington expects to announce soon a number of great restaurant and retail venues that will be located at The Yards. Upon completion of these leases we will commence redevelopment construction of the Boilermaker Building. At this point, we are not able to specifically respond to the inaccuracies in the Hill Rag piece. These inaccuracies will become evident when we make our official announcement." Hmmm.
In the meantime, you can see renderings and photos (outside *and* inside!) on my
Boilermakers Shops page
.
* After having a contract for more than three years, WMATA and Donohoe have finally completed the $3 million sale of 5,165 square feet of land at
New Jersey and M
where the east entrance of the Navy Yard Metro station sits. This allows Donohoe to build its planned 220,000-square-foot
1111 New Jersey office building
, as soon as they find tenants. (The building won't sit directly on top of the entrance, as 55 M does with the west entrance of the station, but is pretty close, as you can see in the rendering on
my project page
.)
* And, in other land transactions in the 100 block of M, the longtime owners of the tiny 1,500-sq-ft sliver of land between 100 M and the alley have sold the property for Northwood Investors, the new owners of
100 M
. (The property records say the price was $250,000, which, if accurate, would seem to a good deal less than what they might have been offered back when Opus East was acquiring the property to build 100 M.)
* On Tuesday, April 19 (tomorrow!), there's a
Ward 6 Candidates Forum
with the large field of candidates for the open at-large seat on the city council (you didn't know there's an election on April 26? You're not alone). It's in the North Hall at Eastern Market from 6:30 to 8 pm, and being hosted by the Ward 6 Democrats (but it's labeled a non-partisan event, so there will be no endorsement vote). You can
submit a question for the candidates
, whether you're attending or not.
*
American River Taxi
is getting some press as it gets its service underway between Georgetown, the Southwest Waterfront, and
Diamond Teague Park
across from the stadium (though Saturday's rains and the
subsequent flooding
along the Potomac have put a crimp in their schedule over the past few days).
WTOP
and the
The Hoya
have posted articles in the past few days.
ANC Recap No. 2: Lumber Shed Zoning Change Request OK'ed
Apr 12, 2011 2:31 PM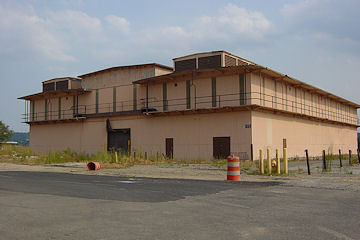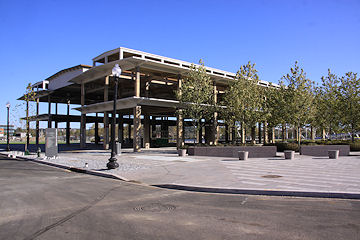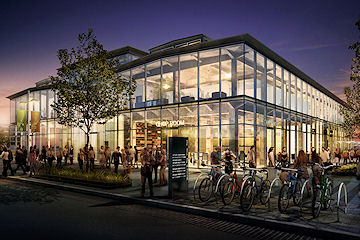 Although the
Yards Park
has been open since September of last year, the historic Lumber Shed that sits just south of Water Street between 3rd and 4th is not yet in its final form.
Second-phase plans
have always been for the shed to be turned into a glass-enclosed retail pavilion; however, as Forest City has been seeking tenants they have discovered that the vast majority of leasing interest has been for the first floor, not the second.
In order to get the building to the required percentage of leased space in order to get financing to start construction, Forest City is wanting to move their offices to the second floor of the shed, which requires a text amendment to the
site's zoning
. It would be on an interim basis, for no more than 20 years, and would allow Forest City to move its offices elsewhere before the end of that 20 years, and would require a return to retail or restaurant uses on the second floor after they move out. If the Zoning Commission approves the change, Forest City says they are looking to start construction this year and open the building in 2012. As part of the process for this zoning change, Forest City prepared a series of renderings of the completed renovation, which they have been kind enough to pass along to me. (Click on them to see enlarged versions.)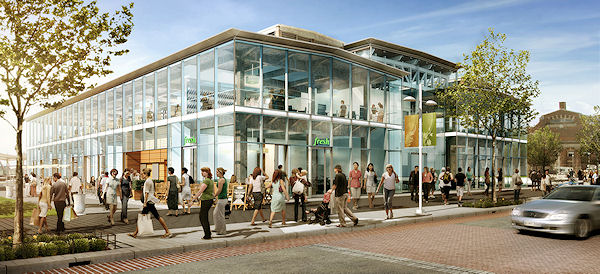 When Forest City first came to ANC 6D with information about this zoning text amendment request in March, the commissioners had concerns on three areas: the design of the roof (and whether it would be "green"), whether there would be controls in place to prevent the office workers from marring the look and feel of the glass walls by hanging posters or papers on them or putting other clutter too close to the glass, and whether the nighttime lighting of the shed on both floors would be designed to create a desired "jewel box" look.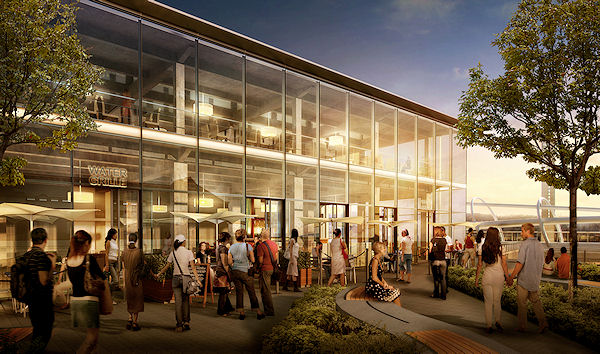 Forest City addressed these issues at Monday's meeting. A green roof was studied, they said, but ultimately it was decided that it couldn't be implemented in a fashion that would respect the historic profile of the roof and the building, and given that the building is surrounded by almost 100,000 square feet of "permeable" surface (i.e, the park), they felt that another 300 or 400 square feet was not a necessity. The color of the roof will be a charcoal gray. As for the "Post-Its on the Glass" issue, Forest City said that they will stipulate rules as to not hanging items on the glass and how far away other items should be. And the company also agreed to the "jewel box lighting" concept of both floors, provided that it's left up to Forest City to determine the appropriate lighting levels. The rendering at top right (
see larger version
) shows the nighttime lighting of the building as envisioned.
In addition, David Garber suggested/requested that a sign or plaque of some sort be affixed to the building (but not on the glass!) to explain its historic significance, which Forest City also agreed to.
With questions answered, agreements reached, and plaques affixed, the ANC voted 6-0 to support the zoning change. No date for the hearing with the Zoning Commission has been set as of yet.
The Lumber Shed is not the only retail pavilion planned for the park's later phases--designs call for two additional buildings along Water Street on the empty lots to the east of the shed. You can see more information and renderings on my
Yards Park page
(scroll down a ways if the link doesn't jump you down to the Second Phase section).
(Coming tomorrow, one more post on 6D's meeting, with a roundup of the other Near Southeast-related items on the agenda.)
Sensorium, Nats, Water Taxis, and Other Events and Tidbits
Apr 10, 2011 10:55 PM
Sorry I went off-grid most of last week--when I said that the weather on Opening Day reminded me of 2008, I wasn't expecting to then come down with pretty much the same bug that clobbered me after the big event three years ago. (I'm also getting too old to traipse around outside for many hours over multiple days in 40-and-rainy weather.) I'm still not 100 percent, but here's a few items I'm passing along as I work my way back into the swing:
* As already posted,
ANC 6D is meeting
Monday night at 7 pm at the Courtyard by Marriott at New Jersey and L SE. There's lots of Near Southeast items on the agenda, including the
Market Deli landmarking nomination
, a call for a combined M Street SE/SW transportation study, and Forest City's desire to move its offices to the Lumber Shed at the
Yards Park
. ANC 6B then meets on Tuesday, but there don't appear to be any south-of-the-freeway items on their
agenda
, so I'll be skipping that.
*
Sensorium
starts its six-week run at the
Yards Park
on Tuesday, April 12. The Post's Going Out Guide
posted some photos of the dome
last week during construction, as did
the Sensorium folks
themselves. If you haven't been following this, Sensorium pairs a 12-course tasting menu with visual/performance art into a production that sounds like unlike anything on the current or recent DC agenda. There are two seatings every night (except Mondays), with
tickets
$150 per person. If you go, tell us all about it!
* Also at the Yards Park this week is the
DC Challenge
race and festival on Saturday the 16th, where you can test out your Amazing Race-type abilities in this "Ultimate Urban Scavenger Race."
* The Nationals have a big
home
stand, starting with the Phillies Tuesday through Thursday (so beware the descending hordes) and then the Brewers Friday through Sunday. All weekday games are at 7:05 pm, Saturday's game is at 1:05 pm, and Sunday is the usual 1:35 pm start. I haven't heard yet if
Das Bullpen
will be making its debut this week or not.
UPDATE:
The owner of the Bullpen told me on Monday afternoon that Das Bullpen will be open on Tuesday evening for the Nats/Phillies game.
*
American River Taxi
has begun its service between the Georgetown Waterfront, the Southwest Waterfront (which we're now calling The Wharf, I guess), and
Diamond Teague Park
. They have an 8 am commuter run on weekdays from the Wharf to Georgetown, then regular runs between the three stops starting at 10 am until 6 pm weekdays and 9 pm on weekends. (If you're wanting to try out the service to get to any of the Nationals games this week,
they say
that the boat leaves Georgetown at 6:05 pm [updated time].) Ticket kiosks are at Tony and Joe's at the Washington Harbor in Georgetown and the Gangplank Marina in Southwest, and tickets can also be purchased on the ship. Tickets will normally be $9, but are currently discounted at $8,
according to SWill
, who's doing a fine job following the venture's launch. ART has just one boat so far (the Dolley Madison), they are still adjusting their run times (right now it takes 20-35 minutes between stops), so following them on
Facebook
and/or
Twitter
is a good way to keep up with their service. They hope to eventually expand their offerings to National Airport, Alexandria, and National Harbor. (As of now, the
Potomac Riverboat Company
is the only outfit sailing to Teague from Alexandria, and that's
just for Nationals games
.)
*
Harry's Reserve
at New Jersey and I had its first wine tastings on Friday and Saturday. If you want to keep up with their news and events, you can
friend them on Facebook
(they've set themselves up as a Facebook "person" rather than a product page to "like"--perhaps they'll rejigger that soon.)
Also, a site note: with more neighborhood information being tweeted these days than I could hope to write about or even retweet, I've created a Near Southeast Businesses/Organizations
Twitter list
, which you can also browse on the JDLand.com home page, in the box below the map in the right margin--which is below the box with
my own latest tweets
, so clearly you can get a lot of Twitter content right here if you haven't joined the
cult
social media outlet yet. I'm trying to keep this list to very-very local businesses and groups (and not DDOT or the Nationals or other feeds that aren't mostly about goings-on in this area). If I'm missing any, let me know.
Comments
(3)
More posts:
ANC News
,
Fairgrounds/Bullpen
,
Events
,
Restaurants/Nightlife
,
Harry's Reserve
,
meetings
,
Nationals Park
,
Teague Park
,
Water Taxis/Riverboats
, The Yards,
Yards Park
ANC Agenda: Market Deli, M Street Traffic Planning, Lumber Shed
Apr 6, 2011 1:51 PM
There's nothing I like more when fighting a cold than to think about an upcoming ANC meeting, but these are the sorts of sacrifices I make for you people. Miraculously, ANC 6D has already posted the
agenda
for Monday's meeting, which is chock-full of Near Southeast-related items and is coincidentally being held in Southeast this time around, at the Courtyard by Marriott at New Jersey and L. Up for discussions and/or votes:
* The
Market Deli historic landmark application
, which will get a vote from the ANC as to whether or not to support it (and of course we know that at least one 6D commissioner will be voting for it!). The
hearing
in front of the Historic Preservation Review Board is scheduled for April 28.
* A presentation on the
zoning request
to allow Forest City to "temporarily" include office space in the Lumber Shed building in the
Yards Park
. I've written about
this Lumber Shed request
before, and in fact Forest City did a information presentation on this at last month's ANC meeting, but I was hoping to get copies of the new pretty renderings of the buildings before writing anything, and that never happened, and I knew they'd be back again in order to have a vote on whether the ANC will support the zoning request, so.... I promise to write about it this time.
* A resolution on a long-term traffic and transportation study for M Street SE and SW, also to include a "complete streets" plan, according to
David Garber
. This would appear to be wider in scope than the transporation study discussed in the draft
Performance Parking report
I wrote about recently that seemed to only cover the east side of South Capitol, but I imagine all will be clarified at the meeting.
* It turns out that
Das Bullpen
needs a new separate liquor license rather than operating on the Bullpen 1.0 license, so that's on the agenda as well. The hearing for that is
scheduled for May 31
, but the ANC will be voting on a "stipulated license," which I believe means that the bar could operate while waiting on the full license hearing. (And no, I haven't heard when they might be opening, though it wouldn't be before the next Nats home game, on April 12 vs. the Phillies.)
* And the BID is looking for support for the "Home Run Classic Pacers 10K Race" on June 18, that appears to
start and/or end at the Yards Park
and which I would guess (but don't know for sure) would involve some street closings.
The meeting begins at 7 pm, and does allow for short audience questions/statements on any agenda item where a vote will be taken, just in case there's any particular agenda item that people may feel strongly about one way or the other. (And all of this assumes that a government shutdown wouldn't affect an ANC meeting? Anyone?)
NGA Move From 1st and M to New Springfield Campus Underway
Apr 4, 2011 8:35 AM
It can be hard to get much information when you're dealing with one of the more cloak-and-dagger-y agencies of the US Government, but word is filtering out that the
National Geospatial-Intelligence Agency
has begun the BRAC-mandated move of its employees from the windowless fenced-off building at
1st and M SE
to its $1.7 billion new
Campus East
facility in Springfield.
According to
NextGov
, the first of NGA's 8,500 employees arrived at their new home in January with more continuing to make the move, and I've confirmed that this includes some employees from the Near Southeast location as well as NGA's other locations in Bethesda, Reston, and Ft. Belvoir. The moves are happening in a staggered fashion, working toward the required "fully operational" date of September 15 in Springfield. (You can see construction photos of the new campus
on Flickr
, or learn more about the history of NGA via
Wikipedia
.)
The 1st and M building, known as Building
123
213 in Southeast Federal Center parlance, is the northwestern-most portion of the footprint of
The Yards
, and the long-term plans for the site are for new office space with ground-floor retail. Perhaps once NGA has completed the move there will be a freer flow of information about the site (if the building will be torn down or used for other purposes in the interim, if the fence will come down, etc.). It also is more than likely that there are other somewhat shadowy outfits operating in this space as well, and I'm not sure whether they're heading for even more shadowy pastures elsewhere during this move.
But the departure of NGA is a step toward replacing the armed encampment one block from
Nationals Park
with something a bit more welcoming--and I'm sure the building's security folks aren't terribly unhappy about no longer being surrounded by red-clothed hordes (toting cameras! the horror!) 80 days a year. (I will admit to once starting to point a camera at a few of the guards behind the fence--without coming close to squeezing the shutter--just for the fun of showing the people I was with how quickly the guards would reach for their guns.)
It's not like there's ever been a whole lot of detail about the goings-on on this corner: the Post reported back in 1964 that the CIA moved into the renovated Naval Weapons Plant warehouse in January 1963 with "no announcement, no little ceremony, no welcome-to-the-great-southeast-sector fanfare." There also hadn't been any announcement in November 1961 when the GSA awarded a no-bid contract to get the building renovated.
(Current residents and observers will get a kick out of the Post's 1964 description of the building's surroundings as "liquor stores, run-down shops, a railroad spur, and, right around it, a formidable chain link fence topped by five rows of unfriendly barbed wire," which WaPo said made "the six-story cream-and gray building [...] positively glamorous" in comparison.)
If you look at
this map of the future layout of the Yards
, you can see the 1st-and-M site at upper left, with plans for three buildings and a new east-west street (which
this map
says will be called Quander Street) about halfway down the block, along with the new "1 1/2 Street SE" running north-south from Quander to N Place.
DC Challenge at the Yards Park April 16; NatsFest Schedule
Mar 25, 2011 1:11 PM
The April lineup of events at the
Yards Park
continues to grow: on April 16 it will be host to the
DC Challenge
, an "Amazing Race" style scavenger hunt through the city. Competitors will "solve tricky clues" to plot the best route and race for cash prizes, and then afterwards there will be a "Finish Line Festival" with music, games, food drink, and the "crowd-judged costume contest." You can
register online
, and the web site has much more information on what's billed as "America's largest adventure race."
Also, in a slightly different vein, if you haven't already seen it, here's the schedule for
NatsFest
on Wednesday afternoon.
(One note on my handling of upcoming events--generally I'll post about something when I hear about it, and maybe give another reminder a couple days beforehand if the timing's right, and of course they're all always on my
events calendar
. But if you want lots of updates and reminders on goings-on at the Yards Park or other events handled by the BID, you'll want to follow those
Facebook
or
Twitter
feeds.)
Performance Parking Brings Monies for New Bikeshare Station(s), Transportation Study; Some Parking Costs Going Up in 2011
Mar 24, 2011 1:38 PM
Michael Perkins
at GGW got his hands on the draft version DDOT's
2010 Ballpark District Performance Parking Report
, and while I'll leave it to him to handle the
in-depth discussion of pricing and meter use
in Near Southeast as well as other neighborhoods, there are a few action items in the report that might be of general interest (you should read all 31 pages if you want the nitty-gritty).
Now, this is a
draft
report, but assuming it becomes final...:
Revenues from the
parking program
have been able to provide $812,100 for "non-automotive transportation improvements" in 2011, which will include a new Capital Bikeshare location at the
Yards Park
and $135,000 for a new fence along New Jersey Avenue by the railroad tracks (presumably it won't hide the
"Water Pylons" public art
coming to the freeway underpass). There will also be two or three other new bikeshare stations somewhere in the Ballpark District parking zones (Near Southeast, Southwest, and southern Capitol Hill), but those haven't been announced.
There will also be a $70,000 grant to partially fund a Capitol Riverfront BID Transportation Study, which the page 25 of the report says will happen during this fiscal year and will look at:
* The need for additional traffic signals and stop signs based on pedestrian and vehicular patterns (and recent accidents);

* Neighborhood traffic circulation patterns including one way street circulation and freeway access and turning movements onto the freeway frontage roads;

* How the CSX tunnel reconstruction will impact traffic flow and SE/SW freeway access/egress;

* Existing and future parking demand and the proposed parking supply to meet that demand;

* On street parking strategies and supply for commercial, residential and visitor populations;

* Optimum Circulator routes and hours of operation;

* Recommended routes for bike lanes that tie into the Riverfront Trail system;

* The optimum route for a streetcar line in the M Street right of way and how it would service the Buzzard Point subdistrict; and

* How M Street is designed and works as a multi-modal transit corridor while exhibiting a high quality of design in the public realm.

Gosh, I'm just not sure if residents will be interested in any of these! If perchance a reader or two might have an idea or data point for the above items, feel free to discuss in the comments.

Note that this study doesn't quite seem to match the overarching Near Southeast/Southwest combined traffic study that got

some discussion late last year

, but perhaps there's more going on than what's mentioned in the DDOT report.

DDOT is also proposing that non-gameday parking rates at the multispace meters between South Capitol and 2nd Streets from the freeway to M Street go up to $6 for three hours (first hour $1.50, second hour $2.50, third hour $3). Plus, the boundaries of the parking zone will move eastward to 11th St. SE from 9th St.

By the way, if you have a fab idea for how some of the proceeds from the parking revenue can be spent on the aforementioned non-automotive transportation improvements, you can submit a written proposal to DDOT (further information on page 26 of the

report

). And if you want background on how the Performance Parking Pilot came into existence back in 2008, my

Stadium Parking page

can help with that.