Near Southeast DC: Past News Items
The Yards
Go to Full Blog Archive
---
Florida Rock Raze Permit, and Other Tuesday Tidbits
Mar 22, 2011 11:03 AM
All sorts of small stuff that has recently been
Tweeted
, or just left to molder until I finally got around to posting: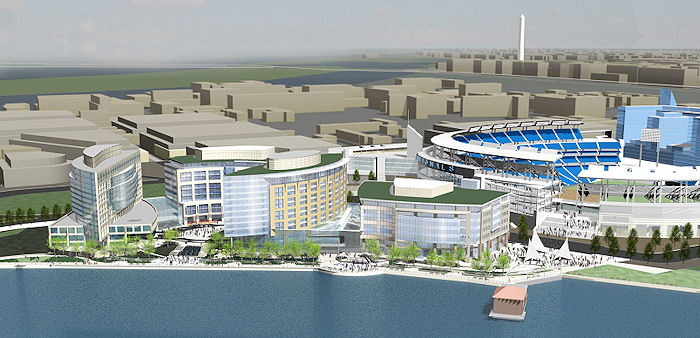 * A raze permit application has been filed by the
Florida Rock
folks for the concrete plant operated by Vulcan Materials Co. on Potomac Avenue just south of Nationals Park. This in an of itself is quite interesting, made even more interesting by a lack of response from Florida Rock Properties when I inquired as to what this planned razing might mean. From what I'm told, raze permits are valid for one year from the date of issuance (and this one hasn't been issued yet). The plan has been for a
1.1-million-square-foot mixed-use project
that would include office, residential, hotel, and retail in four buildings, plus lots of open space. (Note that the western part of the project can't be built until the
new Douglass Bridge
is built and the current one is demolished, which doesn't seem to be happening anytime soon). Whether the current plans will still be going forward with the current owners or if changes are in the works, we'll just have to wait and see, though considering that it took FRP a decade or so to get zoning approvals for the site, it would be no fun to see the process start over again.
* There was a kitchen fire on the 3rd floor of the
Capper Seniors building
at 900 5th St. SE on Monday night, according to
tweets
from
DCFireEMS
. The bulk of the fire was handled by the sprinkler system, they say, and there were no injuries.
* The DC Music Fest planned for the
Yards Park
on May 7
has been cancelled
"due to a lack of funding and sponsorships."
* The Five Guys at
Nationals Park
will not be back for the 2011 season,
says Curbed DC
. (The one on 2nd Street across from
Canal Park
is not affected by this.)
* Speaking of the ballpark, in case your attention hasn't yet turned to baseball, note that Opening Day is next Thursday (March 31), with NatsFest being held at 4 pm the day before. The first series of games (Thursday, Saturday, and Sunday) will all be early afternoon starts (1:05 pm on Thursday and Saturday and the normal 1:35 pm start on Sunday).
Navy Yard Opening Their Riverwalk for 'Limited Public Access'
Mar 16, 2011 11:48 AM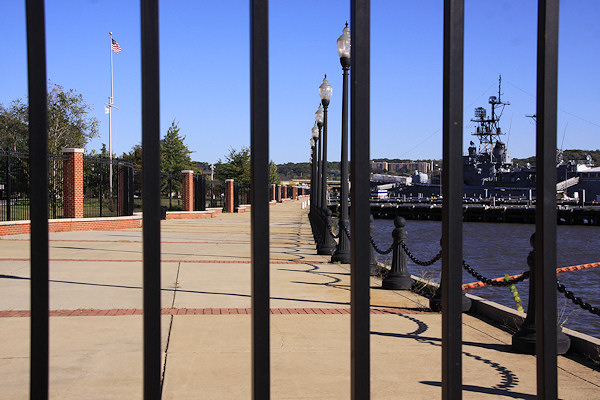 Just released from the Navy:
"Gates at the east and west end of the waterfront promenade (Riverwalk) at the Washington Navy Yard (WNY), will open for limited public access on Apr. 1, 2011. The WNY Riverwalk terminates at the
Yards Park
to the west and 11th Street SE to the east.
"The gates at both ends of the WNY Riverwalk will be open during base working hours, 8:00 a.m. to 5:00 p.m., Monday through Friday excluding Federal Holidays. Exceptions to these operating hours will be made when restricted access is necessary to accomplish Navy operations. The Navy may block or restrict access without notice for safety or operational reasons.
"The Display Ship Barry, located along the WNY Riverwalk, will be open to the public with access directly from the Riverwalk when the Riverwalk is open. The Display Ship Barry and the Navy Museum can be accessed through the WNY during normal hours when the Riverwalk is closed. Holders of valid Department of Defense (DoD) identification cards will be able to enter the WNY via turnstiles along the Riverwalk during operating hours. Access for non-DoD identification card holders will continue to be via the WNY visitors center, located at the intersection of O Street and 11th Street SE."
ANC 6D Agenda: Capper, Day School, Yards, 225 Virginia
Mar 11, 2011 12:37 PM
Very quick post to note that the agenda for Monday's ANC 6D meeting
is now posted
. The bevy of Near Southeast items include:
* An update on the
Capper Hope VI redevelopment
from the DC Housing Authority;
* The zoning case to allow Capitol Hill Day School to
erect temporary structures
on the Community Center lot starting in June while their school undergoes renovation;
* A
Yards
zoning amendment that would allow Forest City to "temporarily" (not more than 20 years) include office space in the second floor of the Lumber Storage Shed at the
Yards Park
, which would allow
FC to move their offices there
;
* And an update on "landscaping plans" at 200 I Street (still known in these parts at
225 Virginia Avenue
).
There's also a lot of other items more of interest across the way in Southwest, although the items on "Safeway 'Customer Service' Procedures" and some others might be of note to Near Southeast residents as well.
Also, I might point out this item from the
agenda
, if you haven't noticed it before: "Community Concerns -- ANC6D residents may address the Commission for three (3) minutes, provided they have called the ANC office at 202-554-1795 at least forty-eight (48) hours in advance of the meeting to supply the topic and request a time slot. (Statements must be submitted in writing for record purposes.) " The Community Concerns slot is now at the very end of meetings, however.
The meeting is at 7 pm at St. Augustine's Episcopal Church, at 600 M St., SW.
Vote for Summer Movies, and Yards Park Events Gearing Up
Mar 7, 2011 2:55 PM
With "Academy Award Movies" having been the
winning theme
for the Capitol Riverfront BID's 2011 summer outdoor movie series, the BID is now asking people to
vote on which Academy Award movies should be screened
. The series starts on May 26, and will once again be on Tingey Plaza, at New Jersey and Tingey just behind the
USDOT building
. (Last year's screening location, the
Canal Park
footprint, will be unavailable this summer because the locusts have arrived, dogs and cats are sleeping together, and it appears that construction is about to get underway.)
While the movie series isn't being held at the
Yards Park
(just a smidge to the north of it) the BID is working on an ever-growing list of events that will keep the park hopping through the year:
* Kicking off the slate, there will be a
Family Fun Day
on April 2 from 11 am to 4 pm, in conjunction with the
National Cherry Blossom Festival
. According to the
press release
, activities at the free event will include sake tasting and a Japanese beer garden by Mie N Yu, lantern making, sushi from Nooshi Sushi, a moonbounce, and more. (Then everyone can take a leisurely walk down M Street to the Southwest Waterfront for the
Fireworks Festival
, which actually starts at 1 pm and runs until the fireworks kick off at 8:30 pm.) This is also the day of the first Saturday home game of the year at
Nationals Park
, just two blocks to the west, starting at 1:05 pm against the Braves.
*
Sensorium
, the "culinary and sensory experience" announced
a while back
, starts its multi-week run on April 12.
* The previously mentioned DC Music Fest on May 7 has now announced its lineup.
* While the summer movies will be on Thursday nights, the park will also host a free
summer concert series on Friday nights
from 6 to 8 pm, kicking off on May 13 and running through August 19. This will be in addition the the lunchtime concert series that the BID has run for the past three years, and is expected to feature music ranging from jazz and blues to rock and reggae. (If you're a food provider and you want to serve at the concerts, here's
the RFP
.)
* July 9 will see
MetroDash
, the "country's premier obstacle race series," which includes obstacles such as tire flips, rope swings, 15-foot cargo net climbs, wall jumps, monkey bars, the "strongman shuffle." You can
sign up here
(if you
dare
), though the web site doesn't seem to be responding right now.
There are also plenty of private events already on the
park's calendar
, so if you were thinking about
throwing your own shindig there
, you won't be alone.
UPDATE, 3/20:
According
to their web site
, the May 7 DC Music Fest has been cancelled, "due to lack of funding and sponsorships."
Forest City Looking to Move Offices to Yards Park Lumber Shed
Mar 4, 2011 10:55 AM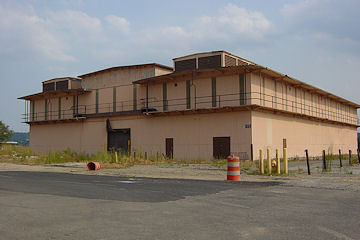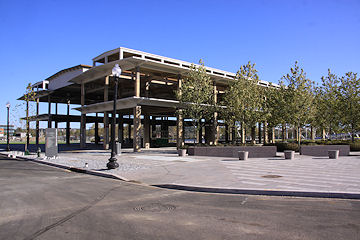 Tucked away in today's DC Register is a zoning request by Forest City Washington to allow the second story of the currently de-skinned Lumber Storage Shed at the
Yards Park
"to be used for general office purposes, on an interim basis, for no more than 20 years." The filing says that Forest City wants to temporarily relocate "in order to facilitate the leasing of the ground floor and to finance the building's restoration."
The
intention has been
for the shed to be given glass exterior walls and be a retail space--this new plan would still include ground-floor retail (in a very picturesque location at the Yards Park, right by the 3rd Street Plaza and the overlook). There are two other retail pavilions planned for later phases of the park as well, on the open spaces just to the east of the shed.
Pre-Monday Tidbits (Van Ness Meeting Reminder, Links)
Feb 28, 2011 9:47 AM
* I imagine most interested parties do not need to be reminded that tonight at 6 pm at 900 5th St. SE is the meeting with DCPS to find out what they plan to do with
Van Ness Elementary
. With laser-like precision, they picked a date when I absolutely can't be there, so anyone who wants to pass along the news as it's happening, please do. (I will be keeping an eye on Twitter.)
And, two recently
Tweeted
links that might be of interest:
*
The Yards
was named
one of Five Projects that Will Transform Washington
by the Washington Business Journal. "When completed, the neighborhood may finally achieve L'Enfant's vision for a bustling center of activity on the waterfront."
* The
DC Fiscal Policy Institute takes a look
at the possible
$8 million tax break
to bring Whole Foods to New Jersey Avenue, asking "why it makes sense for the District to continue putting money into an area that has seen tremendous public investments and is already on the cusp of development" and why the project would require a special subsidy to move forward, since they say that "Whole Foods already would qualify for a set of tax incentives on grocery-store development, including a 10-year property tax break on the store itself."
Small Retail Bays Getting Prepped on Yards Park Boardwalk, Forest City Looking for Tenants
Feb 1, 2011 11:11 AM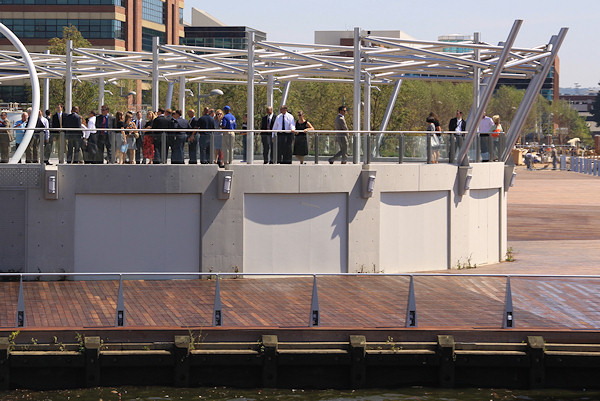 Eagle-eyed Twitterer @kpbrady
alerted me yesterday
to doors and windows being installed in the lower level of the overlook at the
Yards Park
, in the bays along the boardwalk that were designed to be retail spaces.
I contacted Forest City, and they've told me that they are intending to have "seasonal tenant offerings" in these spots starting (hopefully) this year. There are 4 to 6 of these spaces (depending on how layouts and done), ranging from 366 to 506 square feet, and Forest City is anticipating they would be used for refreshment/light food sales and/or recreational equipment rentals--but they're open to discussing other uses. If you have your heart set on one (for perhaps a banana stand or some other offering), contact Brenda Temple at Forest City at (202) 496-6600.
Eventually the (currently naked) Lumber Storage Shed will be a retail pavilion, and later phases call for two additional retail buildings to be constructed just to the east of the shed (
see the renderings
way down at the bottom of my Yards Park page). And there will be ground-floor retail space at the
Foundry Lofts
just to the north of the park when that building opens later this year, not to mention 46,000 sq ft of retail space at the
Boilermaker Shops
.
Events News: Chocolate City, Sensorium
Jan 28, 2011 1:10 PM
Two events on the horizon (one near, one far) that might be of interest:
* On February 2 at 8 pm,
Arlington Independent Media
is hosting a showing of
Chocolate City
, the 2007 documentary by Ellie Walton and Sam Wild about families who were displaced by the redevelopment of
Capper/Carrollsburg
. There will be a conversation after the screening with Walton. (It would be interesting to know whether any of the families portrayed in the movie have since come back to the area by moving into any of
Capitol Quarter
low-income units, since the movie was filmed and completed before any of the construction at CQ started.)
Tickets are $6
, and the movie begins at 8 pm at the Artisphere, 1101 Wilson Blvd., in Arlington. (h/t reader P)
* Coming to the
Yards Park
in April is
Sensorium
, a "culinary and sensory experience featuring creative atmosphere and cutting-edge production." According to the
press release
, this will be a "sophisticated 12-course culinary production" from Executive Chef Bryon Brown, founder of
Artisa Kitchen
and the DC Supper Club series. A temporary structure (called a "geodesic dome" by the producers, but described to me by the BID as a tent) will be set up on the eastern side of the park, just south of the Trapeze School's tent, and there will be audio/visual and performance elements woven through the 12-course meal. (Cirque du Soleil meets Top Chef?) Each show will have only 30 tickets available, with two seatings per day (5:30 and 9 pm), running for six weeks beginning on April 12. Tickets are $150, but are discounted to $125 for the first four shows.
Tuesday Tidbits: Harry's, NatsFest, Yards Park, Etc.
Jan 18, 2011 3:04 PM
Some recently
Tweeted
items, and a few new ones, worth wrapping up into a quick post:
* Last week I heard from the owners of what will soon be the
Harry's Reserve
"upscale" wine and spirits store at New Jersey and I, saying that they hope to be open by February 1.
* This year's NatsFest at the
baseball stadium
will be held
on March 30
, the day before the Opening Day home game against the Atlanta Braves. The schedule of events is still to come, but hopefully the decision to better tie in the event to the hoopla surrounding the start of the season won't be offset by it being on a Wednesday, when it's harder for kids to be there. (Especially kids who may already be playing hooky the next day!)
* The
Yards Park
web site now has
information about renting space
for public, private, or community events. And if you wander through the
calendar
, you can see what events might be on tap for this year, though the
main calendar
shows what's been confirmed, such as the Capitol City Beer Festival on May 28, the
previously discussed
DC Music Festival on May 7, the
MetroDash obstacle course race
on July 9, and a monthy Art Market.
* Stephen Strasburg,
working on his degree while rehabbing
, has written a thesis on the effects new stadiums have on neighborhoods, with a focus on
Nationals Park
. If he was looking for information on what the neighborhood
looked like "before,"
I hope he found it! (And no, the thesis isn't available anywhere.)
* The National Capital Planning Commission will be looking at the final
11th Street Bridges
site and building plans at their
February 3 meeting
. Gosh, I hope they like where the bridges themselves are placed in the designs!
* Off-topic, but the
hunt seems to be back on
for a new DC United stadium location, with one of the potential spots being across South Capitol Street at Buzzard Point in Southwest. (Please note that I said Buzzard Point. There is no s on the end. In case you missed 642 tweets about it today.) SWill has
some additional information
.
And, coming on Thursday (I hope), my 2011 State of the Hood roundup of the past 12 months' worth of activity, and what might be on the horizon. (I'm telling you this to force myself to actually get it done.)
Some Updated Photos, For the First Time in Forever
Jan 17, 2011 11:18 AM
I'm not quite as obsessive about taking photos around Near Southeast as I used to be, mainly because back when I started very few people lived or worked in the area, which meant photos were important to get across to readers the scope of the changes. But that's not the case now, and I figure most readers are seeing this stuff every day, which gives me a great excuse to not pull out my camera when it's 30 degrees and the winter sun angles make for less-than-optimal shots. But the mood struck me on Sunday, so now my photos are updated and my guilty conscience can be eased ever so slightly.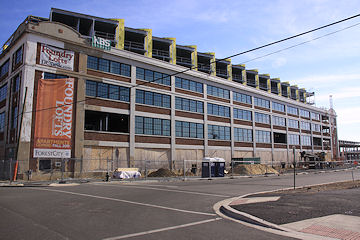 If you haven't wandered down to Third and Tingey lately, you won't have seen all the new windows in the
Foundry Lofts
building, which look pretty spiffy. When it opens this fall, it will have 170 apartments and ground-floor retail. (While I was there, I updated my
4th and Water Before and Afters
, now that the area of the
Yards Park
south of the Trapeze School is landscaped and close to being finished.)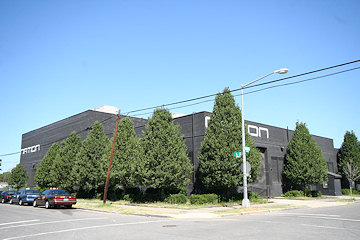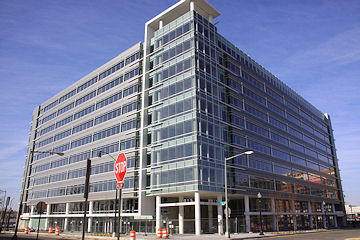 It hasn't been officially announced as "completed," but I always figure when the sidewalks open next to a newly constructed building, it's as good as done, so I went to get some After photos of
1015 Half Street
, the 440,000-square-foot office building on the site of the old Nation nightclub. No tenants have been announced yet. (You can also see the
expanded archive of before-and-afters
for more shots, especially if you're more interested in remembering Nation.)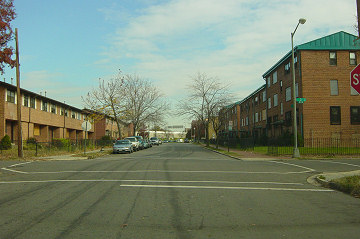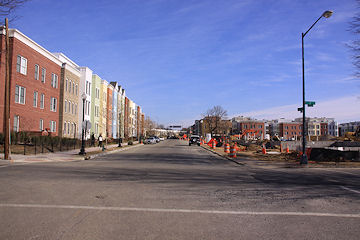 Taking photos of poured foundations in weak winter light is not really a recipe for exciting images, but I figured I still had to document the progress being made on the northern of the three
Capitol Quarter Phase II blocks
. The first framing of houses on this block could happen this month. (And before long it'll start to be apparent that this block is going to be split into two blocks, with the new 3rd Place running north to south.)
Alas, I only just now realized that I totally forgot to take any photos of the new construction at the old Little Red Building site. Will have to do that the next time the sun is out.
Here's the
complete batch of Sunday's photos
, with the
as your guide to see the full set of before-and-afters for any photo.
Tidbits: Floating Bridge, 11th Street Bridge Closures, Water Taxis, Beer Garden
Jan 4, 2011 11:07 AM
A few small items that might be of interest: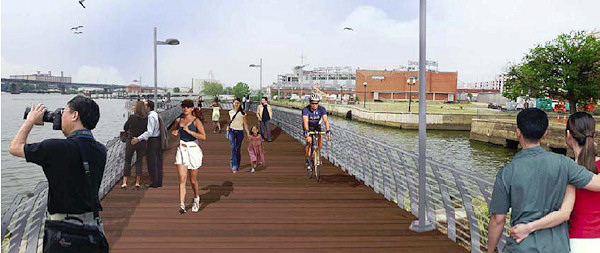 * The
National Capital Planning Commission
at its Thursday meeting
should be approving
the design of the 611-foot-long floating bridge to connect the
Yards Park
with
Diamond Teague Park
. The
"delegated action" document
says that the bridge will also include an 81-foot-long platform that will be used as a "marine environmental education center" -- the platform is necessary to span three underground pipes at the DC Water pumping station. At the BID annual meeting in December,
it was said
that construction on the bridge could begin this spring. (
UPDATE
) And construction is expected to take 6-8 months.
* If you drive into downtown DC across the
11th Street Bridges
late at night/early in the morning, be advised that the ramps from northbound I-295 and 13th Street, SE,
will be closed
between midnight and 5 am on both Friday, Jan. 7 and Monday, Jan. 10 to allow for work with overhead steel girders. But the South Capitol Street Bridge will be open for your Anacostia crossing pleasure.
* There hasn't been much apparent movement by
American Water Taxi
to get started with its planned service between Georgetown, the Southwest Waterfront, and
Teague Park
, but an update on their web site within the past few weeks says that "Focus groups and working group meetings to start in January."
* The
agenda
for the Jan. 11 ANC 6B meeting includes an item on the "Resolution of the Bavarian Beer Garden [Liquor] License Protest." Does this mean that the ANC and the folks wanting to open the beer garden at 8th and L have gotten the voluntary agreement hashed out, after all the
concerns recently expressed
? We shall see.
DC Music Fest Coming to Yards Park on May 7
Jan 3, 2011 9:47 AM
Another DC arts festival is being inaugurated at the
Yards Park
-- this time it's the
DC Music Fest
, scheduled for May 7, 2011. With plans to "showcase some of the best artists and bands of the Washington, DC and surrounding areas," the event already has a lineup of 12 bands, three singer/songwriters, and 1 DJ on two stages. Other local artists who want to play at the event can
submit themselves
at the web site until February 1, and a panel of judges will choose which acts will be added to the lineup.
According to
On Tap
, tickets will be $25.
Back in October, the first
RiverFrontFest
debuted on the streets just north of the Yards Park, offering a day of local art and music.
New Year's Eve Party by ReadysetDC at Trapeze School
Dec 30, 2010 6:02 PM
Just popping up in my inbox (which is hard to get to through the piles of opened boxes and discarded Toblerone wrappers) is news of the big New Year's Eve celebration ("
Evolution 2011
") being thrown by
ReadysetDC
Friday night starting at 9 pm at the Trapeze School's space at 4th and Tingey, SE at
the Yards
. Dance performance by Holly Bass, live music by Chelsey Green and the Green Project, AWR B-boy performance (you kids tell me what that is), aerial ribbon dancing performances, live painting by Brandon Hill of No Kings Collective, and much more.
Tickets are
$95
, and include an open bar, but you can get $20 off by using the discount code DC-LOVE. (They've even got a deal with the Courtyard by Marriott at New Jersey and L for a block of hotel rooms.)
2010 Capitol Riverfront Annual Report; Connector Between Teague and Yards Coming in 2011?
Dec 14, 2010 2:27 PM
The
Capitol Riverfront BID
just wrapped up its 2010 Annual Meeting, which certainly seemed to be the largest of them so far. The big part of the meeting is the unveiling of the
Annual Report
, chock full of statistics and photos. I'm not going to summarize it, mainly because I've been writing all year about most of the news and data contained in it, and also because if you're truly interested in the neighborhood you should read it yourself. :-)
There were two items in Michael Stevens' remarks that I thought were of note, though:
* Apparently an agreement has been worked out with
DC Water
(aka WASA) that will allow the "connection" between
Diamond Teague Park
(across from
Nationals Park
) and the
Yards Park
to be built, starting this spring. In the past, a floating bridge has been discussed as how this connection would be completed, but have asked the BID for more info and will post when I know more.
* In discussing the many parks of the neighborhood, Michael Stevens said that they are "hoping" that
Canal Park
will be completed in 2011--though, as he said that, the slide being displayed showed 2012 as the expected completion date. Given that the park is supposed to take 12-14 months to build, it would seem to be unlikely that the entire park would be ready before the end of next year, though perhaps some portions of it might be able to be open sooner.
UPDATE:
Here's
the slides used
by Michael Stevens during his remarks; the information on the connection between Teague and the Yards is on pages 22-24, with a rendering showing a walkway out over the water, looking exactly like an extension of the boardwalk at the Yards. The proposed project is listed as "a partnership among Forest City Washington, DC Water and the Office of the Deputy Mayor for Planning and Economic Development." And, on slide 27, Canal Park is listed with a delivery date of 2012.
Zoning Approvals for 401 M (Yards Parcel D)
Dec 2, 2010 10:03 PM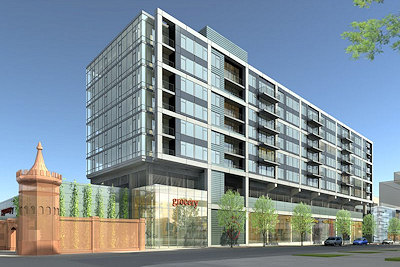 Tonight the Zoning Commission gave its approvals to Forest City's
401 M Street
, the planned residential/retail/grocery project on the southeast corner of 4th and M at
The Yards
. The votes were 4-0-1 and 3-1-1 (more on that below), and with chairman Anthony Hood's new *streamlined* (read: speeded up) hearing process, the presentations, questions, and vote took less than 90 minutes.
In the past I've used Zoning Commission meetings to learn more about proposed projects, but I've already written
a fair amount
about 401 M, and there wasn't really much new tonight. The issues that the commissioners wanted to discuss got pretty far into the weeds of zoning law, particularly Commissioner May's concerns about whether Forest City's request to allow balconies along 4th Street to hang over into the required setback area was something that could be handled under a special exception. (If you really REALLY want to know about this zoning rule, see page 11 of the
Office of Planning's report
.)
May's fellow commissioners didn't feel quite as strongly, but in the end they voted on two motions to approve the project, unanimously to approve all of the project except the special exception request, and then 3-1-1 to approve the special exception request. (The best moment might have been during the discussion of whether refusing to allow balconies would impact the project, when chairman Hood said, "If it didn't have a balcony, Anthony Hood wouldn't buy one.")
For those just joining us,
originally
401 M was going to be an office building with a ground-floor grocery store, but market forces have intervened and earlier this year Forest City unveiled a new design, featuring two long and thin residential buildings (connected by an elevator tower) with between 200 and 225 rental units (20 percent of which would be set aside for people making less than 50 percent of the area median income). The grocery store, with no tenant officially announced (*cough*
Harris Teeter
*cough*), would be 55,000 square feet on two floors, with its main entrance on 4th Street (as well as a previously approved cut in the historic brick wall on M).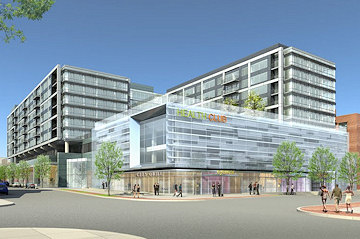 On the south end of the block, at 4th and Tingey, there will be a four-story building with another 55,000 square feet of retail space, with what's expected to be a spa/fitness center/gym tenant on the top two floors and retail on the bottom two (seen at left). There will also be a new narrow service road running south from M between this new development and
Building 202
for loading zone access. Access to residential parking will be from Tingey, and the grocery and retail parking entrance will be on 4th, next to the residential lobby entrance that will be directly across from the "Transportation Walk" behind
USDOT
.
Forest City is hoping that construction could possibly start in early 2012, with a delivery in late 2013 or thereabouts. (But, repeat after me: dates like this are not written in stone.) ANC 6D voted unanimously to support the project
back in October
.
Phone Survey on Harris Teeter M Street Store
Nov 17, 2010 10:06 AM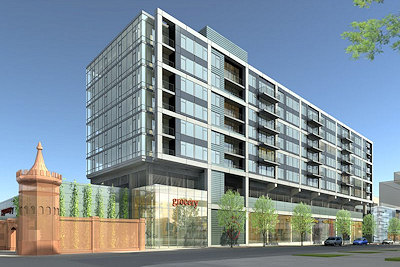 I received a report from reader K on being part of a telephone survey on Tuesday night about neighborhood grocery stores. It apparently started with generic questions on where K shops, followed by questions about what kind of new grocery store K would like to see in the neighborhood, with options like Harris Teeter, Trader Joe's and Yes! being on the list. (Interestingly, given last night's
Twitter eruption
on
Wal-Mart perhaps coming to DC
, K says there were lots of questions about whether the neighborhood would support a "low-price" store.)
The interview then moved to specific questions about what K "would like to see at the new Harris Teeter at
5th and M
by the Navy Yard." K said that the interviewer made the store sound like a done deal--which it certainly has seemed to be for a while now given all the hints and
not-confirmed media stories
about letters of intent, but there still has never been an official announcement from either Forest City or Harris Teeter that HT is indeed coming to the
new residential building
planned for 401 M St., SE at
The Yards
. One way or the other, it appears that construction on this building may be getting started next year--
see my recent entries
for details.
Quick ANC 6D Meeting Report
Oct 18, 2010 10:29 PM
A few items from tonight's ANC 6D meeting, which is still going on (I bailed after the last Near Southeast agenda item).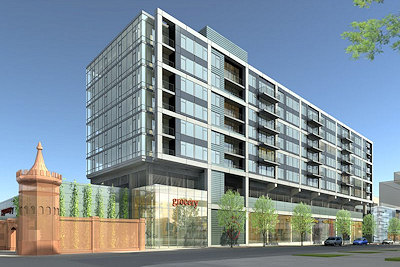 * The commission voted 7-0 to support Forest City's zoning requests for its
Parcel D
project, the combination residential and retail (and grocery store) development on the southeast corner of 4th and M, SE. I
wrote about it in detail
a few weeks back, and you can see my
Parcel D
project page for renderings and additional information, but the short of it is it's a 220ish-unit residential building (with 20 percent affordable housing), a 50,000-square-foot grocery store, and an expected 24,000-square-foot fitness/spa company.
The Zoning Commission hearing will be on December 2, and Forest City is asking for two special exceptions (having to do with roof structures and the proposed 110-foot building height, which will be above the 90 feet that's allowed) and two variances (for a curb cut on M east of 4th for a new private service drive east of the new building and also for some balconies overlooking 4th). Forest City's Alex Nyhan also told the commission that, while the entire Yards project is designed to be LEED Gold, they are going to shoot for LEED Silver on this particular portion.
ANC 6D07 commissioner Bob Siegel commended Forest City on the plans, though he made very clear that he and his constituents want a sit-down restaurant more than anything. Nyhan replied that the
Boilermaker Shop
project one block to the west on Tingey will have four or five restaurants including at least one sit-down one when it opens next fall. Siegel then made the motion to the support the project, Commissioner Sobelsohn seconded, and the vote was unanimous. The National Capital Planning Commission and the US Commission on Fine Arts have both recently voted to support the plans and designs.
* During the public safety report, Capt. Gottert of MPD mentioned that while there were a rash of car thefts in PSA 105 (and 106 and 107) during the past few months, the police had a suspect in mind, and now that he's been apprehended, the thefts have stopped. Gottert had no additional information on
Saturday's carjacking
at 1st and L, SE.
* The agenda had as one of its items a request by the Nationals to add the
stadium
to the Navy Yard Metro station name (coming on the heels of the Capitol Riverfront BID's
request last month
to add their name to the station). However, ANC chair Ron McBee said that the Nationals hadn't yet been able to get their request completely lined up yet, and so the item was postponed.
* Next month's meeting will be on Nov. 8, and will be held at the Courtyard by Marriott at New Jersey and L, SE. Expected agenda items include an update from CSX about the Virginia Avenue Tunnel project, a plan to give historic landmark status to St. Paul's church on the
southeast corner of 4th and I, SE
, and an update on the
11th Street Bridges construction
.
Additional Areas of the Yards Park Now Open
Oct 17, 2010 10:17 AM
With thanks to reader Mike for the tip, I can pass along that some additional portions of the
Yards Park
are now open: the "River Street Gardens" on the eastern side is now available for your perusal, with its more shaded benches and even some lounge chairs; and, along with it, the boardwalk is completed all the way to the fence at the Navy Yard. (Still no word on when access to the Navy Yard's riverwalk for the general public might happen.) There's still some construction being done north of the Gardens (south of the Trapeze School), but the showiest parts of the 6-acre spread's first phase are now all finished.
If you're pondering whether to make another visit to the park, all I can tell you is--if the weather today is anything like it was on Saturday, you won't be disappointed. My goodness gracious, what a fabulous tableau. So of course I had to take
a pile of new photos
--mainly to get shots of the new areas, but also just to take advantage of the bluest clearest sky I've seen in a long time.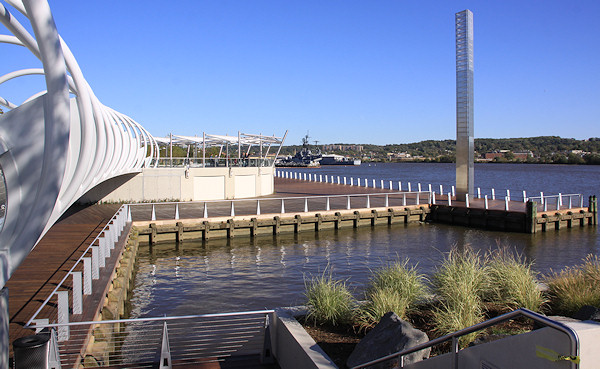 ANC 6D Agenda Posted; Another Navy Yard Metro Station Name Change Request
Oct 15, 2010 1:44 PM
The
agenda
for Monday's ANC 6D meeting is now being circulated (slightly revised from one that went out earlier today). One item of Near SE interest is an update on the
Yards Park
and also the
Parcel D
residential/grocery project, which is now scheduled to go before the Zoning Commission on Dec. 2.
The revised agenda also now shows a new request to change the name of the Navy Yard Metro station; while
last time
it was the Capitol Riverfront BID requesting that the name be changed to Capitol Riverfront/Nationals Park/Navy Yard (which the ANC supported as long as "Capitol Riverfront" wasn't first), this time it's the Nationals themselves requesting that "Nationals Stadium" be added to the Navy Yard name. (I wouldn't put 100% confidence in the request being for "Nationals Stadium" and not "Nationals Park," but that's what the agenda says.) I'm trying to find out whether the first request has bitten the dust, or if these are competing requests, or what. Stay tuned. (See below for clarifications.)
There's also a request to add "Banneker Memorial Park" to the L'Enfant Plaza Metro station name. As well as a bunch of other stuff happening on the other side of South Capitol Street, which I leave to other people to pay attention to!
UPDATE:
The BID has told me that this is just the Nationals requesting to be added so that they can be part of the Capitol Riverfront/Nationals Park/Navy Yard new name, though I'm not sure why they would need to have their own request separate from the one that the BID is already working on. Still trying to find out more, but may need to wait until Monday's meeting for clarification.
UPDATE II: Apparently the BID's request was officially just to add "Capitol Riverfront," but they recognized that the Nats would want the stadium included as well. So this ANC action will be to get whatever official name the Nationals want added to the station name into the mix.
Tuesday Tidbits: 401 M, What if the Blue Castle Weren't Blue, Austin Grill Express at Nats Park?
Oct 5, 2010 2:29 PM
Some news on Near Southeast, still not the
9th Most Dangerous Neighborhood
in the US:
* The
National Capital Planning Commission
's staff has
recommended approval
of the new designs for
401 M Street
at
the Yards
, the new-construction building now redesigned to have residential units on top of a grocery-store-that-totally-isn't-Harris-Teeter-because-they-haven't-said-so-officially. The staff "recommends that the Commission recommend" [I love that] "that the massing and facade scale and articulation of the new building on Parcel D be studied and refined further as the design is developed. Staff notes that the grocery store should be treated with cladding that differentiates it from the residential tower and clearly acknowledges the presence and complements the scale of the sentry tower." You can see the designs on my
401 M page
. The NCPC meets Thursday, Oct. 7, but this is a consent calendar agenda item, so it won't be discussed at the meeting.
*
A subscribers-only WBJ piece
discusses the new "Austin Grill Express" food-court concession that serves wings, burritos, tacos, and salads, that already has 11 locations since it launched about a year ago. There's another 11 on the way by the end of the year, and the owner is hoping for another 40 to 50 of them next year. One of the locations the owners are talking to?
Nationals Park
.
* What would the Blue Castle look like if it weren't blue? Madison Marquette included
a rendering of a revamped 770 M
(with what looks like a grocery offering of some sort) in the slides it showed at last week's Southwest Waterfront public meeting. There's been no official news of plans for the building, or a timeline on when work might happen. For those just joining us, the Blue Castle was originally a "car barn" back when DC had trolleys and then streetcars.