Near Southeast DC: Past News Items
The Yards
Go to Full Blog Archive
---
Long-Rumored Harris Teeter/Yards Deal Closer?
Sep 7, 2009 9:38 PM
Tonight
WBJ is reporting
that Harris Teeter--which has long been rumored to be the grocery store planned for the
southeast corner of Fourth and M
at the
Yards
--has signed a letter of intent, though Teeter isn't confirming.
But don't start making your shopping list just yet--even before the Economic Difficulties, Forest City wasn't expecting to open a building on that parcel before 2011, and that date now looks tough to meet. But there are hints in the article that maybe Forest City is rethinking the plan to have an office building topping the grocery store: "We are currently evaluating the overall development program on
that parcel
, which may result in a revised mixed-use concept," is the quote from Forest City's Ramsey Meiser.
Capitol Quarter Ribbon Cutting Tomorrow; A Few Late-Summer Not-Really-News Links
Aug 25, 2009 1:16 PM
* A reminder that tomorrow (Wednesday) at 10 am the DC Housing Authority is holding an official ribbon cutting and grand opening at
Capitol Quarter
, Fourth and L, with the mayor expected to be in attendance. If the sun is out, I may use this as the motivation to finally get some updated photos of the construction, with the framing in block three (north of K between Fourth and Fifth) now well underway.
*
The Post reports
on how the many new apartment buildings in the area are aggressively competing for tenants, with the new buildings in Near Southeast apparently leading the way: "The ones around Nationals Park, for instance, collectively have offered the deepest concessions since Delta started tracking rents 18 years ago. Some of those projects gave away the equivalent of four months' rent in concessions, which helps explain why effective rents in the District plunged 7.8 percent in June compared with a year ago. Without the ballpark area, rents fell 4 percent."
* From the
BID
's newsletter last week: "Mark your calendars for September 19th for the FRONT Door Home Tour & Canal Park Picnic from 10 am - 2 pm. The FRONT Door Tour will feature a variety of unique residents' homes and highlight the Capitol Riverfront as a new residential neighborhood in DC. The event will include a community picnic at the future site of
Canal Park
(located at intersection of M St., SE and 2nd St., SE) with food, music, and lawn games. The FRONT Door Tour will be free and open to the public. More information to come soon."
And, two items about off-topic projects by Near Southeast developers:
*
Monument Realty
announced yesterday that its long-planned renovation of
Potomac Place Tower
on Fourth Street in SW is now going to move forward. From their press release: "Monument Realty acquired the Potomac Place project in 2001 and in 2005 completed construction of a new, 302-unit condominium adjacent to the existing Potomac Place Tower, which was built in 1959. In 2003, Potomac Place Tower was designated a historic landmark by the District of Columbia and in 2005 the residents of Potomac Place Tower elected to convert the property to a condominium. Monument Realty's longstanding history and commitment to the project gave the new lender the confidence to retain its services for the completion of Potomac Place Tower."
* Forest City Washington
has been selected
by the government of Puerto Rico as the program manager for the redevelopment of a 100-acre portion of San Juan's waterfront district. Residential, hotel, office, retail, public parks, and a marina--
sound familiar
? (I don't think I mentioned that a few weeks ago the District selected Forest City as an advisor for the redevelopment of Poplar Point.)
MSG Looking for Entertainment Venue Space
Aug 13, 2009 10:37 AM
From WBJ, a few days ago
: "Madison Square Garden LP, owner of the famed New York City arena that bears its name, is looking to open a major entertainment venue in the District. The sports, entertainment and media company began contacting the office of Valerie Santos, deputy mayor for planning and economic development, and major landowners in early summer[...] According to sources close to the company, MSG would open a venue of a 6,000 seats or more, requiring up to 100,000 square feet near shopping and public transit." The head of the Washington DC Economic Partnership apparently made presentations to MSG "on sites near the Walter E. Washington Convention Center and in the area around Nationals Park."
Upcoming Zoning Hearings (Trapeze School, B & B)
Jul 24, 2009 8:57 PM
What could be more interesting late on a Friday evening than news of two upcoming zoning hearings?
* On Sept. 21 the
Zoning Commission will be having its hearing
on the necessary amendments to the
Southeast Federal Center Overlay
to allow the
trapeze school
to set up shop on Parcel O on the
southeast corner of Fourth and Tingey
. You can read the Office of Planning's
setdown
report for more information on what's being requested.
Diamond Teague Progress, Cornercopia Peek, Plus a Few Other Photo Updates and a Parking Lot Update
Jul 16, 2009 8:46 PM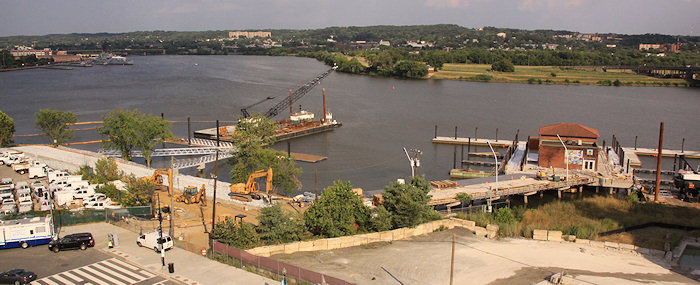 I took advantage of the sunny evening to dart around getting some desperately needed photo updates. First up is
Diamond Teague Park
, where progress on not only the water-taxi piers but the "on-land" portion of the park itself is now clearly visible from the
viewing platform at Nationals Park
. The last projected opening date I heard, a few months back, was July, but while it looks like maybe the park won't be pulled together in the next two weeks, it definitely appears to be getting there. See
my Teague page
for the latest pics.
I also snuck a peek through the door at Cornercopia and
snagged a quick photo
, showing goods now stocked on the shelves, but perhaps just short of being ready to open. Maybe they can get ready for all the folks heading to the ballpark this weekend? Don't forget, my offer still stands of a free sandwich to the first person who
reports to me
that it's open....
I also took some updated photos at Fourth and K in
Capitol Quarter
, where framing has sprouted on the
north side of K
. Then I wandered down to
the Yards
to get some better shots of the
southeast corner of Fourth and Tingey
, which is
where the Trapeze School is going to be located
. (You can also see the
entire batch of today's photos
, where you can then click on the
icon to see an angle's entire history.) Speaking of the Trapeze School, the Post's Health section had a story today on
what it's like to take a class from them
. (You probably won't ever see *me* flying through the air with the greatest of ease.)
One other item--the
WashTimes reported today
that the
Elton/Billy stage
left centerfield in a bit of a mess, requiring the grass to be painted. As you can see from
this shot I took during batting practice
, it seemed to work pretty well.
Lastly, it only took me half the season, but I've now updated my
Stadium Parking map
to show the many options for cash parking (official and unofficial), in addition to the official Nats season ticket lots. And to think that there was a time when *some* people were worried there wouldn't be enough parking.
Details on the Trapeze School at the Yards
Jul 13, 2009 7:02 PM
I've gotten out of practice at this zoning stuff, so I didn't make clear that tonight's Zoning Commission hearing action with regards to
moving
the
Trapeze School New York
to the
southeast corner of Fourth and Tingey
at
the Yards
was going to merely be a vote for "set down," meaning that the commissioners would vote on whether the case can move forward to a full hearing. And, with no discussion or objection, the ZC did just that, 3-0-2 (commissioners May and Turnbull weren't present).
However, all is not lost, because as part of tonight's action, the
Office of Planning prepared its set down report
on
the case
, which has more detail for those who might be interested. Section IV is probably what most people want to know, so I'll just copy and paste (hey, it's summer, and I'm lazy):
"The applicant requests a text amendment that would allow the location of a trapeze school and aerial performing arts center, in the SEFC/R-5-E portion of the site, as a matter of right use for a period of five years. Additionally, the Zoning Commission would be able to extend the use beyond this time frame by special exception.
"The amendment would allow the relocation of an existing trapeze school, which currently operates on the site of the former D.C. Convention Center at 9th and H Streets, N.W, to Parcel O of the SEFC site. The trapeze school operates in this location on a temporary basis as well, and must vacate the premises by September 2009. The amendment is required to allow such a use within a residential district and would specifically limit the commercial use allowed to a trapeze school, to be permitted on a temporary basis.
"The proposed facility would be comprised of an indoor trapeze rig located within a tent structure as well as an outdoor flying trapeze rig. The tent is proposed to have a footprint of 50' by 80', which would be surrounded by walkways. The outdoor rig could be easily moved to different locations on the site and would be surrounded by a temporary fence. The proposed entrance to the trapeze facility would be on 4th Street, SE. The maximum height of the tent and outdoor rig would be 36' and 32' feet, respectively. The trapeze school would offer a variety of classes, for groups and individuals, as well as entertainment.
"Proposed activities include flying trapeze classes, trampoline classes, and team building corporate workshops. Performances and shows would also be held by participants of the intensive flying trapeze class as well as staff members. As parking for teachers, students, and participants is proposed to be provided adjacent to the site, OP recommends that the text amendment also include language to allow the required parking to be located off site (on Parcel N of the SEFC site), directly across 4th Street, SE."
Yards Requests Zoning Change for Trapeze School
Jul 10, 2009 2:44 PM
Updates on Yards Park Funding Hearing and Third Street Gas Smell/Underpass Parking Restrictions
Jun 25, 2009 11:24 AM
A few follow-ups from
a recent entry
:
* The Committee on Finance and Revenue held its hearing on Tuesday morning on B18-0299, the "
Waterfront Park at the Yards Funding Act of 2009
," which will create a fund to maintain and "program"
the park
from a special assessment on development at
the Yards
, plus sales tax revenues at the park's retail venues for five years, and proceeds from any "naming rights." The hearing wasn't exactly a barnburner--there were three three-minute statements by Jamison Weinbaum of the Office of the Deputy Mayor, Alex Nyhan of Forest City, and Michael Stevens of the Capitol Riverfront BID--Nyhan described the funding set-up as "taxing ourselves extra," and also mentioned that an $2 million for getting the park started has been secured from the
USDOT
PILOT funding.
Jack Evans really only had one question: how much will it cost the city? Weinbaum explained that the sales taxes from the retail pavilions that would normally go into the city's general fund will for five years go into this new maintenance fund, but since there is no income from the park's property now, there will be no net loss to the city, and then will be a gain after five years. Evans said that he likes this model of having the private sector taking care of the park (even though the park will be city-owned when it's completed).
If you want to see the testimonies and questions,
watch the streaming video
(you can skip ahead to the 1:09:00 mark, since it was a long hearing).
* The Twitter box at the top of my home page was out of commission on Tuesday, so those of you who don't suscribe to my Tweets either
directly
or on
Facebook
missed out on the flurry of updates about the natural gas smell at Third and Virginia. Reader MB (who had already called Washington Gas four times) talked to a cop who was parked at the intersection Tuesday morning, who called in the smell, and before long fire trucks had arrived, followed by Washington Gas. The southern part of the intersection was closed until nearly 9:30 that night, with two pretty deep holes dug and all sorts of work done. MB reports this morning that the smell appears to be gone (I didn't notice it when driving through this morning, unlike on Monday).
* Speaking of that stretch of Third Street, the new No Parking during rush hour signs have now been posted on both sides of Third Street beneath the SE Freeway. If you drive north out of Near Southeast during afternoon rush, let me know if traffic appears to be flowing better.
Hearing Tuesday on Yards Park Maintenance Bill; Various Tidbits from Third Street
Jun 22, 2009 2:55 PM
* Tuesday morning at 10 am the council's
Committee on Finance and Revenue
is conducting hearings on a bunch of bills, including B18-0299, the "
Waterfront Park at the Yards Act of 2009
," which would "authorize the Mayor to enter into an agreement to provide for the operation and maintenance of
a public park
on the Anacostia River Waterfront; to establish a Waterfront Park Maintenance Fund into which certain designated revenues, including certain sales tax revenue, shall be deposited; and to impose a special assessment on properties specially benefited by the park." I'm kind of bleary today, and so haven't yet the proposed act terribly closely, but I can report that one of the potential revenue streams mentioned in the bill is the "naming rights" for the park. (Alas, I don't think I have enough change under the sofa cushions to bid on this.) The
hearing is at 10 am in room 412
(and should be on DC Cable 13 and live webcast, though
tomorrow's schedule isn't posted
yet).
* The latest on Cornercopia--reader DT (who is *gunning* for my
free sandwich offer
) reports speaking today with the man who will be running with the deli, who said that they are awaiting permits, and hope to open in July. Maybe even July 1.
* Reader MB reports having smelled natural gas a number of times recently in the intersection of Third and Virginia, right before you head north under the SE Freeway underpass. I just drove through there a little while ago and smelled it quite strongly inside my car, even with the windows rolled up. She says she's called Washington Gas a number of times, and it seems to get fixed temporarily, but then returns. She left a message with the mayor's office today. So, if you hear a big BOOM, you'll know what happened, and the Powers That Be can't say they weren't warned.
* Reader CA reported last week having seen a big gathering of people outside the Post plant at
225 Virginia
--I saw them myself at around 1 pm today, and it appeared to maybe be a group of young folk involved in the DC summer jobs program, but I don't know for sure. I can say they didn't look like a swarm of developers desperate to sublease the property.
* Lastly, a nearby resident has heard from DDOT and Tommy Wells's office that, within the next couple weeks, the two lanes of parking on Third Street underneath the freeway will be marked as No Parking during rush hours. This should allow for a de-facto creation of left turn and thru lanes for the northbound lanes at the light on the north side of the freeway, perhaps allowing thru traffic to get through the light more quickly and to shorten the backup southward down Third.
Council Looking at Redirecting Capper/Yards PILOT Funds to Convention Center Hotel
Jun 16, 2009 8:56 PM
From the
Washington Business Journal
: "The D.C. Council may consider withdrawing millions of dollars in subsidies from stalled city real estate projects to publicly finance a convention center hotel. D.C. Chief Financial Officer Natwar Gandhi met with members of the D.C. Council on Monday and discussed the list of projects with $704 million in subsidies that have already been passed and could be diverted to the hotel. The list includes the Southwest waterfront, the Arthur Capper / Carrollsburg residential development on the Capitol Riverfront, the mixed-use O Street Market in Shaw and seven other economic development incentives."
The list names both the PILOT fundings for
Capper
($55 million) and the
Yards
($30 million), though I'm not sure exactly how that would work, given that some of that money is already going to the construction currently underway at
Capitol Quarter
, the
Park at the Yards
, and
Diamond Teague Park
. (Though the $30 million cited for the Yards/DOT PILOT is a lot less than the total $112 million sum received from that PILOT; the Capper $55 million, though, is the full amount of that PILOT.) There's a hearing now scheduled for June 24.
If you want more background on what exactly the PILOT funds are and how they work, here's
some old entries of mine to browse
.
UPDATE:
In the "What Does This Mean for Capper?" department: The funding is in place to finish Phase I of the Capitol Quarter townhomes now under construction (unless the council is *really* grabby), but the Housing Authority has been having a hard time looking for funding for CQ's second phase as well as the
four mixed-income apartment buildings
slated to be built around Canal Park. So I'm *guessing* that the money the council is wanting to grab would further delay that work? But I'm not sure, because I don't know exactly how much of the PILOT's $55 million is already spent or being spent just on CQ's first phase.
The two parks, as well as some other projects along the Anacostia Waterfront, are tied to what
my archives say
was a $112 million PILOT from the construction of the
US Department of Transportaton HQ
. I just confirmed earlier today that Diamond Teague is still on schedule for a mid-July opening, and given all the flourishes (such as the
groundbreaking
) of the public/private partnership for the Park at the Yards I would think they wouldn't grab that money away. (I was wrong in an early version of this post to say that Canal Park was part of the DOT PILOT; it was originally, but not in
the final version
, apparently.) The DOT PILOT
is also supposed to fund
Marvin Gaye Park and Kingman Island; and DMPED said at the time that "Funds could also be used to finance parks and infrastructure at Poplar Point, the Southwest Waterfront, the Southwest Waterfront Fish Market, along South Capitol Street and a pedestrian bridge connecting the Parkside neighborhood to the Minnesota Avenue Metrorail Station."
L Street Doings, and Stories on Stuff There's Already Been Stories On
Jun 4, 2009 11:21 PM
*
ANC 6D
's meeting on Monday night (June 8) looks to be a little shorter than usual, with only a few agenda items, one of which is a public space permit request by the
Courtyard by Marriott
to expand (?) their sidewalk cafe.
* Speaking of L Street, a reader wrote today about the
Little Red Building at Second and L
, once known as the Star Market. Apparently the owner was posting a liquor license hearing notice, which gives me a feeling of deja vu, since this
also happened in September 2006
. The owner told my anonymous tipster about his plans for the building, which are pretty much what we've been hearing since 2006: tear down the building and build a new two-story structure, with the first floor being a liquor store and the second floor being a deli (at other points over the past few years it was a
sushi bar
and then a wine bar on the second floor). The plans have even stayed mostly the same after the
building changed hands last year
for $900,000. See
my various posts from 2006 through 2008
about the previous attempts to change the building's liquor license and the negotiations with the ANC.
Groundbreaking for the Park at the Yards
May 28, 2009 12:47 PM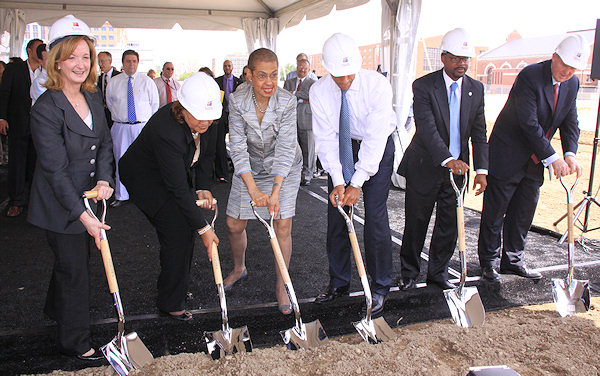 I'll let the gaggle of "real" media that was on hand today cover what was said (check back later today for links), but I can at least provide some photos from
today's groundbreaking
on the $42 million five-acre
Park at the Yards
, the first phase of which is scheduled to open in the middle of next year. Mayor Fenty, councilmembers Tommy Wells and Kwame Brown, DC delegate Eleanor Holmes Norton, and Forest City Washington president Deborah Ratner Salzberg did the honors of turning the dirt (the mayor and Eleanor took at shot with some heavier equipment, too, as you'll see in the photos). And, just for history's sake (and because it all looks kind of familiar), here's
photos from the October 2007 groundbreaking
for the
Yards
itself.
The park is being funded by the proceeds from the
USDOT
payment-in-lieu-of-taxes bonds, and the park will be dedicated to the city when it is completed. The Capitol Riverfront BID will be in charge of maintaining the park--in fact,
my photo gallery from last year's announcement
of the public-private partnership has some good renderings of the park, though for all the scoop and images on the park's three phases (and what the area looks like now), go to my
Yards Park page
.
UPDATE:
First out of the gate is
WBJ
, using Fenty's "a world class city needs a world-class waterfront" quote that I was totally going to post myself, except I didn't bring a pad and paper and so didn't get it written down. (Also, the park isn't "five blocks east" of
Nationals Park
--more like two, from First to Third, and even that's being a bit over-cautious, since the western edge of the park will be a new extension of Second Street, just to the east of the WASA main pumping station.)
UPDATE II:
Here's
Fox5's report
, which doesn't quite get that the groundbreaking was for the park and not all of the Yards, where work has already been underway. And their ID'ing of "Deborah Ratner Salisbury" doesn't help, either.
NBC4's piece
is more accurate. ABC7
appears to have run a report
, but it's not on their web site (yet).
UPDATE III:
WAMU's story
, and the
mayor's press release
.
UPDATE IV:
A new night-time overhead rendering: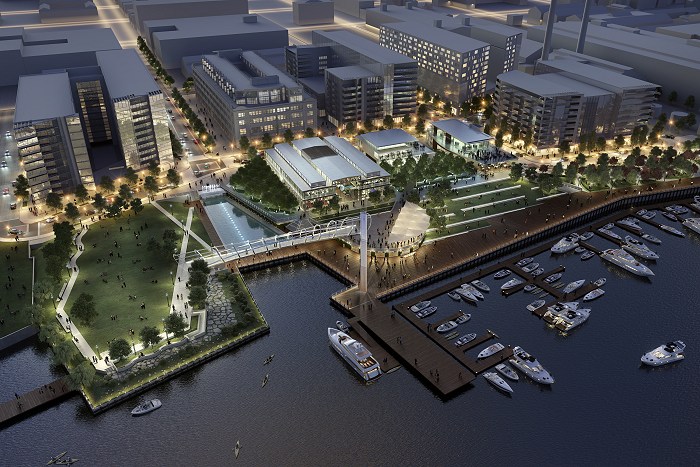 WalkingTown DC Capitol Riverfront Tour
May 28, 2009 8:52 AM
In yesterday's
Upcoming Events post
, I forgot to include one other item: this Sunday's
WalkingTown DC
tour of the "Capitol Riverfront," led by the BID's executive director, Michael Stevens and sponsored by the BID and Forest City Washington (developers of
The Yards
). It starts at 11 am at the Metro entrance at New Jersey and M, and no reservations are required. The description: "The Capitol Riverfront is DC's new neighborhood on the river, a growing district-within-the-District that extends the city's skyline to the water's edge. Discover the history behind the growth of this new neighborhood, its industrial heritage, and historic buildings now under renovation as part of The Yards development with a focus on sustainable development and riverfront renewal."
Upcoming Events, Updates, and Whatnot
May 27, 2009 4:22 PM
* Tomorrow (Thursday, May 28) at 10:30 am is the groundbreaking ceremony for the
Park at the Yards
, the first phase of which is scheduled to be completed next spring. The mayor is supposed to be in attendance--I may have to create a
Shovel-Wielding Fenty
photo gallery, since I now have
quite
a few of
those
shots.
* Friday (May 29) at noon is the opening of
Artomatic
at
55 M Street
. I'm giving everyone advance warning that I am hopelessly left-brained, so I won't really even be trying to cover it much beyond wandering through to get the flavor. It runs until July 5, so everyone has plenty of time to get there and check it out. (You can see some of the installations already through the windows.) See
my calendar
for the specific days and hours (it's closed Mondays and Tuesdays).
* An extremely helpful commenter
in this thread
has explained why some of the flyovers and ramps are missing from the new
Skanska/Facchina schematic
of the new
11th Street Bridges
design that I linked to: "[It] does not show all the ramp connections in the FEIS design because the District could only find $260 million to fund the project, and the FEIS design is estimated to cost $360 million. The District asked for proposals to build as much of the project as possible for the availible $260 mill, and the schematic shows how much the winning bidder Skanska/Facchina proposed to build. It is a lane-mile more than the next best proposal. The District's plan is to build the rest when they can secure funding (maybe sooner than later.)"
* While not mentioning Near Southeast specifically, this
Post article from yesterday
talks about the very tough office-space market in DC and surroundings: "'Unless they're already in the ground, they're not starting,' said Steven A. Levin, managing director at Spaulding & Slye. 'Any development project needing a loan over $25 million requires multiple lenders, and the guarantees are onerous. The amount of money you can borrow is also reduced.' [...] Dennis K. Moyer, a commercial real estate lawyer with Goulston & Storrs, said some of his clients are reviewing their existing loans and wondering whether they'll be paid, even on properties that are doing well. 'The next wave that comes is likely the workouts, foreclosures and restructurings,' he said."
Trapeze School May Be Coming to The Yards
May 26, 2009 6:02 PM
Earlier today
WBJ reported
that
Trapeze School New York
is leaving Baltimore's Inner Harbor and coming to DC, to a spot at Ninth and H, NW, on the old Convention Center site. But with thanks to the
Maryland Daily Record
for the tip (which had the location right but not the timing), I can pass along that the school is negotiations to move to
The Yards
after this summer, most likely on
Parcel "O"
, south of Tingey and east of Fourth, which is land that is not scheduled to be developed untl the Yards's later phases. The deal is not yet finalized, so more as I get it.
Yards News (Park Groundbreaking, Liens Statement)
May 7, 2009 9:47 AM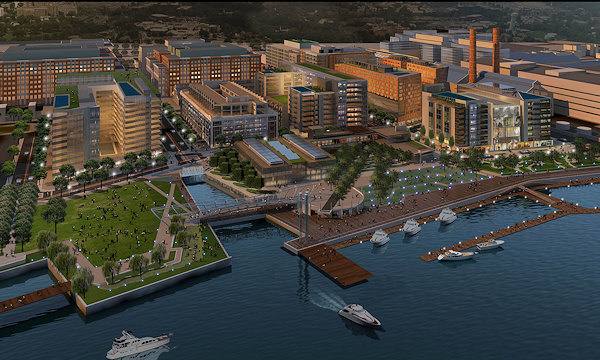 The folks at Forest City Washington have sent along the news that a groundbreaking ceremony for the
Park at the Yards
is scheduled for May 28 at 10:30 am. (The park is being funded by PILOT bonds created a while back, and so financing in this no-financing era is already taken care of.) Construction will begin in "a few weeks," and the park's first phase is expected to be completed in mid-2010. Work on rehabbing the Lumber Storage Shed and building two other new retail pavilions will come in Phase 2; see my
Yards Park page
for more details.
Also, in response to
the WBJ story
that mentioned construction liens at both the
Yards
and
Onyx
, Forest City passed along this statement:
"In response to the article published in the Washington Business Journal in the May 1-7, 2009 issue entitled "Contractors have filed nearly $28M in liens in D.C., Northern Virginia," in which Forest City Washington (FCW) was cited in regard to work done at its Yards project near the baseball stadium by one contractor, FCW wishes to clarify and update this issue:
* FCW was neither served nor notified of this lien until we read about it in the Washington Business Journal;
* The plumbing contractor involved in this action has been paid in full for the work it has invoiced on this job. FCW has signed lien releases from the contractor covering its services billed;
* The lien has been released.
It is unfortunate that the Washington Business Journal chose not to contact anyone at Forest City Washington in order to obtain the most updated information available in regard to this matter before publishing its story."
(Also, I deserve a ding-ing of my own for my recent references to
Building 160
as the Pattern Shop Lofts, when I know darn well that the name was changed to the
Foundry Lofts
a while back.)
Slowly Returning to Full-Strength Blogging
May 4, 2009 9:54 PM
I know people have noticed that JDLand's coverage (and quality) has taken a nosedive in 2009--some of it is because of life at My Real Job is particularly hectic in this era of big change (and plummeting revenue), but I can also now finally reveal that my free time for the past few months has been swallowed up by my planning and executing a huge 100-guest surprise party for my mother, which finally went off
without a hitch
on Sunday morning. With that wrapped up, I will now try to remember exactly how I used to do things here. I'll start tentatively:
* Despite a
few readers being told
that the Bullpen beer garden at Half and N would open on May 1, it hasn't yet opened. I haven't heard any new date.
* From
Friday's WashBizJournal
: "Dozens of high-profile projects are facing liens from hard-pressed contractors. In just one week of March, Forest City Washington was slapped with a $191,460 lien for work done at its
Yards
project near the baseball stadium, while Faison Enterprises Inc. and Canyon-Johnson Urban Funds LLC got hit with a $118,674 lien at the nearby
Onyx Apartments
."
* The Board of Zoning Adjustment
calendar for June
indicates that Donohoe has filed for a time extension on the
special exception
it received
back in 2007
for its planned office building at
1111 New Jersey Avenue
. The original order expires in December unless building permit applications are filed before then; Donohoe's request for an extension would appear to indicate that that won't be happening this year.
"[S]taff strongly recommends that the Commission require the Navy undertake and coordinate with NCPC development of an updated WNY master plan, including a transportation management plan that demonstrate how the WNY parking ratio meets NCPC's Comprehensive Plan goals, and submit that plan to the Commission prior to submitting any new project." The Navy Yard's last official master plan update was in the 1990s.
* A postcard that was delivered to our house this morning listed 309 K St. SE (one of the remaining old townhouses) as being scheduled to be sold at a foreclosure auction this month; however, the auctioner's web site says
the property has been removed
from the auction. Starting bid was going to be at $50,000.
* Speaking of that block of existing homes, someone has finally begun to renovate the old multi-unit building at
Third and L
that has been vacant for as long as I've been watching the neighborhood. A local resident has leased it and is turning it into
Casa degli Angeli
, a nautical-themed "month-to-month" bed and breakfast.
Comments
(3)
More posts:
1111 New Jersey
,
Akridge/Half St.
,
Fairgrounds/Bullpen
,
Casa Degli Angeli
,
Restaurants/Nightlife
,
Navy Yard
,
Onyx
,
Square 743N
,
Nationals Park
, The Yards,
zoning
Heading to Opening Day? What You'll See That You Didn't See Last Year
Apr 12, 2009 7:59 PM
[Note: I'm back in town after almost a week away (reminder to self: next year don't skip town the week before the home opener), so apologies if my coverage of the various events and media pieces has seemed even less scintillating than usual. And now I'm going to end the week with one more less-than-perfect entry, which I should have written before I left but didn't do it until now....]
If you haven't been back to
Nationals Park
or the surrounding Near Capitol Ballpark River Yards neighborhood since last year's Opening Day, here's what you'll see that wasn't completed on your last visit:
*
55 M Street
- Right on top of the west entrance of the Navy Yard Metro station, at the head of Half Street, is Monument Realty's 275,000-sq-ft office building, which has been finished in the last few months and which will be home to
Artomatic
this summer. No office or retail tenants have been announced, although
WBJ reported a few weeks back
that
Gordon Biersch
may be eyeing some of 55 M's ground-floor space. The rest of Monument's Half Street site remains a large hole in the ground, with financing for the planned 350 residential units and adjoining hotel directly across from the ballpark nowhere to be found.