Near Southeast DC: Past News Items
Stadium Events
Go to Full Blog Archive
---
Eagles (the Band) to Play Nats Park on June 15
Mar 16, 2010 10:46 PM
(I've just gotten back from a week traipsing around Arizona, so apologies for light/slow posting, including this one)
It was announced today
that the Eagles, with special guests the Dixie Chicks and Keith Urban, will be playing at
Nationals Park
on Tuesday, June 15, with tickets going on sale at tickets.com on March 29 at 10 am. This is the second concert scheduled for the stadium this summer, with the
Dave Matthews Band playing on July 23
.
Astute readers might remember all
sorts of rumors back in 2008
that the Eagles were going to play the first-ever concert at the ballpark, an honor which eventually went to Billy Joel and Elton John, last year (unless you want to count the Pope).
Some Quick Friday Afternoon Links
Feb 26, 2010 6:00 PM
* The
Douglass Bridge
(South Capitol Street) will be closed on Sunday morning for its swing span test, from 4 am to approximately 9 am, weather permitting.
* Tickets went on sale this morning at 10 am for the Dave Matthews concert at
Nationals Park
on July 23--looks like
good seats are still available
.
* There's been some press over the past few days about the new
DDOT web site
, especially the "
Transportation Access Portal
" that gives detailed information about projects around the city, but I was kind of underwhelmed until I found out that the projects of most interest to Near Southeast are under an "
Anacostia Waterfront Initiative
" tab rather than in the Ward 6 section. There you can find all sorts of project-management details (cost, schedule) for the
11th Street Bridges
, the
new Douglass Bridge
(coming in 2018!), and even the RFK ramp demolition.
*And, in the gosh-why-would-you-think-I-was-killing-time-on-a-Friday-afternoon department, a shot of what the 1000 block of
K
THIRD Street SE would look like if it were in Mr. Roger's Neighborhood (
see large version
):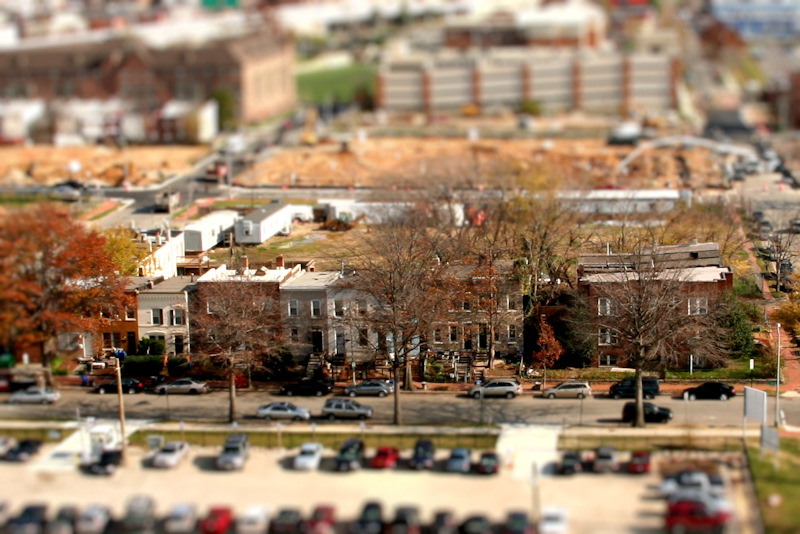 * Plus, I think I have some cool items on the way next week. Fingers crossed.
* UPDATE:
Shoot, I knew there was something else I meant to include:
Minutes and materials
from the last Lower 8th Street visioning session. A report will be submitted to the Office of Planning.
Diamond Teague Progress, Cornercopia Peek, Plus a Few Other Photo Updates and a Parking Lot Update
Jul 16, 2009 8:46 PM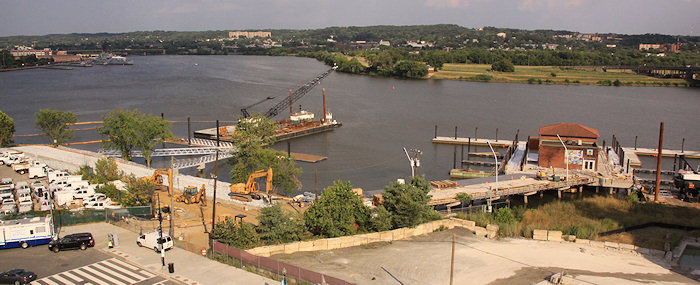 I took advantage of the sunny evening to dart around getting some desperately needed photo updates. First up is
Diamond Teague Park
, where progress on not only the water-taxi piers but the "on-land" portion of the park itself is now clearly visible from the
viewing platform at Nationals Park
. The last projected opening date I heard, a few months back, was July, but while it looks like maybe the park won't be pulled together in the next two weeks, it definitely appears to be getting there. See
my Teague page
for the latest pics.
I also snuck a peek through the door at Cornercopia and
snagged a quick photo
, showing goods now stocked on the shelves, but perhaps just short of being ready to open. Maybe they can get ready for all the folks heading to the ballpark this weekend? Don't forget, my offer still stands of a free sandwich to the first person who
reports to me
that it's open....
I also took some updated photos at Fourth and K in
Capitol Quarter
, where framing has sprouted on the
north side of K
. Then I wandered down to
the Yards
to get some better shots of the
southeast corner of Fourth and Tingey
, which is
where the Trapeze School is going to be located
. (You can also see the
entire batch of today's photos
, where you can then click on the
icon to see an angle's entire history.) Speaking of the Trapeze School, the Post's Health section had a story today on
what it's like to take a class from them
. (You probably won't ever see *me* flying through the air with the greatest of ease.)
One other item--the
WashTimes reported today
that the
Elton/Billy stage
left centerfield in a bit of a mess, requiring the grass to be painted. As you can see from
this shot I took during batting practice
, it seemed to work pretty well.
Lastly, it only took me half the season, but I've now updated my
Stadium Parking map
to show the many options for cash parking (official and unofficial), in addition to the official Nats season ticket lots. And to think that there was a time when *some* people were worried there wouldn't be enough parking.
Upcoming Events, and Other Linky Goodness
Jul 14, 2009 12:14 PM
* This Sunday (July 19), there's going to be a "Grill-Off" at Nationals Park before the 1:30 game against the Cubs. Phil Bucco, who oversees the menus at the ballpark, will be competing against Teddy Folkman, the executive chef at Granville Moore's. It'll be an Iron Chef-like challenge, where the chefs won't know the ingredient they're working with beforehand. The event starts at noon, but the first-come first-served seats (in the Nats Family Fun Area) can be grabbed starting at 11 am, when the gates open. Plates will be judged at 1 pm.
* On Tuesday, July 21, the BID is hosting a
"Mental Mapping" event
, where they're asking residents to "Sketch out your shopping route to assist in a study about neighborhood retail needs." It's at
Capitol Hill Tower
at 6:30 pm; RSVP to
rsvp@capitolriverfront.org
.
* On Saturday, Aug. 8, the
3rd Annual Youth River Sports Day
will be held at the
Anacostia Community Boathouse
, from 10 am to 2 pm. Rowing and paddling instruction, guided river tours, and more will be offered;
my photos from last year's event
give a taste of the activities.
* This is a ways off, but
SWDC Blog reports
that the next ANC 6D meeting, on Sept. 14 (no August meeting) will be held in Southeast, at the Courtyard by Marriott at New Jersey and L. I've been attending ANC meetings off and on for six years, and this is the first one I remember that will be crossing South Capitol Street.
* Even farther off (well, the next day), Urban Land Institute Washington is holding its third
Urban Marketplace Conference and Expo
, which brings together "the private, nonprofit, and public sectors to explore redevelopment opportunities and best practices in emerging neighborhoods and corridors across the Washington metropolitan region." One of the day's discussions will focus on the ballpark district (and I'm one of the panelists). Early-bird registration ends July 31.
* In non-event news,
Fox 5 reports
on how the Nationals' problems on the field "are making the city's $700-million stadium look like a bad investment." To wit: "Before the stadium was built, the city projected average attendance at 34,708 per game and tax revenues from tickets and merchandise of $15.1 million for this season. The reality, average attendance is about 23,213, ranking the Nationals 24th out of 30 teams. Based on attendance figures through June, the city now estimates tax revenues of about $8.9 million. The office of the Chief Financial Officer says tax revenues could increase because average attendance has improved slightly since June." However, "The office of the Chief Financial Officer estimates the city will raise $50.2 million through its Ballpark Revenue Fund, more than enough to make the $32-million bond payment on the stadium with money left over. The bulk of that however does not come from the Ballpark itself, but rather from a utility tax and a business tax in the city."
* Since I was out of town this weekend, I missed all the Elton/Billy hullabaloo. Here's
a pile of reviews and blog posts
having to do with the big show.
* For your (off-topic) Real Estate Development Collapse reading pleasure, a long piece on
Williamsburg, NY
: "Most unsettling are the cases of the developers who seem to have vanished, leaving behind so many vacant lots and half-completed buildings--eighteen, to be precise, more than can be found in all of the Bronx--that large swaths of the neighborhood have come to resemble a city after an air raid."
Setting the Stage for Elton/Billy; Cornercopia Update
Jul 9, 2009 4:25 PM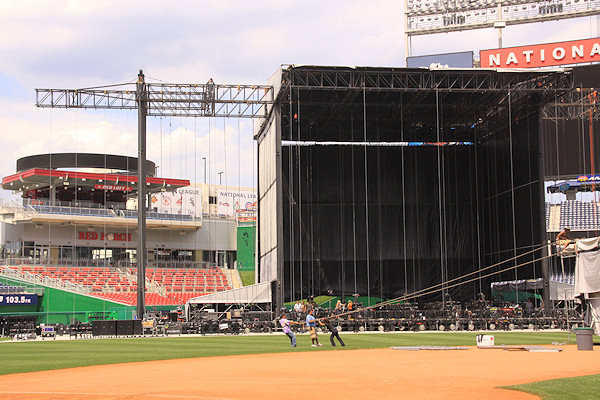 These aren't the most exciting photos I've ever posted (and goodness knows there are a lot of pictures at JDLand that already fall into this category), but I couldn't pass up the opportunity, so here are some shots from inside Nationals Park today
showing the construction of the stage
for Saturday's Elton John and Billy Joel concert. It's in dead centerfield, taller than the Red Loft but not quite as big as the scoreboard. (There will be seating on the field, it just hasn't been set up yet.) And, if you make to the bottom of the page, there's a couple non-stage shots that might be of interest, too.
In other news, I stopped in Cornercopia, and they tell me that they have all their city permits, and are now just waiting to get set up with their distributor, so they could be opening next week. They also told me that they will have tables with umbrellas, chairs, and benches, and the all important water dish for dogs. If you
didn't chime in on the last thread
on what goods you'd like to see for sale there, leave a comment below; you never know who might be reading!
Billy and Elton on Saturday
Jul 8, 2009 10:40 AM
A reminder that the first big concert at
Nationals Park
(well, other than the Pope) is this Saturday, with Billy Joel and Elton John. Metro has just sent out
a press release with its plans
: "In anticipation of large crowds, Metro will operate additional eight-car trains on the Green Line leading up to the start of the concert. Additional personnel will be on hand at the Navy Yard Metrorail station on the Green Line, which is just one block away from Nationals Park. Upon conclusion of the concert, Metro will deploy eight-car shuttle trains that will operate between the Navy Yard and Mt. Vernon Sq/7th St Convention Center Metrorail station."
UPDATE: As for parking, apparently ticketholders have received e-mails urging them to prepurchase parking in the official Nats lots, and cash parking lots will be available as well.
Capitol Power Plant Going Green?; Yards Park Phase 2 Zoning Hearing Monday; Lawsuit to Stop 11th Street Bridges
Mar 1, 2009 9:56 AM
* (h/t reader F) The
AP takes a look
at the Capitol Power Plant just north of the SE Freeway, the neighborhood's second most "favorite" landmark (after the school buses) with its smokestacks obscuring the view of the Capitol dome from many locations. On Thursday, Harry Reid and Nancy Pelosi
wrote a letter
to the Architect of the Capitol asking that the power plant switch from burning coal to using natural gas for its operations, saying "The switch to natural gas will allow the CPP to dramatically reduce carbon and criteria pollutant emissions, eliminating more than 95 percent of sulfur oxides and at least 50 percent of carbon monoxide...We strongly encourage you to move forward aggressively with us on a comprehensive set of policies for the entire Capitol complex and the entire Legislative Branch to quickly reduce emissions and petroleum consumption through energy efficiency, renewable energy, and clean alternative fuels."
The AP's story
tells how Congress has been trying to clean up the plant and make it more "green," and the potholes in the road to making it run completely on natural gas. I'm guessing it wouldn't be wise to start counting the minutes until the smokestacks are gone.
* On Monday at 6:30 pm the Zoning Commission is scheduled to have
its hearing
on the Phase 2 plans for the
park at The Yards
, though we'll see if the weather wreaks havoc with the schedule.
Here's my notes
on the presentation of the designs to ANC 6D, and my
Yards Park
page has renderings.
* (
UPDATE
) Missed this--the
Examiner reported on Friday
that the Capitol Hill Restoration Society has filed suit to stop construction of the new
11th Street Bridges
, citing its "significant, irreversible, adverse effects" on the surrounding area. The
CHRS web site
has a bit more detail as well.
Billy and Elton to Play Nats Park on July 11
Feb 23, 2009 2:11 PM
The Nationals have now officially announced that the "Face 2 Face" Billy Joel and Elton John concert tour will be at
Nationals Park
, on Saturday, July 11 at 7:30 pm. Tickets go on sale Saturday (Feb. 28) at 10 a.m., exclusively at
tickets.com
. Prices are $56.50, $102, and $182.
Big Concert Coming to Nationals Park
Feb 19, 2009 10:53 AM
Looks like something's brewing at the
ballpark
.... On Monday the Nats are going to be having a press conference with Live Nation and Mayor Fenty "to unveil Washington, D.C.'s biggest summer concert and first-ever musical performance at Nationals Park." I wonder if the name of the artist(s) will stay a secret until then!
UPDATE:
The
PostRock blog says
the rumor is it will be Elton John and Billy Joel, who are doing joint dates at two other ballparks this summer (Wrigley and Citizens Bank [Philly]).
UPDATE II:
Per Jay in the comments,
DC Wire has confirmed
that it's the piano men. Will have to wait until the press conference on Monday to get date and ticket information.
Eagles Concert at Ballpark Off Tour Date List
May 12, 2008 12:02 PM
Hmmm, perhaps it's not a go yet after all--the July 26 date for the Eagles to be in concert at Nationals Park is now removed from their
July tour date list
, after popping up there last week. The WashTimes
had reported last week
that the concert was under negotiation, but then a few days later one of JDLand's commenters noted that the date was on the band's web site. And now it's not. We shall see.
Using the Ballpark for Other Baseball Events
May 5, 2008 11:22 PM
I've been meaning to mention this after hearing about it last week, but it wasn't until I saw
this article in Tuesday's Post
that I actually believed it--on
Tuesday evening
(May 6), there
is a high school baseball game
being held at
Nationals Park
, between
my alma mater Bethesda-Chevy Chase High School and arch-rival Whitman
(at least they were arch-rivals back in MY day). Go Barons! Admittance is free, with gates opening at 5 pm for a 6 pm game.
The Post article explains that the teams are using the stadium for free, but they must each sell a minimum of 250 tickets to future Nationals games. This isn't necessarily sitting well with the organizers of the May 31 DC High School Baseball Classic, an all-day event "capped by an all-star game and a matchup of the District's top public school team and one from a top D.C. private school," at a cost of $36,129. (The B-CC game is expecting 200-300 fans, while the DC Classic is expected to have 5,000 people in attendance.)
Sayeth the Post: "The two games offer a look at how the Nationals are opening the $611 million, publicly financed facility for community use. The D.C. Classic will be one of the 18 days annually that the team, per its lease agreement with the city, operates the stadium for D.C. Sports and Entertainment. Tonight's game between B-CC and Whitman is not one of those days, but is the first of a pilot program the team is developing with an aim similar to the D.C. Classic -- generating interest in baseball among the area's youth."
Eagles to Play the Ballpark? (The Band, Not the Team)
May 4, 2008 9:19 AM
From
the WashTimes
: "It appears that Don Henley's 'Boys of Summer' -- the Eagles -- will likely play the first concert to be held at
Nationals Park
, on July 26. Although no such date appears on the Web site for the Eagles' summer tour, a VIP ticket request form obtained by The Washington Times lists an Eagles show on July 26 at the new baseball stadium in Southeast. Washington Nationals officials confirmed talks are taking place for such a show. 'It remains a discussion,' team President Stan Kasten said. 'There really isn't a deal yet. But there is no question we would like to be in the big concert business. We hope to know one way or another soon.' "
In other stadium events, I was amazed to find out at few days ago that this Tuesday (May 6) will see a high school baseball game between my alma mater Bethesda-Chevy Chase and rival Whitman; gates open at 5 pm, game starts at 6 pm. Admission is free. Go Barons!
Mass Wrap-Ups; Somewhat Light Posting Ahead
Apr 17, 2008 10:59 PM
So, I failed as a neighborhood blogger and archivist and didn't get down to the
ballpark
(or anywhere close by) for today's Papal Mass. But I didn't have a ticket and couldn't have gotten within a block of the stadium without one. And I figured it all just might get some coverage in the media. I'm not going to track down every article, but here's a sampling:
Check out the
Post photo gallery
of the day, along with
the main article
and a
feature by Hank Steuver
. The WashTimes Papal Visit blog proclaims "
Wow--What a Mass
!" NBC 4 has a page devoted to
all of its video coverage
--make sure to scroll down and see the little piece on the St. Vincent de Paul Catholic Church that sits right at
South Capitol and M
. Channel 9 also has
a story and a photo gallery
, as part of
all of their coverage
.
Dr. Gridlock kept track
of the roads and rails both before and after the mass, and there seem to have been no major meltdowns. Again.
And, in what baseball fans really want to know,
NBC4 has the goods
on the work it's taking to transform the ballpark back into a ballpark.
Despite my abject failure with the mass, this was a milestone day for me, because during the ridiculously busy home stretch of the ballpark's completion, I just kept telling myself that I only had to hang on through Opening Night and Pope Day, and then all would return to "normal." And now, after posting nearly 2,000 photos and 270 blog entries in these 108 days of 2008, I seem to have made it. Yay!
So, as a present to myself, posting will be a bit light over the next few days as I do a bit of battery recharging.
More Pope Stories Than You'd Ever Want
Apr 15, 2008 8:20 AM
*
The Post
,
the WashTimes
, and
the Examiner
all do their "preparing
Nationals Park
for the Pope" pieces. (There must have been a press tour, perhaps as part of this Archbishop Wuerl tour that
WJLA reports on
.) There's also plenty of detail in the
Post story
about how to get to the ballpark early, expected crunch on Metro during morning rush hour, etc. etc.
* The Post's
Federal Diary
looks at government plans to deal with what a e-mailer to me called "Take Your Pontiff to Work Day." Both
USDOT
and the
Navy Yard
will be open for business (as will all government agencies), with adjusted arrival times for employees allowed; DOT is apparently using this as a "large-scale test of its telecommuting program."
Watching the Ballpark Become a Spiritual Center
Apr 14, 2008 12:17 PM
The
stadium web cam
is worth peeking in on this week (in case you've gotten out of the habit) to see the work now underway to get
Nationals Park
ready for the Pope's mass on Thursday. (Note that the Miller Lite ad on the bottom left of the scoreboard is covered.) The
55 M camera
shows a banner now hung on the eastern parking garage with the insignia for the Pope's visit.
And, since people have asked: I'm trying to find out how much longer this web cam will be running. (The centerfield camera was shut down last week.) Will report when I hear something.
UPDATE:
"Soon," maybe even this week. 'Twill be the end of an era....
UPDATE II: As noted in the comments, the camera hasn't updated since about an hour after I asked when it would be turned off. Oops.
Morning Links: The Usual Pope and Ballpark News
Apr 14, 2008 9:31 AM
* After having its ninth-highest ridership day on Wednesday night (the
predicted
commuting catastrophe that
never happened
), Metro announces that Friday's hockey, baseball, and cherry blossoms trifecta resulted in
its third busiest day ever
, with 828,132 riders on Metrorail, behind only the Reagan state funeral in 2004 and a cherry blossoms/baseball doubleheader in April 2007. We'll see if Pope Day hits the list.
*
The WashTimes talks
about the potential traffic gridlock this week during the Pope's visit, especially for Thursday's mass at
Nationals Park
.
*
WTOP reports
that people trying to sell their tickets to the mass online are getting cease and desist letters from the archdiocese. Not to mention all-expenses-paid trips to purgatory.
* This
NewsChannel 8 report
from Friday talks about how the ballpark will be transformed into a "spiritual center."
*
The Post writes
about the Nationals Dream Foundation's Neighborhood Initiative, which
I wrote about here
. (This link is a day late, thanks to the Post's RSS feeds being, shall we say, untimely.)
* The Nats are out of town this week, returning on April 23 for a long homestand through May 4. This is mainly a cheap excuse to give the first link to a gallery I'm going to update throughout the season of
photos I've taken at the ballpark
that don't fall into the before/after or press event categories. Not much there now, but at the bottom of the page you can also follow the links to the piles of photos I took at the ballpark in March during the run-up to Opening Night.
Yet Another Batch of Mostly Cloudy Photos; Monday Meeting Reminders; Pope Street Closings
Apr 13, 2008 2:21 PM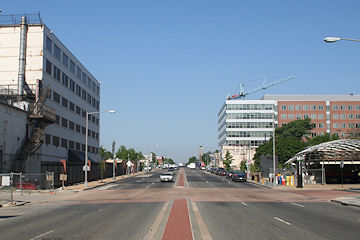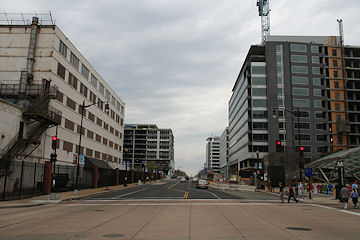 If you like photos of streetscapes taken under overcast skies, this has been the site for you lately. Yeesh. On Saturday, before the rains came, I updated my shots of the
western side of New Jersey Ave.
, showing how projects like
909 New Jersey
,
70/100 I
,
Onyx
, and
100 M
have changed the view in the past year. At least the sun was out for the brief time on Friday evening when I took new photos of the western side of the ballpark, along
South Capitol Street
. So, adding these to the photos I took earlier in the week of
First
and
Half
streets, the current state of construction in Near Southeast is pretty well documented. And now the sun shall come out, but I'll be waiting a few weeks until the next round of updates (probably early May).
Monday brings some meetings with Near Southeast items of interest. At 6:30 pm the
Zoning Commission
will have its monthly meeting, and is scheduled to vote on whether to open up additional blocks in Southwest to
possible temporary surface parking lots
(you can watch via
live webcast
). At 7 pm at St. Augustine's church at 601 M St., SW,
ANC 6D
will have its monthly meeting, and will be looking at Forest City's plans for office and residential buildings at
401 M Street/400 Tingey
at
The Yards
, and the request by the developers of the proposed
250 M Street office building
to increase its height to 130 feet. The project at The Yards has its hearing at the Zoning Commission
on April 24
, and 250 M's is
scheduled for May 14
.
And, for this week's visit from the Pope, the
Post has a huge graphic
of road closures and other information to help get through the festivities. Note that, in addition to the closure of South Capitol Street from 2 am to 2 pm Thursday, it shows that Van, Half, First, and Potomac in SE will be closed at some point, as will O, P, Q, and Potomac SW from Half Street to South Capitol. "Expect other road closures around the ballpark from 9 pm Wednesday until 2 pm Thursday," it says.
South Capitol Street To Be Closed for Pope
Apr 11, 2008 7:34 PM
From a DDOT press release (not yet online), word that on Thursday April 17 (aka Pope Day), South Capitol Street will be closed from I Street to Firth Stirling Avenue, including the Frederick Douglass Bridge, from 2 am to 2 pm.
Metro and Parking Doom, Preparing the Ballpark for the Pope; Pick Your Disaster Scenario
Apr 9, 2008 10:09 AM
* NBC4 sets the vibe with "
Traffic Nightmare Expected in DC Area This Evening
", a short piece on the Wizards-United-Nats trifecta. They list the area around RFK as the possible flash point, though all of
yesterday's Impending Doom stories
pointed toward Metro and Gallery Place. Remember, if you're using the Nats Express, you have to park at RFK's Lot 7 tonight, not Lot 8.
Dr. Gridlock has more
on getting through the evening.
* WJLA gets into the mix with "
Parking Woes Surround New Stadium
," retelling a story they had on Tuesday about legally parked cars getting towed during Monday's ballgame. There's also a quote from a school bus driver lamenting not being able to park free on the street anymore, which I'm guessing won't be garnering much sympathy from the pro-
Canal Park
folks who want the buses out. And there's dueling quotes from Barracks Row shopowners, one who doesn't think it's fair and another who likes the turnover of spaces. There will be a public meeting next month to get first feedback on the
new parking restrictions
.
* For something a bit more uplifting, try Catholic News Service's "
Turning a Stadium into a Cathedral for Pope's Mass in DC
."
And, an observation:
* Conventional Wisdom leading up to Opening Day: "OMG! The stadium is going to be a disaster because there's going to be such huge traffic, transit and parking nightmares!"
* Conventional Wisdom after Monday's game: "OMG! The stadium is going to be a disaster because
no one's going to go
!" (Never mind that it was NCAA finals night/cold as hell/the Marlins/a school night/a game not in season ticket partial plans.)
Stan says the Nats will get the attendance they deserve. Ask the Capitals about that, when you're mulling whether to fork over a couple thousand dollars for a ticket to one of their playoff games.
Peeps, Yes. Pope Bobblehead....? (Update: Apparently Not.)
Apr 8, 2008 4:54 PM
UPDATE:
Wow, thanks to reader S for seeing that
Metro's already taken down
the press release and the YouTube video. Must not have been going over quite so well, as I thought might be the case. Here's my original entry:
Apparently Metro was pretty pumped with the buzz they got
a few weeks ago
from their YouTube video showing marshmallow Peeps deciding to take Metro to the ballpark for Opening Night. They've now
produced a sequel
showing a Pope Benedict Bobblehead doing the same thing in advance of his April 17 mass. I hope the WMATA folks have said a few Hail Marys. You can check
Metro's Papal Visit page
for more information on how to use transit to get to the mass. (And here's
the press release
on the bobblehead video.)