Near Southeast DC: Past News Items
Stadium Events
Go to Full Blog Archive
---
Mass Wrap-Ups; Somewhat Light Posting Ahead
Apr 17, 2008 10:59 PM
So, I failed as a neighborhood blogger and archivist and didn't get down to the
ballpark
(or anywhere close by) for today's Papal Mass. But I didn't have a ticket and couldn't have gotten within a block of the stadium without one. And I figured it all just might get some coverage in the media. I'm not going to track down every article, but here's a sampling:
Check out the
Post photo gallery
of the day, along with
the main article
and a
feature by Hank Steuver
. The WashTimes Papal Visit blog proclaims "
Wow--What a Mass
!" NBC 4 has a page devoted to
all of its video coverage
--make sure to scroll down and see the little piece on the St. Vincent de Paul Catholic Church that sits right at
South Capitol and M
. Channel 9 also has
a story and a photo gallery
, as part of
all of their coverage
.
Dr. Gridlock kept track
of the roads and rails both before and after the mass, and there seem to have been no major meltdowns. Again.
And, in what baseball fans really want to know,
NBC4 has the goods
on the work it's taking to transform the ballpark back into a ballpark.
Despite my abject failure with the mass, this was a milestone day for me, because during the ridiculously busy home stretch of the ballpark's completion, I just kept telling myself that I only had to hang on through Opening Night and Pope Day, and then all would return to "normal." And now, after posting nearly 2,000 photos and 270 blog entries in these 108 days of 2008, I seem to have made it. Yay!
So, as a present to myself, posting will be a bit light over the next few days as I do a bit of battery recharging.
More Pope Stories Than You'd Ever Want
Apr 15, 2008 8:20 AM
*
The Post
,
the WashTimes
, and
the Examiner
all do their "preparing
Nationals Park
for the Pope" pieces. (There must have been a press tour, perhaps as part of this Archbishop Wuerl tour that
WJLA reports on
.) There's also plenty of detail in the
Post story
about how to get to the ballpark early, expected crunch on Metro during morning rush hour, etc. etc.
* The Post's
Federal Diary
looks at government plans to deal with what a e-mailer to me called "Take Your Pontiff to Work Day." Both
USDOT
and the
Navy Yard
will be open for business (as will all government agencies), with adjusted arrival times for employees allowed; DOT is apparently using this as a "large-scale test of its telecommuting program."
Watching the Ballpark Become a Spiritual Center
Apr 14, 2008 12:17 PM
The
stadium web cam
is worth peeking in on this week (in case you've gotten out of the habit) to see the work now underway to get
Nationals Park
ready for the Pope's mass on Thursday. (Note that the Miller Lite ad on the bottom left of the scoreboard is covered.) The
55 M camera
shows a banner now hung on the eastern parking garage with the insignia for the Pope's visit.
And, since people have asked: I'm trying to find out how much longer this web cam will be running. (The centerfield camera was shut down last week.) Will report when I hear something.
UPDATE:
"Soon," maybe even this week. 'Twill be the end of an era....
UPDATE II: As noted in the comments, the camera hasn't updated since about an hour after I asked when it would be turned off. Oops.
Morning Links: The Usual Pope and Ballpark News
Apr 14, 2008 9:31 AM
* After having its ninth-highest ridership day on Wednesday night (the
predicted
commuting catastrophe that
never happened
), Metro announces that Friday's hockey, baseball, and cherry blossoms trifecta resulted in
its third busiest day ever
, with 828,132 riders on Metrorail, behind only the Reagan state funeral in 2004 and a cherry blossoms/baseball doubleheader in April 2007. We'll see if Pope Day hits the list.
*
The WashTimes talks
about the potential traffic gridlock this week during the Pope's visit, especially for Thursday's mass at
Nationals Park
.
*
WTOP reports
that people trying to sell their tickets to the mass online are getting cease and desist letters from the archdiocese. Not to mention all-expenses-paid trips to purgatory.
* This
NewsChannel 8 report
from Friday talks about how the ballpark will be transformed into a "spiritual center."
*
The Post writes
about the Nationals Dream Foundation's Neighborhood Initiative, which
I wrote about here
. (This link is a day late, thanks to the Post's RSS feeds being, shall we say, untimely.)
* The Nats are out of town this week, returning on April 23 for a long homestand through May 4. This is mainly a cheap excuse to give the first link to a gallery I'm going to update throughout the season of
photos I've taken at the ballpark
that don't fall into the before/after or press event categories. Not much there now, but at the bottom of the page you can also follow the links to the piles of photos I took at the ballpark in March during the run-up to Opening Night.
Yet Another Batch of Mostly Cloudy Photos; Monday Meeting Reminders; Pope Street Closings
Apr 13, 2008 2:21 PM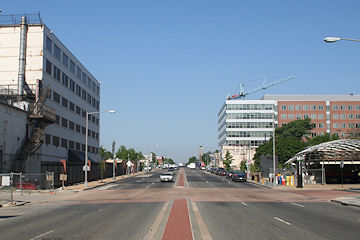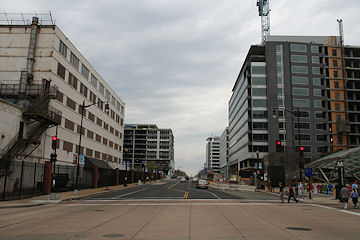 If you like photos of streetscapes taken under overcast skies, this has been the site for you lately. Yeesh. On Saturday, before the rains came, I updated my shots of the
western side of New Jersey Ave.
, showing how projects like
909 New Jersey
,
70/100 I
,
Onyx
, and
100 M
have changed the view in the past year. At least the sun was out for the brief time on Friday evening when I took new photos of the western side of the ballpark, along
South Capitol Street
. So, adding these to the photos I took earlier in the week of
First
and
Half
streets, the current state of construction in Near Southeast is pretty well documented. And now the sun shall come out, but I'll be waiting a few weeks until the next round of updates (probably early May).
Monday brings some meetings with Near Southeast items of interest. At 6:30 pm the
Zoning Commission
will have its monthly meeting, and is scheduled to vote on whether to open up additional blocks in Southwest to
possible temporary surface parking lots
(you can watch via
live webcast
). At 7 pm at St. Augustine's church at 601 M St., SW,
ANC 6D
will have its monthly meeting, and will be looking at Forest City's plans for office and residential buildings at
401 M Street/400 Tingey
at
The Yards
, and the request by the developers of the proposed
250 M Street office building
to increase its height to 130 feet. The project at The Yards has its hearing at the Zoning Commission
on April 24
, and 250 M's is
scheduled for May 14
.
And, for this week's visit from the Pope, the
Post has a huge graphic
of road closures and other information to help get through the festivities. Note that, in addition to the closure of South Capitol Street from 2 am to 2 pm Thursday, it shows that Van, Half, First, and Potomac in SE will be closed at some point, as will O, P, Q, and Potomac SW from Half Street to South Capitol. "Expect other road closures around the ballpark from 9 pm Wednesday until 2 pm Thursday," it says.
South Capitol Street To Be Closed for Pope
Apr 11, 2008 7:34 PM
From a DDOT press release (not yet online), word that on Thursday April 17 (aka Pope Day), South Capitol Street will be closed from I Street to Firth Stirling Avenue, including the Frederick Douglass Bridge, from 2 am to 2 pm.
Metro and Parking Doom, Preparing the Ballpark for the Pope; Pick Your Disaster Scenario
Apr 9, 2008 10:09 AM
* NBC4 sets the vibe with "
Traffic Nightmare Expected in DC Area This Evening
", a short piece on the Wizards-United-Nats trifecta. They list the area around RFK as the possible flash point, though all of
yesterday's Impending Doom stories
pointed toward Metro and Gallery Place. Remember, if you're using the Nats Express, you have to park at RFK's Lot 7 tonight, not Lot 8.
Dr. Gridlock has more
on getting through the evening.
* WJLA gets into the mix with "
Parking Woes Surround New Stadium
," retelling a story they had on Tuesday about legally parked cars getting towed during Monday's ballgame. There's also a quote from a school bus driver lamenting not being able to park free on the street anymore, which I'm guessing won't be garnering much sympathy from the pro-
Canal Park
folks who want the buses out. And there's dueling quotes from Barracks Row shopowners, one who doesn't think it's fair and another who likes the turnover of spaces. There will be a public meeting next month to get first feedback on the
new parking restrictions
.
* For something a bit more uplifting, try Catholic News Service's "
Turning a Stadium into a Cathedral for Pope's Mass in DC
."
And, an observation:
* Conventional Wisdom leading up to Opening Day: "OMG! The stadium is going to be a disaster because there's going to be such huge traffic, transit and parking nightmares!"
* Conventional Wisdom after Monday's game: "OMG! The stadium is going to be a disaster because
no one's going to go
!" (Never mind that it was NCAA finals night/cold as hell/the Marlins/a school night/a game not in season ticket partial plans.)
Stan says the Nats will get the attendance they deserve. Ask the Capitals about that, when you're mulling whether to fork over a couple thousand dollars for a ticket to one of their playoff games.
Peeps, Yes. Pope Bobblehead....? (Update: Apparently Not.)
Apr 8, 2008 4:54 PM
UPDATE:
Wow, thanks to reader S for seeing that
Metro's already taken down
the press release and the YouTube video. Must not have been going over quite so well, as I thought might be the case. Here's my original entry:
Apparently Metro was pretty pumped with the buzz they got
a few weeks ago
from their YouTube video showing marshmallow Peeps deciding to take Metro to the ballpark for Opening Night. They've now
produced a sequel
showing a Pope Benedict Bobblehead doing the same thing in advance of his April 17 mass. I hope the WMATA folks have said a few Hail Marys. You can check
Metro's Papal Visit page
for more information on how to use transit to get to the mass. (And here's
the press release
on the bobblehead video.)
Monday Post-Ballpark-Hangover Edition
Mar 31, 2008 12:35 PM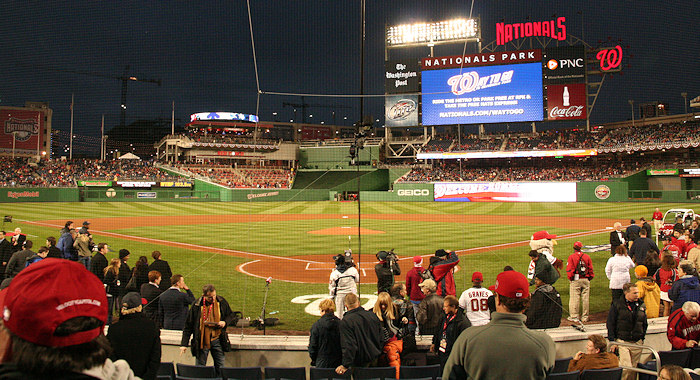 *
Metro says
that just under 21,500 fans used the Navy Yard Metro station for
Sunday night's opener
at Nationals Park, following the 15,141 who did so for the
Saturday exhibition
. (I wonder how many used Capitol South, or got off at Union Station and took the N22.)
WJLA
and others say that the station was cleared within a half-hour of the game's end, which can be verified by looking at last night's shots from the
55 M construction web cam
.
* Moving on to the next huge event, the
WashTimes says
that 45,000 bar-coded tickets to the April 17 mass by Pope Benedict have arrived, and should be going out to parishes next week. Scalpers will be condemned to eternal hellfire and damnation.
* There's
a nice piece
in the
April Hill Rag
(UPDATED:
now online
) about this here Obsessive Compulsive Time-Sucking Vortex. And there's also a shout-out in
this Virginian-Pilot story
on the ballpark.
* On the flip side, I can't help but cackle at what was written in
an online column
by the San Antonio Express-News [emphasis mine]: "If you're craving actual photos of [Nationals Park] -- including work-in-progress updates -- go to the
ballpark homepage
for the
Near Southeast DC Redevelopment agency
. Sure, these people have a vested interest, but they also have lots of photos, a construction webcam and a well-done Q-and-A section on the park." I'm an agency now? Usually I'm just a development company. But, a note for readers who don't realize it: I'm none of the above. (I don't work for the Nats, either.)
I'm just me
.
Mental Health Day (but Not Quitting!); And, Can You Find Your Way to the Ballpark?
Mar 17, 2008 3:39 PM
I'm taking a bit of a mental health break today, to try to rest a bit and gird myself for the coming weeks. Not much news anyway, except for
this WTOP piece
on people being unfamiliar with the neighborhood around the ballpark [insert obligatory "if only there were a web site..." reference here]. Of course, because of this unfamiliarity, chaos will ensue.
And there's
Dr. Gridlock's column from Sunday
, which along with some good information on disabled access to the ballpark also includes discussions of Scary New Jersey Avenue and the "half-mile" walk from the Navy Yard Station to the ballpark. (Whaa...?)
Also,
the Examiner has a summary
of Metro's plans for Pope Day, most of which were in the
WMATA press release
I
linked to last week
.
And, I guess I need to address this--I've had a number of people ask me in the past few days about
rumors
apparently circulating that I'm going to shut down JDLand right after Opening Day. Perhaps this is an offshoot from the flippant comment I made
in the On Site profile
about just making it to Opening Day "and then I'll fall over", or maybe some off-hand crack in the blog about being close to collapsing.
But while it's no secret that right now I'm overwhelmed and teetering on the brink of absolute exhaustion in my quest to keep running the site at the level of detail it's
mocked
known for, and to respond to all the e-mails and questions I receive every day, I also see the light at the end of the tunnel, and I know that, by May, things around here should settle back down to a more reasonable workload. I'm willing to hang on by my fingernails until then, although I acknowledge that I may miss a link here or there, or might be a bit briefer with some updates than I've been in the past, which I hope everyone can understand. But, beyond that, JDLand will still be around for a good while yet; there's still some developments I have to see arrive at the finish line, after all....
(And yes, there's probably a book in it all someday. After I sleep for a year or so.)
Morning Links: All Ballpark All the Time
Mar 14, 2008 9:27 AM
First off, I know the site's been having some downtime over the past few days (perhaps it's as exhausted as I am). Hopefully the performance problems will be addressed soon, but in the meantime, I plead for patience. Now to the morning linkage:
* The Washington Business Journal (
suscribers only as of now
) looks at whether DC really is a baseball town,
shiny new ballpark
or not: "But there is much more to this particular opening. Tucked within the tale of the modern glass and limestone structure lies a referendum on Major League Baseball's historic 2004 decision to move the Montreal Expos to D.C. [...] But the jury remains out as to how vibrant Washington really is and will be as a baseball market. More pointedly, the club is challenged with growing from a low- to mid-tier franchise into a truly great one."
*
WTOP gives baseball fans a heads up
that Near Southeast is a construction zone. (But you knew that already.)
Roundup: Metro and Pope Day, Positive Force
Mar 13, 2008 8:06 PM
(News is getting so overwhelming that I'm having to go to two-a-day link roundups. And still, I feel like I'm missing stuff or giving it short shrift. I guess all that patience being pleaded for by the city and the Nationals and Metro needs to extend to JDLand for the next few weeks, too.)
* Today Metro
put out an expanded press release
(after a similar one
a few days ago
) with additional details on how they're planning to handle the April 17 Mass at
Nationals Park
, or as I call it, Pope Day. There's also stories on Metro's plans by
WTOP
("Forget about baseball, is Metro ready for the Pope?") and
NBC4
. In the meantime, Agence France Presse has a piece on
how huge the demand
for Pope tickets is.
* Via
City Paper
(which has taken the story to its bosom), a
report from Fox 5
on the
Positive Nature
youth program at 1017 New Jersey, which is struggling to stay afloat after the huge increase in property taxes that has accompanied the redevelopment of Near Southeast. Don't forget that they're having an open house (they're calling it a "
radical rally
" to keep their doors open) on
Saturday March 15 from noon to 3 pm
.
Details on Metro Plans for Opening Day, Pope Day
Mar 8, 2008 4:03 PM
Metro has
posted some information
about how it plans to handle Opening Day at
Nationals Park
on March 30, and the Mass by Pope Benedict XVI on April 17. (This document comes from the
agenda
for its March 13 Customer Service, Operations, and Safety Committee meeting.) Some highlights, above and beyond the we've-put-up-a-
web-site
-and-printed-brochures bullet points:
* Metro is expecting
24,000 fans
to come via Metro for Opening Day (21,000 of them via the Navy Yard station), and
26,000 Mass attendees
. They also expect 60 percent of baseball fans to arrive via Metro during the season.
* The
Opening Day
plan includes the
newly enhanced N22 bus service
, 18 extra pre-and post-game trains (mainly on the Green line), extra eight-car trains (perhaps up to every third train), and converting the Navy Yard Station to "one-way" traffic. (I presume this means for pedestrians, though I'm not sure if this means that *no one* can enter/exit the station against the flow before and after the game.) The fact that this first game is on a Sunday night is allowing Metro and the city to avoid a possible complete meltdown of the transportation network that might happen if it occurred during an evening rush-hour.
* Because
Mass attendees
must be through security and into the park by 9 a.m., Metro expects the
largest crushes of travel to be between 5 and 8 am
(the height of the morning rush hour) and again post-Mass. All available extra trains will be used when the Metrorail system opens at 5 am, and there will be 18 extra trains after the Mass ends. And, again, the document says that the Navy Yard Station will be converted to "one-way," which ought to be interesting for the commuters trying to use the station to get to and from work during this Thursday event. And the dreaded phrase "Rolling Street Closures" is mentioned for Pope Day, in that it might affect bus routes coming into the neighborhood. If there were ever a day for Near Southeast residents and workers to telecommute....
With the uncertainties about how fans and the transportation network will handle the crush of getting to the new ballpark for the first time, and with the president expected to throw out the first pitch, the Nationals are
opening the gates at 3:30 pm on the 30th
, 4 1/2 hours before the 8:05 pm start time. I've been told that they've acquired more than 50 magnetometers to try to lessen the burden of passing 41,000-plus fans through security, but if you're going to the game, you might not want to show up at 7:55.
Morning Roundup: Pope Tix Day, Metro Items
Feb 29, 2008 8:54 AM
* Today's the day that the Archdiocese of Washington is announcing the distribution of tickets for the April 17 Mass by Pope Benedict at Nationals Park to churches in the District and suburban Maryland.
The Post reports
on the pleas that church officials are receiving from parishioners desperate to get one of the hottest tickets in town. A spokeswoman says they've received nearly twice as many requests as there are tickets. There are even raffles where the
winner gets a ticket
to the Mass.
* Metro has decided to create a
one-day "Pope Pass"
for $9 for the estimated 25,000 Pope-goers who will be arriving at the ballpark on the subway. (Normally one-day subway passes can only be purchased after 9:30 am, but because of security concerns, those going to the Mass are going to be arriving much earlier than the 10 am start time.)
* Metro's board gave final approval to expanding the hours of the
N22 bus route
that runs between Union Station, Eastern Market, and the east entrance of the Navy Yard station at New Jersey and M. It will now run on evenings and weekends to help shuttle stadium-goers between those locations. And the board also gave final approval of some money-shuffling that will allow the closure of the
Southeastern Bus Garage
at Half and M. More on both of these items can be found in these
two
entries
.
* And, in one final Metro item,
the Post reports
that council member Jim Graham says "he has been contacted by Washington Nationals representatives who wanted to know if the name of the Navy Yard Station could be changed to reflect the name of the corporation that buys the larger naming rights of the stadium." Answer? No way. Uh-uh. Nope. Forget it.
Morning Ballpark Linkage: Pope Blog, Stadium Interior
Feb 20, 2008 8:52 AM
*
City Paper
points us to a
new blog by the WashTimes
tracking all the news surrounding the Pope's April visit to the United States. Including, of course, the April 17 mass at
Nationals Park
. There's
also the news
that a 14-foot-tall crucifix from St. Mark's Church in Hyattsville has been selected to be displayed at the stadium mass.
*
Nats320 continues
with its series of, um, lengthy interviews, this time with the man whose company is going to be "dressing" the ballpark.
* I'm not sure why some news organizations are
only now reporting this
(since it was
announced last week
), but in case you missed it, single-game tickets for Nats games go on sale March 4.
* On Feb. 28, there's
a gathering planned
for people to share stories of the gay businesses along O Street SE that were shut down to make way for the ballpark.
* Check the
stadium web cam
's images from last night to see the ballpark's lights all turned on.
Quick Links: Cap City Beer at the Ballpark, Pope, NPR
Feb 8, 2008 8:49 AM
* Today's Washington Business Journal print edition (
subscribers only
) is reporting that the Nationals are finalizing a deal that would make Capitol City Brewing the "official local beer and the exclusive brew provider at the new stadium's beer garden." WBJ quotes Cap City's president as saying that the company is also negotiating for additional distribution points inside the stadium.
* From
the Post
, word that Benedict XVI will now be hauling out the Popemobile for two trips through the streets of Washington, adding public appearances that weren't originally part of the plan for his April 15-18 visit so that people who won't be able to get into the April 17 mass at the ballpark might still have a chance to see him. The routes haven't been finalized. Also, the Post says that information on tickets for the Mass is expected to be released this month.
* National Public Radio, which has been looking at locations in Near Southeast as well as NoMa and Silver Spring to consolidate its offices in 400,000 square feet of space, says it will make its decision by the end of May,
according to the Montgomery Gazette
, in an article that says Montgomery County has made a formal offer to lure NPR to Silver Spring. It's been rumored that NPR is the "
preferred option
" for DC officials to take over the city's lease at
225 Virginia Avenue
(the old Post Plant).
High School Baseball Title Games at Nationals Park
Feb 8, 2008 7:50 AM
The Washington Times's Tim Lemke
reports on his blog
: "The D.C. Sports and Entertainment Commission has arranged for the city's high school baseball title games to be played at the
Nationals new ballpark
on May 31. The day will feature three games, plus an all-star game." So, that now makes two non-Nationals events scheduled for the new stadium (along with some Pope guy on April 17).
Today's Ballpark Links
Feb 7, 2008 9:26 AM
Your morning reading:
* Another worker has been fired at
the ballpark
for allegedly making "insensitive racial remarks," according to
the Examiner
and the Post (can't find this one online, though it was in the print edition). The Examiner says it's "the fifth dismissal of an employee at the stadium site over racially charged incidents in less than two weeks. D.C. Sports and Entertainment Commission spokeswoman Chinyere Hubbard says a white carpenter made the remarks to two black electricians. She didn't specify what language prompted the action. The carpenter was employed by Mahogany Interiors, a minority subcontractor."
* Maryland congressman Steny Hoyer is concerned enough about the impact of the ballpark on the commutes of his constituents that he met with officials from the Nationals, DDOT, and Metro, and then
sent out a press release
about it: " 'With weekday evening games that begin at the tail end of peak commuter periods, it is critical that we explore all available options to streamline the flow of traffic and minimize congestion,' stated Rep. Hoyer. 'As opening day approaches, I intend to continue working with officials to mitigate the impact on motorists in our region.' "
*
Hundreds are expected to compete
this weekend to snag spots in the choir that will sing for Pope Benedict at the ballpark on April 17. About 550 people are signed up to fight for 250 slots.
Producing the Pope, Noose Hearing, Parking Hearings
Jan 30, 2008 9:21 AM
This morning's tidbits:
* It doesn't say anything about smoke machines or laser light shows, but
this press release
announces that "Showcall, Inc., an event production company based in Maryland, was selected by the Archdiocese of Washington D.C. to produce
Pope Benedict XVI's public Mass
at the
new Washington Nationals baseball stadium
on April 17, 2008." As for what that means: "Showcall, Inc. will provide stage and set design and layout, audio visual production, and overall show direction of the public Mass. Showcall will utilize its unique skill set in producing high-profile, high-threat level events and will coordinate with the Washington Nationals to host the first major event in its new baseball stadium. Showcall will work closely with GEP Washington, the overall DMC firm for the visit."
* Kwame Brown's Committee on Economic Development is having its hearing on the ballpark's "
noose incident
" today at 1 pm. I don't see it on the
Channel 13 lineup
, but perhaps it'll get shown live or will be broadcast later on.
* Today's
two hearings on parking issues
in front of the council's Committee on Public Works and the Environment are at 5 pm and 6 pm. My "real life" is on overload for the next few weeks thanks to Super-Duper Tuesday and the metro-area primaries, so I can't make these hearings in person, but I
will watch the coverage
later this evening and sum up.
* There's also now a
joint hearing
between the Public Works committee and Kwame Brown's Committee on Economic Development on the
Ballpark Traffic Operations and Parking Plan
(TOPP) scheduled for
Feb. 28 at 6 pm
. There should be explanations at this hearing as to how all aspects of
getting to and from the ballpark
are going to be handled (at first, at least). I believe that this information will be released to the public well before Feb. 28, though I don't know exactly when.
Tuesday Morning Linkage and Notes
Jan 29, 2008 9:21 AM
A few small items:
* There's been a competition to design the altar for the Pope's April 17 mass at
Nationals Park
, says
The Post
: the winning entry "uses a pattern of overlapping arches that is repeated on all the pieces, including the altar's base. [...] The chair has a very tall back with the papal coat of arms. The front of the pulpit, from where the pope will read, features images from the Bible."
* Howard University's student newspaper,
The Hilltop, writes about
Saturday's Anacostia Waterfront Community Fair: "The [Anacostia Waterfront Initiative Framework Plan], which calls for 6,500 units of new housing, 3 million square feet of new office space, 32 acres of new public park space and a 20-mile network of riverside trails, appeals to residents of wards 6, 7 and 8 who share a common interest in improving the area. 'I was surprised to find out that so much construction has already taken place,' said Anne Holdbrook, a resident of Anacostia. 'I hope that they continue the re-development because there are so many abandoned buildings that are around that make the place look very unattractive[.]' " (See
my summary
of the fair, too.)
* The DC
crime reports data feed
is back on line. However, apparently they've re-run all the data from 2006 and 2007, and feed consumers like myself are supposed to ditch the data previously downloaded and replace it with the new versions. With the files being H-U-G-E, though, it's going to take some time for me to do this. (
UPDATE:
Ahem. Guess that didn't take as long as I thought. This
crime data archive
is now updated.)