Near Southeast DC: Past News Items
Nationals Park
Go to Full Blog Archive
---
Slightly Off-Topic: Checking Out that *Other* Nationals Ballpark
Mar 27, 2012 9:17 AM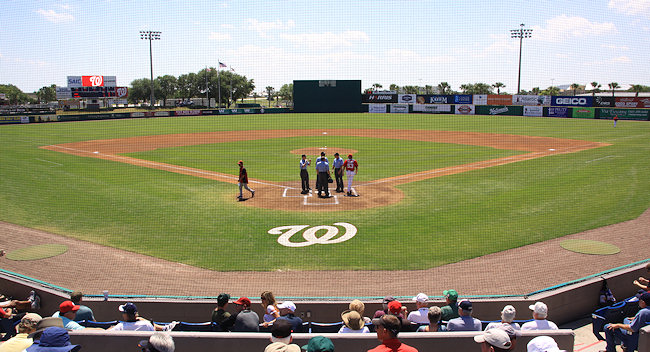 I had an opportunity on Monday to make a trip to
Viera
for my first-ever Spring Training game, to see the Nationals beat the Houston Astros, 7-4. While sitting in the warm Florida sun for a few hours watching baseball was the top priority, I did arrive with camera in hand, and so couldn't pass up the opportunity to take a bunch of pictures of the Nats' other stadium.
So, here are two photo galleries that might be of interest:
looking around Space Coast Stadium
, and
action photos from the Nats-Astros game
.
The Nats will be back at their
real ballpark
one week from today, for an exhibition game on April 3 against the Boston Red Sox. The home opener is now just a smidge over two weeks away, on April 12 against the Cincinnati Reds.
Monday Tidbits: Justin's Block Party and Farther-Off Events
Mar 26, 2012 10:05 AM
I'm going to be a bit scarce this week, so here's few events-related tidbits to keep the home page from having the equivalent of electronic tumbleweeds blowing across it:
* Don't forget that the public meeting about the
possible recreational re-use
of the old outbound
11th Street Bridge
span is on
Wednesday, March 28, at 6:30 pm
.
*
Justin's Cafe
has now posted the information on its
April 14 block party
, both on
Facebook
and its new
JustinsCafeEvents.com web site
. It will run from 11 am to 9 pm, offering a line-up of local craft brews (including "beer trucks" from Port City Brewery and DC Brau), and 106.7 The Fan FM will be broadcasting from there. "All ages welcomed, 21 and over to drink." Money is also being raised for free youth baseball and softball programs through the
DC Grays
and S.M.A.R.T. Camps and Clinics. (The Nats play the Reds at 4:05 pm that day.)
* On April 1 (well, April 2, technically), the
Union Station-Navy Yard Circulator bus
starts its summer hours, running from 6 am to 9 pm weekdays and 7 am to 9 pm Saturdays, with extended service on Nationals game days.
*
The Southwester reports
that there's a
Neighborhood Night
at
Nationals Park
on Thursday, April 19. "The team will honor the vibrant spirit of the neighborhood by featuring local residents in various pregame activities, including throwing out the first pitch, delivering the lineup card and greeting the players as they take their positions on the field." Near Southeast and Southwest residents can also get discounted tickets to games throughout the season, but I'll make you follow the link to find out about that!
Coming to Nationals Park, or Just to the Neighborhood? A Guide
Mar 20, 2012 11:24 AM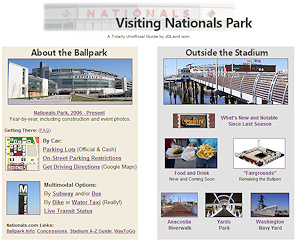 Do you know what's two weeks from today? The Nationals' first home game of 2012, an exhibition against the Boston Red Sox. And the home opener is a mere three weeks and two days away, when the Nats play the Cincinnati Reds on April 12.
This means a lot of people will be returning to the Near Capitol Ballpark River Yards neighborhood for the first time since last summer, or might even be venturing in for the first time ever thanks to the buzz around the team's potential. So I've created a new page:
Visiting Nationals Park
, which brings together links and information both about the ballpark itself and what's available and interesting outside the stadium.
It includes a
What's New and Notable Since Last Season
page, as well as a Google Map showing the
nearby food and drink options
(both currently open and the ones announced to be on the way). And there's links to my new
Anacostia Riverwalk
page and
Yards Park
and
Navy Yard
pages for people looking for things to do (that don't involve food!) before or after the games.
As for the ballpark itself, there's my
map of official and "cash" parking lots
, a "
Getting There
" guide, and of course all of my
photos of the stadium's construction and milestones
.
I'm sure it'll be updated with more items as Opening Day approaches, but I figured I'd go ahead and
get it out there
now (especially to help everyone in the media getting ready to write their annual What Is/Isn't Happening Near Nats Park pieces!).
Tuesday Tidbits: Best Evaluated by Volume, Not Weight
Mar 13, 2012 9:19 AM
So many
Tweets
recently, such small items. Let's see how short I can keep them:
*
Justin's Cafe is looking to have a block party
on Saturday, April 14 (when the Nats and the Reds play at 4:05 pm), and ANC 6D has supported the request to close 1st Street between K and L. (
Thanks to SWill
for, once again, picking up my slack.) Still probably some bureaucratic hoops to jump through before all is confirmed. This was moved
from
Opening Day so it would be on a weekend, Will says,
* Looks like
DPW's trucks
have
departed a couple weeks earlier than expected
from the agency's longtime home at
New Jersey and K
, although all the lights may not be turned out just yet. Demolition is in the cards, though some environmental abatement has to happen first.
* New
striping and bike lanes
were installed Monday on I Street SE between South Capitol and New Jersey.
* Start starving yourself now to prepare for the
Red Porch's eight-pound "StrasBurger
."
*
Photographic evidence of fences down
at the old
Bullpen
, clearing the way for
Fairgrounds
.
* Only
four houses left for sale
at
Capitol Quarter
.
*
Bank of America
is now
building out its new space
in the ground floor of 55 M south of the Metro entrance,
informed sources say
. (They're closing their Southwest location
in June
.)
* Could
DC United be setting up shop
just a few blocks up Potomac Avenue from Nationals Park?
* Near Southeast gets off relatively easy in this Sunday's
National Marathon Street Closure Sweepstakes
(just South Capitol south of L, and the Douglass Bridge).
Anything else going on these days? Besides that sandwich shop opening?
UPDATE:
Let's add the
elephant parade
! Starting tonight at 8 pm, on the southern edge of Garfield Park at the train tracks where Virginia crosses under New Jersey, says
WTOP
.
UPDATE II:
And, from the Hill is Home, a
Q&A with ANC commissioner David Garber
.
UPDATE III
: I sent a
lackey
down to Potbelly to get a
few
opening-day
shots
. Hope he's not expecting to get reimbursed for his lunch.
Tuesday Tidbits, Getting Closer to Opening Day Edition
Mar 6, 2012 10:18 AM
Cleaning off the digital desk:

* Readers are reporting that the fence is coming down around the Bullpen on Half Street. This would be in preparation for the
new Fairgrounds offering
.
Designs
show
that the new "fence" will be shipping containers, which makes sense given that the venture is centered around a shipping container market. Their intent is to have it up and running by Opening Day. (
Read my Fairgrounds post
from a few weeks ago for much more detail.)
* Speaking of Opening Day,
single-game tickets go on sale Thursday at 10 am
.
* Residents won't exactly be interested in this news (except maybe from a parking/traffic angle), but I'll still pass along that a new venture called
Ballpark Bus
is getting launched this season to bring fans from five northern Virginia locations to the stadium. (More to be announced soon, the web site says.) The blog Let Teddy Win has
more about the service
.
* If you'd rather get to the stadium by sea, Potomac Riverboat Company is once again running its
Baseball Boat
for the 2012 season--boats leave Alexandria and take about a half-hour to get to
Diamond Teague Park,
right across from Nationals Park. Price is $24 for a round-trip voyage or $15 one way. (You can also set sail from National Harbor by taking PRC's service from there to Alexandria and then hook up with the baseball boat, for $30 round trip or $20 one way.)
* Also getting ready for another season of operations is
American River Taxi
, whose owner
tweeted on Monday
"See you for Cherry Blossoms." The boat stops at Georgetown, the Southwest Waterfront, and Teague Park--and now that pier is a lovely
riverside-bridge
-walk away from the
Yards Park
(rather than having to walk up 1st to Tingey, over to 3rd, and down).
* Still haven't heard of an official opening date for
Potbelly
(though it's
expected to be next week
), but a press release says that the hours will be 10 am - 7 pm seven days a week, along with delivery service Monday through Friday from 10 am to 2 pm. The store's general manager will be James Carpenter, who previously worked at their Union Station shop. Trivia fans will also note that this location at 301 Tingey (in the ground floor of the
Foundry Lofts
) will be the 45th Potbelly to open in the DC area.
Tidbits: K Street Closure; Potbelly Opening Date; Brewers Ball; More
Feb 29, 2012 11:14 AM
* The portion of K Street SE within the
Canal Park
footprint will be closed through March 31 after workers found "major unmapped utilities" that have caused delays to the construction. Park head Chris Vanarsdale says that in order to meet spring planting requirements, it was necessary to close K now. (A little bit of hassle in exchange for purty plants this year, otherwise the planting would have had to wait until next year.) This means that to cross Canal Park drivers and pedestrians need to either use I Street or M Street.
*
A sign posted
at
Foundry Lofts
for its residents says that they expect the
Potbelly
to open the week of March 13. And here's the
Store Locator page
, still marked as "Coming Soon." (Here's
what it looked like inside
on Sunday morning.)
* If you can't wait until the Nationals finish Spring Training to drink beer at the stadium, there's the
2012 Brewer's Ball
on March 13 at
Nats Park
, benefitting the Cystic Fibrosis Foundation. Guests can sample "a variety of handcrafted microbrews from more than a dozen of the region's best microbreweries and brewpubs, while also enjoying the cuisine of several popular restaurants."
Individual tickets
are $115, and deadline to purchase is tomorrow, March 1.
Thursday Tidbits: Wagtime, Potbelly, Ballpark Taxis, More
Feb 22, 2012 10:33 PM
[Yeah, yeah, the title says Thursday but I messed up and pulled the trigger before midnight.]
For those not following my precious prose on
Twitter
or
Facebook
, some tidbits:
* Pet day care/supplies retailer
Wagtime
is wanting to open a second location to go with its Shaw operations, and
is looking at
the
900 M St. SE building
(where Domino's is located). This would, however, require a zoning change, and a BZA hearing for a special exception and a variance is
scheduled for May 8 at 1 pm
.
* Potbelly must truly be coming to the ground floor of the Foundry Lofts,
because its sign is now up
.
*
WashTimes
: "The D.C. Taxicab Commission will allow so-called 'shared riding' outside
Nationals Park
to manage the chaotic jumble of pedestrians who leave in search of taxis and sometimes engage in what the agency calls 'aggressive behavior.' [...] The commission says shared riding, in which separate groups of passengers may get in the same taxicab if they are heading the same way, is needed to quell disorder and stop the use of unlicensed cabs from surrounding areas that are 'illegally pilfering' fares from the District's licensed drivers." There is already a taxi stand at Half and M; it sounds like the one the article mentions as where riders will need to queue up in order to get cabs.
* Forest City's Deborah Ratner Salzberg
has been named co-chair
of Mayor Gray's new task force on affordable housing.
* The Coalition for Smarter Growth looked at 2010 census figures and determined that Near Southeast has one of the city's higher totals of
households without a vehicle
, at somewhere between 53 and 67 percent.
Late Tuesday Tidbits: Tweets Possibly Lost in the Deluge
Feb 14, 2012 9:02 PM
It's starting to feel a lot like 2007 around these parts, with all the big news flying. (In fact, today's posts brought JDLand its highest traffic since all the ballpark opening falderal in early April 2008.) But I wouldn't want people to miss a couple little items
tweeted
over the past few days:
*
New Dry Cleaners -
Buried in the
press release
on
Osteria Morini
is the news that a dry cleaners is now the first non-food retailer signed as a tenant at the
Boilermaker Shops
. According to Forest City, Wells Cleaners will be taking 800 square feet of space.
*
A Theater? Or Even A Theatre?
- The
Examiner reports
that indy-friendly
Landmark Theatres
is wanting to open a second location in the District to go along with its
E Street Cinema
. While the article emphasizes that city officials are very much hoping that Landmark will consider an East of the River location, the director of the city's Office of Motion Picture and TV Development says that Landmark "is also looking at the Yards neighborhood[.]" Whether this truly means in
the Yards itself
or somewhere in the general Near Capitol Ballpark River Yards area, this news is certainly the sort of tidbit that gets residents
veeeery excited
. (Full disclosure: I see a lot of movies at E Street.)
*
Concerts and Pups:
The Nats released their
2012 promotional schedule
, which includes three post-game concerts, fireworks after the July 3 game, and four Pups in the Park dates. My
cat
is currently contacting attorneys. Also,
single-game tickets go on sale
March 8 at 10 am.
Half Street 'Fairgrounds': Shipping Container Market, Events Space
Feb 13, 2012 11:56 PM
After three years of operating The Bullpen(s) on one of the empty lots just north of
Nationals Park
, landowner Akridge and Bullpen/
Georgetown Events
owner Bo Blair are opting to try something new for the 2012 season: "Fairgrounds," a combination food, market and events space that will be open seven days a week from the beginning of baseball season through October 1.

Modeled on Brooklyn's
Dekalb Market
and designed by
Schlesinger Associate Architects
, Fairgrounds will use salvaged shipping containers as retail spaces for vendors, in a program overseen by
Diverse Markets Management
, the people behind the flea market across from Eastern Market and the downtown holiday market. DMM touts a database of more than 2,000 vendors that it says it will tap into to "keep the market busy and diversified."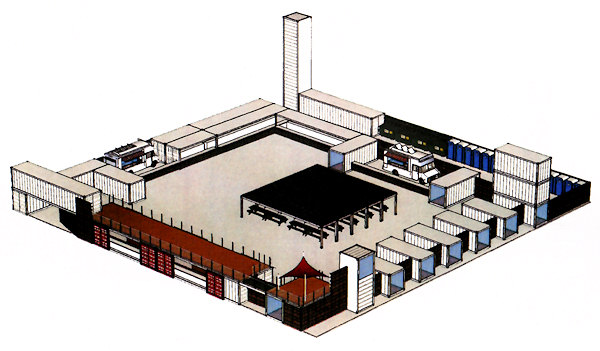 The Market (seen above and at left, click to enlarge) will be positioned on the Das Bullpen site at Half and M, across from the Navy Yard Metro station entrance. It will include "permanent" food truck versions of two of Blair's restaurants:
Bayou
and its New Orleans/Southern-themed food and drinks, and
Surfside
with its beach-type offerings. There are also plans still being worked out to have a rotating roster of additional food trucks every non-game day.
This space will open at 11:30 am every day; on game days, the market and food trucks will remain open until two hours after the game ends; otherwise, it will stay open at least through Happy Hour, or later if patrons are still around. There will be a "spectator" deck built on top of the shipping containers as well as a music stage, with plans to continue to have local and regional bands play on game days. And of course there will be 20 HD televisions and plenty of cornhole sets. (Which I totally don't get, but you kids have fun with it.)
Nats fans already quivering in fear can rest easy knowing that the two liquor licenses that were in place for the Bullpens are still active for this new venture, and a permanent bar will be built in addition to the drinks served by the Bayou and Surfside trucks.
To the south of the main food area, there is a larger open area where Fairgrounds can offer bigger events. The site will host another series of
Truckeroo
food truck festivals throughout the summer, along with potential music events, arts festivals, farmers' markets, etc. Every Sunday, there will be a "Family Day," with children's concerts, face painting, balloon artists, and the like. The area can also be rented for private events.
The Market's offerings can also be expanded on days when there are ballgames that might be bigger draws than others (*cough*Yankees*cough*).
Shipping containers and pallets will replace the existing long black fences all along Half Street and along M (as you can see in the drawing at top left), with possibly some work done by local artists to liven up the containers even more.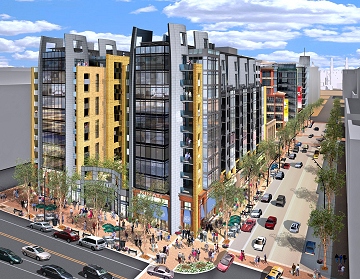 But, in what will probably be even bigger news to people who have been watching this area closely for a long time, Akridge says that they
hope
to begin construction this summer on the first phase of their
700,000-square-foot Half Street mixed-use development
. Their intent would be to start with the 280ish-unit residential building on the south end of the block (directly across from the stadium), and the Fairgrounds' design would make it easy to just move the wall of containers further north on the site to still leave an events area available if indeed they do get underway before the end of the baseball season. The
project
also includes plans for two office buildings on the north end of the block, along with ground-floor retail along Half, M, N, and a pedestrian walk between the office buildings.
At Monday night's ANC 6D meeting where these plans were presented, the commissioners expressed enthusiasm, and a resolution of support was passed 6-0. Blair and his team are working with DCRA and other city agencies to get necessary approvals and permits in place so that containers can be brought in and the market can get underway by the start of the baseball season. (Whether that means the official home opener on April 12 or the April 3 home exhibition vs. the Red Sox remains to be seen. It will certainly be easy to see when the shipping containers start to arrive.)
Tuesday Tidbits: Briefer-than-Brief Briefs
Feb 7, 2012 9:26 AM
I'm a bit under the weather these days, so I'll go with a minimalist approach of mostly
Tweeted
items:
* Lost in the digital piles on my digital desktop was the
CapBiz tidbit about a Bang Salon
being housed in the new Vida Fitness gym that is supposed to be coming to the neighborhood as part of the Yards'
Teeter/Residential project
on 4th Street. (As for the "at the Navy Yard" description, I'm pretty sure that this project isn't happening inside the walls of the Washington Navy Yard.) Note that Forest City has yet to officially announce Vida as a tenant for the project, though
they sure came close
a few weeks back.
* If the neighborhood seems locked down on Wednesday, it's probably because of
this little get-together
at
Nats Park
.
* Speaking of the stadium, the
Nats have launched "Take Back the Park"
to try to head off the Philly Fan Invasion for the May 4-6 games.
* The
agenda for ANC 6D's next meeting
is out, with the only Near Southeast item being "Half Street Shipping Container Fairgrounds Concept," which
according to David Garber
will be on the Das Bullpen site at Half and M and is
something along the lines of this
. Looks hipster-riffic! The meeting is Feb. 13 at 7 pm.
* Outside the boundaries updates from SWill:
Z-Burger is supposed to be opening
over yonder today, and
a juvenile facility
will be moving into that long low gray building on the west side of South Capitol between M and N.
*
DDOT tweeted
that the
11th Street Local Bridge
"is expected to open in late spring." This is the bridge with the pedestrian/cycling path that will run from 11th Street south of N by the Navy Yard into downtown Anacostia.
A Few Oh-Yeah-I-Meant-to-Mention-That Tidbits
Jan 9, 2012 9:52 AM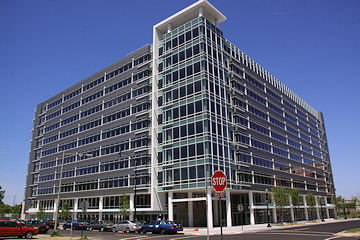 *
1015 Half Buyer
: On Friday the Post debuted a "What's Going On With....?" feature at their new
Where We Live Real Estate blog
(reminds me of my old "What's the Deal With...?" days), and
the first item
was on the empty office building at
1015 Half Street
. One tidbit not mentioned there, or at JDLand before now, is that apparently Prudential Real Estate Investors is buying the building, with the deal supposed to be closing this month, according to
Bisnow
. Bisnow says that the deal was always for Prudential to buy out Bank of America's stake in the building when it was finished, even back when it was Opus East doing the developing, not current receiver Douglas Wilson Companies.
*
Onyx Sale
: The
Onyx on First
apartment building never sold when it first went on the block
back in March
, and
a second offering
apparently closed in December. Perhaps there will be news soon.
*
Navy Yard Riverwalk Closure
: It was
announced on Twitter last week
that the
Navy Yard
Riverwalk will be closed from Jan. 5 to Jan. 17 to install fences around the piers. (What? You thought I meant the entire Riverwalk and not just the portion controlled by the Navy Yard? Why ever would you have thought that?)
Tidbits: Catching Up After a Lazy Holiday Season
Jan 2, 2012 12:42 PM
Hope everyone has had a good holiday season, and made it into the New Year relatively unscathed. I took some blog vacation time myself, but while it's looked like pure slacking, I've actually been hard at work on my
2012 State of the Hood
roundup, which will be coming tomorrow.
Until then, here's a few very short tidbits to catch up on, some of which were already
tweeted
(so blog-only folks might have missed them) and others of which were just little things that have piled up on my To-Do list.
* In the days before Christmas, the final demolitions were finished up at
Florida Rock
, making the concrete tower #166 in my
Demolished Buildings gallery
. I didn't get down there for mid-demo photos, but
DCMud has a few stylized shots
.
* The Capitol Riverfront BID
said last week on Facebook
that construction will begin in April on turning the
Lumber Shed
at Yards Park into a combination retail pavilion and
office space for developer Forest City
. No such announcement from Forest City yet, and no details on who any of the retail tenants may be.
*
Suspect fleeing from police jumps the fence
into
Nationals Park
on Dec. 28, finally found hiding in a public restroom.
* The Examiner surveys
what's coming for DC's various waterfronts
in 2012.
* The
Post's annual list
includes "Renting in Navy Yard" as one of the "In"s. (To which the smart-ass in me replies, "Oh, you mean actually in the
Washington Navy Yard
, the Navy's oldest shore establishment, now 202 years old?")
Tidbits: Disaster!, Tunnel Comment Period Extended, WP on Yards
Dec 12, 2011 1:31 PM
Tidbitiest of tidbits:
* Don't panic on Wednesday (Dec. 14) if you see what appears to be all heck breaking loose at
Nationals Park
--the DC Fire Department and the US Marine Corps' Chemical Biological Incident Response Force will be holding a "large-scale disaster preparedness exercise . . . simulating the joint response to a major terrorist attack." Alas, though, it won't be zombies, but rather a chemical attack. It will run from 10 am to about 2 pm. (Not open to the public.)
* DDOT and CSX have extended the comment period for the
Virginia Avenue Tunnel concept offerings
by 30 days,
to January 30, 2012
.
* Jonathan O'Connell of the Post
wrote a summary
of the goings-on at
the Yards
, none of which will be news to JDLand readers, but which might still be of interest. (The "office building with retail space" mentioned at the end is apparently the
Lumber Shed
, which probably would be better described as a retail building with some office space, especially since the office tenant will be Forest City themselves.)
Some Very Small Items: Velodrome, Bikeshare, 11th Street Bridges
Dec 7, 2011 11:14 AM
* There was a "Wait, what?" moment on Tuesday when
DCist reported
that a velodrome would be coming in 2012 "in the shadow of Nationals Park in Southeast DC." I did some quick sleuthing, looking at the
organization's web site
and seeing Akridge as a partner, but I just couldn't place the design as being along Half Street. Then, thinking about how people so often can't get Southeast and Southwest straight when it comes to anything near the
ballpark
, I took a look at the
Google Maps view
of Akridge's Buzzard Point land at 1st and V SW, and
Ta-Da! A pretty clear match.
But this morning, Akridge is no longer listed as a partner on the web site, and the site rendering is gone, too. Perhaps this is all just because final leases and paperwork hadn't quite yet been signed. (A not uncommon tale, young upstarts getting all excited about a pending deal and blabbing just a little too much info for the comfort of the big company they're dealing with. Though it doesn't necessarily mean the deal is dead.) Of course, this is all actually outside my territory, so you'll want to go to
SWill
for updates.
UPDATE:
Jonathan O'Connell has
tweeted this out
: "Akridge spokeswoman on velodrome: 'We don't have an agreement.' And: 'I would say that putting Akridge on the site was probably premature'."
* Last Wednesday,
DDOT installed the new Bikeshare station at 3rd & G, SE
, on the north side of the Results parking lot. This is technically outside of Near Southeast, but it's probably now the closest station for Capitol Quarter folks (and me!). It has 19 docks.
* DDOT is
shooting for the weekend of Dec. 16
to open the new inbound/outbound freeway spans of the
11th Street Bridges
, and they
tormented me
with some
helicopter shots of the current progress
. (Though remember that it's just the spans opening--they still have work to do on the ramps and flyovers to add the new movements to and from DC-295.) They also
tweeted
that the 11th Street Local bridge is ahead of schedule and will open spring/summer of next year. My
construction progress photos from Nov. 1
are a smidge out of date by now, but still worth looking at.
*
Foundry Lofts
now has
19 moved-in residents
.
American Heart Association Heart Walk at Nationals Park Saturday
Nov 4, 2011 10:44 AM
If you see scads of people walking around the neighborhood tomorrow (Saturday, Nov. 5), it's the
American Heart Association Heart Walk
. It starts at
Nationals Park
, goes around the concourse, exits out to Potomac Avenue, goes up First to Tingey, then over to the
Yards Park
(and on the boardwalk), then up to M Street, back down Half, and over to South Capitol before heading back into the ballpark for the finish line. (
Here's the map
.) The event starts at 8:30 am, but it doesn't leave the ballpark until 10 am.
Osteen's American's Night of Hope at Nationals Park in April
Oct 24, 2011 1:31 PM
The Nationals have just announced that tickets are on sale for "
America's Night of Hope
," the large stadium event held by the
Joel Osteen Ministries
. It will be on April 28, 2012 at
Nationals Park
, with tickets priced at $15. In its three previous years, the national version of this event was held at Yankee Stadium, Dodger Stadium, and most recently at US Cellular Field (home of the Chicago White Sox) in
August
.
(There are smaller "Night of Hope" events held across the country as well, but apparently this is the big national version.)
This is all a little bit out of my realms of expertise, so as more information becomes available, I'll pass it along. But
here's how Osteen's web site describes it
:
"On April 28, 2012, people from across America will gather at Nationals Park, home of the Washington Nationals, in Washington D.C. to pray for this great nation. Come and experience this unprecedented America's Night of Hope with special guests, great music and hosts, Joel and Victoria Osteen. It will be a night you don't want to miss.
"Joel will be sharing a powerful message of HOPE that will inspire you to become all that God wants you to be. Make plans now to attend this exciting event and discover God's best for your life!"
Tidbits: Truckerboo, Teague/Yards Bridge, Espresso Bar, Red Sox
Oct 17, 2011 6:06 PM
I'm back from a week by the beach in Central Florida--yes, of course we went to Disney, and the Kennedy Space Center, along with logging more than 100 miles of biking along A1A. Here are some small items while I regain my blogging legs:
* The October instance of the Truckeroo food truck festival, appropriately dubbed "
Truckerboo
," is scheduled for Friday, Oct. 28, from 11 am to midnight at Half and M Streets, SE. In addition to the usual lineup of trucks and the drinks flowing at the Das Bullpen bar, there will be "truck trick-or-treating" for kids from 3 to 5 pm, along with costume contests (kids, individuals, and groups). They're requesting a "one buckaroo" donation this time around, with all proceeds benefitting the King Greenleaf Recreation Center in Southwest.
More info here
.
* The bridge between
Diamond Teague Park
and the
Yards Park
is close to finished, as you can see in this
not-totally-fabulous cellphone pic
. When it opens, visitors will be able to walk along the west bank of the Anacostia from 1st Street SE (at
Nationals Park
) all the way to 11th Street SE (as long as the Navy Yard's stretch of boardwalk is open).
* Awnings for
Lot 38 Espresso
have now gone up at the
old Little Red Building site
across from Canal Park (
reader photo here
), along with a "Coming Soon" sign. The owner, Yung Park, told me this afternoon that he's shooting for a Dec. 1 opening date.
* The Nationals have announced that they will be playing a
home exhibition game against the Boston Red Sox
on Tuesday, April 3, 2012. The team's regular season gets underway on April 5 at Wrigley Field, with the home opener scheduled for April 12, against the Cincinnati Reds. No game times have been announced yet.
Tree Planting on Saturday, Metro Name, Nats Park Uses
Oct 12, 2011 8:38 AM
* On Saturday, Oct. 15, a group of neighbors together with Casey Trees is having a
tree-planting event in the "triangle park"
bounded by Virginia Avenue and 4th, 5th, and I streets, SE. No prior experience is required, and coffee and treats will be provided along with a post-planting lunch for volunteers. More information and how to volunteer
here
.
* WMATA staff
has recommended that
"Ballpark" be added to the Navy Yard Metro station name as one of its new "secondary" (subtitle) names, rather than the
requested "Navy Yard-Ballpark."
However, since there is not yet any organization that has committed to paying for the name change (which a DDOT rep said at a recent ANC meeting would be in the $100,000 range for a two-exit station), WMATA's board will not be voting on this name change at its
meetings on Thursday
. They will vote on whether to change the Waterfront-SEU station to just "Waterfront," having veteoed the city's request for "Waterfront-Arena Stage" as being over the 19-character length limit and also having a "commercial naming rights issue." (via
GGW
)
* The ANC 6D October agenda has been sent out (but isn't yet
on the web site
). In addition to the very important business of giving thumbs up or down to five different races/walks that want to use neighborhood streets, the commission will be getting updates on the
225 Virginia/200 I project
and the big DC Water
Clean Rivers Project
that will be
ripping up M Street SE
for a number of years. (Won't that be fun if M Street is a construction zone at the same time as
Virginia Avenue
?)
This Week's Events Lineup: Bikeshare Bash, Opera, Nats Finale
Sep 20, 2011 5:20 PM
On the calendar for the rest of the week:
* Thursday, Sept. 22 brings both the
Capital Bikeshare 1st Birthday Bash
at the Yards Park and this year's
Opera in the Outfield
at
Nats Park
. Bikeshare's bash runs from 6 to 9 pm; Opera starts at 7:30 pm.
* The Nats play their final home games of the 2011 season against the Braves this weekend, and the team is promoting it as a
FAN-tastic FAN-ale
. There will be fireworks after Friday night's game (and perhaps during the game, since Strasburg is scheduled to be on the mound). Saturday and Sunday, both afternoon games, have limited $2 tickets available along with food and drink specials and giveaways.
Details here
.
* And on Saturday the 24th the Yards Park is hosting
Blocktoberfest
, with multiple stages, more than 10 acts, food, and of course beer. There were complaints from residents
about
noise levels
during a 10-hour event at the park on Sunday the 18th; one reply from the BID to a resident in the aftermath says that they "have learned a valuable lesson about events in the Park and the noise level," and that they are evaluating the types of events that are appropriate rental use for the park.
What will I be doing for the next few days? Praying that my beloved Google Nexus One phone comes back to life after an overnight seltzer soaking (thanks,
cat
). It's in a Ziploc bag full of rice drying out as we speak....
Tuesday Tidbits: Ballpark Labor Day Weekend Doings and More
Aug 30, 2011 1:05 PM
A whole lot of little stuff:
* The Nationals have a lot of events on tap at the
ballpark
for "Grand Slam Labor Day Weekend":
There are still
$5 tickets available
for Friday night's game against the Mets, and there will be post-game fireworks as well. (I very strongly suggest heading over to the
Yards Park
and getting a spot right on the water for optimum viewing; I watched the last post-game fireworks there a few weeks back, and you are pretty much directly beneath the rockets' red glare.)
Saturday night's game will be preceded by "Team On-Field Photo Day," where for the first time fans will be able to go down to the warning track to take photos before the game. After the game, there will be a free concert by the band Lifehouse (but you have to have a game ticket in order to go to the concert.)
Sunday's 1:35 pm game is $1 Kids Day, plus the seventh annual "Kids Run the Show Day." And, following the game, there will be a softball game between the Wounded Warrior Amputee Softball Team and a group of DC-area celebrities. If you purchase tickets to this game through
nationals.com/woundedwarriorsoftball
, each $20 ticket purchased will result in a $5 donation to the softball team.
Finally, for Labor Day Monday's 1:05 pm game against the Dodgers, there is another $5 ticket special.
You can read more about all these goings-on (and the other offers for these games) in
this press release
.
UPDATE:
And it seems to be all but official that Strasmas returns to the neighborhood next week, with
Stephen Strasburg expected to pitch
against the Dodgers on Tuesday, Sept. 6.
* In non-baseball stadium doings,
Opera in the Outfield
will be back again, on Thursday, Sept. 22 at 7:30 pm with a free simulcast of the Washington National Opera's performance of
Tosca
(and
What's Opera, Doc?
, which really should be the headlining feature). You can bring food and a blanket to sit on, but no alcoholic beverages can be brought in, and bags can't be any larger than 16" x 16" x 8".
* In other concert news, the BID has extended the Friday summer concert series at the Yards Park through Sept. 9. The concerts are from 6 to 8 pm, and food trucks and other offerings will be on hand.
* Speaking of food trucks,
Truckeroo 4 is scheduled for Sept. 30
.
* The Capitol Hill Day School's move to its temporary home at 5th and K SE is in full swing, and the school is doing
a great job of blogging it
(along with the renovations on their Dent School digs).
* A raze permit application has been filed for 1008 3rd St. SE, a few doors south of Cornercopia. This rowhouse had a
partial roof collapse
along with cracks in the walls during the Feb. 6 2010 blizzard.
* Seems like the neighborhood fared just fine through Hurricane Irene, except for the
flood of DC residents
on Friday wanting sandbags from the DPW operations at New Jersey and K, SE. (The city ended up moving the sandbag operations to RFK on Saturday.) This should be the last time this happens, since DPW is expected to be moving out of the old trash transfer station this fall (perhaps even by mid-October).