Near Southeast DC: Past News Items
Nationals Park
Go to Full Blog Archive
---
Opera at the Ballpark Again
Aug 17, 2009 10:51 AM
From
the Post
: "The
Washington National Opera
announced Monday that for the second straight year, the company's opening-night performance -- this year, "The Barber of Seville" on Sept. 12 -- will be simulcast live at
Nationals Park
, free of charge." There were about 15,000 people at last year's simulcast of "La Traviata." It will begin at 7 pm, with the gates opening at 5:30; no reservations are required except for the VIP seating areas. (And it should go without saying that the simulcast will be projected on the ballpark's high-definition scoreboard.) For more information, go to
wnosimulcast.org
.
Water Taxis for Nats Games Maybe Starting Soon?
Aug 8, 2009 8:08 PM
From WTOP
, news that water taxi service to
Diamond Teague Park
may be underway fairly soon: "The
Potomac Riverboat Company
plans to begin operations as soon as next month, for at least some remaining home games. 'We would offer service on the game nights only,' says company Vice President Charlotte Hall, 'from Alexandria, Va., National Harbor and Gaylord National Hotel.'" And: "Prices for the Nationals Park water taxi service have not been set yet, but the company currently charges $8 one way, or $16 round trip for its water taxi connecting Alexandria Harbor, National Harbor and Gaylord National. Hall says all of its existing service will stay the same, and no schedules or routes will be cut to accommodate added trips to
Nationals Park
."
Closing the Budget Gap: Ballpark Taxes, 225 Virginia
Jul 27, 2009 10:29 PM
As the mayor and the city council
try to figure out
how to close a huge FY09 budget gap and work to revise the FY10 budget to deal with expected shortfalls, a few items:
*
The Examiner says
: "Mayor Adrian Fenty's revised 2010 budget plan shifts $50 million from the Ballpark Revenue Fund to the general fund over the next four years. There it would be used to help bridge shortfalls totaling more than $1 billion through 2013. The move has incensed medium- and large-business owners, who are charged an annual gross receipts tax to augment the ballpark fund -- a pot specifically created to pay off $535 million in stadium bonds." The Chamber of Commerce is pledging to fight the idea.
* And today, the city council met "privately" (with media in attendance) to discuss what it sees as the best approaches to find the money. Mark Segraves of WTOP and Mike DeBonis of City Paper were in the room Tweeting like mad. Here's what they said about the council's discussions of the mayor's idea to spend $160 million to buy and renovate
225 Virginia
, to get out from under the $6 million a year lease payments:
@SegravesWTOP
: Talk has turned to 225 Virginia Ave, the old Washington Star building near the SE Freeway.
@mikedebonis
: Council mulls purchase of 225 Va. Ave. to save on ridiculous rent. Vince Gray says let's look at the numbers.
MD: Lotsa handwringing over 225 Virginia Ave. SE and the astronomical lease thereto. 'Outrageous!' say several.
MS: City pays 12 mil per year in rent. Wells says mayor wants to. Buy building for 85 mil plus another 85 mil in upgrades. It would house CFSA
MS: DC has been paying rent on VA Ave since 2007. Other agencies slated to move there, OCTO and Arts and Humanities
MD: OCFO will have 225 Va. Ave purchase numbers by tomorrow. Evans calcs that $9M rent savings would float a $100M note.
Diamond Teague Progress, Cornercopia Peek, Plus a Few Other Photo Updates and a Parking Lot Update
Jul 16, 2009 8:46 PM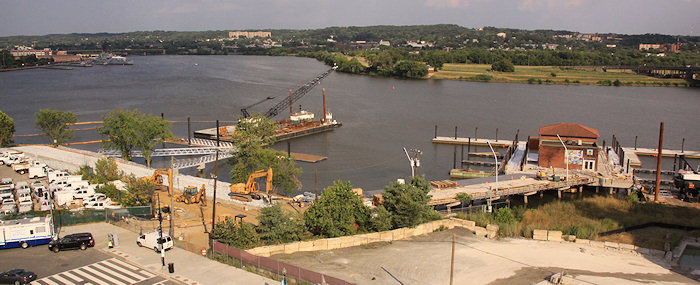 I took advantage of the sunny evening to dart around getting some desperately needed photo updates. First up is
Diamond Teague Park
, where progress on not only the water-taxi piers but the "on-land" portion of the park itself is now clearly visible from the
viewing platform at Nationals Park
. The last projected opening date I heard, a few months back, was July, but while it looks like maybe the park won't be pulled together in the next two weeks, it definitely appears to be getting there. See
my Teague page
for the latest pics.
I also snuck a peek through the door at Cornercopia and
snagged a quick photo
, showing goods now stocked on the shelves, but perhaps just short of being ready to open. Maybe they can get ready for all the folks heading to the ballpark this weekend? Don't forget, my offer still stands of a free sandwich to the first person who
reports to me
that it's open....
I also took some updated photos at Fourth and K in
Capitol Quarter
, where framing has sprouted on the
north side of K
. Then I wandered down to
the Yards
to get some better shots of the
southeast corner of Fourth and Tingey
, which is
where the Trapeze School is going to be located
. (You can also see the
entire batch of today's photos
, where you can then click on the
icon to see an angle's entire history.) Speaking of the Trapeze School, the Post's Health section had a story today on
what it's like to take a class from them
. (You probably won't ever see *me* flying through the air with the greatest of ease.)
One other item--the
WashTimes reported today
that the
Elton/Billy stage
left centerfield in a bit of a mess, requiring the grass to be painted. As you can see from
this shot I took during batting practice
, it seemed to work pretty well.
Lastly, it only took me half the season, but I've now updated my
Stadium Parking map
to show the many options for cash parking (official and unofficial), in addition to the official Nats season ticket lots. And to think that there was a time when *some* people were worried there wouldn't be enough parking.
Upcoming Events, and Other Linky Goodness
Jul 14, 2009 12:14 PM
* This Sunday (July 19), there's going to be a "Grill-Off" at Nationals Park before the 1:30 game against the Cubs. Phil Bucco, who oversees the menus at the ballpark, will be competing against Teddy Folkman, the executive chef at Granville Moore's. It'll be an Iron Chef-like challenge, where the chefs won't know the ingredient they're working with beforehand. The event starts at noon, but the first-come first-served seats (in the Nats Family Fun Area) can be grabbed starting at 11 am, when the gates open. Plates will be judged at 1 pm.
* On Tuesday, July 21, the BID is hosting a
"Mental Mapping" event
, where they're asking residents to "Sketch out your shopping route to assist in a study about neighborhood retail needs." It's at
Capitol Hill Tower
at 6:30 pm; RSVP to
rsvp@capitolriverfront.org
.
* On Saturday, Aug. 8, the
3rd Annual Youth River Sports Day
will be held at the
Anacostia Community Boathouse
, from 10 am to 2 pm. Rowing and paddling instruction, guided river tours, and more will be offered;
my photos from last year's event
give a taste of the activities.
* This is a ways off, but
SWDC Blog reports
that the next ANC 6D meeting, on Sept. 14 (no August meeting) will be held in Southeast, at the Courtyard by Marriott at New Jersey and L. I've been attending ANC meetings off and on for six years, and this is the first one I remember that will be crossing South Capitol Street.
* Even farther off (well, the next day), Urban Land Institute Washington is holding its third
Urban Marketplace Conference and Expo
, which brings together "the private, nonprofit, and public sectors to explore redevelopment opportunities and best practices in emerging neighborhoods and corridors across the Washington metropolitan region." One of the day's discussions will focus on the ballpark district (and I'm one of the panelists). Early-bird registration ends July 31.
* In non-event news,
Fox 5 reports
on how the Nationals' problems on the field "are making the city's $700-million stadium look like a bad investment." To wit: "Before the stadium was built, the city projected average attendance at 34,708 per game and tax revenues from tickets and merchandise of $15.1 million for this season. The reality, average attendance is about 23,213, ranking the Nationals 24th out of 30 teams. Based on attendance figures through June, the city now estimates tax revenues of about $8.9 million. The office of the Chief Financial Officer says tax revenues could increase because average attendance has improved slightly since June." However, "The office of the Chief Financial Officer estimates the city will raise $50.2 million through its Ballpark Revenue Fund, more than enough to make the $32-million bond payment on the stadium with money left over. The bulk of that however does not come from the Ballpark itself, but rather from a utility tax and a business tax in the city."
* Since I was out of town this weekend, I missed all the Elton/Billy hullabaloo. Here's
a pile of reviews and blog posts
having to do with the big show.
* For your (off-topic) Real Estate Development Collapse reading pleasure, a long piece on
Williamsburg, NY
: "Most unsettling are the cases of the developers who seem to have vanished, leaving behind so many vacant lots and half-completed buildings--eighteen, to be precise, more than can be found in all of the Bronx--that large swaths of the neighborhood have come to resemble a city after an air raid."
Don't Fret if You See a Big Balloon
Jul 14, 2009 10:06 AM
This has just been passed my way from an unnamed source: "Be advised that, weather permitting, an approved aerial photography balloon will be flown at various altitudes in the vicinity of 3rd and D Streets, SE at times between sunrise and sunset on Tuesday, Wednesday and Thursday, July 14-16, 2009. This is in support of a commercial real estate development near the Nationals Stadium." I'm trying to find out which development they're talking about, but, in any event, don't panic.
Setting the Stage for Elton/Billy; Cornercopia Update
Jul 9, 2009 4:25 PM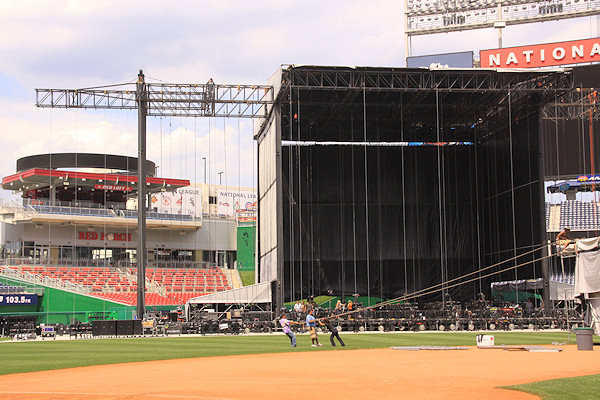 These aren't the most exciting photos I've ever posted (and goodness knows there are a lot of pictures at JDLand that already fall into this category), but I couldn't pass up the opportunity, so here are some shots from inside Nationals Park today
showing the construction of the stage
for Saturday's Elton John and Billy Joel concert. It's in dead centerfield, taller than the Red Loft but not quite as big as the scoreboard. (There will be seating on the field, it just hasn't been set up yet.) And, if you make to the bottom of the page, there's a couple non-stage shots that might be of interest, too.
In other news, I stopped in Cornercopia, and they tell me that they have all their city permits, and are now just waiting to get set up with their distributor, so they could be opening next week. They also told me that they will have tables with umbrellas, chairs, and benches, and the all important water dish for dogs. If you
didn't chime in on the last thread
on what goods you'd like to see for sale there, leave a comment below; you never know who might be reading!
Billy and Elton on Saturday
Jul 8, 2009 10:40 AM
A reminder that the first big concert at
Nationals Park
(well, other than the Pope) is this Saturday, with Billy Joel and Elton John. Metro has just sent out
a press release with its plans
: "In anticipation of large crowds, Metro will operate additional eight-car trains on the Green Line leading up to the start of the concert. Additional personnel will be on hand at the Navy Yard Metrorail station on the Green Line, which is just one block away from Nationals Park. Upon conclusion of the concert, Metro will deploy eight-car shuttle trains that will operate between the Navy Yard and Mt. Vernon Sq/7th St Convention Center Metrorail station."
UPDATE: As for parking, apparently ticketholders have received e-mails urging them to prepurchase parking in the official Nats lots, and cash parking lots will be available as well.
Red Sox at the Ballpark This Week; Be Prepared
Jun 22, 2009 2:32 PM
From the Nats: "The Washington Nationals are expecting capacity crowds for their three games vs. the Boston Red Sox, Tuesday, June 23, Wednesday, June 24 and Thursday, June 25 at 7:05pm. Nationals fans attending the games are encouraged to arrive early to avoid rush hour delays and long lines.
Nationals Park
Center Field gates open at 4:30pm, and fans arriving early may view Nationals Batting Practice, beginning at 4:50pm."
"Fans planning on driving to Nationals Park may pre-purchase their parking at
nationals.com/waytogo
. Fans may also park for free at RFK Stadium, Lot 8, and take the free Nats Express to the ballpark. The Nats Express runs continuously from an hour and a half before first pitch through an hour and a half after the last out. Nationals Park is conveniently located on the Metrorail Green Line, at the Navy Yard Metro Station."
If you're not going to the game, be prepared for much heavier traffic, especially on South Capitol, M, and near the various cash parking lots (in the
Yards
, at Third and K, Seventh and M, and other spots here and there in the neighborhood.)
Dreary Thursday Links Roundup
Jun 18, 2009 9:42 AM
* The news about perhaps paying for the convention center by taking money from various in-the-pipeline projects around the city has generated a lot of comment, not only
here
but in the form of
a letter from Monty Hoffman
of PN Hoffman to Chairman Gray in which he said that moving funds away from the planned redevelopment of the Southwest Waterfront "would be a horrific business, legal, and community tragedy for the city." And
SWDC Blog is reporting this morning
that Kwame Brown says the list in the original WBJ article was of all tax-increment-financing plans approved by the City Council, which might be a wider list than just projects from which funds could be diverted.
*
Roll Call has a piece
on the "slow-to-develop" Capitol Riverfront neighborhood: "Today, visitors to the stadium emerge from the Metro onto an almost empty street flanked by tall fences. Billions of dollars of real estate is planned for the area, but for now, it only offers a few half-empty buildings and the occasional fast-food restaurant." But there is this as well: "The buildings aren't all empty. BID estimates that about 1,600 people live in the area, leasing about half of the available apartments. Office buildings hold about 35,000 workers; Opus East, for example, has leased 50 percent of the units for its new building at
100 M St. SE
." (Full disclosure: I'm quoted a few times.)
* On the flip side, a
just-released CBRE report
on the impact of the federal stimulus package on the DC and Baltimore region says: "The commercial real estate industry has begun to see an impact from the transportation-related stimulus activities. Government contractors are actively touring office buildings in the Capitol Riverfront submarket of Washington, DC, home to the headquarters of the U.S. Department of Transportation, for new growth related to stimulus-funded contracts. These tours are noteworthy as the submarket has seen limited interest over the first six months of the year as a result of the national and local economic recessions." We're also
still waiting to hear
which federal agency might be about to lease 100,000-sq-ft of space at
20 M
, and whether Booz Allen Hamilton is taking 30,000 sq ft at
55 M
or elsewhere in the neighborhood.
* And, if you saw a boat full of partying real estate professionals cruising up the Anacostia on Tuesday, it was the
Urban Land Institute Washington's annual boat tour
, which took the Odyssey from the Southwest Waterfront up to
the Yards
and then back toward Rosslyn and Georgetown.
* The news of the day gave the Republicans
some trouble in the bullpen
at last night's Congressional Baseball Game at
Nationals Park
. And the GOP's woes in Washington continued, with the Democrats
winning the game for the first time in eight years
, 15-10.
Congressional Baseball Game at Nats Park
Jun 16, 2009 2:16 PM
Tomorrow (Wednesday, June 17) is the annual
Roll Call Congressional Baseball Game
, being held at
Nationals Park
at 7 pm. Quoting: "For nearly 50 years, Democrats and Republicans have taken a night off from their political wrangling for a different partisan competition: the Annual Roll Call Congressional Baseball Game. This year, the squads will take the field on June 17 at Nationals Park to battle not only for bragging rights and the coveted Roll Call trophy but also to raise funds for a pair of local charities. The Washington Literacy Council runs reading programs for adults and children while the Boys & Girls Clubs of Greater Washington helps children build confidence, develop character and acquire the skills needed to become productive, civic-minded, responsible adults." (h/t
WeLoveDC
)
Filming at Nats Park Today; Lots of Other Tidbits
Jun 12, 2009 9:37 AM
* Reader S. reports in from
Nats Park
that filming is happening there today on the Owen Wilson baseball movie. S. is an extra, and says that Owen is there, but hasn't seen any other stars yet.
* The Navy Yard Museum is presenting
"American Girl Day" on June 27
, saluting the series of books that has taken the youngsters by storm. Valerie Tripp, one of the authors, will be signing books, and there will be hands-on activities, prizes, and more. RSVP required; it runs from 11 am to 3 pm.
See the flyer
for more.
* Two readers confirmed
my Tweet
yesterday that the
"Taxation Without Representation" street signs
have now been posted on South Capitol Street between N and Potomac.
* The new owner of the Little Red Building at Second and L formerly known as the Star Market is moving on getting the existing liquor license changed to allow more than just beer and wine (a
process originally started
by the previous owner).
My intern
reported that the sign now posted says that the deadline for filings on the case is July 20 and the hearing is (I think) August 10; however, the hearing notice hasn't yet appeared in the
DC Register
, and the
ABRA web site
is woefully out of date these days.
*
Greater Greater Washington discusses
attempts to get USDOT security to back off from hassling photographers; I've had problems there for years, even though
there is no law prohibiting the photographing of federal buildings
. (They even hassle me when I'm taking photos of
The Yards
, which, to be gentle about it, is *really* none of their damn business.)
* I hear that the Cornercopia Deli is still about three weeks from opening; we'll see if that date holds. And yes, my free-sandwich offer to the first reader who alerts me to the deli actually being open for business still stands.
* There's a couple sales/leasing events at
Velocity
and
Onyx
over the next few days that readers have alerted me to; but if those sorts of tidbits are of interest to you, you'll want to check in with
the BID
; I'm going to shy away from adding those type of shindigs to my already overburdened lineup of items I track.
Shooting at 7th and M; Canal Park Sod; Ballpark Fireworks Temporarily Snuffed Out
Jun 8, 2009 1:42 PM
This morning's
news-filled Tweeting
, merely cut-and-pasted because I'm tired and cranky (though still on a high from Federer's win):
* "Reader J reports that there was a shooting this morning in the 7th and M parking lot across from the Navy Yard entrance." Followed by: "MPD says on
1D mailing list
that 7th & M shooting suspect "is not at large" and that this involved MPD and US Marshalls."
* "RT @atweber: on a positive note they are rolling out the sod at
Canal Park
. (JD sez--just the southern block; other 2 to be seeded.)"
And, if grass and guns aren't enough for you, read
City Paper
, the
Sports Bog
, and
the Post
on how the DC fire chief is snuffing out all fireworks at Nationals Park after debris fell on him at Sunday's game, with the
WashTimes is now reporting
that the fireworks will most likely be restored."
UPDATE:
Here is the
Post story on the shooting
:
"An armed homicide suspect being sought by D.C. police died of a gunshot wound today after officers confronted him on M Street SE near the Washington Navy Yard, authorities said. It was not immediately clear whether the wound was self-inflicted or from a police bullet.
"Police said the man, whose identify was being withheld pending notification of his next of kin, was being sought by the D.C. police fugitive task force in connection with a May 31 slaying in the city. Members of the task force encountered him at midmorning in the 600 block of M Street, not far from Nationals Park, police said.
"After the man brandished a handgun, police said, at least one officer fired at him, but there was some indication that the fatal wound was self-inflicted. The shooting was still under investigation this afternoon."
UPDATE II:
WTOP says
the man, 38-year-old Allan Haggins, shot himself.
UPDATE III:
NBC says
Haggins [different spelling] was being pursued in for the murder of Goldean Hawkins, whose funeral was being held this morning' at St. Matthew's Church at New Jersey and L. Haggins was spotted by police in the 500 block of M Street SE, and pursued him to the parking lot in the next block, where "Haggins produced a handgun in the parking lot, police said, prompting two officers to fire their handguns at the suspect, striking his body. Haggins then shot himself, police said."
FIREWORKS UPDATE:
City Paper says
that the fire department says the problem has been fixed: "Alan Etter, the spokesperson from the fire department, says the angle in which the devices were being deployed had to be changed so the fallout would end up outside the stadium. 'They did tell me that the product itself is being revised so that there's less debris that is subject to fall on people,' Etter says. But adds: 'None of this stuff is on fire.'"
L Street Doings, and Stories on Stuff There's Already Been Stories On
Jun 4, 2009 11:21 PM
*
ANC 6D
's meeting on Monday night (June 8) looks to be a little shorter than usual, with only a few agenda items, one of which is a public space permit request by the
Courtyard by Marriott
to expand (?) their sidewalk cafe.
* Speaking of L Street, a reader wrote today about the
Little Red Building at Second and L
, once known as the Star Market. Apparently the owner was posting a liquor license hearing notice, which gives me a feeling of deja vu, since this
also happened in September 2006
. The owner told my anonymous tipster about his plans for the building, which are pretty much what we've been hearing since 2006: tear down the building and build a new two-story structure, with the first floor being a liquor store and the second floor being a deli (at other points over the past few years it was a
sushi bar
and then a wine bar on the second floor). The plans have even stayed mostly the same after the
building changed hands last year
for $900,000. See
my various posts from 2006 through 2008
about the previous attempts to change the building's liquor license and the negotiations with the ANC.
A Slew of Tweets, Links and Little Items
Jun 2, 2009 9:41 AM
Some recent items of note, some
Tweeted over the past few days
and some I just lazily haven't gotten around to mentioning until now:
* Several readers wrote in to mention the awnings now in place at the
Cornercopia Deli at Third and K
, which were installed on Friday. Still no word on when it might open--but to make sure that I hear about it ASAP when its doors do open, I pledge to buy a sandwich there for the first reader who alerts me that the deli is open to customers.
* If you haven't been in the unit blocks of either I or K streets--the Wendy's (on the site of the on-hold
23 I Street
apartment building by JPI) is now completely demolished, and glass is now being hung on
1015 Half Street
. If you're wondering why the west side of 1015 Half is not glassed but has just a plain beige exterior--remember that that side will just be facing an alley, with
1000 South Capitol
someday rising between it and South Capitol Street. (Emphasis on the *someday.*)
* The
Obama Five Guys
on Second Street has seen a 50 percent jump in business since the president's visit on Friday, says
Politics Daily
. And plenty of people are ordering the "Obama Burger," a cheesburger with lettuce, tomato, mustard, and jalapenos.
* A little excitement at
USDOT
on Monday when a suspicious package
forced the evacuation
of the Fourth Street building. According to
DC Fire and EMS's Twitter feed
, it was a package leaking diesel fuel.
*
Greater Greater Washington spent some time
looking more closely at
the schematic
of the new
11th Street Bridges
that I posted about last week.
*
The Post had a good report
on Saturday's high school baseball Congressional Bank Classic at
Nationals Park
.
*
UrbanTurf.com took a look
at
Capitol Hill Tower
.
* "
Artomatic Moves to DC's Empty Ballpark District
."
* The Mayor wants to clean out the Community Benefits Fund funded by the ballpark to pay for 10 weeks of his summer jobs program,
says the Examiner
. Members of the council say that six weeks (the amount that can be paid for by the original amount budgeted for the program) is good enough, and that money should go to various projects they've earmarked. (
UPDATE:
The
council voted today
*not* to cut the program to six weeks.)
Comments
(0)
More posts:
1000 South Capitol
,
1015 Half
,
11th Street Bridges
,
23 I
,
artomatic
,
Capitol Hill Tower
,
cornercopia
,
Restaurants/Nightlife
,
Retail
,
square 697
,
Square 697n
, Nationals Park
Taxation Without Representation Street Still Unsigned
Jun 2, 2009 9:12 AM
Remember "
Taxation Without Representation Street
," the city's renaming of the three blocks of
South Capitol Street
in front of
Nationals Park
?
The Examiner does
, and checks to see if anything's happened with it: "As of April 24, the team's legal address was formally changed to 1500 Taxation Without Representation St. SE, thanks to an act of the D.C. Council. But no one would know it: The D.C. Department of Transportation has yet to change the street signs, and the Nationals apparently have no intention of redesigning their letterhead."
High School Baseball at the Ballpark Saturday
May 29, 2009 10:39 AM
Another item I've forgotten in my "Upcoming Events" posts lately: tomorrow (Saturday, May 30), the
Congressional Bank Baseball Classic
is returning to
Nationals Park
for its second year. As with last year, it will feature four games showcasing high-school baseball talent--a game between the top two public schools, another between the top two private schools, followed by a title match between the two winners. There will also be an All-Star game. You can get more information at the
official web site
; also, WAMU apparently did a feature about it this morning,
which should be posted soon
.
NatsTown 'Green-Up' on Friday May 22
May 19, 2009 3:32 PM
Just out from the Nats, an announcement about a clean-up day they're holding this Friday (May 22) along the banks of the Anacostia near the
ballpark
. If you're interested in participating, you can contact Lisa Pagano with the Nats (Lisa.Pagano [at] nationals.com) for more information:
"The Washington Nationals Dream Foundation will host the inaugural NatsTown Green-Up, an Anacostia Clean-Up Day designed to bring attention to the works of the Dream Foundation and their partner, the Earth Conservation Corps. Close to 100 volunteers from the Washington Nationals front office, Alion Science & Technology, Capitol Riverfront BID, Capital Rowing Club, HNTB Corporation, and Sidwell Friends, will "Rally 'Round The River" and help to clean and beautify the nation's most polluted waterway. The day's activities will include mulching, planting and trash pick-up at the Matthew Henson Center, the base of the Earth Conservation Corps located at 2000 Half Street, SW, and removal of trash from the shoreline of the Anacostia at Poplar Point. Boats will take volunteers across the river to the Poplar Point location.
"Waste Management, a Nationals corporate partner, will provide the dumpsters for materials removed from the river banks during the event, along with t-shirts for all volunteers. Hard Times Cafe and Gifford's Ice Cream & Candy Co. will provide complimentary lunch for the volunteers at 1:00pm in the Nats Family Picnic Area. During the lunch portion of the event a Nationals player will meet with the volunteers and thank them for their participation. Each person will also receive two tickets to Dream Foundation Day at the ballpark on Sunday, May 24 when the team faces the Baltimore Orioles in the final game of the homestand. The pre- and in-game entertainment at Sunday's game will highlight the works of the Nationals Dream Foundation and provide fans with information on how they can get involved."
Registration starts at 8:30 am on Friday at the Henson Center at 2000 Half St., SW.
Quick Photos from the Bullpen
May 15, 2009 7:13 PM
The somewhat threatening skies held off before gametime tonight and allowed the Bullpen to open its doors for the first time. When I arrived around 6 pm, there was a healthy crowd, and the spirits (emotional and liquid) seemed to be flowing well. I didn't stick around for long, but I did take
a few photos.
Bullpen Officially Announces Friday Opening
May 13, 2009 2:38 PM
This was reported in the
WBJ yesterday
, and now is confirmed via an e-mail from the
Bullpen
folks themselves, announcing that they will have their grand opening at 5 pm on Friday (May 15). "Enjoy delicious food, cold beer and margaritas, and live music before, during, and after the Nationals game." Plus, as mentioned on
their web site
, there are "interactive sports games for children sponsored by Headfirst Camps and Under Armour." It will be open until midnight; there's no music act listed for Friday's opening, but there are
bookings listed
for May 17 and 23. And I see they're now using the phrase "beer garden" themselves!
(Also note: "The Bullpen is available for private events on game nights and non-game nights. The Bullpen welcomes happy hours, political events, fund-raisers, company outings and other large group events.")