Near Southeast DC: Past News Items
staddis
Go to Full Blog Archive
---
ANC and Zoning Commission Reports - Coming Soon
Jan 14, 2008 11:48 PM
Having pledged to pace myself a bit better over the next three months so that I don't have to cover Opening Day from a padded room, I'll be posting the results of Monday night's ANC 6D and Zoning Commission meetings in drips and drabs over the next few days. So stay tuned, especially if you're interested in
Florida Rock
, or
Diamond Teague Park
, or Monument Realty's projects
north of the ballpark
, or
1111 New Jersey
, or
250 M Street
.
This of course means that all the local media outlets checking in at JDLand looking for leads and tips will have to wait too. (The information is all free, of course, but some small hat tip some day would be nice. Although I do enjoy being an assignment editor of sorts....)
Monday Morning Tidbits
Jan 14, 2008 9:26 AM
Just a quick couple of links:
* The Washington Times profiles
Steve Cohen of
Opus East
, who's been promoted to vice president of real estate. Opus's two current projects in the District are both in Near Southeast:
100 M Street
and
1015 Half Street
(not "1015 F" as the article says). The article touches a bit on how Opus plans to handle any slowdown in the commercial real estate market.
* A few days back the
WashBiz Blog on washingtonpost.com
featured a quick overview of Monument's
Half Street project
and an interview with the company's executive vice president, F. Russell Hines. No news in the piece to any regular readers of JDLand--it mentions Monument's lawsuit against WMATA over the
Southeastern Bus Garage
, but gives no status report on where it stands.
* This is also a few days old, but I can't let an entry go by without mentioning
parking
, so here's a link to
a WUSA piece
from last week that, in a stunner, finds
baseball
fans who are upset at the idea of
Tommy Wells's Performance Parking Plan
, given that it might prevent them from parking for free on neighborhood streets for three-plus hours 81 nights a year.
First Street Demolition Monday?
Jan 13, 2008 7:22 AM
I've been told by "someone with knowledge of the Ballpark District" that demolition of the old buildings on the
Willco Construction site
bounded by M, N, Cushing and First is scheduled to start on Monday. And that a temporary surface parking lot is slated to be built in this spot, just north of the eastern garage at the
ballpark
. We shall see if this does indeed come to pass....
UPDATE: Seeing that there's no bulldozers in action on this block today, I'm officially never believing a start-of-demolition rumor ever again. Though I did see heavy equipment parked near one of the buildings a few hours ago.
Jan. 14 Public Meetings (And One from Last Night)
Jan 11, 2008 3:18 PM
Agendas are out for two public meetings on Monday night (Jan. 14) that have Near Southeast items of interest:
*ANC 6D's
agenda
includes presentations and requests for support on the following: a new request for an alley closing on the southern end of the block bounded by Half, M, N, and South Capitol (
B17-0552
, "Closing of a Public Alley in Square 700"); the
Capitol Gateway Overlay Review
for
1111 New Jersey Ave.
, which will be at the Zoning Commission on Jan. 31; and new design/modified second-stage PUD for
RiverFront on the Anacostia
(Florida Rock), which is expected to go to the Zoning Commission in the next few months. The meeting is at St. Augustine's Church, 6th and M Streets, SW, at 7 pm.
* The Zoning Commission will hear requests for "minor modifications" to William C. Smith's
250 M Street
project and Monument's
Half Street
project; alas, I haven't been able to find out what these modifications are. That meeting is at 6:30 pm at 441 Fourth St., NW, and is also available via
live webcast
.
I should also mention here that last night the Zoning Commission voted preliminary approval of a series of
text and map amendments
at the
Yards
, most of which are far too dull for even me to get into; read the
hearing announcement
if you want more details.
Too Darn Many New Photos, Including N Street, At Last
Jan 6, 2008 9:32 PM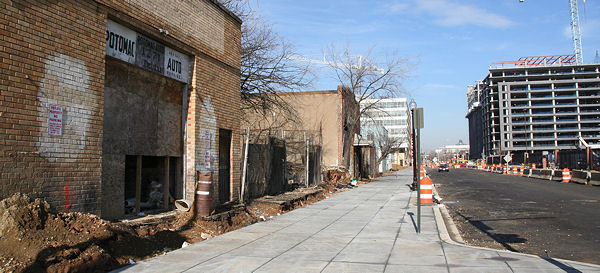 It was time this weekend to catch up on photos for a bunch of locations, including the most aged batch of them all, the views of the
ballpark
's northern footprint
along N Street
, which haven't been updated since September, so you can now have your fill of photographs of imposing parking garages. The curbs and historic streetlamps are now in, and N Street has been paved from South Capitol to Half, and it looks like the paving east to First isn't far behind. So even though the half-shadow half-sunlight conditions weren't the best to work with, I took full updates of the
First
,
Half
,
Cushing
, and
Van
intersections along N,
all of which you can see here
.
One thing that really struck me today for the first time is just how wide First Street is becoming, as you can see in
this batch of northward-looking photos
. I also saw that all the businesses on the west side of First south of M have now vacated--as you can
see above
, it's odd to see those old about-to-be-demolished buildings with sparkly new sidewalks and streetlamps in front of them.
I also trudged around the road construction along First Street north of M as best I could to update photos of
100 M
,
Onyx
, and
70/100 I
, and also got a good new batch of
55 M photos
as well as the always showy views from
the freeway at South Capitol
. And I finally got the last set of
old Capper Seniors photos
to show that the building is indeed gone. And heaven help me I even took a photo of
the new sign
advertising the
Square 696 project
, and also a few shots barely showing that work started this week on the
first Capper parking lot at Third and I
(because there's nothing more exciting than documenting the construction of a parking lot). There's just too much change, and I couldn't stop until it had all been documented! Aaaiiiieeeeee!!!!
For those of you brave enough to try,
here's all the photos from the past two days
on one page. (Thank heavens I've done a lot of work over the past year or so to automate the update process as much as possible.) Don't forget to click on the
icons to see all photos of a location over the years....
Comments
(0)
More posts:
100 M
,
1015 Half
,
600 M/Square 882/Old Capper Seniors
,
70/100 I
,
Capper
,
jpi
,
mnorth
,
Monument/Half St.
,
Onyx
,
Square 743N
,
Square 699n
, staddis,
Nationals Park
,
Square 701
Near Southeast 'The Place to Be' in 2008
Jan 4, 2008 9:51 AM
The Washington Business Journal has
a huge "Looking Forward" piece
in today's print edition, and its first prediction is this: "The place to be in D.C. in 2008 will be the Southeast waterfront." It then gives a quick run-down of what's going on (some
baseball stadium project
leads the list), and references the expected lack of amenities near the ballpark until
Monument Half Street
opens in 2009. Also: "Real estate insiders will be watching to see when the first major private office tenant lands in Southeast. Both CNN and National Public Radio have short-listed sites, but no company has committed to pioneering the private office sector yet." And: "Major work is expected to get under way in 2008 at
The Yards
, which Forest City Washington is developing in the area formerly known as the Southeast Federal Center. The first offerings at the 42-acre project will be
residential
and
retail
, with projects slated to open in 2009." But JDLand readers knew all this already....
First Street Demolition Coming Soon?
Jan 4, 2008 9:02 AM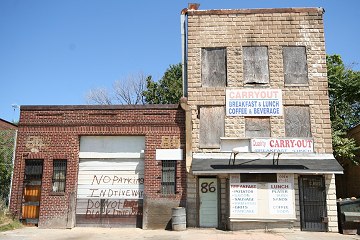 In today's attempt to read the
Building Permit
tea leaves, I see that a plumbing and heating company has received a slew of permits along
N, Cushing, and First streets
, where Willco Construction is planning a 500,000-square-foot office/residential/retail project. I'm not an expert in these things, but a few years of watching the flow of permits has shown me that plumbing and heating companies get permits to shut off the pipes prior to buildings being demolished, and these addresses do have raze permits approved for them. Details about the
Willco project
are few, and there's been no announcement of any start date.
And now that
55 M
's construction has mostly obscured these lots from the view of
the Half Street web cam
, I'm hoping those of you at NGA and 80 M Street with bird's eye views of these spots
can drop me a line
if you see any demolition happening.
Another Photo Update - Ballpark West Side, 55 M
Dec 27, 2007 4:00 PM
In case you've already grown tired of the ballpark photos I posted on Monday showing the
eastern
and
southern
sides of Nationals Park, I've now updated the
South Capitol Street
images, too. (The northern views will have to wait until the reconstruction of N Street eases.) The main
Ballpark Exterior Photo Gallery
is now in pretty good shape after a short span of neglect (but as I said the other day, I think I needed the break).
I also took some new photos to capture the progress at
55 M Street
, plus the completion of demolition at
1345 South Capitol
.
If you don't feel like clicking around on all those links, here's
all the photos I've posted in the past week
. Try not to be blinded by those blue skies!
A few other items of note: The BP Amoco station on the
northeast corner of South Capitol and N
has fences up around it--I can't believe no one let me know! It's owned by Monument Realty, and I haven't heard about any near-term plans for the site. This leaves only one gas station in Near Southeast--the Exxon way over at 11th and M. There used to be three gas stations on South Capitol, now there aren't any. (And I've lost yet another source for my
Gas Prices page
. Waah!)
Also, new fences have gone up around the
1015 Half Street site
, taking up one lane on K Street and on Half Street. Some exterior work was done to the DC Foreign Car building, but the little building is still there. For now.
I hope to get updated photos of
70/100 I
and the pile of rubble that used to be
old Capper Seniors
within the next week. There's just too much activity to document these days--I've got to break it up into manageable pieces....
New Page: Nationals Park FAQ
Dec 26, 2007 6:21 PM
I was
trying
to take a few days off, but an idea popped into my head during an attempted nap that I just couldn't ignore. So say hello to a new page: my
Nationals Park Frequently Asked Questions and Rumor Destruction Page
(call it the
Ballpark FAQ
for short). I tried to pull together the questions that I hear and see the most often, from basics about the park's location to all the questions about Metro, parking, and entertainment options around the site. I'm going to keep it updated as events warrant--I know there's going to be a flood of information from the team and the city about how to get to the ballpark as Opening Day gets closer, which will allow many of the FAQ's "specifics haven't been announced" answers to be fleshed out with actual details. It also doesn't address much of the in-the-weeds detail of baseball at the ballpark--I'll leave that to Nationals fan sites.
This FAQ is now the default ballpark page, and replaces the old Stadium Renderings gallery, which has now been
moved to a new page
(after all, renderings are less important when the dang thing is just about three months away from opening!). So if your bookmarks have changed, apologies. The
exterior
and
interior
stadium photo galleries
are still in their proper places.
(As for why on earth I didn't do a page like this a loooooong time ago, I plead insanity. Yeesh.)
City Working on New On-Street Parking Plans Around the Ballpark, in Southwest, and on Capitol Hill
Dec 14, 2007 8:31 PM
There has been much discussion by residents and city officials over the impending "apocalypse" of
traffic and parking
congestion with the opening in April of the
new ballpark
. Residents not only in Near Southeast (all 400 of you) but in Southwest and on Capitol Hill have been waiting for the city to announce exactly how on-street parking will be handled during games, as there is great concern as to whether residents will still be able to park on their streets and won't have to deal with hundreds or thousands of cars circling the neighborhoods looking for free parking.
It's been thought that the model used at RFK--special parking permit stickers for residents to put on their cars--would be ported over to the new ballpark area, but over the past few months council member Tommy Wells and his staff, along with DDOT, have been working on a pilot plan they hope could address not only the parking issues at the ballpark but also the parking problems seen on Capitol Hill along Pennsylvania Avenue, Barracks Row (Eighth Street), and the streets around Eastern Market. They are looking for ways to balance the needs of residents with the impact on businesses if parking is hard to come by, and are looking at a concept called "Performance Parking." Here's my five-cent summary:
"Retail" streets would have the hours of metered parking extended to seven days a week until late in the evening, and with the prices to park at the meters raised to a level that would discourage some people from arriving by car, opening up more spaces and reducing double-parking and congestion. The adjacent residential streets, now covered by Zone 6 parking rules that ostensibly only allow two hours of visitor parking during weekdays (but are dependent on the parking enforcement folks tracking the cars to know how long they've been there) would see the installation of meter kioskson one side of the street, where nonresidents could park for no more than two hours even until late in the evening and on weekends. (Residents could park on both sides of the street as long as they want.)
These rules would extend with slight tweaks to the streets around the ballpark: "Retail" streets in these areas would allow longer stretches of parking (four-plus hours), but would have rates for metered parking comparable to the amount charged in pay lots, to discourage ballpark-goers from believing that on-street parking would be any cheaper than what's available in existing lots and garages. And with the residential streets having meters that wouldn't allow parking for longer than two hours, most people going to three-hour-plus baseball games would avoid parking on those blocks.
In other words, these restrictions would tell visitors--park in a lot, or take Metro, or walk, or ride your bike, but don't expect to drive down and find a space for free on a street somewhere.
One other facet of this plan would be to use the revenue from these much higher on-street parking rates to pay the cost of the new kiosk-type meters (that cost about $7,800 a pop), the cost of the extra enforcement needed to make the plan work, and also improvements to the streets and the communities to make alternative modes of transportation more enticing (fixing sidewalks, adding bike racks, making bus shelters better, etc.).
This plan has been previewed for local businesses and the ANCs (today it was the media's turn), and it's hoped that a bill creating this special pilot project can start its path through the city council process in early January. Alas, this would not be enough lead time to get it all in place before Opening Day, so there will probably be some tumult during the early part of the season as the city tries to keep stadium visitors from taking over the residential neighborhoods.
You'll no doubt be reading much more about this idea over the coming months, and there will be public meetings and refinements and many words written about it all, I'm sure. And of course one other piece of the puzzle--the
locations of the various lots
where the Nationals will be directing season-ticket holders to park--has yet to be made public. Eventually Wells's office will release maps (perhaps soon) showing the streets that could be designated as retail or residential, along with other documents providing far more detail than what I've previewed here.
In the meantime, I'm going to do something I've never done in the nearly five years that I've been running this Near Southeast site--I'm going to
open up the floor to comments
about this idea, that then hopefully can be read by city officials and other residents to see what people's impressions are of the plans. But be forewarned, if this little low-tech experiment goes off the rails and people start getting out of control, I'll close it down and won't be inclined to give it another shot. So behave. Of course, you'll be commenting on something you probably need to learn much more about to truly be informed, but when does that ever stop anyone on the internet?
UPDATE:
Here's
a story from the Post
on Wells's parking plan. " 'The ballpark visitors are going to be very tempted to look for cheap parking' on city streets, said Neha Bhatt, a planner in Wells's office. 'We've got to get that out of people's head that free parking exists here.' " The story also reminds me to mention that plans are to make Buzzards Point off-limits to on-street parking during ballgames (though it's likely some cash lots will be built there).
Also, there's going to be an Committee on Economic Development
oversight roundtable
on "Parking and Traffic Plan for the Nationals' Stadium" on Jan. 11 at 10 am. (It was originally scheduled for this Monday, the 17th, but they felt like there hadn't been enough public notice. I'll say--I hadn't even heard about it!)
Details on Metro Station Music This Week
Dec 10, 2007 9:55 AM
From the BID,
more details
on the holiday music planned for the Navy Yard Metro entrance this week, and it's three performances over three days, not just one on one day. On Wednesday, Dec. 12, from 11:30 am to 1:00 pm, the a cappella group Reverb will be performing; Patty Reese will perform on Thursday, Dec. 13, from 4 to 5:30 pm, and on Friday, Dec. 14, Reverb will be back from 8 to 9 am. This is sponsored by the BID, WMATA, and the DC Commission on Fine Arts.
UPDATE:
Here's the
release from last Friday
(that I overlooked, grrrrrr) on the Metroperforms! program. One thing in it that might be worth noting, just to be on the safe side: "Program participants are not permitted to sell merchandise, nor ask for money from the public while performing."
Quick Photo Update - Capper Seniors, 55 M
Dec 8, 2007 12:19 PM


Foggy air with low-in-the-sky not-very-bright December sun is not conducive to snappy photos, so this is just a brief update to capture the most pressing changes to the skyline. Demolition started back up this week at
Old Capper Seniors
: the southeast wing is now gone, and the east wing is getting smacked with the wrecking ball this morning. You can see the demolition from all angles in the old Capper Senior
Expanded Archive
. I also took a few shots of
55 M
's progress (look for the

icon in its
Expanded Archive
).
Community Papers, Canal Park Connector, Other Quick Tidbits
Dec 1, 2007 9:05 AM
This morning's quick hits:
* The Voice of the Hill
has posted a piece on its web site
surveying the community reaction to the
11th Street Bridges EIS
, while the December issue of the Hill Rag
looks at the project from the perspective of Hill East
.
* The
Hill Rag
also has
a recap of the November ANC 6D meeting
, which focused mainly on Southwest issues, though there is a small blurb about the ballpark
liquor license
(it sounds like there were some concerns about the 8 am to 3 am time frame listed on the application).
* Meanwhile, the
December Southwester
reports on the Oct. 3 groundbreaking at The Yards by reprinting much of the
Forest City press release
on the project.
* Out of my realm, but I'll still pass along that the four short-listed development teams will be
presenting their proposals for Poplar Point
at Dec. 12 at 6:30 pm at Birney Elementary School, 2501 Martin Luther King, Jr., Ave., SE.
New Photos, and a Moratorium on Ballpark Pictures
Nov 25, 2007 12:06 PM
Thanksgiving weekend is a good time to take photos of the neighborhood, given that traffic is close to nonexistent. (Great weather helped, too.) The showy construction work has now slowed down at
70/100 I
,
Onyx on First
, and
100 M
, so after this update I'm now going to scale back the updates to those project pages (and their
expanded photo archives
). Demolition continues
at old Capper Seniors
, though not much happened to the building itself in the past week as work appeared to focus on clearing the ground of the debris from the initial work. And
55 M
continues along, though it's hard right now to get a feel for the progress from ground level (beyond the festive steel beams along M Street), which is why
having the webcam
is so handy.
You can see
all of the weekend's photos on this page
, and of course feel free to click on the
icons to see all photos of a certain location to watch the buildings go up (or down, in the case of Capper Seniors).
Then there's the
ballpark
.
[Long pause. Sigh.]
Taking photos of the
stadium's exterior
started to be constrained in late summer by the infrastructure work being done along First Street and Potomac Avenue; and by October access to N Street had pretty well been cut off too, again because of the infrastructure work. While I grumbled about the loss of access to those locations, I respect the perimeters of construction sites, and totally understand the need for security to keep people out of the ballpark, and so I stayed north of N. But yesterday, while standing on the northeast corner of First and N streets, on an open public sidewalk outside of the stadium footprint, I was approached by a security guard telling me repeatedly that I was "not allowed" to take photos of the ballpark. (At least I wasn't screamed at through a megaphone, as happened to a correspondent of mine at the same location recently.) This is, of course, ridiculous--
there are no laws
against taking photographs of anything while standing on public property, and it deserves its own separate rant about stupid attempts to clamp down on civil liberties in public spaces.
But the cumulative effect of the run-ins I've had over the past few months when I am absolutely positively 100% in no way trying to set foot inside the ballpark (
my favorite
being the time I was shadowed by a guard all the way down South Capitol from N to Potomac and back despite never coming any closer to the ballpark than South Capitol's median) have left me drained and uninterested in continuing the battle. At the same time, I'm dealing with the fallout from a recent memo sent out by the DC Sports and Entertainment Commission reminding ballpark contractors and subcontractors that they are not allowed to talk to "the media" without prior approval by the DCSEC, leaving workers who have been nice enough to answer such probing questions as "how many panels make up each row of the HD scoreboard?" feeling that they can no longer be helpful.
I imagine something could be worked out, though right now I'm worn out from all the drama and not quite ready to fight the fight. In the meantime, I'm not going to update any ballpark photos or post news of the stadium other than links to accounts in the ("real") media. (Of course, the vast majority of the exterior work of the ballpark is already completed, so this isn't exactly a breathtakingly brave stand!) Once the roads are reopened, and the ballpark is close to opening, I'll of course get back in gear, but until then I'm taking a breather.
New Photos (Everywhere but the Stadium)
Nov 4, 2007 8:33 PM
As I took two ventures out over the weekend to take pictures (and cursed the skies for only seeming to be cloudy when I was hitting the shutter, so be prepared for rotten lighting), I came to realize that my desire to capture the changing skyline means that I pretty much have to take photos at every intersection between New Jersey, I, South Capitol, and N, because there's hardly any spot covered by those 10 blocks or so that isn't seeing a big change to its view.
The new player is
55 M Street
, with the signature steel beams above the Metro station now visible from two blocks in any direction. And I had to capture the brick work on
70 I
, and the continuing climb of
100 M
, and the preparations for glass hanging on the sides of
Onyx
, which gave me way too many photos to post, so it's probably just as well that I have no ballpark photo updates for you. (But be patient, there might be some coming soon.) You can see
all of this weekend's photos here
, or check out the
Expanded Project Archives
if you want to see the new photos paired with their "befores."
A couple things to note:
1015 Half Street
now has signs marking it as a construction zone, and apparently all that stands between it and the start of excavation is waiting for permits from DCRA. (Snicker.) And Tingey Street, behind
DOT
, closed last week, I imagine for infrastructure work and perhaps streetscape work as well.
Looking ahead, this coming week should see the start of demolition at
old Capper Seniors
; I'll be lurking there pretty regularly for the next few weeks, I imagine.
And by the way, a general hat tip to the various folks who have said "hey" when coming upon me taking photos over these past weeks and months. Always nice to talk to people who read the site, and I also always appreciate everyone's kindness in not running over me when I'm standing in the middle of the street.
New Half Street Renderings Posted
Oct 24, 2007 8:17 PM
Monument Realty
has created
a high-tech animation
of what its under-construction project on the east side of Half Street will look like when completed; some images captured from the animation are now on my
Monument Half Street page
. (I'm waiting to find out where the animation will reside, and hopefully will be able to link to it.) Compare the drawings of the Half and M corner with the latest shots from the
Half Street construction web cam
, and you'll see that the steel beams are now being put in place that make up the distinctive pattern around the Navy Yard Metro entrance. (But don't look too closely at what's shown for the west/right side of the street, since that's the site of the
WMATA Southeastern Bus Garage
, which Monument thought it was going to acquire but which has been
won by Akridge
with a $69.25 million bid. And which is now subject of a
Monument lawsuit
.)
UPDATED, 10/25:
I've now got a
low-bandwidth version of the animation
posted. Please note that in order to not have it be huge file that you'd need an afternoon to download, the animation is not as sharp as the original.
More ANC 6D Doings
Oct 16, 2007 8:43 AM
In other news from Monday's ANC meeting:
* Council Member Phil Mendelson spoke about his concerns that the new
consolidated crime lab
construction schedule is continuing to slip. The new lab, which is supposed to be built at Fourth and School streets, SW, can't get underway until a new home (temporary or permanent) is found for the police department's First District station currently located there. Up until recently, of course, 1D was supposed to move to the old Post plant at
225 Virginia Avenue
, but with that now scuttled, the Office of Property Management is hunting for a new 1D home somewhere in Southwest, perhaps using either the Amidon or Bowen elementary school buildings, both of which are at only 60 percent capacity and could be consolidated by moving the sixth graders to Jefferson Junior High School. Mendelson, "irritated" at how the city is handling the space shuffling, wants the process of finding a new 1D home speeded up, even if it means taking 1D out of Southwest, which of course was viewed as a nonstarter by this ANC that represents Southwest; Commissioner Sobelsohn commended Mendelson on his "bravery" for coming to Southwest and telling the residents they shouldn't have a police station. (It also sounds like Mendelson is still hoping for a return to using 225 Virginia, given his numerous references to the $500,000 checks the city is writing each month to lease the empty building.)
* The Randall School redevelopment project by Monument Realty and the Corcoran Gallery was approved, thanks mainly to a negotiated community benefits package that includes a $200,000 contribution by Monument to the ANC's Community Investment Fund, preferences for ANC 6D residents when filling the affordable housing component of the project, and agreements with the Corcoran to support various neighborhood art projects and arts education offerings for Southwest residents. The vote was 5-0; vice chair Andy Litsky did not vote, after expressing his displeasure with what he sees as Monument's threat to slow down the
Navy Yard Metro station expansion
when the company did not win the right to buy WMATA's
Southeastern Bus Garage
. Monument executive vice president Russell Hines, who attended the meeting, reiterated the points he made last week
in an e-mail to Litsky
, that the station expansion is not behind schedule as has been reported and that Monument is committed to getting the work completed by Opening Day 2008.
* A local resident informed the commission that three historic police and fire call boxes along First Street have recently gone missing. Those with x-ray vision can see them in my photos (up until yesterday) of
First and N
and
First and O
, deep in the heart of ballpark construction territory and along the stretch of First Street being renovated by DDOT; the now-missing
First and L box
is pretty hard to see behind the
Onyx
fencing. There's an effort called
Art on Call
, led by Cultural Tourism DC, to find and restore these boxes, and kids from the
Earth Conservation Corps
have been painting the boxes in Near Southeast and Southwest. Calls are in to the District Department of Transportation to see if the boxes have perhaps just been temporarily moved, or if they're, um, history. (The box at
First and K
is still in place, at least.)
Monument Replies to ANC on Navy Yard Metro Schedule
Oct 12, 2007 9:37 AM
An e-mail has just been sent by Russell Hines of Monument Realty to Andy Litsky, vice chair of ANC 6D, in reply to
Litsky's Wednesday e-mail
that asked for Monument to withdraw what has been publicized as a "threat" to slow down the completion of the
Navy Yard Metro station's expansion
in response to WMATA awarding the
Southeastern Bus Garage
site across the street to Akridge. Litsky had said that he would oppose Monument's proposed redevelopment of the Randall School site in Southwest if Monument did not pull back.
Hines's e-mail, which was cc'ed to the commissioners of ANC 6D as well as myself and Tommy Wells and WMATA board members Jim Graham and Marion Barry (all of whom had received Litsky's original e-mail) says that the Metro Station is currently on schedule, and asks that the Randall School project be judged on its own merits. Here's the paragraph that is probably of most interest, describing Monument's view of current state of the renovation's schedule:
"Second, Mr. Neal did not threaten to slow the renovation of the Metro Station. At the time the letter was written, the District of Columbia had asked Monument to spend its own money to
accelerate
the completion of the Metro Station. The project had suffered from a variety of delays, including delays that were caused by actions or inaction by other public entities; however, there was no consensus on the impact to the final completion date. Mr. Neal was objecting to spending more money to accelerate the project and pointing out that it was an unreasonable request given WMATA's recent position on the disposition of the bus garage. In short, WMATA wanted to take further advantage of Monument's resources without making any effort to reciprocate by entering into negotiations with Monument as had been promised. Furthermore, by the time this article was written, Monument had already worked with the contractor on a plan and schedule that addressed any perceived or actual delays in the completion of the Metro Station. WMATA officials had this information when they made the false claim that the Metro Station was seven weeks behind schedule. We have since met with District and WMATA officials to discuss this schedule and all parties appeared satisfied. Why WMATA continues to put out inaccurate information about the schedule or let inaccurate reporting go unchallenged is beyond me. I should also point out that when Monument took on this responsibility last December, it was considered a very difficult schedule -- in fact, WMATA staff conceded that they would probably not have finished on time even if they simply installed fare gates at grade and built the standard Metro canopy over the entrance."
UPDATE:
Here's a
Washington Business Journal piece
with additional quotes from Jeff Neal of Monument refuting the "slow down" issue. (And, gosh, I wonder where WBJ saw the Litsky letter?)
Monument Files Suit Against WMATA
Oct 11, 2007 5:08 PM
ANC Commissioner Warns Monument on Navy Yard Metro Renovation Threats
Oct 11, 2007 12:13 AM
When word broke a few days back that
Monument Realty
had lost the bidding for the WMATA
Southeastern Bus Garage site
at Half and M,
the Post described
a letter from Monument principal partner Jeffrey T. Neal to WMATA that threatened a slow-down in Monument's work on the renovation and expansion of the Navy Yard Metro station if the company was not awarded the garage site as it felt it had been promised. (It has also been reported that Monument is already seven weeks behind schedule on the project.) This station is of course the lynchpin of the city's plans to get stadium-goers to and from
Nationals Park
, particularly in the near-term before the
parking situation
is sorted out.
Now, with Monument's plans for developing the old Randall School site on I Street in Southwest about to come up before the
Zoning Commission
,
ANC6D
vice chairman Andy Litsky has written a sternly worded letter to representatives of Monument and its Randall partner the Corcoran Gallery of Art, cc'ed to Tommy Wells and WMATA board members Jim Graham and Marion Barry, that boils down to this: "[U]nless Mr. Neal and Monument Realty withdraw this threat --
in writing and in advance of our vote on Monday night
-- I will oppose this PUD at the ANC and in testimony before the Zoning Commission." He goes on to say: "The time has finally come for District residents and policy makers to stand up to developers who use threats and lawsuits as leverage in one part of the city and yet expect -- and often receive -- support for their special projects, PUDs and city tax incentives in another. Enough is enough."
You can
read the entire letter here
(I PDF'ed the e-mail without the headers so as not to blab a bunch of e-mail addresses to the world). The ANC meets on October 15; the Zoning Commission hearing is Nov. 8.