Near Southeast DC: Past News Items
Square 699n
Go to Full Blog Archive
---
More New Photos (and New Old Photos): Velocity
Jun 26, 2008 10:37 AM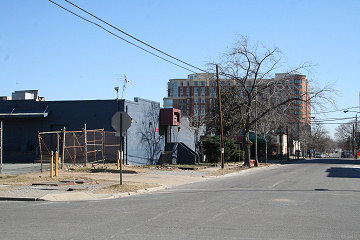 Another project for which I've posted a bunch of new photos in the past few days is the
Velocity
condo building at First and L streets. It's now topped out at 13 (gasp!) floors, and the exterior facings are starting to be hung on the western and southern sides of the building. When completed next year, it will have 200 units, along with some ground-floor retail. Eventually a twin 200-unit building will be built on the northern side of the block; the garage has already been dug, and is/will be covered with a plaza area until construction is ready to start. Phase 3 of the block, along Half Street, could be office or hotel space, depending on market conditions.
This block, which the Cohen Companies purchased in 2005 for $55 million, was home to a lot of small businesses, including the nightclubs Wet, Edge, and Club 55. At the bottom of my
Velocity project page
, past the photos of the sales center/model, you can see additional photos of how the block used to look, including some new ones from 2003 and 2004 that I've just added. And, if all of this isn't enough and you want to see still more images of Velocity's impact on the skyline, browse its
Expanded Project Archive
.
New Sunny Day Photos!
May 17, 2008 12:16 PM
Now this is what Spring is supposed to be like. I didn't have much time, but I wandered around to get mainly new photos of
909 New Jersey
, which is sprouting like a weed. Here's
the entire batch of today's photos
, centered mainly on the area bounded by Half, New Jersey, I, and K (with a few from Second Street thrown in). You can also look at the
Half and I
,
Half and K
,
First and I
,
First and K
,
New Jersey and I
, and
New Jersey and K
intersection archives to see the before-and-after comparisons. (You'll also see the new rental office trailer for
70/100 I
on the southwest corner of Half and I.) Watch for the

icon, though the photos I took on gloomy May 1 are marked as "new" still, too. And, as always, the
icon will show you all photos in the archive of a certain intersection (like the
northwest corner of New Jersey and K
, which you can watch get demolished, then see 70/100 I rise up in the distance, and now watch 909 New Jersey climb up.)
New Photos from On Top of 20 M
May 9, 2008 2:01 PM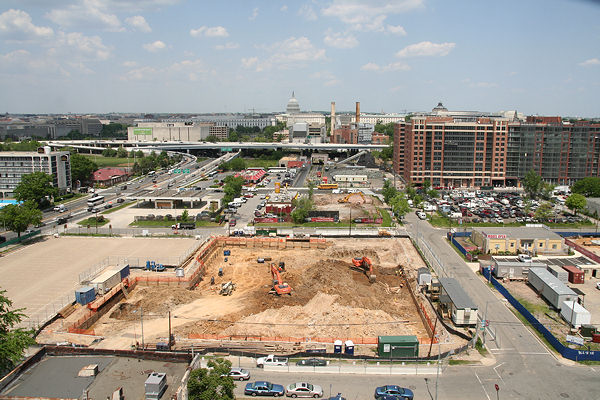 Since it's such a rotten day, I'll go back to when the sun was shining (Tuesday), and give you my first-ever photos
from the roof of 20 M Street
. (I've taken a few photos from inside the 10th floor going back to April of last year, but from the roof I don't have deal with the pesky glass reflections.) Here are
these new photos matched with the oldest ones
from the same angle, so you can compare 13 months' worth of changes easily; you can also
look at all the photos
if you want to watch the progression of changes. There's views to the north (above), showing the digging now underway at
1015 Half Street
along with the construction progress at
70/100 I
,
909 New Jersey
, and
Velocity
(plus the site-clearing at
23 I
). To the south is the increasingly-shiny
55 M
, as well as the ballpark, of course. I also tossed in some photos toward the west, showing the skyline of Southwest.
WTDW: Velocity Construction
Apr 27, 2008 10:50 PM
Within the past few days, I've gotten messages from a few people asking
What's the Deal With
the
Velocity condos project
at First and L, noting that construction has taken a vacation recently (like me!). I've been told that it should be starting back up again within the next week or so, and that it's still on schedule to be finished next year. It's still a condo project (not switching to rentals), and about 40 of the building's 200 units have been sold.
Updated Before and Afters: Half Street (and Others)
Apr 11, 2008 1:18 PM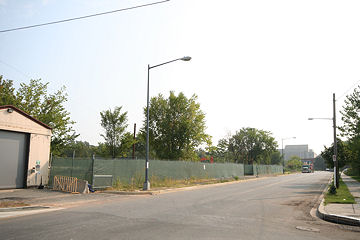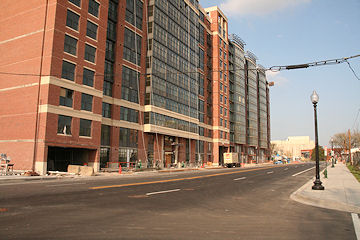 The surprise appearance by the sun on Thursday gave me the chance to update some north-and-east photos on the way to the ballpark, mainly along Half Street, with a few from First, Cushing, and Van thrown in. You can see the
entire batch of new photos
, or you can check the
70/100 I
,
909 New Jersey
,
Velocity
, and
Monument Half Street
pages for a little bit of context as to what you're seeing, or you can look for the

icon by intersection (
Half and I
,
Half and K
,
Half and L
,
Half and M
,
First and I
,
Cushing and L
,
Cushing and M
,
Van and M
). Make sure to check out the new photos I took last week
along First Street
if you missed them, to get a pretty complete view of what's happened in the neighborhood in the past two years. (Or just come down and see for yourself.) Hopefully soon I'll get some additional updated shots from along
South Capitol Street
and New Jersey Avenue (which will be changing thanks to
909 New Jersey
now beginning the showy phase of its construction).
Before and Afters: Unrecognizable First Street
Apr 6, 2008 12:15 PM

The sunlight wasn't fabulous when I ventured out yesterday, but I still took a pretty complete set of photos along First Street between I and N. With
909 New Jersey
now peeking up above ground level, and
Velocity
racing upwards, the skyline is morphing yet again. And of course work continues on
Onyx
and
100 M
(both due to be completed this summer). As I've mentioned a few times lately, the streetscape improvements to First Street have made the stretch from I Street southward pretty much unrecognizable from what it was a year or so ago (or even three months ago).
While you can look at the
complete set of photos
I took yesterday, I'd suggest taking a little extra time and looking at these new shots by intersection, where you can see the

photos paired with their "befores": check out
First and I
,
First and K
,
First and L
,
First and M
, and
First and N
(above); and there's also some updates at
Half and N
by the
ballpark
Center Field Gate and
New Jersey and I
thrown in as well. Click on the
wherever you see it to see the photos between the Before and the After (or, more precisely, the "During").
Soon I'll post some additional photos from yesterday of portions of
The Yards
, which is now more accessible thanks to the new parking lots. And if the sun ever comes out again, I'll venture along Half Street and other locations that need updating.
Clear Sunny Skies. That Must Mean....
Mar 20, 2008 3:51 PM


Caught a break with such beautiful weather today, and so I snagged a
new batch of overhead photos
from up high at the
Courtyard by Marriott
. I took the entire batch, both east and west, and
have paired them with the first ones I took
, in March 2006. It's quite a difference; these are the views that people should see when they're carping about "how the area around the ballpark is one big construction zone" -- yes, it is, but look what that construction has done in just two years. (And think of what the commentary would be if this construction *weren't* happening.) You can also toggle to
include all the photos from here in 2007 as well
, to watch the process step-by-step.
Comments
(0)
More posts:
100 M
,
600 M/Square 882/Old Capper Seniors
,
70/100 I
,
909 New Jersey
,
Capper
,
jpi
,
Courtyard/Marriott
,
mnorth
,
Onyx
,
Square 743N
, Square 699n
Photos: The New First Street, Views of I (Finally), and (Too) Much More
Mar 16, 2008 2:50 PM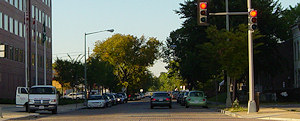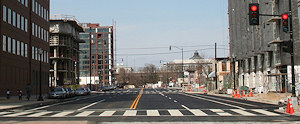 When setting out to photograph a changing neighborhood, it might initially seem like a good idea to create a scheme where you take photos of 16 different views at each intersection (from up to four different angles) so that you don't miss anything and so that you can easily match photos as time goes on--until you arrive at a time when there are more than 30 intersections where visible change is happening on a day-to-day basis. Then you end up taking nearly 500 photos in one 90-minute walkabout on a sunny Saturday afternoon (without even venturing near the
shiny new ballpark
that's only two weeks away from opening), making you almost embarrassed when it's time to post a selection of them on your obsessive-compulsive web site.
This is all just hypothetical, of course.
Yesterday was the first time I saw the striped and open-to-traffic First Street north of M, now widened to four lanes with a bike path, and it's kinda different from the First Street I've spent so much time on these past few years. (The four new buildings with one more about to pop up might be part of the feeling, too.) Here's a gallery of before-and-afters for
First Street at I, K, L, and M
so you can see the changes. This was the first time I've been able to take a complete set of pictures
at First and I
in nearly a year, so it was especially nice to get those updated.
I also took new photos along
Half Street between I and M
,
Cushing at L and M
, and a
smattering along M
at South Capitol, Van, and New Jersey. And the wide views from the
freeway at South Capitol Street
. (My
previous entry
has the links to the photos I took of the various parking lots under construction.) For all of these, don't forget that clicking on the
icon will show you all photos in the archive of that location if you want to see the progression of the changes.
Of course, many of these new photos are also now on the project pages for the under-construction buildings: see
70/100 I
,
909 New Jersey
,
Velocity
,
Onyx
,
100 M
, and
55 M
for details.
(There sure were a lot of folks taking either a drive or a walk through the area yesterday--let the onslaught begin! And thanks to those who said hi while I was out and about ["Are you the one who does that web site?"]. As always I appreciate everyone who made the effort to not run me over when I was standing in the middle of the street taking pictures. My days of being able to do that may be at an end, though.)
More Updated Photos and Progress Reports
Mar 3, 2008 1:59 PM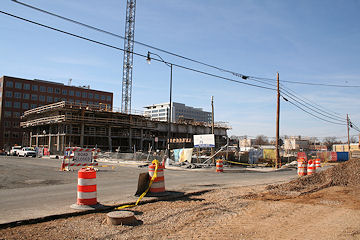 Yesterday I posted a whole batch of
updated photos of the ballpark's exterior
; today you can check out the project pages for the residential projects
70/100 I Street
,
Onyx
(both opening later this year) and
Velocity
(2009) along with the office projects
100 M
(2008) and
55 M
(2009) for lots of new shots of those projects, or you can look at
alllllll the photos from yesterday
on a single page (ballpark shots, too). Don't forget the
icon if you want to look at how an intersection has changed over the past few years.
Items of note from my wanderings:
* The south side of I Street
is now paved
between New Jersey Avenue and Half Street, and I've been told that I Street will be "driveable" by Opening Day;
* First Street is now paved
south of K
, and paving up to I doesn't look far off;
* The Merritt Cab garage at
First and K
now has a
"Moving March 31, 2008" sign
on it; and
* JPI's
909 New Jersey Avenue
residential building (between I and K) is not far from reaching ground level, so be prepared for the arrival of another skeleton in the skyline before long.
If *I'm* finding it all hard to comprehend and harder to keep up with, I can only imagine how non-obsessive observers must feel. I'm kind of looking forward to the pace slowing back down a bit come May....
Comments
(0)
More posts:
100 M
,
70/100 I
,
909 New Jersey
,
jpi
,
Monument/Half St.
,
Onyx
,
Retail
,
Square 743N
,
Plaza on K/Square 696
, Square 699n,
Nationals Park
New Photos, from Up High and from Across the River
Feb 28, 2008 1:01 PM
Let's take a breather from all this
parking stuff
(which I had my fill of about two years ago) and get back to the original JDLand modus operandi--posting lots of photos of the neighborhood. Yesterday's press conference on the-subject-I-just-said-I-wasn't-going-to-talk-about was held on the 10th floor of
20 M Street
, giving me a chance to update my photos from that perch, with views of
70/100 I
,
Velocity
(now working on floor #2), the
1015 Half Street
site (where nothing seems to be happening just yet),
55 M
, and the
ballpark
. You can see
all photos I've taken
from atop 20 M in the past 10 months, or just
compare the oldest and newest
ones (there's been a few changes!).
Switching to the opposite side of the neighborhood, I took
a few shots from Poplar Point
on Sunday of the ballpark and The Yards.
You can also see all the new photos (along with the ones taken inside the ballpark looking out at the surrounding neighborhood) on
a single page
.
I hope to get out this weekend and update the ground-level photos of all the latest happenings.
Velocity Happy Hour on Thursday
Feb 19, 2008 5:03 PM
From the
Capitol Riverfront BID
, word of
a Happy Hour
on Thursday (Feb. 21) being given by the
Velocity Condos
folks (so they just might possibly want to give you all the scoop about their offerings). It's at
Sonoma
(223 Pennsylvania Ave., SE) from 6 to 8 pm. There's also another one scheduled for March 13.
Whole Lotta Photos From First and Half Streets
Feb 11, 2008 9:51 PM
While hopefully you've already wandered through the pile of new
stadium exterior photos
I posted over the weekend, those aren't the only new pictures I grabbed during my camera time on Saturday and Sunday. Get your clicking finger going:
* The
Velocity
condo phase 1 building on L Street west of First is now one floor out of the ground, so that will now be added to my regular rotation of photo updates. For those who haven't been following along, this is a 200-unit condo building that will eventually be joined by a twin on the north side of the block (running along K Street). However, they decided to dig the entire parking garage and below-ground structures for both buildings at once, which is why only half the block is now rising above ground level. The other portion will be landscaped over until Phase 2 begins. (Phase 3, which will run along Half Street where the sales center is now located, could be either an office building or a hotel--I haven't heard of any decision being announced.)
* The Normandie-less corner at
First and M
has now been immortalized in digital imagery, and goodness gracious, has that spot changed. (Ditto for the other end of the block, at
First and N
.) This stretch is on its way to becoming temporary surface parking until Willco Construction moves forward with its
reported office/residential/retail project
on that site (no timeline).
* The road work on First Street continues, and on Saturday they put down the first asphalt between L and M (in front of
Onyx
and
100 M
).
Looking south
and
north
you can see how much wider the street has now become. You can also see the windows starting to be hung at
Onyx
and at
100 M
. Meanwhile,
First north of L
continues to be a war zone. They *say* it'll all be done (I Street, too) by Opening Day. First Street and Potomac Avenue appear to be pretty much done except for the striping.
*
55 M
is almost topped out. As we heard
a few days ago
, they say the Metro entrance in 55 M's ground floor will be ready by Opening Day, too.
* How much has
M Street
changed in five years?
Take a look
. (This should be one of those list-the-differences-in-the-pictures contests.)
* Or you can just look at
all the photos from Saturday and Sunday
on one page (including the ballpark shots), though I cannot be held responsible for any sensory overload you may experience. Imagine how I feel, especially considering that what I've posted is probably only about a third of the photos I actually took....
Morning Link Roundup: Ballpark, Velocity
Jan 31, 2008 9:25 AM
Lots of ballpark and other news stories today:
* In case you missed it, last night I posted about the
Feb. 9 and Feb. 21 job fairs
for part-time and seasonal work at the
ballpark
.
*
Velocity
has sold 21 units since opening its sales center in November,
according to this press release
touting the development as the "fastest-selling new condominium project in the District of Columbia, and one of the strongest sellers in the entire National Capital Area."
* Coverage of Kwame Brown's hearing on the
noose incident
at the ballpark is available from
The Post
,
ABC7
, and
NBC4
. You can
watch the hearing here
once it's posted, and
read Brown's press release
on the hearing.
* The Laborers' International Union of North America, a major supporter of the ballpark's Project Labor Agreement, issued a report saying it should be a model for future projects in the city, and that more than $12 million has been injected into DC neighborhoods thanks to stadium paychecks to local workers. LIUNA says that 72 percent of all apprenticeship hours have been performed by District residents, while 87 percent of all new apprentices are from the District. (The report also touts the ballpark as being on-time and on-budget, though perhaps that budget part refers to the actual construction and not the land acquisiton costs, which have definitely gone over budget.) Reports on the union's numbers are on
Tim Lemke's blog
and at
the Post
and
ABC7
.
* The media apparently got brought in to see the scoreboard on Wednesday, and
NBC4 has a piece
on it (ABC7 mentions it in
its labor piece
.)
* Washington Times
columnist Tony Knott rails
about neighbors of the ballpark who are "coming up with apocalyptic visions" about the 41,000 "Ken and Barbies" coming from the suburbs to the ballpark, writing that urban dwellers who initially are drawn to a city's walking distance to services and entertainment turn against the "crush of humanity", "eventually endeavor to transform their stretch of the urban jungle into the Shenandoah Valley."
*
Ballpark and Beyond
in today's District Extra is a roundup of short takes from around Near Southeast, including the
closing of Domino's
and the
demolitions on First Street
, the
Blue Castle's debut on Facebook
,
Gifford's ice cream coming to the ballpark
, and
Chocolate City
, the documentary about former Capper/Carrollsburg residents and gentrification in Washington.
*
Dear Leader picked
to throw out the first pitch? (Hint: it's not the Dear Leader you might be thinking of, and it's SATIRE, people.)
Too Darn Many New Photos, Including N Street, At Last
Jan 6, 2008 9:32 PM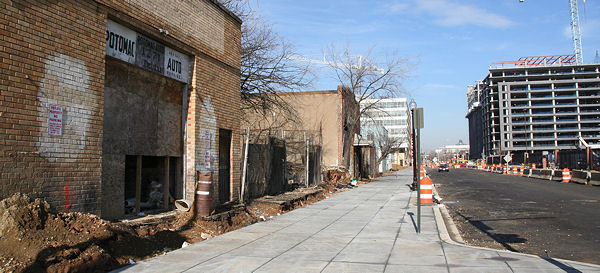 It was time this weekend to catch up on photos for a bunch of locations, including the most aged batch of them all, the views of the
ballpark
's northern footprint
along N Street
, which haven't been updated since September, so you can now have your fill of photographs of imposing parking garages. The curbs and historic streetlamps are now in, and N Street has been paved from South Capitol to Half, and it looks like the paving east to First isn't far behind. So even though the half-shadow half-sunlight conditions weren't the best to work with, I took full updates of the
First
,
Half
,
Cushing
, and
Van
intersections along N,
all of which you can see here
.
One thing that really struck me today for the first time is just how wide First Street is becoming, as you can see in
this batch of northward-looking photos
. I also saw that all the businesses on the west side of First south of M have now vacated--as you can
see above
, it's odd to see those old about-to-be-demolished buildings with sparkly new sidewalks and streetlamps in front of them.
I also trudged around the road construction along First Street north of M as best I could to update photos of
100 M
,
Onyx
, and
70/100 I
, and also got a good new batch of
55 M photos
as well as the always showy views from
the freeway at South Capitol
. And I finally got the last set of
old Capper Seniors photos
to show that the building is indeed gone. And heaven help me I even took a photo of
the new sign
advertising the
Square 696 project
, and also a few shots barely showing that work started this week on the
first Capper parking lot at Third and I
(because there's nothing more exciting than documenting the construction of a parking lot). There's just too much change, and I couldn't stop until it had all been documented! Aaaiiiieeeeee!!!!
For those of you brave enough to try,
here's all the photos from the past two days
on one page. (Thank heavens I've done a lot of work over the past year or so to automate the update process as much as possible.) Don't forget to click on the
icons to see all photos of a location over the years....
Comments
(0)
More posts:
100 M
,
1015 Half
,
600 M/Square 882/Old Capper Seniors
,
70/100 I
,
Capper
,
jpi
,
mnorth
,
Monument/Half St.
,
Onyx
,
Square 743N
, Square 699n,
staddis
,
Nationals Park
,
Square 701
New Batch of Overhead and St. Matthew's Photos
Dec 10, 2007 2:21 PM
I visited my perch above New Jersey Avenue today and got updated photos looking to the
south and west
and
northwest
, which provide quite the overview of the changes in the past 21 months on the blocks I've wittily dubbed
North of M
(between M, South Capitol, the freeway, and New Jersey). The two links above show you just the oldest and the newest photos for each angle, or you can try
these
links
to see all the photos I've taken of those angles, at about three-month intervals.
Of course, the arrivals of
100 M
,
Onyx
, and
70/100 I
are the biggest changes; you can also see that
Velocity
is building the garage levels and will be above ground by late winter, and that
909 New Jersey
's crane is now in place, meaning that vertical construction there is not far off. But thanks to the 100 M/Onyx construction, peeks at the ballpark and Monument Half Street from this vantage point are now pretty well gone.
Velocity Sells 10 Units During First Five Days
Nov 5, 2007 6:36 PM
A
press release went out this afternoon
announcing that the
Velocity Condos
project at First and L sold 10 units during its first five days of sales. Here's the breathless opening text: "If any skeptics still doubt that the rapidly revitalizing Capitol Riverfront, surrounding the
new Nationals baseball stadium
, will be DC's hottest new address, they need only look at the initial sales success of one of the neighborhood's first new condo buildings. Velocity held its official Grand Opening on October 26, and homebuyer response to this sleek, contemporary new condo community wowed even its developer, The Cohen Companies."
The Long Road for the Old Near Southeast Nightclubs
Nov 2, 2007 9:08 AM
This week's
Washington Blade has a long story
describing the continuing difficulties seen by the old Near Southeast nightclubs in their attempts to reopen elsewhere in the city. Nexus (now becoming
909 New Jersey Avenue
), Edge/Wet and Club 55 (on the block being redeveloped with the
Velocity
project), Ziegfield's-Secrets, and Heat (taken by eminent domain to make way for the
ballpark
) are all still trying to either find new locations or get approvals for locations they've chosen. Follies and Club Washington will not be reopening elsewhere. Velvet Nation, a gay dance night that was held at
Nation
, is looking like it will be reconstituted at a new gay dance club called Town, in Shaw.
Velocity Sales Center Sneak Preview
Oct 25, 2007 8:38 PM
I got a sneak peek today at the
new Velocity Sales Center
trailer at
Half and K
, which is scheduled to open to the public at 10 am Friday. The big eye-catcher about this sales trailer is that they've built right into it a full-scale replica of one of their one-bedroom-with-den units. I took some photos of it, which I've put
on my Velocity page
(you'll also see at the top of the page a new rendering of the building itself). To start they're selling 24 of the building's 200 units, with prices starting just above $300k for studios. The building will have a rooftop pool, and the ground-floor units along L Street will have outdoor patios below the sidewalk line. The building is scheduled to be completed in 2009, followed eventually by a mirror Velocity II building running along K Street and an office building along Half Street, with a shared courtyard between them. The official web site is at
VelocityCapitol.com
. Stop by the sales center and tell them you read about it on JDLand, and you'll receive.... a big smile and lots of information about the project.
Velocity Sales Center Opening This Friday (Update)
Oct 23, 2007 4:50 PM
I'm hearing that the
Velocity Condos
sales center at Half and K is within minutes of opening--there will be a broker/client open house probably over the weekend. More specifics when I get them. Or just wander by and see if the light's on.
UPDATE:
Now official: the sales center will open to the public starting Friday, from 10 am to 5 pm. If you signed up for the contact list at
VelocityCapitol.com
, you should be getting an e-mail about this "Grand Opening Weekend"--"During your visit you can experience interactive video and virtual reality presentations, and tour an amazing full scale, one bedroom with den and 2 full baths Model Home right in the Sales Center!"
One More New Batch of Overhead Photos
Sep 6, 2007 3:17 PM
Having decided that overhead views of Near Southeast from
the ballpark
and the
Southeast Freeway
over the past few days weren't enough, I've also now added a bunch of updated overheads from a vantage point at the Courtyard by Marriott, focusing on the many construction projects west of New Jersey Avenue. You can
browse these new photos
, or see the

ones
displayed with previous shots from the same location
(scroll down a bit) to watch the changes since March of last year. (Hint: old buildings, followed by empty lots where old buildings used to be, followed by holes in the ground, followed by new buildings going up.)
More posts:
100 M
,
1111 New Jersey
,
70/100 I
,
909 New Jersey
,
jpi
,
Courtyard/Marriott
,
Onyx
,
Square 743N
,
Plaza on K/Square 696
, Square 699n,
Nationals Park