Near Southeast DC: Past News Items
Square 743N
Go to Full Blog Archive
---
In Case You Missed It (Last Week's News Again)
Jun 2, 2008 10:11 AM
There was a big pile of news this past week from Near Southeast, so I'll boil it down to bullet points and links in case you couldn't keep up:
* Construction is
really about to begin
on the first townhouses at
Capitol Quarter
, now that financing has been closed for the public housing units;
* The first phase of the
waterfront park at The Yards
got the
thumbs up from the Zoning Commission
, and is expected to be completed by summer 2009;
*
Onyx on First
will be opening its first five floors of apartments in late July or early August, and
initial rents have been announced
;
*
100 M
will be
substantially completed in November
, and tenants should start moving into the office building early in 2009. SunTrust Bank is the first retail tenant, and the developer is looking for restaurants for the other spaces;
Meanwhile, Next Door at 100 M.....
May 30, 2008 2:24 PM
Getting the
scoop on Onyx
today spurred me to check in on the doings next door at
100 M Street
, the 240,000-sq-ft office building that's been built in tandem with Onyx (though they are being developed by different organizations). Opus East tells me that they expect 100 M to be "substantially complete" in November, with tenants beginning to arrive in January 2009.
Reports last year
indicated that Parsons Technology has leased about 30 percent of the building. You can check my
project page
for before-and-after photos, especially if you want to gaze longingly at the On Luck Cafeteria....
And, since retail is what folks really want to know about, I can pass along that 100 M has SunTrust Bank signed up as their first retail tenant, and is looking for restaurants for their other spaces.
Onyx Opening Late July/Early August; Starting Prices
May 30, 2008 1:29 PM
I had a nice chat today with a representative of
Onyx on First
, the almost-finished 266-unit apartment building on the southeast corner of First and L streets. Confirming what a commenter mentioned a
few entries back
, they're expecting to deliver the first five floors of the building in late July or early August. Rents have not been set for the individual units, but are expected to range up from $1,950 for a studio, $2,050 for 1 br, $2,225 for 1 br/den, $2,500 for 2 br/1 ba, $2,450 for 2 br/2 ba, and $2,800 for 2 br/2 ba/den. (You can compare them to the out-of-the-gate rents at
70 and 100 I
here
.) The new web site is
OnyxApts.com
, though as of now there isn't much there beyond a sign-up sheet if you want them to contact you with more information.
Onyx: New Web Site, and Leasing This Summer
May 25, 2008 8:42 PM
Mere moments ago I saw for the first time new banners hung on the temporary plywood walkway that runs along M Street between First and New Jersey, announcing that
Onyx Apartments
at 1100 First Street is now leasing. (Perhaps the signs have been there for days, but if so, my vast network of eyes-on-the-ground missed a spot.) There's also a new URL,
OnyxApts.com
. The web site itself says "Leasing Summer 2008," and is nothing more than a slightly updated rendering and a sign-up form. But for folks who've been wondering if Onyx was going to be making any sort of progress toward opening, it is evidence of some forward motion. Between Onyx and
70 and 100 I
, close to 1,000 rental units will be opening in Near Southeast over the next few months.
Now, About that Retail..... (A Space Survey)
May 2, 2008 10:09 AM
With the
ballpark
now humming along like it's been here forever (Tom Boswell has a litany of good things to say
in today's Post
) , interest is starting to turn toward what sort of retail/restaurant options are going to come to the neighborhood, and
when
. For your Friday time-killing pleasure, I've tossed together a quick a survey of what's either available now or will be coming within the next two years. (I'm not including already existing retail; I'm just looking at where new stuff could arrive.) As of now, I've seen no announcements of tenants for any of these spaces, but maybe if residents, workers, and ballpark fans clap their hands and wish real hard....
*
20 M
- Completed in March of 2007, its 11,000 sq-ft of ground-floor retail space would seem to be an enticing location (just across the street from the Navy Yard subway station's ballpark exit), but so far there's been no takers. "Coming soon" signs that were in the windows last year for Wachovia and Kinko's are now gone.
*
Capitol Hill Tower
- A 7,000-sq-ft restaurant space in the ground floor of this co-op building has been advertised ever since the building opened in 2006, but no takers so far.
*
100 M
- The 240,000-square-foot office building at First and M is scheduled to be completed later this year, and
they're offering 8,500 sq ft
of "corner restaurant/retail space" with "great ceiling heights, storefront and outdoor seating." (There's no ground-floor retail planned for
Onyx on First
in the same block.)
*
55 M
- The first part of
Monument's Half Street
project is this 275,000-sq-ft office building now under construction at Half and M (it's the building on top of the subway station entrance). It has over 10,000 sq ft of retail spaces on Half, M, and Cushing, and should be completed by mid-2009. (See retail spaces 1 through 4
on this page
at the official web site.)
*
909 New Jersey
- For the folks who choose to walk from the Capitol South Metro station, the under-construction residential building at New Jersey and K is going to have 6,000 sq ft of ground-floor retail space when it's completed in summer 2009.
*
Velocity
- The ground floor of this 200-unit condo building at First and L will have retail (I can't find how much), and will be finished by late 2009.
*
The Yards
- By the end of 2009, the renovation of the
old Boilermaker Shop
at Third and Tingey into a 46,000-sq-ft retail space should be completed, and there is also 10,000 square feet of ground-floor retail space planned for the
Pattern Shop Lofts
building on the south side of Tingey, which should have its conversion into a rental building completed by the end of next year as well. Both of these are situated on the route that most Nats Express users walk along to get from the shuttle stop at 300 M to the ballpark. (But will the Nats Express run after this year?)
*
Half Street Part 2
- The southern part of the east side of Half Street north of the ballpark is going to be a combination of a 200-room hotel and two residential buildings totaling 340 units, with about 40,000-sq-ft of ground floor retail to entice the throngs that walk along Half Street before and after games. (See retail spaces 5 through 8
on this page
at the official web site.)
*
1015 Half
- Opus East hasn't yet committed to whether there will be ground-floor retail in this 410,000-sq-ft office building at Half and L, though about 10,000 sq ft of space will be there.
*
23 I
- If this 420-unit apartment building does indeed begin construction in September of this year, there could be 15,000 sq ft of retail available at Half and I by the end of 2010.
That's about 200,000 square feet of space to be filled within the next few years--and this doesn't include the retail spaces in the ground floor of the baseball stadium along First Street (who knows when those will be occupied). It's possible other buildings slated to have ground-floor retail could pop up between now and the end of 2010--
1111 New Jersey
and
250 M
are the main candidates.
And there will also could be more offerings at the Yards by 2011 (including that grocery store planned for
401 M
as well as the Lumber Storage Shed and other to-be-built pavilions at the
Waterfront Park
). And maybe the first building at
Florida Rock
, across from the ballpark's grand staircase, could be done by the end of 2011. But this is getting a little too far down the road....
Comments
(4)
More posts:
100 M
,
1015 Half
,
1111 New Jersey
,
23 I
,
250 M
,
909 New Jersey
,
Boilermaker Shops/Yards
,
Capitol Hill Tower
,
Florida Rock
,
Foundry Lofts/Yards
,
jpi
,
Monument/Half St.
,
Onyx
,
Retail
, Square 743N,
Square 697n
,
Nationals Park
,
The Yards
,
Twelve12/Teeter/Yards
,
Yards Park
Before and Afters: Unrecognizable First Street
Apr 6, 2008 12:15 PM

The sunlight wasn't fabulous when I ventured out yesterday, but I still took a pretty complete set of photos along First Street between I and N. With
909 New Jersey
now peeking up above ground level, and
Velocity
racing upwards, the skyline is morphing yet again. And of course work continues on
Onyx
and
100 M
(both due to be completed this summer). As I've mentioned a few times lately, the streetscape improvements to First Street have made the stretch from I Street southward pretty much unrecognizable from what it was a year or so ago (or even three months ago).
While you can look at the
complete set of photos
I took yesterday, I'd suggest taking a little extra time and looking at these new shots by intersection, where you can see the

photos paired with their "befores": check out
First and I
,
First and K
,
First and L
,
First and M
, and
First and N
(above); and there's also some updates at
Half and N
by the
ballpark
Center Field Gate and
New Jersey and I
thrown in as well. Click on the
wherever you see it to see the photos between the Before and the After (or, more precisely, the "During").
Soon I'll post some additional photos from yesterday of portions of
The Yards
, which is now more accessible thanks to the new parking lots. And if the sun ever comes out again, I'll venture along Half Street and other locations that need updating.
Clear Sunny Skies. That Must Mean....
Mar 20, 2008 3:51 PM


Caught a break with such beautiful weather today, and so I snagged a
new batch of overhead photos
from up high at the
Courtyard by Marriott
. I took the entire batch, both east and west, and
have paired them with the first ones I took
, in March 2006. It's quite a difference; these are the views that people should see when they're carping about "how the area around the ballpark is one big construction zone" -- yes, it is, but look what that construction has done in just two years. (And think of what the commentary would be if this construction *weren't* happening.) You can also toggle to
include all the photos from here in 2007 as well
, to watch the process step-by-step.
Comments
(0)
More posts:
100 M
,
600 M/Square 882/Old Capper Seniors
,
70/100 I
,
909 New Jersey
,
Capper
,
jpi
,
Courtyard/Marriott
,
mnorth
,
Onyx
, Square 743N,
Square 699n
Photos: The New First Street, Views of I (Finally), and (Too) Much More
Mar 16, 2008 2:50 PM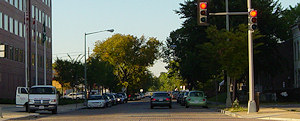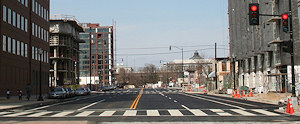 When setting out to photograph a changing neighborhood, it might initially seem like a good idea to create a scheme where you take photos of 16 different views at each intersection (from up to four different angles) so that you don't miss anything and so that you can easily match photos as time goes on--until you arrive at a time when there are more than 30 intersections where visible change is happening on a day-to-day basis. Then you end up taking nearly 500 photos in one 90-minute walkabout on a sunny Saturday afternoon (without even venturing near the
shiny new ballpark
that's only two weeks away from opening), making you almost embarrassed when it's time to post a selection of them on your obsessive-compulsive web site.
This is all just hypothetical, of course.
Yesterday was the first time I saw the striped and open-to-traffic First Street north of M, now widened to four lanes with a bike path, and it's kinda different from the First Street I've spent so much time on these past few years. (The four new buildings with one more about to pop up might be part of the feeling, too.) Here's a gallery of before-and-afters for
First Street at I, K, L, and M
so you can see the changes. This was the first time I've been able to take a complete set of pictures
at First and I
in nearly a year, so it was especially nice to get those updated.
I also took new photos along
Half Street between I and M
,
Cushing at L and M
, and a
smattering along M
at South Capitol, Van, and New Jersey. And the wide views from the
freeway at South Capitol Street
. (My
previous entry
has the links to the photos I took of the various parking lots under construction.) For all of these, don't forget that clicking on the
icon will show you all photos in the archive of that location if you want to see the progression of the changes.
Of course, many of these new photos are also now on the project pages for the under-construction buildings: see
70/100 I
,
909 New Jersey
,
Velocity
,
Onyx
,
100 M
, and
55 M
for details.
(There sure were a lot of folks taking either a drive or a walk through the area yesterday--let the onslaught begin! And thanks to those who said hi while I was out and about ["Are you the one who does that web site?"]. As always I appreciate everyone who made the effort to not run me over when I was standing in the middle of the street taking pictures. My days of being able to do that may be at an end, though.)
1111 New Jersey Passes Zoning Review
Mar 12, 2008 2:52 PM
I wasn't able to see the meeting myself (I was at Madison Square Garden watching my beloved Roger Federer beat Pete Sampras), but on Monday night the Zoning Commission gave its approval on the
Capitol Gateway Overlay Review
for
1111 New Jersey Avenue
, Donohoe's 220,000-square-foot office building to be built just north of the east entrance of the Navy Yard Metro station.
At the first part of this hearing
a few weeks ago, there was much back-and-forth about whether the garage entrance should be on New Jersey Avenue (the developer's preference) or in the alley (DDOT's preference, which was not looked on fondly by the zoning commissioners). My sources tell me that DDOT has "somewhat grudgingly" agreed to allow the entrance to be on New Jersey after all, but that they expect Donohoe to work with them to better manage the public space on New Jersey and probably reduce the amount of parking offered. The
web site for the project
says that it will be completed in 2010, which would probably mean a start date later this year; we shall see if that indeed comes to pass. Read more about the
previous discussion on the garage entrance
and on
what exactly a CG Overlay Review is
, if you're wanting more information.
Hopefully soon I can post an update on what happened at ANC 6D on Monday, the *other* meeting I missed while in New York.
Monday Meetings; Parking Signs; Birds-Eye View
Mar 9, 2008 3:18 PM
* I mentioned this
a few days back
, but why not pass along another reminder that Monday at 7 pm is the
ANC 6D monthly meeting
, with presentations and votes on
401 M Street
, the
ballpark traffic management plan
, and the
South Capitol Street
Draft EIS
, plus a briefing by the Nats on the Opening Day "Fan Fest" activities. To get in on the fun, go to St. Augustine's Episcopal Church at 6th and M St., SW, starting at 7 pm.
* If the ANC isn't your bag, you can watch the Zoning Commission
take up again
the
Capitol Gateway Overlay Review
for Donohoe's planned office building at
1111 New Jersey
. It's a continuation of the
last hearing
, which revolved mostly around whether the garage access would be from New Jersey or from the alley. The hearing
starts at 6:00 pm
, and 1111 is also on the public meeting agenda at 6:30 pm, which perhaps is a display of optimism that Donohoe and DDOT will have the garage issue straightened out and the review ruling can be made.
Watch the webcast
, if you're so inclined. (I'm going to be missing both of these meetings, so it might be a few days before I can get the scoop on them.)
* The new
Enhanced Residential Parking Permit
signs, which allow non-Zone 6 parking only on one side of the street in certain areas near the
ballpark
, continue to get installed. They came to my street north of the freeway within the past day or so.
* I thought I did good with last week's find of a
November 2006 satellite photo
of the neighborhood, but reader JK has upped the ante with the "Bird's-Eye View" option
at Microsoft Live Search
, showing not-real-high-up images from March 2007. But be careful when you're scrolling around--if you go to fast, the images flip back to shots from early 2003. (Which is festive in its own fun-house kind of way.)
More Updated Photos and Progress Reports
Mar 3, 2008 1:59 PM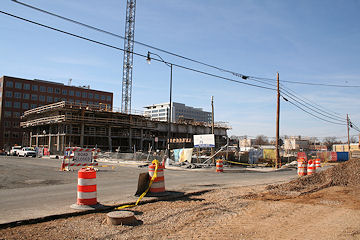 Yesterday I posted a whole batch of
updated photos of the ballpark's exterior
; today you can check out the project pages for the residential projects
70/100 I Street
,
Onyx
(both opening later this year) and
Velocity
(2009) along with the office projects
100 M
(2008) and
55 M
(2009) for lots of new shots of those projects, or you can look at
alllllll the photos from yesterday
on a single page (ballpark shots, too). Don't forget the
icon if you want to look at how an intersection has changed over the past few years.
Items of note from my wanderings:
* The south side of I Street
is now paved
between New Jersey Avenue and Half Street, and I've been told that I Street will be "driveable" by Opening Day;
* First Street is now paved
south of K
, and paving up to I doesn't look far off;
* The Merritt Cab garage at
First and K
now has a
"Moving March 31, 2008" sign
on it; and
* JPI's
909 New Jersey Avenue
residential building (between I and K) is not far from reaching ground level, so be prepared for the arrival of another skeleton in the skyline before long.
If *I'm* finding it all hard to comprehend and harder to keep up with, I can only imagine how non-obsessive observers must feel. I'm kind of looking forward to the pace slowing back down a bit come May....
Comments
(0)
More posts:
100 M
,
70/100 I
,
909 New Jersey
,
jpi
,
Monument/Half St.
,
Onyx
,
Retail
, Square 743N,
Plaza on K/Square 696
,
Square 699n
,
Nationals Park
Confirmation: Onyx Switches to Rentals
Feb 22, 2008 12:24 PM
The rumors have abounded for many months that
Onyx on First
would be scrapping its original configuration as a condo building. As recently as November I couldn't get co-developer Faison to comment, but in today's
WBJ/On Site piece
(subscribers only) on the residential market in Near Southeast, there's the following: "But Canyon-Johnson Urban Fund and its partner, Faison, converted the project to apartments eight months ago, says Don Deutsch, Faison's senior managing director. Those apartments will be available for leasing in September."
Whole Lotta Photos From First and Half Streets
Feb 11, 2008 9:51 PM
While hopefully you've already wandered through the pile of new
stadium exterior photos
I posted over the weekend, those aren't the only new pictures I grabbed during my camera time on Saturday and Sunday. Get your clicking finger going:
* The
Velocity
condo phase 1 building on L Street west of First is now one floor out of the ground, so that will now be added to my regular rotation of photo updates. For those who haven't been following along, this is a 200-unit condo building that will eventually be joined by a twin on the north side of the block (running along K Street). However, they decided to dig the entire parking garage and below-ground structures for both buildings at once, which is why only half the block is now rising above ground level. The other portion will be landscaped over until Phase 2 begins. (Phase 3, which will run along Half Street where the sales center is now located, could be either an office building or a hotel--I haven't heard of any decision being announced.)
* The Normandie-less corner at
First and M
has now been immortalized in digital imagery, and goodness gracious, has that spot changed. (Ditto for the other end of the block, at
First and N
.) This stretch is on its way to becoming temporary surface parking until Willco Construction moves forward with its
reported office/residential/retail project
on that site (no timeline).
* The road work on First Street continues, and on Saturday they put down the first asphalt between L and M (in front of
Onyx
and
100 M
).
Looking south
and
north
you can see how much wider the street has now become. You can also see the windows starting to be hung at
Onyx
and at
100 M
. Meanwhile,
First north of L
continues to be a war zone. They *say* it'll all be done (I Street, too) by Opening Day. First Street and Potomac Avenue appear to be pretty much done except for the striping.
*
55 M
is almost topped out. As we heard
a few days ago
, they say the Metro entrance in 55 M's ground floor will be ready by Opening Day, too.
* How much has
M Street
changed in five years?
Take a look
. (This should be one of those list-the-differences-in-the-pictures contests.)
* Or you can just look at
all the photos from Saturday and Sunday
on one page (including the ballpark shots), though I cannot be held responsible for any sensory overload you may experience. Imagine how I feel, especially considering that what I've posted is probably only about a third of the photos I actually took....
1111 New Jersey - Where to Put the Garage
Feb 1, 2008 10:39 AM
Last night the Zoning Commission heard the
Capitol Gateway Overlay Review
case for
1111 New Jersey
, Donohoe's now 220,000-square-foot office building on the northwest corner of New Jersey and M. The
Office of Planning report
laid out how the project properly adheres to the requirements of the CG Overlay, and there was actually very little discussion by the commissioners of the building's design or landscape (save for a few questions about the width of the sidewalk on M Street, which is wider than what the CG Overlay calls for, because of various hardware for the Navy Yard Metro station below).
What took up the bulk of the discussion was whether the building's parking garage should be accessed via New Jersey Avenue or via the block's alley that runs north-south between L and M (which is shared with
100 M
,
Onyx
, and whatever gets built on the St. Matthew's site). The original design had the garage driveway on New Jersey, but DDOT is asking that it be moved to the alley because of both a desire to not have curb cuts on a major state street like New Jersey and because the alley is an existing curb cut where pedestrians expect vehicular flow. But the commissioners were uniformly unhappy with the alley solution, given the narrowness of the alley (14 feet), the heavy amount of traffic there will be, and the very awkward garage entrance/exit that Donohoe has had to come up with in order to make the alley entry work. Donohoe didn't appear to be especially happy with the alley solution, either, but DDOT was pretty firm in their desire to have it there.
The record was left open, and DDOT and Donohoe said they would continue to work on the garage issue. A ruling on the overlay review could come at the March 11 Zoning Commission meeting.
Chairman Anthony Hood also briefly touched on
ANC 6D's opposition
to the project because of a lack of a community benefits package--Hood said that this project is not a PUD, and any desires to have amenities packages be part of CG Overlay reviews should have been dealt with when the Overlay was created, so the ANC's opposition was viewed as not germaine.
Thursday Zoning Commission Hearing on 1111 New Jersey
Jan 30, 2008 1:39 PM
On Thursday (Jan. 31) at 6:30 pm the Zoning Commission is having its
Capitol Gateway Overlay review hearing
for
1111 New Jersey Avenue
, Donohoe's office building at the corner of New Jersey and M. As I've written
before
, this project has been expanded to include 220,000 square feet of office space with 5,700 square feet of ground-floor retail in a 130-foot-tall glass-facade building, and is now subject to a
CG review
because of acquiring some land from WMATA that fronts M Street. This was
presented to the ANC two weeks ago
, which did not support the project because of the lack of a community benefits package.
The Office of Planning is recommending that this project be approved by the Zoning Commission; you can
see the OP report here
, which lays out point-by-point how the project stands up against the various CG requirements. There's also a request for a zoning special exception to waive a rear yard requirement; the Board of Zoning Adjustment
approved a similar waiver request
back in May
, but they're having to apply for the exception again because the building has grown in size since the BZA ruling, so there's now more building inside the rear yard area.
Photo Update: N Street, 55 M, Willco, 23 I
Jan 28, 2008 11:02 AM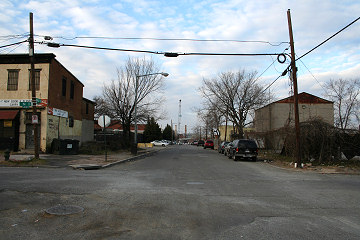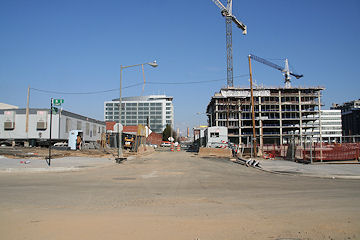 I wandered around on Sunday for a photo session, wishing that spring would hurry up and get here so that the sun will rise higher during the day and set farther west so that I can stop dealing with the damn glare whenever I face southward.
* I have new images along N Street
just north of the ballpark
between Half and First, which show the work at the entrance plaza at Half Street, including glass now being installed on the ground floor of the western parking garage, as well as the structures that will make up the entrance gates.
* In fact, I updated
all 12 angles of the Half and N intersection
, which now that it has its new wide sidewalks, curbs, streetlights, and an initial paving job, is really a
stunning testament to 24 months of change
, not only on the four corners of Half and N but the blocks to the north as well. It's definitely worth a look.
* I took a lot of photos of the
now-demolished Willco stretch
along First Street (and gave the project its own page as well), and of course I got
all the usual angles
of
55 M Street
.
* On Half Street between I and K, where JPI's
23 I Street
residential project is expected to start this year, a pile of red-and-black advertising banners have been hung on every available surface, and a "JPI Permit Parking only" sign has appeared on the entrance to the former towing company's parking lot on that block. I'm guessing JPI's purchase of the property just closed. I haven't heard anything about potential start dates for this project, or when the Wendy's might close.
* If you
browse all the photos I took yesterday
, you'll also see a smattering of
70/100 I
and
100 M
shots as well as images of the
two blocks along Third Street
where temporary surface parking lots are going in (so now my pictures of those blocks have changed from post-demolition views of nothing to pre-blacktop views of nothing). And the always popular shots
from the SE Freeway at South Capitol
are updated, too.
And don't forget to click on the
icon wherever you see it to see all photos in the archive of a certain location.
Comments
(0)
More posts:
100 M
,
23 I
,
70/100 I
,
Capper
,
Capper New Apt Bldgs
,
jpi
,
Monument/Half St.
, Square 743N,
Square 697n
,
staddis
,
Nationals Park
,
Square 701
Ballpark and Beyond This Week - ANC Wrapup
Jan 24, 2008 10:52 AM
This week's
Ballpark and Beyond column
is a shortened summary of last week's ANC 6D meeting; but here's the links to my more detailed reports on the what transpired at that meeting with
1111 New Jersey
, an
alley closing request
by Monument Realty, and
Florida Rock
.
And, since it's been a busy week, you might have missed my
2008 State of the Hood
, which rises above all the daily minutaie to look at what's happened in Near Southeast in the last 12 months and what's coming in 2008; if you're coming late to the party and are looking for an overview, take a few moments to browse it.
New Frozen Tundra Photos; Archive Tweaks
Jan 21, 2008 11:40 AM
I braved the chilly temps and gusty winds on Sunday morning for what turned out to be an abbreviated venture to get some updated photos. (I didn't post them yesterday because I thought I might go out this afternoon to get more, but it's a holiday, it's still cold, I'm pretty warm and cozy here on the sofa, and, and, and....) You'll see some shots of the demolition along First Street on the
Willco site
(which is about 50 percent completed), as well as a few updated shots of the
ballpark
, some of which show that the steps are now being poured on the grand staircase. There's also a smattering of shots of
55 M
,
100 M
,
70/100 I,
and the at-ground-level
Velocity
construction, and some other vantage points that I got before high-tailing back indoors.
You can see the
complete batch of photos
, remembering to click on the
icon if you want to see all archived photos of a certain view.
This is a good time to mention that I recently made a few changes to the Photo Archive. First, you'll now see links that allow you to
toggle
between seeing all photos of an angle and just the oldest and newest, which comes in handy as the number of photos continue to escalate. And, because the archive is getting pretty big, I've changed the default for when you choose to look at
all angles of an intersection
to show just the oldest and newest of each angle--you can then choose to see all photos for a specific angle.
ANC Doings -- 1111 New Jersey CG Overlay Review
Jan 16, 2008 1:42 PM
(This is the first of three dispatches I'll be posting over the next few days from Monday's
ANC 6D
meeting. Can you feel the excitement building?)
The developers of the planned office building at
1111 New Jersey
came looking for the ANC's support in advance of their
Jan. 31 Capitol Gateway Overlay Review
at the Zoning Commission. This project has been revised over the past few months after Donohoe
was chosen by WMATA
to acquire the 5,000-square-foot lot on top of the Navy Yard Metro's east entrance at New Jersey and M--by expanding 1111 New Jersey's footprint to this lot, which fronts M Street, the project became subject to a
CG Overlay
Review (
boring tutorial here
). While the WMATA land is being sold to Donohoe, this is in fact a joint development project with WMATA, who I imagine will receive a dollar or two over the coming years once the building is built and leased.
The new design was described by
WDG Architecture
as 220,000 square feet of office space with 5,700 square feet of ground-floor retail in a glass-facade building. While it uses a smidge of the WMATA land, the project will not be built on top of the station entrance as is happening with
55 M
--the station canopy will remain, and a there will be a large public plaza at this "important corner", along with a 60-foot setback with a double line of trees stretching up New Jersey. (Non-obsessive observers might not remember that 1111 NJ's footprint does not include the site of St. Matthew's Church immediately to the north--that lot is
being acquired by Ruben Companies
for a rumored residential project
, where no plans have yet been made, a Ruben rep tells me.)
Donohoe indicated that it plans to go for LEED certification for 1111, and mentioned that some of the ground-floor space would be designed with restaurant uses in mind, though the presenters said they remain aware of the requirements for community-oriented retail and preferred uses in the overlay area.
Beyond the LEED certification, retail, and public spaces, the developer offered no community benefits package to the ANC. Donohoe considers this project a matter of right that requires no additional benefits offerings, a stand which reopened the wounds from
back in April
when the earlier iteration of this project came before the ANC looking for support for a zoning special exception (and was voted down, though the
BZA approved the waiver
anyway).
The feelings of the commissioners hadn't changed in the intervening months, and they voted 5-0 not to support the project because of the lack of community benefits. (There was some procedural wrangling about the wording of the motion, but since the church where the ANC meetings are held is absolutely impossible to hear in, I didn't get the specifics--something about voting "not to support" versus voting "to oppose", I believe.)
No timeline for the start of construction was mentioned. Perhaps more information will be forthcoming at the Jan. 31 zoning hearing.
More ANC reports coming tomorrow--I'll have news of Monument Realty's plans for the
BP Amoco site
at South Capitol and N, followed by the latest in the
Florida Rock
saga. Stay tuned!
UPDATE:
Donohoe was nice enough to pass along the rendering of the new design, which I've added to the top of my
1111 New Jersey page
.
UPDATE II: Correcting a smidge of misinformation on the St. Matthew's site.
ANC and Zoning Commission Reports - Coming Soon
Jan 14, 2008 11:48 PM
Having pledged to pace myself a bit better over the next three months so that I don't have to cover Opening Day from a padded room, I'll be posting the results of Monday night's ANC 6D and Zoning Commission meetings in drips and drabs over the next few days. So stay tuned, especially if you're interested in
Florida Rock
, or
Diamond Teague Park
, or Monument Realty's projects
north of the ballpark
, or
1111 New Jersey
, or
250 M Street
.
This of course means that all the local media outlets checking in at JDLand looking for leads and tips will have to wait too. (The information is all free, of course, but some small hat tip some day would be nice. Although I do enjoy being an assignment editor of sorts....)