Near Southeast DC: Past News Items
Retail
Go to Full Blog Archive
---
First Look Inside the Foundry Lofts Building at the Yards
Nov 1, 2011 1:52 PM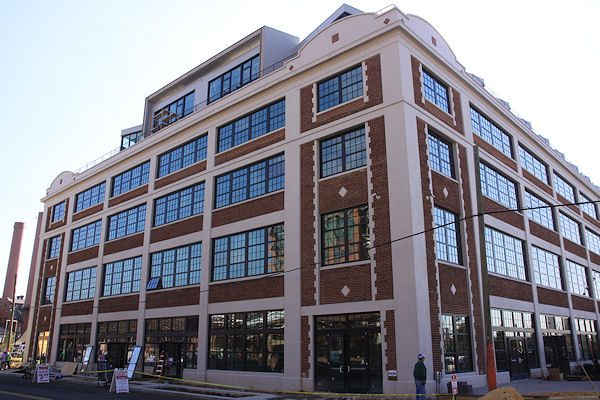 The fine folks at the
Foundry Lofts
leasing office
were kind enough to give me a hard-hat tour of the still-under construction building today, and of course I went with camera in hand. It was hard to pare down my photos to a manageable amount, but I think this
Foundry Lofts Construction Progress Gallery
does a good job of showing the general aura of the building's units and public spaces. (I even got to visit a few of the penthouse units, although there's still much work to be done on them.)
The 170-unit building is now about 43 percent leased, and the first residents are expected to move in at the end of this month. And within the next month or so, Potbelly Sandwich Works and Kruba Thai and Sushi will start work on their ground-floor spaces, with both looking to open during the first quarter of 2012.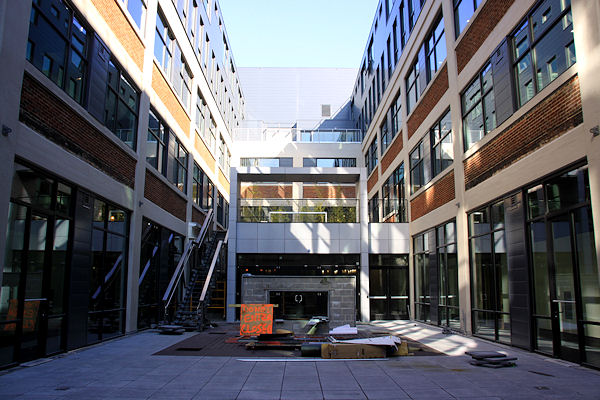 One aspect of the building's design that many people may not be aware of--since it isn't visible from the outside--is the large interior open-air courtyard, which even includes a yoga platform complete with bamboo. (I did confirm, though, that attendance at the daily yoga sessions will not be mandatory for residents.)
And, because I can never resist, I also got a couple photos of the so-close-to-being-finished bridge between the
Yards Park
and
Diamond Teague Park
(which should be opening Any Minute Now), as well as the increasingly naked
Boilermaker Shops
building. Those photos are at the bottom of the
gallery
.
For more about the project, see my
Foundry Lofts project page
, which includes many "before" photos that are worth looking at to be reminded at just what an amazing job has been done in transforming this 1918 building. And for much more detail about floor plans, available units, and other information, visit the
official leasing office web site
. Rents, according to the web site, start at about $2,000 a month for the one-bedroom units, $2.900-ish for two-bedroom units, and $3,200 and up for the two-story penthouses. (The corner ones with the great views run at about $4,500 a month.)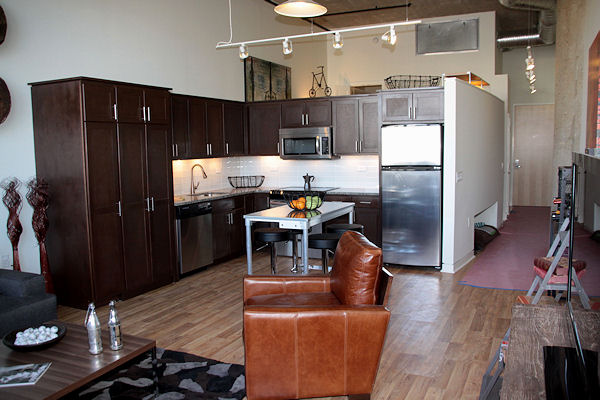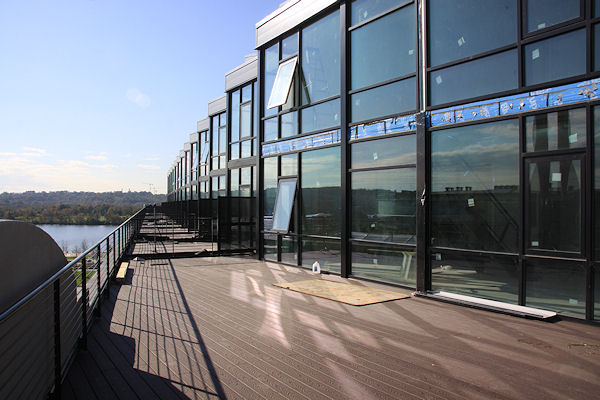 Madison Marquette to Launch Blue Castle Redevelopment Process
Oct 28, 2011 1:44 PM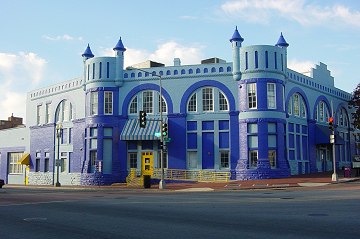 Today's
Washington Business Journal reports
(subscribers only, alas) that Madison Marquette, owners of the "Blue Castle" at 770 M Street SE and co-owners of a series of additional parcels across 8th, "will soon formally launch its Lower Barracks Row redevelopment process, hiring land use planners, wooing an anchor retailer for the historic car barn and tackling a range of hurdles that stand in the way."
It's that "range of hurdles" that the article focuses on--MM will need to figure out where will parking for the car barn be able to be placed and how much additional height can be added given not only historic and building height restrictions but the Navy Yard's concerns with having buildings that can look over their walls.
Then there's the looming
CSX Virginia Avenue Tunnel
construction, which could impact all of the landowners along Lower 8th given the disruptions that will no doubt ensue during the project. Mark Batterson of the National Community Church, which now owns
all of the properties along Virginia between 7th and 8th
and is looking to build a large coffee house/performance space and offices there, says in the article that their planning is very much tied up in CSX's timeline. "It doesn't make sense to do our project and then have them come through and rip everything up and make it difficult for us to even access our property."
Back in 2009 and 2010 there was a long
Lower 8th Street Vision Process
, which suggested allowing building heights of 65 to 85 feet on new structures 20 to 30 feet behind existing historic 8th Street structures. (The
process report
has a lot of drawings on how the 45-foot limit along 8th could co-exist with these potential greater heights further off the street.)
And, while not mentioned in the WBJ article, there's still the question of whether the Marines will end up
building a new barracks
in this area, as they have been hoping to do.
So, while the current Blue Castle leases are up in 2012, giving MM the opening to begin the process, the article makes clear that any makeover of Lower 8th will probably proceed slowly, at best.
Oh, and when it's all done, the Blue Castle probably won't be blue anymore:

(Rendering courtesy
Madison Marquette
. And maybe there's a hint in it of where they think the parking could go!)
Gordon Biersch to 100 M? and BID Surveys/Planting Day
Oct 20, 2011 8:19 PM
My post on Wednesday about the
rumors of a not-quite-yet-signed tenant
for the ground-floor restaurant space at
100 M Street SE
shook loose quite a few mouths, and it is unanimous amongst those gabbers that the newcomer in negotiations is
Gordon Biersch
, the brewery/restaurant that already has a
location at 9th and F Streets NW
, not too far from the Verizon Center. With 100 M being within sight of
Nationals Park
, it would seem a plausible destination, assuming the final papers get signed (which does not appear to be imminent). It'll be interesting to see their timeline, especially vis-a-vis the baseball season (getting it done by Opening Day, 5 1/2 months from now, would seem to be a bit optimistic, I think?).
On a 100 percent unrelated note (I really do hate teeny tiny posts, so felt the need to combine these), the Capitol Riverfront BID's
latest newsletter
is out, and they're asking for respondents for their annual "online perception surveys" for both the
BID itself
and for the
Yards Park
.
But don't you dare click on either of those survey links if you haven't yet
filled out my readership survey
--my feelings will be terribly hurt! (Argh! I'm snakebitten with the dang survey. This link was a bad one until about 9 am on Friday. Sorry! Please try again!)
The BID also is co-hosting a
Community Planting Day
on Saturday, Oct. 29, from 9 am to noon, along with the US Green Building Council National Capital Region. They're going to plant thousands of daffodil bulbs throughout the neighborhood.
The rest of the newsletter is
here
.
Rumors of A Pending Tenant for 100 M Restaurant Space
Oct 19, 2011 6:30 PM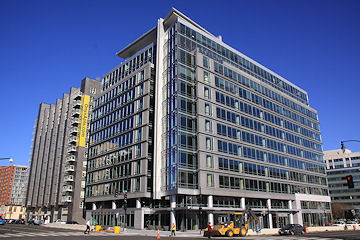 Word is starting to bounce around that a tenant is close to being signed for the prime restaurant space in the ground floor of
100 M Street SE
, on the northeast corner of 1st and M, one block north of
Nationals Park
.
As to who the tenant may be, I don't have confirmation, but rumors are mentioning a "semi-chain type place." (I'm trying to find out more, but since
recent surveys
indicate that 93 percent of all JDLand readers are interested in retail/restaurant news, I'm just going to go with what I've got.)
The location is
advertised
as 8,500 square feet, and I don't know if this rumored lease is for the entire space (though I imagine it is). One way or another, it will probably be a level of food and dining experience that's a step up from the last eating establishment on that corner, the old
On Luck Cafeteria
that was demolished five years ago.
I hope it goes without saying that as soon as I know more, I'll pass it along. And please remember that this is all still rumor territory, so until there's an official announcement, don't be skipping meals waiting for the new offering to arrive.
UPDATE: The rumor mill is strong that the not-yet-signed tenant is Gordon Biersch. But there's no official confirmation of that. But I've heard it from enough different places since yesterday to pass it along.
Willie's Brew and Que Coming to Boilermaker Shops; Pizza and a Raw Bar at Canal Park?
Aug 31, 2011 4:31 PM

After a bit of a
false start a few months ago
, Forest City is now confirming that Capitol Hill restaurant magnate Xavier Cervera will be opening "Willie's Brew & Que" in the
Boilermaker Shops
at
The Yards
. On the Yards's
just redesigned web site
, Willie's
is listed
as opening in Fall 2012, along with the other Boilermaker Shops restaurants
previously announced
(
Austin Grill Express
,
brb
,
Buzz Bakery
, a craft brewery by the
Churchkey folks
, and
Huey's 24-7 Diner
).
In a Going Out Gurus post today about
Cervera's purchase of the Hawk 'n' Dove
, Willie's is described as a sports bar, with the "'Cue" in the name referring not to pool but to barbecue that will be smoked on site. Plus, "Cervera promises 'the audio and video system is going to be very cool in there' when the place opens in 2012, including custom-built 12-foot plasma screens." (Note that GoG says it's "Brew & 'Cue", while Forest City's web site says "Brew & Que.")
Look for some new signage on the fences around the Boilermaker within the next few weeks, trumpeting all of the announced restaurants. (And I'll also point out that the
web site says
"more to come.")
The
Going Out Gurus post
also says that Cervera will be opening a restaurant at
Canal Park
, which they say will be
LEED-certified
, serving Neopolitan pizzas and featuring a raw bar. I've got a request into the Canal Park folks for confirmation and/or details. The park is expected to open in spring 2012. (
UPDATE:
The leasing negotiations for the Canal Park site are apparently not yet finalized, so don't consider this a done deal just yet.)
Pre-Leasing for Foundry Lofts at the Yards Now Underway
Aug 15, 2011 6:45 PM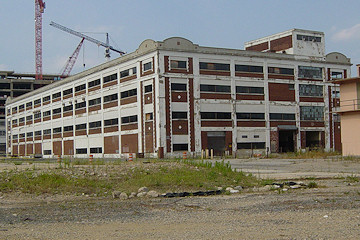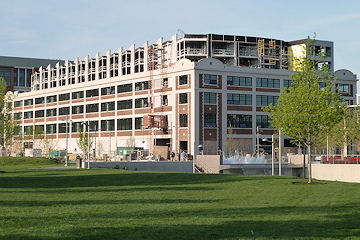 In a big milestone for the continued transformation of the old walled-off Southeast Federal Center into the huge mixed-use development known as
The Yards
, pre-leasing has begun for the
Foundry Lofts
, which developer Forest City has been transforming from its previous incarnation as the historic Pattern Joiner Shop building in Navy Yard shipbuilding days into a 170-unit apartment building. (Pre-leasing was officially supposed to begin today, but with the leasing trailer on site and open to visitors for the past week or so, interest from potential residents overtook the planned launch and leasings actually have already started.)
The units will have 12-14' ceilings, exposed brick, and concrete beams (befitting the term "loft"), along with the hardwood floors, stainless steel appliances, and granite countertops that would be expected in this sort of building. Rents will start at $2,000 a month, going up to $3,100 a month for one of the 33 two-level penthouse apartments in the new floors added to the top of the original building. (There are also a small number of affordable units available as well, though I don't have details on those.) Forest City expects move-ins to begin in October.
And,
as previously announced
, a Potbelly Sandwich Works and Kruba Thai and Sushi will occupy ground-floor retail space early next year. Plus it's pet-friendly, too!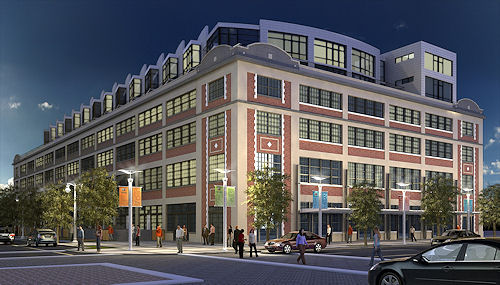 With its location on Tingey Street SE, immediately north of the
Yards Park
(and surrounded by parking lots used by fans heading to
Nationals Park
), the Foundry Lofts building is probably already familiar to many people who've come to Near Southeast over the past few years. It's the first residential component of the huge Yards redevelopment to be coming to completion, and will be the first multiunit residential building to open in the neighborhood since 2009. The renovation of what used to be known as Building 160 began in 2008, but was halted for well over a year at the height of The Economic Difficulties before
work began again
in August of 2010.
There is also plenty of construction activity right around the Foundry Lofts that will bring additional offerings to the Yards over the next two years. Just to the north, work has begun on the renovation of the
Boilermaker Shops
into a retail pavilion (to house a number of restaurants when it opens later in 2012), and soon work should get underway a block to the east on the second Yards residential project, the apartment building at
401 M Street
that will
have a Harris Teeter
in the ground floor. Plus, construction on the Lumber Shed building in the Yards Park to make it a retail pavilion (and home to Forest City's offices,
temporarily
) should begin later this year.
For more information, you can visit the leasing trailer now open from 9 am to 6 pm at 3rd and Tingey, SE, or go to
FoundryLoftsDC.com
, which hopefully will have some more complete information soon. (There's also their
Facebook page
, or
Twitter feed
, if you're feeling particularly social media-y about it all.) I haven't made it to the leasing office yet, having been gloriously unplugged in Wyoming for most of early August, but I hope to get there this week. And my
Foundry Lofts
page gives additional before-and-during photos of the construction and a few additional renderings, including one of the building's interior courtyard.
Georgetown University Applies for 'Medical Office' Building Permit in Capitol Hill Tower Retail Space
Jul 28, 2011 4:03 PM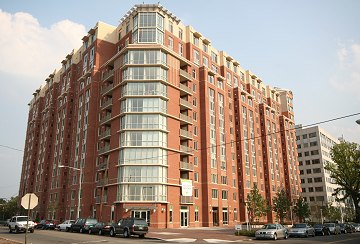 A building permit application was filed today with DCRA for 1000 New Jersey Ave., SE--the
Capitol Hill Tower
residential co-op--for "Interior Tenant Layout, First Floor, Medical Office. Georgetown University Health Disparities."
A Google search brings us to the
Georgetown-Lombardi Health Disparities Initiative
, which could be (or, I guess, could not be) the tenant applying for the building permit. The web site says the office "actively engage[s] in research focused on reducing cancer disparities among the underserved and ethnic minority populations in the District of Columbia including African-Americans, Latinos, and Asian Americans." They also state their mission as "addressing the biological and environmental basis of cancer health disparities via research, training, communication, and education." The group says it works closely "with the impoverished wards in the District, with particular emphasis on Wards East of the River," because the highest cancer rates in DC are found in wards 7 and 8.
This is first firm confirmation of the rumored tenant for the space; I
tweeted about the possibility of a tenant
10 days ago and put out requests for confirmation, but received no reply from CHT's developer, and Georgetown University would not confirm their leasing of the space. A tenants' meeting at CHT seemed to provide little information other than that this 4,000-square-foot space would be used by Georgetown for some sort of "community outreach" effort. There is nothing as yet on the Disparities web site about a new location, though they do have a number of
community
and
research
programs that could be needing space.
CHT tenants were told that construction is supposed to begin soon (though not until that building permit gets approved!). Perhaps now that the word is seeping out, a little more information will be forthcoming. I've contacted Georgetown again (no reply yet), but wanted to get this out there before too many resident heads explode, given the
fretting in this comment thread
about who the tenant might be.
Forest City Announces Restaurants at the Yards; Teeter Confirmed
Jun 27, 2011 8:48 AM
A press release went out this morning with the news that so many residents and office workers have been waiting for: the initial list of restaurants that will be opening at
the Yards
, along with confirmation that Harris Teeter is coming to the building at
401 M Street
.
At the
Foundry Lofts
apartment building currently heading toward completion, there will be a
Potbelly
, plus
Kruba Thai and Sushi
, from the
operators
of Teak Wood Thai and Sushi, Regent Thai, and Galae Thai and Sushi. Both are expected to open in the first quarter of 2012. (Pre-leasing of the residential units is expected to
begin in August
, with move-ins starting in October.)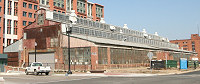 The
Boilermaker Shops
, the 1919-era building nestled between the Foundry Lofts and the US Department of Transportation, will have a number of different offerings:
* There will be
Buzz Bakery
, a full-service bakery, coffee shop, and "dessert lounge," plus an as-yet-unnamed
craft brewery
, both operated by the
Neighborhood Restaurant Group
, the people behind the Evening Star Cafe, Vermilion, Rustico, Tallula, EatBar, Columbia Firehouse, Birch and Barley, and ChurchKey.
*
Austin Grill Express
, a "casual, funky Tex-Mex restaurant drawing on the experience of Austin Grill to deliver a unique menu and environment."
*
BRB
("be right burger").
*
Huey's 24/7 Diner
, a "classic diner experience." (But will it actually be open 24/7?)
It's expected that Huey's, Austin Grill, and BRB will open in the fall of 2012, with the others in "late 2012."
And, at the
401 M Street
residential building (the only one of the three buildings that is 100 percent new construction), a
Harris Teeter
will be coming to the ground floor, which has been rumored for a number of years but is now finally confirmed. The press release says it will open in 2013, though for that to be the case, they need to start work on the building pretty much, um, now.
More as I get it, and you can read the
official press release
for additional details. For more on each project, see my
Foundry Lofts
,
Boilermaker Shops
,
401 M
, and main
Yards
project pages, or see the
official Yards web site
. Especially don't miss the photos from the interior of the
Boilermaker Shops
, which is a space very much unlike anything else in DC.
UPDATE, June 2012:
Because this post is linked to in so many places, it's necessary to update that in late June 2012 it was revealed that Austin Grill Express and BRB would not be coming to the Boilermaker Shops after all. However, Willie's Brew and Que sportsbar had been announced as another tenant in
late 2011
.
Redistricting Latest; Navy Yard Riverwalk Hours; Singles; A Break
May 26, 2011 5:14 PM
A few tidbits going into the holiday weekend:
* Nothing changed for Near Southeast as a result of Thursday's Redistricting Committee meeting, but it certainly wasn't boring. Tommy Wells took some swipes at Jack Evans, Marion Barry threatened to sue, Harry Thomas, Yvette Alexander, and Muriel Bowser talked about the need for unity, and when committee chair Michael Brown refused to recognize Barry for a second round of statements, the two talked over each other for a number of moments while Phil Mendelson and Jack Evans tried to reach Barry's microphone. Finally, while Barry continued to talk, Evans called the motion, they voted to approve the
draft map
that keeps Near Southeast in Ward 6 (with some small changes on the Ward 2/Ward 6 border), the hearing ended, and the microphones were shut off. I don't often suggest council hearings for an On Demand Popcorn Special, but if you have an hour (or want to fast forward to the last 10 minutes), it should be available
on the OCT web site
soon. Here's
DCist's report on the hearing
, along with
Mike DeBonis's pre-hearing post
on the "Jackmandering" that has Tommy Wells unhappy. Next up is the public hearing on June 1 at 6 pm, which should be even more festive.
UPDATE:
No need to wait! TBD has the
video of Barry vs Brown
. And here is
a short Examiner piece
on Barry's lawsuit threat.
* The Washington Navy Yard Riverwalk's Twitter feed
announced yesterday
that, starting on Tuesday, May 31, their gates will open at 5:30 am instead of the current 8 am. The gates will still close at 5 pm, and this is still Monday through Friday (excluding holidays), and the area can still be closed at the WYN's discretion. The
Twitter feed
has been good at announcing when closures are planned. Perhaps this expansion on the beginning the day means that further expansions might someday come down the pike?
* Also on June 1, the ANC 6D Alcohol Beverage Committee will be taking up requests from both Cornercopia and Harry's Reserve for exemptions from the ban on selling "singles." The agenda says that this "will cover exemptions for 25 to 70 ounces of beer, NOT single beers from a six-pack, or miniatures, small pints." The meeting is at King Greenleaf Rec Center at 7 pm. Any recommendation to allow the exemptions would then taken up by the full ANC for approval at its monthly meeting on June 13.
And, with that, I'm going to take a bit of a breather. Between the flurry of high-emotion news items over the past few months, the upcoming holiday weekend, and some stuff on the boards in my "real" life, it's a good time to step back for a little while. I expect to be away from blogging all next week, and maybe a little past that. If really big news breaks (and I mean *really* big), I may try to put something up, but I definitely won't be operating at normal warp speed. I may do some not-very-timely
Tweeting
if I can't bear not to, but I really am going to try to take an actual break. There haven't been many of those in eight-plus years...
In the meantime, feel free to use this spot as an open thread on matters of neighborhood interest. But behave, because I'll still be reading....!
Tidbits: Redistricting Latest, Retail, Outdoor Movies, Kittens, Events
May 24, 2011 2:17 PM
News has gotten a little sparse of late, though there's suddenly plenty of little updates and whatnot, some that I've
tweeted
(and some that I haven't). Sorry that this is a bit of a monster post, but that just means you need to read it all carefully!
*
Redistricting:
With the redistricting committee's proposed map of redrawn boundaries coming out no later than their meeting at 1 pm on Thursday, news has begun to trickle out of what it will look like.
Mike DeBonis reported
on Monday that any part of the city west of the Anacostia River being moved to Ward 8 is "off the table," since the split neighborhood of Fairlawn is expected to be moved entirely into Ward 8, which would satisfy the ward's population requirement. (He also lays out some of the other "on the table" moves.) In an "op-ed" today at
The Hill is Home
, Tommy Wells says that Ward 6's new eastern boundary may be 17th Street NE and SE, moving Hill East and its landmarks (RFK, Eastern High School, Eliot-Hine Middle School, and Reservation 13) into Ward 7. After the committee votes on its map Thursday, there will be a public hearing at 6 pm on June 1, before the entire council votes on the plan on June 7.
*
Retail:
The big International Council of Shopping Centers'
REcon convention
is underway in Vegas, and the Post's Jonathan O'Connell is
tweeting
all the DC-related retailer news,
including
that Mayor Gray and members of the city council had lunch on Monday with representatives of Forest City, who gave a presentation on
The Yards
. Will there be an announcement soon on things getting started at the
Boilermaker Shops
, as Forest City said there would be
a few weeks ago
? A
Post feature
on Capitol Hill restaurateur Xavier Cervera mentioned that he has "deals in the works for 400-seat and 140-seat restaurants on the waterfront," the first of which would seem to be the sportsbar
rumored
for the Boilermaker space. The rumblings below the surface that the official Boilermaker announcement is coming soon continue to be strong (with any opening being at least a year away, since there's a lot of exterior work to be done to the building), but there's been no official announcement of this or any other Boilermaker lease.
* In an Examiner article about
Wegman's being wooed
for DC's Walter Reed site, it's mentioned that Michael Stevens of the Capitol Riverfront BID and city officials are meeting with AMC Theaters to discuss potential locations. The article describes a possible spot as "First Street, south of M Street and adjacent to Nationals Park." I'm a little skeptical of "First Street", mainly because
the big empty lot along First
(Nats parking lot F), owned by Willco and slated in the past for a mixed office/residential/retail development, hasn't seemed to be in play for any movement on any development. On the other hand, there's been talk that Akridge has been interested in having a movie theater as part of its
Half Street development
, also south of M and adjacent to Nationals Park, and construction
could be starting
there late this year. Either way, nothing is firm.
*
Kittehs:
Are you looking to adopt a cat? How about a
Market Deli
-branded kitten? Some residents have captured and spayed/neutered/vaccinated two of them, estimated to be 4-6 months old, and are looking for someone to adopt them. Here's the
additional information
. (I would have leapt at this, but my two cats, ages 17 and 14, would kill me in my sleep if I brought home new "siblings" for them.)
And, some
upcoming events
to note:
* The
Yards Park
folks have passed along the news that the
fountains are off
all this week for maintenance. No water-based frolicking for you!
* The
Capitol Riverfront Outdoor Movie Series
gets underway this Thursday (May 26). The theme this summer is Best of the Oscars, and they're starting off with "Casablanca." Movies start at 8:45 pm (or sundown), and there will be food trucks and snacks for sale. The movies have moved back to Tingey Plaza, just south of
US DOT
at New Jersey and Tingey.
*
Harry's Reserve Wine and Spirits
at 909 New Jersey is going to be having a free "
community cookout
" on their courtyard on Friday, May 27 from 5 to 8 pm, and again on Saturday, May 28 from 4:30 to 8 pm. They are doing it to thank the neighborhood for the support they've received since opening. There will be free "high-end" beverage tastings in addition to grilled offerings. The owners also want to pass along that they're getting fresh shipments of a variety of cheeses this week, and that they now have 800 beers in stock.
* Ryan Zimmerman's annual "
A Night at the Park
" fundraiser is scheduled for June 30, benefitting his
ziMS Foundation
. Tickets are now on sale, and it's
been announced
that country star Rodney Atkins is the featured performer.
Comments
(8)
More posts:
Akridge/Half St.
,
Boilermaker Shops/Yards
,
Events
,
Harry's Reserve
,
marketdeli
,
meetings
,
redistricting
, Retail,
Nationals Park
,
Stadium Events
,
Square 701
,
The Yards
Food Truck Festival 'Truckeroo' Coming to Half and M June 3
May 8, 2011 11:00 PM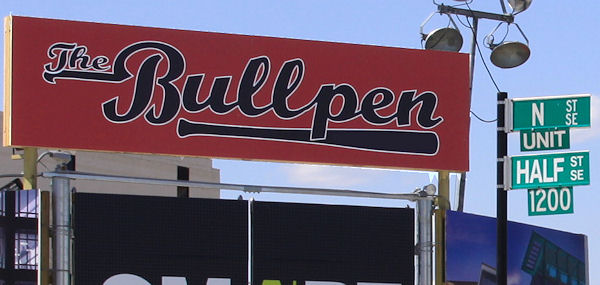 From
Monday's Capital Business
from the Post, the news that the owner of the
Bullpen and Das Bullpen
is following through on the desire he stated
a few months back
to hold "food truck festivals" on a regular basis in the parking lots at Half and M, SE. Apparently, the first "Truckeroo" festival will be held on
June 4
June 3
, and the Post says it will "include food trucks like Lobster Truck, Fojol Bros., Eat Wonky, Curbside Cupcakes and D.C. Slices, is scheduled to run from noon to 9 p.m., and occur monthly through October. The idea is to drive business to the ballpark area on non-baseball nights."
(The blurb also says that the Bullpen "is the biggest cash cow in the burgeoning Blair empire.")
Nothing on the Bullpen web site about Truckeroo yet, but I'll post more as I hear.
This site will eventually be the location of
Akridge's 700,000-square-foot mixed-use development
that will run along the length of Half between M and N north of the ballpark, but no start date for construction has been announced.
UPDATE:
Bo Blair has told the BID (and now me directly) that the Post got the date wrong, that it's actually scheduled for Friday, June 3.
Whole Foods Tax Abatement Dead; Is the Entire Deal Kaput?
May 1, 2011 5:15 PM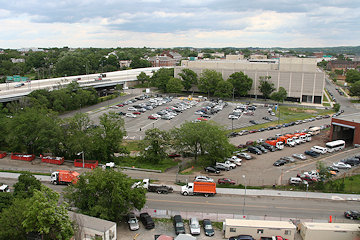 The
Washington Post is reporting
that developer William C. Smith is "no longer seeking" a proposed $8 million tax abatement to bring Whole Foods to a planned 375-unit apartment building at
800 New Jersey Ave., SE
, and that in fact the
news coverage of the proposal
may have killed the deal altogether.
The article quotes a statement from Whole Foods saying that the company "was not involved in any tax break or lease agreement negotiations" with WC Smith, and Michael Stevens of the BID is quoted as saying "I used to know that Whole Foods wanted to be in the neighborhood. After that article, I don't know anymore."
Whether the entire Whole Foods deal is truly dead or there's just some steam being let off is not 100 percent clear in the article, though it quotes an anonymous source as saying that Whole Foods could still end up somewhere in the area and is "fielding entreaties from other developers."
This is/was not the only grocery store planned for Near Southeast, with Forest City including supermarket space in the apartment building that it has planned for
401 M St., SE
at
the Yards
, which could be getting underway late this year or early in 2012. (Standard statement whenever mentioning this: it's long been reported that Harris Teeter will be occupying that space, but neither Forest City nor the grocery chain have ever publicly announced a deal.)
ANC Recap No. 2: Lumber Shed Zoning Change Request OK'ed
Apr 12, 2011 2:31 PM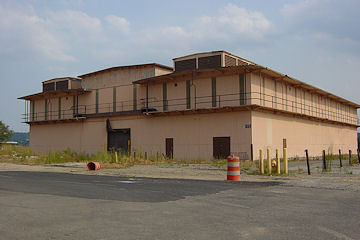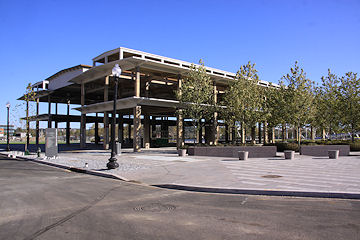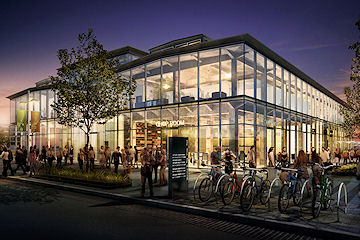 Although the
Yards Park
has been open since September of last year, the historic Lumber Shed that sits just south of Water Street between 3rd and 4th is not yet in its final form.
Second-phase plans
have always been for the shed to be turned into a glass-enclosed retail pavilion; however, as Forest City has been seeking tenants they have discovered that the vast majority of leasing interest has been for the first floor, not the second.
In order to get the building to the required percentage of leased space in order to get financing to start construction, Forest City is wanting to move their offices to the second floor of the shed, which requires a text amendment to the
site's zoning
. It would be on an interim basis, for no more than 20 years, and would allow Forest City to move its offices elsewhere before the end of that 20 years, and would require a return to retail or restaurant uses on the second floor after they move out. If the Zoning Commission approves the change, Forest City says they are looking to start construction this year and open the building in 2012. As part of the process for this zoning change, Forest City prepared a series of renderings of the completed renovation, which they have been kind enough to pass along to me. (Click on them to see enlarged versions.)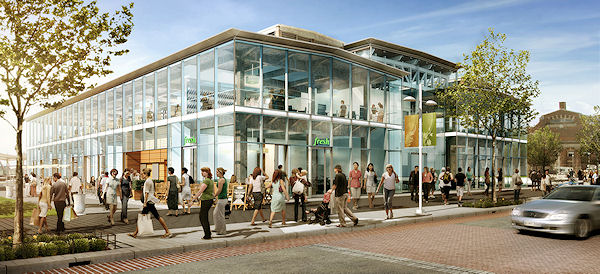 When Forest City first came to ANC 6D with information about this zoning text amendment request in March, the commissioners had concerns on three areas: the design of the roof (and whether it would be "green"), whether there would be controls in place to prevent the office workers from marring the look and feel of the glass walls by hanging posters or papers on them or putting other clutter too close to the glass, and whether the nighttime lighting of the shed on both floors would be designed to create a desired "jewel box" look.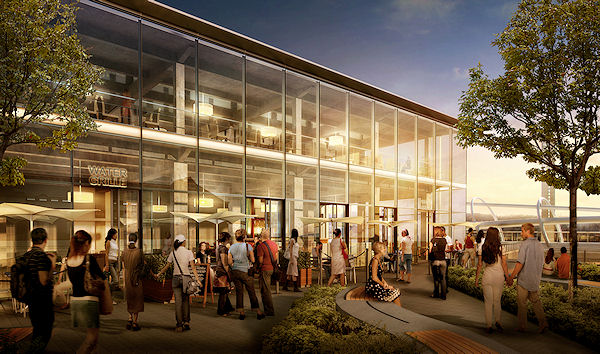 Forest City addressed these issues at Monday's meeting. A green roof was studied, they said, but ultimately it was decided that it couldn't be implemented in a fashion that would respect the historic profile of the roof and the building, and given that the building is surrounded by almost 100,000 square feet of "permeable" surface (i.e, the park), they felt that another 300 or 400 square feet was not a necessity. The color of the roof will be a charcoal gray. As for the "Post-Its on the Glass" issue, Forest City said that they will stipulate rules as to not hanging items on the glass and how far away other items should be. And the company also agreed to the "jewel box lighting" concept of both floors, provided that it's left up to Forest City to determine the appropriate lighting levels. The rendering at top right (
see larger version
) shows the nighttime lighting of the building as envisioned.
In addition, David Garber suggested/requested that a sign or plaque of some sort be affixed to the building (but not on the glass!) to explain its historic significance, which Forest City also agreed to.
With questions answered, agreements reached, and plaques affixed, the ANC voted 6-0 to support the zoning change. No date for the hearing with the Zoning Commission has been set as of yet.
The Lumber Shed is not the only retail pavilion planned for the park's later phases--designs call for two additional buildings along Water Street on the empty lots to the east of the shed. You can see more information and renderings on my
Yards Park page
(scroll down a ways if the link doesn't jump you down to the Second Phase section).
(Coming tomorrow, one more post on 6D's meeting, with a roundup of the other Near Southeast-related items on the agenda.)
Baseball Back for Fourth Season at Nationals Park; Neighborhood Update, Parking Map for Returning Fans
Mar 28, 2011 9:44 AM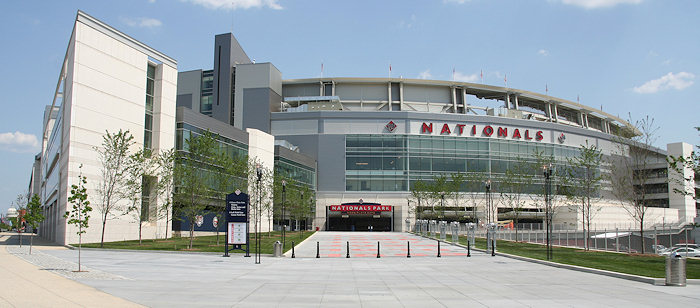 It's hard for me to believe that this week marks three years since the
first Opening Day
at
Nationals Park
, but time does march on. Wednesday evening's
NatsFest
followed by three games against the Braves (starting with Thursday's 1:05 pm season opener) will bring a lot of people back to Near Southeast for the first time since last summer.
If you're one of them, and you haven't diligently been reading my posts (gasp!), you might be interested in knowing what's been going on since the last time you ventured into this neck of the woods. Here's the big items: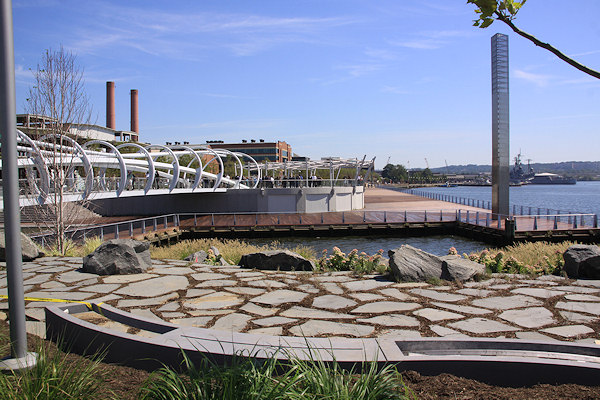 Yards Park:
In early September, the first phase of the six-acre
Yards Park
opened on the banks of the Anacostia, just two blocks east of the ballpark. It's a space unlike any in Washington, and is definitely worth a visit, perhaps even on your way to Saturday's afternoon game, since the park is holding a
Family Fun Day
that starts at 11 am. (Even if you don't make it to the park right away, you can easily see it from the ballpark's
southeastern viewing platform
.)
It will probably be a neat place to watch the Friday night post-game fireworks as well
(
UPDATE:
waah! no fireworks this year!), a trip which will be made even easier when a
floating bridge
connecting
Diamond Teague Park
--just across Potomac Avenue from the First Base Gate--with the Yards Park is completed, perhaps by the end of the season.
Unfortunately, most people visiting the park in conjunction with a Nationals game won't get to walk along the river all the way to 11th Street: while the Navy Yard has announced that its
stretch of the boardwalk is opening April 1
, the initial hours will only be from 8 am to 5 pm Monday-Friday.
Foundry Lofts:
Just to the north of the new park, work re-started last September on the stalled
Foundry Lofts
building at 3rd and Tingey, and it is expected to be completed this fall.
Bullpen:
It may not be ready by Thursday, but the open-air bar and live music gathering place across N Street from the stadium known as the Bullpen is opening a
gameday beer garden
to the north of its current spot, on the corner of Half and M across from the west entrance to the Navy Yard Metro station. With close to 80 picnic tables, it will have a capacity of over 600 and will offer European beers, sausages and other like fare, and a quieter environment than the original Bullpen (which will be remaining open for this season as well). The name of the new spot?
Das Bullpen
. (Yes, that's the moniker I flippantly gave the project back when
the news first broke
, which the owners decided to go ahead and use. #winning!)
Capitol Quarter:
If you park in lot T on 3rd Street, SE, you'll see new townhouses going up directly across the street as part of
Capitol Quarter
's second phase of construction.
200 I:
Just to the north of lot T and right by the Southeast Freeway, you'll see the old Star/Post Plant at 225 Virginia Avenue in the process of losing its exterior "skin" as it moves toward becoming
200 I Street
, a DC government office building that will be completed next spring.

Canal Park:
Right in the middle of things, across from the Five Guys and Subway, you'll see construction at last underway on
Canal Park
, the stretch of 2nd between I and M that at one time was a schoolbus parking lot and which has been plain open space for the past two years. The park is expected to be open by spring of next year, and so during the next 12 months expect there to be almost no parking along 2nd; the eastern part of the street is closed altogether. Also, note that L Street is closed for this one block, so you can't use it to get from New Jersey to 3rd or vice versa.
Harry's
: If your path to and from the ballpark includes a walk down New Jersey Avenue (perhaps from the Capitol South Metro station), and you find yourself in desperate need of adult beverages,
Harry's Reserve
has now opened on the southwest corner of New Jersey and I, in the ground floor of the
909 New Jersey
apartment building.
Florida Rock:
While it hasn't happened yet, plans are for the concrete plant just south of the ballpark
to be razed sometime this year
, bringing unobstructed views of the Anacostia River to the
southeastern viewing platform
and clearing the Florida Rock site until the proposed 1.1-million-square-foot
RiverFront
project can get some financing and get started.
Getting Here:
I've got my
Stadium Parking map
ready to go for 2011, though I've made no additions or deletions on it yet for the new season. I'll wander around this weekend and see if any new lots have popped up or old ones have gone away, though first impressions are that there are no major changes, certainly not in terms of the official Nats lots. (If you see any new lots or old ones that have gone offline, let me know so I can update the map.)
But with this area being a multimodal paradise, your better bet is
Metro
, or the
Circulator
that runs from Union Station and Eastern Market, or even
Capital Bikeshare
, now that there's a station at 1st and N.
UPDATE:
Forgot to mention the
water taxi
running from Alexandria, and it's possible that the new
American Water Taxi
service may get started up soon.
Retail? Eats?
Unfortunately, if you were expecting this post to include a litany of new food and retail offerings, you will be just as disappointed as the residents and officeworkers currently are with the continuing lack of options beyond Subway, Five Guys, Justin's Cafe, and Cornercopia. There could be at least two additions before the end of the season, however: another
beer garden
(separate from Das Bullpen) is under development at 8th and L, SE, and the old "
Little Red Building
" site at 2nd and L is on its way to becoming "Lot 38 Espresso." Neither project has an announced opening date.
There is also lots of under-the-radar chatter of various restaurateurs starting to look at the area (which I haven't bothered posting, because a) I don't do rumors and b) it shouldn't really be news that they're looking in such an underserved area). With the above projects underway, along with
DDOT
and the
FAA
soon moving into
55 M
,
20 M
now
97 percent leased
, and
100 M
off the DL thanks to its
foreclosure sale
, there is a definite shift in the economic winds, and it would not be surprising to get some announcement of some new retail before the end of this season.
For more information on what's changed and what might be changing, check out my
2011 State of the Hood
. The BID also did a
recent roundup of changes
.
If you want to relive the glory days of the ballpark's construction, you can wander through all my
exterior
and
interior
photos from that heady time, along with my
many photo galleries
from ballpark-related events over the years, from the
groundbreaking
to the
topping out
to
each
Opening
Day
. You can also check out what that part of the neighborhood
looked like before
the stadium's arrival. (Yes, I'm wallowing in nostalgia. It was a fun time.)
(UPDATED headline, because I can't count.)
Florida Rock Raze Permit, and Other Tuesday Tidbits
Mar 22, 2011 11:03 AM
All sorts of small stuff that has recently been
Tweeted
, or just left to molder until I finally got around to posting: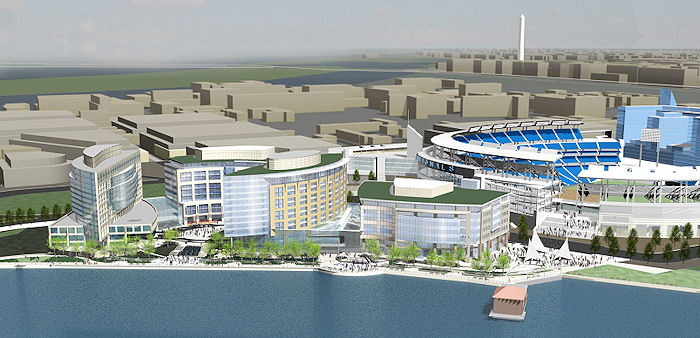 * A raze permit application has been filed by the
Florida Rock
folks for the concrete plant operated by Vulcan Materials Co. on Potomac Avenue just south of Nationals Park. This in an of itself is quite interesting, made even more interesting by a lack of response from Florida Rock Properties when I inquired as to what this planned razing might mean. From what I'm told, raze permits are valid for one year from the date of issuance (and this one hasn't been issued yet). The plan has been for a
1.1-million-square-foot mixed-use project
that would include office, residential, hotel, and retail in four buildings, plus lots of open space. (Note that the western part of the project can't be built until the
new Douglass Bridge
is built and the current one is demolished, which doesn't seem to be happening anytime soon). Whether the current plans will still be going forward with the current owners or if changes are in the works, we'll just have to wait and see, though considering that it took FRP a decade or so to get zoning approvals for the site, it would be no fun to see the process start over again.
* There was a kitchen fire on the 3rd floor of the
Capper Seniors building
at 900 5th St. SE on Monday night, according to
tweets
from
DCFireEMS
. The bulk of the fire was handled by the sprinkler system, they say, and there were no injuries.
* The DC Music Fest planned for the
Yards Park
on May 7
has been cancelled
"due to a lack of funding and sponsorships."
* The Five Guys at
Nationals Park
will not be back for the 2011 season,
says Curbed DC
. (The one on 2nd Street across from
Canal Park
is not affected by this.)
* Speaking of the ballpark, in case your attention hasn't yet turned to baseball, note that Opening Day is next Thursday (March 31), with NatsFest being held at 4 pm the day before. The first series of games (Thursday, Saturday, and Sunday) will all be early afternoon starts (1:05 pm on Thursday and Saturday and the normal 1:35 pm start on Sunday).
Harry's Reserve Opens its Doors, Spirit-Starved Residents Rejoice
Mar 10, 2011 2:26 PM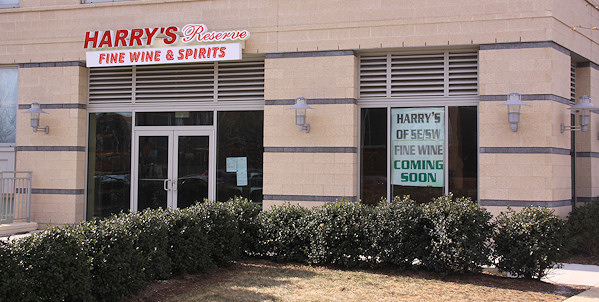 I haven't been there myself, but readers are reporting
via
Twitter
and
Facebook
that Harry's Reserve Fine Wine and Spirits is now open for business on the southwest corner of New Jersey and I, in the ground floor of
909 New Jersey
. It's been
almost 10 months
since the owners first signed a lease and started the liquor license process, but it's now the neighborhood's first outlet for the hard stuff in a number of years. It's also the first retail space at 909 New Jersey to be occupied, and the first new retail offering in Near Southeast since Justin's Cafe opened last April.
This is apparently a bit of a soft opening (so be gentle!), with a true "Grand Opening" coming in two weeks or so. The owners are the same folks who own Capitol Hill Wine and Spirits in the 300 block of Pennsylvania Ave., SE, and who owned the Harry's liquor store in the old Waterside Mall in SW. When the owners
met with ANC 6D's ABC subcommittee
, they indicated that "they would sell beer, wine, and liquor, as well as milk, sodas, juice, cheese, and other "quick stop" items, and are very much wanting to emphasize that this is going to be a 'community' store, with higher-end products, wine tastings, and other offerings beyond what people normally think of when they hear 'liquor store.'"
I will get down there myself to check it out if the rain ever stops, but if you've paid a visit, let us know in the comments what's on the shelves and any other impressions.
Forest City Looking to Move Offices to Yards Park Lumber Shed
Mar 4, 2011 10:55 AM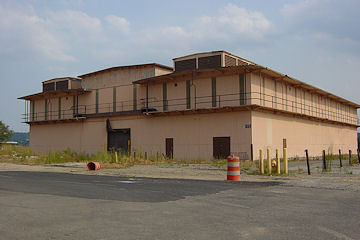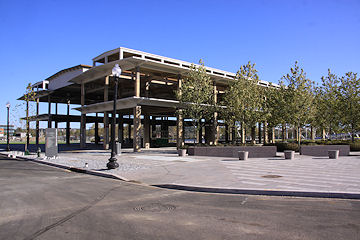 Tucked away in today's DC Register is a zoning request by Forest City Washington to allow the second story of the currently de-skinned Lumber Storage Shed at the
Yards Park
"to be used for general office purposes, on an interim basis, for no more than 20 years." The filing says that Forest City wants to temporarily relocate "in order to facilitate the leasing of the ground floor and to finance the building's restoration."
The
intention has been
for the shed to be given glass exterior walls and be a retail space--this new plan would still include ground-floor retail (in a very picturesque location at the Yards Park, right by the 3rd Street Plaza and the overlook). There are two other retail pavilions planned for later phases of the park as well, on the open spaces just to the east of the shed.
Courtyard Hotel on New Jersey Ave. Bought for $68 Million
Feb 28, 2011 5:54 PM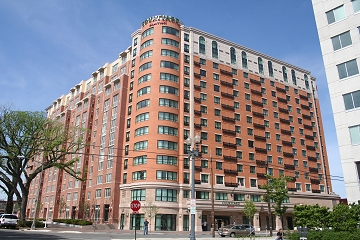 Just crossing the wires
: "
Chesapeake Lodging Trust
announced today that it has entered into a definitive agreement to acquire the 204-room Courtyard Washington Capitol Hill/Navy Yard located in Washington, DC for a purchase price of $68 million, or approximately $333,000 per key." The
hotel
, at New Jersey and L, SE, opened in spring 2006 along with its next door neighbor, the
Capitol Hill Tower
co-op; both were developed by Valhal Corp. (whose principals then formed Ranger Properties in 2007). It will apparently remain a Courtyard; no word of what if any impact this sale would have on Capitol Hill Tower.
8th Street Beer Garden Design Historic Preservation Review
Feb 21, 2011 11:09 AM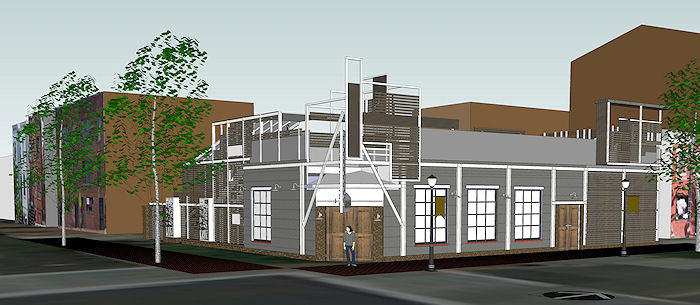 Posted on Friday was the
Staff Report
from the Historic Preservation Review Board on the design for the proposed
Bier Garden
at 8th and L, SE, as the owners of the site at 720 L continue to work toward constructing a one-story building with an accompanying summer garden and roof deck. (You can look to the left, or see a
slightly larger version
of the design, as it was
presented to ANC 6B
last week; 6B voted to support the design.)
If you're not up for reading all six pages yourself, here's my Zagat-style report on the report:
It makes for good reading if you're interested in how new buildings in historic districts are evaluated; you might be surprised (I was!) that design guidelines actually "discourage the exact duplication of historic styles," opting instead to encourage applicants to consider a new building as an "enhancement" to the district "while respecting the historic context." The report discusses how the decision to go with a one-story structure could draw on "the vernacular of Washington's modest industrial buildings and alley warehouses," and in fact the report includes a photo of the Bier Garden lot in 1949, when a one-story building housing a laundry/tailor stood on the site.
The report finds that the proposed massing of the new building does reflect the character of the historic district and "references recognizable attributes" of both industrial buildings and traditional beer gardens. The report also sees the rain screen and other more contemporary design choices as reflecting the "whimsy, casualness and somewhat ad-hoc nature of many outdoor beer gardens."
However, there are concerns that there are so many finishes applied "in so many different directions" that the result is a "somewhat chaotic and unfinished appearance," and suggests selecting one or two key ideas that would allow the building "to be showcased in a less hectic manner." Other major issues cited include choices on the roof deck (and the lack of any lighting or shade up there in the current design), the proportions of the doors, and the designs of the rain screens, as well as how the building's "streetscape presence" along both 8th and L.
The
report
ends with a recommendation that the applicants "restudy the issues outlined [...] as they pertain to the principles of design cohesiveness, proportion and scale, and streetscape presence." It's also recommended that the board delegate final approval of the design to the board staff once the comments from staff and the board are addressed in the revisions.
The hearing begins at
10 am on Thursday
, and can be
watched live
, or on demand starting the next day. (And this will actually be the first HPRB hearing I'll have ever watched!) You can read my
previous Bier Garden posts
if you're needing to get caught up.
UPDATE: And now we return back to "Beer Garden" from "Bier Garden," as Mark Brody informs me that it was a typo on the plans.
WC Smith Looking for $8M Tax Break to Bring Whole Foods to 800 New Jersey Avenue
Feb 14, 2011 10:06 PM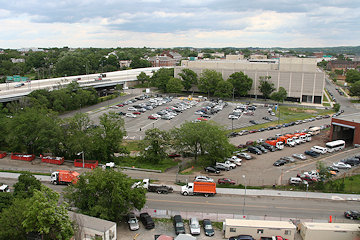 From
Tuesday's Washington Post
, confirmation at last at what has been reported since 2002, but with a bit of a twist:
"Whole Foods Market and a D.C. real estate firm are interested in building a new store in Southeast Washington near Nationals Park, but the developer says that luring the grocer would require $8 million in tax breaks. William C. Smith and Co. is proposing a 39,000-square-foot Whole Foods for
800 New Jersey Ave. SE
as part of a building that would include 375 apartments."
More: "Smith said the $800,000 annual tax break would cover requests by Whole Foods including an additional level of underground parking, extra elevators and higher ceilings on the bottom floor. Without the tax break, he said, he would either wait to develop the site or build a smaller apartment building with little or no retail."
Tax breaks for developments are being requested more frequently during this Era of Economic Difficulties, but the city's own financial troubles, and the amount of assistance that has been going to Ward 6 in comparison to other parts of the city, may make a request like this a tough sell, the
article
says.
There are already plans to bring a not-officially-named grocery store (*cough*Harris Teeter*cough*) to the neighborhood perhaps in 2013 at
4th and M
in the Yards. This Whole Foods site, though, would also be a draw not only for Near Southeast residents but for folks on the south side of Capitol Hill, given its location just on the other side of the Southeast Freeway. You can see
some photos of the site here
.
WC Smith has been planning a four-building, 1.1-million square foot office/residential/retail project on this block (Square 737) for some time. The transfer of a small plot of land known Reservation 17A was finally completed last year from the Feds to the city, clearing a long-time bureaucratic hurdle to getting the site redeveloped. (This will also allow I Street to be built through between 2nd and New Jersey once the DPW building just to the south is demolished, which may happen this year.)
There has been chatter over the past few months that Smith was pitching the entire site for the 1.1-million-square-foot Department of Homeland Security lease that GSA currently has out for bid--this movement on getting a residential building started might seem to signal a shift from that possibility, along with being another indication that developers are sensing Near Southeast is a strong residential market.
This lot is next to
225 Virginia Avenue
, the old Star/Post plant that is
hours away
from starting its transformation into 200 I Street, which will be home to three city agencies when its "re-skinning" and renovation is completed within the next two years.
(A note: The article says that WC Smith purchased the land from the Post in 2000 for $50 million; I think a decimal point got lost somewhere, because DC Property Records say that the lot, which used to be home to an
old warehouse
owned by the Washington Star and then the Washington Post, sold for $50,000 in December 1999. That number might not be right either, but considering that even now, in a completely changed neighborhood 11 years later, the 800 New Jersey land is assessed at just over
$19 million
$58 million, I doubt that Smith paid $50 million.
[UPDATED
because I looked at only one assessment record instead of three.] The WC Smith parcels were assessed at about $2.5 million in 2001, the oldest records that I have.)