Near Southeast DC: Past News Items
Retail
Go to Full Blog Archive
---
ANC Doings/The Beer Garden and The Bullpen
Jan 31, 2011 9:28 AM
Here's what's on tap over the next two weeks in ANC Land:
* Tomorrow (Tuesday, Feb. 1), ANC 6B's Planning and Zoning subcommittee will be getting a first look at the construction plans for the
Bavarian Beer Garden
8th and L, SE, as the owner has now begun the Historic Preservation review process, required because the site is within the boundaries of the Capitol Hill Historic District. This meeting is at 7 pm at the Caesar Chavez Public Charter School at 714 11th St., SE.
* Then, on Wednesday, Feb. 2,
ANC 6D's Alcohol Beverage Control
subcommittee will be meeting at 7 pm at King Greenleaf Rec Center, 201 N St., SW, with an agenda item that says "proposed expansion into adjacent space for
The Bullpen
at 26 N St., SE." This is the outdoor bar just north of
Nationals Park
on the footprint of Akridge's
Half Street
project. I assume that an expansion would be northward, across a little alley and staying within Akridge's land; to expand westward would mean going across Van Street into Monument's property on the old BP Amoco site at South Capitol and N, and to expand eastward would mean going across Half Street into a very big hole.
* Both of these items, along with plenty of others, will then be on the agendas at the ANC's official monthly meetings--
ANC 6B's
is at 7 pm on Feb. 8 at the LDS Church at 522 7th St., SE, and 6D's is at 7 pm on Feb. 14 at St. Augustine's Episcopal Church at 600 M St., SW (the
agenda
for which probably won't be available until very [very very?] late this week).
Progress at Harry's and LRB; Other Chilly Photos
Jan 24, 2011 10:52 AM
A Sunday morning checklist: Variably sunny? Check. Temperature 22 degrees? Check. Winds 15-20 mph? Check. Then clearly it was time to walk around taking the photos I forgot to take last week.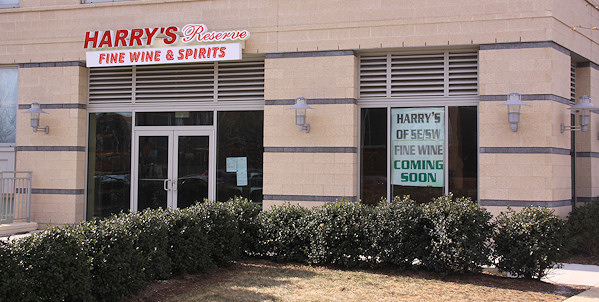 Signage is up on both New Jersey Avenue and I Street for
Harry's Reserve
, the upscale wine and spirits store coming to the ground floor of
909 New Jersey
, and a peek inside shows a big space with lots of dark wood cabinets. Don't know if they'll hit their Feb. 1 target date for opening, but they do look like they're in the homestretch.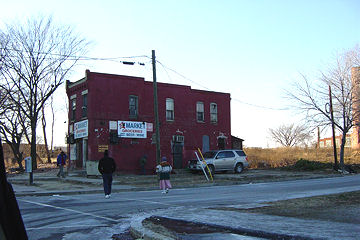 Meanwhile, the framing is done and exterior walls are starting to go up at Little Red Building v2.0 (or Lot 38 Espresso, which is apparently the new new name), and it's
interesting to see
that the profile of the new building is pretty similar to the old one--maybe it'll be like an actress of a Certain Age, getting rebuilt from the ground up while trying to not look like she's had any work done. No timeline at this point for when the shop might open.
UPDATE:
I heard from Lot 38's owner today, saying that he's now looking toward an April opening for the coffee/sandwich shop.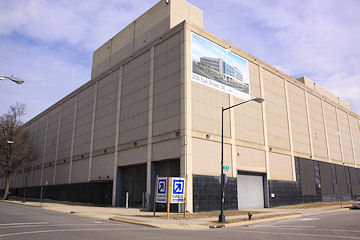 I also took a
pretty full series of photos
of
225 Virginia
(soon to be 200 I), not to document any changes but to get what might be a final set of "before" images, since the word had been that construction was supposed to start in December, and then January. (There are a few piles of construction fencing now on site, but I wouldn't expect work to be truly imminent until that firetruck parked on site at 3rd and I disappears.)
You can browse the
entire batch of Sunday's photos
, clicking on the
icon to pair any shot with its "before" image. There's also
last week's new photos
, in case you missed them, showing the progress at
Capitol Quarter
,
1015 Half
, and the
Foundry Lofts
.
Tuesday Tidbits: Harry's, NatsFest, Yards Park, Etc.
Jan 18, 2011 3:04 PM
Some recently
Tweeted
items, and a few new ones, worth wrapping up into a quick post:
* Last week I heard from the owners of what will soon be the
Harry's Reserve
"upscale" wine and spirits store at New Jersey and I, saying that they hope to be open by February 1.
* This year's NatsFest at the
baseball stadium
will be held
on March 30
, the day before the Opening Day home game against the Atlanta Braves. The schedule of events is still to come, but hopefully the decision to better tie in the event to the hoopla surrounding the start of the season won't be offset by it being on a Wednesday, when it's harder for kids to be there. (Especially kids who may already be playing hooky the next day!)
* The
Yards Park
web site now has
information about renting space
for public, private, or community events. And if you wander through the
calendar
, you can see what events might be on tap for this year, though the
main calendar
shows what's been confirmed, such as the Capitol City Beer Festival on May 28, the
previously discussed
DC Music Festival on May 7, the
MetroDash obstacle course race
on July 9, and a monthy Art Market.
* Stephen Strasburg,
working on his degree while rehabbing
, has written a thesis on the effects new stadiums have on neighborhoods, with a focus on
Nationals Park
. If he was looking for information on what the neighborhood
looked like "before,"
I hope he found it! (And no, the thesis isn't available anywhere.)
* The National Capital Planning Commission will be looking at the final
11th Street Bridges
site and building plans at their
February 3 meeting
. Gosh, I hope they like where the bridges themselves are placed in the designs!
* Off-topic, but the
hunt seems to be back on
for a new DC United stadium location, with one of the potential spots being across South Capitol Street at Buzzard Point in Southwest. (Please note that I said Buzzard Point. There is no s on the end. In case you missed 642 tweets about it today.) SWill has
some additional information
.
And, coming on Thursday (I hope), my 2011 State of the Hood roundup of the past 12 months' worth of activity, and what might be on the horizon. (I'm telling you this to force myself to actually get it done.)
ANC 6B Supports Beer Garden Liquor License, Van Ness Elementary Reopening
Jan 12, 2011 1:22 PM
At Tuesday night's ANC 6B meeting, two south-of-the-freeway issues were voted on (remember, the section from 7th Street to M Street eastward is 6B04, not 6D07):
* By a 7-3 vote, 6B will now support the liquor license application by the Bavarian Beer Garden at 8th and L streets, SE, provided the Voluntary Agreement hammered out by 6B and BBG is approved by ABRA. (
Back in December
, 6B had voted to not support/protest the license until a VA was agreed to.) Under this agreement, the beer garden's overall hours of operation will remain from 11 am to 1 am Sunday through Thursday and 11 am to 3 am Friday and Saturday, but there are now slightly amended hours for entertainment. Entertainment indoors is approved from noon to midnight on Sundays, 6 pm to midnight Monday through Thursday, and noon to 2 am on Fridays, Saturdays, and holidays. Hours for "summer garden entertainment and dancing" are from noon to 11 pm Sunday, Tuesday, Wednesday, and Thursday, and 11 am to 1 am on Fridays, Saturdays, and Holidays, with none allowed outdoors on Mondays.
Kirsten Oldenberg, the 6B04 rep in whose single-member district the beer garden will be located (and who
now has a blog
!), expressed lingering concerns about allowing a tavern license in this location, while David Garrison reminded the meeting that there are residences on 7th Street whose backyards will be directly across from the outdoor garden. Norm Metzger mentioned that this establishment doesn't exactly fit in with the ideas for revitalizing the area as seen in the
Lower 8th Street Visioning Draft Report
. But despite the concerns, the liquor license application will be moving forward, with only new 6B chairman Neil Glick, Garrison, and Metzger opposing.
The commissioners still have not been shown any designs for the beer garden; however, while the lot's co-owner, Mark Brody, told the commission
last month
that he planned to build a temporary structure as quickly as possible with a permanent building coming (perhaps) in a few years, it's now been determined that since the block is in the Capitol Hill Historic District a temporary building is not allowed. So there will have to be a "real" building, and its design will be subject to historic review by all applicable organizations before it can move forward.
* New 6B02 rep Ivan Frishberg brought to the commission
a draft letter to DCPS
in support of reopening
Van Ness Elementary
, since interim chancellor Kaya Henderson
said last month
that the school system is "committed" to making a decision on the school this month. There was a lot of discussion, and a lot of questions brought up by David Garrison about the boundaries of the school, how it might impact the schools on the Hill, costs to get the school reopened, and more, but in the end the commission voted to approve the letter. (
I *think* the vote was 7-2-1, but am trying to get it confirmed.
)
UPDATE:
Oops. The vote was 9-0-1.
UPDATE:
Here's another wrap-up of the meeting from
The Hill is Home
, who could hear what was going on a lot better than I could....
Tuesday Tibits: ANCs, 1345 South Capitol, More
Jan 11, 2011 10:52 AM
* I skipped out on the first
ANC 6D
meeting of 2011, not seeing any Near Southeast-specific items on the agenda. I did check in with Damon Harvey of DDOT before the meeting, though, to find out what he was going to be speaking to the ANC about, and it was to tell residents that
2011 Visitor Parking Passes
will be sent out in the middle of March (right before baseball season starts). If you have any feedback or questions on the parking passes (which were instituted in 2008 as part of the
stadium Performance Parking Pilot
), you can contact Damon at damon.harvey [at] dc.gov.
* Tonight (Tuesday) is ANC 6B's meeting, at Brent Elementary at 7 pm. The
agenda
indicates there could be some news about the
Bavarian Beer Garden
proposed for 8th and L, SE, so I'll be there to check it out.
* SWill across the way
has the news
(via Bisnow) that Camden's long-delayed
1345 South Capitol Street
residential project across the street from
Nationals Park
is reportedly going to finally get underway during the first quarter of this year. The design that was approved
back in 2007
showed a 276-unit apartment building with about 3,300 square feet of ground-floor retail. I used to
track this building
, but pulled my coverage boundaries back to the South Capitol Street median when SWill hit the ground running with the "
Southwest... The Little Quadrant that Could
" blog. So while I'll probably mention milestones on the project, I'm going to leave the laser-like focus on it to Will.
* Newly minted ANC 6D07 commissioner
David Garber
was featured this past Sunday on
HGTV's My First Sale
, documenting his not-altogether-smooth road to selling a house he renovated in Anacostia. I don't see any repeats in the listings, but eventually the episode should be
posted online
.
* The city's web site about the various Anacostia Waterfront Initiative projects,
TheAnacostiaWaterfront.com
, is going to be decommissioned as of Feb. 1, with content about projects like the 11th Street Bridges, the Douglass Bridge, and the Anacostia Riverwalk having already been rolled into the DDOT web site. The new URL is
ddot.dc.gov/awi
.
Residents Day at Holiday Market Saturday
Dec 16, 2010 11:07 AM
The
BID
wants to remind neighbors that Saturday is
Residents Day
at the Holiday Market at 1100 New Jersey Avenue. It will run from 10 am to 3 pm, and in addition to the lineup of craft exhibitors, Christmas greens, and live music at lunch time, there will also be empanadas, free coffee and pastries from Starbucks, free doggie treats from Metro Mutts, the
Eat Wonky
and
Dangerously Delicious Pie
trucks and.... The
Red Hook Lobster truck
at lunchtime. (The footsteps you hear are my husband's, as he races to be first in line.)
Of course, the market is also running today and Friday as well, from 11 am to 7 pm, with the
CapMacDC
pasta truck scheduled to make an appearance on Friday.
Here's the flyer
, for more details on vendors and whatnot.
6B Protesting 8th Street Beer Garden Liquor License (While Working on a Voluntary Agreement)
Dec 15, 2010 1:01 PM
On Tuesday night the full ANC 6B commission took up the issue of whether to support the liquor license application for the new "Bavarian Beer Garden" that a businessman is trying to open at 8th and L, SE. I wrote a lot about it last week when the ANC's ABC subcommittee met, and you can
read that (long) entry
for most of the background, as well as
read the committee report
that came out of it.
Commissioners are still very leery of approving a tavern license "with an entertainment endorsement" without having much more information about the plans for the bar, worrying that if they give their support and what is currently billed as just being some "oompah" music turns into a nightclub with music late at night seven days a week, there will be little recourse. (The fact that this is the first restaurant venture by the applicant has them a bit nervous as well.) Their desire is to write various hours/occupancy/entertainment-type restrictions into the Voluntary Agreement, perhaps including some that can then be revisited a few years down the road when it's clear how the bar is operating.
Mark Brody, the applicant, told the commissioners that he is willing to sign a voluntary agreement, and is willing to negotiate over the
requested
hours of operation and occupancy load (which is at 399 on the initial application), so the negotiations will soon get underway. (The vote by the commissioners to support the license once a voluntary agreement is signed was 7-3.)
However, because the deadline for protesting the license application before ABRA is Monday (Dec. 20), and because the full ANC would need to approve any voluntary agreement by vote at a business meeting, the ANC is going officially be "in protest" with ABRA on the license until the agreements are worked out. (You can read the
ABRA Protest Process FAQ
for more details, including about how the parties would then be scheduled for a "settlement conference" with an ABRA mediator.)
Rainy Sunday Tidbits: Garage Art, ANC, Akridge/Half St.
Dec 12, 2010 11:28 AM
A few bullet points to pass along on this lovely day (man, I wish I was in Minneapolis right now):
*
I took a few photos
(belatedly) of the newly installed stainless steel baseballs hung this week on the
Nationals Park
garages on N Street. You can see a hint of the red and blue LED lights that will "activate" the balls, though I imagine it will be more impressive when it's dark out. (Also, if you're as desperate in your Christmas shopping as I am, remember that the Nats Team Store at Half and N is open from 11 am to 5 pm every day except Sunday.)
* A reader reported this morning that the fences have been taken down around the all-but-completed
1015 Half Street
office building, on the site of the old Nation nightclub. Douglas Wilson Companies, which took over the project when Opus East went belly up, had said when construction restarted in May that they would deliver 1015 Half by the end of the year, and they seem to have basically hit that date. No announcement of any tenants for the 440,000-square-foot building, though.
* The ANC 6D meeting is on Monday at 7 pm at St. Augustine's church at 6th and M streets, SW, but, as of now, no
agenda
has been posted. I'm sure it'll be a wonderful holiday potpourri of topics, though. (The agenda for Tuesday's
ANC 6B meeting
has been up for quite a while, and includes the
new beer garden
at 8th and L.)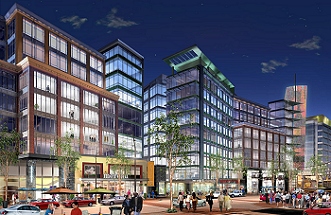 * A reader passed along
this DCMud piece
trying to play up movement on
Akridge's Half Street project
(just north of the ballpark), but I see a lot of "expects" and "luck" and "hope to" rather than any concrete start dates, and so, to me, that means there's really no news of impending construction. The fact that the Bullpen has apparently gotten it's lease renewed for the 2011 season would point to Akridge not expecting to do any work before fall. (And I'd also note that the first sentence gets everything wrong about the disposition of the Southeastern Bus Garage site, as is so often the case with DCMud items on Near Southeast: Akridge was the winning bid for the entire bus garage site
in 2007
, while Monument [which itself is not bankrupt, though its financial backer Lehman Brothers did croak] had earlier gotten the Metro station entrance on the
other side of the street
. Monument had owned land south of the bus garage, on the Bullpen site, but then sold that to Akridge
in 2008
.) The post also gives some background on the project, which might be new for people who haven't been following along, but which is basically what Akridge has been saying since they first unveiled the project
two years ago
.
You can see my
Akridge Half Street project page
for all of the details and renderings of the 700,000-square-foot office/residential/retail project, or, heck, read the
zoning hearing transcript
from January 2009. I think new residents will be happy about Akridge's long-mentioned plans for the "stall"-like vending area along the "Via" as well as a "neighborhood retail" feel for the Van Street side of the project, though people will probably be even happier about that once they know the project is actually going to start....
8th Street Beer Garden at 6B's ABC Committee
Dec 9, 2010 9:55 PM
Despite having
arrived fashionably late
to tonight's ANC 6B ABC committee meeting, I still managed to get there in time to hear the initial presentation by Mark Brody on his plans for the "Bavarian Beer Garden" that he is looking to bring to the currently vacant
northwest corner of 8th and L, SE
. (This is the "Saints and Sinners" block, which is also going to have the
National Community Church's new operations
on the Miles Glass site on the north end of the block.)
As I've written previously, he and his business partner (who has owned the property for more than 20 years--Brody appears to have bought a half-interest in the lots earlier this year for $600,000, according to property records) are
applying for a liquor license
for a tavern/beer garden that would seat 99 customers inside, with space for another 200 outside in the summer garden. They're looking to be open from 11 am to 2 am Sunday through Thursday, and until 3 am on Friday and Saturday, with the hours of alcohol sales matching those "open" hours. They also want to have live entertainment (oompah! oompah!) from noon to midnight on Sunday, 6 pm to midnight Monday through Friday, and noon to 2 am on Saturday. Brody said it would be "upscale," with beer running around $7, and there would be food, though no menu has been determined yet.
Brody brought no drawings or designs, but said they would put a newly constructed building along 8th Street, with the entrance on the corner, and the beer garden would be behind it,
butting up against
the driveway from Miles Glass that punches through to L Street. (Brody and his partner own the two small buildings on the west side of the driveway.) Brody suggested that having a large nightlife offering south of the freeway would help pull people south on 8th, and make them less reticent to use the parking lot beneath the freeway (which tied into the discussion around the previous agenda item, another restaurant in the 500 block of 8th). He also mentioned the large surface parking lots that exist nearby that would have more than enough capacity to hold the large number of patrons his plans are for, though certain bloggers in the audience mentioned that the big one at 7th and L is
probably going to see construction start
on its north portion before too much longer.
There was considerable skepticism from the commissioners (especially chair David Garrison) when Brody said that he hopes to be up and running "by spring," especially since the lot is in the historic district and he would still need all of his designs approved by the Capitol Hill Historic Society and the city's Historic Preservation Review Board, as well as go through the not-always-smooth building permitting process.
He and his partner (who is in construction) are looking at building a smaller "temporary" building now, with a more permanent three- or four-story structure to come later. But when the commissioners expressed their concern about having very little to go on in terms of design and concept before they make a decision as to whether to support the liquor license application, Brody said that he and his partner won't be building anything without getting the license first.
Commissioners also mentioned "Heart and Soul" a few times, which Hill veterans will remember as the venture at 8th and Pennsylvania that got its approvals as a restaurant with some live entertainment and turned into a nightclub that became a nightmare for residents. "What you're giving me screams 'nightclub,' " said 6B05 rep Ken Jarboe.
Neil Glick of 6B08 talked about the size of the plans, that this would be the largest space on the Hill except for maybe Remington's, and that "we can't just give away" support without much to go on, especially since Brody has not had any dealings with 6B before.
Kirsten Oldenberg, in whose single-member district (6B04) this site is located, listed similar concerns, as well as the fact that, if the temporary building is a success, why would the owners ever then tear it down to build something better? She also mentioned the
Lower 8th Vision draft plan
that has just been submitted to the Office of Planning, wondering if this project fits in to that vision.
6B07 commissioner Carol Green separated herself a bit from her brethren by saying that she feels the area south of the freeway needs something now.
Jarboe then mentioned the possibility of writing into the voluntary agreement that the liquor license be temporary (three or four years) so that the project can get started soon, but "to give [the license] to you forever and ever opens us up for mischief later on."
The license is on the agenda for the full ANC 6B commission meeting on Tuesday (Dec. 14), at 7 pm at the People's Church at 535 8th St., SE, but with things like a voluntary agreement still needing to be written, along with probably some strong feelings about wanting more information, I'm not sure how the timeline is going to work out, with the liquor license hearing date set for January 3.
UPDATE: After deliberations (which were public but I mistakenly didn't stick around for), the ABC Committee has decided to support the liquor license application contingent on the applicant and the city's ABC Board agreeing to a Voluntary Agreement that limits hours and occupancy (terms to come). 6B is also going to argue for a temporary license (as I described above), but it's not clear that the ABC Board would go along with that. There will be more discussion of this at Tuesday's full ANC meeting.
Upcoming Calendar of Events (Through Dec. 17)
Dec 6, 2010 10:46 AM
This is a painful post for me to write. (No, seriously--I hurt my left thumb last week, and typing doesn't help.) But I will power through to bring you news of upcoming events, all while wondering why Decembers are always so busy with public meetings--because it's not like we don't we have enough to do already....
ADD:
Oops. Tonight (Dec. 6) is the 4th Annual
Livable Walkable Community Awards
, at Arena Stage at 6:30 pm.
* Tuesday (Dec. 7) is the second
Marine Barracks site search
public forum, in Eastern Market's North Hall. I can't find the agenda for it, but the CIMP web site describes it thusly: "Session 2 will begin with at 5:00 pm with an open house where information will be provided in displays, and subject matter experts will be present to discuss various aspects of the CIMP with a facilitated discussion to authenticate community development objectives to begin at 7:00 PM." You can see the
draft community objectives
handed out at last week's meeting, and read
my summary of that session
, as well as the
scads of posts
through the past year of this process.
* Wednesday (Dec. 8) is the neighborhood meeting with DC Public Schools interim chancellor Kaya Henderson on the movement to reopen Van Ness Elementary at 5th and M, SE. The meeting is at 6 pm (note the time change) at the Courtyard by Marriott at New Jersey and L, and while no decision on reopening the school will be announced, DCPS will be talking about the preliminary findings from the survey they did this fall about whether there would be enough students to justify reopening the school. Read my
previous posts
for details.
* On Thursday (Dec. 9) the ANC 6B ABC Committee will
meet at 7 pm
at the Southeast Neighborhood Library at 403 7th St., SE, and it will be taking up the new liquor license application for the
Bavarian Beer Garden
at 8th and L, SE. It's looking to be a 99-seat tavern, with an additional 200 outdoor seats in summer, and would operate from 11 am to 2 am Sunday through Thursday and 11 am to 3 am on Fridays and Saturdays. There's also apparently the possibility of live entertainment. The application will also be taken up by the full ANC at its
regular meeting
on Dec. 14 at 7 pm at 535 8th St., SE.
* Monday (Dec. 13) is ANC 6D's monthly meeting--the
agenda
should be out later this week.
* Tuesday, Dec. 14 is the
BID
's Annual Meeting, at 11:30 am at 100 M St., SE. There will be a keynote address by George Hawkins, general manager of DC Water, plus the BID will release its 2010 Annual Report and State of the Capitol Riverfront.
* The BID also launches its Holiday Market on the 14th, running daily through the 18th on the sidewalk outside of 1100 New Jersey Ave., SE, across from the Navy Yard Metro station. "Shop the market for wool sweaters and mittens, homemade soaps, jewelry, antique maps, wreaths and holiday greenery, paintings, and much more!"
See the flyer
for more details, or the latest
BID newsletter
.
* Also on the 14th is the aforementioned
ANC 6B monthly meeting
, which includes a report by Michael Stevens of the BID on the Lower 8th Street Visioning Process report that's being submitted to the Office of Planning. (This will also be presented to the ANC's Planning and Zoning Committee on Dec. 7 at 7 pm at 535 8th St., SE.)
* Finally, on Dec. 17, the James L. Brooks movie "
How Do You Know
" opens--this is the one that was filmed at
Nationals Park
(and all around DC) back in 2009, and stars Reese Witherspoon, Owen Wilson, Paul Rudd, and Jack Nicholson.
Ow.
Phone Survey on Harris Teeter M Street Store
Nov 17, 2010 10:06 AM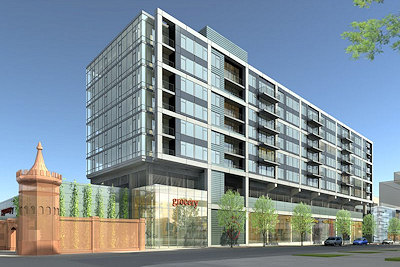 I received a report from reader K on being part of a telephone survey on Tuesday night about neighborhood grocery stores. It apparently started with generic questions on where K shops, followed by questions about what kind of new grocery store K would like to see in the neighborhood, with options like Harris Teeter, Trader Joe's and Yes! being on the list. (Interestingly, given last night's
Twitter eruption
on
Wal-Mart perhaps coming to DC
, K says there were lots of questions about whether the neighborhood would support a "low-price" store.)
The interview then moved to specific questions about what K "would like to see at the new Harris Teeter at
5th and M
by the Navy Yard." K said that the interviewer made the store sound like a done deal--which it certainly has seemed to be for a while now given all the hints and
not-confirmed media stories
about letters of intent, but there still has never been an official announcement from either Forest City or Harris Teeter that HT is indeed coming to the
new residential building
planned for 401 M St., SE at
The Yards
. One way or the other, it appears that construction on this building may be getting started next year--
see my recent entries
for details.
Beer Garden Coming to 8th and L?
Nov 8, 2010 5:23 PM
An
Alcoholic Beverage Regulation Administration Notice of Public Hearing
appeared in last Friday's DC Register for an outfit called "Bavarian Beer Garden" seeking a Retail Class "C" Tavern license to open a "new tavern, beer garden with European/American food" on the northwest corner of 8th and L, SE. This corner is
currently an empty lot
(sorry for the old photo), and is next to some of the land that the National Community Church just bought as part of
its purchase of the Miles Glass site
(a small amount of the Miles Glass property runs all the way through to L Street).
The
hearing notice
says that the tavern/beer garden would seat 99 customers inside, with space for another 200 outside in the summer garden. They're looking to be open from 11 am to 2 am Sunday through Thursday, and until 3 am on Friday and Saturday, with the hours of alcohol sales matching those "open" hours.
This is part of the "Lower 8th Street" area that the Barracks Row folks are trying to revive; but I'll also note that it's in the block directly north of the
Blue Castle
, which I believe still has charter schools operating inside, so I wonder if there's going to be an issue there.
The lot resides in ANC 6B, and I don't believe anything has come before its ABC subcommittee yet.
The ABRA hearing date is set for Jan. 3, 2011, with petitions to appear before the board about this application needing to be submitted by Dec. 20.
Little Red Building Site Switching to Coffee House
Nov 2, 2010 1:40 PM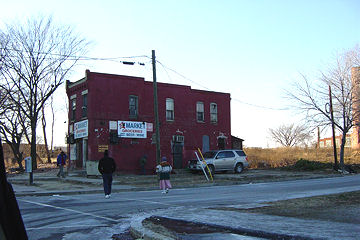 I've just received an e-mail from Yung Park, the owner of the no-longer-Little-Red-Building site at Second and L, where the plans have been for years to reopen a liquor store known as "Parkway Wine and Spirits" once the new building is constructed (the old LRB for a long time housed the Star Market). However, apparently that's all now changing.
According to this e-mail, the site is now going to be a cafe, to be called the
Aroma Espresso Bar
, and it will feature an
Illy
coffee bar, plus "gourmet sandwiches and gourmet pastries." He says that the new building's exterior design will be the same, with the interior having modern finishes. The first floor will be the kitchen and coffee bar, and the second floor will be the seating area. (They're also hoping for sidewalk tables, though that will have to go through the city's Public Space permitting process.)
"If we have decent weather," Mr. Park expects the building and store to be ready by February.
With Harry's Wine and Spirits (which I think is now being called Harry's Reserve) opening at 909 New Jersey within a few months, the notion of two "gourmet" wine and liquor stores so close to each other must not have looked quite so appealing. And, with Parkway/Aroma's location next to
Canal Park
, switching to a more all-ages business plan is probably a wise move. Will post additional information as I get it.
11th Street Bridges Status Update; Other Catching Up
Nov 1, 2010 9:52 AM
I'm now back after a week wandering the Midwest again, this time spending a few days in Chicago and then going up to Milwaukee, where touring time was cut short thanks to that epic windstorm (but at least I got to see the
Historic Third Ward
and the
Milwaukee Public Market
). Lots of photos of streetscapes and buildings
are here
, if you feel like looking at some non-Near Southeast images for a change.
To catch up....
* Dr. Gridlock
gave an update
on the progress of the
11th Street Bridges
project, which is now more than 25 percent complete. A pretty showy part of the construction will be starting soon, "when steel girders arrive for the new bridge spans. They will be trucked out onto the old bridges and lowered onto barges in the river below." The story gives this timeline: in spring 2011, the new alignment of southbound 295 opens; in fall '11, the freeway bridges (the upstream ones) will open; in winter 2012/13 the local (downstream) bridge between Anacostia and Near Southeast will open, with the entire project expected to be completed in summer 2013. (If the alignments and uses of the new bridges aren't clear to you, check my
11th Street Bridges project page
for more detail.)
There's also
some new lane restrictions
that started last week and will run through Nov. 23: the left lane of 11th Street SE from M to N is closed, and N Street SE between 11th and 12th is closed overnight Tuesdays through Fridays. There are other restrictions and closures as well on 295 and the SE Freeway.
* The Post's Capital Business weekly
has more information
today on the
foreclosure sale
of
100 M
, including this part that is probably of most interest to residents: "Although thousands of fans pour out of the Metro station nearby for baseball games, the Opus bankruptcy has prevented retailers -- other than a SunTrust bank branch -- from occupying ground-level storefronts. Michael Stevens, executive director of the Capitol Riverfront Business Improvement District, said he hoped that with new ownership, that would change. The retail broker for 100 M St., he said, 'has had some tenants that were interested in that property, but he couldn't sign any leases because it was in bankruptcy.' "
* It wasn't exactly a shocker that
Greater Greater Washington endorsed
David Garber for ANC 6D07 commissioner. Along the same lines, there's a
good piece by Housing Complex
this morning on the dysfunctional aspects of the ANCs, with some ideas on how to fix them. Having been tortured by sitting through many ANC meetings for more than five years now, I can certainly vouch for a lot of the issues mentioned. Perhaps there needs to be a Rally to Restore ANC Sanity.
* If you've wanted to know about Ann of Ann's Beauty Supply and Wigs Co. at 125 L St., SE,
People's District recently profiled her
. (Except I think they either mistranscribed the date of her shop opening, or this interview was done when her store was still in the old Waterside Mall in Southwest, because her store opened on L Street SE in 2005, not 1995.)
*
American River Taxi
, which is working to begin boat service between Georgetown, the Southwest Waterfront, and Diamond Teague Park, is hiring
deckhands
and
captains
. No word on when they'll get underway.
* Work has started in the ground floor of 909 New Jersey for the new Harry's Wine and Spirits. Alas, their timeline for opening has slipped (as all construction timelines do), and the owners now have their fingers crossed that they will be open by Christmas.
401 M Street Project at the Yards Switching to Residential, Could Deliver a Grocery Store in 2013
Sep 9, 2010 10:59 PM

One of the top three questions that gets asked here at JDLand is "When is a grocery store coming to the
Near Capitol Ballpark River Yards
area?" (Well, maybe it doesn't get asked quite like that.) For a number of years there's been a planned grocery space on the
southeast corner of 4th and M
, as part of the first phase of development at the
Yards
; but thanks to the Economic Difficulties there hasn't been any recent indication of when (or if) that building might get underway.
However, it seems that the wheels are finally beginning to turn, and Forest City is now starting the process of shepherding a revised design for the site (known as "
Parcel D
") through the city's planning processes. And it appears that a full-service grocery store could be arriving in the neighborhood by late 2013 or early 2014. While that's not exactly right around the corner, those dates would seem to be an improvement over "someday, we hope."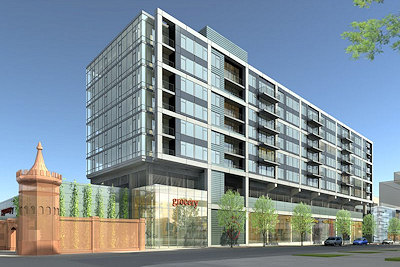 These new designs replace the original plans for one office and one residential building with a single
220ish-unit apartment building
, with 20 percent of the units earmarked as affordable housing. The 50,000 square feet of
ground-floor grocery store space
would still be at the north end of the block (near the red brick wall and turret), plus there would be additional retail space that would include a
three-story fitness and spa facility
. (And note that this is new construction, on a currently empty lot--the large red brick Gun Mount Shop just to the east of Parcel D is a separate project known as "
Factory 202
", designed as condos in the original plans.)
Forest City is hoping that construction could possibly start in early 2012, with a delivery in late 2013 or thereabouts. (But, repeat after me: dates like this are not written in stone.)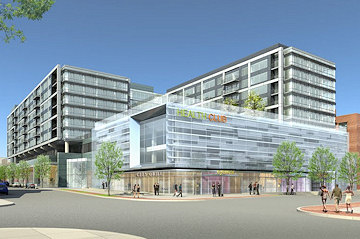 No names are officially attached to either big retail space at this time. However,
WBJ reported a year ago
that
Harris Teeter
has signed a letter of intent for the grocery store space, and, gosh,
Vida Fitness
sure is hanging around in the neighborhood a lot these days! Plus Vida said
a few months ago
that they have plans to open a branch in the Navy Yard area in 2013.
These new designs will apparently be presented to ANC 6D on Monday (a meeting which I, alas, will be missing), plus they are on the
agenda
for Thursday's Commission of Fine Arts meeting. They should also be going to the Zoning Commission at some point, so more details should become available as the process goes along.
I hope to have renderings of the new design soon, and will update this post when I get them. In the meantime, you'll have to settle for some renderings
on my project page
of the old original designs for 401 M and 400 Tingey from back in 2007.
UPDATE:
Renderings have now been added to my
401 M/Parcel D page
. A little taste of Southwest DC in the apartment building design, isn't there? The fitness/spa facility at Fourth and Tingey is much more modern (and I believe it will have space for some additional retail as well).
Harry's 'Upscale' Liquor Store on Track for Fall Opening
Aug 23, 2010 5:21 PM
Today was the day that the city's Alcohol Beverage Control board was to have had its hearing on a liquor license for
Harry's
, the new "upscale wine and spirits" store looking to open on the
southwest corner of New Jersey and I, SE
, in the ground floor of
909 New Jersey
. However, there were no protests filed, so all systems would appear to be "go" for this store to open. I talked with one of the owners, and she told me that they are looking toward somewhere in October-November time frame to open, and that construction work should start to be visible within a few weeks, and some "Coming Soon" banners should appear before long as well.
I wrote in detail about
their plans for the store
a few months ago--the owners are the same people who currently own Capitol Hill Wine and Spirits in the 300 block of Pennsylvania Ave., SE, and previously they ran the Harry's liquor store that was in Waterside Mall until about five years ago. The hours would be 9 am to 9 pm Monday through Saturday (or possibly 10 pm on Fridays and Saturdays), and closed on Sunday. They would sell beer, wine, and liquor, as well as milk, sodas, juice, cheese, and other "quick stop" items, and are very much wanting to emphasize that this is going to be a "community" store, with higher-end products, wine tastings, and other offerings beyond what people normally think of when they hear "liquor store." This is a similar path to that being taken by the owner of the soon-to-be
Parkway Wine and Spirits
at Second and K (on the site of the late lamented
Little Red Building
), which is also looking to open by the end of the year.
Whether the neighborhood in its current incarnation (and size) can support both stores plus
Cornercopia
remains to be seen, although each store's location could be said to have its own "sphere": Harry's will be positioned to serve the foot traffic to and from Capitol Hill/Capitol South along New Jersey Avenue as well as the residents from the three I Street apartment buildings; Parkway will have the Courtyard guests, nearby office workers, and
Canal Park
visitors; and Cornercopia will have its existing loyal clientele as well as the ever-growing
Capitol Quarter
population (and also Capitol Hill foot traffic and Canal Park-goers).
Articles on Cornercopia, DHS Space Needs
Aug 4, 2010 10:25 AM
Two Post articles of note this morning:
* A nice little piece
in the Food section
on Cornercopia; it notes that Albert and Danica are surprised that the majority of their business comes from their jam-packed deli sandwiches, instead of the groceries, beer, and wine part of their operation. If you don't follow
@Cornercopia on Twitter
, you're missing alerts on specials, hours of operation, and the occasional alert to cops ticketing cars and/or jaywalkers.
*
Jonathan O'Connell's article
on the Department of Homeland Security's search for 1.1 million square feet of office space (apart from their new HQ at St. Elizabeth's) mentions that, with the SEC's leasing of 900,000 square feet at Constitution Center (the old USDOT) in Southwest, the presumed top contender for the DHS lease is now out of the running. The article quotes an Akridge senior vice president as saying that "a number of companies with properties atop stations along Metro's Green Line, both in Prince George's County and Southeast Washington, were likely in play."
There are two current development sites in Near Southeast that would appear to meet the DHS lease requirements of space and proximity to the Green Line (Navy Yard, of course). Those would be
the Yards
(designed to eventually have 1.8 million square feet of office space), and WC Smith's planned development at
800 New Jersey
(the parking lot north of the trash transfer station and west of
225 Virginia
,
nestled just south of the SE Freeway), which has been billed as a 1.1-million-square-foot mixed-use project. Neither of those would be ready for quick move-in, which I believe was originally part of the DHS solicitation (points for anyone who can find the RFP online--I can't put my hands on it). The WC Smith site would need DPW's move from the trash transfer site completed (which I've been hearing may not be all that far off) so that the various parcels of land on squares 737 and 739 can be properly squared off, which includes the building of I Street through to New Jersey Avenue (and H Street as well).
Vida Fitness Coming [Somewhere] in 2013?
Jul 27, 2010 3:56 PM
From
a story in today's Post
on the growing
Vida Fitness
empire, a sentence that has set some hearts aflutter: "Next spring von Storch will open Vida's fourth location in five years in the renovated 1612 U, with a fifth planned for the Navy Yard in 2013." So, I checked with the folks at the
Navy Yard
(since, despite some peoples' desperate desire to call the entire neighborhood "Navy Yard," there is still a functioning entity with that name that's only been around for 210 years, and so to call something "Navy Yard" means that every single time it's used it will force the question "Do you mean inside the walls of the Navy Yard itself, or the neighborhood around it?"). While there was no firm denial, it was explained that fitness facilities on Navy installations are operated by the service's own Morale, Welfare, and Recreation personnel, and that that business model probably isn't changing.
Without anything else to go on--and with no neighborhood projects currently touting a 2013 delivery date--we'll just have to wait and see which developer cops to being in talks with Vida. Though, if I had to guess, I'd just say this--it would certainly be easy for someone who perhaps doesn't know the terminologies and layout of the neighborhood to easily mix up "the Navy Yard" with "
The Yards
."
[And now I'll return to mending from some recent medical stuff (nothing to worry about, but I do need to do some of this "resting" I've always heard about). Apologies if posting/Tweeting/replying/whatever remains slow for a bit.]
Brief Break from Blogging Breather for Bullet Points
Jul 9, 2010 2:36 PM
I'm still eyeing a couple more days of (mostly) blog-free living, but a few items should probably be mentioned before the weekend, and so that you don't think I'm never coming back. First, the calendar:
* On Monday at 6:30 pm, the Zoning Commission will take up the Housing Authority's new request for another time extension to the
zoning order
that requires construction of the
Capper Community Center
. DCHA had asked for a two-year extension last year, but
was only granted one year
, and made clear at that time that they didn't foresee having the money to start the center in that shorter time frame, and that they'd be back to ask for another extension. And now they are.
* Speaking of the community center, there's now a big sign on its footprint (at Fifth and L) touting that the second phase of
Capitol Quarter
's townhouses is being funded by the American Recovery and Reinvestment Act.
But you knew that already
.
* Monday at 7 pm is the monthly ANC 6D meeting. I was hoping the agenda would be out before I posted this, but alas, no. Check back here or on their
web site
to see what scintillating topics will be up for discussion. (
UPDATE:
the agenda is
now out
, and there's nothing really major on it, other than a public space permit for the street work for Phase 2 of Capitol Quarter.)
* On Tuesday, July 13, the Capitol Hill Group Ministry is having its "
All-Star Party Night
" at
Nationals Park
, offering the chance to take batting practice, throw pitches in the bullpen, tour the locker room, meet Teddy, and more. Tickets are $55 per person and $15 for children under 12, with proceeds going to CHGM's programs for homeless and low-income families.
And a few other items:
* Today's
WBJ reports
that a third piece of "public" art is coming to
Nationals Park
; this time it will be 30 "stainless steel-domed forms which will accurately follow the theoretical model of the trajectory of a curving fast-ball pitch," which will be hung early next year on the exterior of the eastern garage. The steel spheres with cutout "laces," each seven feet in diameter, will feature programmable LED lights; the piece will cost about $950,000. As for the other two pieces of public art already at the stadium (the bronze statues in the Center Field Plaza and the "Take Me Out to the Ballgame" mobile near the First Base Gate), I'll quote WBJ's Michael Neibauer: "The first two pieces of public art at the stadium were, to be kind, not well-received at their unveiling in April 2009. The works were selected by arts professionals and D.C. residents, according to the arts commission, but some wonder: Did anyone ask the fans?"
* A reader reports that the
Anacostia Boathouse
at 11th and O, in between the
11th Street Bridges
spans, has been demolished, which was expected because of the footprint of the new bridges. Haven't seen for myself yet to confirm.
* And I haven't felt the earth shift on its axis yet, so I assume the Little Red Building's exterior is still standing, although interior demolition has been going on all week.
Comments
(7)
More posts:
11th Street Bridges
,
ANC News
,
Boathouse Row
,
Capper
,
Capitol Quarter
,
Community Center
,
Little Red Bldg/Lot 38 Espresso
,
meetings
, Retail,
Nationals Park
,
zoning
Demolition Day Nears for the Little Red Building
Jun 30, 2010 10:27 PM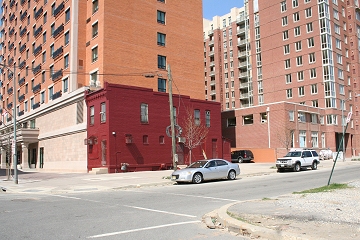 I've gotten an update this evening on what is affectionately referred to around here as the "Little Red Building," the two-story townhouse on the eastern edge of the
Courtyard by Marriott
on L Street, SE. The owner has passed along the news that he has received his construction permits for a new two-story building that will house an upscale liquor store to be known as "Parkway Wine and Spirits." This does mean that the LRB is going to be demolished, and fences should go up tomorrow (Thursday) around the site. He expects the construction to take about five months, and since there will be some noise and disturbance while the work is underway, he wanted neighbors and residents to have advance notice.
Here's the design plans
for the exterior of the new building; hopefully we can also get some information on his operational plans (and what sort of goods he'll be stocking) soon. Looks like the new building will be brick as well, and of a similar design--I hope it'll still be red!