Near Southeast DC: Past News Items
Retail
Go to Full Blog Archive
---
Brief Break from Blogging Breather for Bullet Points
Jul 9, 2010 2:36 PM
I'm still eyeing a couple more days of (mostly) blog-free living, but a few items should probably be mentioned before the weekend, and so that you don't think I'm never coming back. First, the calendar:
* On Monday at 6:30 pm, the Zoning Commission will take up the Housing Authority's new request for another time extension to the
zoning order
that requires construction of the
Capper Community Center
. DCHA had asked for a two-year extension last year, but
was only granted one year
, and made clear at that time that they didn't foresee having the money to start the center in that shorter time frame, and that they'd be back to ask for another extension. And now they are.
* Speaking of the community center, there's now a big sign on its footprint (at Fifth and L) touting that the second phase of
Capitol Quarter
's townhouses is being funded by the American Recovery and Reinvestment Act.
But you knew that already
.
* Monday at 7 pm is the monthly ANC 6D meeting. I was hoping the agenda would be out before I posted this, but alas, no. Check back here or on their
web site
to see what scintillating topics will be up for discussion. (
UPDATE:
the agenda is
now out
, and there's nothing really major on it, other than a public space permit for the street work for Phase 2 of Capitol Quarter.)
* On Tuesday, July 13, the Capitol Hill Group Ministry is having its "
All-Star Party Night
" at
Nationals Park
, offering the chance to take batting practice, throw pitches in the bullpen, tour the locker room, meet Teddy, and more. Tickets are $55 per person and $15 for children under 12, with proceeds going to CHGM's programs for homeless and low-income families.
And a few other items:
* Today's
WBJ reports
that a third piece of "public" art is coming to
Nationals Park
; this time it will be 30 "stainless steel-domed forms which will accurately follow the theoretical model of the trajectory of a curving fast-ball pitch," which will be hung early next year on the exterior of the eastern garage. The steel spheres with cutout "laces," each seven feet in diameter, will feature programmable LED lights; the piece will cost about $950,000. As for the other two pieces of public art already at the stadium (the bronze statues in the Center Field Plaza and the "Take Me Out to the Ballgame" mobile near the First Base Gate), I'll quote WBJ's Michael Neibauer: "The first two pieces of public art at the stadium were, to be kind, not well-received at their unveiling in April 2009. The works were selected by arts professionals and D.C. residents, according to the arts commission, but some wonder: Did anyone ask the fans?"
* A reader reports that the
Anacostia Boathouse
at 11th and O, in between the
11th Street Bridges
spans, has been demolished, which was expected because of the footprint of the new bridges. Haven't seen for myself yet to confirm.
* And I haven't felt the earth shift on its axis yet, so I assume the Little Red Building's exterior is still standing, although interior demolition has been going on all week.
Comments
(7)
More posts:
11th Street Bridges
,
ANC News
,
Boathouse Row
,
Capper
,
Capitol Quarter
,
Community Center
,
Little Red Bldg/Lot 38 Espresso
,
meetings
, Retail,
Nationals Park
,
zoning
Demolition Day Nears for the Little Red Building
Jun 30, 2010 10:27 PM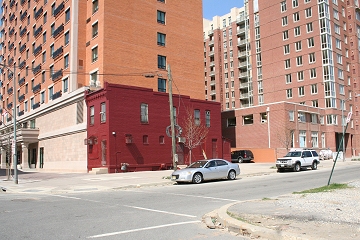 I've gotten an update this evening on what is affectionately referred to around here as the "Little Red Building," the two-story townhouse on the eastern edge of the
Courtyard by Marriott
on L Street, SE. The owner has passed along the news that he has received his construction permits for a new two-story building that will house an upscale liquor store to be known as "Parkway Wine and Spirits." This does mean that the LRB is going to be demolished, and fences should go up tomorrow (Thursday) around the site. He expects the construction to take about five months, and since there will be some noise and disturbance while the work is underway, he wanted neighbors and residents to have advance notice.
Here's the design plans
for the exterior of the new building; hopefully we can also get some information on his operational plans (and what sort of goods he'll be stocking) soon. Looks like the new building will be brick as well, and of a similar design--I hope it'll still be red!
Capper Hope VI Task Force Meeting; Harry's ABRA Hearing Date; Car Thief Captured
Jun 28, 2010 10:32 AM
A few bullets for a warm Monday:
* DCHA is holding a
Capper/Carrollsburg
Hope VI task force meeting on
Tuesday at 6 pm
at 400 M Street SE. The agenda includes an overall status report, an update on the (stalled)
community center
, outreach efforts to former residents, and a presentation on the community benefits fund. "Hope VI" refers to the $34.9 million HUD grant
awarded to DC in 2001
to replace the 700 Capper/Carrollsburg units with an equal number of new public housing units as well as another 800-plus market- and workforce-rate units, which has so far begat
Capper Seniors #1
,
400 M
, and
Capitol Quarter
, along with plans for another
five apartment buildings
and
two
office
buildings still in the pipeline.
* The Alcohol Beverage Regulation Administration has
officially posted the application
by Harry's of SE & SW to open a liquor store at New Jersey and I in the ground floor of 909 New Jersey. The hearing date is set for August 23, with any protests or other "petitions" needing to be filed by August 9 (happy birthday to me!). More about Harry's plans
here
.
*
Via Norm Metzger
, this from Saturday's PSA 105 meeting: "A suspected car thief was arrested near 3rd and K Street SE. Vigilant neighbors reported suspicious activity and were able to stop a crime in progress."
Agenda for June 14 ANC 6D Meeting
Jun 11, 2010 3:21 PM
The
agenda is now posted
for Monday's ANC 6D meeting, and it does have a few Near Southeast-related items on it. So it follows logically that I'm not going to be able to be there.
Items include: A report from the housing authority on a request for a zoning time extension for the planned (and long-delayed)
community center
at Fifth and K streets, SE; an update on the
upcoming second phase
of
Capitol Quarter
(which EYA tells me resulted in 11 reservations in the first 15 days); an update on the stadium
Traffic Operations and Parking Plan
, presumably coming out of the two recent
public meetings
; and reports/possible votes on Justin's Cafe's proposed sidewalk cafe and the proposed "Harry's" liquor store at New Jersey and I, both of which you can get more detail on
from my report on last week's ABC subcommittee meeting
.
The meeting is at 7 pm at St. Augustine's church at Sixth and M streets, SW--they're trying to get moved to their space in the new Waterfront buildings, but it still hasn't happened.
I'm going to try to find out more about the
community center
request, though I imagine there isn't much more to it other than DCHA says it doesn't still have the money to build it yet and so can't meet the deadline that was set in the zoning
PUD
(planned unit development) for Capper. The time frame for the community center
has already been extended once
, and in fact DCHA told the Zoning Commission last year that they fully expected that new deadline of filing building permits by Jan. 1, 2011, would be too short and that they'd be back to request another extension. Which appears to be what's transpiring.
Comments
(0)
More posts:
909 New Jersey
,
ANC News
,
Capper
,
Capitol Quarter
,
Community Center
,
Restaurants/Nightlife
,
Harry's Reserve
,
Justins Cafe
,
liquor
,
meetings
, Retail,
Traffic Issues
,
zoning
Justin's Applying for Sidewalk Tables; Additional Info on the New Liquor Store (and the Little Red Building)
Jun 3, 2010 10:49 AM
The report from Wednesday night's ANC6D ABC Committee meeting:
* Justin's Cafe is seeking to add four tables, with umbrellas and four chairs each, on the sidewalk directly in front of the restaurant. They would be available the same hours as the restaurant itself, until 1 am Monday through Thursday, 2 am Friday and Saturday, and 10 pm Sunday. There were concerns from a commissioner or two about whether people might walk away from the outdoor seating area with alcoholic drinks, about the additional noise brought by 16 or so people outside, and about whether cigarette smoke from the tables would waft up and bother the Velocity units directly above. Justin Ross replied that a sign would be posted about alcohol only being consumed on the premises, and that smokeless ashtrays would be available for the tables (and that since people can't smoke inside the restaurant, there's already a lot of smoking going on outside on the sidewalk). Velocity's management had sent along a letter in full support of the plan.
The committee voted 4-0 in favor of recommending that the ANC support the application, and that vote should come at the ANC's June 14 meeting, if Justin's voluntary and community cooperation agreements are revised in time.
* The owners of Capitol Hill Wine and Spirits on Pennsylvania Avenue SE came to talk with the committee about their plans for
a new "upscale" liquor store
at 909 New Jersey Ave., SE, which they will be calling Harry's SE & SW. (For about nine years they ran the Harry's liquor store at Waterside Mall in SW, which closed about five years ago.)
They have signed a lease agreement to take the two retail spaces on the north side of the building, at the corner of New Jersey and I, and they will be knocking down the wall between them in order to end up with about 2,200 square feet of space. The hours would be 9 am to 9 pm Monday through Saturday (or possibly 10 pm on Fridays and Saturdays), and closed on Sunday. They would sell beer, wine, and liquor, as well as milk, sodas, juice, cheese, and other "quick stop" items, but would not sell sandwiches as had been mentioned on the meeting agenda. They hope to open in September or October.
Much of the discussion centered around whether they will try to get an exemption in order to allow sales of "singles," which is a very hot-button issue. The owners said that they want the exception so that they can sell "high end" Belgian beers, which come in single bottles, and have no intent to sell the cheaper singles that can attract a somewhat less desirable element. However, ANC 6D chairman Ron McBee said that he imagines it would be very difficult to get support from the full ANC for the exception, and that there would also be concerns about any attempts to amend the singles law that might make it look like the law was targeted toward one socioeconomic class and not another.
Also discussed was the possible impact of this new store on the long-held plans for a similar high-end liquor store at Second and L SE on the site of the "Little Red Building." The ABRA rules state that liquor stores can't open within 400 feet of each other, and these two would be more than 500 feet apart as the crow flies. But Mr. Park, the owner of the LRB, is clearly concerned about whether the neighborhood can support two very similar operations. He is moving forward with plans to demolish the LRB and put up a new structure, and is also looking at an October-ish opening date. (He said he'd send me the building plans soon.)
In the end, the committee voted 4-0 in favor of recommending that the ANC support Harry's license application. A voluntary agreement and a community cooperation agreement will now need to be hammered out, and those involved weren't sure if one could be ready by the June 14 ANC meeting, in which case it would probably come up at the July 12 one.
Comments
(13)
More posts:
909 New Jersey
,
Alcohol/Liquor Licenses
,
ANC News
,
Restaurants/Nightlife
,
Harry's Reserve
,
jpi
,
Justins Cafe
,
Little Red Bldg/Lot 38 Espresso
,
meetings
, Retail,
Square 699n
Near Southeast Residents Demand a Grocery Store! (The More Things Change...)
Jun 1, 2010 8:49 PM
I'm just now coming across a Washington Post story entitled "Housing Area Pushing for Supermarket," which says that a group of residents "in a small triangle of Southeast Washington launched a 'supermarket project' yesterday to persuade a grocery chain to build a store in their neighborhood," with a planned petition drive looking to get 1,500 signatures.
But, of course, I'm yanking your chain, since this Post article is dated Dec. 16, 1965.
The group, the "Community Commitee Group," planned to visit the regional offices of Safeway, Giant, and Kroger to present the case that the residents of the area bounded by 8th, Virginia, M, and New Jersey had only two corner groceries, with the closest supermarket being at Seventh and G, SE, which was too far for the "aged who live in the Carrollsburg Dwellings project at Fourth and M." Also, because many of the residents in the area qualified for food stamps, they needed to be able to shop at a full supermarket, where the stamps would stretch farther.
The group "also hopes to interest a chain drug store and a combination dry cleaning-shoe repair shop to locate next to the proposed supermarket." Their suggested locations? "The west side of New Jersey Avenue between K and L Streets to replace some condemned buildings [
ahem
], the Washington Navy Yard parking lot on 2nd Street between M and I Streets [
ahem
], and the Lennox School annex at 4th and M Streets [
ahem
]."
In the meantime, while you're mourning the fact that no progress has been made in the brief 45 years since this article was published, you can think about another big development that Near Southeast missed out on: In the early 1990s the Federal Bureau of Prisons was looking for a location for a new 1,000-bed federal detention center, and one of the spots it considered was on the north side of I Street between South Capitol and New Jersey, the spot that's now home to the
Axiom and Jefferson
apartment buildings. And McDonald's. And Splash. (The other possible locations were in Northeast, but after battles with the National Capital Planning Commission and thanks to some pretty staunch opposition by city officials and residents, the Justice Department scrapped the plans in 1993.)
Liquor Store Coming to 909 New Jersey?
May 25, 2010 2:31 PM
Some potential retail news might have just come onto the radar screen: on the agenda for ANC 6D's next ABC Committee meeting is a proposed Class A license at
909 New Jersey Avenue
for an entity called "Harry's SW & SE". They are proposing apparently to sell beer, wine, bread, milk, cheese, and sandwiches (and no "singles"), which is in line with a
Class A/liquor store license
. If anyone who lives at 909 has heard any rumors, or if anyone else has some scoop,
drop me a line
. I'm trying to find out more, and will update as I can. (Though the last time I started asking questions about a license application when one appeared on the ABC agenda was a few months ago for
55 M
, and it disappeared from the lineup almost as soon as I hit "send." So be forewarned.)
Also on the ABC agenda is a change to Justin's Cafe's license, with Justin now seeking to add a sidewalk cafe.
The meeting is on June 2 at 7 pm at King Greenleaf Recreation Center.
UPDATE:
There was a Harry's Liquor Store at 401 M St., SW back in the old Waterside Mall--I don't think it's reopened in the new building(?). I imagine this is the same owner.
UPDATE II: It is indeed the same owner as the old Waterside Mall store, and he also owns Capitol Hill Wine and Spirits in the 300 block of Pennsylvania Ave., SE.
Justin's Cafe Gets Liquor License; April 16 Opening
Apr 6, 2010 8:32 PM
I've just received the news from Justin Ross that he got his liquor license today, and that
Justin's Cafe
is on target for an April 16 opening. (Yes, I know I was skeptical of that date a while back, but now that I've heard it from the guy who's name is on the sign....)
If you haven't been following along, Justin's will be a restaurant with full bar serving pizzas, sandwiches, and salads, open seven days a week with regular "bar hours," just a few blocks up First Street from
Nationals Park
. Here's an
electronic version of the menu
.
We'll have to do a JDLand get-together there in late April.
Links Roundup (Barracks Meeting Handouts, PSA 105, City Paper 'Best of DC' Nods)
Mar 25, 2010 6:02 PM
* The Marines have posted the
slides
and
handouts
from this week's
workshops
on potential sites for their new barracks. If you didn't see my update, here's
Norm Metzger's additional take
on Tuesday night's meeting.
* MPD's
PSA 105
is having its monthly meeting on Saturday (March 27) at 10 am at the 1D substation at 500 E Street, SE.
* The Washington City Paper's annual "
Best Of DC
" issue is out, and Near Southeast gets a couple of nods:
Cornercopia
was given a Staff Pick for
Best New Bodega
,
Capitol Quarter
is the Readers' Pick for
Best Designed Residential Development
, and the
11th Street Bridges reconstruction
gets a Staff Pick for
Best Construction Project
. Alas, this also means that now my year-long reign as
Second Best Local Web Site
(and "
favorite nasty local blogger
") has come to an end.
* The Washington Project for the Arts is holding its "
WPArade
" in Near Southeast, on June 5 at 12 pm along Half Street from M to N. This parade, modeled after similar events in other cities, "is an extravaganza of artists connecting with community to create a moving visual spectacle of art and culture." They've got a
call for participants
out, and it notes that "participants can traverse the route in any manner that is non-motorized (wagons, bicycles, walking, etc. are acceptable)." It'll culminate with a party at the Bullpen until 3 pm. Who will be the first to enter a giant papier-mache Stephen Strasburg?
Links Roundup (Evergreen Media Coverage, Justin's, Nexus Gold Club Memories, Marines Meeting Reminder)
Mar 23, 2010 9:46 AM
*
WBJ is first out of the gates
with what I expect to be an avalanche of whats-new-around-the-ballpark stories, tied to Opening Day and now a March staple for all DC media outlets. Nothing new in it, and a few quibbles (Justin's Cafe isn't open yet, the water taxis also ran late last year, Sayres lease is 20k), but I guess it's a decent quick roundup if you're not keeping track. Which, if you're reading this blog, you are. :)
UPDATE:
Ah, now I know where WBJ got the idea--the BID's
State of the Capitol Riverfront Spring Update
. Basically a straight copy-and-paste. (Not the end of the world, of course, but never a bad idea to be straight with readers about your sourcing.)
* Speaking of Justin's,
ABRA said yesterday
that there were no protests filed for its liquor license application. A reader reports that
Velocity
is telling residents that the restaurant will open April 16, but after watching rumored opening date after rumored opening date come and go for other places in the past, I remain skeptical of any rumor other than "it's opening tomorrow." (That isn't to say that the dates that get floated are necessarily propaganda--just that the final road to opening a business has a lot of potential pitfalls, especially in the permit process.) On the other hand, a reader passed along
an electronic version of the menu
, if you want to whet your appetite while waiting; though note that
the web site listed
hasn't launched yet.
* From
the Post
: the nude dancing license that used to belong to the Nexus Gold Club--on the site of what is now
909 New Jersey
--is now being rebirthed as the "
Stadium Club
," a strip club getting ready to open on Queens Chapel Road, NE.
* Don't forget that the second public workshop in the Marines'
project to build a new barracks
, focusing on potential development sites,
is tonight from 6:00 to 8:00 pm at Van Ness Elementary (1150 5th St., SE), with a repeat tomorrow from 8:30 to 10:30 am at the North Hall of Eastern Market.
The agendas are here
(and if you're trying to figure out how to get into Van Ness, the project web site says: "Enter through the main doors on the eastern side of the building (where the parking lot is) and follow the signs to the auditorium downstairs"). If the discussion going on
in this comments thread
is any indication, it's going to be an interesting meeting.
Robbery on Tuesday at Ann's Wigs
Jan 27, 2010 7:35 PM
A police alert went out on Tuesday afternoon about a robbery at 125 L St., SE, the address of Ann's Beauty Supply & Wig (which I forwarded to my Twitter followers, so there's another good reason to
follow me there
or on
Facebook
). I sent a message to the
MPD 1-D mailing list
asking for details, and here is what Lt. Durbin wrote:
"I would like to update the community on the Assault with Intent to Rob in the 100 block L Street SE. On Tuesday, January 26, 2010, 1D officers responded to the 100 block of L. St, SE, where 2 subjects entered the business producing handguns as they entered. One subject grabbed the complainant by the hair, trying to force her to the cash register area. She resisted and was able to exit the front entrance with the first perpetrator still holding her hair.
"The perpetrator threw her to the ground just outside the front entrance. She yelled out "help police!" The perpetrator let go and fled on foot down the alley next to the building towards M Street. The second perpetrator fled the store by exiting the rear door of the business.
"Both suspects left without taking anything. Both, then entered the Navy Yard Metro Station elevator. One got on a train, the other made good his escape on M Street SE.
"Both weapons were recovered they were replicas of a Glock handgun
"The suspects are described as
"-B/M 20-25 skinny, med-dark complexion close hair, light moustache, jeans, and dark hooded jacket
"-B/M 20-25 skinny, light complexion. No further clothing description
"The victim received minor abrasions.
"On January 27, 2010, a follow-up was conducted with the victim, who is doing fine(abrasions). PSA 105 officers will continue to monitor the area.
"We are still investigating this case and anyone with information is encouraged to call our tip line 888-919 CRIME or text to 50-411. Thanks."
Justin's Cafe Liquor License Hearing March 22
Jan 26, 2010 10:23 AM
For those keeping track, the Alcohol Beverage Regulation Administration has finally
posted the hearing date
for the liquor license for Justin's Cafe, and it's scheduled for March 22 at 10 am. From the notice: "NATURE OF OPERATION: New cafeteria-style restaurant serving salads, sandwiches, and pizza with 33 seats. Occupancy load of 61. HOURS OF OPERATION AND SALES / SERVICE / CONSUMPTION OF ALCOHOLIC BEVERAGES: Sunday 11:30 am - 10 pm, Monday through Thursday 11:30 am - 1 am and Friday & Saturday 11:30 am - 2 am."
As
I've written
, Justin is also asking for a stipulated license, which will allow him to open the restaurant and sell alcohol before the March 22 hearing date. But I haven't heard of an opening date yet, though a reader reports that the amount of construction "stuff" in the space seems to have lessened.
ANC Supports Liquor License for Justin's Cafe
Jan 11, 2010 11:46 PM
Tonight ANC 6D gave its support in two separate votes to restaurateur Justin Ross's liquor license application for his new "Justin's Cafe" sandwich/salad/pizza place in the ground floor of the
Velocity
condo building at First and L streets, SE. There was little discussion, other than some concerns by commissioner Roger Moffatt about voting to support the full liquor license before the hearing is even "placarded," i.e., posted on the restaurant site, because he felt that this might prevent residents' concerns from being part of the ANC's decision (though, of course, the ABRA liquor license hearing process specifically allows for public comment). Two residents in the audience spoke strongly in favor of the proposed plans, and, in the end, the votes were 6-0-1 for a temporary "stipulated" license and 6-1 for the full license (Moffatt voting present/against on the two motions).
There's still no date set for the license hearing (Justin filed his application on Dec. 30), but he indicated that things should be moving pretty quickly in terms of getting the restaurant opened, and the stipulated license will allow him to serve alcohol until the full license is voted on.
Other Near Southeast-related tidbits:
* The Marines are going to be hosting an open house on January 27 from 5 to 8 pm at Eastern Market's north hall--they are formulating a new master plan for all of their space needs, and are looking to "partner" with residents, developments, government agencies, or any organization that can provide the space they're looking for. The open house seems to be the first step in "reaching out," though it all seemed a bit murky, and perhaps will be better explained when announcements for the open house are released. (Though "
lower Eighth Street
" was mentioned.)
* The commission also elected its offers for 2010, with Ron McBee being named chair. Vice chair Robert Siegel, secretary David Sobelsohn, and treasurer Jane Jorgensen retained their posts.
* This was the first time in all the ANC 6D meetings I've attended (starting in probably 2004) that I actually stayed until the very end (it lasted a mere three hours). Whether this is something to celebrate is another issue, especially on a night like this one where the heat at St. Augustine's seemed particularly, um, nonexistent. They did announce that soon the ANC and the Southwest Neighborhood Association will be moving to new digs at Waterfront (the new development about to open at the old Waterside Mall site at Fourth and M, SW). They will also have a public meeting space that presumably will have both sufficient HVAC offerings and decent acoustics, so that I will actually be able to *hear* what's going on.
Tidbits (ANC 6D, Boathouse, Georgia Ave, Cupcakes!)
Jan 11, 2010 12:00 PM
A few items of note:
* Tonight is
ANC 6D'
s monthly business meeting, at 7 pm at St. Augustine's Church, Sixth and M, SW. But, as is so often the case, there's no agenda yet released. However, the commission should be voting on whether to support the liquor license application of Justin's Cafe,
which was approved
by the ANC's alcohol/beverage subcommittee last week. Other than that, the lineup will just be a bundle of surprises!
UPDATE:
The
agenda is now posted
.
*
The folks with
A rower from the
Anacostia Community Boathouse Association
has
started a blog
to track the move of the boathouse operations away from its current home in between the
11th Street Bridges
up-river to the Anacostia Marina. The move is happening because the new bridges are going to necessitate the demoition of the
two existing boathouse buildings
. (
UPDATED
with a new name for the blog, along with a clarification)
* The Hill is Home has
a "Lost Capitol Hill" post
about the original Georgia Avenue, SE, which is now Potomac Avenue. On
these maps from the early 1900s
of Near Southeast, you can see Georgia Avenue in
1903
, but not in
1909
. (If you haven't wandered through these maps before, they're worth a few minutes. Go to
the main page
, click on a section of the neighborhood, and then you can use the links to go from 1903 to 1909 to 1915 to 1921.
*The
Curbside Cupcake
folks are venturing into Near Southeast these days, and will be at New Jersey and M tomorrow (Tuesday, Jan. 12) from noon to 1 pm. (They set up shop there for a while last Tuesday, too.)
* And, while outside my boundaries, I think it's worth mentioning that Big Chair Coffee opened at 2122 MLK Avenue in Anacostia this morning--And Now, Anacostia has a
pile of photos
of the place, which is one of the only (if not
the
only) coffee house east of the river.
Justin's Cafe Gets 6D's ABC Committee Support
Jan 6, 2010 9:40 PM
A very quick update from tonight's meeting of ANC 6D's alcohol/beverage committee, which voted 3-0 both to recommend support Justin's Cafe's application for a liquor license, and to recommend that a "stipulated license" be granted. This means that the restaurant could operate under a temporary license until its (still as yet unscheduled) hearing in front of the liquor board is completed. The full ANC will vote on these recommendations at their meeting on Monday (Jan. 11).
Owner Justin Ross said that the build out isn't quite complete yet and that there's still a few weeks of work to take care of, but he's hoping to open within four weeks or so.
BID Holiday Market; Justin's Cafe Photos
Nov 27, 2009 9:28 AM
News from the Capitol Riverfront BID:
* They've announced their
second annual Holiday Market
, running Dec. 15-18, from noon to 6 pm each day, at Second and M, on the Canal Park footprint.. "For four days, the Capitol Riverfront will present a festive holiday market with local artisans selling handcrafted jewelry, crafts, photography, holiday trees and greenery, and more. Enjoy a variety of festive foods and live music daily from noon - 2 pm."
* The BID has also posted a few photos of the construction work (and the sign) at the "soon-to-open" Justin's Cafe at
Velocity
on their Facebook page
.
Roundup of Recent Little Items
Sep 28, 2009 7:23 PM
Some
recently Tweeted tidbits
, and a few other morsels:
* Cornercopia is now open on Sundays from 10 am to 6 pm, according to
a Tweet from Albert
today.
* It's the last homestand of the 2009 season at the ballpark, with a 7:05 pm start on Tuesday and a 4:35 pm on Wednesday. (Oh--it's the Mets.)
* There's going to be a
big Halloween shindig at the Bullpen
on Oct. 31 from 9 pm to 1 am; three bands, a DJ, and costumes required.
*
Velocity Condos
is having its
"Grand Opening" event
on Oct. 3 and 4. Settlements on units in the building
were supposed to begin on Sept. 21
, but I haven't heard whether they have indeed started.
*
WAMU did a brief report this morning
on the BID's work (via events like the recent picnic and walking tour) to drum up interest in the neighborhood, especially to show retailers that there's a customer base. "Some 2,100 people live in the redevelopment zone, but McManus says more 'urban pioneers' need to arrive before retailers can move in."
* A group of owners, merchants, and residents working on ideas to perk up the southern end of Eighth Street (south of the freeway)
now have a blog
. There are apparently going to be a series of public meetings as part of the "visioning process," on Oct. 20, Nov. 17, Dec. 15, and Jan. 19, at 8:30 am and 7 pm. Their aim is to "attempt to gain consensus on a vision for the area and to address issues of height, density, mix of uses, parking and access, as well as what should be the character of a redesigned Virginia Avenue Park as an amenity or community benefit for the Capitol Riverfront neighborhood and Capitol Hill. If consensus can be reached on the vision, it could serve as the basis for asking the Office of Planning to develop a small area neighborhood plan that could then be used as justification for any agreed upon zoning or density changes."
* The
Examiner reported last week
that CSX is proposing to expand the amount of freight it moves through DC, which would require the expansion of the Virginia Avenue tunnel, the New Jersey Avenue overpass, and other locations to allow for double-height rail cars. The plan is supported by the National Capital Regional Transportation Planning Board and by DDOT.
Zoning Commission Approves Trapeze School at the Yards; A Revised Tentative Phase I Timeline
Sep 21, 2009 7:47 PM
In a blissfully short 26-minute hearing, the city's Zoning Commission approved tonight the series of amendment requests to allow the
Trapeze School New York
to set up shop on Parcel O at
the Yards
, on the
southeast corner of Fourth and Tingey
.
The commissioners seemed satisfied with the information they had in the
Office of Planning report
and the submissions from Forest City and the Trapeze School, and asked few questions (Chairman Hood was clearly trying to move things along). This is a temporary approval, allowing the Trapeze School to be at the Yards for five years, or longer if a Special Exception is later granted. The text amendments also waved the on-site parking requirement for the school, with new commissioner Konrad Schlater saying he was "comfortable" with it because parking "is definitely overbuilt" in the area around the ballpark. ANC 6D had voted 7-0 in support of the case as well. It's now expected that the
National Capital Planning Commission
will address the Trapeze School at its Oct. 1 meeting.
No date for the opening of the school in its new home was mentioned, though it was explained that Forest City was trying to expedite the process since the school is having to vacate its home at the old convention center site. There will still be building permits to be filed for and approved before the tent can be lifted.
Toward the end of the hearing, Ramsey Meiser of Forest City gave a bit of an update on the other projects in the first phase of the Yards. Here's the latest:
* They are continuing to work with the city's Housing Finance Agency to get the money together to (re)start on the
Foundry Lofts
, with a hoped-for completion date of late 2010 or early 2011.
* The
Boilermaker Shop
could open in 2011; this dovetails with what a commenter
in this thread
reported hearing over the weekend, although earlier today Forest City would not officially confirm for me any scheduled start date for the project, only that some retail tenants have been signed, but that Forest City can't name them publicly just yet. (Maybe in October.)
* The first retail in the
Park at the Yards
(in the old Lumber Shed building) could open in 2012; the park itself is expected to open next summer.
* "
Parcel D
", on the southeast corner of Fourth and M, is the site of
the expected Harris Teeter
(though Meiser didn't name them, saying only "a grocery store," since neither Forest City nor Harris Teeter have confirmed this rumor yet), and is now apparently going to be a residential building instead of office, which had been hinted at recently. It's expected delivery date is currently 2013.
* The
Factory 202
lofts building at Fifth and M is not expected before 2014.
And all that's just the first phase! Meiser also said that Parcel N, the site of a surface parking lot on the southwest corner of Fourth and Tingey, would probably be the first project of Phase 2. But no date on that yet.
Update on Little Red Building Plans
Sep 12, 2009 11:35 PM
After seeing the
raze permit approval
earlier this week for
156 L Street
, the former Star Market (aka the "Little Red Building"), I contacted the building's owner for an update on his plans. Mr. Park (whose father used to own Bernstein's Liquors at Half and M SW) says that his plans are now to build just a liquor store; previous plans to include a second-floor deli have been set aside. He's hoping to get a building permit for a new structure within the next month or so, and expects construction to take about five months. So possibly the store could open next spring, though hopefully readers are becoming suitably cautious when hearing development timelines.
I know neighbors at CHT and the Marriott have been working on agreements with the store, but I haven't heard where they stand; anyone in the know please give everyone the scoop, in the comments. And keep an eye out for demolition of the old building, which should take about 10 minutes once it starts.
Snippets, Reminders, and Whatnot
Sep 9, 2009 10:47 AM
Pulling together smallish items from hither and yon:
* Last night saw the first arrival of a commercial water taxi at
Diamond Teague Pier
;
WTOP covered the trip
, which is a good thing, since I neither rode the boat nor stood on the dock to watch it sail in. I suck.
* A stroll through the city's building permits feed (which alas isn't as easy or useful as it used to be, since they pile every single permit into the feed over and over, rather than just posting new/updated ones) uncovered that back in August, a raze permit was issued for
156 L Street
, home of the old Star Market and better known as the "
Little Red Building
"; the owner has spoken of plans to build a new two-story structure that would be a combination liquor store and deli. I haven't heard of any timeframe for the demolition, new construction, or store opening.
* From
And Now, Anacostia
, a heads up that today's Kojo Nnamdi show will include a segment called "Paris on the Anacostia: A Provocative Idea for DC's Waterfront," which will discuss the idea of *narrowing* the Anacostia River, "with the goal of bringing in new businesses, training new workers, and completely changing the relationship between folks East and West of the River." It'll be available online
here
.
* Tomorrow night (Thursday) is the second
Outdoor Space Movie
at
Canal Park
; this time it's
Star Wars
. The Force will be with you, starting at 7:30 pm.
* And Thursday night is also the deadline for pre-registration for
ULI Washington
's
Urban Marketplace conference and expo
on Sept. 15. Among lots of other sessions about urban development, it includes a panel discussion about the ballpark neighborhood, with Michael Darby of Monument Realty, Matthew Klein of Akridge, Michael Stevens of the BID, Harriet Tregoning of the Office of Planning, and me. It'll be a barn-burner!
* Saturday night is the second annual
Opera in the Outfield
at
Nationals Park
; the Washington Times
previews it here
. It's the
Barber of Seville
; but don't be alarmed when the first lines
aren't
"Welcome to my shop/let me cut your mop, let me shave your crop/Daintily, Daintily!"
* Forest City
announced its second-quarter earnings
, for those who know how to decipher these things. It does mention the
Park at the Yards
, still listing the completion date of the first phase as summer 2010. And their outlook? "While some see signs of a potential end of the recession, we are taking a conservative course based on what we can observe and are experiencing directly: continued weak fundamentals and little improvement in overall near-term conditions. As a result, we remain very cautious going forward. We expect the second half of the year to be challenging for our Company and for the entire industry, and we do not anticipate meaningful improvement in market conditions in the near or mid-term."