Near Southeast DC: Past News Items
Retail
Go to Full Blog Archive
---
Connect Barracks Row Presentation on Dec. 18
Nov 28, 2008 9:09 AM
The group of urban planning students at the University of Maryland who have been studying the lower part of Eighth Street will be presenting their "
Connect Barracks Row
" findings at a public meeting on Dec. 18 from 7:30 pm to 9 pm at the Navy Yard Car Barn, better known as the Blue Castle, at 770 M Street, SE. You can see the
presentation from their Oct. 29 community meeting
and read a little more about the project on
their web site
.
The students' work also
got a write-up
in today's Washington Business Journal (subscribers only), which says: "Their findings so far come as no surprise: Walking beneath the noisy highway is undesirable, parking isn't easy to find and there is little reason to go to the site in the first place."
In describing lower Eighth Street, WBJ also says: "A developer had plans to turn one block into housing and residential space, but that plan apparently went nowhere." Sounds like a reference to the original plans for the Admiral at
801 Virginia
, which as I've been writing over the past few weeks has been redesigned as an office building and
received its Board of Zoning Adjustment approvals on Tuesday
.
There's also mention of the hopes by Madison Marquette to turn the Blue Castle into a 99,000-sq-ft retail destination, but no progress has been announced.
BZA Approves Revised 801 Virginia Design
Nov 25, 2008 11:06 PM
This afternoon the city's
Board of Zoning Adjustment
approved unanimously two requested variances that will allow 801 Virginia Avenue to go forward as a 19,000-sq-ft office building with 3,000 feet of ground-floor retail. I admit to listening to the webcast with only about half an ear, but the bulk of the discussion seemed to be centered around the applicant's request to only have 17 underground parking spaces instead of the required 30 (17 is still four more than were allotted in the original condo-building design). As I wrote about
a few weeks back
, the developers say that groundwater levels and potential soil contamination issues would make it prohibitively expensive to dig two additional levels of parking (and having to have the garage entrance on L Street apparently doesn't help, either).
The 17 spaces will all be assigned to the office tenants, so there will be no parking for retail customers. (There was some discussion of creating overflow parking if necessary at 816 Potomac Avenue, another property owned by the same developer.) The applicant's traffic consultant also laid out the proximity of the site to Metro subway stations and bus lines, and with the request having the full support of the Office of Planning, ANC 6B, and the Capitol Hill Restoration Society, the board voted to approve the variances.
No word on when the project might get underway.
Zoning Overlay Review for Akridge Half Street Project
Nov 25, 2008 12:42 PM
While we're all busy
looking at the hole in the ground
on the east side of Half Street, plans are apparently moving forward across the way:
Akridge
's 700,000-sq-ft mixed-use project on the old
WMATA Southeastern Bus Garage site
(just across from the Metro station entrance) is now on the
Zoning Commission docket
for a
Capitol Gateway Overlay Review
on Jan. 29, 2009.
This project will cover the entire block bounded by M, N, Van, and Half, which is the stretch along which fans walk to
Nationals Park
from the west entrance of the Navy Yard Metro station. (Akridge
bought the southernmost parcel
from Monument Realty back in late August, at the same time it
finally closed on its $46 million purchase
of bus garage site.) A
raze permit application
was filed for the bus garage building in September.
There hasn't been much made public yet about this development, other than it will be a mix of office, residential, and retail, and the
hearing announcement
says that the FAR will be 7.9 and the maximum building height will be 110 feet. In addition to the overlay review (which sets out some
firm guidelines
for projects along M Street and in the Ballpark District), Akridge is also asking for relief from roof structure requirements, loading requirements, ground-floor retail requirements, and step-back requirements.
It's been reported that Akridge is expecting to begin on the project in 2010; they've hired
HOK
(designers of the ballpark and the
Plaza on K
),
Esocoff & Associates
(
Onyx
) and
StreetSense Inc.
to design what an
Akridge press release
calls a "one-of-a-kind destination." Quoting further: "'Half Street is the city's newest and most unique urban destination,' says Matthew J. Klein, Akridge President. 'This stretch between the Metro and the ballpark has great energy and we look forward to capitalizing on that and other natural amenities like the river, to deliver the area's best urban living, working, shopping, dining, and entertainment project.'"
I've marked this movement by finally giving the site
its own project page
(now separate from the old "
Ballpark District
" page). Hopefully in the lead-up to the zoning hearing we'll get a peek at some renderings.
Quick Photos from the Anacostia Waterfront Fair, Plus a Few Other New Photos and Pages
Nov 15, 2008 4:35 PM
I have to admit that information fairs aren't quite my gig (especially since I'm immersed in this stuff everyday), but I did wander past today's Anacostia Waterfront Community Information Fair at the
ballpark
to see what there was to see. I got there pretty early and left pretty early, so didn't see any of the panel discussions (and didn't take any of the bus tours), but if you want to see how they configured the exhibitions within the Stars and Stripes clubs at the ballpark,
here's a batch of photos
. (And, if you were there, maybe you're in one or two of them!)
I also took a few
new photos on First, Third, and New Jersey
of
909 New Jersey
,
Velocity
,
Onyx
, and the
Foundry Lofts
, which will serve mainly as a reminder of why I don't normally go on photo expeditions on cloudy days. If the weather finally shifts, I expect to be out taking some additional ones on Sunday, especially of
1015 Half
, since the first columns are visible above ground-level.
Plus, I felt a burst of inspiration yesterday the likes of which I haven't seen in months, and *finally* created project pages for William C. Smith's
800 New Jersey Avenue
development and for the
11th Street Bridges reconstruction
. The 800 NJ page has almost no information (since there's so little to be had about the project beyond the basic 1.1-mil-office-residential-retail-and-
maybe-Whole-Foods
profile); the 11th Street Bridges page is a little better, but still is just a lot of pictures of overpasses and flyovers. Better than nothing in both cases, though!
Dogfish Head Alehouse, Jazz Club May Come to the Yards (Teeter, Too); Whole Foods and Square 737
Nov 14, 2008 9:27 AM
Today's print edition of the WashBizJournal has some big retail-related Near Southeast
items of interest
:
* "The developer of
The Yards
, the 42-acre Anacostia riverfront project near the Nationals ballpark, is close to landing
a jazz club
and
Dogfish Head Alehouse
and may move its local headquarters to the former Navy Yard. The two retail tenants would be the first in the
Boilermaker Shops
, a three-story industrial building with walls of red brick and plate glass on Tingey Street between Third and Fourth streets SE." (The Boilermaker Shops are scheduled to open in mid-2010, along with the
Park at the Yards
and the
Foundry Lofts
.)
* The planned office building at
401 M
could become home to Forest City Washington's headquarters; it's the one with the grocery store space in the ground floor. WBJ says Forest City "is 'nearing a deal' with a grocer for 50,000 square feet and an announcement could come in 60 days. He would not reveal the chain, but sources say it is
Harris Teeter Inc
. which has two D.C. stores and plans a third in Northeast." 401 M is not expected to be constructed before 2011, however.
* Also on the grocery store front, confirmation of the rumor that's been hashed around here lately: "William C. Smith & Co., meanwhile, has been in discussions with
Whole Foods Market Inc.
about a store in its planned 4-acre development between New Jersey Avenue, H and Second streets, known as Square 737." (See,
I tried to tell you folks
it wasn't going to be at New Jersey and K; and Jonathan, you're welcome for this tip.)
UPDATE:
Finally getting *some* piece of news about 800 New Jersey finally spurred me, after all this time, to
create a project page for it
. There's no renderings, just a bunch of "before" pictures, but at least it's something. And, since talk of grocery store on this site back in *1999* was one of the first tidbits that led me to start paying attention to the neighborhood, I guess it finally deserves its own page.
More Upcoming Events: Wachovia Branch Grand Opening, 'Night at the Yards' Benefit
Oct 2, 2008 8:40 AM
Two upcoming events, mentioned in the
Capitol Riverfront BID
's e-mail-only newsletter:
* On Friday (Oct. 3), the new Wachovia Branch at
20 M Street
is having its official Grand Opening celebration, from noon to 4 pm. Stop by "for some food, music, and prizes!"
* On Oct. 24, the nonprofit group Living Classrooms is holding an event dubbed "
A Night at The Yards
," to raise money for their operations, including the Discovery Creek Children's Museum, and the City Kids Wildreness Project. It's at at Fourth and Tingey streets, from 7 pm to 12:30 am. Tickets are $125 each. There will be food and drinks, and a performance by the English Beat. (No, seriously.) Living Classrooms, a non-profit group that "uses maritime settings, community revitalization projects and other challenging learning environments" to provide hands-on education and job skills training for students (especially at-risk youth),
has plans to eventually build
its new "main campus building" on the far eastern edge of the
Waterfront Park at the Yards
Capitol Hill Tower Restaurant Space: 'Stay Tuned'
Oct 1, 2008 4:51 PM
I've gotten a couple messages over the past few days from people passing on rumors that perhaps a restaurant is getting ready to occupy some or all of the 7,500-sq-ft space in the ground floor of
Capitol Hill Tower
on New Jersey Avenue, north of L. Here is the complete response I got from CHT's developer when I asked if there was any news: "Not yet ready to announce but stay tuned."
Ballpark Sales Tax Revenue Short of Projections, and No One's Moving to the Neighborhood
Sep 18, 2008 11:22 PM
Two pieces in Friday's Post of interest to Near Southeast fans: "
Nationals Park Revenue Falls Short of the Mark
," detailing how tax revenue for the first year at the
ballpark
is expected to be about $2.6 million short of the $13.5 million originally projected, and a sidebar piece, "
Though Developers Built It, The Tenants Did Not Come
," about the empty buildings in the neighborhood, using Lerner's
20 M Street
as a jumping off point: "In many ways, the Lerner building -- owned by the Bethesda real estate family that also owns the Nationals baseball team -- is symbolic of the emerging district around the ballpark. Sleek new buildings with offices, condos, apartments and retail space have popped up all over. But many remain empty, seeking tenants in a sluggish economy."
The first piece, on the taxes, also talks about the ongoing dispute over whether the stadium was "substanially complete" by Opening Day, and that the Nationals are still withholding their $3.5 million rent payment. On the other hand, the article says that the city has enough money to cover the debt service on the stadium financing because the special ballpark tax on city businesses is bringing in more revenue than expected.
Rumor Patrol: Whole Foods on New Jersey Ave.?
Aug 22, 2008 3:00 PM
Rumors started flying in a few places lately that Whole Foods is coming to New Jersey and K, SE. I usually shy away from writing about rumors, but this one is persistent enough that it probably needs some addressing. It's not listed on their
Stores in Development page
, and no one's leaping to tell me this is or isn't true (which isn't surprising), but it's not completely out of the realm of possibility. There's been references here or there to "two grocery stores" coming to the neighborhood (with space for one set aside at the
The Yards
, coming in 2011 or later), and I've heard nonspecific Whole Foods/Near Southeast rumors a few times over the past year.
But I'm skeptical about it coming to the New Jersey/K intersection. There's only 6,000 square feet of retail in
909 New Jersey
(not enough for a grocery store), and the plan for the trash transfer station has always been for it to be part of the
Capper
Hope VI project, with an apartment building that probably won't start before 2011. That leaves the southwest corner, where the Cohen family owns the small lots along K between New Jersey and First; there's also the Positive Nature lot at 1021 New Jersey and one to its south owned by Potomac Development Corp., who it should be noted picked up 51,000 square feet of transferred development rights earlier this year. (Can someone at CHT look out their window and confirm that the Positive Nature sign is still there?)
So maybe the "
New Jersey
" part is right, but not the "K"? My gaze (and my betting dollars) might head north a block or two, to
800 New Jersey
(also sometimes known as 120 Canal), where for years William C. Smith has envisioned a grocery store as part of its planned 1.1-million-square-foot four-building development on the Square 737 block bounded by Second, H, New Jersey, and the eventually reconstituted I Street. No timeline for the start of this project has been announced, though. (In fact, there's so little information about the project that I haven't even felt compelled to build a project page for it.)
In other words, there aren't really any tea leaves to be read on this one, so if someone wants to spill the beans, I'm
always listening
.
Late Night Update on Hood Happenings
Aug 21, 2008 9:12 PM
* As I mentioned below, the garage that housed both the Merritt and Four Star cab companies started getting brought down today. They didn't get it all on Thursday, but I imagine by sundown Friday the rest will be gone. (See
pictures from midmorning
, though it's hard to see much in the way of a difference from First and K, since they took out the back of the building and only a smidgen of the K Street facade.)
* Only a few hours
after I said
that
Capitol Quarter
framing would start "in the next few days," lumber went up on the first house on the south side of L east of Fourth. (No pictures yet--this weekend!)
* Sometime this week the crane was put up at
1015 Half Street
, so we should be seeing vertical construction before too long.
Yards Park Phase II Zoning Hearing in March; Living Classrooms Plans Main Campus Building
Aug 19, 2008 9:05 AM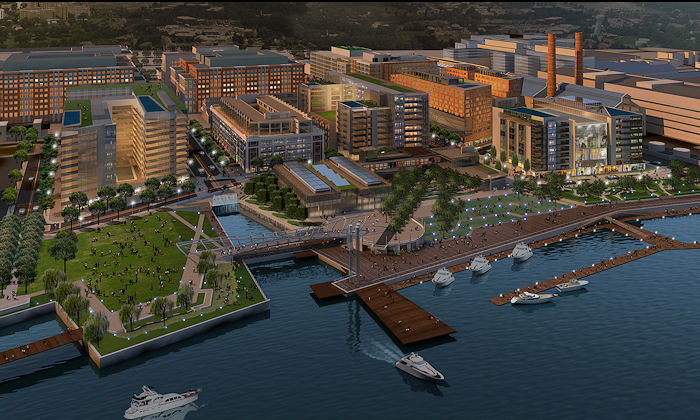 It's more than six months away, but the second phase of the
Waterfront Park at the Yards
is now scheduled for a Zoning Commission
SEFC Overlay District
Review
on March 2, 2009
(after having briefly been scheduled for Nov. 17, 2008). It's in this review that we'll see the plans for the renovation of the Lumber Shed into a glass-walled retail building, plus the designs for two new two-story retail pavilions connected to the shed's east side. There will also be the first look at the proposed "public art tower" that Forest City is wanting to build right on the waterfront at Third Street.
You can see early designs for the three retail buildings (and the position of the art tower, if not the design itself) in the rendering on my
Yards Park
page, right at the center, and of course plenty of photos of what the area currently looks like.
One other project at the Yards park that is just starting to pop up on the radar is a new "main campus building" for
Living Classrooms of the National Capital Region
, to be located on the far eastern edge of the park (just off the right edge of the rendering), along the waterfront just before the park meets the
Navy Yard
. Living Classrooms is a non-profit group that "uses maritime settings, community revitalization projects and other challenging learning environments" to provide hands-on education and job skills training for students (especially at-risk youth). They will be handling the design and management of the
new environmental center
at Kingman Island further up the Anacostia, and currently operate out of Building 74 at the Yards (the little brick building--to be townhouses someday--just west of Hull Street at M,
seen here
). And, according to their web site, Living Classrooms has been "asked to oversee and manage marina and some waterside activities" at the new Yards park.
There is no timeline for when Living Classrooms' new building will get underway. It's currently in the design phase (see
an early rendering here
), and when that's completed, there will be a fundraising drive to finance the project.
Smattering of Tiny Items (Burglaries, Wachovia, Nats)
Aug 12, 2008 9:43 AM
Pulling together some previously
Twittered
items (the most recent of which you can always see on the JDLand home page,
beneath the big map
):
* This morning's
Crime Incidents feed
update shows two recent burglaries, one yesterday in the 900 block of New Jersey and one Friday in the 200 block of K. No narratives as to what happened are available yet.
* There's now a big
Wachovia
sign on the western end of
20 M Street
.
* The Nats start a home stand tonight, first against the Mets and then this weekend against the Rockies. Because of DC United home games at RFK, the
Nats Express
will be operating out of
Lot 7
both tonight (Tuesday) and Thursday (Aug. 14).
* On Thursday night there's a Ladies Night Out and Home Run Happy Hour at the ballpark, with all sorts of enticements to get the girls to come out to the ballpark. Tickets are $30.
More info here
.
* The Nats "First Ladies" (the players' wives and girlfriends), partnered with the UPS Store and the Marine Toys for Tots Foundation, collected over eight bins of school supplies and $6,500 in cash donations during their second annual Back-to-School Drive on Aug. 2 and 3.
New Yards Photos: Inside the Boilermaker Shop, and New Pattern Shop Pics; WTDW The Hole in the Wall
Jul 22, 2008 7:39 AM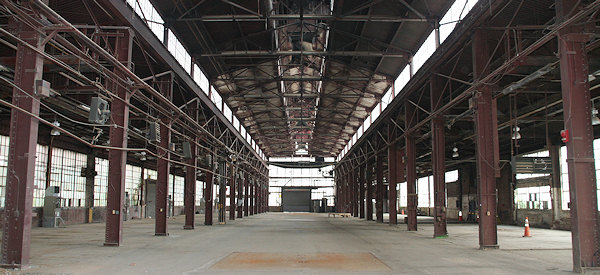 Last week the folks at
Forest City
were gracious enough to take me on a behind-the-fences tour of the
The Yards
, so that I could stock up on "before" photos before too much more work gets underway. The first stop was Building 167, also known as the
Boilermaker Shop
, on the northeast corner of Third and Tingey streets behind the US DOT HQ. This steel-and-glass industrial workshop (such a rarity for Washington) was built in 1919, and by the end of 2009 Forest City expects it to be transformed into a 46,000-square-foot retail space, with a new loft-like mezzanine in the middle of the building that will provide additional square footage without sacrificing the wide-open feel of the high glass-lined ceiling. I have wanted to get inside this building for a long time, so I'm glad to now have photos in advance of the shop's makeover, which you can see on my
Boilermaker Shop page
along with renderings of what's coming.
Across the street at the old
Pattern Joiner Shop
, interior demolition work continues, along with the removal of all the windows and the white paint from the building's exterior. We didn't get to go inside, but I've still
posted some updated photos
, which you can compare to shots from the past three years to see what's been done in just a few months. By late 2009 this will become the
Pattern Shop Lofts
, with 170 apartments, ground-floor retail, an interior courtyard, and two new floors on top.
I also snagged some photos from a few other locations, too, and I'll get those posted soon.
And, if you're wondering
What's the Deal With
the
big hole punched in the historic red brick wall
on M Street east of Fifth--apparently that's the start of the necessary work to create 5 1/2 Street, SE (no, I'm serious), which will run between the
big red brick Building 202
(to be turned into condos by 2011) and Building 74 (forecast to be converted into townhouses in a future phase of the Yards). Here's an
overhead photo of the spot in question
, taken from the
roof
of the old
Capper Seniors building
before it came down last year.
Pre-Holiday Wrap Up
Jul 3, 2008 9:40 PM
Not that there's probably anybody left in town (
*tap* *tap* -- is this thing on?
), but just in case, here's a few items before I downshift into low-posting holiday mode over the weekend and into next week:
* My
Ballpark and Beyond column in today's Post
covers some of the latest news on retail (i.e., banks) I've posted here over the past few weeks (Wachovia at
20 M
, SunTrust at
100 M
,
plans for 900 M
). There's also a blurb on the month-old news of the
zoning approvals
for the
Waterfront Park at the Yards
. The column normally appears in just the District Extra, but If you live in Prince George's County, you got a crack at it this week as they snuck it in on page 11 of the P.G. Extra, too. But note that we're scaling way back on how often the column will appear (probably just monthly from now on) since the news isn't flowing as fast and furious-ly as it was last year.
* No one's invited me to the roof of any of the sparkly new Near Southeast buildings to watch the fireworks. I'll say it: I'm miffed. I do and I do and I do for you people, and this is the thanks I get.... [/sarcastic martyr mode off]
* I've tinkered again with the big homepage map, trying to have it make a little more sense. I've added
checkmarks
for the completed projects, and turned the list of projects down the left side (marked on the map with
boxes
) into only ones that are under construction or ones which the developers have done an especially good job of making me believe they'll start soon. The rest of the map is a whole lot of
stars
marking proposed projects. And they're all color-coded to differentiate between office, residential, and recreational/retail.
My real desire is to completely redesign the homepage, but I haven't had any inspirations come to me yet. Although, in the meantime, I've added another three random before-and-after photo pairings down on the bottom right of the homepage (after you do a lot of scrolling), just to fill some space. I also expanded my Neighborhood Blogs list of links.
Happy 4th, everyone!
Tiny Items of Note from This Weekend's Wanderings
Jun 23, 2008 12:53 PM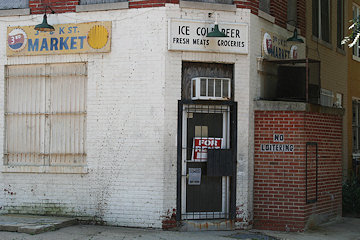 * DDOT told me these were coming a long time ago, and a reader whose e-mail I've lost gave me a heads up a few weeks back, but now I've finally visited for myself to see that the
ugly cyclone fences
on the South Capitol and M overpass have been
replaced with pretty gray-painted ironwork
.
* You have to look kind of closely, but construction has indeed started at
Capitol Quarter
, with pretty new curbs being installed on the south side of L Street between Fourth and Fifth. You can see them if you squint at the photos on my
Capitol Quarter Phase I page
.
* The owner of the
Third and K Market
at, um, Third and K must be keeping track of what's going on nearby, because there's now
a For Rent sign tucked in the door
. (Alas, all the info sheets were gone when I got there.) If you've ever dreamed of running a corner market, here's your chance. The market's been closed since about 2006.
* The "
Wachovia Coming Soon
" sign is back in the window at
20 M
, so my
building permit reading
was on the mark. (It's in the window on the
far western edge of the building
.)
UPDATE:
Speaking of 20 M, GlobeSt.com is reporting (tucked
in a piece on LEED Gold certification
for 1100 New York Avenue) that
several leasing deals are pending for 20 M
. So perhaps that's why Wachovia has decided to start moving forward.
* I did a bit of needed housingcleaning to the
home page map and project directory
--adding in
88 K
as a "featured project", demoting
1345 South Capitol
to "star-only" status until the project starts moving forward again, and adding a few additional stars for projects like the coming retail renovation of
900 M Street
.
I also did some updating of the tabs with the lists of projects--if you don't realize the tabs are even there (look just above the map for "Residential/Office/Retail/Hotel"), take some time during this lazy summer to click on them and be stunned and amazed by the easy access to project information....
The Plaza on K: New Web Site, Fence Ad Renderings
Jun 21, 2008 5:44 PM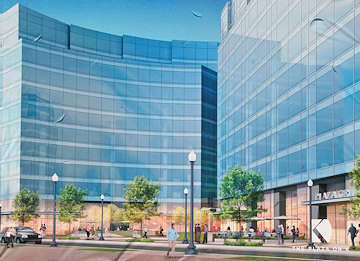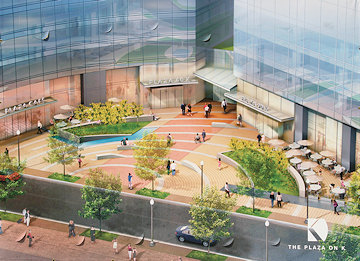 During two looooong photo treks today I found a new fence draping on First Street between I and K, advertising the three-building office-and-retail project on
Square 696
, now dubbed
The Plaza on K
. It indicates, as I was gleaning
a few weeks ago
, that DRI/Transwestern are indeed planning to move forward with 88 K, the first phase of the project, later this year, with delivery in mid-2010. There's now an official
ThePlazaonK.com
web site, for those of you looking to lease office or retail space.
Thankfully the nice sunny day allowed me to snag really good photos of the two renderings on the fence sign, which are shown above but which you can see in non-micro version on my
Plaza on K
page (scroll down a tad to see them--you have to be looking pretty close to realize they're not digital files). Both renderings show the planned 8,000-sq-ft public plaza on K Street just west of First Street. The project page also has lots of photos showing how much Square 696's "neighbors" have changed in the past few years.
Now we're just waiting to see when the old cab garage at First and K
gets demolished
....
(And--lots more photo updates coming over the next few days, so keep checking back.)
First Peek at Elevations for 900 M
Jun 19, 2008 12:46 PM

With thanks to architect
Gregory Powe
, I've got the early elevations for the planned renovations of 900 M Street, the
beige one-story building
that is being converted into a retail space. (You can see
a larger version here
, showing both the M Street and Ninth Street facades, which you can compare to
current photos of the building
). As I wrote
a few days back
, this building that was once a Hudson automobile dealership and more recently a dialysis unit is looking to become home to "three national tenants," though none have been named. Historic Preservation Review Board staff have now approved the design, and it's also been presented to the Capitol Hill Restoration Society and ANC 6B's Planning and Zoning Committee. Building permits for the exterior renovations are expected to be applied for this summer.
20 M Street Certified LEED Gold
Jun 12, 2008 2:08 PM
From
GlobeSt.com
: "
20 M St. SE
, a 190,000-sf office building developed by Lerner Enterprises and designed by WDG Architecture, has been awarded LEED Gold certification--the first in the city to achieve this certification level for Core & Shell Development, according to the US Green Building Council. [...] Green features include roofing that reduces heat island effects, plumbing fixtures that reduce water consumption, high-efficiency HVAC systems and humidity control, extensive use of recycled materials and locally manufactured products, low-emitting paints, carpet, adhesives, and sealants, monitoring systems for environmental comfort, advanced stormwater management measures and easy access to public transportation." The blurb also states that 20 M is expected to be 50 percent occupied by the end of the year. But so far, no tenants have been announced. (Although perhaps
Wachovia's moves toward opening
a branch at 20 M hint toward some tenants coming soon.)
20 M
is the big silver building at Half and M, visible to most everyone in the upper decks at the ballpark.
11th and M Exxon Closing; Retail at 900 M?
Jun 8, 2008 7:18 PM
Within the past few days there has been some news from the eastern end of the neighborhood (and thanks go out to the folks who live up that way for passing along the information). Here's what I've heard:
* The
Exxon on the northwest corner of 11th and M will apparently be closing this week
, having been sold. There's rumors of development of some sort planned for the site, so I'm trying to find out if there's any details available yet, and will post if and when I find something out. This is the last gas station in Near Southeast, joining the departed Exxons on South Capitol at I and K, the Sunoco at Half and M, and the BP Amoco at South Capitol and N. Nowhere left for me to
track gas prices
anymore!
* The low-slung building at
900 M Street
, which apparently was once a Hudson automobile garage and most recently was home to a dialysis unit, is going to get a facelift to
become a retail space
, with most likely "three national tenants" who presumably would be seeing the many
Navy Yard
employees across the street as an enticing opportunity. I'm told the plan is to reintroduce the historic storefronts that this building apparently used to have, and designs have been presented to the Capitol Hill Restoration Society, ANC 6B's Planning and Zoning Committee, and the DC Preservation Office; I'm hoping to get some renderings soon. The current expectation is building permits for the exterior renovations will be applied for this summer.
Building Permits Hint at Wachovia's Arrival at 20 M
Jun 8, 2008 9:52 AM
My retrieval this morning
of the DC Building Permits Feed (which has been on vacation for a few weeks) lets the cat out of the bag that
Wachovia Bank
is preparing to come to the first floor of
20 M Street
. For most of 2007 there had been "Coming Soon" signs in the ground floor window of 20 M for both Wachovia and FedEx/Kinkos--when those disappeared earlier this year, there were concerns among observers (read: me) that the two retailers had bailed, but now it does appear that Near Southeast's Bank #2 will be opening before too long. (Bank #3--SunTrust--is
expected early next year
at
100 M
.)