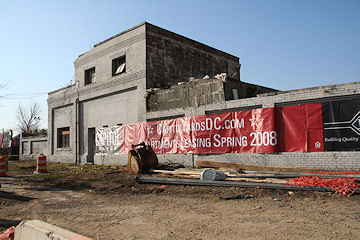 Raze permits have now been filed for the Wendy's at 23 I Street and its little gray neighbor at 901 Half Street on the corner of Half and I. These two lots totaling about 47,300 square feet were purchased in late July for $28.625 million by JPI, and the company is planning "
23 Eye at Capitol Yards
," a 421-unit residential building with up to 35,000 square feet of retail space. Late last year JPI was saying that 23 I would start construction this August--I haven't seen anything lately on whether that's still the case. I haven't had a chance to swing by Wendy's to see if they have a closing date, so if anyone thinks to ask while they're at the drive-through window, let me know. This project would be the youngest of the four Capitol Yards siblings, joining
70/100 I
arriving later this year just across the street and
909 New Jersey
coming in 2009 one block to the east.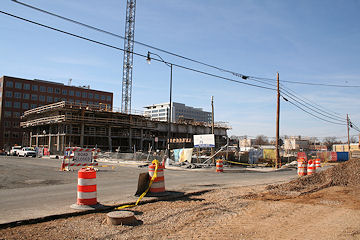 Items of note from my wanderings:
If *I'm* finding it all hard to comprehend and harder to keep up with, I can only imagine how non-obsessive observers must feel. I'm kind of looking forward to the pace slowing back down a bit come May....
Comments
(0)
More posts:
100 M
,
70/100 I
,
909 New Jersey
,
jpi
,
Monument/Half St.
,
Onyx
, Retail,
Square 743N
,
Plaza on K/Square 696
,
Square 699n
,
Nationals Park
Today's print edition of the Washington Business Journal
reports
that the
Blue Castle at 770 M Street
has sold again, this time for $25 million to
Madison Marquette
. The company's managing director of investment told WBJ that the building could be refurbished as a mixed-use development that would serve as an anchor to Barracks Row, and that "the space probably will have one or more major retailers as well as restaurants, an office or residential component and possibly a grocery store." The groups currently in the building have leases that expire in 2012. Preferred Real Estate Investments bought the building in December 2005 for $20.2 million,
saying at the time
that the building was ideal for retail stores such as a Barnes & Noble bookstore and a Whole Foods grocery, and that they hoped to start construction in 2007.
It's New Year's Eve, and I'm trying desperately to wring two more days of laziness out of this holiday season, but here's a couple items anyway:
* I'm not about to plunk down the $35 a month for a subscription to find out for sure, but
this BidClerk.com posting
on a search for a general contractor
sounds pretty familiar
: "Renovation of and a new addition to a multi-residential complex in Washington. Completed construction plans call for the construction of a six-story, 170-unit apartment building to include renovation of an existing four-story, 157,000-square-foot warehouse with a two-story, 49,000-square-foot addition above the existing roof. General contractor bids are due January 10, 2008." Could there really be that many buildings in the city other than the brown-and-white
Pattern/Joiner Shop at The Yards
that would so perfectly fit that description?
* If you're driving through the intersection at
Half and I
, you might be so distracted by the temporary blacktop that now cuts across the old southwest corner that you miss the new sign on the southeast corner advertising DRI/Transwestern's
Square 696
project. There's a rendering but no other details.
* The DC Foreign Car garage at 31 K (on the
1015 Half Street
site) has just a few hours to become the last
demolished building
of 2007. But maybe they're gunning for the honor of being the first one of 2008.
Time again to dig into the
What's the Deal With....?
mailbag. Reader BH has asked about the two boarded-up gas stations and the old KFC along
South Capitol Street
, wondering when they're going to be demolished.
The breadth of construction around Near Southeast is now so vast that I'm forced to break my photo sojourns up into multiple sessions. Today's batch includes a few from the eastern side of the stadium, which are somewhat hard to come by these days--make sure to see the second photo down on the Stadium Exterior Construction Gallery, which shows the red stars that were added to the scoreboard in the past few days as part of the installation of the clock. (The "Nationals" lettering is cool to see as well, even if it's backwards.) The rest of the new stadium photos are more toward the bottom of the gallery (look for the

icon) and on the First Street and N Street expanded galleries, but I'm planning to take a complete batch of photos of the western side of the ballpark on Sunday.
Tune in tomorrow for the next batch.
Starbucks Opening Monday? Yes. And Free Coffee on Friday
Sep 27, 2007 4:31 PM