New Photos and News
Aug 27, 2007 7:19 PM
After a week of days that were either overcast and drizzly or ridiculously hot and humid, today's sunny-and-warm profile gave me no choice but to venture out for a reconaissance mission. My report:
The masses of workers and the well-positioned fences make it nearly impossible to take photos of the current state of South Capitol Street, but I have added a decent photo to my
Douglass Bridge makeover page
showing
the new South Capitol and Potomac intersection
,
which appears very close to being ready for traffic. Streetlights are in place, curbs have been built, paving has begun, and the historic globe streetlamps are installed all along the length of the bridge.
I also snuck a peek into the huge hole where
Monument Realty's Half Street project
is underway, and from N Street you can see what appears to be vertical construction is already underway at the bottom of the hole. It's along the M Street portion of the site, which will be home to the 55 M Street office building, which itself will contain the expanded entrance to the Navy Yard Metro station. Because that Metro work must be completed by Opening Day 2008, I guess it shouldn't be surprising that they're already pouring concrete and working upward, eight months into construction. The office building itself and the rest of the Half Street Phase I won't be completed until 2009.
And I unexpectedly found
Demolished Building
entry #138, as the beige garage that has long sat on the
northeast side
of the Half and I Street intersection bit the dust today, which I'm sure JPI is happy to see, given that
70/100 I Street
is growing like a weed right next door.
More posts:
100 M
,
400m
,
70/100 I
,
909 New Jersey
,
Capper Senior Apt Bldgs
,
US Dept. of Transportation HQ
,
jpi
,
Metro/WMATA
,
Monument/Half St.
,
Onyx
, Retail,
Square 743N
,
staddis
AnA Towing Trailer Gone, and Who Might Be Next
Aug 22, 2007 9:24 AM
I see this morning that the green and white trailer that marked the home of AnA Towing near the corner of Half and K is now gone. You may remember my post from Saturday that the lot has closed down and is moving to 2nd Street, SW; I didn't check to see if the trailer has been relocated to their new home. I'm not sure it technically qualifies as a "raze", but I've still added it as #137 on my Demolished Buildings page, making it the 27th building to disappear from Near Southeast in 2007. And I'm guessing that a few more will probably be gone before the end of the year--one definite candidate is the DC Foreign Car garage on K between Half and South Capitol, which was purchased in July for $7.6 million as part of Opus East's $41.5 million acquisition of the 1015 Half Street project, construction of which is expected to begin in October. And, as I recently posted, raze permits are in the pipeline for the old Capper Seniors building at 601 L Street and the low-rise structures on First between M and N.
New Web Site for The Yards
Aug 10, 2007 7:43 PM
After months of a placeholder site, a new information-filled web site for The Yards was launched today (maybe they don't want the world to know, but I happened to stumble across it, so I'm spilling the beans). The biggest news I unearthed while browsing around is that they're saying that the 5.5-acre waterfront park (or at least some portion of it) is scheduled to be open in summer 2009, a year earlier than some previous dates I had heard. There's also a nice map showing the three phases of the project, with the initial projects I've described on my Yards page coming online in 2009 and 2010--the retail renovation of the Boilermarker Shop and 170 apartments at the Pattern Joiner Shop [and the park] scheduled to be completed in 2009, and the office building at 401 M Street (with a grocery store), 271 condos at Building 202, and 180 apartments in a new building at 4th and Tingey all expected in 2010. Phase two would be more residential and retail buildings opening between 2011 and 2013. Phase three would be the portions of the site along First Street and west of New Jersey.
If you want to know what it all looks like
now
, of course,
my Yards pages
can help you with that.
More on the Sale of the Former KFC/Taco Bell Site
Aug 6, 2007 11:13 PM
About a month ago I
posted about the closure
of the combo Kentucky Fried Chicken/Taco Bell at 1101 South Capitol Street, SW, noting that the site had been purchased in late May for $5.5 million by "URA Ventures", another name for
Urban Realty Advisors
. So, when I saw a couple days ago the signs that have now gone up at the site (on the corner of South Capitol and L) touting leasing opportunities, with "
Ruben Companies
" in big letters at the top, I was a little a'skeered I had screwed up. But with some e-mail inquiries and some digging in the
DC Land Records
(you all
owe me $8
), I've determined that URA borrowed the bucks from Ruben Capital Holdings to buy the site. So they're one big happy co-venture. According to the folks at Ruben, long-term plans for the site call for an office building.
This deal helps the Ruben folks to corner the market on properties on the southern two corners of South Capitol and L, since they are also developing a 350,000-sq-ft office building across the street at 1100 South Capitol. (Ruben also owns two-thirds of Square 648, bounded by South Capitol, L, Half, and K streets SW, but since neither of those two lots touch South Capitol Street, I'm blissfully ignoring them.)
While reading the deed from the KFC sale, I came across one paragraph that I'm sure is no surprise to folks in the biz but struck me as pretty funny. In completing the deal, the buyer agreed agree that, for the next 20 years, "no portion of the property shall be used for the operation of any facility deriving 25 percent or more of its gross sales of prepared food from the sale of (i) Mexican food; (ii) chicken or chicken products, including without limitation chicken wings; or (iii) pizza, pasta, Italian sandwiches, or other Italian food products; or (iv) hamburgers or (v) seafood. The foregoing food use restrictions shall not apply to: a) full-service, sit-down, dine-in restaurants, which offer alcoholic beverages and do not offer fast food over the counter or by means of a drive-through service or b) food service facilities which are intended for the use or convenience of tenants or occupants of improvements constructed on the property, or their guests or invitees, provided the food service provider shall not be a national or regional (i.e., more than 10 outlets) quick service restaurant concept." So, if you were hoping for a new fast-food joint in that spot, you're going to be disappointed.
Starbucks Coming Soon to DOT
Jul 14, 2007 3:41 PM
It's been rumored for ages, and even as of a few days ago I couldn't get confirmation, but reader Dave says we now have a "
Starbucks Coming Soon
" sign in the window of the little glassed-in annex on the
DOT headquarters
's northwestern corner, at
New Jersey and M
. I don't know when they plan on opening. But, fear not, pricey hot caffeinated beverages will be in your grasp before too long!
Forest City Names CB Richard Ellis to Lease 401 M
Jul 13, 2007 1:27 PM
A
press release
just in over the transom is announcing that Forest City has hired
CB Richard Ellis
to handle the leasing of what's being called 401 M Street, the office building to be built on the southeast corner of 4th and M just east of the
US Department of Transporation HQ
. This is "
Parcel D
" on my
Yards First Phase page
, and is the building that will have a
grocery store
on the first floor in addition to the 300,000 sq ft of office space. Construction is scheduled to start next year, with delivery in spring 2010. (There's also an ad announcing this in today's print edition of the
Washington Business Journal
.)
Links for Today's Ballpark and Beyond Column
Jul 5, 2007 10:24 AM
If you wandered over here from today's Ballpark and Beyond column in the Post's District Extra, here are a few links you might want to follow for additional background: Capitol Hill Tower is the home of the dry cleaners that had the bad first day of business; my Capitol Quarter page has lots of photos and details on the mixed-income townhouse development replacing Capper/Carrollsburg that has generated so much camping activity; I've got plenty of recent exterior and interior photos of the Nationals ballpark and renderings of what it's supposed to look like when it finishes next spring; my 1111 New Jersey Ave. page has details on the Donohoe office building project that will now be expanded after their purchase of the Navy Yard Metro station east entrance; and my Upcoming Events Calendar has links for the pile of meetings and hearings scheduled for next week.
Lots of New Yards Renderings
Jun 29, 2007 9:23 AM

With many thanks to Forest City Washington, I've
posted a bunch of renderings of the four projects
that are on the boards at
The Yards
in its first phase of development. These came from the submission on the first phase that FC made in advance of its July 12 presentation in front of the
National Capital Planning Commission
, and while they have some nice drawings of the plans that I've written about in the past for renovating three of the historic buildings at the old Southeast Federal Center, the big news is the first hints of what's planned for "Parcel D", currently a parking lot on the east side of 4th Street south of M: it's to be a residential building the south end of the site and an office building on the north end that would have
a grocery store
on the ground floor at 4th and M. The drawings also show the additional floors to be added to the brown-and-white Building 160 and imposing red-brick Building 202, both of which have interior atrium/courtyards I never knew about. And there's a few cool renderings of the plans for transforming the very industrial Building 167 that sits right behind the new DOT HQ into retail space. (Plans for the five-acre waterfront park and other areas in the Yards were not part of this submission.)
I didn't get the entire submission, so I'm not knee-deep in details, but everyone should definitely
look at these drawings
to see what's coming at The Yards. We should be seeing the beginnings of the streetscape improvements Any Minute Now (which include landscaping that barren area on the west side of New Jersey Ave. south of M), but the completion of the Building 167 retail and Building 160 residential won't happen before 2009, and the Parcel D/grocery store project *could* finish in 2010. So don't pack your bags or write your shopping list just yet.
Dry Cleaners Now Open in Capitol Hill Tower - And Promptly Robbed
Jun 28, 2007 5:32 PM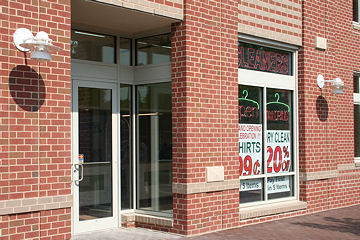 I haven't seen it with my own eyes yet, but reader Scott reports that
Congressional Cleaners has now opened
on the ground floor of
Capitol Hill Tower
, on New Jersey north of L. No excuses for dirty clothes anymore!
UPDATE:
.... And alas the new kids on the block promptly got robbed at gunpoint this afternoon. No one was hurt, thank goodness. But now everyone in the neighborhood really needs
to stop by
and give them some business. And let this be a lesson: never outsource the Welcome Wagon to the Bureau of Prisons.
Congressional Cleaners Coming Soon
May 21, 2007 12:46 PM
Within the last few days, a sign has popped up in a ground-floor window on
Capitol Hill Tower
's New Jersey Avenue frontage announcing "Congressional Cleaners Coming Soon." Word was out many moons ago that this dry cleaner would be moving to CHT, but finally it looks like it's not far off. (There have been some recently approved
building permits
that pointed in this direction as well, but the sign is even better evidence.) So soon you'll be able to add dry-cleaning to the list of every-day tasks available in Near Southeast, along with banking (Chevy Chase bank at New Jersey and L), eating (Five Guys, Subway, Wendy's, McDonald's, and Sizzlin' Express), and of course, all of your
beauty supply and wig needs
.
Nexus Gold Club Demolition Underway; Square 699N Continues to Disappear
Apr 17, 2007 6:07 PM
The sudden whirlwind of demolition in Near Southeast continues, as today work started on bringing down the Nexus Gold Club, but not until after the bulldozing of its neighbor, the old Four Star Cab brick townhouse at New Jersey and K (whose own neighbors were demolished almost exactly a year ago). This block will be home to 909 New Jersey Avenue, JPI's 230-unit residential tower; it should be noted that the A1 Tires garage on the southwest corner of the block (at 1st and K) shows no sign of selling out to JPI, so it appears for now that 909's residents will have no problem getting car repairs. (Glass half full!)
In the meantime, across the way, demolition proceeds apace on
Square 699N
, as all buildings along
1st Street between K and L
have now been brought down, including the festive gold, green, white, and cranberry garage on the corner of 1st and L. Only
Food and Friends and Edge/Wet
remain standing; if you have respects to pay to them or the Nexus, you'd better do it tonight or tomorrow morning.
All this means three new entries on my
Demolished Buildings
page, with space being saved for Nexus and the others. And as soon as Mother Nature remembers that it's April and not November, I'll post pictures of the new streetscapes.
All Sorts of Tiny Items
Apr 12, 2007 9:57 PM
A reconaissance mission through the Hood today yielded a lot of new tidbits; click on the links for project details and new photos added to the Archive:
* The new stoplights along M Street at New Jersey and at 4th are now flashing red, no doubt to be turned on Any Minute Now with the impending start of
DOT HQ
move-ins (next week?);
(UPDATED to fix a lot of stupidly broken links.)
FedEx/Kinkos Coming to 20 M
Mar 20, 2007 2:53 PM
Word has coming pouring in this afternoon from various boots on the ground (we'll give co-credit to readers Frank and Dave) that a sign announcing "Coming Soon - FedEx/Kinkos" has appeared in the window just to the left of the 20 M Street entrance (as they once again wait until I am just out of sight to hang the advertisement). Those who are hoping for a restaurant will have to continue to keep their fingers crossed.
Finishing the Newest Batch of Photo Updates
Mar 19, 2007 6:01 PM
I gave you new
stadium
,
Monument Half Street
, and
20 M
photos yesterday; today I've posted new
Community Center
and
DOT HQ
shots, including some pretty neat ones of the new
New Jersey Ave. and Tingey Street intersection
(amazing what bright sunlight can do for a bunch of buildings and fresh asphalt!). I also added to the
20 M
page new shots of the festive scrolling information sign they've installed over the main entrance, as well as the "Coming Soon - Wachovia" sign that
I missed by minutes
when taking my pictures on Sunday. You can also see
on one page all the photos from yesterday and today
that I've posted.
Other New Photos
Mar 18, 2007 9:56 PM
Still working my way through the pile of pictures I took today.... New shots posted of the ongoing work at the
Monument Half Street
site, and also some "substantially complete" shots of
20 M Street
--in a couple photos you can see men working on the far left window on M Street, and a reader gave me a heads up that not more than a few minutes after I came through, they posted a sign saying "
Wachovia Coming Soon
." So, if that's indeed the case, that would be the first 20 M tenant we've heard of.
Reminder: AWC Board Meeting; And Star Market Liquor License Application Latest
Feb 27, 2007 2:05 PM
Just a reminder that tomorrow (Wednesday) there is an
Anacostia Waterfront Corporation
Public Board Meeting
; its
agenda includes
a presentation and public comments on the new
AWC Draft Environmental Standards
and "Workforce Intermediary Services plans; it will be at St. Matthew's Baptist Church (1105 New Jersey Ave.) at 5:30 pm.
Additionally, there was supposed to be a status hearing tomorrow on the
liquor license application
by the owners of the old Star Market (the "little red building") at
156 L Street
; but I'm told by the
Alcoholic Beverage Regulation Administration
that an agreement has been reached by the applicants and ANC 6D (which was protesting the application), so the status hearing was removed from the calendar. (Attempts to get additional information from the property's owner and from ANC Commissioner Bob Siegel have been unsuccessful at this point.) Perhaps this means we'll be seeing a resolution on this project soon.
I've held off posting about this because I was waiting for confirmation, but I've now heard it from enough different sources that I'm at least willing to mention it as a pretty wide-ranging rumor--the word is that the little glassed-in nook on the
DOT HQ
building on the
southeast corner of New Jersey and M
is going to house a
Starbucks
. I don't drink the stuff, but I understand it's a popular place :-). Like I said, I haven't been able to confirm this, but it's what DOT workers are being told. ("Come to Near Southeast..... There's expensive coffee to be had on your walk in from the subway....")
Yesterday there was a
status hearing
before the
Alcoholic Beverage Control Board
in reference to the liquor license application by the owners of the Star Market, better known as the "Little Red Building" on the corner of 2nd and L streets (next to the
Courtyard by Marriott
). I wasn't at the hearing, and admittedly am not following this particularly closely, but I've been told that the parties on both sides (the license applicants and the people who've been registered in opposition) have been ordered to attend a mediation session that should happen sometime before the application's next status hearing, scheduled for Feb. 28.
The latest building permits issued by the DC government (shown in my
DC Government Feeds
section) have a couple tantalizing Near Southeast tidbits: one is for the long-planned dry cleaners on the first-floor of
Capitol Hill Tower
at 1000 New Jersey, and the other is a series of building permit entries (strangely devoid of detail or even permit numbers) for five addresses on block
Square 669N
, the land bounded by 1st, Half, K, and L that's owned by Bethesda developer Ron Cohen. I don't really know anything more than this on either project (except that the dry cleaners won't have actual dry-cleaning operations right on the premises), but news is news. Hopefully Mr. Cohen will be showing his hand before too much longer.
UPDATE, 12/10:
Another four building permits for the Cohen block arrived in the latest
building permit feed
, and the only additional hint is that the permit type on these is listed as "repair."
Today was the
hearing
on the application by "The Wine Cellar and Spirits" for a Class A (beer, wine, and liquor) license to open
what the owners call
a "tastefully designed wine and spirits" store in the Little Red Building at
156 L Street
(next to the Courtyard by Marriott). ANC 6D has been officially designated as a protestant in opposition to the application, and presumably the owner will be in contact with the ANC to resolve any issues (most likely revolving around the sales of singles). There will be a status hearing on the application on Jan. 17, 2007, at 10 am.