Near Southeast DC: Past News Items
Rearview Mirror
Go to Full Blog Archive
---
33 Blog Posts Since 2003
Go to Page:
1
|
2
Sunday Rearview Mirror: The 1977 Cinema Follies Fire
Jun 6, 2010 2:47 PM
(For someone who graduated from college with a degree in history, I have done a lousy job over the years of documenting the history of Near Southeast with anything approaching the zeal of my coverage of its present and future. I can offer no good excuses, but I'm going to begin to rectify this with a new series, "Sunday Rearview Mirror." I don't pretend to have the level of knowledge or experience of the pre-ballpark era as those who passed through Near Southeast during those years, but hopefully by taking the time every so often to highlight and describe events from the past I can help make sure that the new residents and workers who only recently heard of Near Southeast have some awareness of the people and events that came before them.)

It was in the 1970s that the western edge of Near Southeast became home to a new entertainment district for the city's gay residents, with its remoteness and lack of nearby residences allowing some measure of freedom for a culture that was only just beginning to step out of the closet. The area between South Capitol and First streets--with clubs like the Lost and Found, Club Baths II, Grand Central, Waaay off Broadway and Washington Square--became home not only to nightclubs with dancing and music but also but bathhouses, x-rated movie cinemas, and strip clubs. One of the new clubs was the Cinema Follies, which opened in 1975 at 37 L St., SE, showing x-rated gay films.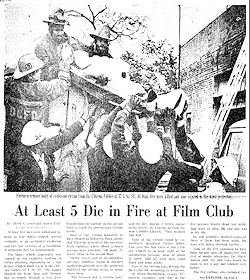 On Oct. 24, 1977, an explosion on the ground floor triggered by cleaning chemicals started a fire, with flames quickly consuming carpeting and wall hangings, blocking the exit for the patrons who had been in the 50-seat second floor theater. The fire never reached the second floor, but the smoke quickly became overpowering. However, a door that led to the roof was padlocked, and the windows had been replaced with cinderblocks. According to the Washington Post's account, "most of the victims were found in the orange-and-black theater seats [...] and may have been overcome by the smoke before they realized what was happening."
Nine people died as a result of the fire, making it the deadliest fire in Washington DC up to that time, a mark that stood until a fire at an unlicensed group home on Lamont Street, NW, killed 10 in April 1979. Identification of those who died at the Follies was hampered by the fact that, as the Post reported, "Many homosexuals do not carry identification when they visit homosexual gathering places," being "wary about the possibility of jeopardizing jobs or social position by having nonhomosexuals learn of their sexual orientation" in case their presence at club might be made public "through a police raid or other event."
(An interesting sidelight to the issue of identification was a column by Post ombudsman Charles Seib soon after the fire, questioning the Post's decision to not use the full names of some of those who died and no names at all of the injured. The column quoted then-Managing Editor Howard Simon as saying that the paper's main motivation was "compassion for the wives and children" [since some of the victims were married] but Seib went on to ask whether this approach had the effect of "underscoring the stigma of homosexuality, of shoving it back in the closet at a time when efforts are being made to bring it out and address it as a social fact?" This is an issue that papers still clearly struggle with,
even today
.)

William Oates, the manager of the club, was eventually fined $650 in 1979 for violating four building codes, though city officials stated that Oates "did everything possible" to try to comply with the laws, but poor city record keeping and poorly written codes made it difficult. (The city did work to strengthen its codes in the wake of the fire.) However, nearly eight years after the fire, in September of 1985, families of four of the victims were awarded more than $1.5 million in a civil suit against the club's owners.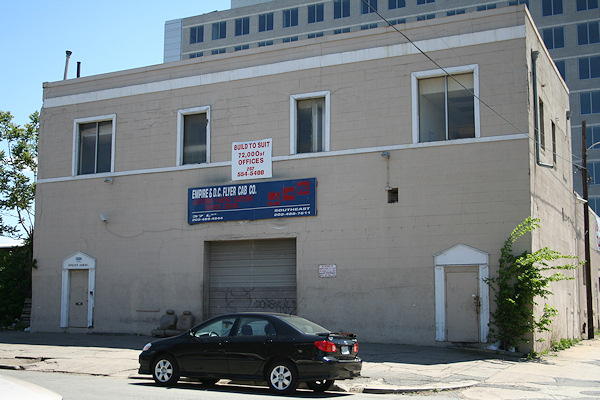 Within a year or the fire, Oates opened "The Follies" at its
new location
at 24 O St., SE, where it operated until it was
demolished with many other gay nightclubs
in May 2006 to make way for
Nationals Park
. Somewhat amazingly, the building where the Cinema Follies fire took place, which was not all that heavily damaged,
still stands today
, on L Street directly across from the under-construction
1015 Half office building
. It's currently home to a cab company.
I plan to write more Rear-View Mirror entries in the future about the neighborhood's past as a nightclub district, but until then,
this 2003 pamphlet
by the
Rainbow History Project
gives a great overview of the clubs that used to be such an integral part of Washington's gay culture. Hard to believe that, when the pamphlet was written, the authors had no idea how little time the existing clubs had left.
Near Southeast Residents Demand a Grocery Store! (The More Things Change...)
Jun 1, 2010 8:49 PM
I'm just now coming across a Washington Post story entitled "Housing Area Pushing for Supermarket," which says that a group of residents "in a small triangle of Southeast Washington launched a 'supermarket project' yesterday to persuade a grocery chain to build a store in their neighborhood," with a planned petition drive looking to get 1,500 signatures.
But, of course, I'm yanking your chain, since this Post article is dated Dec. 16, 1965.
The group, the "Community Commitee Group," planned to visit the regional offices of Safeway, Giant, and Kroger to present the case that the residents of the area bounded by 8th, Virginia, M, and New Jersey had only two corner groceries, with the closest supermarket being at Seventh and G, SE, which was too far for the "aged who live in the Carrollsburg Dwellings project at Fourth and M." Also, because many of the residents in the area qualified for food stamps, they needed to be able to shop at a full supermarket, where the stamps would stretch farther.
The group "also hopes to interest a chain drug store and a combination dry cleaning-shoe repair shop to locate next to the proposed supermarket." Their suggested locations? "The west side of New Jersey Avenue between K and L Streets to replace some condemned buildings [
ahem
], the Washington Navy Yard parking lot on 2nd Street between M and I Streets [
ahem
], and the Lennox School annex at 4th and M Streets [
ahem
]."
In the meantime, while you're mourning the fact that no progress has been made in the brief 45 years since this article was published, you can think about another big development that Near Southeast missed out on: In the early 1990s the Federal Bureau of Prisons was looking for a location for a new 1,000-bed federal detention center, and one of the spots it considered was on the north side of I Street between South Capitol and New Jersey, the spot that's now home to the
Axiom and Jefferson
apartment buildings. And McDonald's. And Splash. (The other possible locations were in Northeast, but after battles with the National Capital Planning Commission and thanks to some pretty staunch opposition by city officials and residents, the Justice Department scrapped the plans in 1993.)
Historic Blue Castle and Streetcars Photos (and a Rant)
May 25, 2010 12:25 PM
Back before it was painted all manner of shades of blue, the building on the northwest corner of Eighth and M known as the "Blue Castle" was a car barn for the DC streetcar system. Madison Marquette, now the owners of the building, have just posted on Facebook
a bunch of historic photos
showing both the building in its pre-blue days as well as lots of shots of the old DC trolleys and streetcars. Definitely worth checking out.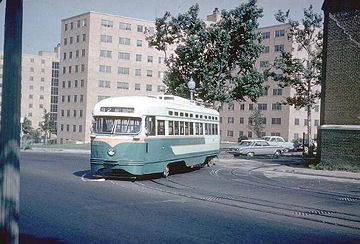 And this gives me an excuse to link to
my own Historic Photos page
, which includes some of the photos that Madison Marquette posted along with others of the neighborhood from about 1918 to 1992. (There's also my
Historic Maps page
, for plats showing the neighborhood for various years between 1903 and 1921, if you want more wayback goodness.)
There are a lot more cool historic Near Southeast images out there, but unfortunately some libraries and historical societies tend to be quite strict about reproducing photos from their archives (often requiring payment even for use of low-res images that already exist online), so rather than those photos getting seen by people who are truly interested, they languish in file cabinets or little-used online databases. It's a shame, because I could have a lot of fun with them, but the attendant bureaucracy has pretty well stifled my interest in pursuing them any farther or even linking to them. Plus I'm too honorable to just steal the thumbnails and post them anyway, which I could certainly do. (And you can be very sure that my photos will never end up with these levels of restrictions.)
At least the
great archive of historic photos
that DDOT had begun to populate a few years ago is still around (though not on their new site, you kind of have to go digging for it via Google). Hopefully they'll get around to adding more shots. I've got a scanner, DDOT, let me at them!
Five Years Ago Today, a Big Piece of News
Sep 21, 2009 9:15 AM
Considering what it portended for the forgotten little patch of land I had been blogging about for the previous 20 months,
this post of mine
late in the evening on Sept. 21, 2004 was pretty understated: "
Baseball coming to Near Southeast? 'District officials disclosed plans yesterday
to build a publicly financed stadium
costing more than $400 million on the Anacostia waterfront near South Capitol Street, amid growing signs that Major League Baseball will attempt to move the Montreal Expos to Washington.' It doesn't mean that baseball in DC is a done deal, or that the Near Southeast site is a done deal, but it's a very interesting decision, and one that would have a huge impact on Near Southeast if it were to happen.
"
Yeah, kind of!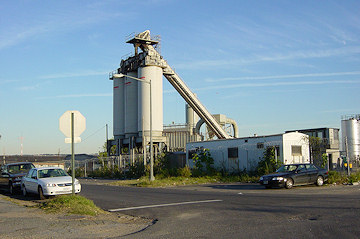 Late the next day,
I went out and took a set of photos
throughout the 21 acres that would eventually become home to
Nationals Park
, knowing it was important to get a bunch of "before" photos should this stadium actually come to pass. This was in the days when my photo-taking was pretty much limited to firing my little point-and-shoot digital camera from behind the wheel while I drove around the neighborhood, having not quite yet worked up the bravery to get out on foot. (Eventually I documented
all of the buildings that were demolished
to make way for the ballpark, but this Sept. 22 excursion marks for me official start of what would become an
all-consuming project
for me over the next four years.)
It wasn't until the next week that
it was all made official
, that the Expos were coming to town and that the city would pursue building a new stadium in Near Southeast. And the reality of the ballpark didn't truly come to pass until that marathon city council session in February 2006 that first
voted
down
then
finally
ratified
the stadium lease agreement (signed by
MLB the next month
), followed two days later by the court ruling
allowing the eminent domain seizure
of the land for the ballpark to move forward. Demolitions began
in May 2006
, and the construction was completed on time for the
official opener on March 30, 2008
.
To look at not only the
Sept. 22 ballpark-area photos
but also a batch I took mainly around the
Cappers footprint a few days earlier
is to be reminded yet again of how much change has come to this area in the same amount of time that many people, say, pay off a new car. It's almost jarring to catch glimpses in these shots of the old
South Capitol Street viaduct
(demolished in July 2007) that in many ways was such a symbol of the old Near Southeast--how it walled the neighborhood off from Southwest, and how it helped perpetuate the area's overgrown industrial feeling, while allowing commuters to blow past it all without really having to look at it.
It's going to be a while before big-time development resumes in the area (just like everywhere else in the city/region/country), but that doesn't make the changes that have already happened to this formerly forgotten little spot a mile south of the U.S. Capitol any less striking to look at.
Making the Photo Archive More of an Archive
May 18, 2009 4:55 PM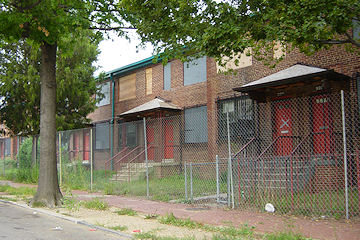 When I first started taking photos of Near Southeast more than six years ago, I had no grand plan. Every few months, I went out and snapped a few shots here or there, rarely ever even getting out of the car. As time went on and development projects got underway, I found a methodology that worked for me--stand on each corner of an intersection and in the crosswalks, and take the same angles. This allowed me to build the automated displays of before-and-afters, where I'd pick the best of the "before" angles of a certain location (even if that photo wasn't necessarily the oldest one in my collection showing that angle) and then focus on replicating that angle as construction progressed.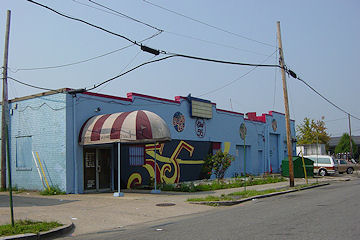 This was all well and good to watch buildings go up, but it hasn't really done the job of being a full archive of all of the photographs I have of the 150-plus buildings that have been
demolished
since 2003. So, this weekend, I did a lot of work (a *
lot
* of work) to redesign my
online photo archive
to make room for close to 700 additional old photos from all parts of the neighborhood, allowing them to now be displayed without messing up the official "paired" before-and-afters that you see on the home page and throughout the site.
Many of these images aren't prize-winners--a lot were shot haphazardly, often through a dirty windshield or into bad light, with an old-model point-and-shoot digital camera (since I didn't take the plunge and get a digital SLR until early 2006). But, with more people arriving in the "new" Near Southeast who may not really know what it looked like only a few years ago, I felt it was important to make as many of these old shots available as I could.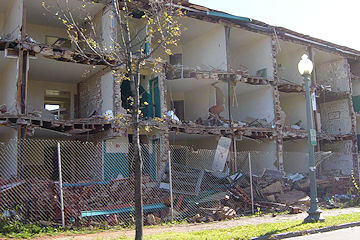 A large number of these newly added images were taken "mid-block", showing angles and buildings that have not been well represented up to now. And I think some of these photos will be of interest the people moving into
Capitol Quarter
, giving them a better chance at seeing what their lot looked like when the Capper/Carrollsburg buildings were still standing. The images of many of the old
nightclubs
and
hangouts
may also be of interest to old-timers. (And Nats fans might get a kick out of the additional photos of the
area
just
north
of the
main entrance
to the stadium.)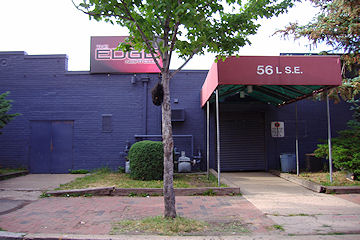 To make the archive easier to use, I've
redesigned its main browsing interface
, giving a couple different methods of entry to the additional photos. You
can click on the map as before
, which will take you right to the "paired" before and afters for all angles of an intersection; using the
icon will then reveal the complete set of photos for a particular angle, including images taken further along "inside" a block. But you can now also
search by year or month or date
, or by a combination of dates and locations, to better hone in on what you're trying to find. So, if you want to see all photos I've posted
from May 2003
, it's now much easier to do. (Though, if you're looking for mid-block images, you may need to "approach" your location of interest from the intersections on both sides to be sure you're seeing all the available photos. Knowing your geography and having a good sense of direction will be a big help!)
There's probably still a bit of tweaking (I see a few of the official paired before-and-afters have gotten broken and need some back-end tweaking, and I still need to plow through 2006 and into 2007 to add more photos of the buildings that were demolished more recently), but hopefully having these photos included will be a welcome addition, if not now then as the years pass and the old Near Southeast fades from many peoples' memories.
One Thought on 'Slowed Development'
Apr 13, 2009 10:48 AM
I don't really feel like linking to this NBC4 piece on "
Major Southeast Renovations in Limbo
" (working off of
Sunday's Post piece
), but it does give me an excuse to wander into the Post archives and pass along a couple morsels from a March, 1998 piece about the MCI (now Verizon) Center, three months after it opened. The article is entitled "Neighborhood Isn't Cheering About Arena's Impact":
* "Although thousands of people have journeyed to the once-forgotten downtown neighborhood to watch professional basketball, hockey and other events, the three-month-old arena has not yet become the seven-day-a-week destination that team owner Abe Pollin envisioned when he built it."
* "Some neighborhood businesses are counting on Discovery because, except on game days or during concerts, the building has failed to produce the return that city leaders imagined when they hailed MCI Center as an engine for revitalization. 'It's not the pot of gold we thought at the end of the rainbow,' said Danny Callahan, an owner of the Rock sports bar across Sixth Street NW from the arena."
* "Restaurant owners say the arena has boosted business, but not to the extent they had hoped. [...] The arena has actually hurt business on nonevent nights. The old regulars don't drop by anymore, because they never know when the area will be swamped with arena patrons, and parking prices have shot up."
At least Nationals Park got a year before the it's-not-doing-what-people-said-it-would-do slew of articles. And what a shame that the MCI Center, after that disappointing start, never amounted to anything....
A Long Trip Down Ballpark Memory Lane, Via the Blog
Mar 26, 2008 9:33 PM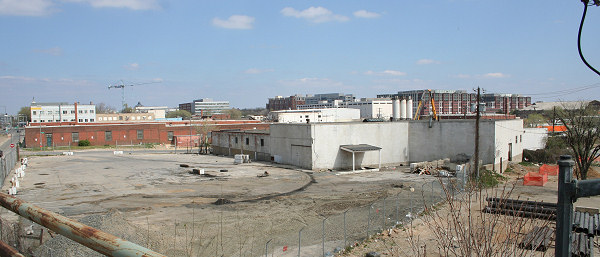 Let's take break from the here and now and spend a few moments looking back at
Big Moments in Nationals Park History
, as reported here on JDLand. This is kind of long, but you younguns and latecomers who didn't follow it all from the beginning might find this timeline of interest.
*
Sept. 21, 2004
, I posted this wonderfully understated entry: "
Baseball coming to Near Southeast? "District officials disclosed plans yesterday
to build a publicly financed stadium
costing more than $400 million on the Anacostia waterfront near
South Capitol Street
, amid growing signs that Major League Baseball will attempt to move the Montreal Expos to Washington." It doesn't mean that baseball in DC is a done deal, or that the Near Southeast site is a done deal, but it's a very interesting decision, and one that would have a huge impact on Near Southeast if it were to happen.
" I got that right.
*
April 1, 2005
: "
As expected, the DC Sports and Entertainment Commission has chosen
HOK Sport
(along with
Devrouax & Purnell Architects/Planners
of DC) as the architects for the
new Nationals baseball stadium
. They promise a design that will "change the paradigm of ballparks" and will be "iconic and truly distinctive to Washington, D.C.
"
*
May 15, 2005
, a fond memory of the old-school JDLand days: "
As a heads up, I'm not going to follow here on the site every twist and turn of the Nationals baseball stadium funding saga. The bickering over costs and land acquisition and whatnot leaves me totally cold. [H]ere at JDLand I'll just be concentrating on news of the design and construction.
"
*
Aug. 5, 2005
: "
According to yesterday's Washington Times, officials at the DC Sports and Entertainment Commission still maintain, despite "a growing wave of pessmism among bidding groups seeking to buy the club," that the new baseball stadium will be ready for the 2008 season.
"
*
Sept. 19, 2005
: "
Anyone who's lived in DC for any amount of time will be
stunned
to read today's Post story, "As Stadium Clock Ticks, DC Officials Bicker," detailing the difficulties of getting a design for the new baseball stadium agreed upon. Much of the trouble revolves around the desire (pushed most vehemently by Jack Evans) to have views of the Capitol Dome from as many seats at the stadium as possible.
"
*
Oct. 18, 2005
: "
DC Council Chair Linda Cropp has signaled that she will block any attempts at significant alternations to the baseball stadium financing package[....] Says [Kathy] Patterson: "The District is at some risk of not being taken seriously as a government if we renege on the deal we have. That said, we negotiated a lousy deal."
"
*
Jan. 27, 2006
: "
WTOP is reporting that the city and Major League Baseball have reached agreement on negotiations over the stadium lease agreement.
"
*
Feb. 7, 2006
: Three entries (including my first-ever liveblogging) detailing the rollercoaster day in front of the DC Council that started with the stadium lease agreement being voted down before a long recess resulted in a return to approve it, with the cost cap in place.
*
March 14, 2006
: The stadium design is unveiled. How close are the
original drawings
to
how it's turned out
?
*
March 22, 2006
: "
Both the Post and the Blade report that Judge Zeldon has ordered the eviction of the last remaining stadium landowner holdouts, including the gay bars on O Street owned by Robert Siegel. Siegel, plus the trash transfer station at 1st and N also covered under yesterday's order, have until April 4 to vacate.
"
*
April 25, 2006
: "
Thanks to a tip from a correspondent, I can confirm that there is now demolition underway at the ballpark site, at its southernmost corner (South Capitol and P and Potomac).
"
*
May 3, 2006
: "
Everyone's now reporting that the ownership group led by DC-area developer Theodore Lerner has officially been picked as the owners of the Nationals.
"
*
May 4, 2006
, the
Groundbreaking Ceremony
: "
The riff-raff-o-meter at the gate of the stadium groundbreaking was apparently malfunctioning, allowing me to get in and witness this morning's festivities.
"
And, just like that, here we are. If you want to read more (I didn't even touch the months of let's-try-private-financing, let's-do-it-at-RFK-instead, and the Garages Wrapped With Development Goodness), use my
Search page
, click "Baseball Stadium" in the topic box, and pick a date range to browse.
Citizens Call for Closure of Trash Transfer Station
Aug 13, 2007 9:27 AM
To those who ask me from time to time when the Department of Public Works' operations at the old trash transfer station
at New Jersey Avenue and K Street
might be closed down, I offer this quote from the Post: "As a result of a hearing granted representatives of the East Washington Citizens' Association, the Commissioners yesterday announced that they would endeavor to change the location of the present garbage transfer station, and K Street and New Jersey avenue southeast, provided the arrangement does not call for the expenditure of too large a sum of money." Said M.I. Weller, vice president of the association, " '[O]ne or two improvements of large dimensions are in progress in our section of the city, and really we can spare the garbage transfer station.' "
Oh, wait. This report is from
April 7, 1905
.
Neighbors protested about the "noxious fumes" for many years, and finally an "odorless, dust-free" station was built, opening in July 1949. That building still stands on the site today, though it hasn't been used as a trash transfer operation for some years.
(Plans from the current century call for a mixed-income 322-unit apartment building to be built on the site as part of the
Capper/Carrollsburg
Hope VI public housing redevelopment, but construction probably won't start before 2010. This site has also been eyed as a possible location for parking as part of the shoe-horning of MPD into
the Post Plant
, which
may
or
may not
still be happening in some fashion.)
33 Posts:
Go to Page:
1
|
2