Near Southeast DC: Past News Items
photos
Go to Full Blog Archive
---
Another Look Inside the Foundry Lofts, Nearing Completion
Jan 26, 2012 11:15 AM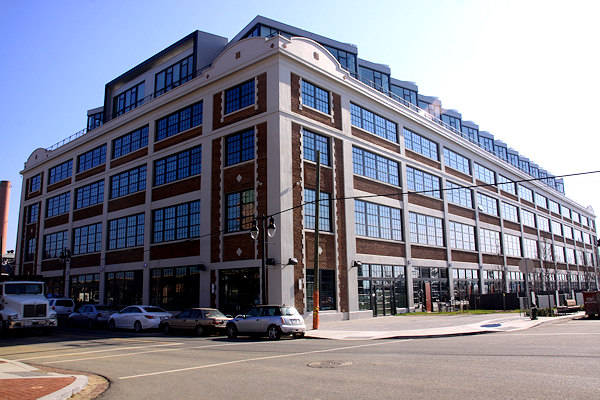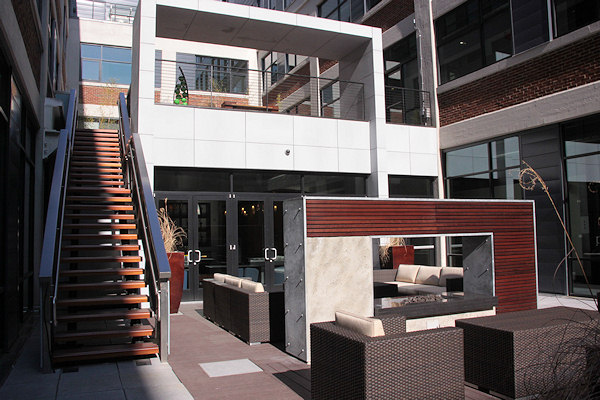 When last I visited the
Foundry Lofts
, it was about a month before the first residents moved in. I took a pile of photos, but while model units were furnished, a lot of the shared spaces were still being worked on. So I finally made a return visit this week to see all the finishing touches on the interior courtyard, lobby, community room, etc. And
I took one or two photographs
, of course.
The leasing office tells me that the 170-unit building is now about 65 percent leased and 40 percent occupied, and construction on the non-retail spaces is not far from 100 percent completion. The four priciest units--the corner penthouses, which were announced with rents in the $4,500 range--are all taken. And the two eateries in the ground floor--Potbelly and Kruba Thai and Sushi--have their building permits and are working toward opening within 90 days.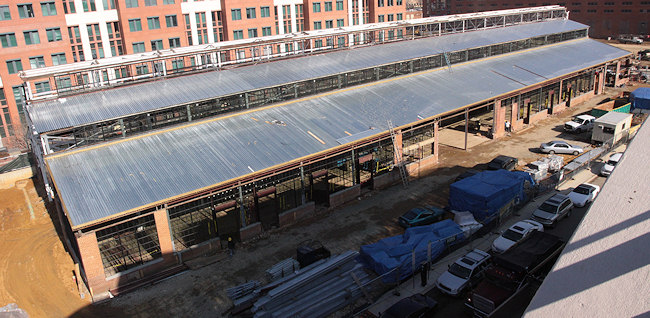 Also, because I can't walk past the
Boilermaker Shops
without taking pictures, I added a few new shots to that page, including the panorama at right that I got from one of the Foundry Loft patios.
As if this all isn't exciting enough, here's a first
terribly not exciting photo of the excavation underway
at the
1212 4th/Teeter site
a block east of the Foundry Lofts and across the street from Boilermaker.
Plus, since I had to walk down 4th Street to get to all of this, I snapped some shots of the continuing
Capitol Quarter
progress at
K
and
L
.
Canal Park Work Seen from On High, and Other On-High Shots
Jan 20, 2012 11:34 AM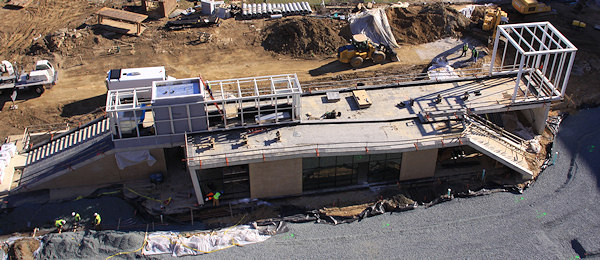 From ground level, it's not especially easy to see (or photograph) the current state of
Canal Park
's construction--lots of fences, equipment, and bad winter sunlight, and the only above-ground action is hard to photograph through cyclone fencing. But on Thursday I got to see the progress from higher up, where not only is it easier to get a good overview of the site, but you can now see the outline on the southern block of both the plaza *and the ice rink*. (Shadows still wreaked some havoc, alas.) I added a number of these images to my
Canal Park progress page
, for your perusal.
As I worked on these, I got to thinking about some photos from high up in 1100 New Jersey many moons ago, when the surrounding landscape looked very different. A few have been sprinkled throughout the site, but I was a little embarrassed to find out I'd never put them in my Overhead Photos Archive, which has now been rectified, and
you can see them here
. They are from September 2004, so most of the old Capper buildings are still visible, and the USDOT and Capitol Hill Tower lots are just holes in the ground. (And there's
one cool view of the buildings at the Yards
that sure won't ever be replicated.) I paired them with shots from Thursday where possible.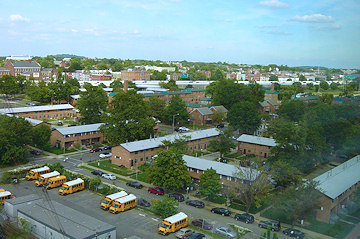 Then I remembered all the photos I took from the
top floor of 1015 Half Street
during the BID's annual meeting last week (there were a bunch besides just the "
majestic
" one). Not exactly a trip down memory lane, but they're now posted as well.
At this point, with a deep breath, I ventured into the folder where I've been dumping my rooftop/on-high photos "to deal with later," and found: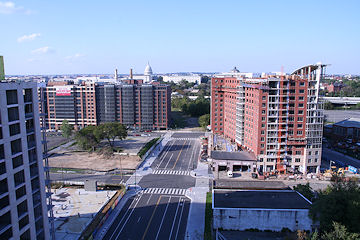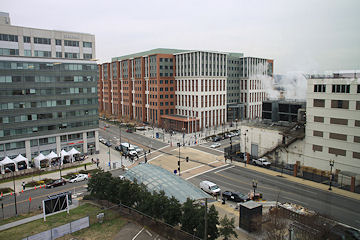 * A series of strangely blue pictures I took from the
roof deck at Onyx in October 2008
, just as the building was opening;
*
Shots from 100 M Street
taken at the BID's annual meeting on a dreary day in December 2008; and
*
Photos from 55 M
taken during the kick-off for Artomatic in May 2009. (Nyaah, nyaah, National Geospatial Intelligence Agency, I was taking pictures of you!)
For those of you who live and work in the "high-rise" buildings in the neighborhood, many of these views won't be anything exciting, and given the lack of new projects on the west end of the neighborhood, not really much has changed since the 2008-2009 shots. But now they're in the
Permanent Collection
, to be paired with more photos down the road someday.
If you haven't wandered through the overhead archive before, there's a ton of other photos, including the pictures from
atop the Courtyard by Marriott taken from 2006-2010
that really highlight the demolition-and-construction that happened west of New Jersey Avenue. There's also a series of images taken from the
roof of the old Capper Seniors building
right before it was demolished
in 2007, plus all manner of pictures of the waterfront taken from the
ballpark's southeast viewing platform
starting in 2007 (which I can't wait to update in a few months). And other locations, too.
Hope you find them enjoyable, especially on a Friday afternoon when you might happen to be looking for something to do other than work.
Boilermaker Shops, Now With More Windows and a Mezzanine
Jan 11, 2012 10:49 AM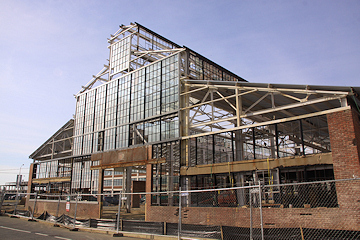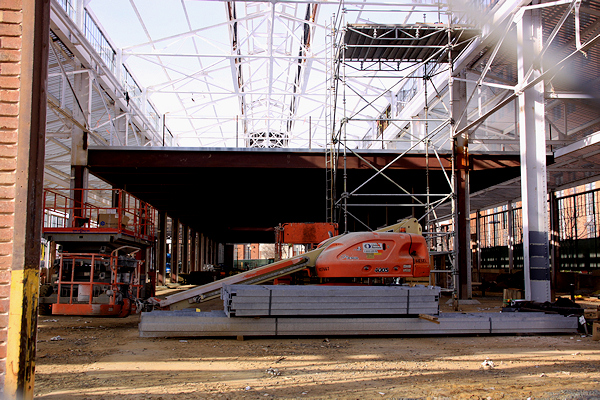 Do you get excited about new windows? Then this latest batch of
photos of the Boilermaker Shops rehab
is for you!
But, in addition to all the new glass, you can also see that the construction of the mezzanine level has begun as well. (There's a rendering midway down the page of how the mezzanine level will look, if you're having a hard time envisioning it.)
If you're just joining us, this is the project at
the Yards
that will bring
six restaurants
to this historic building by the end of 2012: a brewery by the Birch and Barley/Churchkey Folks, Austin Grill Express, BRB burger joint, Huey's 24/7 Diner, Buzz Bakery, and Willie's Brew and 'Que.
And, speaking of restaurants at the Yards, interested parties will like to hear that construction has begun on the
Potbelly Sandwich Works
shop in the ground floor of the
Foundry Lofts building
, just south of Boilermaker on the southeast corner of 3rd and Tingey. It is expected to open this spring, as is Kruba Thai and Sushi, which just received its building permit last week for its space in Foundry's southwest corner, just north of the
Yards Park
.
11th Street Bridges Construction Photos (Ramps and Whatnot Too)
Jan 10, 2012 1:02 PM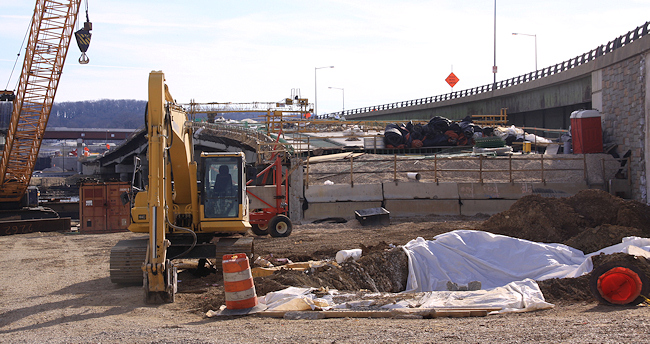 The news of the two freeway spans of the
11th Street Bridges
opening
over the past few weeks
is of course the most interesting part of the current state of the project's construction, but there's plenty of work still happening on the Near Southeast side of the Anacostia River, from the new "11th Street Local" bridge that will open this summer (seen at right) to various other new ramps and flyovers.
So on Sunday I did a lot of hoofing and driving to bring you this new
11th Street Bridges Project Photo Gallery
, showing the most interesting views I came across. I walked up onto the old outbound bridge (totally legal! sidewalk and everything!), I ventured down to N and then O streets, and I went north to where the new girders have been installed above 11th Street to connect the inbound freeway traffic to the Southeast Freeway and where the new ramp up to 11th Street from the old Pennsylvania Avenue/Barney Circle connector is under construction.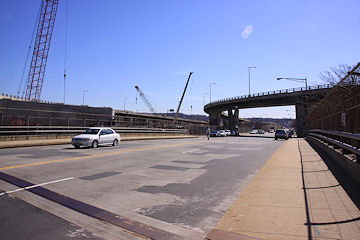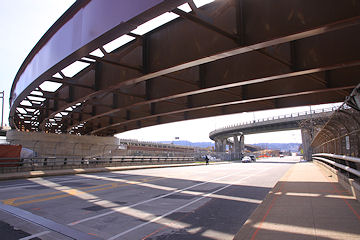 I also updated a lot of intersection shots in my official Photo Archive, so if you're wanting to see before-and-afters from the streets surrounding the bridges project, check out
11th & M
,
12th & M
,
11th & N
,
12th & N
,
11th & L
, and
11th & the freeway
(the shots above are a teaser) for all your change-is-a-comin' images. (Though not every photo was updated, so look for the

icon.)
And, because I'm a goofball, I also tossed together this
quick montage of the photos
I took on my first trip across the new outbound freeway bridge. (Yes, that's on a
JDLand Google+ page
. I haven't done anything with it, but if you want to show me there's interest in my getting more active there, you can follow the page and we'll go from there.)
Plus I freshened up the
photo portion
of my
11th Street Bridges project page
, which is the place to go if you're not up to speed on exactly what all this construction is going to accomplish. (
DDOT's recent video
will help you with that too.) But really,
start with the photo gallery
.

Waterfront Photos: Cleared Florida Rock Site and More
Jan 9, 2012 12:43 PM

I have been lazy, l-a-z-y, about getting to some of my more far-flung photo spots in recent months, but the guilt of a new year finally overwhelmed me on Sunday, and I ventured up onto the
Douglass Bridge
and over to Poplar Point with camera in hand, mainly to get updated shots of the now-cleared
Florida Rock site
(above) and the
Yards Park
, Yards/Teague Bridge, and other waterside sites.
I pulled the most interesting of them together in an
Along the Anacostia Photo Gallery
, but you can also see the progression of images I've taken over the years from
the Douglass Bridge
and at Poplar Point
looking toward Florida Rock/Nats Park
and
toward the Yards
. I also gave my
Florida Rock project page
some much-needed freshening up, and you can also read my post from a few weeks ago about
the latest news on the plans for the site
. And maybe this year I'll head back to these spots when the ground isn't brown.
And, if you want to see almost the entire Near Southeast waterfront in one (panorama'ed) shot....:

Landscaping Tip: Clearing Brush Can Really Make a Difference!
Jan 8, 2012 4:58 PM
New Jersey Avenue, south of the freeway, looking east, before and after the clearing of brush and trees that happened late last week: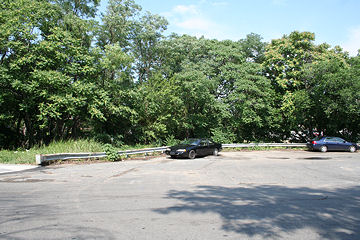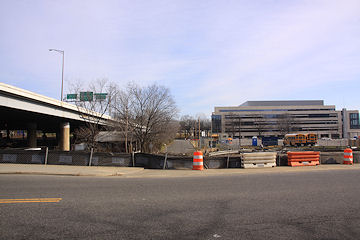 A slightly different angle, looking south-southeast: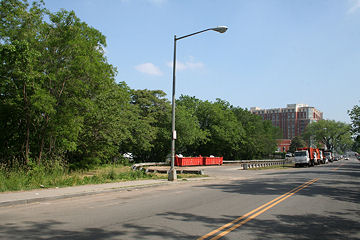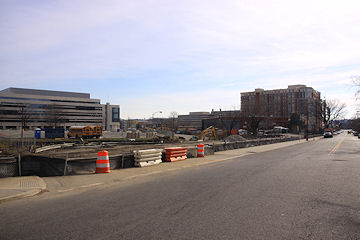 This appears to be the work that William C. Smith
mentioned would be coming
, as part of their preparations for infrastructure work in advance of their
880 New Jersey Avenue apartment
project.
More before-and-afters here
.
(That's
225 Virginia/200 I
in the background, if you're bewildered at what you're seeing in this new view.)
(This is the first in what will be an avalanche of new photos over the next few days, after I drove around for about two hours grabbing scads of shots that I have been guilt ridden about not getting to. Rather than trying to put them up in one overwhelming post, I'll be passing them along in manageable bites.)