Near Southeast DC: Past News Items
parking
Go to Full Blog Archive
---
Zoning Approval for Possible Additional Surface Lots; ANC 6D Says Little About Ballpark's Debut; Community Meeting about On-Street Parking
Apr 14, 2008 11:12 PM
On Monday night, without much discussion, the Zoning Commission gave approval to the request to
add additional blocks
in Buzzards Point to the
zoning amendment allowing temporary surface parking lots
near the
baseball stadium
. The commissioners who spoke mentioned the need to give the Nationals the flexibility the team was seeking to be able to build new surface lots as development possibly takes away the lots currently in use. The vote was unanimous, although Commissioner Turnbull stated for the record his concern that lots north of Potomac Avenue, closer to the residential portion of Southwest, could introduce significant traffic. As of now, the Nationals have announced no plans to use any lots at Buzzards Point this season.
At about the same time the Zoning Commission was voting,
ANC 6D
was discussing how the first few games at the ballpark went, in terms of traffic and parking impacts on Southwest and Near Southeast. And, for a group of people who, shall we say, have not been shy over the past few years about voicing fears as to how the new stadium would impact their neighborhood, the reaction was surprisingly muted. Visitor parking passes did not seem to get to all residences, additional signage needs to be installed, issues with left turns and parking enforcement on G Street, SW will need to be addressed, and there were questions about whether the parking restrictions on M Street could be eased, but overall the commissioners seemed to feel that there had been no major issues. Commissioner Robert Siegel, who represents all of the ANC east of South Capitol, proclaimed himself "very pleased." (Though Commissioner David Sobelsohn did remark that things "will go smoothly as long as the Nationals keep losing.")
The meeting itself was pretty sparsely attended, with few of the residents who have been vocal about potential problems at previous meetings on hand. Only a couple people in the audience spoke up about any issues they'd had or seen, and did so without much emotion. The discussion was over in probably about 15 minutes. If you've ever attended an ANC 6D meeting, you know how astonishing this is.
Tommy Wells will be having a
community meeting to look at how the new on-street parking regulations are working
, both for residential streets and the retail stretches along Pennsylvania Avenue and Barracks Row, on
May 7 at 7 pm
, at the Capitol Hill United Methodist Church (Fifth Street and Seward Square, SE).
There's other items to report from tonight's meeting, but I'll write about those in an entry to come.
Yet Another Batch of Mostly Cloudy Photos; Monday Meeting Reminders; Pope Street Closings
Apr 13, 2008 2:21 PM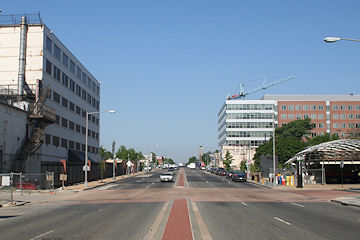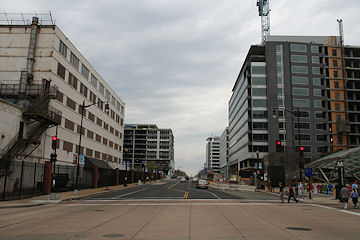 If you like photos of streetscapes taken under overcast skies, this has been the site for you lately. Yeesh. On Saturday, before the rains came, I updated my shots of the
western side of New Jersey Ave.
, showing how projects like
909 New Jersey
,
70/100 I
,
Onyx
, and
100 M
have changed the view in the past year. At least the sun was out for the brief time on Friday evening when I took new photos of the western side of the ballpark, along
South Capitol Street
. So, adding these to the photos I took earlier in the week of
First
and
Half
streets, the current state of construction in Near Southeast is pretty well documented. And now the sun shall come out, but I'll be waiting a few weeks until the next round of updates (probably early May).
Monday brings some meetings with Near Southeast items of interest. At 6:30 pm the
Zoning Commission
will have its monthly meeting, and is scheduled to vote on whether to open up additional blocks in Southwest to
possible temporary surface parking lots
(you can watch via
live webcast
). At 7 pm at St. Augustine's church at 601 M St., SW,
ANC 6D
will have its monthly meeting, and will be looking at Forest City's plans for office and residential buildings at
401 M Street/400 Tingey
at
The Yards
, and the request by the developers of the proposed
250 M Street office building
to increase its height to 130 feet. The project at The Yards has its hearing at the Zoning Commission
on April 24
, and 250 M's is
scheduled for May 14
.
And, for this week's visit from the Pope, the
Post has a huge graphic
of road closures and other information to help get through the festivities. Note that, in addition to the closure of South Capitol Street from 2 am to 2 pm Thursday, it shows that Van, Half, First, and Potomac in SE will be closed at some point, as will O, P, Q, and Potomac SW from Half Street to South Capitol. "Expect other road closures around the ballpark from 9 pm Wednesday until 2 pm Thursday," it says.
Link Roundup (No-Commuting-Apocalypse Edition)
Apr 10, 2008 9:05 AM
* There's not a single story that I can find in the media this morning talking about how last night's
predicted commuting catastrophe
went, on the roads, at RFK, or on the Metro. The announced paid attendance at the
ballpark
was 23,340, up a few thousand from Monday night, and judging from the
55 M web cam
the vast majority of people arriving by Metro made it before first pitch. (The 10-4 drubbing at the hands of the Marlins was a disaster of a different sort.) Anyone have any problems?
(Ah, just as I finished writing,
here's Metro's report
, saying that yesterday was its ninth highest weekday ridership day ever, though tourists and cherry blossom visitors were part of the mix, too.)
*
My Ballpark and Beyond column
in today's Post looks at how the dire predictions for Opening Night and Monday night didn't come to pass, and also the many different ways you readers reported getting to the ballpark on Opening Night (so, thanks for
all those comments
--made my job easy this week!).
* An
Inquirer columnist disses
concessionaire Aramark's performance at Philadelphia's Citizens Bank Park, noting that the company, which had been in charge of concessions at RFK, didn't get the gig at Nationals Park. (He also tosses in a plug for Ben's half-smokes.)
* I'm going to add a list of available cash lots to my
Stadium Parking page
--I'd love some on-the-ground reports to make sure I'm getting them all (Splash, Chez Resnick at First and L, 80 M, South Capitol and Potomac, perhaps Positive Nature--anyone seen any others? If so, where, and for how much?).
Metro and Parking Doom, Preparing the Ballpark for the Pope; Pick Your Disaster Scenario
Apr 9, 2008 10:09 AM
* NBC4 sets the vibe with "
Traffic Nightmare Expected in DC Area This Evening
", a short piece on the Wizards-United-Nats trifecta. They list the area around RFK as the possible flash point, though all of
yesterday's Impending Doom stories
pointed toward Metro and Gallery Place. Remember, if you're using the Nats Express, you have to park at RFK's Lot 7 tonight, not Lot 8.
Dr. Gridlock has more
on getting through the evening.
* WJLA gets into the mix with "
Parking Woes Surround New Stadium
," retelling a story they had on Tuesday about legally parked cars getting towed during Monday's ballgame. There's also a quote from a school bus driver lamenting not being able to park free on the street anymore, which I'm guessing won't be garnering much sympathy from the pro-
Canal Park
folks who want the buses out. And there's dueling quotes from Barracks Row shopowners, one who doesn't think it's fair and another who likes the turnover of spaces. There will be a public meeting next month to get first feedback on the
new parking restrictions
.
* For something a bit more uplifting, try Catholic News Service's "
Turning a Stadium into a Cathedral for Pope's Mass in DC
."
And, an observation:
* Conventional Wisdom leading up to Opening Day: "OMG! The stadium is going to be a disaster because there's going to be such huge traffic, transit and parking nightmares!"
* Conventional Wisdom after Monday's game: "OMG! The stadium is going to be a disaster because
no one's going to go
!" (Never mind that it was NCAA finals night/cold as hell/the Marlins/a school night/a game not in season ticket partial plans.)
Stan says the Nats will get the attendance they deserve. Ask the Capitals about that, when you're mulling whether to fork over a couple thousand dollars for a ticket to one of their playoff games.
Use RFK Lot 7 on Wednesday; Metro Plans
Apr 8, 2008 4:43 PM
(Moved to its own entry, to give the Pope Bobblehead stuff its own glory.) Here's
Metro's press release
detailing preparations for Wednesday's Triple Threat of the Wizards, DC United, and the Nats all in action at the same time. And, because you can never have enough press releases, here's one from the Nats (link to come) explaining that,
when DC United is playing at RFK, Nats Express shuttle parking will be in Lot 7
: "Washington Nationals fans choosing to park for free at RFK Stadium and take the Nats Express to Nationals Park may park in Lot 7 on all D.C. United home game dates. RFK Stadium Lot 8 will not be available to Nationals fans on Wednesday, April 9 or any future date in which the Nationals and D.C. United each play at home. Lot 7 may be accessed off the Whitney Young Bridge (East Capitol Street) or off of Oklahoma Avenue. The Nats Express begins ninety minutes prior to Nationals home games."
WTOP asks
about whether there will be any patrolling of DC United fans parking free in Lot 7 (apparently not).
Post-Mortems on First Weeknight Ballgame
Apr 7, 2008 10:42 PM
(Decided to move this to its own entry.) As expected, it wasn't anywhere close to a full house at
Nationals Park
tonight. I wandered over to South Capitol Street at about 6:30 and traffic wasn't even backed all the way up the exit ramp from the freeway, and M Street was all but empty. The T and U lots at Capper didn't seem to get more than about 30 cars between the two of them, though the E, F, J, K, and L lots were pretty full. And I see that the garage at 80 M Street, which is not an official Nats lot, is offering cash parking for $20. (Looked like the
Positive Nature
folks on New Jersey Avenue are running a cash lot, too?) Lots of people coming out of the Navy Yard station at Half and M at 6:30ish--if you arrived that way and walked to the Center Field Gate, you were greeted by the Budweiser Clydesdales. Inside the park, lines were shorter (since there were fewer people) but there's definitely still grumbling about the speed of service.
What was your experience tonight
, either getting to and from the park or inside?
As for media reports, the
Post paints a similar picture
to what I saw, that the evening went smoothly.
WJLA focuses
on the glitchy scoreboard, apparently not finding anything else of note to report from the evening. Announced paid attendance was 20,487,
says AP
, noting that Metro says they noticed almost no difference from a normal rush hour.
Another AP story
talks about the scoreboard problems and the fact that the ballpark was less than half full. Next stop, Wednesday's triple threat with the Nats, the Wizards, and DC United all in action at the same time. And with
warmer weather on the way
, finally.
UPDATE
: A few more media reports:
WJLA reports
on overzealous towing (and note the interesting use of an un-cleaned-up quote from an angry resident).
The Examiner
focuses on Metro having little trouble.
Advance Purchase Single-Game Parking Available
Apr 4, 2008 4:28 PM