Near Southeast DC: Past News Items
Metro/WMATA
Go to Full Blog Archive
---
First Tidbits on Akridge's 25 M Project at Half Street
Dec 9, 2008 2:00 PM
It's been more than a year since WMATA first awarded the
Southeastern Bus Garage
property at Half and M to
Akridge
(and almost six months since the suit brought by Monument Realty over the bidding process
was settled
), and at Monday night's ANC 6D meeting there was a first public peek at the designs for this central site being called 25 M Street, on the block just north of
Nationals Park
bounded by Half, M, N, and Van. And clearly Akridge is taking this project very seriously, as they arrived at the meeting with an army of people, including heavy-hitter architects
Bill Hellmuth of HOK
(who designed the office portion), Philip Esocoff of
Esocoff and Associates
(designers of the residential portion), and Jon Eisen of
StreetSense
(the group working on the retail).
I don't have any renderings yet (hope to within a month or so), but the ones displayed showed buildings with what Hellmuth described as "much more active facades" that "are not like a K Street monolith." There will be three buildings: two office buildings totaling 363,000 square feet, and a 276-unit residential building at N Street with roof terraces from which residents can look into the ballpark and watch the games. The facades step "out" and "in" (far enough in some places to require a zoning special exception), including some spots in the M Street office building that will allow tenants to look south into the ballpark, too. The general feel is not unlike the
Monument designs
for the other side of Half. (And, with a
raze permit already requested
, none of this incorporates the existing bus garage building.)
There will also be 56,000 square feet of retail, with a mix of one-, two-, and 2 1/2-story spaces occupying 69 percent of the ground floor, which will require a special exception from the
Capitol Gateway Zoning Overlay
's requirement of 75 percent. They are expecting to have national retailers for the spaces along Half Street, but are planning to look for smaller local "service" retailers for the additional space along Van Street.
They are also creating what they call the "Via," a pedestrian-only "street" that runs from Half to Van between the two office buildings at the same spot in their block as "Monument Street" will be across the way (just south of
55 M
). They are envisioning a "one-of-a-kind" DC destination: a marketplace with stalls and local vendors, where you could get fresh food, "quick-bite" carry-out, etc. (They mentioned Pittsburgh as an example, and I'm assuming they're referencing the
Strip District
.) The renderings also showed two glass-enclosed suspended walkways above the Via to connect the two office buildings.
The entire project will be LEED certified (as is now required in DC), though they aren't sure yet what level they'll be shooting for ("the goal is to get as high as we can"). Hellmuth said that HOK is not doing a single building in DC right now that isn't at least LEED Silver, and that all major tenants want to be in LEED buildings.
I didn't get the total number of underground parking spaces, but the residential will have three spaces for every four units. (Monument's project across the street, of similar size, would eventually have about 700 spaces.)
Akridge indicated that their "ideal start date" is January 2010, with construction of the entire 700,000-sq-ft project estimated at 22 months. But there is no firm commitment that it will start at that time (thanks to the Current Economic Situation), plus it could end up being built in phases.
The ANC commissioners seemed receptive to the plans (Bob Siegel said that it gave him a "nice, warm feeling"), though with the usual questions about employment for local residents and LSDBE considerations, and concerns about residents and tenants having to work around ballpark traffic.
Akridge was officially at the ANC to request its support for both the zoning overlay review and
the special exceptions
being requested. While some commissioners were ready to vote to give support immediately, others weren't, and so after a number of differing motions that all failed it was decided that representatives of both sides would work together to discuss "issues" so that the ANC can vote on the project at its Jan. 12 meeting. The Zoning Overlay Review hearing
is on Jan. 29
.
And, not that there's much to see yet, but I do know have an
Akridge/25 M project page
, mainly with views of the bus garage from various angles.
Tiny M Street Doings (Glass Panes and Medians)
Dec 8, 2008 11:05 PM
On my way back from the
ANC 6D meeting
, I noticed a couple items worth mentioning:
* The glass has now been completely installed around the Half and M entrance to the Navy Yard Metro station, at
55 M Street
. I know everyone just *loved* the cyclone fences that had been there, but time marches on. The
plans approved by the Zoning Commission
called for a special backlit treatment ("frit") of the glass--we'll see if that's still part of the design.
* There's a long row of construction barrels in the middle of M between Cushing and First. Perhaps someone who's seen the work can comment, but my uneducated guess is that they are preparing to rebuild the median there. The developers of
100 M
were given permission to remove the existing median there and between First and New Jersey so that they could occupy the curb lane, as long as they agreed to reinstall the medians afterward. Given how close 100 M is to opening, and with the sidewalk now open, I imagine this is probably what's going on. And not a moment too soon--I need back my places to stand for middle-of-the-street photos!
ANC 6D Meeting Monday (First Peek at 25 M)
Dec 5, 2008 12:44 PM
The agenda
for Monday's ANC 6D monthly meeting is out, and the most enticing item is Akridge looking for the commission's support in advance of its
Jan. 29
Capitol Gateway zoning overlay review
for its
new 700,000-sq-ft mixed-use development at 25 M
, on the site of the old WMATA Southeastern Bus Garage, in the block directly north of
Nationals Park
. At this point, little has been put forth publicly about the project other than it'll be a office/residential/retail mix, and is expected to get underway in early 2010.
Also on the agenda is a
third
go-round with the DC Housing Authority over the designs for some external trash enclosures for some of the units at
Capitol Quarter
. I wrote about the first discussion
here
, and the
Hill Rag has the report
on the second one. Will the third time be the charm, or will bad things come in threes? There will also be a status report about the
Capper
redevelopment in general.
There's also apparently a letter being brought by Commissioner Sobelsohn to express the ANC's support for retaining the Nats Express shuttle bus that brings stadium-goers to the neighborhood from the parking lots at RFK. I imagine that the ANC will be expressing some level of concern about increased traffic and parking problems if that shuttle service goes away (it was
reported last month
that Tommy Wells is in favor of ending it).
The ANC meeting is at 7 pm at St. Augustine's Church at Sixth and M streets, SW.
Mishmash: Liveable, Walkable Awards, Waiting on N22 News, Navy Yard Parking, Tweets
Dec 4, 2008 10:38 AM
* Tonight (Thursday) is Tommy Wells's second
Liveable, Walkable Community Awards
, from 6:30 pm to 8:30 pm at the Atlas Performing Arts Center, 1333 H Street, NE.
* Metro's live streaming of its board meetings seems to have been taking a lot of time off lately, so I can't yet tell you whether the Customer Serivce, Operations, and Safety Committee has approved at its meeting this morning the request to have a
public hearing on discontinuing the N22 line
. (Even if they have, the request still needs to be approved by the entire board at its Dec. 18 meeting.)
*
Infosnack Headquarters reports on the changes
in on-street parking near the
Navy Yard
to discourage free all-day parking. DDOT chose to use signage to prohibit rush-hour parking, instead of using meters to garner additional revenue, and Infosnack is displeased.
* The Nats will be ending their
2009 exhibition season
on April 4 at
Nationals Park
against the Orioles, in what is apparently going to become a tradition.
Latest
Tweets
, chock full of goodness:
* '09 Nats home games
added to my GCal
. (You can add them to yours via the buttons at lower right)
* And I'm reminded that I haven't mentioned the Parsons sign up in the windows at
100 M
--they're leasing 30% of the building.
Post-Holiday Scraping-for-News Post (N22, Twitter)
Dec 1, 2008 10:22 AM
With not much news afoot, and with the holiday weekend weather not meshing properly with my schedule of family shindigs to allow for any photo excursions (my new camera is crying out to be used!), I only have the smallest of tidbits to report.
* On Thursday (Dec. 4) the
WMATA Customer Service, Operations and Safety Committee
will be voting to approve
a public hearing on the plan to end the N22 bus line
that runs between Union Station, Eastern Market, and the Navy Yard station entrance at New Jersey and M. The District is planning to replace this bus line with a new Circulator route covering the same route, and also adding in a stop at the new US Capitol Visitors Center. If approved, the hearing would be held in January, and the expectation is that the Circulator route would be in place by Opening Day 2009. Read my previous posts on this change
here
and
here
.
And, here's two "Tweets" from Friday of terribly important breaking news items: (
follow me on Twitter
to get these as soon as I post them, or be sure to check the Twitter box at the upper right of the JDLand home page)
* Not sure when this happened, but the Capitol Skyline Hotel at South Cap & I isn't a Best Western anymore.
* Holiday snowflakes hung from the streetlights on M Street. Festive!
Zoning Overlay Review for Akridge Half Street Project
Nov 25, 2008 12:42 PM
While we're all busy
looking at the hole in the ground
on the east side of Half Street, plans are apparently moving forward across the way:
Akridge
's 700,000-sq-ft mixed-use project on the old
WMATA Southeastern Bus Garage site
(just across from the Metro station entrance) is now on the
Zoning Commission docket
for a
Capitol Gateway Overlay Review
on Jan. 29, 2009.
This project will cover the entire block bounded by M, N, Van, and Half, which is the stretch along which fans walk to
Nationals Park
from the west entrance of the Navy Yard Metro station. (Akridge
bought the southernmost parcel
from Monument Realty back in late August, at the same time it
finally closed on its $46 million purchase
of bus garage site.) A
raze permit application
was filed for the bus garage building in September.
There hasn't been much made public yet about this development, other than it will be a mix of office, residential, and retail, and the
hearing announcement
says that the FAR will be 7.9 and the maximum building height will be 110 feet. In addition to the overlay review (which sets out some
firm guidelines
for projects along M Street and in the Ballpark District), Akridge is also asking for relief from roof structure requirements, loading requirements, ground-floor retail requirements, and step-back requirements.
It's been reported that Akridge is expecting to begin on the project in 2010; they've hired
HOK
(designers of the ballpark and the
Plaza on K
),
Esocoff & Associates
(
Onyx
) and
StreetSense Inc.
to design what an
Akridge press release
calls a "one-of-a-kind destination." Quoting further: "'Half Street is the city's newest and most unique urban destination,' says Matthew J. Klein, Akridge President. 'This stretch between the Metro and the ballpark has great energy and we look forward to capitalizing on that and other natural amenities like the river, to deliver the area's best urban living, working, shopping, dining, and entertainment project.'"
I've marked this movement by finally giving the site
its own project page
(now separate from the old "
Ballpark District
" page). Hopefully in the lead-up to the zoning hearing we'll get a peek at some renderings.
Mini-Roundup: Metro Station Entrance Closed, Zoning News, Taxation w/out Representation Street Hearing
Nov 16, 2008 5:42 PM
A bunch of items to start the week with:
* Remember that the west entrance to the Navy Yard Metro station at Half and M is closed every evening this week from 8 pm until closing, thanks to work on
55 M Street
.
* On Monday (Nov. 13), the Zoning Commission gave final approval to moving
225 Virginia Avenue
into the Capitol South Receiving Zone, which will allow any construction on the block to have greater height and density than the 6.5 FAR/90-ft-height currently allowed. This was approved with two caveats: that there is Zoning Commission review of the design of the portions of a building proposed to rise higher than 90 feet to confirm that the building will be sufficiently setback from the eastern building face, and that any structure will provide a suitable northern focal point for the
Canal Blocks Park
. Read my
entry from the hearing a few weeks ago
for more information.
* On Nov. 24 at 2 pm, the city council will be
having a hearing
about
B17-0909
, the "Taxation Without Representation Street Renaming Act of 2008," which would "designate the portion of South Capitol Street, SE that intersects with N Street SE and Potomac Avenue SE as 'Taxation Without Representation Street, SE." It just so happens that this is the portion of
South Capitol Street
that runs alongside
Nationals Park
, where the council was thwarted in earlier
attempts to install an electronic tote board
showing the federal taxes that DC residents pay while still having no voting representation in the US Congress.
* Tommy Wells is taking nominations for the
Second Annual Livable, Walkable Awards
.
* For weeks I've been meaning to post that Nationals Park made the list of Travel and Leisure Magazine's "
Must-See Green American Landmarks
," thanks to being the first LEED-certified professional sports facility.
Taking Metro to the Anacostia Info Fair: Uhhhh... (Updated)
Nov 12, 2008 7:35 PM
Nice catch by reader S, who notes that the city's exhortations to arrive at Saturday Nov. 15's
Anacostia Waterfront Community Fair
at the
ballpark
via Metro appear to have
one small complication
:
"The Navy Yard Metrorail station west entrance on the Green Line will be closed for select days this month as a result of safety sensitive construction work directly above the station's entrance. The station's west entrance will be closed on the following dates:
"Saturday, November 15, 7 a.m. to 4 p.m.
"Monday to Friday, November 17 to 21, 8 p.m. to closing
"Saturday, November 22, 7 a.m. to 4 p.m.
"Customers who normally use the west entrance will need to use the east entrance located at New Jersey Ave. SE."
UPDATE:
They're
now going to be providing
free shuttle bus service from the New Jersey & M Metro entrance to/from the ballpark, from 12:30 pm to 5:15 pm.
Roundup: ANC 6D Agenda, 11th Street Bridges Short List, Metro Ballpark Crowds
Oct 15, 2008 2:20 PM
* The ANC 6D agenda for its meeting on
Monday Oct. 20
has been sent around (though not yet
posted online
). There will be a discussion of the
Ballpark Traffic Operations and Parking Plan
as it relates to Southwest, plus public space requests for building signage at
909 New Jersey
and "Brick Walls for Trash Enclosures" at
Capitol Quarter
. (These are also on the
Oct. 23 agenda
of the city's Public Space Commitee.)
*
The short list
for a design/build team to reconstruct the
11th Street Bridges
is out--Shirley Design-Build LLC, Skansa/Facchina, Archer Western Contractors LLC, Perini/Parsons Joint Venture, and KCA Constructors Joint Venture. According to the
procurement schedule
, a draft RFP should already be out (haven't found it online), and final RFP should be issued by the end of the year, with a contract signed with the vendor by June 1, 2009.
*
Metro announced yesterday
that 53 percent of baseball game attendees this year arrived at
Nationals Park
via Metrorail. That's 1.8 million bodies, averaging 23,000 people entering and exiting the Navy Yard station at the 80 home games in 2008. (It apparently doesn't count people who took the bus or walked down from Capitol South.) In the last two years at RFK, only 38 percent of attendees took the subway.
Marc Fisher has some thoughts
on it all (including some questions on Metro's math).
Raze Permit Application Filed for Bus Garage
Sep 26, 2008 6:51 PM
Now winding its way through the DC regulatory process is a raze permit for the former
WMATA Southeastern Bus Garage
, at 17 M Street (directly across from the west entrance of the Navy Yard Metro station and one block north of
Nationals Park
). The garage was purchased last month by Akridge,
which has indicated
that it is planning a 700,000-sq-ft mixed-use project on the site, perhaps getting underway in 2010. The permit request is currently under review by the city's
Historic Preservation Office
; ANC 6D would also have been notified.
Metro Board to Vote on N22 Bus Changes
Sep 22, 2008 1:47 PM
As
I wrote a few days back
, there are apparently plans to add a DC Circulator bus route in spring 2009 that would run between Union Station, the new US Capitol Vistors' Center (if it ever actually opens), and the Navy Yard station entrance at New Jersey and M (two blocks from
Nationals Park
). Since it would run on a similar route to Metro's N22 bus, Metro would then discontinue the N22, a move which requires a public hearing. So, on
the agenda
for this Thursday's WMATA board meeting is an item to both authorize the scheduling of the public meeting and also to amend Metro's FY09 budget to extend through March 2009 the current N22 service, which was expanded to evenings and weekends just before Opening Day as a way to move people to and from the ballpark.
Here is more information
detailing the agenda item.
One thing the board will not be voting on this week is the selection of a developer for the Navy Yard station's chiller plant site on the
southwest corner of Half and L
. Back in July there were discussions by WMATA's Planning, Development and Real Estate Committee in executive session about this selection, but nothing has been announced publicly and no items on the chiller site are on
any of Thursday's agendas
. Waaah.
DC Circulator Buses Replacing the N22 in 2009?
Sep 9, 2008 11:06 PM
In
the agenda
for Thursday's meeting of Metro's Finance, Administration, and Oversight Committee, there's a tantalizing sentence
in a request to extend
the special evening-and-weekend N22 (Union Station to Navy Yard via Eastern Market) Metrobus route service until March of 2009:
"The District of Columbia has advised WMATA of its intent to transfer the entire Route N22 as well as non-regional Route 98 (Adams Morgan-U Street link) to the
DC Circulator
effective March 29, 2009."
In poking around the
DC Department of Transportation
web site, I found
this newsletter
on the joint
DDOT/WMATA Neighborhood Circulation Study
that's now underway, and
the newsletter
has this to say: "DDOT is currently developing plans for future expansion of DC Circulator routes in 2008 to serve Union Station-the new Capitol Visitors Center and the
new Nationals Baseball stadium
. Another route in consideration would connect the Woodley Park/Adams Morgan/U Street/Corridor." (I'm guessing they mean 2009.) None of the four scheduled public meetings are in Ward 6, so perhaps there will be more sessions at a later date that will be more tailored to Ward 6 concerns. And WMATA will have to have its own public hearings on the discontinuation of the N22.
As always, we shall see, but I imagine just the prospect of a Circulator bus running to and from the Navy Yard station will generate some excitement.
Monument Sells Land South of Bus Garage to Akridge, and Pays $22.7 Million for WMATA Parking Lot
Sep 4, 2008 3:13 PM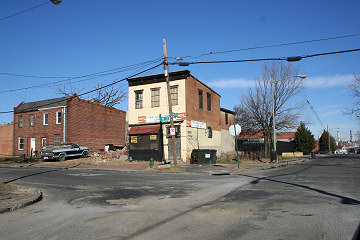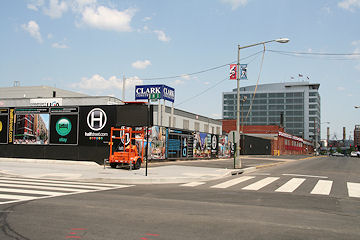 This hasn't been mentioned
in the items
over the past few days about Akridge's Aug. 27 closing of its $46.5 million purchase of Metro's
Southeastern Bus Garage
at Half and M: On the same day they closed on the bus garage, Akridge bought Monument Realty's land just south of the bus garage for $9.66 million. The site, a conglomeration of five or six lots that Monument cobbled together in 2004 and 2005, totals about 16,000 square feet along N Street between Half and Van, where the Good and Plenty carryout used to stand (for you old-timers).
To add one more Aug. 27 transaction to the mix: Monument also closed on its $22.7 million purchase of the 27,000-square-foot WMATA parking lot nestled between the Public Space Storage building and the old Domino's site, across Van from the bus garage. This is the land (currently Nats Parking Lot M) that Monument was awarded as part of the settlement of their lawsuit over the original awarding of all WMATA land on Square 700 to Akridge.
This means that Akridge now owns all of the west side of Half Street between M and N, while Monument owns the east side of South Capitol between M and N *except* for the Public Storage Building. (See my
Monument Ballpark District
page for photos.)
As mentioned in the other posts this week on Akridge's purchase of the bus garage, reports are that they are looking at a 700,000-sq-ft mixed-use project, beginning perhaps in 2010. Don't know anything more than this at this point. Monument had been working on a residential building at South Capitol and N (land they still own), but I haven't heard if that's still part of their plans.
Akridge Closes on Bus Garage; Could Begin in 2010
Aug 29, 2008 9:25 AM
From today's WBJ print edition
(subscribers only): "D.C.-based Akridge closed on Aug. 27 its $46.5 million purchase of the
Metro bus garage site
, which rival D.C.-based Monument Realty had intended to include in its opulent
Half Street
mixed-use development just north of
Nationals Park
." Akridge has hired
HOK
(designers of the ballpark and the
Plaza on K
),
Esocoff & Associates
(
Onyx
) and
StreetSense Inc.
to design what will be a 700,000-sq-ft mixed use development on the west side of Half Street. WBJ says that Akridge is
hoping to break ground in 2010
. (And, one small correction in the piece: the WMATA land that Monument gets the right to buy via the settlement of their lawsuit against Metro is not at the corner of South Capitol and M--which Monument already owns--but the parking lot just to the south, known as Nats lot M.)
No Chiller Site Developer Yet; Other Tidbits
Jul 25, 2008 10:17 AM
* No big news out of yesterday's WMATA board meetings--the board gave Metro staff the go-ahead to negotiate a deal with a developer for the 14,000-sq-ft Navy Yard chiller plant site at
Half and L
, but didn't say in public session who the developer is or what the project might be. The only tidbits in the resolutions were that the project should be LEED certified and that it should be required to make a contribution to the city's affordable housing fund (both of which, I believe, would be the case anyway given the city's new green building and inclusionary zoning laws unless there's some WMATA loophole I'm unaware of).
* I imagine all the local blogs will be talking about
this AP story today
on DC's levee system. To tie it to the neighborhood, one of the things currently happening at
the Yards
is that they're building up the ground level in places to make sure that it's above the 100-year flood plain.
* What's the Sports and Entertainment Commission doing now that the ballpark has opened? The
WashTimes takes a look
.
* The
Nationals have announced
their promotions and ticket packages for the rest of the season. They'll finally be back at home starting Tuesday after what seems like forever. See
my Events Calendar
for the schedule of home games through the end of the season.
*
NBC4 interviews
one of the coworkers of the
two men killed
on the open-top bus on the way to
Nationals Park
.
* DC Metrocentric
focuses on Near Southeast
by pelting me with questions.
* Off-topic, but readers might be interested in this
WashTimes overview
of the plans for and the current status of redevelopment in Southwest.
Navy Yard Station Chiller Site Decision Thursday?
Jul 21, 2008 10:35 AM
The agendas for Thursday's various Metro board meetings
have been posted
, and, barring a last-minute change, it looks like the Planning, Development and Real Estate committee will finally be taking up the awarding of the
Half and L
"chiller plant" site for the Navy Yard Metro station to a developer. It's going to happen in an executive session (
the agenda
says nothing more than "Term Sheet on Navy Yard Chiller Site"), so it could be possible it's not yet a done deal. They've been trying to bring this up at the board
since February
; the
solicitation for bids
for the 14,100-sq-ft site happened
nearly two years ago
.
Summer Arrives: News Grinds to a Halt
Jul 16, 2008 9:21 AM
With the city council
now
almost
in its summer recess until mid-September (though not before
David Catania introduced legislation yesterday
trying to raise the sales tax at
Nationals Park
in what appears to be an attempt to get back at the Lerners for
withholding the rent
), and with the Zoning Commission and most ANCs taking August off, the pace of bureaucratic-type news in these parts will be slow if not nonexistent for the next few weeks. We've got a Metro board meeting next week that might (or
might not
) be telling us the developer of the Navy Yard station's 14,000-sq-ft chiller plant site on the
southwest corner of Half and L
, but otherwise the
calendar
is all but empty until after Labor Day. (At least I can report that on Monday night ANC 6D voted 7-0 to approve a public space permit by
100 M Street
to install sidewalks and city arborist-recommended willow oak and elm trees.)
That said, I should have some interesting items in the next few days, including hopefully an update about everyone's favorite
What's the Deal With....?
subject. And of course I'll have photo updates every few weeks, especially since it's expected that framing of the first
Capitol Quarter
townhouses will get underway by early August. But beyond that, expect the pace around here to be more leisurely during the dog days. As it should be!
WMATA Authorizes Settlement with Monument; Akridge Gets Garage, Monument Gets Parking Lot
Jun 26, 2008 1:56 PM
I know nothing more than this right now, but the WMATA board just within the past minute voted unanimously to approve the settlement of the lawsuit brought against them by Monument Realty over the sale of the
Southeastern Bus Garage
at Half and M. The discussion was all held in executive session, and the audio feed of the vote contained no details of the settlement, but I imagine the media will be picking it up soon. More as I get it, so keep checking back. Read
yesterday's preview entry
for background on the story.
UPDATE, seconds later:
With the darn WBJ RSS feed not working, I missed this
from about 40 minutes ago
: ""Monument Realty and Akridge will split a key Metro-owned property near Nationals Park under a proposed legal settlement. [...] Monument will pay $22.6 million for a parcel on Van Street SE, while Akridge will pay $46.5 million for the Metro bus garage on the site, said Candace Smith, a WMATA spokeswoman." The Van Street site is the parking lot (Nats lot "M") just south of the Domino's site already owned by Monument. This means that the Public Space Storage building would be the only parcel on the block bounded South Capitol, Van, M and N not owned by Monument. Akridge would not gain control of the entire west side of Half Street with its acquisition of the bus garage: Monument owns the southernmost portion, directly across N Street from the ballpark, up to the alley where the On the Fly vending cart sets up shop.
Monument/WMATA Bus Garage Settlement Coming?
Jun 25, 2008 4:56 PM
From WBJ
(h/t to reader W), hints that a settlement may be close at hand between Monument Realty and Metro over the
lawsuit Monument filed in October
after WMATA awarded the sale of the
Southeastern Bus Garage
at Half and M to Akridge. This is the third Metro monthly board meeting in a row that has "Monument Legal Issues" on
the agenda for an executive session
, but maybe this time something will actually come out of it.
Back in February a
judge granted an injunction
to prevent WMATA from continuing with the planned $69.5 million sale of the garage to Akridge,
saying that
Monument "demonstrated a likelihood of success on the merits of their claim that they were substantially prejudiced when WMATA considered Akridge's nonresponsive bid and participated in improper ex parte discussions with Akridge."
Navy Yard Metro Chiller Site Developer Selection Pushed Back Again
Jun 20, 2008 3:32 PM
It's now becoming almost a monthly occurrence, watching for the WMATA Planning, Development, and Real Estate Committee agendas to be posted, to then find that the agenda item for naming a developer for the Navy Yard subway station's 14,000-sq-ft "chiller plant" site on the
southwest corner of Half and L
has been pushed to a "subsequent agenda"--and it's
now happened again
, with a July 24 date now attached to it. (It was last marked for June 26.) This site would be a joint development between WMATA and whoever gets chosen, and beyond that there's no hints as to what sort of development it could be, or whether they'd try to acquire the Empire Cab company next door on L. You can read all my previous entries on the
chiller plant here
--and I bet you didn't know that the blog has such a spiffy search interface!