Near Southeast DC: Past News Items
Metro/WMATA
Go to Full Blog Archive
---
Monument: Half Street Construction Not 'Stopped'
Feb 27, 2008 11:36 AM
After reading this in
Tom Boswell's column
today--"On the other side of Half Street is a huge block-long hole, several stories deep, where construction by Monument Realty has stopped"--I contacted Monument to find out if this is indeed the case.
(For those just joining us, a little background: Monument owns the
entire east side of Half Street
between M and N, just to the north of the
ballpark
, and is currently building the 55 M Street office building on the north end of the site, on top of the west entrance of the Navy Yard Metro station, which was expanded as part of the office construction. The south end of the block is slated to be a 200-room hotel and a 340-unit residential building, and is current a half-block-long excavated hole.)
Monument executive vice president Russell Hines has told me that construction drawings for the the hotel and residential part of Half Street are being finalized, and construction will begin in late spring or early summer, with completion in late 2009 or early 2010. The entire block was excavated early in 2007 because it made economic sense to do it all at once, but that because of the need to complete the subway station improvements by Opening Day, the 55 M construction was "accelerated" and the hotel/residential part of the project is just now "catching up." In fact, Hines says, work on the office building is continuing, with the building "topping out" in the next week or so. (You can check
the web cam
for up-to-the-quarterhour progress.)
Hines also wanted to make clear that what Boswell called a "legal battle between two developers" over the
Southeastern Bus Garage
site is in fact litigation between Monument and WMATA, not Monument and Akridge.
Boswell Looks at Everything Wrong By the Ballpark
Feb 26, 2008 11:15 PM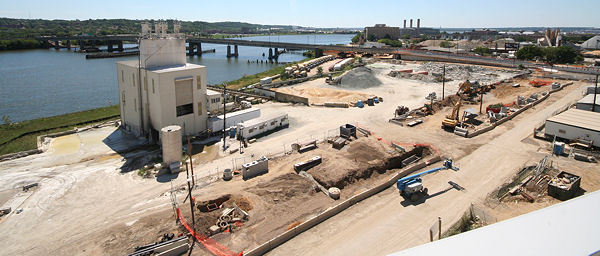 Wednesday's Post has a column by Tom Boswell ("
Nationals Park: Best of a Bad Lot
") listing the myriad problems he sees with the
ballpark
and its surroundings, with Opening Day now just a month away. The Navy Yard subway station. The parking situation. The
Florida Rock site
("an enormous and inexcusable 5.8-acre eyesore" that will be "sitting there all season, damaging
the river views
from all the ramps to the first base upper deck"). (He does mention that fences to obscure the view at ground level will be going up, which I posted about
a few days ago
.) The
WASA site
(which "would be the Most Unsightly Thing Near Any Big League Park if Florida Rock and Gravel hadn't already retired the trophy.") The
Monument Half Street site
, where he says "construction has stopped." The fact that
city views
are only available in the cheap seats.
But he ends with a stab at optimism: "Someday, the Anacostia riverfront will amaze us, just maybe not as soon as we hoped. When it comes to fulfilling huge civic dreams, what's a few years, more or less. In for a dime, in for a decade. "
On the other hand, the article confirms that the garages, which have long been a focal point of much complaining, will indeed be covered, as has long been shown in the renderings, with "league logos, replicas of the 'Washington All-Stars' from the right field scoreboard in RFK as well as colorful baseball-themed ads."
Roundup: Pope Tix, Bus Garage, Cancellations
Feb 26, 2008 8:38 AM
*
The Post
says that 14,000 tickets to the April 17 Mass at
Nationals Park
will be distributed to 120 Catholic diocese outside of the Archdiocese of Washington, with the Diocese of Arlington getting 6,000 and the Archdiocese of Baltimore getting 2,500. And on Friday, parishes that are part of the Archdiocese of Washington will find out how many tickets they're getting--parish priests will then decide how to distribute tickets within the parish.
* The
Examiner has a story
about the
Southeastern Bus Garage
site and that the Nationals and Metro are in talks to provide 350 gameday parking spaces at the garage (plus three nearby WMATA-owned parking lots, though that's not specified in the article). The only real news in the article is that a judge is expected to rule this week on Monument Realty's lawsuit over the sale of the garage site to Akridge. For more background,
read all my posts
on the bus garage saga.
* Yesterday's
scheduled council hearing
on Monument's
request to close the alley
on Square 700 just north of the closed BP Amoco station was cancelled. No new session has been posted on the calendar.
* And the
agenda
for Thursday's WMATA Planning, Development and Real Estate Committee does not include anything on the joint development of the chiller plant site at Half and L, as
had been anticipated back in January
. Maybe next month?
* If you think you're excited about the
local food vendors at the ballpark
announced yesterday, you should
read Marc Fisher
.
*
UPDATE:
I've gotten word that the long article in the March Washingtonian on the ballpark
is now online
. The other related article, about residential developments planned around the stadium, won't be posted for a couple of weeks. So you'll just have to go buy it, I guess. And perhaps you too can then be like the poor soul at Safeway on Sunday reading that article, who got accosted by a pesky blogger in line in front of him pointing to a name on the page, saying, "That's me." Thankfully he didn't call security.
WMATA Gives Initial Approval to N22 Bus Expansion, Southeastern Bus Garage Closure
Feb 14, 2008 5:12 PM
A bit on the run this afternoon, so I have to be brief: today Metro's Finance, Administration, and Oversight committee gave approval to two items
I wrote about earlier this week
: the plans to expand to nights and weekends the
N22 bus service
that shuttles between Union Station, Eastern Market, and the Navy Yard Metro station (
the Post says
until 10:30 on weeknights--hope that's late enough for baseball), and to move around some money to allow for the closure of the
Southeastern Bus Garage
at Half and M. Here's the
WMATA press release
on the garage closure, and do
read my previous entry
for additional details and links to WMATA documents. These two items are expected to be given final approval by the full WMATA board on Feb. 28.
Stadium parking aficianados should note that the closure of the bus garage--in addition to lessening the chance for "encounters" between buses and pedestrians--will open up two existing lots in the "
Red Zone
" just north of the ballpark, as well as space within the garage itself and just to its south. Also, WMATA has been using a surface parking lot at Buzzards Point that would be vacated with this move. There's no word at this point on when exactly the garage will be vacated, and if the space will be used for parking this season.
Metro: Proposals to Expand the N22 Bus Line and Vacate the Southeastern Bus Garage
Feb 12, 2008 12:19 PM
The
agenda is now out
for Thursday's meeting of Metro's Finance, Administration and Oversight Committee, with votes on two items of interest to Near Southeast and to ballpark-goers:
* WMATA is
proposing to expand
the weeknight and weekend service of the
N22 bus
that currently shuttles between
Union Station
(and its Red Line Metro stop) and the
Navy Yard station
at New Jersey and M via
Eastern Market
(and its Orange/Blue Line stop) and the Washington Navy Yard. The buses would run every 10 minutes, and on nights and weekends the route would eliminate the loop to 12th and M streets, SE (see the map on page 2 of the
current timetable
), in order "to provide a shorter and faster route to the ballpark." The District of Columbia is apparently going to pay $432,000 to cover the cost of the additional service from March through August. If approved, the expanded service would begin in March. The agenda documentation doesn't say what times the expanded service would end on weeknights or operate on weekends.
Read the agenda packet
for more.
* The city is also apparently offering to cover the costs of relocating the buses out of the
Southeastern Bus Garage
at Half and M (one block north of the ballpark), as part of a $1.39 million monetary shuffling
that WMATA is proposing
to undertake because the $69.25 million sale of the site to Akridge still has not been finalized. DC would cover the relocation costs until the sale is completed, and presumably by doing this the buses can get out of the garage by March 30.
Read the agenda packet
for more details. The city is extremely interested in getting the buses out of the way, not only because trying to operate that garage with hordes of pedestrians on their way to and from games would be a disaster waiting to happen, but also because the Nats might be able to squeeze a couple hundred more $35
Red Zone parking spaces
out of the garage land and the two lots adjoining it across Van Street (one to the north and one to the south of the Public Storage building).
These are just preliminary votes; if approved on the 14th, they would then go in front of the full WMATA board for final approval on March 28.
WMATA Still Planning to Leave Bus Garage Soon; Latest on Navy Yard Station
Feb 7, 2008 6:43 PM
For those (like myself) who have been wondering: John Catoe, Metro's General Manager, said at Wednesday's mammoth City Council capital
budget oversight hearing
that the agency is planning
to be out of the
Southeastern Bus Garage
at Half and M
by "the beginning of baseball season."
He only briefly mentioned "legal issues" about the
site's sale
to Akridge that they "hope to have resolved" within a few weeks, and didn't say anything about what plans Akridge might have for the site.
Catoe also said (a couple of times) that the west entrance of the
Navy Yard Metro station will be ready for Opening Day
. If you've been sneaking peeks at it from the
55 M web cam
(the station entrance is at bottom center), you've seen some concrete poured over the past couple of days for the floor and also the arrival of the escalators' steps.
(I've made it about half way through my recording of the six-hour-plus meeting, listening with one ear when I can spare a few moments. I still haven't gotten to the testimony from the Sports and Entertainment Commission and the Office of the Deputy Mayor for Planning and Economic Development, which might also yield a tidbit here or there.)
UPDATE:
I'm not the only one reporting on the station's status today.
Friday's Post has a piece
with the latest: "[T]he station renovation is back on schedule, with all of the inside work to be finished by the end of this month. Work is also proceeding at street level, where the kiosk, ticket machines and turnstiles are to be installed. Fans will come up three escalators or one of the new elevators into the office building's lobby. One wall will be open, fenced with chain link, as construction continues." It also has some tidbits that people are always asking about, such as: "
Metro plans 14 extra trains on game days
." And there's this: "Metro is also considering flat-panel TVs at the station entrance, which would post train information and perhaps carry video telecasts of the games." (Hmmmm.) The article also mentions
WMATA's Nationals page
, which was announced
a few weeks back
.
DC Budget Season Gets Underway
Feb 6, 2008 7:41 AM
It's the start of budget season for the DC City Council, a process which
Tommy Wells's blog explains
better than I ever could. (Bleary-morning-after-Super-Tuesday-brain doesn't help.) I've added the hearings that will probably have the most impact on Near Southeast to my
Upcoming Events Calendar
; the entire lineup is available on the
City Council web site
.
Today at 11 am is the 07-08 budget performance oversight hearing for DPW, DMV, DDOT, WMATA, the Sports and Entertainment Commission, and the Office of the Deputy Mayor for Planning and Economic Development, which means there's a good chance that the ballpark and related issues will come up at some point. The hearing will be broadcast live on Channel 13 and
streaming video
, and will be available
on demand
a few hours after the broadcast ends.
Thursday Zoning Commission Hearing on 1111 New Jersey
Jan 30, 2008 1:39 PM
On Thursday (Jan. 31) at 6:30 pm the Zoning Commission is having its
Capitol Gateway Overlay review hearing
for
1111 New Jersey Avenue
, Donohoe's office building at the corner of New Jersey and M. As I've written
before
, this project has been expanded to include 220,000 square feet of office space with 5,700 square feet of ground-floor retail in a 130-foot-tall glass-facade building, and is now subject to a
CG review
because of acquiring some land from WMATA that fronts M Street. This was
presented to the ANC two weeks ago
, which did not support the project because of the lack of a community benefits package.
The Office of Planning is recommending that this project be approved by the Zoning Commission; you can
see the OP report here
, which lays out point-by-point how the project stands up against the various CG requirements. There's also a request for a zoning special exception to waive a rear yard requirement; the Board of Zoning Adjustment
approved a similar waiver request
back in May
, but they're having to apply for the exception again because the building has grown in size since the BZA ruling, so there's now more building inside the rear yard area.
ANC Report #2: Monument Alley Closing Request
Jan 17, 2008 5:44 PM
At Monday night's ANC 6D meeting,
Monument Realty
presented its request for the ANC's support in closing a 2,417-square-foot alley that runs between South Capitol and Van streets not far north of N Street. This alley is north of the now-closed BP Amoco and south of what is now a WMATA employee parking lot on land owned by Monument (there used to be a
neon yellow bungalow
there, until late 2006). Christy Shiker of Holland & Knight told the commissioners that the Amoco property--which faces the
ballpark
's western parking garage--is too small to develop on its own, but with the alley closed and the lots combined, Monument would build a 130-foot-high
residential building
with approximately 150 to 200 units plus 14,000 square feet of ground-floor (or perhaps two-story) retail. Monument is not committing at this time to pursuing LEED certification for this building.
Shiker then described the community benefits package that Monument was offering to the ANC in return for the loss of this public space, including a $50,000 contribution to the community fund, the retail,
First Source
employment preferences, and an affordable housing component that would match whatever is called for whenever the city's Inclusionary Zoning mandates are finally hammered out. Monument would also work toward agreements on ANC6D resident preferences, to be determined with the ANC at a later date.
This became a sticking point, with Commissioner David Sobelsohn concerned about giving the ANC's support for this project merely on promises to make agreements later. Shiker pointed out that Monument has made these agreements before for their
other Ballpark District projects
, and also that the ANC will have another crack at the project when down the road it undergoes its mandatory
Capitol Gateway Overlay Review
. But Sobelsohn still felt that the ANC was being handed a "take it or leave it" proposition.
An audience member asked if Monument would be planning to build a temporary parking lot if the alley closing is approved, but Shiker said that Monument's goal is to develop the land, that they "want a building, not a parking lot." (Though one must admit that that is some pretty plum stadium-parking territory.) There were also questions about the Public Space Storage building just to the north (echoing my
WTDW entry from last week
), but Monument's representatives said that they didn't think the storage company would be moving.
Commissioner Bob Siegel moved to support the alley closing with further negotiations on the proposed benefits package as the project proceeds, but the ANC voted 2-2-1 and so the resolution did not pass.
The alley closing bill is
B17-0552
, and Shiker told the ANC that she expected a public hearing in late February, with perhaps council action in March or April. No date for actual construction of the project was mentioned.
Coming tomorrow--a recap of the
Florida Rock
portion of the ANC meeting, though you don't have to wait until then to see
the latest project renderings
that were presented. But my long-winded summary of what was said during the meeting will have to wait a bit longer.
ANC Doings -- 1111 New Jersey CG Overlay Review
Jan 16, 2008 1:42 PM
(This is the first of three dispatches I'll be posting over the next few days from Monday's
ANC 6D
meeting. Can you feel the excitement building?)
The developers of the planned office building at
1111 New Jersey
came looking for the ANC's support in advance of their
Jan. 31 Capitol Gateway Overlay Review
at the Zoning Commission. This project has been revised over the past few months after Donohoe
was chosen by WMATA
to acquire the 5,000-square-foot lot on top of the Navy Yard Metro's east entrance at New Jersey and M--by expanding 1111 New Jersey's footprint to this lot, which fronts M Street, the project became subject to a
CG Overlay
Review (
boring tutorial here
). While the WMATA land is being sold to Donohoe, this is in fact a joint development project with WMATA, who I imagine will receive a dollar or two over the coming years once the building is built and leased.
The new design was described by
WDG Architecture
as 220,000 square feet of office space with 5,700 square feet of ground-floor retail in a glass-facade building. While it uses a smidge of the WMATA land, the project will not be built on top of the station entrance as is happening with
55 M
--the station canopy will remain, and a there will be a large public plaza at this "important corner", along with a 60-foot setback with a double line of trees stretching up New Jersey. (Non-obsessive observers might not remember that 1111 NJ's footprint does not include the site of St. Matthew's Church immediately to the north--that lot is
being acquired by Ruben Companies
for a rumored residential project
, where no plans have yet been made, a Ruben rep tells me.)
Donohoe indicated that it plans to go for LEED certification for 1111, and mentioned that some of the ground-floor space would be designed with restaurant uses in mind, though the presenters said they remain aware of the requirements for community-oriented retail and preferred uses in the overlay area.
Beyond the LEED certification, retail, and public spaces, the developer offered no community benefits package to the ANC. Donohoe considers this project a matter of right that requires no additional benefits offerings, a stand which reopened the wounds from
back in April
when the earlier iteration of this project came before the ANC looking for support for a zoning special exception (and was voted down, though the
BZA approved the waiver
anyway).
The feelings of the commissioners hadn't changed in the intervening months, and they voted 5-0 not to support the project because of the lack of community benefits. (There was some procedural wrangling about the wording of the motion, but since the church where the ANC meetings are held is absolutely impossible to hear in, I didn't get the specifics--something about voting "not to support" versus voting "to oppose", I believe.)
No timeline for the start of construction was mentioned. Perhaps more information will be forthcoming at the Jan. 31 zoning hearing.
More ANC reports coming tomorrow--I'll have news of Monument Realty's plans for the
BP Amoco site
at South Capitol and N, followed by the latest in the
Florida Rock
saga. Stay tuned!
UPDATE:
Donohoe was nice enough to pass along the rendering of the new design, which I've added to the top of my
1111 New Jersey page
.
UPDATE II: Correcting a smidge of misinformation on the St. Matthew's site.
Metro Web Page for Ballpark; Parking Lot Zones
Jan 15, 2008 5:52 PM
Metro has just launched
a new web page to help stadium-goers plan their trips to Nationals Park via public transit. It's at
wmata.com/nationals
, and it gives links to Metro's Trip Planner, information on Metrobuses that stop near the ballpark, how to use the parking lots at Metro stations, and more. And, for you diehards: "Metro will soon be offering a choice of commemorative SmarTrip cards, available for a limited time only."
Also, the parking information for season ticket holders is starting to arrive in mailboxes around the area today. I'll link to the Nats' web site with the information once they've got it up, but until then, here's the
map of the four parking zones
and the prices per game that ticket holders will have to pay. (Note, none of the zones are in Southwest.)
Structural Work Completed on Navy Yard Station
Jan 15, 2008 2:05 PM
The official announcement will come soon, but Monument Realty has confirmed to me that today they are
turning over to WMATA
the
west entrance of the Navy Yard Metro station
--
on schedule
--so that "fare installation" can begin (i.e., making the entrance useable). Monument says they completed their building structural commitments to WMATA back on Dec. 21. (hat tip to
Nats320
)
If you look at the
Half Street web cam
, you can see that the station entrance at lower center does look like it's getting cleaned up somewhat. Monument's
initial Half Street project
--office, hotel, residential, retail--is not scheduled to be completed until the end of 2009, but the Metro station is expected to be reopened in time for the beginning of baseball. The 55 M Street office building is currently being built on top of the Metro entrance; the southern half of the block, which is currently a big hole but where a hotel and residential units will be offered, should see construction begin soon. Retail will line the ground floor (and some second-floor spaces) all along Half. No tenants have been announced yet for the retail spaces, and, as I mentioned
this morning
, Monument appears to be looking for a new chain to operate the 200-room hotel.
As for what Half Street will look like during the inaugural season of the
ballpark
while construction continues, the
Office of Planning report
on Monument's
request for some minor modifications
to their Half Street designs has a description: "As part of the original proposal, the applicant showed a covered walkway on the east side of Half Street as a temporary condition during construction. Present plans call for
pedestrian traffic to be directed to the other side of Half Street on non-game days, and for the entire street to be opened to pedestrian traffic on game days.
Therefore there is no need for a covered walkway. The applicant has committed, however, to
maintain a decorative fence at the edge of their construction zone
as generally shown in the original plans."
Half Street and 250 M at the Zoning Commission
Jan 15, 2008 9:38 AM
On Monday night the Zoning Commission considered two Near Southeast cases on its consent calendar. I wasn't there (having chosen to go to the ANC meeting scheduled for the same time), and the ZC's web feed experienced technical difficulties, so I'm posting some bare bones info that folks at the meeting have been nice enough to pass along.
Monument Realty
asked for 22 "minor modifications" to its
previously approved design
for the under-construction
eastern side of Half Street
. According to the
Office of Planning report
, the changes mostly centered on adjustments to the exterior architecture and the layout of the residential component. The most noteworthy change request is probably switching from a multicolored LED screen at the Metro entrance at Half and M (which WMATA turned down, apparently) to a backlit laminated glass panel. Also, nestled deep in the OP report is a request to modify the design for the hotel windows because the "
hotel operator has pulled out
" -- early on, the word had been that W Aloft would be running the midblock hotel on Half Street, but apparently this is no longer the case; I've heard nothing on any new operator. You can
read the report
to see the other requested changes. Though this was on the Zoning Commission's consent calendar, and the commission acknowledged that the changes are small, they still wanted to see some renderings showing the befores-and-afters of the proposed changes, and have scheduled a special public meeting for Jan. 28 at 6 pm to consider the request.
Now that the eastern side of Second Street (running along
Canal Park
) is considered "re-opened" (it's a long story), the developers of
250 M Street
are requesting to base the office building's height on the width of Second Street, which is wider than M Street. This would allow 250 M to go up to 130 feet, which apparently is the same as the height of 1100 New Jersey on the west side of the park,
although apparently the building's planned square footage would actually decrease slightly
which would increase the total square footage to 233,405. Though this was on the consent calendar, the commission asked the Office of Planning to submit a report on this, and there will be a public hearing.
UPDATED to fix an error about 250 M's proposed new square footage.
Monday Morning Tidbits
Jan 14, 2008 9:26 AM
Just a quick couple of links:
* The Washington Times profiles
Steve Cohen of
Opus East
, who's been promoted to vice president of real estate. Opus's two current projects in the District are both in Near Southeast:
100 M Street
and
1015 Half Street
(not "1015 F" as the article says). The article touches a bit on how Opus plans to handle any slowdown in the commercial real estate market.
* A few days back the
WashBiz Blog on washingtonpost.com
featured a quick overview of Monument's
Half Street project
and an interview with the company's executive vice president, F. Russell Hines. No news in the piece to any regular readers of JDLand--it mentions Monument's lawsuit against WMATA over the
Southeastern Bus Garage
, but gives no status report on where it stands.
* This is also a few days old, but I can't let an entry go by without mentioning
parking
, so here's a link to
a WUSA piece
from last week that, in a stunner, finds
baseball
fans who are upset at the idea of
Tommy Wells's Performance Parking Plan
, given that it might prevent them from parking for free on neighborhood streets for three-plus hours 81 nights a year.
Stadium Traffic and Parking Plan Hearing Summary
Jan 11, 2008 10:11 PM
Having just about reached my limit when it comes to writing about
stadium parking
, I'm going to cut to the chase and pass along the biggest items from today's hearing by the Committee on Economic Development on parking and traffic issues at the
new Nationals ballpark
. (It's a torrent of words, so I've bolded the most important items.)
The session began with ANC representatives testifying about the community's concerns that
no traffic and parking management plan has yet been unveiled
, and with not many days to go (no one was sure whether it was 82 or 81 or 80 days--it's actually 79, but I didn't pipe up), neighbors are getting increasingly nervous that plans and signage won't be ready by Opening Day. While Tommy Wells's proposed
Performance Parking plan
could eventually become the mechanism for handling on-street parking near the ballpark, it won't be able to be in place by Opening Day, and so residents want to know how parking is going to be restricted to prevent stadium-goers from descending on nearby streets in search of free parking and bringing what has frequently been referred to as "
controlled chaos
."
Kwame Brown became frustrated when trying to find out who is actually in charge of coordinating all the government agencies who have a hand in the ballpark and communicating information to the public--"
Who do I call? Who's driving the train?
" he asked a number of times. After much back and forth with Greg O'Dell of the Sports and Entertainment Commission and Judi Greenberg from the Office of the Deputy Mayor for Planning and Economic Development, it was finally agreed that
DDOT is now in charge of organizing and implementing the stadium's traffic and parking plans
.
Determining this was a good step for this hearing that had been convened to discuss those plans, except for one small detail--council member Brown's Committee on Economic Development does not have oversight responsibilities for DDOT, so
no one from the agency was in attendance
.
Oops.
(Apparently there had been plans to hold this hearing jointly with Jim Graham's Committee on Public Works and the Environment, which oversees DDOT, but that did not come to pass.)
It was said that
DDOT will be unveiling the traffic operations and parking plan next week
, though of course no one from DDOT was actually there to confirm or deny this.
Greg McCarthy of the Nationals testified about the
team's continuing efforts to plan for the onslaught of fans
, ranging from the mailing next week of parking information to season ticket holders to a planned media onslaught beginning in February to educate stadium-goers about the best ways to get to the park. (
Short version: Take Metro! Walk! Bike! Park in Metro parking lots! Don't drive to the ballpark unless you've already got a parking pass!
)
There
still is no signed agreement
between the Nationals and the city for use of
RFK as free satellite parking for non-season-ticket holders
, though clearly both sides anticipate it will get done, especially since the Nationals are working out the best routes for the free shuttle buses they plan to provide from RFK to the new stadium. (But Kwame Brown did not seem too enthused that the city might not be getting any revenue from the parking spaces.)
The team anticipates having 5,000 spaces for season ticket holders available in lots within walking distance to the ballpark--and, other than one lot that sits on the west side of South Capitol Street underneath the freeway,
all lots will be in Southeast
and none will be in Southwest.
Tommy Wells focused a number of times on the idea of the
neighborhood embracing the ballpark
as part of its culture and part of the character of the community. How neat it will be for residents to be able to walk to games, he said, expressing his hopes that the ballpark is a positive experience for both fans and residents. (Putting the stadium there "was
not a hostile act
by the government," he said). He also spoke of how the stadium's on-time and on-budget completion should be a real celebration for the city, but that he doesn't want it to become known as the "
ballpark with a traffic catastrophe.
"
My favorite moment of the hearing was when discussion turned to how exactly the onslaught of papal groupies will be handled when the Pope comes to the ballpark on April 17: I realized that all this time I had assumed
Pope = Mass = Sunday
, when in fact the event will be on a
Thursday morning
, which will make traffic and parking that much more of a challenge. Start planning your vacation day now.
Other
items of interest
:
* Charter buses are expected to be parked across the South Capitol Street bridge during games.
* The Nationals have secured 4,000 of the 5,000 spaces they are eyeing near the ballpark, and expect to have the other 1,000 by Opening Day. There will be about 3,000 spaces at RFK, in Lots 7 and 8, and the team will be running a test of the RFK shuttle buses on Friday.
* There will be 130 handicapped parking spaces in the two lots on the ballpark site.
* The Navy Yard Metro station is expected to be ready by Opening Day.
* The Nationals will be responsible for clean-up around the ballpark and surrounding streets after games, most likely through an augmentation of the Capitol Riverfront BID's "clean teams".
* There are still plans for two job fairs to be held in Southwest, perhaps on Feb. 9 and 23 at Greenleaf Rec Center.
There's probably other items I missed that some people might be interested in, but I think that's more than enough for a Friday night.
It's anticipated that a joint hearing of both the Committee on Economic Development and the Committee on Public Works and the Environment--which oversees DDOT--will be scheduled soon.
WTDW: Another Thrilling 'I Don't Know' Edition
Jan 10, 2008 8:12 AM
Time to dip back into the
What's the Deal With...?
mailbag, where once again I'm being asked fabulous questions that I don't actually have any answers for. But that hasn't stopped me yet....
* Readers B. and K. are the most recent readers to ask about the
Public Space Storage building
on South Capitol between M and N, just a few feet north of the
ballpark
, wondering whether it has any plans to close. I know that
Monument Realty
was interested in acquiring the building, since it owns the lots just to the building's south as well as all other parts of the block not owned by WMATA, but that was before Metro awarded the
Southeastern Bus Garage
and its parking lot (on the north side to the storage building) to Akridge. It's certainly a valuable piece of land, and I don't think it's going out on a limb to say that I doubt it will be there many years from now, but as of this point I've heard of no deals.
* Reader R. has asked about
Canal Park
, which continues to appear stalled, with no public pronouncements on it in months. (And with that "Spring 2008" still displayed for all to see on the sign at Second and M.) Is it still the school buses throwing up the roadblock, which is what we last were told? Is there some new wrinkle? I haven't heard anything, I'm sad to report.
* Reader F. asks about
Ann's Beauty and Wig Shop
, the dazzlingly pink building sandwiched between
St. Matthew's
and
Onyx
at 125 L Street, wondering if it's going to be sold. Ann's came to this block in 2005, after I believe being forced out of Waterside Mall in SW, and the owner has apparently been pretty vehement with potential suitors that she has no intention of selling. Perhaps the
pending sale of St. Matthew's
to Ruben Companies could change that, but as of now, I've heard nothing.
That's the best I can do for now--absolutely no useful information at all! No doubt there's scuttlebutt on each of these that I'm not privvy to, but I continue to be unsuccessful in my quest to get all city officials and private-sector parties operating in Near Southeast to inform me at all times about all their dealings. It's almost like they think I'm just some sort of powerless pesky neighborhood blogger or something....
Got a WTDW question? (maybe even one that I might know the answer to?)
Pass it along
. But I'll close with a hint--when it comes to oft-discussed projects around Near Southeast, as soon as I hear information that I can confirm, I post it. (I do tend to stay away from posting rumors, and considering some of the ones I've heard over the years that have turned out to be fabulously incredibly wrong, I don't regret this.) If you haven't seen any updates lately about Canal Park, or
Capitol Quarter
, or the
Post Plant
, or any other project, it's because nothing new has come my way. I'm as desperate to post the latest news flashes as you are to read them....
WMATA Choosing Developer for Half and L Chiller Site
Jan 9, 2008 8:51 AM
Back in September 2006
, WMATA
solicited proposals
to develop four of its properties, including the east entrance of the Navy Yard Metro station at New Jersey and M and the 14,100-square-foot parcel on the
southwest corner of Half and L
streets, SE, where the Navy Yard Metro station's "chiller" is located. While the sale of the New Jersey Avenue land to Donohoe
was approved
by the WMATA board in December, there hasn't been even a smidgen of news about the chiller site in more than a year.
But now, nestled deep in the
posted paperwork
for Thursday's WMATA board meetings is an
expected agenda
for the Feb. 14 meeting of the Planning, Development and Real Estate Committee that lists "Navy Yard Station Chiller Site Developer Selection" as one of the action items. Citing the ongoing negotiations, Metro wouldn't give me any additional information, so we may have to wait for Valentine's Day for the "reveal," unless someone blabs beforehand. Once the mystery developer's section is approved by the WMATA board, the final negotiations for an agreement would begin. The property is currently assessed at just under $4 million.
The
solicitation
described WMATA as "looking for innovative plans . . . that will yield quality developments for the local communities, increase transit ridership, enhance the local tax base and provide a stream of revenue to WMATA for capital needs." Proposals were also supposed to follow the principles of "transit-oriented development" -- "providing safe, walkable, mixed-use communities that emphasize transit connections and reduce auto dependency." While doing all that, the site's developer would still have to replace the chiller operations either on site or somewhere close to the Navy Yard station.
There's also a 7,700-square-foot privately owned parcel next to the chiller on L Street, assessed at $1.72 million and currently home to the Empire and DC Flyer Cab Company. It has had "Build to Suit" signs flying for quite some time, so it's possible that the developer of the chiller site could acquire that land as well. And this spot is already surrounded by current and planned office projects, with the completed
20 M Street
and the planned
1100 South Capitol
on adjoining lots, and the starting-any-minute-now
1015 Half Street
across L Street. See my
Square 698 page
for photos.
Near Southeast 'The Place to Be' in 2008
Jan 4, 2008 9:51 AM
The Washington Business Journal has
a huge "Looking Forward" piece
in today's print edition, and its first prediction is this: "The place to be in D.C. in 2008 will be the Southeast waterfront." It then gives a quick run-down of what's going on (some
baseball stadium project
leads the list), and references the expected lack of amenities near the ballpark until
Monument Half Street
opens in 2009. Also: "Real estate insiders will be watching to see when the first major private office tenant lands in Southeast. Both CNN and National Public Radio have short-listed sites, but no company has committed to pioneering the private office sector yet." And: "Major work is expected to get under way in 2008 at
The Yards
, which Forest City Washington is developing in the area formerly known as the Southeast Federal Center. The first offerings at the 42-acre project will be
residential
and
retail
, with projects slated to open in 2009." But JDLand readers knew all this already....
Another Photo Update - Ballpark West Side, 55 M
Dec 27, 2007 4:00 PM
In case you've already grown tired of the ballpark photos I posted on Monday showing the
eastern
and
southern
sides of Nationals Park, I've now updated the
South Capitol Street
images, too. (The northern views will have to wait until the reconstruction of N Street eases.) The main
Ballpark Exterior Photo Gallery
is now in pretty good shape after a short span of neglect (but as I said the other day, I think I needed the break).
I also took some new photos to capture the progress at
55 M Street
, plus the completion of demolition at
1345 South Capitol
.
If you don't feel like clicking around on all those links, here's
all the photos I've posted in the past week
. Try not to be blinded by those blue skies!
A few other items of note: The BP Amoco station on the
northeast corner of South Capitol and N
has fences up around it--I can't believe no one let me know! It's owned by Monument Realty, and I haven't heard about any near-term plans for the site. This leaves only one gas station in Near Southeast--the Exxon way over at 11th and M. There used to be three gas stations on South Capitol, now there aren't any. (And I've lost yet another source for my
Gas Prices page
. Waah!)
Also, new fences have gone up around the
1015 Half Street site
, taking up one lane on K Street and on Half Street. Some exterior work was done to the DC Foreign Car building, but the little building is still there. For now.
I hope to get updated photos of
70/100 I
and the pile of rubble that used to be
old Capper Seniors
within the next week. There's just too much activity to document these days--I've got to break it up into manageable pieces....
New Page: Nationals Park FAQ
Dec 26, 2007 6:21 PM
I was
trying
to take a few days off, but an idea popped into my head during an attempted nap that I just couldn't ignore. So say hello to a new page: my
Nationals Park Frequently Asked Questions and Rumor Destruction Page
(call it the
Ballpark FAQ
for short). I tried to pull together the questions that I hear and see the most often, from basics about the park's location to all the questions about Metro, parking, and entertainment options around the site. I'm going to keep it updated as events warrant--I know there's going to be a flood of information from the team and the city about how to get to the ballpark as Opening Day gets closer, which will allow many of the FAQ's "specifics haven't been announced" answers to be fleshed out with actual details. It also doesn't address much of the in-the-weeds detail of baseball at the ballpark--I'll leave that to Nationals fan sites.
This FAQ is now the default ballpark page, and replaces the old Stadium Renderings gallery, which has now been
moved to a new page
(after all, renderings are less important when the dang thing is just about three months away from opening!). So if your bookmarks have changed, apologies. The
exterior
and
interior
stadium photo galleries
are still in their proper places.
(As for why on earth I didn't do a page like this a loooooong time ago, I plead insanity. Yeesh.)