Near Southeast DC: Past News Items
jpi
Go to Full Blog Archive
---
Catching Up With a Few Small Items
Mar 8, 2009 11:05 AM
I've been out of town for most of the week, so posting was kind of haphazard. Here's some additional items, starting with news from just this morning:
* Reader atweber passes the news via
Twitter
that workers have told him that the Third and K Market will be opening next month. So, those wishing to stay in the neighborhood to shop won't have to use CVS as their "supermarket." (And the new windows and door are so pretty!)
* Not officially confirmed, but the
WashTimes is reporting
that President Obama has agreed to throw out the first pitch at the April 13 Nationals home opener.
* Via
the BID's latest newsletter
: the little beige building at 900 M Street that once was a Hudson car dealer (and more recently a dialysis center) is scheduled to open in April in its new incarnation as a retail building. It's said that the owner has received one letter of intent from an undisclosed tenant. (Just speculating, but maybe it's the Dunkin Donuts franchise
that was reportedly looking
in the Navy Yard area?)
* The BID has also announced the lineup for this summer's lunchtime concert series at the plaza behind
USDOT
, though you have to
page through their calendar
to see the schedule of artists. It runs on Wednesdays at noon from May 20 through Sept. 16.
* When I posted about FiOS internet at
70/100 I
and asked "is this news?", I should have referenced
this post from last summer
, about the "First Community to Offer FiOS" sign on Half Street, where we discussed that FiOS internet was already listed as available at those addresses on the Verizon web site.
* The day after
I posted about
the calls from Nancy Pelosi and Harry Reid to convert the Capitol Power Plant from coal to natural gas,
ABC7 reported that
"several thousand demonstrators "urged Congress to pass legislation to reduce greenhouse gases, and they targeted the government's own Capitol power plant as a symbol of the problem. An enthusiastic crowd of mostly young people marched from a park near the Capitol to the power plant several blocks away, where they planned to block entrances and were prepared to get arrested. The group chanted along the way, 'We don't want the world to boil, no coal, no oil!'" Darryl Hannah and Robert Kennedy Jr. were among the protestors. When they arrived at the power plant they were met with "about a dozen" pro-coal counter-demonstrators.
* On Thursday
the Post looked at
how the office building development biz in DC has all but ground to a halt: "Not a single office building has been started in the District since October, a sign that the slowdown that began in the far-out suburbs has now reached prime city locations." The Hood (surprisingly) isn't mentioned, though
WBJ reported a few months back
that Donohoe was looking for (but unable to secure) funding for
1111 New Jersey
.
FiOS Internet at 70/100 I (TV to Come)
Mar 4, 2009 12:07 PM
I didn't think it was actually news that
70 and 100 I Street
have FiOS internet, but
this announcement
today from Verizon could be read like it is. "Residents at two new apartment buildings in this city's revitalized Capitol Riverfront neighborhood now have access to Verizon's FiOS Internet, the most advanced broadband service available." Maybe the real lede is this: "The service also will be available this spring in a third building [
909 New Jersey
] currently under construction in the same neighborhood." As for the more desperately awaited FiOS TV service, no word on *when*: "JPI's buildings in Washington -- and other single- and multifamily residences throughout the District -- will also ultimately have access to Verizon's award-winning FiOS TV as the company rolls out the service over the next few years under a recently approved franchise agreement."
Scraping the Barrel for News
Feb 25, 2009 9:37 AM
I'm still here, though perhaps you can't see through the large tumbleweeds currently blowing across the JDLand.com landscape. There just hasn't been hardly any news of late, and in a strange way, the less news there is, the harder it is for me to carve out time from real life (where a couple big projects are consuming much of my time) to do the deeper digging. Plus, I'm on strike from taking photos until the weather gets warmer.
That being said, I can report (h/t to reader E. and the
55 M
construction cam
) that the new sidewalks around 55 M are starting to go in. There's also some utility work being done across Half at the
bus garage
to prepare for its demolition. The web cam also has a view of the back of the Red Porch restaurant at the
ballpark
, where I'm keeping an eye on when the
upgrades
might start to that space.
Speaking of sidewalks, there's some very nice public space work being done at
909 New Jersey
, with a combination of concrete and brick sidewalks being put in along New Jersey (along with the front steps to the building). And anyone who's been close to Near Southeast at night has now seen the blue lights that run along the top of the building's "bow." (They match the color of the lights on the Douglass Bridge.)
And
Capitol Quarter
framing work has now made the turn up Fourth Street north of L.
If the lack of news is bumming you out, you can always go back and read what was happening
this time last year
. It was *slightly* busier, as we were hitting the final weeks before the opening of the ballpark. Then again, if we go way back, to
February 2004
, I posted one entry for the entire month. (I'm just now realizing there's no easy access to the monthly archive of blog entries from the home page--but if you look down the right margin of any "interior" page on the site, you'll see the "Browse by Month" links.)
Groundbreaking at Diamond Teague on Friday; 909 New Jersey Soon; Occupancy Numbers; More
Feb 12, 2009 7:38 PM
* On Friday at 10:30 am the mayor will be hosting a groundbreaking at
Diamond Teague Park
; construction started back in December (photos on my
project page
from a few weeks ago show the piers and ramps around the pumphouse have already been dismantled). The timeline as described to me
at the end of January
is that the new piers are to be ready by Opening Day, with the landscaping and land-based improvements to be completed by July; we'll see if those dates are still operative at tomorrow's event.
* The
Capitol Riverfront BID
newsletter says that JPI's
909 New Jersey
is "set to open ahead of schedule in April." The "
909 at Capitol Yards
" official web site has floor plans and more information.
* Also from the BID newsletter (which isn't posted on their web site, otherwise I'd link to it), some occupancy numbers for the three buildings participating in this weekend's "
Luck of the Draw
" art extravaganza: Velocity has sold 52 of its 200 units (which is still right around the 25-percent mark reported
back in July
of last year);
100 I Street
is 25 percent leased (it was reported at around 16 percent leased in December), and
Onyx on First
is 27 percent leased (after having been 8 percent leased in December).
* The BID also has the
list of public events
over the next few weeks at the
Navy Yard
. (I used to be on a mailing list for these and would add them to my calendar, but that ceased a while ago and the
Navy Museum's own web site calendar
hasn't been updated since last year.)
Details on 'Luck of the Draw' This Weekend
Feb 10, 2009 12:37 PM
From a
just-sent-out press release
, more details on the "Luck of the Draw Art and Music Event" being put on by
Artomatic
,
Pink Line Project
, and the
Capitol Riverfront BID
in the neighborhood this weekend:
"Luck of the Draw will transform selected units, lounges, courtyards and the parking lots at
Velocity
Condominium,
Axiom
at Capitol Yards and
Onyx on First
residential buildings with photography, installation art, graffiti artists, live music, DJs and dancing to create a threeday neighborhood art and entertainment event. Start the night at the Velocity Condominium's entertainment tent on Half Street between L St and K St SE, and then head over to Axiom at Capitol Yards at 100 I (Eye) St SE and Onyx on First at 1100 First St SE. Draw playing cards at each location and, in traditional Washington, DC style, barter, trade and negotiate with others for the best 5-card poker hand to enter a raffle and win an iPod Nano. Beverages and snacks will be available at the venues as well."
It's free and open to the public. Hours are 6 pm to 10 pm on Friday and Saturday (the 13th and 14th) and 2pm to 6 pm on Sunday the 15th.
Roundup: NatsFest, Wendy's, Yards Park, Teague Park, Lower Barracks Row
Jan 22, 2009 1:53 PM
Pulling together some reminders and other recent
Twittered
tidbits:
* This Sunday is
NatsFest
at the
ballpark
, from 1 pm to 5 pm. It's being held indoors in the various club areas, so if you've never gotten to see some of the lounges, or the conference center, or the clubhouse, this might be a good opportunity. Season-ticket holders get four free tickets; for the rest of the world it's $10 for adults and $5 for children under 12.
* Last week a raze permit was issued for the defunct Wendy's on I Street. No word on when demolition will actually occur. This is where JPI is planning its fourth Capitol Yards apartment building,
23 I Street
, but there's been no recent intelligence on when they might decide to get underway.
* Construction hasn't yet begun on the
Park at the Yards
, but some additional information and more detailed renderings should be coming to light over the next month. Forest City is scheduled to make presentations to the National Capital Planning Commission
on Feb. 5
, and the
Commission on Fine Arts
on Feb. 16, and possibly ANC 6D on Feb. 9.
* A reader is reporting this morning that a derrick crane is going up at
Diamond Teague Park
--perhaps that's to begin work on the water taxi piers. (Though note that there was already a crane of some sort there back in December
when I took these photos
.)
* Apparently the various property owners surrounding the section of
Eighth Street
south of the freeway have gotten together along with the Capitol Riverfront BID to start working on plans to perk up the area, using the
Connect Barracks Row
report by University of Maryland Urban Studies and Planning students as a jumping-off point. Look for public meetings in February-ish.
Comments
(1)
More posts:
23 I
,
Capitol Riverfront BID
,
8th Street
,
Restaurants/Nightlife
, jpi,
Square 697n
,
Nationals Park
,
Teague Park
,
Water Taxis/Riverboats
,
The Yards
,
Yards Park
Images and Updates from the Last Photo Trek of 2008
Dec 29, 2008 6:26 PM
I don't dare tally up how many photos I've taken over the past 12 months, but suffice to say it's a lot. That didn't stop me from a quick lunchtime trek around the neighborhood to grab my final pictures of 2008, with a starkly blue sky as an end-of-year gift. Here's a boatload of before-and-afters for your perusal: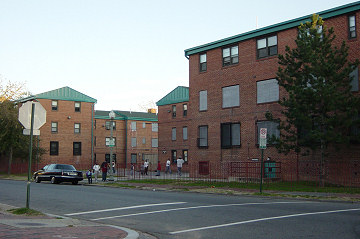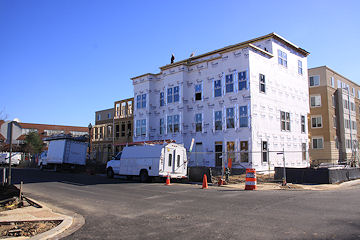 I started at
Capitol Quarter
, where the first three townhouses at Fourth and L are already framed, wrapped, and window'ed (I imagine the developers are trying to get those units finished as close to "on schedule" as possible). Here's the
before-and-afters for the intersection's southwest corner
; be advised that taking southward-facing photos in winter is no fun at all, so apologies for all glare, skipped angles, etc.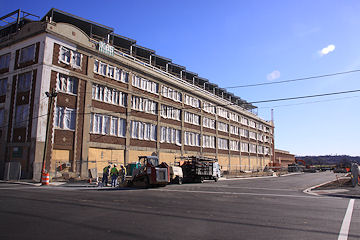 I next ventured to
The Yards
(USDOT security guards be damned!) for updated photos of the
Foundry Lofts construction
, where most of the framing of the two new top floors appears to be finished. And both Third and Tingey streets are now nicely paved and curbed, which you can see along with the Foundtry Lofts construction in these
Third and Tingey photos
, and also in shots from one block west, at what someday will be
Second and Tingey
. And, for the heck of it, here's a few new
New Jersey and Tingey images
. (Remember to look for the

icon, as always.)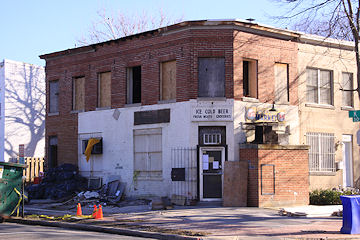 And, acting on tips from alert readers, I checked out the
Third and K Market
, which is now being gutted. There was no one around to answer any questions as to what is up, but seeing work getting done a few months after a For Rent sign went up (and quickly disappeared) would seem to be a good sign....?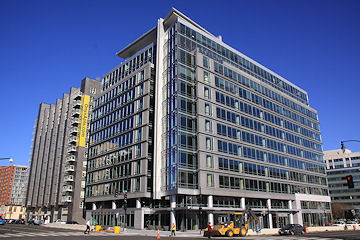 I also went to First and M, where workers at
100 M
have now given back one lane of M Street and told me that the median east of First will be rebuilt soon (as the one west of M recently was). The silver bullding against the unbelievably blue sky makes for a nice tableau
in these updated photos
.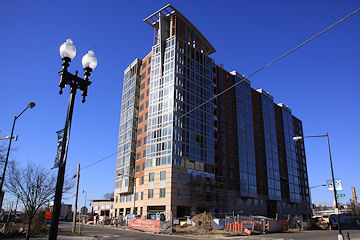 There are also a few updated shots of
909 New Jersey
, taken mainly from the
First and I intersection
, which is also notable for the nice little fence and landscaping that's now gone in across the empty lot to the east of
100 I
, visible in
many of these new photos
.
Will that tide everyone over until the new year? I know I'm now good for a while....!
Near Southeast Gets an Inaugural Bash
Dec 22, 2008 2:20 PM
(It's a guarantee that as soon as I put up a "I won't be posting for a while" entry, something comes down the pike.) As part of the four-day party-packed inauguration celebration, there's going to be a
Capitol Riverfront Gala
, officially entitled "Sunday Night on the Hill," on January 18 at
70 I Street
(the Jefferson at Capitol Yards). Food will be provided by Eighth Street's Cafe 8, and music by "international DJ TFresh." The festivities will start at 8:30 pm, in both indoor and "heated outdoor" spaces (maybe this includes the roof?). Tickets are $110 (which includes food and an open bar), with discounts available for active military members in uniform. Dress code is "creative black tie."
City Paper on the 'Capitol Riverfront', and Other Links
Dec 10, 2008 1:10 PM
Piling a bunch of stuff together, again:
*
Just posted
on its Housing Complex blog (and in this week's print edition), the City Paper takes a look at the "Capitol Riverfront," both in the attempts to brand the neighborhood and in how empty it currently is (the subhed for the piece says "Developing a Name for the Southeast Waterfront Is Easier Than Actually Developing It" ).
UPDATE:
I should also mention that Housing Complex has also
posted occupancy numbers
for the new buildings in Near Southeast:
70 and 100 I
are 18 and 14 percent leased,
Onyx
is at 8 percent,
Capitol Hill Tower
is at 75 percent,
Capitol Quarter
Phase I is sold out, and
Velocity
is 25 percent sold.
* Reader J. reported yesterday that interior work seems to have begun at the old dialysis building at
900 M Street
. They're rehabbing the interior and the exterior to create three retail storefronts, though no tenants have been announced yet.
* The Douglass Bridge is
having another early-Sunday-morning-closure
on the 14th.
* Planners are trying to figure out
where to put all the charter buses
coming to town for the inauguration. I'm guessing that the surface parking lots all around Near Southeast are going to be pretty enticing.
Comments
(6)
More posts:
70/100 I
,
900m
,
Capitol Hill Tower
,
inauguration09
, jpi,
M Street
,
Onyx
,
parking
,
Retail
,
Douglass Bridge
,
Square 743N
,
Square 699n
,
Nationals Park
JPI Renting Out 70/100 I Units for Inauguration
Nov 13, 2008 10:19 PM
Now
here's some quick-thinking
: "With high-end hotels completely booked and District residents renting out their homes to tourists, JPI has joined the inauguration rental frenzy and will rent unleased apartments at two of its recently delivered projects near
Nationals Park
. The Dallas-based developer will require a three-night minimum stay at the
Axiom at Capitol Yard and Jefferson at Capitol Yards
. The company did not release pricing information, but said it will offer guests a choice of furnished one or two-bedroom units. They also will receive access to 24-hour concierge service and conference rooms, gym facilities, free wireless Internet access in common areas." (
WBJ
)
UPDATE:
Per Ed's
link
in the comments, the prices are $750/$1,000 per night for 1 and 2 BR units (with that three night minimum). Here's
the Craigslist post
.
ANC 6D Report (909 NJ and Cap Quarter Permits)
Oct 21, 2008 3:11 PM
Here's a brief wrap-up of Near Southeast-related items from last night's ANC 6D meeting (though the folks following
my Twitter feed
got some pithy tidbits in real time):
* JPI was there requesting support for a public space permit to put up a sign at
909 New Jersey
. If you've been thinking that this apartment building looks pretty far along, you're correct: the JPI rep said that they're looking to deliver the first units in February. The building has 6,000 square feet of ground-floor retail space, of which 4,000 is expected to be leased to restaurants. The discussion about the sign permit devolved into concerns about the main staircase on New Jersey Avenue splitting up the public space, which DDOT's public space committee has already approved but which ANC members weren't sure they'd ever seen. The vote on the sign permit request was 4-0-2 in favor of asking DDOT to postpone the decision on the sign as a protest against the sign and NJ Ave public space permits not having been done together.
* EYA and the DC Housing Authority presented their request for ANC support for some new brick "screens" on certain public housing units at
Capitol Quarter
that won't have alley access and so will need to have their trash and recycling cans placed by the buildings' fronts. There are nine corner buildings in Capitol Quarter with 27 public housing units that will need these screens, though there are also corner buildings at CQ that are not public housing, and there are additional public housing units that are not in these corner buildings. But the ANC felt that these trash screens would make the affected units easily identified as public housing, which would negate what commissioners described as the "concept of Hope VI" where you're not supposed to be able to "tell the difference" in market-rate and public-housing units from the outside. There were also concerns about units with windows above the trash enclosures (i.e., the smell and also having to look out at the trash bins). The rep from DCHA asked the ANC to table the request for support rather than oppose it (so that EYA and DCHA could come back with some revised designs), but the ANC voted 5-0 to oppose the request anyway.
Both these public space permits are on Thursday's agenda of the city's Public Space Committee.
There was also to be a discussion of the stadium
Traffic Operations and Parking Plan
, but it got moved to late in the agenda, and it sounded like it was going to be just in terms of the impact on Southwest, so I will admit that I didn't stick around.
Roundup: ANC 6D Agenda, 11th Street Bridges Short List, Metro Ballpark Crowds
Oct 15, 2008 2:20 PM
* The ANC 6D agenda for its meeting on
Monday Oct. 20
has been sent around (though not yet
posted online
). There will be a discussion of the
Ballpark Traffic Operations and Parking Plan
as it relates to Southwest, plus public space requests for building signage at
909 New Jersey
and "Brick Walls for Trash Enclosures" at
Capitol Quarter
. (These are also on the
Oct. 23 agenda
of the city's Public Space Commitee.)
*
The short list
for a design/build team to reconstruct the
11th Street Bridges
is out--Shirley Design-Build LLC, Skansa/Facchina, Archer Western Contractors LLC, Perini/Parsons Joint Venture, and KCA Constructors Joint Venture. According to the
procurement schedule
, a draft RFP should already be out (haven't found it online), and final RFP should be issued by the end of the year, with a contract signed with the vendor by June 1, 2009.
*
Metro announced yesterday
that 53 percent of baseball game attendees this year arrived at
Nationals Park
via Metrorail. That's 1.8 million bodies, averaging 23,000 people entering and exiting the Navy Yard station at the 80 home games in 2008. (It apparently doesn't count people who took the bus or walked down from Capitol South.) In the last two years at RFK, only 38 percent of attendees took the subway.
Marc Fisher has some thoughts
on it all (including some questions on Metro's math).
Interior Photos from Onyx and Axiom/100 I
Oct 7, 2008 2:17 PM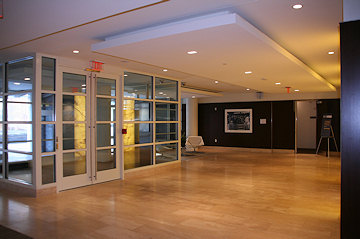 Although the leasing office has been open for a few weeks now, I only just visited
Onyx on First
this past weekend. They're still putting on the finishing touches (their certificate of occupancy came through not too long ago), so I was only able to see the main floor and one of the model units, but at least now I do finally have
photos from the inside of the building
(scroll down if the link doesn't jump you down the page). I also got a couple shots from the roof, but things aren't quite completed up there, so I didn't get a photo of the pool. And since they're now open, I've moved Onyx to "completed" status.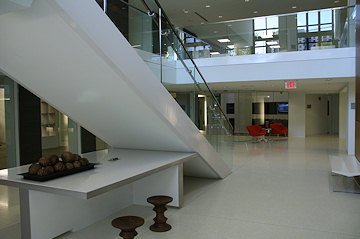 The Axiom apartment building at
100 I
has been open for a little while, but I hadn't gotten myself in there since a pre-occupancy construction-dust tour back in June. That has now been rectified, and I've posted
photos of the common areas and one of the model units
. (Didn't get back to the roof, though.) You can also see my interior photos from sibling
Jefferson/70 I
, to see the warehouse vs. modern differences in the designs.
Some Late-Afternoon Pics (With Others to Come)
Oct 5, 2008 9:51 AM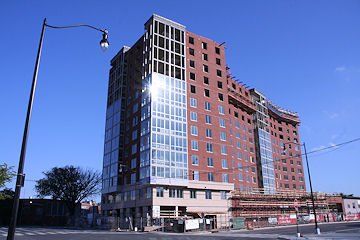 I took a few quick pictures on First Street and Fourth Street on Saturday, to capture
909 New Jersey
and
Capitol Quarter
in the late-afternoon sun--you can see
all of them with their befores here
.
I also finally got to some other shots to fill in two glaring holes in my portfolio, but it might be a couple of days until I get those posted. Until then, you'll just have to guess.
JPI East Lays Off Staff; Says I Street Projects Okay
Oct 3, 2008 2:22 PM
From today's print edition of the Washington Business Journal (
subscribers only
): "In response to the burgeoning credit crisis, local multifamily developer JPI East has reduced its development and production capacity, laying off half its development divisions. The company would not say how many people were involved, but insiders say it was fewer than 10."
As for JPI's projects in Near Southeast, including the almost-completed
70 and 100 I,
the under-construction
909 New Jersey
, and the in-development
23 I
? "The company still has 10 deals under construction in the region, including three luxury apartment projects in the Capitol Riverfront district near
Nationals Park
. All three have the debt and equity to go forward, [JPI East's president] says." It might be worth noting, however, that the previously announced September 2008 start date for 23 I has come and gone; and the Wendy's building is still standing, and I haven't so far seen any raze permits coming through the pipeline for it.
Hit-or-Miss Batch of New Photos
Sep 30, 2008 10:18 AM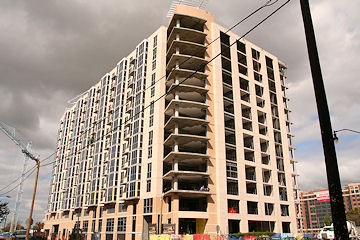 Before the storm clouds arrived yesterday (literally and figuratively), I got out and took an incomplete smattering of pictures along
Second
,
New Jersey
,
First
,
Cushing
, and
Half
. (Use those links to see all the before-and-nows of these latest shots.) These new photos are mainly of
909 New Jersey
,
Velocity
,
55 M
, the empty skyline where
1015 Half
is just about to reach ground level, and the final "after" photos from the demolition of the Merritt Cab building at First and K on
Square 696
. The sun disappeared before I could get over to
Capitol Quarter
, so new photos from there will have to wait a few days, and since the afternoon remained cloudy (and busy), I didn't take an afternoon batch (i.e., no photos looking east).
And, if you haven't wandered through them for a while, the
gallery of my favorite before-and-afters
is a striking walk through the past few years, as the memories of the old Near Southeast start to get just a wee bit hazy.
More New Photos: Progress at 909 New Jersey, and the Latest Views from the Southeast Freeway
Aug 25, 2008 2:03 PM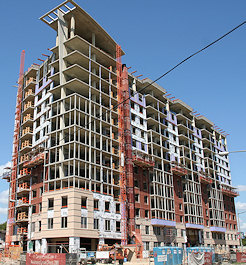 The facings and brick continue to go up at
909 New Jersey
(and there's even a window or two). I took a pretty complete set of the close-up photos, some of which you can see on the
project page
; for more, and to see the building from farther away (to get an idea of how prominent it is these days in the neighborhood's ever-changing skyline), check the
Expanded Project Archive
.
I also got updated shots of the northwestern part of Near Southeast from one of the more popular vantage points,
up on the Southeast Freeway
approaching South Capitol Street. The before-and-afters (especially the grainy one from September 2000) are a good reminder of how much has happened, and how fast. And with
1015 Half'
s crane now front and center, we know that this view will be changing (again!) within a few months. (And this is where I need to remind that I take these freeway photos from a passenger seat at 55 mph, not on foot or behind the wheel. Duh!)
Onyx Looking Close to Opening; 909 Getting Bricked
Aug 4, 2008 1:06 PM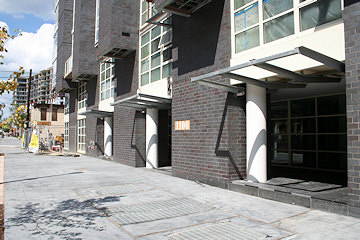 A few weeks ago I was told that the
Onyx on First
apartment building would probably be opening its first three floors in early August, and judging by the newly installed sidewalk along First Street and a peek into the lobby, it doesn't appear to be far off. The building will have approximately 260 units, and began construction in fall 2006. On my
Onyx project page
, you can see updated photos, along with a few new images of the buildings that preceded Onyx on this site.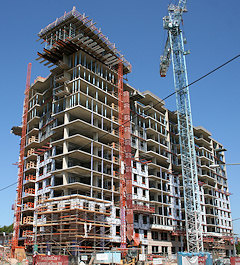 Two blocks to the north,
909 New Jersey
speeds along, with its distinctive roofline now visible from many locations around the neighborhood, as you can see both on the
project page
and in the
Expanded 909 Photo Gallery
. (What do we call this roof thing? The crow's nest? The bow?) The photos also show that brick is now being added to the First Street side of the building. This 237-unit rental building with ground-floor retail space will be the third of JPI's four "
Capitol Yards
" residential developments, and is expected to be completed next year.
(And while you look at all the latest photos, be sure to take a moment to thank the supreme being of your choice for bestowing upon us Sunday's gorgeous weather and severe clear blue sky, which is such a rarity given DC's normally haze-filled Augusts.)
Wendy's Now Closed
Jul 26, 2008 7:42 PM
Not sure exactly when this happened, but sometime within the past few days the
Wendy's
on I Street between South Capitol and Half streets, SE, has finally closed down, after being rumored to be coming Any Minute Now since May. JPI has announced plans for its fourth Capitol Yards residential building on the site, a 420-unit "loft-style" building called
23 Eye
that would also have ground-floor retail. Previous statements from JPI had pegged the start of 23 I's construction this fall--I haven't heard whether that's still the plan.
100 I (Axiom) Now Open for Business
Jul 18, 2008 8:51 AM
An e-mail went out late yesterday announcing that
Axiom at Capitol Yards
(better known around these parts as
100 I Street
) is now open for business, almost exactly one month after older sibling
Jefferson/70 I
went live. Axiom, with about 246 units, has a more modern design in comparison to Jefferson's "warehouse/industrial" look, but has many of the same amenities, such as a roof pool, fitness center, "resident pub," etc. (I've got
interior photos from about two months ago
, which I hope to get updated soon--I almost took a photo yesterday afternoon of the main entry that now has an "Axiom" sign above it, but I thought to myself, "Oh, I'll just wait until it's officially open." Oops.)
The official web site is at
AxiomCapitolYards.com
, and leasing has been underway for a few months. And, like all younger siblings, Axiom's debut into the world will probably be less of an event, with fewer announcements, parties, photos, home movies, birthday presents, etc. (Do I sound bitter?)