Near Southeast DC: Past News Items
Restaurants/Nightlife
Go to Full Blog Archive
---
Tidbits: Five Guys; Gump; 295 Lane Closures; SoS
Jun 10, 2010 1:12 PM
* There's been discussion on
Twitter
about this, but I guess it needs to be elevated to the blog--last week a sign went up at Five Guys on Second Street saying that it would be closed for maintenance from June 4 - 14. It certainly looks like they're doing work in there, and I doubt that if it were closing for good they would have given a timeframe, but I know people are nervous, given the dearth of other choices. I don't know any additional details, so feel free to post in the comments if you have any scuttlebutt to add.
* The BID's summer outdoor movie season continues tonight (Thursday) with
Forrest Gump
. Festivities start at Second and M streets, SE, at 7:30 pm, though the movie itself doesn't begin until after sundown.
(I'm already making plans for the July 8 showing of Star Wars--if anyone wants to hang out with me, I can regale you young whippersnappers with tales of seeing it at the Uptown in the summer of 1977, and how my mother almost made us leave because she couldn't quite get hip to robots walking around in sand dunes.)
Aak! They've taken it off the list, and replaced it with
Legally Blonde
! Waah!
* From DDOT, a notice about some
lane closures this weekend on DC-295
, which are technically outside my iron-clad boundaries but which do have to do with the
11th Street Bridges project
: "From 9 pm on Friday, June 11 into the evening of Sunday, June 13, DDOT contractors will close one travel lane in each direction of DC 295 between the 11th Street Bridge and Pennsylvania Avenue. The work is part of the 11th Street Bridge Project. In addition, there will be single lane closures Saturday on both the northbound and southbound sides of Kenilworth Avenue (DC 295) at Eastern Avenue. This work if related to the replacement of the Eastern Avenue Bridge." They warn that there could be backups of two miles or more.
* I didn't really blog about Wednesday's phenomenal debut of Stephen Strasburg (though I was at the game and Tweeted here and there) because I figured that there might be one or two other outlets where you could get the latest. But it will be interesting to watch the impact on the neighborhood if he continues to pitch like an alien being--will all of his games bring huge crowds? Will attendance start to lift at games when he isn't playing? Will game-day traffic and transit issues that haven't really been at the forefront become a sore point if more people come to games more often? And will restaurants and bars (and retailers and office tenants and residents) start thinking a little more about being near the
ballpark
? The
Summer of Strasburg (SoS)
could get quite interesting....
QUICK ADD: From the Nats: "The Washington Nationals will host their annual blood drive, in partnership with Inova Blood Donor Services, this Saturday, June 12 in the Nationals Park Conference Center from 8:00 a.m. to 5:00 p.m. In addition to helping save a life, blood donors will receive two tickets to a future Nationals game, a limited edition Build-A-Bear Workshop bloodhound and the opportunity to take an exclusive behind-the-scenes tour of Nationals Park." There will be a second drive on Aug. 28, from 8 am to 2 pm.
Sunday Rearview Mirror: The 1977 Cinema Follies Fire
Jun 6, 2010 2:47 PM
(For someone who graduated from college with a degree in history, I have done a lousy job over the years of documenting the history of Near Southeast with anything approaching the zeal of my coverage of its present and future. I can offer no good excuses, but I'm going to begin to rectify this with a new series, "Sunday Rearview Mirror." I don't pretend to have the level of knowledge or experience of the pre-ballpark era as those who passed through Near Southeast during those years, but hopefully by taking the time every so often to highlight and describe events from the past I can help make sure that the new residents and workers who only recently heard of Near Southeast have some awareness of the people and events that came before them.)

It was in the 1970s that the western edge of Near Southeast became home to a new entertainment district for the city's gay residents, with its remoteness and lack of nearby residences allowing some measure of freedom for a culture that was only just beginning to step out of the closet. The area between South Capitol and First streets--with clubs like the Lost and Found, Club Baths II, Grand Central, Waaay off Broadway and Washington Square--became home not only to nightclubs with dancing and music but also but bathhouses, x-rated movie cinemas, and strip clubs. One of the new clubs was the Cinema Follies, which opened in 1975 at 37 L St., SE, showing x-rated gay films.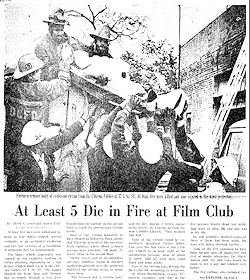 On Oct. 24, 1977, an explosion on the ground floor triggered by cleaning chemicals started a fire, with flames quickly consuming carpeting and wall hangings, blocking the exit for the patrons who had been in the 50-seat second floor theater. The fire never reached the second floor, but the smoke quickly became overpowering. However, a door that led to the roof was padlocked, and the windows had been replaced with cinderblocks. According to the Washington Post's account, "most of the victims were found in the orange-and-black theater seats [...] and may have been overcome by the smoke before they realized what was happening."
Nine people died as a result of the fire, making it the deadliest fire in Washington DC up to that time, a mark that stood until a fire at an unlicensed group home on Lamont Street, NW, killed 10 in April 1979. Identification of those who died at the Follies was hampered by the fact that, as the Post reported, "Many homosexuals do not carry identification when they visit homosexual gathering places," being "wary about the possibility of jeopardizing jobs or social position by having nonhomosexuals learn of their sexual orientation" in case their presence at club might be made public "through a police raid or other event."
(An interesting sidelight to the issue of identification was a column by Post ombudsman Charles Seib soon after the fire, questioning the Post's decision to not use the full names of some of those who died and no names at all of the injured. The column quoted then-Managing Editor Howard Simon as saying that the paper's main motivation was "compassion for the wives and children" [since some of the victims were married] but Seib went on to ask whether this approach had the effect of "underscoring the stigma of homosexuality, of shoving it back in the closet at a time when efforts are being made to bring it out and address it as a social fact?" This is an issue that papers still clearly struggle with,
even today
.)

William Oates, the manager of the club, was eventually fined $650 in 1979 for violating four building codes, though city officials stated that Oates "did everything possible" to try to comply with the laws, but poor city record keeping and poorly written codes made it difficult. (The city did work to strengthen its codes in the wake of the fire.) However, nearly eight years after the fire, in September of 1985, families of four of the victims were awarded more than $1.5 million in a civil suit against the club's owners.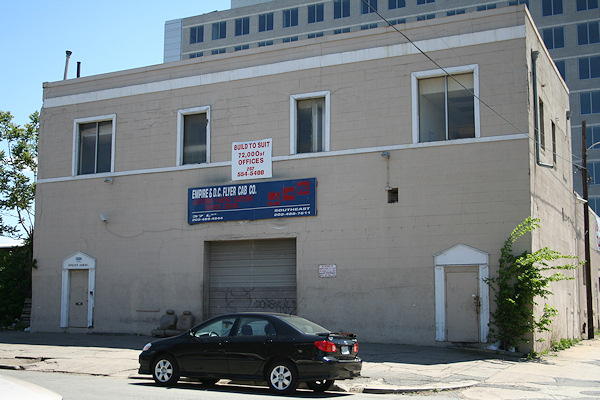 Within a year or the fire, Oates opened "The Follies" at its
new location
at 24 O St., SE, where it operated until it was
demolished with many other gay nightclubs
in May 2006 to make way for
Nationals Park
. Somewhat amazingly, the building where the Cinema Follies fire took place, which was not all that heavily damaged,
still stands today
, on L Street directly across from the under-construction
1015 Half office building
. It's currently home to a cab company.
I plan to write more Rear-View Mirror entries in the future about the neighborhood's past as a nightclub district, but until then,
this 2003 pamphlet
by the
Rainbow History Project
gives a great overview of the clubs that used to be such an integral part of Washington's gay culture. Hard to believe that, when the pamphlet was written, the authors had no idea how little time the existing clubs had left.
Justin's Applying for Sidewalk Tables; Additional Info on the New Liquor Store (and the Little Red Building)
Jun 3, 2010 10:49 AM
The report from Wednesday night's ANC6D ABC Committee meeting:
* Justin's Cafe is seeking to add four tables, with umbrellas and four chairs each, on the sidewalk directly in front of the restaurant. They would be available the same hours as the restaurant itself, until 1 am Monday through Thursday, 2 am Friday and Saturday, and 10 pm Sunday. There were concerns from a commissioner or two about whether people might walk away from the outdoor seating area with alcoholic drinks, about the additional noise brought by 16 or so people outside, and about whether cigarette smoke from the tables would waft up and bother the Velocity units directly above. Justin Ross replied that a sign would be posted about alcohol only being consumed on the premises, and that smokeless ashtrays would be available for the tables (and that since people can't smoke inside the restaurant, there's already a lot of smoking going on outside on the sidewalk). Velocity's management had sent along a letter in full support of the plan.
The committee voted 4-0 in favor of recommending that the ANC support the application, and that vote should come at the ANC's June 14 meeting, if Justin's voluntary and community cooperation agreements are revised in time.
* The owners of Capitol Hill Wine and Spirits on Pennsylvania Avenue SE came to talk with the committee about their plans for
a new "upscale" liquor store
at 909 New Jersey Ave., SE, which they will be calling Harry's SE & SW. (For about nine years they ran the Harry's liquor store at Waterside Mall in SW, which closed about five years ago.)
They have signed a lease agreement to take the two retail spaces on the north side of the building, at the corner of New Jersey and I, and they will be knocking down the wall between them in order to end up with about 2,200 square feet of space. The hours would be 9 am to 9 pm Monday through Saturday (or possibly 10 pm on Fridays and Saturdays), and closed on Sunday. They would sell beer, wine, and liquor, as well as milk, sodas, juice, cheese, and other "quick stop" items, but would not sell sandwiches as had been mentioned on the meeting agenda. They hope to open in September or October.
Much of the discussion centered around whether they will try to get an exemption in order to allow sales of "singles," which is a very hot-button issue. The owners said that they want the exception so that they can sell "high end" Belgian beers, which come in single bottles, and have no intent to sell the cheaper singles that can attract a somewhat less desirable element. However, ANC 6D chairman Ron McBee said that he imagines it would be very difficult to get support from the full ANC for the exception, and that there would also be concerns about any attempts to amend the singles law that might make it look like the law was targeted toward one socioeconomic class and not another.
Also discussed was the possible impact of this new store on the long-held plans for a similar high-end liquor store at Second and L SE on the site of the "Little Red Building." The ABRA rules state that liquor stores can't open within 400 feet of each other, and these two would be more than 500 feet apart as the crow flies. But Mr. Park, the owner of the LRB, is clearly concerned about whether the neighborhood can support two very similar operations. He is moving forward with plans to demolish the LRB and put up a new structure, and is also looking at an October-ish opening date. (He said he'd send me the building plans soon.)
In the end, the committee voted 4-0 in favor of recommending that the ANC support Harry's license application. A voluntary agreement and a community cooperation agreement will now need to be hammered out, and those involved weren't sure if one could be ready by the June 14 ANC meeting, in which case it would probably come up at the July 12 one.
Comments
(13)
More posts:
909 New Jersey
,
Alcohol/Liquor Licenses
,
ANC News
, Restaurants/Nightlife,
Harry's Reserve
,
jpi
,
Justins Cafe
,
Little Red Bldg/Lot 38 Espresso
,
meetings
,
Retail
,
Square 699n
Justin's Cafe Opens Today (and SW Safeway, Too)
Apr 16, 2010 8:08 AM
The word yesterday from the BID is that Justin's Cafe is opening today, and, if so, that means the neighborhood gets its first new restaurant in a long LONG time and what might be considered its first "real" bar. (For a new restaurant, you have to go back to the opening of Five Guys in 2005, if you're not counting the 2007 opening of Starbucks or the arrival of the restaurant and bar at the Courtyard by Marriott in 2007 or the Bullpen.) If you get there for some
food
or drinks, post your thoughts in the comments.
I'm thinking of maybe next Thursday, April 22, as an unofficial little JDLand Happy Hour? (In other words, I'll go have a drink or two, and see if anyone else comes along. :-) )
Also opening today is the new and improved Safeway at Fourth and M, SW. If you shop there, pass along what you see.
Updates from Capitol Riverfront BID Newsletter
Apr 11, 2010 10:25 AM
It's not online that I can see, but here are some items from the most recent "FRONT Page News" e-mail newsletter from the BID:
* "Capitol Riverfront neighborhood day at
Nationals Park
will be Wednesday, April 21st with ticket discounts available to residents, employees, and friends of the BID." The on-street supervisor of the BID's Clean and Safe Team will be singing the National Anthem. [I think, though, that Southwest is going to be part of this "neighborhood day" as well, even though it's not in the BID. This was mentioned at an ANC 6D meeting a few weeks ago.]
* There will be a "
Fitness in the Front
" event at
Canal Park
on May 1, with free classes offered by local instructors and information tables (and freebies!).
See the link
for the lineup and additional info.
* Residential update: "The residential population in the Front is estimated to have reached 3,030 as of the first quarter of 2010. Rental properties including the
Onyx
,
Axiom, Jefferson
and
909
are 95% leased. For sale units including
Capitol Quarter
,
Capitol Hill Tower
and
Velocity
are 71% sold. The residential population is predicted to reach 3,500 by the end of 2010."
Justin's Cafe Gets Liquor License; April 16 Opening
Apr 6, 2010 8:32 PM
I've just received the news from Justin Ross that he got his liquor license today, and that
Justin's Cafe
is on target for an April 16 opening. (Yes, I know I was skeptical of that date a while back, but now that I've heard it from the guy who's name is on the sign....)
If you haven't been following along, Justin's will be a restaurant with full bar serving pizzas, sandwiches, and salads, open seven days a week with regular "bar hours," just a few blocks up First Street from
Nationals Park
. Here's an
electronic version of the menu
.
We'll have to do a JDLand get-together there in late April.
Links Roundup (Evergreen Media Coverage, Justin's, Nexus Gold Club Memories, Marines Meeting Reminder)
Mar 23, 2010 9:46 AM
*
WBJ is first out of the gates
with what I expect to be an avalanche of whats-new-around-the-ballpark stories, tied to Opening Day and now a March staple for all DC media outlets. Nothing new in it, and a few quibbles (Justin's Cafe isn't open yet, the water taxis also ran late last year, Sayres lease is 20k), but I guess it's a decent quick roundup if you're not keeping track. Which, if you're reading this blog, you are. :)
UPDATE:
Ah, now I know where WBJ got the idea--the BID's
State of the Capitol Riverfront Spring Update
. Basically a straight copy-and-paste. (Not the end of the world, of course, but never a bad idea to be straight with readers about your sourcing.)
* Speaking of Justin's,
ABRA said yesterday
that there were no protests filed for its liquor license application. A reader reports that
Velocity
is telling residents that the restaurant will open April 16, but after watching rumored opening date after rumored opening date come and go for other places in the past, I remain skeptical of any rumor other than "it's opening tomorrow." (That isn't to say that the dates that get floated are necessarily propaganda--just that the final road to opening a business has a lot of potential pitfalls, especially in the permit process.) On the other hand, a reader passed along
an electronic version of the menu
, if you want to whet your appetite while waiting; though note that
the web site listed
hasn't launched yet.
* From
the Post
: the nude dancing license that used to belong to the Nexus Gold Club--on the site of what is now
909 New Jersey
--is now being rebirthed as the "
Stadium Club
," a strip club getting ready to open on Queens Chapel Road, NE.
* Don't forget that the second public workshop in the Marines'
project to build a new barracks
, focusing on potential development sites,
is tonight from 6:00 to 8:00 pm at Van Ness Elementary (1150 5th St., SE), with a repeat tomorrow from 8:30 to 10:30 am at the North Hall of Eastern Market.
The agendas are here
(and if you're trying to figure out how to get into Van Ness, the project web site says: "Enter through the main doors on the eastern side of the building (where the parking lot is) and follow the signs to the auditorium downstairs"). If the discussion going on
in this comments thread
is any indication, it's going to be an interesting meeting.
Links Roundup: 11th Street Bridges, Bullpen, Wells Challenger, Council Tickets, Freeway Signs
Mar 14, 2010 2:54 PM
Some items of interest
I've tweeted
over the past few days:
* Barry Farm (Re)Mixed shames me
by posting recent photos
of the
11th Street Bridges
construction.
* The Bullpen opens for the 2010 season
on April 3
, when the Red Sox come to town for an exhibition.
* Capitol Hill Tower board member (and, I assume, resident)
James DeMartino
has announced he's running against Tommy Wells for the Ward 6 council seat. DeMartino is running as a Republican. (Here's
a WashPost brief
on the item.)
* Mayor Fenty has
given the city council its ballpark suite tickets
for the 2010 season, leaving reporters across the city bereft at the thought of not having the on-going tiff to cover.
* Technically off-topic, but: I've been grumbling for more than seven years now about the poorly placed sign on the SW Freeway for the C Street SW exit, which points drivers to a left-side lane but then requires them to move two lanes to the right within a quarter-mile to get to their ramp, So I finally
took some photos
to explain the issue and tweeted them to blow off some steam. Soon after,
@ajfroggie
posted
two
great
images
of how to replace the signage along that stretch to fix not only my complaint but some general problems with all of the signs.
Bullpen Back for Another Season; Other ANC 6D Doings
Feb 25, 2010 9:12 PM
The snowblown February ANC 6D meeting finally went off tonight, and here's the Near Southeast-related bullet points:
*
The Bullpen
will be back in action this season, in its same spot on the northwest corner of Half and N across from
the ballpark
. There were two requested changes to the voluntary agreement between the ANC and the owner: that the bar be allowed to operate until 1:30 am (with alcohol sales ending at 1:00), and that liquor in non-frozen form be allowed alongside the already approved beer, wine, and frozen drinks, both of which are already allowed under the liquor license. The discussion was more contentious about process than it was about content (with commissioner David Sobelsohn arguing strongly that the motion should be tabled until the next meeting, which none of the other commissioners were interested in), but in the end the commission voted 6-1 to approve the extended hours, and that mixed drinks could be served during private events. There were some concerns from commissioner Rhonda Hamilton about the noise at the bar on weeknights, but owner Bo Blair said that live music will always be cut off by midnight.
* There is a move afoot by commission Bob Siegel to carve out some of the curb space in front of
Capper Seniors #1
at 900 Fifth Street (which it must be noted is also across the street from his house). The street, which is one way in the block in question (between K and Virginia) gets clogged on a regular basis thanks to shuttle buses, vans, trucks, and other vehicles double-parking while at the building, and the residents want a portion of the curb cut out to allow vehicles to pull out of the traffic lane (like the one in front of the Courtyard by Marriott entrance). DDOT initially rejected the request because it was called a "curb cut," which means something different in traffic parlance, but DDOT's Ward 6 planner Jamie Henson was in attendance and pledged to help the ANC work with the engineering side of DDOT to see what could be done without taking away the sidewalk or the ADA ramps to the building.
* There was supposed to be an update from the Nationals, but no reps from the team were there; ANC chair Ron McBee did report that
April 23 will be "Neighborhood Night"
at the ballpark, with the first pitch and national anthem being performed by nearby residents and other goodies as well. (I imagine discount tickets will be part of the deal, but nothing was said. The game is against the Dodgers.) McBee also said that the ANC has requested a meeting with DDOT about the
Traffic Operations and Parking Plan
for this season, to check on how it's all going, but no specific concerns were mentioned. (With the Nats Express no longer shuttling fans to and from parking at RFK, there probably will be a noticeable uptick in traffic this year, even if attendance remains steady.)
* The next 6D meeting will be on March 8 at 7 pm, and it'll be held at the Courtyard by Marriott at New Jersey and L, so if you've been dying to go to a meeting but haven't felt like venturing across South Capitol, you'll get your chance. It's also worth mentioning that ANC 6B's meeting the next night includes an update by CSX on the Virginia Avenue project on
its agenda
.
Comments
(22)
More posts:
Alcohol/Liquor Licenses
,
Akridge/Half St.
,
ANC News
,
Fairgrounds/Bullpen
,
Capper
,
Capper Seniors/900 5th St.
, Restaurants/Nightlife,
meetings
,
parking
,
Nationals Park
,
Traffic Issues
Justin's Cafe Liquor License Hearing March 22
Jan 26, 2010 10:23 AM
For those keeping track, the Alcohol Beverage Regulation Administration has finally
posted the hearing date
for the liquor license for Justin's Cafe, and it's scheduled for March 22 at 10 am. From the notice: "NATURE OF OPERATION: New cafeteria-style restaurant serving salads, sandwiches, and pizza with 33 seats. Occupancy load of 61. HOURS OF OPERATION AND SALES / SERVICE / CONSUMPTION OF ALCOHOLIC BEVERAGES: Sunday 11:30 am - 10 pm, Monday through Thursday 11:30 am - 1 am and Friday & Saturday 11:30 am - 2 am."
As
I've written
, Justin is also asking for a stipulated license, which will allow him to open the restaurant and sell alcohol before the March 22 hearing date. But I haven't heard of an opening date yet, though a reader reports that the amount of construction "stuff" in the space seems to have lessened.
ANC Supports Liquor License for Justin's Cafe
Jan 11, 2010 11:46 PM
Tonight ANC 6D gave its support in two separate votes to restaurateur Justin Ross's liquor license application for his new "Justin's Cafe" sandwich/salad/pizza place in the ground floor of the
Velocity
condo building at First and L streets, SE. There was little discussion, other than some concerns by commissioner Roger Moffatt about voting to support the full liquor license before the hearing is even "placarded," i.e., posted on the restaurant site, because he felt that this might prevent residents' concerns from being part of the ANC's decision (though, of course, the ABRA liquor license hearing process specifically allows for public comment). Two residents in the audience spoke strongly in favor of the proposed plans, and, in the end, the votes were 6-0-1 for a temporary "stipulated" license and 6-1 for the full license (Moffatt voting present/against on the two motions).
There's still no date set for the license hearing (Justin filed his application on Dec. 30), but he indicated that things should be moving pretty quickly in terms of getting the restaurant opened, and the stipulated license will allow him to serve alcohol until the full license is voted on.
Other Near Southeast-related tidbits:
* The Marines are going to be hosting an open house on January 27 from 5 to 8 pm at Eastern Market's north hall--they are formulating a new master plan for all of their space needs, and are looking to "partner" with residents, developments, government agencies, or any organization that can provide the space they're looking for. The open house seems to be the first step in "reaching out," though it all seemed a bit murky, and perhaps will be better explained when announcements for the open house are released. (Though "
lower Eighth Street
" was mentioned.)
* The commission also elected its offers for 2010, with Ron McBee being named chair. Vice chair Robert Siegel, secretary David Sobelsohn, and treasurer Jane Jorgensen retained their posts.
* This was the first time in all the ANC 6D meetings I've attended (starting in probably 2004) that I actually stayed until the very end (it lasted a mere three hours). Whether this is something to celebrate is another issue, especially on a night like this one where the heat at St. Augustine's seemed particularly, um, nonexistent. They did announce that soon the ANC and the Southwest Neighborhood Association will be moving to new digs at Waterfront (the new development about to open at the old Waterside Mall site at Fourth and M, SW). They will also have a public meeting space that presumably will have both sufficient HVAC offerings and decent acoustics, so that I will actually be able to *hear* what's going on.
Tidbits (ANC 6D, Boathouse, Georgia Ave, Cupcakes!)
Jan 11, 2010 12:00 PM
A few items of note:
* Tonight is
ANC 6D'
s monthly business meeting, at 7 pm at St. Augustine's Church, Sixth and M, SW. But, as is so often the case, there's no agenda yet released. However, the commission should be voting on whether to support the liquor license application of Justin's Cafe,
which was approved
by the ANC's alcohol/beverage subcommittee last week. Other than that, the lineup will just be a bundle of surprises!
UPDATE:
The
agenda is now posted
.
*
The folks with
A rower from the
Anacostia Community Boathouse Association
has
started a blog
to track the move of the boathouse operations away from its current home in between the
11th Street Bridges
up-river to the Anacostia Marina. The move is happening because the new bridges are going to necessitate the demoition of the
two existing boathouse buildings
. (
UPDATED
with a new name for the blog, along with a clarification)
* The Hill is Home has
a "Lost Capitol Hill" post
about the original Georgia Avenue, SE, which is now Potomac Avenue. On
these maps from the early 1900s
of Near Southeast, you can see Georgia Avenue in
1903
, but not in
1909
. (If you haven't wandered through these maps before, they're worth a few minutes. Go to
the main page
, click on a section of the neighborhood, and then you can use the links to go from 1903 to 1909 to 1915 to 1921.
*The
Curbside Cupcake
folks are venturing into Near Southeast these days, and will be at New Jersey and M tomorrow (Tuesday, Jan. 12) from noon to 1 pm. (They set up shop there for a while last Tuesday, too.)
* And, while outside my boundaries, I think it's worth mentioning that Big Chair Coffee opened at 2122 MLK Avenue in Anacostia this morning--And Now, Anacostia has a
pile of photos
of the place, which is one of the only (if not
the
only) coffee house east of the river.
Justin's Cafe Gets 6D's ABC Committee Support
Jan 6, 2010 9:40 PM
A very quick update from tonight's meeting of ANC 6D's alcohol/beverage committee, which voted 3-0 both to recommend support Justin's Cafe's application for a liquor license, and to recommend that a "stipulated license" be granted. This means that the restaurant could operate under a temporary license until its (still as yet unscheduled) hearing in front of the liquor board is completed. The full ANC will vote on these recommendations at their meeting on Monday (Jan. 11).
Owner Justin Ross said that the build out isn't quite complete yet and that there's still a few weeks of work to take care of, but he's hoping to open within four weeks or so.
A Few Tidbits on Justin's Cafe
Dec 10, 2009 11:11 AM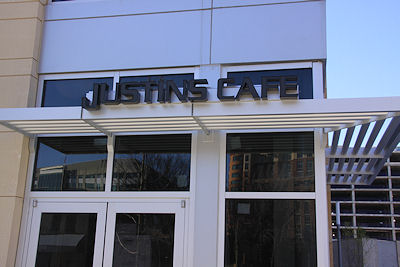 From last night's meeting of ANC 6D's ABC Committee, some bullet points on Justin's Cafe, the planned "fast casual" restaurant in the ground floor of
Velocity
on First Street between K and L (some of these are old, some are new, but for those just tuning in...):
* Justin Ross, the owner, is hoping to open the place by late January, although because of some issues with an ill partner, the liquor license has not yet been applied for, but he hopes that the paperwork will be filed with the city within the next week. (He won't open the restaurant until the liquor license has been granted, although he says the construction is now about 85 percent done.) He's applying for a Class C restaurant license, for beer, wine, and liquor.
* Expected hours are 11:30 am to 11 pm for food service (10 pm Sunday), with hopes that the bar can stay open later, perhaps until 2 am Friday/Saturday and 1 am other days.
* The space is not huge, about 1,400 square feet--it will have 24 seats for eating, and nine stools at the bar. There will be no outside tables. It will be an order-at-the-counter-and-sit set up (though he also expects a fair amount of takeout orders for nearby offices).
* No live entertainment, just TVs and music.
* The menu is salads and soup, sandwiches/paninis, and American-Neapolitan pizzas. Lots of veggies with the sandwiches and on the pizzas (he handed out a draft of it at the meeting). Sweet potato fries are on the menu, and bread choices are three-grain wheat, ciabatta, baguette, and spinach tortilla wrap (along with white/wheat crusts for the pizzas).
*
JustinsCafe.com
will be the web site, though it's not up yet.
Nats fans should note that this will become the closest *indoor* bar to the
ballpark
, as it's only two blocks north of the parking garages.
The ANC and Justin will be negotiating a voluntary agreement, which will probably go to the ANC for approval at its January meeting, but the subcommittee members and the 6D commissioners in attendance seem very pleased with the project.
Next Week's Events (Justin's Cafe Liquor License, Boathouse Lighting, ANC6B)
Dec 3, 2009 9:17 AM
A couple events on the calendar for the week of Dec. 7 to highlight:
* On Wednesday, Dec. 9, ANC 6D's ABC committee will be having its monthly meeting (in advance of the
full ANC meeting
on Dec. 14), and on the agenda is "presentation of plans by Justin Ross re Justin's Cafe planned for 1st & L Streets, SE." This is the first step in the (long) process for
Velocity's
restaurant to get its liquor license, although I haven't yet seen an announcement/posting for their official ABRA hearing (maybe it'll be in tomorrow's DC Register). The meeting is at 7 pm at King Greenleaf Recreation Center, 201 N Street, S.W.
BID Holiday Market; Justin's Cafe Photos
Nov 27, 2009 9:28 AM
News from the Capitol Riverfront BID:
* They've announced their
second annual Holiday Market
, running Dec. 15-18, from noon to 6 pm each day, at Second and M, on the Canal Park footprint.. "For four days, the Capitol Riverfront will present a festive holiday market with local artisans selling handcrafted jewelry, crafts, photography, holiday trees and greenery, and more. Enjoy a variety of festive foods and live music daily from noon - 2 pm."
* The BID has also posted a few photos of the construction work (and the sign) at the "soon-to-open" Justin's Cafe at
Velocity
on their Facebook page
.
Back Soon, I Promise; But Here's a Few Tidbits
Nov 13, 2009 1:15 PM
I warned last week that this was going to be a week where I'd be missing almost everything, and I haven't disappointed. This is probably the longest period this site has been quiet in many years, and I apologize. But all will be back to normal in the next few days, and I'll catch up with all the various doings, I promise.
In the meantime, mark your calendars for two meetings:
The next
Lower 8th Street Visioning sessions
, on Nov. 17 at 8:30 am and 7 pm, where one topic of discussion is apparently going to be the CSX plans for Virginia Avenue. (This was discussed at Tuesday's ANC 6B meeting, and one of my readers was nice enough to
send his detailed notes from the session
; also, here's
the report from The Hill is Home
.)
The next night, on November 18, DDOT is
holding a public meeting on the Ward 6 Performance Parking Pilot program
. There will be updates on signage improvements, the revenue generated from the meters, plans for "non-automotive transportation improvement modifications" that will be paid for with the meter revenue, and more. It's at Friendship Baptist Church, 900 Delaware Ave., SW, from 6:30 to 8:30 pm. If you're not sure exactly what the Performance Parking Pilot program is,
here's the scoop
.
Also, I see on the DCRA Building Permits Feed that the building permit for Justin's Cafe at
Velocity
was approved on Nov. 9. No evidence yet online of a liquor license application yet.
Hope this can satisfy everyone's insatiable thirst for Near Southeast news for a little while longer....
A Roundup of Recently Tweeted Tidbits (Mostly)
Oct 29, 2009 1:07 PM
Not much big news these days, but here's some tidbits, most of which are links that I've
Tweeted
in the past few days:
* The BID and the Washington DC Economic Partnership held a "Capitol Riverfront Storefront Summit" on Tuesday morning, which
The Hill is Home summarized
, with quotes from the owners of Cornercopia and the Subway on Second Street. No splashy announcements of new retailers, though.
* The
WBJ's Top Shelf blog
pivoted off of the summit to write about
Justin's Cafe at Velocity
, which the owner now says "hopes to open in about two months from now."
*
UrbanTurf asks
: How do People Like Living in "Capitol Riverfront"?
* Beyond DC went to the Columbia Heights streetcar meeting on Monday, and
posted more details about DDOT's plans
. The
Ward 7 public meeting is tonight
, at 650 Anacostia Ave., NE, from 7 to 8:30 pm.
*
The Bullpen
is still selling tickets for
its big Halloween night bash
, from 9 pm to 1 am (with a fully heated tent!). An e-mail says that more than 400 tickets have been sold.
* The American Cancer Society is hosting
Making Strides for Breast Cancer
, a 5K walk to fund breast cancer research, at
Nationals Park
on Saturday. Two laps around the stadium, and one inside lap on the First Concourse. (I think I've done that walk a whole bunch of times over the past four years!)
Velocity Says Restaurant Opening 'This Fall'
Oct 7, 2009 11:18 AM
From the new "
Velocity Voice
" newsletter that a reader was nice enough to pass along, a blurb that says "
Justin's Cafe
" in the ground floor of
Velocity
(at First and L) will open "this fall." The menu will feature "fresh salads, sandwiches and wood oven baked pizzas," and there will be a full bar. Earlier this year a "late August/September" date had been being given for the restaurant's opening, but clearly that has slipped.
I've been scrounging around for a bit more detail, but don't have much more news. Judging from the city's building permits database, it looks like the restaurant's construction permit was filed in June but hasn't been approved yet (I'd link to it, but DCRA rebuilt their pending apps database to make any links to inside pages impossible--boo). The city's
Alcohol Beverage Regulation Administration site
doesn't show any current liquor license for the site, nor does there appear to have been any recent
notification
to ANC 6D about one, but the ABRA web site isn't always up-to-the-minute accurate; I've got a question into them about any pending license. (I'll update when/if I hear back.)
UPDATE:
ABRA doesn't have any liquor license already on file, and no new application has been filed yet. Doesn't mean that one isn't coming, of course, just that it hasn't happened yet.
Roundup of Recent Little Items
Sep 28, 2009 7:23 PM
Some
recently Tweeted tidbits
, and a few other morsels:
* Cornercopia is now open on Sundays from 10 am to 6 pm, according to
a Tweet from Albert
today.
* It's the last homestand of the 2009 season at the ballpark, with a 7:05 pm start on Tuesday and a 4:35 pm on Wednesday. (Oh--it's the Mets.)
* There's going to be a
big Halloween shindig at the Bullpen
on Oct. 31 from 9 pm to 1 am; three bands, a DJ, and costumes required.
*
Velocity Condos
is having its
"Grand Opening" event
on Oct. 3 and 4. Settlements on units in the building
were supposed to begin on Sept. 21
, but I haven't heard whether they have indeed started.
*
WAMU did a brief report this morning
on the BID's work (via events like the recent picnic and walking tour) to drum up interest in the neighborhood, especially to show retailers that there's a customer base. "Some 2,100 people live in the redevelopment zone, but McManus says more 'urban pioneers' need to arrive before retailers can move in."
* A group of owners, merchants, and residents working on ideas to perk up the southern end of Eighth Street (south of the freeway)
now have a blog
. There are apparently going to be a series of public meetings as part of the "visioning process," on Oct. 20, Nov. 17, Dec. 15, and Jan. 19, at 8:30 am and 7 pm. Their aim is to "attempt to gain consensus on a vision for the area and to address issues of height, density, mix of uses, parking and access, as well as what should be the character of a redesigned Virginia Avenue Park as an amenity or community benefit for the Capitol Riverfront neighborhood and Capitol Hill. If consensus can be reached on the vision, it could serve as the basis for asking the Office of Planning to develop a small area neighborhood plan that could then be used as justification for any agreed upon zoning or density changes."
* The
Examiner reported last week
that CSX is proposing to expand the amount of freight it moves through DC, which would require the expansion of the Virginia Avenue tunnel, the New Jersey Avenue overpass, and other locations to allow for double-height rail cars. The plan is supported by the National Capital Regional Transportation Planning Board and by DDOT.