Near Southeast DC: Past News Items
Restaurants/Nightlife
Go to Full Blog Archive
---
Updated Canal Park Pictures (No More Trailers)
Jun 1, 2009 1:00 PM
On Sunday I wandered around What Will Someday Be
Canal Park
(dodging the crowds at the Obama Five Guys, where
business is apparently up 50 percent
since Friday), and got my first photos of the completely cleared blocks, now that the trailers have been hauled away. I gave my
Canal Park page
a bit of a refreshing, with some new angles and lots of before-and-afters.
Pre-Holiday Roundup of Tidbits and Links
May 22, 2009 12:47 PM
For those of you still in town....
* As
Twittered
yesterday, reports are that the Wendy's on I between Half and South Capitol was being demolished yesterday (haven't gone to look for myself yet). This is the site of JPI's proposed
23 I Street
apartment building, though I've heard nothing about a timeline since its original Sept. 2008 start date came and went.
* If you didn't make Tuesday's Anacostia Waterfront Forum on "Waterfronts and the World's Great Capital Cities," here's Harriet Tregoning's
presentation slides
.
* If the
demolition of the RFK ramps
has you all excited about the
new 11th Street Bridges
(and I'll note that "excited" can connote either positive or negative energy), here's
a new schematic from design/builders
Skanska/Facchina showing their plans for the project. It says that 70 percent of the five-year project will be built "off-line," meaning away from the existing travel lanes. (
UPDATE:
But I should note that, upon closer inspection, this schematic seems to be missing a few components, such as the eastbound flyover and approach to the new bridges from the SE Freeway as well as the exit to I Street from the new inbound span.) In the meantime, I'm going to try to go get some photos of whatever's left of the RFK ramps this weekend.
Fun With Permits; Meeting Reminder; Bullpen
May 19, 2009 9:38 AM
The city's
building permits feed
hasn't been working with perfection of late, so I'm only now seeing some recent permits of interest:
* As many folks have seen (and as I
Twittered
last week), the asphalt is being pulled up on the southern end of
Canal Park
(here's
a photo from last Friday
, taken at Second and M). Two building permits have been approved for the southern two blocks, allowing for "interior cleaning [...] to remove pavement import top soil and plant grass." Hopefully the northern block will get a makeover too.
(UPDATE:
Commenter Scott says that work on the northern block is already underway.)
* Monument Realty has gotten a six-month extension on the raze permit for the Domino's at
South Capitol and M
. And, though it's outside my redrawn boundaries, I'll mention that
1244 South Capitol
(home to the stalled Camden Development apartment building) got a final six-month extension on a raze permit for that site. (Though I was bummed to see on Opening Night at the ballpark that the little red brick building that had been left standing for so long
was finally gone
.)
* A final (belated) reminder that the latest
Anacostia Waterfront Forum
is tonight at 6:30 pm at the MLK Library. The topic is "Waterfronts and the World's Great Capital Cities," with office of planning director Harriet Tregoning.
* The Post wrote a piece in the Sunday Business Section
about Bo Blair
, the Georgetown Events "restaurateur / entrepeneur." Fun fact: he's paying $25,000 a month in rent for the space on
Akridge's land
at
Half and N
.
Quick Photos from the Bullpen
May 15, 2009 7:13 PM
The somewhat threatening skies held off before gametime tonight and allowed the Bullpen to open its doors for the first time. When I arrived around 6 pm, there was a healthy crowd, and the spirits (emotional and liquid) seemed to be flowing well. I didn't stick around for long, but I did take
a few photos.
Bullpen Officially Announces Friday Opening
May 13, 2009 2:38 PM
This was reported in the
WBJ yesterday
, and now is confirmed via an e-mail from the
Bullpen
folks themselves, announcing that they will have their grand opening at 5 pm on Friday (May 15). "Enjoy delicious food, cold beer and margaritas, and live music before, during, and after the Nationals game." Plus, as mentioned on
their web site
, there are "interactive sports games for children sponsored by Headfirst Camps and Under Armour." It will be open until midnight; there's no music act listed for Friday's opening, but there are
bookings listed
for May 17 and 23. And I see they're now using the phrase "beer garden" themselves!
(Also note: "The Bullpen is available for private events on game nights and non-game nights. The Bullpen welcomes happy hours, political events, fund-raisers, company outings and other large group events.")
Scads of New Photos: Bullpen, Fence-less Canal Park, 1015 Half, Capitol Quarter (Again)
May 10, 2009 6:02 PM
With thanks to Mom for decreeing that my Mother's Day responsibilities had been taken care of
last week
, I was able to take not one but two treks through Near Southeast on this beautiful Sunday, and have uploaded a pile of new photos. Some--like the ones I took at
909 New Jersey
and
55 M
--are the last ones I expect to take of certain angles for a long time to come, but I did get some good "change" shots:
There's now a sign up at "The Bullpen" at
Half and N
(opening Friday?), and I also snuck a shot of the tent and piled-up picnic tables, which you can see on my
Akridge Half Street page
(scroll down a bit if the link doesn't jump you down). You'll also see updated shots of the garage-less Half and M corner.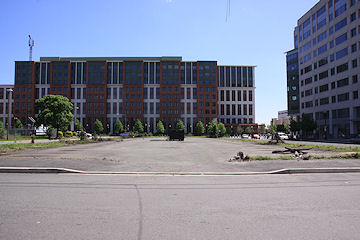 It's not very easy to take a picture that well-represents the lack of cyclone fences, but I gave it a shot with a
few
different
angles
of the south end of
Canal Park
. I have to admit that was I was surprised by how much wider the block now seems; when it becomes a real park, with tall buildings on all sides, that extra width will be welcome.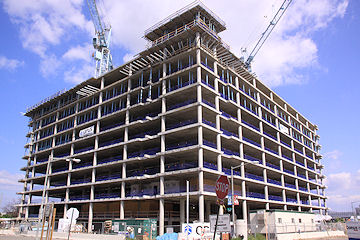 Next up is
1015 Half Street,
the 400,000-sq-ft office building now topping out on the old Nation nightclub site. With Half, K, and L being so narrow, it's not a bad idea to step back a block or two to see 1015's impact on the skyline, so check out the
Expanded Photo Archive
. The next phase of construction should be the hanging of the exterior glass.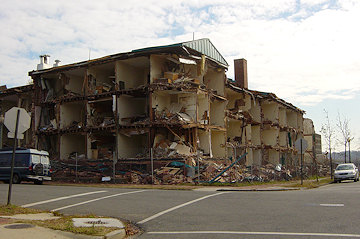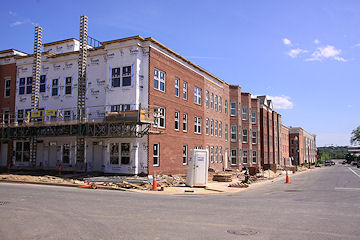 It's pretty hard to stay away from the goings-on at
Capitol Quarter
, as brickwork is all but complete along Fourth between I and K. The
Expanded Archive
shows all the CQ shots I took today, along with the ones from two weeks ago showing the first completed stretch of homes, on the south side of L between Fourth and Fifth.
You might also see a few new shots of
Onyx
,
100 M
, and
Velocity
if you visit those pages, and some other

images in the random shots at the top (and bottom) of the JDLand home page, since I took a pretty complete set of photos from New Jersey to Half and from M to I. And, without much new construction going on, I don't anticipate taking many photos other than at Capitol Quarter and 1015 Half (and I guess
Teague
and Canal parks) over the next few months. (I'll also be ready if/when Akridge demolishes the buildings
along First between K and L
.) So, enjoy these, and take the time to really compare them to their "befores."
Friday Tidbits: BID Newsletter, ANC Agenda
May 8, 2009 10:38 AM
Between it being Friday and the sun finally being out, I bet everyone's feeling a bit better today. Maybe even
Biking to Work
! So, a few tidbits:
* The
latest Capitol Riverfront BID newsletter
is out, with a few items of note. First off, there's a new "branding" campaign going on--"Be Out Front." Look for signs promoting "Front Yard," "Front Office," "Front Door," "Store Front," etc. And they'll soon be launching an equally rebranded web site.
Also, the current estimated population within the BID is 1,584 residents; the newsletter says that there are now more than 2,000 residential units, more than half of which are leased/sold and occupied.
The newsletter also gives the
Bullpen
's official opening date as May 15, and also mentions that the weekly Tuesday farmer's market at USDOT is now underway, and that the weekly Wednesday lunchtime concerts start on May 20.
* The agenda for Monday's ANC 6D meeting is out (hopefully
it'll show up online
before the meeting itself), and the only Near Southeast item is a presentation by Michael Stevens of the BID--kind of a BID 101 tutorial for the ANC commissioners. Otherwise, it's voting on marathons, bus stops, after-school programs, and also an announcement of a "Southwest Night" at Ft. McNair on July 1. The meeting is at 6th and M streets, SW, at 7 pm. (Maybe next month it'll finally move to the new digs at the new 1D police station at the former Bowen Elementary.)
* The
Examiner reports
that the 2010 federal budget includes $15 million for "
Southeast Federal Center
remediation." There's certainly been piles of environmental cleanup there over the years (not surprising when it used to be blocks and blocks of munitions factories).
* EYA has spiffed up its web site a bit--their
Capitol Quarter page
is worth a visit if you haven't checked it out before.
Comments
(2)
More posts:
Akridge/Half St.
,
ANC News
,
Capitol Riverfront BID
,
Pedestrian/Cycling Issues
,
Fairgrounds/Bullpen
,
Capper
,
Capitol Quarter
,
US Dept. of Transportation HQ
, Restaurants/Nightlife,
meetings
,
Nationals Park
Upcoming Events (Including the Bullpen?)
May 5, 2009 6:40 PM
*
MissChatter has heard from
a representative of the Bullpen beer garden at Half and N, saying that they'll officially open on May 15 at 5 pm, and from 11:30 am to midnight for the next day's doubleheader. We shall see. And, for folks who can't wait, or who would prefer a different type of pre-and post-game food and drink,
this Hill Rag piece
mentions that Eighth Street establishments Lola's and the new Molly Malone's (former Fin MacCool's) as well as the Ugly Mug are all running free electric-cart shuttles to and from the ballpark, starting two hours before gametime through 45 minutes after the final out.
* The fourth
Anacostia Waterfront Forum
is scheduled for May 19 from 6:30 pm to 8:30 pm at the MLK Library. This month's subject: "Waterfronts and the World's Great Capital Cities," with Harriet Tregoning, the director of the city's Office of Planning.
* Hard to think about when the weather remains so cruddy, but
WalkingTownDC's Spring Edition lineup
is available, and again includes a Capitol Riverfront Tour, leading by the BID's executive director Michael Stevens. It's on Sunday, May 31, from 11 am to 12:30 pm. Reservations for all tours will start being accepted on May 11.
Slowly Returning to Full-Strength Blogging
May 4, 2009 9:54 PM
I know people have noticed that JDLand's coverage (and quality) has taken a nosedive in 2009--some of it is because of life at My Real Job is particularly hectic in this era of big change (and plummeting revenue), but I can also now finally reveal that my free time for the past few months has been swallowed up by my planning and executing a huge 100-guest surprise party for my mother, which finally went off
without a hitch
on Sunday morning. With that wrapped up, I will now try to remember exactly how I used to do things here. I'll start tentatively:
* Despite a
few readers being told
that the Bullpen beer garden at Half and N would open on May 1, it hasn't yet opened. I haven't heard any new date.
* From
Friday's WashBizJournal
: "Dozens of high-profile projects are facing liens from hard-pressed contractors. In just one week of March, Forest City Washington was slapped with a $191,460 lien for work done at its
Yards
project near the baseball stadium, while Faison Enterprises Inc. and Canyon-Johnson Urban Funds LLC got hit with a $118,674 lien at the nearby
Onyx Apartments
."
* The Board of Zoning Adjustment
calendar for June
indicates that Donohoe has filed for a time extension on the
special exception
it received
back in 2007
for its planned office building at
1111 New Jersey Avenue
. The original order expires in December unless building permit applications are filed before then; Donohoe's request for an extension would appear to indicate that that won't be happening this year.
"[S]taff strongly recommends that the Commission require the Navy undertake and coordinate with NCPC development of an updated WNY master plan, including a transportation management plan that demonstrate how the WNY parking ratio meets NCPC's Comprehensive Plan goals, and submit that plan to the Commission prior to submitting any new project." The Navy Yard's last official master plan update was in the 1990s.
* A postcard that was delivered to our house this morning listed 309 K St. SE (one of the remaining old townhouses) as being scheduled to be sold at a foreclosure auction this month; however, the auctioner's web site says
the property has been removed
from the auction. Starting bid was going to be at $50,000.
* Speaking of that block of existing homes, someone has finally begun to renovate the old multi-unit building at
Third and L
that has been vacant for as long as I've been watching the neighborhood. A local resident has leased it and is turning it into
Casa degli Angeli
, a nautical-themed "month-to-month" bed and breakfast.
Bullpen Web Site Launched; Tell What You See
May 1, 2009 3:32 PM
'The Bullpen' To Launch on Friday?
Apr 29, 2009 4:05 PM