Jonathan O'Connell has a piece in Monday's WaPo Capital Business
about Artomatic's search for a 2012 home
, and how the organization wants to replicate the success of
the 2009 version
at the then-vacant
55 M St., SE
: "This year's search is down to about four buildings, two near Nationals Park:
1015 Half St. SE
, an empty 414,000-square-foot building being purchased by Prudential Real Estate Investors; and the former offices of the National Geospatial Intelligence Agency, at
101 M St. SE
. Artomatic also is considering the People's Building in Northeast, and another location in Crystal City."
1015 Half Street
(left), on the site of the old Nation nightclub, is currently home to more than 400,000 square feet of Class A office space emptiness right now. The
NGA recently departed
1st and M (right), and while I would love for Artomatic to come to this spot merely for the chance to finally get inside the formerly armed encampment before its inevitable demolition as
The Yards
moves forward, I wonder how excited the organizers would be to have a building with almost no windows, except on the top floor. (I know that 55 M's
large windows and great views
of Nationals Park, Near Southeast, Southwest, and north to the Capitol were a big hit with 2009 Artomatic attendees.)
It was
in December 2008
that word first began to trickle out on the 2009
Artomatic
location, so perhaps the decision one way or the other won't be too long in coming.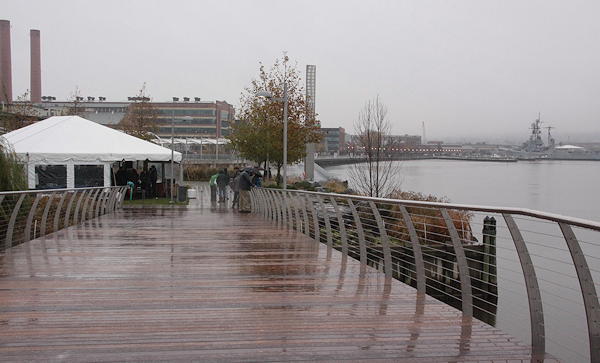 The weather was atrocious, and things got started late (as they so often do when overscheduled politicians are involved), but officials from the city, Forest City Washington, DC Water, and elsewhere gathered at the
Yards Park
today to officially dedicate the 627-foot-long bridge connecting the Yards with
Diamond Teague Park
, which is just across Potomac Avenue from
Nationals Park'
s grand staircase.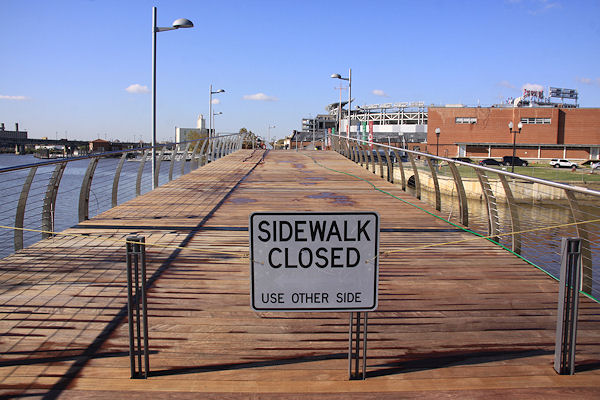 The word is going out that the official dedication of the new pedestrian bridge connecting the
Yards Park
and
Diamond Teague Park
will be held on
Tuesday, Nov. 22, at 1:30 pm
. The mayor is expected to be there, along with George Hawkins of DC Water (since the bridge runs right past the
main pumping station
) and I'm sure a slew of other dignitaries.
This is the bridge that will allow for an easier and more enjoyable stroll between the Yards Park and
Nationals Park
, depositing stadium-goers right across the street from the Grand Staircase/1st Base Gate at 1st Street and Potomac Avenue. And it will also allow water taxi customers disembarking at Teague Piers to get to the Yards Park without having to hike up to Tingey Street and then over a few blocks. (Eventually the Yards Park will have its own marina and water taxi piers, but not for another few years.)
Hope they have good weather for the ribbon cutting!
If you see scads of people walking around the neighborhood tomorrow (Saturday, Nov. 5), it's the
American Heart Association Heart Walk
. It starts at
Nationals Park
, goes around the concourse, exits out to Potomac Avenue, goes up First to Tingey, then over to the
Yards Park
(and on the boardwalk), then up to M Street, back down Half, and over to South Capitol before heading back into the ballpark for the finish line. (
Here's the map
.) The event starts at 8:30 am, but it doesn't leave the ballpark until 10 am.
The Nationals have just announced that tickets are on sale for "
America's Night of Hope
," the large stadium event held by the
Joel Osteen Ministries
. It will be on April 28, 2012 at
Nationals Park
, with tickets priced at $15. In its three previous years, the national version of this event was held at Yankee Stadium, Dodger Stadium, and most recently at US Cellular Field (home of the Chicago White Sox) in
August
.
(There are smaller "Night of Hope" events held across the country as well, but apparently this is the big national version.)
"On April 28, 2012, people from across America will gather at Nationals Park, home of the Washington Nationals, in Washington D.C. to pray for this great nation. Come and experience this unprecedented America's Night of Hope with special guests, great music and hosts, Joel and Victoria Osteen. It will be a night you don't want to miss.
"Joel will be sharing a powerful message of HOPE that will inspire you to become all that God wants you to be. Make plans now to attend this exciting event and discover God's best for your life!"
Gordon Biersch to 100 M? and BID Surveys/Planting Day
Oct 20, 2011 8:19 PM
Ghost Ship Barry Back for Halloween on Oct. 28
Oct 20, 2011 10:38 AM
Tidbits: Truckerboo, Teague/Yards Bridge, Espresso Bar, Red Sox
Oct 17, 2011 6:06 PM
Out-of-Boundary Events this Weekend: SW ArtsFest, Barracks Row Fall Festival
Sep 22, 2011 9:07 AM
This Week's Events Lineup: Bikeshare Bash, Opera, Nats Finale
Sep 20, 2011 5:20 PM
Bikeshare Birthday Party, Blocktoberfest, and Other Tidbits
Sep 5, 2011 11:33 PM
Tuesday Tidbits: Ballpark Labor Day Weekend Doings and More
Aug 30, 2011 1:05 PM
Summer Doldrums Tidbits on All Sorts of Subjects
Jul 14, 2011 2:13 PM
Holiday Weekend Events: Baseball, FreedomFest, and More
Jun 29, 2011 10:32 PM
Weekend Events: E.T., Concert, Ward 6 Family Day, Blood Drive
Jun 23, 2011 3:14 PM
Back from Across the Pond; Lots of Tidbits While I Recover
Jun 8, 2011 9:09 AM
Tidbits: Redistricting Latest, Retail, Outdoor Movies, Kittens, Events
May 24, 2011 2:17 PM
Thursday Tidbits: Bike to Work, New Tweeters, Crawfest, 55 M
May 19, 2011 12:26 PM
Outdoor Movie Lineup; FreedomFest; Harry's Grand Opening
Apr 22, 2011 9:33 AM
ANC Recap No. 3: Traffic Study, 10K Race, Liquor License Items
Apr 13, 2011 11:14 AM