Near Southeast DC: Past News Items
Events
Go to Full Blog Archive
---
Back from Across the Pond; Lots of Tidbits While I Recover
Jun 8, 2011 9:09 AM
I'm back in DC, having spent
11 wonderful days
in Madrid, Barcelona, and cruising across the Mediterranean to Pisa, Florence, Rome, the coast south of Naples, and Mallorca. Needless to say, while I checked in on the news back home from time to time and tweeted an item or two if the timing was right, I wasn't following developments closely, and I'm pretty out of the blogging groove at this point. So I'm going to start back slowly with some easy items.
*
Redistricting
: The city council voted Tuesday to approve a redistricting map that, as expected, keeps Near Southeast in Ward 6. This continues to make Marion Barry extremely unhappy, and the
Examiner reports
that he'll be "asking U.S. Attorney General Eric Holder to open a Justice Department review of proposed new D.C. ward boundaries because, Barry says, they violate residents' civil rights." There's still a final vote to be had on the plan, probably on June 21. As for the last-minute changes that ended up keeping much of Ward 6 intact (moving Reservation 13 to Ward 7 instead of other areas), you can read
Tommy Wells's blog
for more details.
*
Riverwalk
: The
Navy Yard
announced last week
that its portion of the riverwalk along the Anacostia River, running from the 11th Street Bridges to the
Yards Park
, will now be open from 5:30 am until "official sunset," seven days a week and including holidays; though there will still be closures as needed, which are announced on the
Navy Yard Riverwalk Twitter feed
. (I admit that I got a bit of a kick passing along this news
via Twitter
while riding on a train north of Rome.)
*
DPW Move
: The council passed
emergency technical legislation
on Tuesday that allows
Capper PILOT funds
to be used to build a new location for DPW operations in Northeast, which means that they should be moving from the 2nd and K site this fall (before "leaf season").
*
Ward 6 Family Day
: Tommy Wells's yearly event for Ward 6 residents will be held on
Saturday, June 25
, and will be at the
Yards Park
for the first time. It's from 1 to 5 pm, with "free food, live music, games and activities for the whole family as well as raffles featuring gift certificates from local businesses and sporting memorabilia from the Wizards, DC United and Washington Nationals."
*
ANC 6D
has its next meeting on Monday, June 13, at 7 pm at Arena Stage. The
agenda
is light on Near Southeast items, with only a resolution by David Garber about Near Southeast bike stations and requests by Cornercopia and Harry's Reserve to be exempted from the ban on the sale of "singles."
*
Food Truck Festival
: Bo Blair, the owner of the Bullpens and the organizer of Truckeroo on June 3, said in an e-mail that the event was a "massive, incredible success," with somewhere between 17,000 and 18,000 attendees and "zero problems." The next date for the event will be announced soon.
*
Construction and Destruction
: Construction has stalled on the Little Red Building v2.0 at
2nd and L
, which ANC commissioner Garber
says
is a "building permit issue that is in process of being resolved - construction should start back 'soon.'" Meanwhile, the "re-dressing" of
225 Virginia
is well underway, with the new exterior walls being hung on the north side of the building. And if it hasn't already happened, the
trailer
that was the original sales office for
Capitol Quarter
is being torn down, since construction of townhouses is now underway on that block. (Photos to come, at some point.)
*
The Yards on Facebook/Twitter
: I kind of stumbled across these (never saw any announcement about them), but the
Yards
now has an
official Facebook page
(which is available on
Twitter
, too) along with a separate one for the
Foundry Lofts
(its
Twitter account
is protected, though).
UPDATE:
And, since this just came across Twitter:
Dan Steinberg reports
that Shake Shack and the other new Nats Park restaurants will open next Tuesday, the beginning of the homestand vs. the Cardinals.
Comments
(28)
More posts:
225 Virginia/Old Post Plant/200 I
,
Alcohol/Liquor Licenses
,
ANC News
,
Fairgrounds/Bullpen
,
Capper
,
Capitol Quarter
,
cornercopia
,
Trash Transfer Site/DPW
, Events,
Restaurants/Nightlife
,
Foundry Lofts/Yards
,
Harry's Reserve
,
Little Red Bldg/Lot 38 Espresso
,
meetings
,
Navy Yard
,
redistricting
,
riverwalk
,
JDLand stuff
,
The Yards
Tidbits: Redistricting Latest, Retail, Outdoor Movies, Kittens, Events
May 24, 2011 2:17 PM
News has gotten a little sparse of late, though there's suddenly plenty of little updates and whatnot, some that I've
tweeted
(and some that I haven't). Sorry that this is a bit of a monster post, but that just means you need to read it all carefully!
*
Redistricting:
With the redistricting committee's proposed map of redrawn boundaries coming out no later than their meeting at 1 pm on Thursday, news has begun to trickle out of what it will look like.
Mike DeBonis reported
on Monday that any part of the city west of the Anacostia River being moved to Ward 8 is "off the table," since the split neighborhood of Fairlawn is expected to be moved entirely into Ward 8, which would satisfy the ward's population requirement. (He also lays out some of the other "on the table" moves.) In an "op-ed" today at
The Hill is Home
, Tommy Wells says that Ward 6's new eastern boundary may be 17th Street NE and SE, moving Hill East and its landmarks (RFK, Eastern High School, Eliot-Hine Middle School, and Reservation 13) into Ward 7. After the committee votes on its map Thursday, there will be a public hearing at 6 pm on June 1, before the entire council votes on the plan on June 7.
*
Retail:
The big International Council of Shopping Centers'
REcon convention
is underway in Vegas, and the Post's Jonathan O'Connell is
tweeting
all the DC-related retailer news,
including
that Mayor Gray and members of the city council had lunch on Monday with representatives of Forest City, who gave a presentation on
The Yards
. Will there be an announcement soon on things getting started at the
Boilermaker Shops
, as Forest City said there would be
a few weeks ago
? A
Post feature
on Capitol Hill restaurateur Xavier Cervera mentioned that he has "deals in the works for 400-seat and 140-seat restaurants on the waterfront," the first of which would seem to be the sportsbar
rumored
for the Boilermaker space. The rumblings below the surface that the official Boilermaker announcement is coming soon continue to be strong (with any opening being at least a year away, since there's a lot of exterior work to be done to the building), but there's been no official announcement of this or any other Boilermaker lease.
* In an Examiner article about
Wegman's being wooed
for DC's Walter Reed site, it's mentioned that Michael Stevens of the Capitol Riverfront BID and city officials are meeting with AMC Theaters to discuss potential locations. The article describes a possible spot as "First Street, south of M Street and adjacent to Nationals Park." I'm a little skeptical of "First Street", mainly because
the big empty lot along First
(Nats parking lot F), owned by Willco and slated in the past for a mixed office/residential/retail development, hasn't seemed to be in play for any movement on any development. On the other hand, there's been talk that Akridge has been interested in having a movie theater as part of its
Half Street development
, also south of M and adjacent to Nationals Park, and construction
could be starting
there late this year. Either way, nothing is firm.
*
Kittehs:
Are you looking to adopt a cat? How about a
Market Deli
-branded kitten? Some residents have captured and spayed/neutered/vaccinated two of them, estimated to be 4-6 months old, and are looking for someone to adopt them. Here's the
additional information
. (I would have leapt at this, but my two cats, ages 17 and 14, would kill me in my sleep if I brought home new "siblings" for them.)
And, some
upcoming events
to note:
* The
Yards Park
folks have passed along the news that the
fountains are off
all this week for maintenance. No water-based frolicking for you!
* The
Capitol Riverfront Outdoor Movie Series
gets underway this Thursday (May 26). The theme this summer is Best of the Oscars, and they're starting off with "Casablanca." Movies start at 8:45 pm (or sundown), and there will be food trucks and snacks for sale. The movies have moved back to Tingey Plaza, just south of
US DOT
at New Jersey and Tingey.
*
Harry's Reserve Wine and Spirits
at 909 New Jersey is going to be having a free "
community cookout
" on their courtyard on Friday, May 27 from 5 to 8 pm, and again on Saturday, May 28 from 4:30 to 8 pm. They are doing it to thank the neighborhood for the support they've received since opening. There will be free "high-end" beverage tastings in addition to grilled offerings. The owners also want to pass along that they're getting fresh shipments of a variety of cheeses this week, and that they now have 800 beers in stock.
* Ryan Zimmerman's annual "
A Night at the Park
" fundraiser is scheduled for June 30, benefitting his
ziMS Foundation
. Tickets are now on sale, and it's
been announced
that country star Rodney Atkins is the featured performer.
Comments
(8)
More posts:
Akridge/Half St.
,
Boilermaker Shops/Yards
, Events,
Harry's Reserve
,
marketdeli
,
meetings
,
redistricting
,
Retail
,
Nationals Park
,
Stadium Events
,
Square 701
,
The Yards
Thursday Tidbits: Bike to Work, New Tweeters, Crawfest, 55 M
May 19, 2011 12:26 PM
A roundup:
* Friday is
Bike to Work Day
, with the
Yards Park
being one of the morning "
pit stops
," from 7 to 9 am. If you're interested in joining in the fun, you need to
register
.
* The
Canal Park
folks have recently begun using their Twitter account,
CanalParkDC
. An update on the park's progress was
tweeted on Wednesday
, though it probably wasn't what park fans want to read: "Rain delays, water in our excavation preventing pouring foundations. Very frustrating!"
* The
Navy Yard
has
created a Twitter feed
for its portion of the Anacostia Riverwalk, to alert people to planned closings. This is in addition to the
web page they've set up
for hours and information about the riverwalk.
(I've added both of these feeds to my
Near Southeast Businesses/Organizations Twitter list
, which displays all the latest tweets in real time on the JDLand home page, for those of you who have remained blissfully outside of the Twitter vortex.)
* Louisiana State Society is having its
Crawfest
at the Yards Park on Sunday (May 22), with 4200 pounds of boiled crawfish, 150 pounds of jambalaya, sausage, corn, and potatoes, Abita beer, Louisiana music, and more. Society members get in for $45 per person, while non-members can pay $55 to attend. (Tickets for children 12 and under are $15.)
*
DDOT says
that its move out of the Reeves Center to Monument Realty's office building at
55 M
is almost complete.
* Speaking of 55 M,
it was named
"Best Urban Office over 150,000 SF" at the NAIOP Maryland/DC 9th Annual Awards of Excellence.
Outdoor Movie Lineup; FreedomFest; Harry's Grand Opening
Apr 22, 2011 9:33 AM
A couple of event tidbits:
* The BID has
announced the lineup
for this year's "Best of the Oscars" summer outdoor movie series, running on Thursdays from May 26 through July 28. The movies, which are free and open to the public, will start at 8:45 pm (or sundown) at Tingey Plaza, which is directly behind
USDOT
at the corner of New Jersey and Tingey. There will be food trucks, popcorn, cotton candy, and Micha's sorbet.
* The
National FreedomFest
, a two-day music and arts festival, is coming to the
Yards Park
on July 3 and 4. They are advertising "over 40 bands and DJs" on five stages, along with food and craft vendors (and yes, beer, since the event is co-sponsored by Budweiser).
Tickets
are $19.99 per day or $29.99 for a two-day ticket, or if you're feeling special you can get special VIP and/or "Taste of Freedom" tickets, which get you access to VIP areas, free beer, private bathrooms (!), and more, but which are a bit pricier.
* And, on a somewhat smaller scale (but sooner!),
Harry's Reserve
has passed along word of its official Grand Opening, scheduled for Saturday, April 30, from 4 to 7 pm. There will be appetizers, wine tastings, and "high-end whiskey tastings" (wheee!). Savita also tells me that they've added a selection of cheeses, patés, and salamis to their lineup, as well expanding their lineup of spirits. Harry's also does wine tastings every Friday and Saturday from 4 to 7 pm.
* I should also mention
Marcatus
, the "creative art market" being held on the first Sunday of every month at the Yards Park. It's from 11 am to 6 pm, and offers live music and food in addition to artists displaying their works. Next one is May 1.
* And, just as I posted this, the BID sent out the flyer on the
summer Wednesday lunchtime concerts
, running from May 11 to August 17 from 11:30 am to 1 pm in the Yards Park. This is in addition to the Friday evening concert series at the park that begins on
May 13
.
ANC Recap No. 3: Traffic Study, 10K Race, Liquor License Items
Apr 13, 2011 11:14 AM
Last missive from Monday's ANC 6D meeting..:
* It's apparently going to be "Neighborhood Day" at
Nationals Park
on Saturday, April 16. The Nationals said in a press release on Monday that residents will be able to purchase discounted tickets, but you apparently have to be in the know to find the
nationals.com/neighborhood
ticket sales link. (ANC commissioners got their free tickets for Saturday handed out at the meeting, since they'll be introduced on the field before the game.)
* With a unanimous 7-0 vote, the commission passed a motion authored by David Garber to request that DDOT fund a "comprehensive" traffic study of the M Street corridor and its neighboring streets in both Southeast and Southwest. Much of the discussion ended up centering around the wording of the motion (as is so often the case), with much concern about whether Maine Avenue should be specifically mentioned, especially given that the developers of the new Southwest Waterfront will be undertaking their own traffic study along Maine and Water Street. Commissioner Andy Litsky wondered about the traffic study in Southeast that the Capitol Riverfront BID is
looking to fund
, and Michael Stevens of the BID said that they would support a "holistic" approach to combining the various studies already done or on the boards (including the one CSX has apparently completed to look at the impact of their planned construction along Virginia Avenue, plus the reports done for the
11th Street Bridges EIS
and the in-progress
14th Street Bridges EIS
).
The motion was then amended to say that the ANC supports directing DDOT funds "to conduct a comprehensive traffic study and plan for the M Street SE/SW corridor and its feeder and surrounding streets and that all other area studies be integrated for DDOT's review in order to produce a comprehensive study, and that ANC 6D urgently supports the subsequent design process and implementation of a 'complete streets' plan to decrease the speed and volume of automobile traffic, and increase multi-modal transportation safety and efficiency as neighborhoods in 6D continue to evolve and develop."
(If you want to know more about the concept of Complete Streets and how it might inform a redesign of M Street, you can read my report on
last year's public meeting
held by Tommy Wells to start an "initial dialog" on the subject.)
* The commission also voted 7-0 to support the
Pacers Home Run Classic
10K race, to be run on Saturday, June 18. Original plans to start and end the race at the
Yards Park
ran into some issues with the city's Emergency Management folks not wanting the race to run by the DC Water/WASA plant (and there was no explanation beyond that). So the race will now start and end at Half and N, across from the
ballpark
, then circle the ballpark down to South Capitol and Potomac before crossing the Douglass Bridge, running along Anacostia Drive in Anacostia Park to the skating pavilion, then doubling back. It's expected there will be 2,000 runners for the 8 am race. (Next year they expect to be able to start and end at the Yards Park and use the new floating bridge to
Teague Park
to get to Potomac Avenue and the Douglass Bridge.)
* In liquor license matters, it was reported to the commission that
Das Bullpen
did end up needing to get a new liquor license separate from that of The Bullpen 1.0, and that a new voluntary agreement was written up as well. This was all apparently done very hurredly, on the Tuesday before Opening Day, in order for ABRA to approve the new license on Wednesday in time for Opening Day on Thursday (though as we know Das Bullpen didn't open that day anyway). There's a full hearing on the license scheduled for May 31. If you haven't followed the Twitter flurry, Das Bullpen opened Tuesday (April 13) for the Nats/Phillies game.
* Also on the alcohol front, apparently both Harry's Reserve and Cornercopia are inquiring as to the possibility of the sale of "singles," in their cases to be the sorts of higher-end European beers that typically come in 20 oz or larger bottles. Coralee Farlee, who chairs the 6D ABC subcommittee, asked for some guidance as to whether the ANC is wanting to continue to not consider any exceptions for single sales, as has been the practice. David Garber and other commissioners expressed their support for the higher-end type of sales, and Andy Litsky said that 6D never really had the "singles" problem that lead the H Street NE corridor to ban those sales. Chairman Ron McBee instructed Farlee to check how other ANCs are handling the issue (apparently 6B allows sales of the 20-oz. bottles?), with an eye toward reexamining 6D's stance.
Sensorium, Nats, Water Taxis, and Other Events and Tidbits
Apr 10, 2011 10:55 PM
Sorry I went off-grid most of last week--when I said that the weather on Opening Day reminded me of 2008, I wasn't expecting to then come down with pretty much the same bug that clobbered me after the big event three years ago. (I'm also getting too old to traipse around outside for many hours over multiple days in 40-and-rainy weather.) I'm still not 100 percent, but here's a few items I'm passing along as I work my way back into the swing:
* As already posted,
ANC 6D is meeting
Monday night at 7 pm at the Courtyard by Marriott at New Jersey and L SE. There's lots of Near Southeast items on the agenda, including the
Market Deli landmarking nomination
, a call for a combined M Street SE/SW transportation study, and Forest City's desire to move its offices to the Lumber Shed at the
Yards Park
. ANC 6B then meets on Tuesday, but there don't appear to be any south-of-the-freeway items on their
agenda
, so I'll be skipping that.
*
Sensorium
starts its six-week run at the
Yards Park
on Tuesday, April 12. The Post's Going Out Guide
posted some photos of the dome
last week during construction, as did
the Sensorium folks
themselves. If you haven't been following this, Sensorium pairs a 12-course tasting menu with visual/performance art into a production that sounds like unlike anything on the current or recent DC agenda. There are two seatings every night (except Mondays), with
tickets
$150 per person. If you go, tell us all about it!
* Also at the Yards Park this week is the
DC Challenge
race and festival on Saturday the 16th, where you can test out your Amazing Race-type abilities in this "Ultimate Urban Scavenger Race."
* The Nationals have a big
home
stand, starting with the Phillies Tuesday through Thursday (so beware the descending hordes) and then the Brewers Friday through Sunday. All weekday games are at 7:05 pm, Saturday's game is at 1:05 pm, and Sunday is the usual 1:35 pm start. I haven't heard yet if
Das Bullpen
will be making its debut this week or not.
UPDATE:
The owner of the Bullpen told me on Monday afternoon that Das Bullpen will be open on Tuesday evening for the Nats/Phillies game.
*
American River Taxi
has begun its service between the Georgetown Waterfront, the Southwest Waterfront (which we're now calling The Wharf, I guess), and
Diamond Teague Park
. They have an 8 am commuter run on weekdays from the Wharf to Georgetown, then regular runs between the three stops starting at 10 am until 6 pm weekdays and 9 pm on weekends. (If you're wanting to try out the service to get to any of the Nationals games this week,
they say
that the boat leaves Georgetown at 6:05 pm [updated time].) Ticket kiosks are at Tony and Joe's at the Washington Harbor in Georgetown and the Gangplank Marina in Southwest, and tickets can also be purchased on the ship. Tickets will normally be $9, but are currently discounted at $8,
according to SWill
, who's doing a fine job following the venture's launch. ART has just one boat so far (the Dolley Madison), they are still adjusting their run times (right now it takes 20-35 minutes between stops), so following them on
Facebook
and/or
Twitter
is a good way to keep up with their service. They hope to eventually expand their offerings to National Airport, Alexandria, and National Harbor. (As of now, the
Potomac Riverboat Company
is the only outfit sailing to Teague from Alexandria, and that's
just for Nationals games
.)
*
Harry's Reserve
at New Jersey and I had its first wine tastings on Friday and Saturday. If you want to keep up with their news and events, you can
friend them on Facebook
(they've set themselves up as a Facebook "person" rather than a product page to "like"--perhaps they'll rejigger that soon.)
Also, a site note: with more neighborhood information being tweeted these days than I could hope to write about or even retweet, I've created a Near Southeast Businesses/Organizations
Twitter list
, which you can also browse on the JDLand.com home page, in the box below the map in the right margin--which is below the box with
my own latest tweets
, so clearly you can get a lot of Twitter content right here if you haven't joined the
cult
social media outlet yet. I'm trying to keep this list to very-very local businesses and groups (and not DDOT or the Nationals or other feeds that aren't mostly about goings-on in this area). If I'm missing any, let me know.
Comments
(3)
More posts:
ANC News
,
Fairgrounds/Bullpen
, Events,
Restaurants/Nightlife
,
Harry's Reserve
,
meetings
,
Nationals Park
,
Teague Park
,
Water Taxis/Riverboats
,
The Yards
,
Yards Park
ANC Agenda: Market Deli, M Street Traffic Planning, Lumber Shed
Apr 6, 2011 1:51 PM
There's nothing I like more when fighting a cold than to think about an upcoming ANC meeting, but these are the sorts of sacrifices I make for you people. Miraculously, ANC 6D has already posted the
agenda
for Monday's meeting, which is chock-full of Near Southeast-related items and is coincidentally being held in Southeast this time around, at the Courtyard by Marriott at New Jersey and L. Up for discussions and/or votes:
* The
Market Deli historic landmark application
, which will get a vote from the ANC as to whether or not to support it (and of course we know that at least one 6D commissioner will be voting for it!). The
hearing
in front of the Historic Preservation Review Board is scheduled for April 28.
* A presentation on the
zoning request
to allow Forest City to "temporarily" include office space in the Lumber Shed building in the
Yards Park
. I've written about
this Lumber Shed request
before, and in fact Forest City did a information presentation on this at last month's ANC meeting, but I was hoping to get copies of the new pretty renderings of the buildings before writing anything, and that never happened, and I knew they'd be back again in order to have a vote on whether the ANC will support the zoning request, so.... I promise to write about it this time.
* A resolution on a long-term traffic and transportation study for M Street SE and SW, also to include a "complete streets" plan, according to
David Garber
. This would appear to be wider in scope than the transporation study discussed in the draft
Performance Parking report
I wrote about recently that seemed to only cover the east side of South Capitol, but I imagine all will be clarified at the meeting.
* It turns out that
Das Bullpen
needs a new separate liquor license rather than operating on the Bullpen 1.0 license, so that's on the agenda as well. The hearing for that is
scheduled for May 31
, but the ANC will be voting on a "stipulated license," which I believe means that the bar could operate while waiting on the full license hearing. (And no, I haven't heard when they might be opening, though it wouldn't be before the next Nats home game, on April 12 vs. the Phillies.)
* And the BID is looking for support for the "Home Run Classic Pacers 10K Race" on June 18, that appears to
start and/or end at the Yards Park
and which I would guess (but don't know for sure) would involve some street closings.
The meeting begins at 7 pm, and does allow for short audience questions/statements on any agenda item where a vote will be taken, just in case there's any particular agenda item that people may feel strongly about one way or the other. (And all of this assumes that a government shutdown wouldn't affect an ANC meeting? Anyone?)
Pre-Opening Day Roundup: Shake Shack Coming by June, NatsFest Photos, Circulator's Hours Officially Expanded
Mar 30, 2011 5:46 PM
The
news from Tom Sietsema
whizzed around the Twitterverse early today: "acclaimed" New York restaurateur Danny Meyer is bringing four of his creations to
Nationals Park
, including Shake Shack, which has already had DC foodies salivating over a planned Dupont Circle location. Shake Shack will be replacing Five Guys on the Scoreboard Walk, and surrounding it will be El Verano Taqueria (serving Mexican snacks), Box Frites (Belgian-style fries with dips) and Blue Smoke (barbeque). The ink is apparently barely dry on the deal, so construction is only just now getting underway (as you can see in the photo at right and
this one
, which I took
today at the ballpark
). Shake Shack and the others are already operating at the Mets' stadium, Citi Field.
This isn't the only news of the day in regards to the ballpark food, as the team also announced new food partnerships: the Boston Beer Company will bring Sam Adams beers to the stadium, along with a new Sam Adams beer garden in May; Kayem Hot Dogs are now the "official frank of the Washington Nationals"; and Breyers is now the official ice cream. There's also changes to the existing concessions, including two portable Hard Times Cafe carts that will sell nachos. And a new "point of sale" operation that is supposed to speed up food sales and other transactions. (We shall see....!)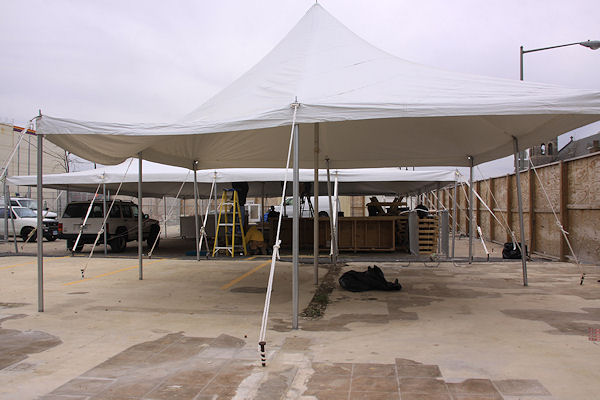 As for outside the ballpark, I peeked in on the progress at
Das Bullpen
, and while they were working very hard, it was hard to judge whether they'll be open by tomorrow morning. But the original Bullpen at Half and N will be opening at 10 am for all your late-morning beer-drinking needs. (Justin's Cafe will open at 10:30.) There was also work going on along Half Street, with Monument Realty finally replacing the Half Street advertising signage that for so long has declared "Coming 2009" with a more gentle "Coming Soon."
All this reconnaissance came as part of my short visit to NatsFest, and you can see a
quick gallery of my photos from the event
, none of which are terribly exciting and are more about little things here and there than the players or any of the activities. (I figured those sorts of photos would be a dime a dozen since every fan was toting a digital camera.) One change at the stadium visible in
one of the photos
(above the big
honking new Jayson Werth banner
) is that the red tent on top of the left-field garage that has been obscuring views of the Capitol for the past few years is now gone. Yay!
In other news, DDOT has announced that the
Navy Yard Circulator
's hours are indeed being extended beginning on April 1. From Friday through Sept. 30 (though could be continued in the FY12 city budget), the buses will run from 6 am to 9 pm weekdays and from 7 am to 9 pm on Saturdays, in addition to the extended hours on Nats game days. (They're supposed to post the 2011 Game Day Schedule, but it's not
there
quite yet.)
And, if you want more transit info before heading off to the ballpark, here's
Metro's press release
on its plans for extra trains, crowd monitoring, etc.
If I were in a generous mood, I could also link to today's front-page Washington Times story about how nothing is happening around the ballpark in terms of development, but if they are silly enough to dub the "new" Courtyard by Marriott (finished in 2006) as one of neighborhood's "signs of progress," then I'm not sure you need to read the rest. Besides, you can just read
my roundup of what's changed since the end of last season
to find out all you need to know.
We'll see what the weather does on Thursday--people seem to be sounding a bit more optimistic, but be aware that if there's rain, they'll
most likely play Friday
and not Thursday night.
UPDATED headline, tweaking "before June" to "by June."
Baseball Back for Fourth Season at Nationals Park; Neighborhood Update, Parking Map for Returning Fans
Mar 28, 2011 9:44 AM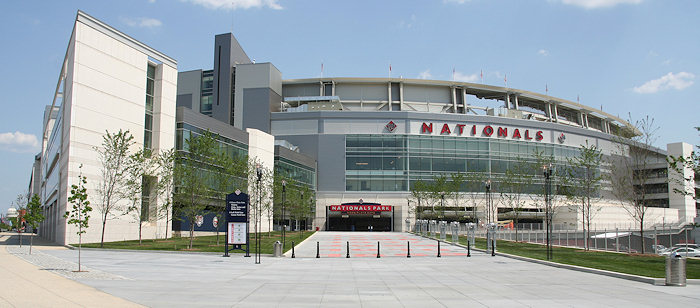 It's hard for me to believe that this week marks three years since the
first Opening Day
at
Nationals Park
, but time does march on. Wednesday evening's
NatsFest
followed by three games against the Braves (starting with Thursday's 1:05 pm season opener) will bring a lot of people back to Near Southeast for the first time since last summer.
If you're one of them, and you haven't diligently been reading my posts (gasp!), you might be interested in knowing what's been going on since the last time you ventured into this neck of the woods. Here's the big items: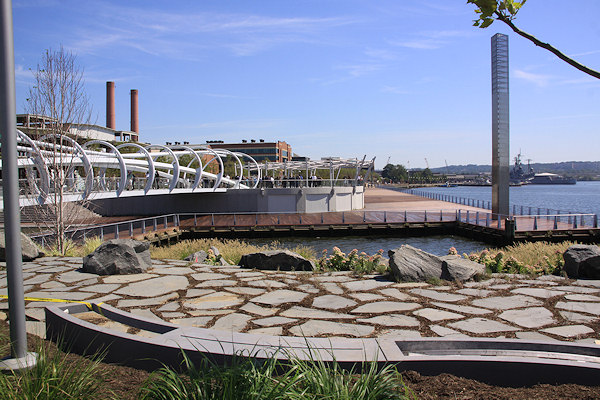 Yards Park:
In early September, the first phase of the six-acre
Yards Park
opened on the banks of the Anacostia, just two blocks east of the ballpark. It's a space unlike any in Washington, and is definitely worth a visit, perhaps even on your way to Saturday's afternoon game, since the park is holding a
Family Fun Day
that starts at 11 am. (Even if you don't make it to the park right away, you can easily see it from the ballpark's
southeastern viewing platform
.)
It will probably be a neat place to watch the Friday night post-game fireworks as well
(
UPDATE:
waah! no fireworks this year!), a trip which will be made even easier when a
floating bridge
connecting
Diamond Teague Park
--just across Potomac Avenue from the First Base Gate--with the Yards Park is completed, perhaps by the end of the season.
Unfortunately, most people visiting the park in conjunction with a Nationals game won't get to walk along the river all the way to 11th Street: while the Navy Yard has announced that its
stretch of the boardwalk is opening April 1
, the initial hours will only be from 8 am to 5 pm Monday-Friday.
Foundry Lofts:
Just to the north of the new park, work re-started last September on the stalled
Foundry Lofts
building at 3rd and Tingey, and it is expected to be completed this fall.
Bullpen:
It may not be ready by Thursday, but the open-air bar and live music gathering place across N Street from the stadium known as the Bullpen is opening a
gameday beer garden
to the north of its current spot, on the corner of Half and M across from the west entrance to the Navy Yard Metro station. With close to 80 picnic tables, it will have a capacity of over 600 and will offer European beers, sausages and other like fare, and a quieter environment than the original Bullpen (which will be remaining open for this season as well). The name of the new spot?
Das Bullpen
. (Yes, that's the moniker I flippantly gave the project back when
the news first broke
, which the owners decided to go ahead and use. #winning!)
Capitol Quarter:
If you park in lot T on 3rd Street, SE, you'll see new townhouses going up directly across the street as part of
Capitol Quarter
's second phase of construction.
200 I:
Just to the north of lot T and right by the Southeast Freeway, you'll see the old Star/Post Plant at 225 Virginia Avenue in the process of losing its exterior "skin" as it moves toward becoming
200 I Street
, a DC government office building that will be completed next spring.

Canal Park:
Right in the middle of things, across from the Five Guys and Subway, you'll see construction at last underway on
Canal Park
, the stretch of 2nd between I and M that at one time was a schoolbus parking lot and which has been plain open space for the past two years. The park is expected to be open by spring of next year, and so during the next 12 months expect there to be almost no parking along 2nd; the eastern part of the street is closed altogether. Also, note that L Street is closed for this one block, so you can't use it to get from New Jersey to 3rd or vice versa.
Harry's
: If your path to and from the ballpark includes a walk down New Jersey Avenue (perhaps from the Capitol South Metro station), and you find yourself in desperate need of adult beverages,
Harry's Reserve
has now opened on the southwest corner of New Jersey and I, in the ground floor of the
909 New Jersey
apartment building.
Florida Rock:
While it hasn't happened yet, plans are for the concrete plant just south of the ballpark
to be razed sometime this year
, bringing unobstructed views of the Anacostia River to the
southeastern viewing platform
and clearing the Florida Rock site until the proposed 1.1-million-square-foot
RiverFront
project can get some financing and get started.
Getting Here:
I've got my
Stadium Parking map
ready to go for 2011, though I've made no additions or deletions on it yet for the new season. I'll wander around this weekend and see if any new lots have popped up or old ones have gone away, though first impressions are that there are no major changes, certainly not in terms of the official Nats lots. (If you see any new lots or old ones that have gone offline, let me know so I can update the map.)
But with this area being a multimodal paradise, your better bet is
Metro
, or the
Circulator
that runs from Union Station and Eastern Market, or even
Capital Bikeshare
, now that there's a station at 1st and N.
UPDATE:
Forgot to mention the
water taxi
running from Alexandria, and it's possible that the new
American Water Taxi
service may get started up soon.
Retail? Eats?
Unfortunately, if you were expecting this post to include a litany of new food and retail offerings, you will be just as disappointed as the residents and officeworkers currently are with the continuing lack of options beyond Subway, Five Guys, Justin's Cafe, and Cornercopia. There could be at least two additions before the end of the season, however: another
beer garden
(separate from Das Bullpen) is under development at 8th and L, SE, and the old "
Little Red Building
" site at 2nd and L is on its way to becoming "Lot 38 Espresso." Neither project has an announced opening date.
There is also lots of under-the-radar chatter of various restaurateurs starting to look at the area (which I haven't bothered posting, because a) I don't do rumors and b) it shouldn't really be news that they're looking in such an underserved area). With the above projects underway, along with
DDOT
and the
FAA
soon moving into
55 M
,
20 M
now
97 percent leased
, and
100 M
off the DL thanks to its
foreclosure sale
, there is a definite shift in the economic winds, and it would not be surprising to get some announcement of some new retail before the end of this season.
For more information on what's changed and what might be changing, check out my
2011 State of the Hood
. The BID also did a
recent roundup of changes
.
If you want to relive the glory days of the ballpark's construction, you can wander through all my
exterior
and
interior
photos from that heady time, along with my
many photo galleries
from ballpark-related events over the years, from the
groundbreaking
to the
topping out
to
each
Opening
Day
. You can also check out what that part of the neighborhood
looked like before
the stadium's arrival. (Yes, I'm wallowing in nostalgia. It was a fun time.)
(UPDATED headline, because I can't count.)
DC Challenge at the Yards Park April 16; NatsFest Schedule
Mar 25, 2011 1:11 PM
The April lineup of events at the
Yards Park
continues to grow: on April 16 it will be host to the
DC Challenge
, an "Amazing Race" style scavenger hunt through the city. Competitors will "solve tricky clues" to plot the best route and race for cash prizes, and then afterwards there will be a "Finish Line Festival" with music, games, food drink, and the "crowd-judged costume contest." You can
register online
, and the web site has much more information on what's billed as "America's largest adventure race."
Also, in a slightly different vein, if you haven't already seen it, here's the schedule for
NatsFest
on Wednesday afternoon.
(One note on my handling of upcoming events--generally I'll post about something when I hear about it, and maybe give another reminder a couple days beforehand if the timing's right, and of course they're all always on my
events calendar
. But if you want lots of updates and reminders on goings-on at the Yards Park or other events handled by the BID, you'll want to follow those
Facebook
or
Twitter
feeds.)
Florida Rock Raze Permit, and Other Tuesday Tidbits
Mar 22, 2011 11:03 AM
All sorts of small stuff that has recently been
Tweeted
, or just left to molder until I finally got around to posting: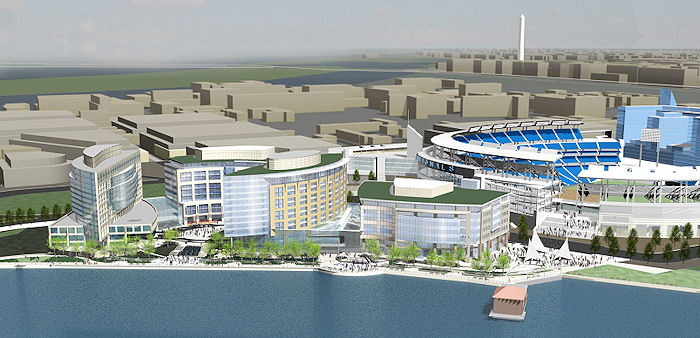 * A raze permit application has been filed by the
Florida Rock
folks for the concrete plant operated by Vulcan Materials Co. on Potomac Avenue just south of Nationals Park. This in an of itself is quite interesting, made even more interesting by a lack of response from Florida Rock Properties when I inquired as to what this planned razing might mean. From what I'm told, raze permits are valid for one year from the date of issuance (and this one hasn't been issued yet). The plan has been for a
1.1-million-square-foot mixed-use project
that would include office, residential, hotel, and retail in four buildings, plus lots of open space. (Note that the western part of the project can't be built until the
new Douglass Bridge
is built and the current one is demolished, which doesn't seem to be happening anytime soon). Whether the current plans will still be going forward with the current owners or if changes are in the works, we'll just have to wait and see, though considering that it took FRP a decade or so to get zoning approvals for the site, it would be no fun to see the process start over again.
* There was a kitchen fire on the 3rd floor of the
Capper Seniors building
at 900 5th St. SE on Monday night, according to
tweets
from
DCFireEMS
. The bulk of the fire was handled by the sprinkler system, they say, and there were no injuries.
* The DC Music Fest planned for the
Yards Park
on May 7
has been cancelled
"due to a lack of funding and sponsorships."
* The Five Guys at
Nationals Park
will not be back for the 2011 season,
says Curbed DC
. (The one on 2nd Street across from
Canal Park
is not affected by this.)
* Speaking of the ballpark, in case your attention hasn't yet turned to baseball, note that Opening Day is next Thursday (March 31), with NatsFest being held at 4 pm the day before. The first series of games (Thursday, Saturday, and Sunday) will all be early afternoon starts (1:05 pm on Thursday and Saturday and the normal 1:35 pm start on Sunday).
Vote for Summer Movies, and Yards Park Events Gearing Up
Mar 7, 2011 2:55 PM
With "Academy Award Movies" having been the
winning theme
for the Capitol Riverfront BID's 2011 summer outdoor movie series, the BID is now asking people to
vote on which Academy Award movies should be screened
. The series starts on May 26, and will once again be on Tingey Plaza, at New Jersey and Tingey just behind the
USDOT building
. (Last year's screening location, the
Canal Park
footprint, will be unavailable this summer because the locusts have arrived, dogs and cats are sleeping together, and it appears that construction is about to get underway.)
While the movie series isn't being held at the
Yards Park
(just a smidge to the north of it) the BID is working on an ever-growing list of events that will keep the park hopping through the year:
* Kicking off the slate, there will be a
Family Fun Day
on April 2 from 11 am to 4 pm, in conjunction with the
National Cherry Blossom Festival
. According to the
press release
, activities at the free event will include sake tasting and a Japanese beer garden by Mie N Yu, lantern making, sushi from Nooshi Sushi, a moonbounce, and more. (Then everyone can take a leisurely walk down M Street to the Southwest Waterfront for the
Fireworks Festival
, which actually starts at 1 pm and runs until the fireworks kick off at 8:30 pm.) This is also the day of the first Saturday home game of the year at
Nationals Park
, just two blocks to the west, starting at 1:05 pm against the Braves.
*
Sensorium
, the "culinary and sensory experience" announced
a while back
, starts its multi-week run on April 12.
* The previously mentioned DC Music Fest on May 7 has now announced its lineup.
* While the summer movies will be on Thursday nights, the park will also host a free
summer concert series on Friday nights
from 6 to 8 pm, kicking off on May 13 and running through August 19. This will be in addition the the lunchtime concert series that the BID has run for the past three years, and is expected to feature music ranging from jazz and blues to rock and reggae. (If you're a food provider and you want to serve at the concerts, here's
the RFP
.)
* July 9 will see
MetroDash
, the "country's premier obstacle race series," which includes obstacles such as tire flips, rope swings, 15-foot cargo net climbs, wall jumps, monkey bars, the "strongman shuffle." You can
sign up here
(if you
dare
), though the web site doesn't seem to be responding right now.
There are also plenty of private events already on the
park's calendar
, so if you were thinking about
throwing your own shindig there
, you won't be alone.
UPDATE, 3/20:
According
to their web site
, the May 7 DC Music Fest has been cancelled, "due to lack of funding and sponsorships."
BID Summer Movie Survey; 225 Virginia Kick-Off
Feb 13, 2011 11:22 PM
Two very small items to start off the week:
* The BID has
posted a survey
to find out which movies people are interested in seeing during the summer's Outdoor Movie Series, scheduled for Thursday nights beginning May 26. (The movies have moved back to Tingey Plaza behind USDOT, since
Canal Park
will presumably be under construction.) They're offering two themes to choose between: Summer Vacation Movies and Academy Award Winners.
*
StonebridgeCarras
has e-mailed invitations to VIPs (a list that doesn't include
moi
) announcing a "ceremony to celebrate the official beginning of the redevelopment" of the former Post Plant, aka
225 Virginia Avenue
, aka 200 I St., SE. It's scheduled for Tuesday, Feb. 15, at 10:30 am at the corner of 3rd and Virginia, with Mayor Gray and other luminaries expected to be in attendance. Will the Bobcats now parked on site then start punching out the walls from the inside, as was the case when the
old Capper Seniors
building was demolished? Of course, in the case of the Post Plant, they're only "de-skinning" it, not bringing down the entire building. You can see a rendering of the new building on my
project page
.
Events News: Chocolate City, Sensorium
Jan 28, 2011 1:10 PM
Two events on the horizon (one near, one far) that might be of interest:
* On February 2 at 8 pm,
Arlington Independent Media
is hosting a showing of
Chocolate City
, the 2007 documentary by Ellie Walton and Sam Wild about families who were displaced by the redevelopment of
Capper/Carrollsburg
. There will be a conversation after the screening with Walton. (It would be interesting to know whether any of the families portrayed in the movie have since come back to the area by moving into any of
Capitol Quarter
low-income units, since the movie was filmed and completed before any of the construction at CQ started.)
Tickets are $6
, and the movie begins at 8 pm at the Artisphere, 1101 Wilson Blvd., in Arlington. (h/t reader P)
* Coming to the
Yards Park
in April is
Sensorium
, a "culinary and sensory experience featuring creative atmosphere and cutting-edge production." According to the
press release
, this will be a "sophisticated 12-course culinary production" from Executive Chef Bryon Brown, founder of
Artisa Kitchen
and the DC Supper Club series. A temporary structure (called a "geodesic dome" by the producers, but described to me by the BID as a tent) will be set up on the eastern side of the park, just south of the Trapeze School's tent, and there will be audio/visual and performance elements woven through the 12-course meal. (Cirque du Soleil meets Top Chef?) Each show will have only 30 tickets available, with two seatings per day (5:30 and 9 pm), running for six weeks beginning on April 12. Tickets are $150, but are discounted to $125 for the first four shows.
Tuesday Tidbits: Harry's, NatsFest, Yards Park, Etc.
Jan 18, 2011 3:04 PM
Some recently
Tweeted
items, and a few new ones, worth wrapping up into a quick post:
* Last week I heard from the owners of what will soon be the
Harry's Reserve
"upscale" wine and spirits store at New Jersey and I, saying that they hope to be open by February 1.
* This year's NatsFest at the
baseball stadium
will be held
on March 30
, the day before the Opening Day home game against the Atlanta Braves. The schedule of events is still to come, but hopefully the decision to better tie in the event to the hoopla surrounding the start of the season won't be offset by it being on a Wednesday, when it's harder for kids to be there. (Especially kids who may already be playing hooky the next day!)
* The
Yards Park
web site now has
information about renting space
for public, private, or community events. And if you wander through the
calendar
, you can see what events might be on tap for this year, though the
main calendar
shows what's been confirmed, such as the Capitol City Beer Festival on May 28, the
previously discussed
DC Music Festival on May 7, the
MetroDash obstacle course race
on July 9, and a monthy Art Market.
* Stephen Strasburg,
working on his degree while rehabbing
, has written a thesis on the effects new stadiums have on neighborhoods, with a focus on
Nationals Park
. If he was looking for information on what the neighborhood
looked like "before,"
I hope he found it! (And no, the thesis isn't available anywhere.)
* The National Capital Planning Commission will be looking at the final
11th Street Bridges
site and building plans at their
February 3 meeting
. Gosh, I hope they like where the bridges themselves are placed in the designs!
* Off-topic, but the
hunt seems to be back on
for a new DC United stadium location, with one of the potential spots being across South Capitol Street at Buzzard Point in Southwest. (Please note that I said Buzzard Point. There is no s on the end. In case you missed 642 tweets about it today.) SWill has
some additional information
.
And, coming on Thursday (I hope), my 2011 State of the Hood roundup of the past 12 months' worth of activity, and what might be on the horizon. (I'm telling you this to force myself to actually get it done.)
DC Music Fest Coming to Yards Park on May 7
Jan 3, 2011 9:47 AM
Another DC arts festival is being inaugurated at the
Yards Park
-- this time it's the
DC Music Fest
, scheduled for May 7, 2011. With plans to "showcase some of the best artists and bands of the Washington, DC and surrounding areas," the event already has a lineup of 12 bands, three singer/songwriters, and 1 DJ on two stages. Other local artists who want to play at the event can
submit themselves
at the web site until February 1, and a panel of judges will choose which acts will be added to the lineup.
According to
On Tap
, tickets will be $25.
Back in October, the first
RiverFrontFest
debuted on the streets just north of the Yards Park, offering a day of local art and music.
New Year's Eve Party by ReadysetDC at Trapeze School
Dec 30, 2010 6:02 PM
Just popping up in my inbox (which is hard to get to through the piles of opened boxes and discarded Toblerone wrappers) is news of the big New Year's Eve celebration ("
Evolution 2011
") being thrown by
ReadysetDC
Friday night starting at 9 pm at the Trapeze School's space at 4th and Tingey, SE at
the Yards
. Dance performance by Holly Bass, live music by Chelsey Green and the Green Project, AWR B-boy performance (you kids tell me what that is), aerial ribbon dancing performances, live painting by Brandon Hill of No Kings Collective, and much more.
Tickets are
$95
, and include an open bar, but you can get $20 off by using the discount code DC-LOVE. (They've even got a deal with the Courtyard by Marriott at New Jersey and L for a block of hotel rooms.)
Pre-Weekend Cleaning Off of the Messy Virtual Desk
Oct 1, 2010 11:50 AM
Here's a bunch of little items that aren't ridiculously newsworthy, but that might be of interest. Since it's Friday and many of you actually have lives, I suggest reading a few at a time, and keep coming back over the weekend until you get through all of them. Some I've already passed along via
Twitter
(which you can also follow by being a
Facebook Fan of JDLand
), but some are surprisingly fresh. Here goes:
Top items:
* The process that will beget the new Southwest Waterfront is now underway, and SWill at Southwest: The Fabulous Blog With the Funny Name (did I get that right?) reports on
this week's public meeting
by the developers. Current plans call for 560 residential units, three hotels totalling 600 rooms, 840,000 square feet of office, 335,000 square feet of ground floor retail, some sort of music hall / museum / maritime education offering, 2,500 underground parking spaces in five garages, and 400-500 marina slips, with 60 percent of the site area being public space.
* Back before
1015 Half Street
was a slow-to-finish office building, it was an old industrial building that in 1995 became the Capitol Ballroom and then eventually the Nation nightclub. But from its construction in 1931 until it was sold at auction in 1992, the southwest corner of Half and K was home to the J.E. Hurley Machine and Boiler Works company. And thanks to the
Kinorama Flickr stream
that took the Twitterverse by storm this week, here's
a shot of the Hurley building
, undated but probably in the early 1990s. The outlines of the
more-familiar Nation building
are clearly visible.
* Pastor Mark Batterson,
writing about
the National Community Church's
purchase of the Miles Glass
site at 8th and Virginia, says that they are looking at some of the adjacent properties as well. "Our current lot serves our current purposes, but when we think in twenty year terms the additional lots would give us more upside potential."
Calendar items:
* On Friday, Oct. 8, the
Susan G. Komen 3-Day Race for the Cure
will be holding its opening ceremonies at
Nationals Park
. It's not just for participants, and friends and family are also being encouraged to attend. Walkers will start arriving around 6 am, with the opening ceremony beginning (with "community stretching" at 7 am). Afterward, the participants will begin their 60-mile walk (though I can't find a map to figure out their route). More information about the opening ceremonies and race
here
.
* Mayor-in-Effect Vince Gray is having
a series of town halls during October
, with the Ward 6 one scheduled for Oct. 27 at 8:30 pm at Eastern High School, 1700 East Capitol St. NE.
Tidbits:
* Because I'm worried that the Marines' hunt for a new barracks site isn't engendering enough conversation around here, I'll point people to
Norm Metzger's report
on last week's Community Leadership Group meeting that I wrote about
here
.
* The Examiner did
a Three-Minute Interview
with Sam Fromartz of the Virginia Avenue Park's community garden.
* It's time once again for the Capitol Riverfront Perception Survey.
Tell 'em what you perceive
.
Off-Topic:
* I've written a few times about my interest in Detroit, and whether it can come back from so far down. If you haven't been following along, here's
a great essay with lots of photos
, written by David Byrne. (Yes, that David Byrne.) (thanks to reader EH)
Free Tickets to RiverFrontFest for Hood Residents
Sep 21, 2010 1:32 PM
I wrote
over the weekend
about
RiverFrontFest
, a new arts and music festival that will be held on Saturday, Oct. 9, on Fourth and Water streets near the
Yards Park
. While tickets are $12 in advance and $15 at the door, the organizers
are offering complimentary tickets
for residents of Near Southeast. The tickets are limited to two per resident, and proof of residency with ID must be shown. The tickets can be picked up any time between now and Oct. 9 at either Justin's Cafe or Cornercopia, though both businesses ask that if possible people avoid coming to get tickets during the busy 11 am to 2 pm rush times. Here's
the flyer with details on the free tickets
, which you'll probably also see being handed out in the various apartment buildings in the neighborhood over the next few days.
WalkingTown DC 'Hood Tours Sunday Morning
Sep 21, 2010 11:25 AM
Missed this in yesterday's post on this week's events:
WalkingTown DC
is this weekend, and among the many (many!) walking and biking tours is once again a Capitol Riverfront BID-branded tour, "Capitol Riverfront: From Navy Yard to Front Yard", on Sunday (Sept. 26) from 10 am to 11 am. The tour, lead by BID executive director Michael Stevens, meets at the New Jersey Avenue entrance to the Navy Yard Metro station.
If you're in really (really!) good shape, you can then zip from this tour to the Stadium-Armory Metro station for a Ward 6 biking tour led by Tommy Wells, "Ward 6 Past Meets the Future Bike Tour." It's a 6.5-mile ride from 11 am to 12:30 pm that will start at Kingman Island and hit Eastern Market and Barracks Row before hitting the parks of Near Southeast (
Canal
,
Yards
,
Teague
, and
Nationals
) and then continuing on into Southwest.
No reservations are required for either tour. (I'd link directly to the entries for each, but the WalkingTown site isn't set up for that. So here's the lists of
Sunday morning walking tours
and the
biking tours
. Start scrolling!)