Near Southeast DC: Past News Items
Events
Go to Full Blog Archive
---
WalkingTown DC 'Hood Tours Sunday Morning
Sep 21, 2010 11:25 AM
Missed this in yesterday's post on this week's events:
WalkingTown DC
is this weekend, and among the many (many!) walking and biking tours is once again a Capitol Riverfront BID-branded tour, "Capitol Riverfront: From Navy Yard to Front Yard", on Sunday (Sept. 26) from 10 am to 11 am. The tour, lead by BID executive director Michael Stevens, meets at the New Jersey Avenue entrance to the Navy Yard Metro station.
If you're in really (really!) good shape, you can then zip from this tour to the Stadium-Armory Metro station for a Ward 6 biking tour led by Tommy Wells, "Ward 6 Past Meets the Future Bike Tour." It's a 6.5-mile ride from 11 am to 12:30 pm that will start at Kingman Island and hit Eastern Market and Barracks Row before hitting the parks of Near Southeast (
Canal
,
Yards
,
Teague
, and
Nationals
) and then continuing on into Southwest.
No reservations are required for either tour. (I'd link directly to the entries for each, but the WalkingTown site isn't set up for that. So here's the lists of
Sunday morning walking tours
and the
biking tours
. Start scrolling!)
Back from the Midwest; A Few Events This Week
Sep 20, 2010 9:39 AM
I'm back from spending the past week wandering around Ohio (Columbus, Cincinnati, Cleveland) and then spending some time in the Detroit area, where my husband
grew up
and where
I lived
for a few years as a tyke many years ago. If I was sent back in time 10 years and told to be a city blogger again but that I couldn't do Near Southeast, I would gladly have chosen to document the decay (and
perhaps eventual return
) of Detroit, because it's really on a scale that is hard for people to understand unless they've spent a lot of time driving all around the city (and not just on the freeways). It also means I would have spent the past 10 years eating plenty of Detroit Pizza at
Buddy's
and
Cloverleaf
and having far easier access to a bazillion breakfast options (at the
Coneys
and other "family dining" establishments) than we'll ever have in the DC Metro area. Plus there's the
cider mills
.
We also very much enjoyed Columbus, particularly the
Short North
and
German Village
neighborhoods (and driving through the Ohio State campus in my University of Florida-festooned car--
ha ha
!), and my husband also noted the bars and restaurants in the
Arena District
and asked if that's what will eventually be coming to Half Street. (I then asked him if he ever reads my blog.) Downtown Cincinnati has some great "old stock" storefronts and signage (which we're always big fans of), but we also enjoyed the Kentucky towns of Covington and
Newport
, right across the river from Cincy's two stadiums. It helped that our hotel was three blocks from the massive
Covington Oktoberfest celebration
. And yes, we ate
chili
. Cleveland was mainly a pilgrimmage to the
Rock and Roll Hall of Fame
for me, but we did wander around to eat in the
Tremont
and
Ohio City
neighborhoods, and took a peek at
Shaker Heights
.
(Are you as worn out from our vacation as I am? We do tend to cover a lot of territory.)
I don't think I deprived you of any big news while I was gone, so, instead, we'll look ahead at a few events this week:
* Today begins the Nats' final homestand of the 2010 season, against the Astros, Braves, and Phillies, with the final home game on Wednesday Sept. 29 at 7:05 pm. And note that this Thursday's game (Sept. 23) against the Astros is a 4:35 pm start, and Saturday's game (Sept. 25) against the Braves is at 1:05 pm. Then you can start looking ahead to the
2011 Nationals schedule
, where they get an Opening Day home game on March 31 against the Braves.
* Tomorrow (Tuesday, Sept. 21) is ANC 6B's monthly meeting (delayed a week to avoid coinciding with the election), and the
agenda
includes CSX's plans for an archaeological dig at Virginia Avenue Park. The meeting is at 7 pm at the People's Church, 535 8th St., SE.
* Thursday is the Washington Area Bicyclist Association's
"Moonlight Ride at Yards Park", which includes an 11-mile ride starting from the Park at 8:30 pm heading west to the Potomac River, and a 6-mile ride starting at 9 pm that will go east over the Anacostia River into Anacostia Park and Historic Anacostia. The rides are free and open to the public, but they ask that you

register in advance.

* And, looking ahead a bit, the

newly redesigned

"

Parcel D

" residential/retail/grocery development on the southeast corner of 4th and M in the Yards will be presented to the National Capital Planning Commission

on Oct. 7

.

UPDATE:

I guess I should also be mentioning the launch of

Capital Bikeshare

today, with two locations in Near Southeast, at New Jersey and M by USDOT, and what the map says is another station at First and N, SE, by

Nationals Park

(which I had heard wasn't coming until next spring).
Comments
(9)
More posts:
ANC News
,
Pedestrian/Cycling Issues
,
CSX/Virginia Ave. Tunnel
, Events,
meetings
,
Nationals Park
,
Stadium Events
,
Virginia Ave Park
,
The Yards
,
Twelve12/Teeter/Yards
,
Yards Park
First 'RiverFrontFest' Coming on Oct. 9
Sep 18, 2010 3:35 PM
A new arts and music festival is coming to "space adjacent to the"
Yards Park
next month, named
RiverFrontFest
(my years of journalism training prevent me from calling it the "First Annual"). On Oct. 9 from 11 am to 7 pm, this event will feature "independent, creative artists and musicians in a fun, vibrant, family friendly setting," which is scheduled to include demonstrations from
Trapeze School New York
, a breakdance competition, and three stages of bands. There will also be local food and arts and crafts vendors.
Tickets are $12 in advance and $15 at the "door" (fence?); proceeds raised through the event will benefit local organizations including the
Earth Conservation Corps
,
Kids Set Sail
, and
Living Classrooms
.
If you're a
performer
who would like to participate, or an
vendor
/
sponsor
/other organization wanting to get involved, or someone wanting to
volunteer
at the event, the web site has the details, as well as
"Festival Vision" page
that describes a pretty wide-ranging bar that the organizers are trying to reach.
[It's taken a while, but I think i've puzzled out the "space adjacent to the Yards Park" designation--they say they'll be closing down Fourth Street and Water Street (the "Street" that runs between the Lumber Storage Shed and the Foundry Lofts) as well as "using an adjacent large green space," so I'm thinking this is more over by the Trapeze School and on the streets than anywhere on the park footprint.]
The Capitol Riverfront BID is one of the sponsors, but is not running the event, unlike many of the other parks/arts/happening events around the neighborhood over the past few years. (In fact, it's kind of hard to tell who *is* running it.)
Reminder: Opera in the Outfield on Sunday
Sep 16, 2010 1:04 PM
A reminder that the third
Opera in the Outfield
is scheduled for Sunday (Sept. 19) at
Nationals Park
. This year it's Verdi's
Un Ballo in Maschera
(
A Masked Ball
, for you dweebs who don't speak Italian), simulcast in HD on the ballpark's massive screen. The gates open at noon, with the show beginning at 2 pm, but there will also be lots of pre-show and intermission activities, such as photo opportunities with Screech, giveaways, and the new "Take Me Out to the Opera Songwriting Contest," giving fans the chance to apply opera-inspired lyrics to the old ballpark standby. (The winners will be announced during the "Seventh Aria Stretch," i.e., the second intermission.) Seating is available throughout the ballpark (not just on the outfield), and while reservations are no longer being taken for specific spots, fans can still show up. And, of course, it's free.
Reminders via the Nationals for attendees: Only soft-sided coolers smaller than 16 x 16 x 9 inches and containing individual-size serving food will be allowed; no alcohol will be allowed inside the gates of the ballpark; no chairs will be allowed inside the gates of the ballpark; no strollers or wheelchairs are allowed on the grass of the field; and no throwing items on the field.
And afterward (or before) you can wander two blocks east to the
Yards Park
if you haven't checked it out yet, or even if you have.
Yards Park Before and Afters (and a Moonlight Ride)
Sep 8, 2010 12:47 PM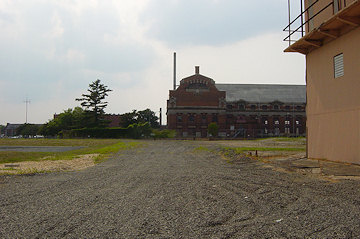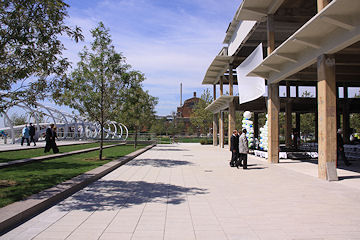 As promised, I've updated my
Yards Park page
to incorporate some before-and-after photos to highlight the transformation of this patch of land from a bunch of nothingness to a waterfront destination. But I'd also suggest looking through my
Expanded Yards Park archive
for a more complete set of photos that really show how these five acres have changed since 2005. (And I'll be adding more pairs to the expanded archive this weekend, having missed a few spots in my recent visits.) They really are a pretty striking batch of photos, if I may say so myself....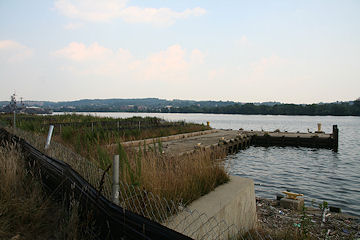 And, in other Yards Park-related news, the Washington Area Bicyclist Association (with the BID and Forest City) is sponsoring a "
Moonlight Ride at Yards Park
" on Sept. 23, which includes an 11-mile ride starting from the Park at 8:30 pm heading west to the Potomac River, and a 6-mile ride starting at 9 pm that will go east over the Anacostia River into Anacostia Park and Historic Anacostia. The rides are free and open to the public, but they ask that you
register in advance
so that they know how many people to expect. (There's also discounted tickets available for that afternoon's 4:35 pm game at Nats Park versus the Houston Astros, if you want to watch a game with your fellow cyclists before heading out on the ride.)
Reader Mailbag: Kudos to Nats Park First Aid Staff
Jul 29, 2010 11:54 AM
From reader Linda G. of Richmond: "I want to let someone know how appreciative I am of the wonderful people that came to my rescue last Saturday night at the Dave Mathews/Zac Brown concert. I had ridden the metro and walked in. Then had to walk to our seats which were in section 418 three rows from the top of the
stadium
. By the time I got to my seat I was suffering from heat exhaustion and about to pass out. My son got wet paper towels and ice but ended up having to go get the first aid people to come help. They were WONDERFUL and I want to let them know how appreciative I am of them."
Upcoming Events: Seabiscuit, Dave Matthews, SoS
Jul 22, 2010 2:33 AM
For your scheduling pleasure:
*
Thursday's BID outdoor movie
is
Seabiscuit
, the heartwarming tale of a horse swimming across the ocean for food (no, wait, that's not right). It starts at
Canal Park
at Second and M streets, SE, at 8:45 pm, but you can arrive early for some hula hooping with Hoop Jams at 8 pm. Rain cancellations will be posted on the
BID web site
by 4 pm.
* On Friday night (July 23) the
Dave Matthews Band
will be in concert at 7 pm at
Nationals Park
, with the
Zac Brown Band
opening.
Tickets are still available
, and the concert will go on rain or shine. (If you're heading to the ballpark for the concert and are unfamiliar with the territory, here's my
Stadium Parking information page
. But make it easy on yourself just take
Metro
.) Speaking of the stadium parking page, I've now added the new (tiny) $10 lot on the northwest corner of New Jersey and I.
* The rest of the weekend will be quiet (and hot), but then on Tuesday the 27th the Summer of Strasburg will return to the neighborhood, as Stephen is expected to pitch against the Atlanta Braves in a 7:05 pm game.
Eagles Concert at Nationals Park Cancelled
Apr 19, 2010 2:51 PM
From DCist
: "Live Nation just announced that the June 15 concert at Nationals Stadium featuring the Eagles, with guests Dixie Chicks and Keith Urban, has been canceled due to scheduling conflicts. If you purchased through Tickets.com, your ticket and parking will be automatically refunded the week of May 3; otherwise, contact your point of sale for a refund." [Hmm. Scheduling conflicts?]
Eagles (the Band) to Play Nats Park on June 15
Mar 16, 2010 10:46 PM
(I've just gotten back from a week traipsing around Arizona, so apologies for light/slow posting, including this one)
It was announced today
that the Eagles, with special guests the Dixie Chicks and Keith Urban, will be playing at
Nationals Park
on Tuesday, June 15, with tickets going on sale at tickets.com on March 29 at 10 am. This is the second concert scheduled for the stadium this summer, with the
Dave Matthews Band playing on July 23
.
Astute readers might remember all
sorts of rumors back in 2008
that the Eagles were going to play the first-ever concert at the ballpark, an honor which eventually went to Billy Joel and Elton John, last year (unless you want to count the Pope).
Some Quick Friday Afternoon Links
Feb 26, 2010 6:00 PM
* The
Douglass Bridge
(South Capitol Street) will be closed on Sunday morning for its swing span test, from 4 am to approximately 9 am, weather permitting.
* Tickets went on sale this morning at 10 am for the Dave Matthews concert at
Nationals Park
on July 23--looks like
good seats are still available
.
* There's been some press over the past few days about the new
DDOT web site
, especially the "
Transportation Access Portal
" that gives detailed information about projects around the city, but I was kind of underwhelmed until I found out that the projects of most interest to Near Southeast are under an "
Anacostia Waterfront Initiative
" tab rather than in the Ward 6 section. There you can find all sorts of project-management details (cost, schedule) for the
11th Street Bridges
, the
new Douglass Bridge
(coming in 2018!), and even the RFK ramp demolition.
*And, in the gosh-why-would-you-think-I-was-killing-time-on-a-Friday-afternoon department, a shot of what the 1000 block of
K
THIRD Street SE would look like if it were in Mr. Roger's Neighborhood (
see large version
):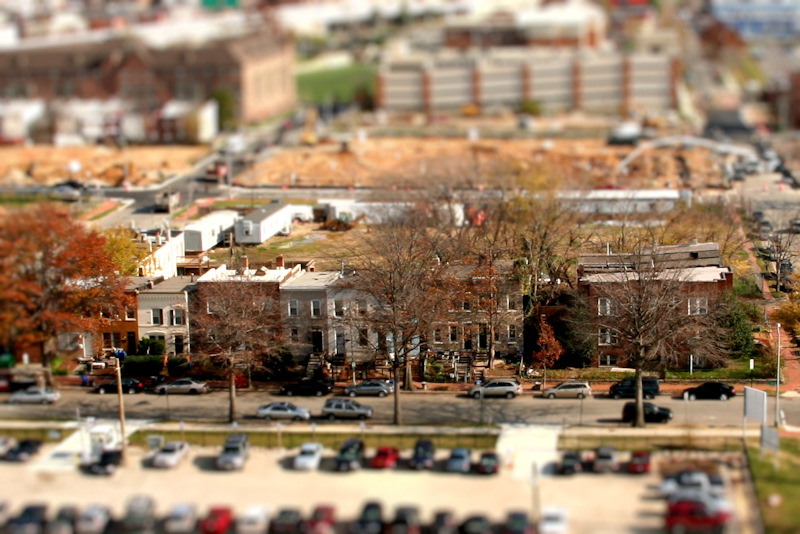 * Plus, I think I have some cool items on the way next week. Fingers crossed.
* UPDATE:
Shoot, I knew there was something else I meant to include:
Minutes and materials
from the last Lower 8th Street visioning session. A report will be submitted to the Office of Planning.
Next Week's Events (Justin's Cafe Liquor License, Boathouse Lighting, ANC6B)
Dec 3, 2009 9:17 AM
A couple events on the calendar for the week of Dec. 7 to highlight:
* On Wednesday, Dec. 9, ANC 6D's ABC committee will be having its monthly meeting (in advance of the
full ANC meeting
on Dec. 14), and on the agenda is "presentation of plans by Justin Ross re Justin's Cafe planned for 1st & L Streets, SE." This is the first step in the (long) process for
Velocity's
restaurant to get its liquor license, although I haven't yet seen an announcement/posting for their official ABRA hearing (maybe it'll be in tomorrow's DC Register). The meeting is at 7 pm at King Greenleaf Recreation Center, 201 N Street, S.W.
Upcoming Events (11th Street Bridges, Last Movie, Capitol Quarter Ribbon Cutting)
Aug 18, 2009 12:40 PM
A slew of upcoming events to pass along:
* On Wednesday (Aug. 19), there's going to be an
11th Street Bridges
Open House
, billed as an update for Ward 8 residents about the status of the bridge replacement project. (But I'm guessing people from other wards can come, too.) It's from
7 pm to 8:30 pm
, at the Union Temple Baptist Church at 1225 W St., SE.
* Thursday (Aug. 20) is the last night of the BID's 80's Outdoor Movies series, with "Ghostbusters"
on the bill
(rescheduled from a rainout earlier this year). Apparently the BID is planning a four-week fall movie series starting in September; I'll pass more along on that when I get it.
* Next Wednesday (Aug. 26) the DC Housing Authority is holding an official ribbon cutting and grand opening at
Capitol Quarter
, from 10 am to noon at Fourth and L, with the mayor expected to be in attendance. This is just a little over two years after
the ceremonial groundbreaking
, held on a sweltering day in June 2007.
* If you're desperate for something to do Wednesday morning but a ribbon cutting isn't your thing, the
U.S. Navy Museum
at the
Washington Navy Yard
will host "
Pirate or Privateer? War of 1812 Day
," a series of demonstrations and lectures on the War of 1812. The program, which runs from 10 am to 2 pm, includes Gun Drills in the replica of the USS Constitution and Sea Chanteys. The event is free and open to the public, though note that there's no parking available inside the gates for visitors.
* The National Capital Planning Commission again has the design of the
11th Street Bridges
on their
tentative agenda
, for their Sept. 3 meeting. It had also been on the tentative agenda for the July meeting, but didn't make the final cut; hopefully that won't happen again, because NCPC always puts together such great reports on the projects it votes on (and posts them on their web site), so it's a good place to get details that have been hard to find elsewhere.
* This is still a few weeks away, but residents might want to mark their calendars that the next ANC 6D meeting, on Sept. 14 will be held in Southeast, at the
Courtyard by Marriott
at New Jersey and L. I've been attending ANC meetings off and on for six years, and this is the first one I remember that will be crossing South Capitol Street.
Diamond Teague Progress, Cornercopia Peek, Plus a Few Other Photo Updates and a Parking Lot Update
Jul 16, 2009 8:46 PM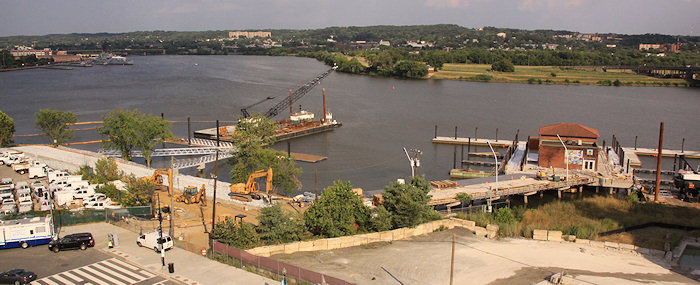 I took advantage of the sunny evening to dart around getting some desperately needed photo updates. First up is
Diamond Teague Park
, where progress on not only the water-taxi piers but the "on-land" portion of the park itself is now clearly visible from the
viewing platform at Nationals Park
. The last projected opening date I heard, a few months back, was July, but while it looks like maybe the park won't be pulled together in the next two weeks, it definitely appears to be getting there. See
my Teague page
for the latest pics.
I also snuck a peek through the door at Cornercopia and
snagged a quick photo
, showing goods now stocked on the shelves, but perhaps just short of being ready to open. Maybe they can get ready for all the folks heading to the ballpark this weekend? Don't forget, my offer still stands of a free sandwich to the first person who
reports to me
that it's open....
I also took some updated photos at Fourth and K in
Capitol Quarter
, where framing has sprouted on the
north side of K
. Then I wandered down to
the Yards
to get some better shots of the
southeast corner of Fourth and Tingey
, which is
where the Trapeze School is going to be located
. (You can also see the
entire batch of today's photos
, where you can then click on the
icon to see an angle's entire history.) Speaking of the Trapeze School, the Post's Health section had a story today on
what it's like to take a class from them
. (You probably won't ever see *me* flying through the air with the greatest of ease.)
One other item--the
WashTimes reported today
that the
Elton/Billy stage
left centerfield in a bit of a mess, requiring the grass to be painted. As you can see from
this shot I took during batting practice
, it seemed to work pretty well.
Lastly, it only took me half the season, but I've now updated my
Stadium Parking map
to show the many options for cash parking (official and unofficial), in addition to the official Nats season ticket lots. And to think that there was a time when *some* people were worried there wouldn't be enough parking.
Upcoming Events, and Other Linky Goodness
Jul 14, 2009 12:14 PM
* This Sunday (July 19), there's going to be a "Grill-Off" at Nationals Park before the 1:30 game against the Cubs. Phil Bucco, who oversees the menus at the ballpark, will be competing against Teddy Folkman, the executive chef at Granville Moore's. It'll be an Iron Chef-like challenge, where the chefs won't know the ingredient they're working with beforehand. The event starts at noon, but the first-come first-served seats (in the Nats Family Fun Area) can be grabbed starting at 11 am, when the gates open. Plates will be judged at 1 pm.
* On Tuesday, July 21, the BID is hosting a
"Mental Mapping" event
, where they're asking residents to "Sketch out your shopping route to assist in a study about neighborhood retail needs." It's at
Capitol Hill Tower
at 6:30 pm; RSVP to
rsvp@capitolriverfront.org
.
* On Saturday, Aug. 8, the
3rd Annual Youth River Sports Day
will be held at the
Anacostia Community Boathouse
, from 10 am to 2 pm. Rowing and paddling instruction, guided river tours, and more will be offered;
my photos from last year's event
give a taste of the activities.
* This is a ways off, but
SWDC Blog reports
that the next ANC 6D meeting, on Sept. 14 (no August meeting) will be held in Southeast, at the Courtyard by Marriott at New Jersey and L. I've been attending ANC meetings off and on for six years, and this is the first one I remember that will be crossing South Capitol Street.
* Even farther off (well, the next day), Urban Land Institute Washington is holding its third
Urban Marketplace Conference and Expo
, which brings together "the private, nonprofit, and public sectors to explore redevelopment opportunities and best practices in emerging neighborhoods and corridors across the Washington metropolitan region." One of the day's discussions will focus on the ballpark district (and I'm one of the panelists). Early-bird registration ends July 31.
* In non-event news,
Fox 5 reports
on how the Nationals' problems on the field "are making the city's $700-million stadium look like a bad investment." To wit: "Before the stadium was built, the city projected average attendance at 34,708 per game and tax revenues from tickets and merchandise of $15.1 million for this season. The reality, average attendance is about 23,213, ranking the Nationals 24th out of 30 teams. Based on attendance figures through June, the city now estimates tax revenues of about $8.9 million. The office of the Chief Financial Officer says tax revenues could increase because average attendance has improved slightly since June." However, "The office of the Chief Financial Officer estimates the city will raise $50.2 million through its Ballpark Revenue Fund, more than enough to make the $32-million bond payment on the stadium with money left over. The bulk of that however does not come from the Ballpark itself, but rather from a utility tax and a business tax in the city."
* Since I was out of town this weekend, I missed all the Elton/Billy hullabaloo. Here's
a pile of reviews and blog posts
having to do with the big show.
* For your (off-topic) Real Estate Development Collapse reading pleasure, a long piece on
Williamsburg, NY
: "Most unsettling are the cases of the developers who seem to have vanished, leaving behind so many vacant lots and half-completed buildings--eighteen, to be precise, more than can be found in all of the Bronx--that large swaths of the neighborhood have come to resemble a city after an air raid."
Setting the Stage for Elton/Billy; Cornercopia Update
Jul 9, 2009 4:25 PM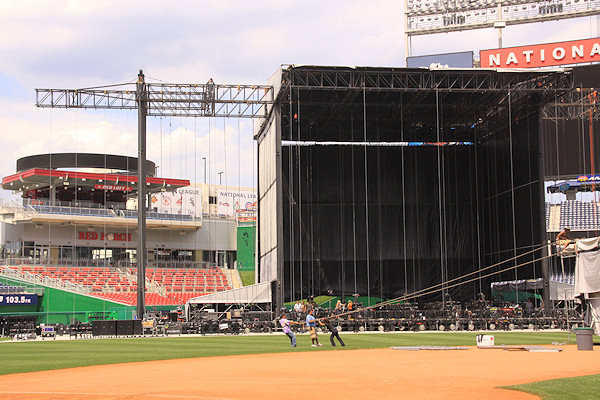 These aren't the most exciting photos I've ever posted (and goodness knows there are a lot of pictures at JDLand that already fall into this category), but I couldn't pass up the opportunity, so here are some shots from inside Nationals Park today
showing the construction of the stage
for Saturday's Elton John and Billy Joel concert. It's in dead centerfield, taller than the Red Loft but not quite as big as the scoreboard. (There will be seating on the field, it just hasn't been set up yet.) And, if you make to the bottom of the page, there's a couple non-stage shots that might be of interest, too.
In other news, I stopped in Cornercopia, and they tell me that they have all their city permits, and are now just waiting to get set up with their distributor, so they could be opening next week. They also told me that they will have tables with umbrellas, chairs, and benches, and the all important water dish for dogs. If you
didn't chime in on the last thread
on what goods you'd like to see for sale there, leave a comment below; you never know who might be reading!
Billy and Elton on Saturday
Jul 8, 2009 10:40 AM
A reminder that the first big concert at
Nationals Park
(well, other than the Pope) is this Saturday, with Billy Joel and Elton John. Metro has just sent out
a press release with its plans
: "In anticipation of large crowds, Metro will operate additional eight-car trains on the Green Line leading up to the start of the concert. Additional personnel will be on hand at the Navy Yard Metrorail station on the Green Line, which is just one block away from Nationals Park. Upon conclusion of the concert, Metro will deploy eight-car shuttle trains that will operate between the Navy Yard and Mt. Vernon Sq/7th St Convention Center Metrorail station."
UPDATE: As for parking, apparently ticketholders have received e-mails urging them to prepurchase parking in the official Nats lots, and cash parking lots will be available as well.
Video of Obama at Five Guys, Ward 6 Family Day, and Other Tidbits
Jun 3, 2009 10:19 PM
* Admit it: you know you want to see it--here's
NBC's coverage of the Obama visit to Five Guys
, from Tuesday night's "Inside the Obama White House" special. (Click on "Part 5", "Out to Lunch with Obama.") With a bunch of brief glimpses of the Little Red Building!
* The
Third Annual Ward 6 Family Day
is happening on June 20, from 11 am to 3 pm at the Rosedale Rec Center in Northeast.
Tommy Wells's web site says
activities will include "Capitol Hill Bikes free bike safety inspections and adjustments, celebrity kickball game, Washington Humane Society animal adoption and training, basketball games, face painting, moon bounce, corn hole tournament, horseshoes and live music. In addition, the pool will be open for the summer."
* The Nationals are having their first
Ladies Night and Homerun Happy Hour
of 2009, Thursday night (June 4). Free food (Hard Times) and beverages, and "shopping, dancing, massages and manicures with participating vendors." There'll even be a mechanical bull.
Tickets are $30
, and include a seat in sections 101-104.
* The Board of Zoning Adjustment has
approved Donohoe's requested extension
on the
special exception
it received
back in 2007
for its planned office building at
1111 New Jersey Avenue
, which would have expired at the end of this year. I didn't watch the hearing, so I don't know how long the extension is good for.
*
WBJ
and
City Paper
have coverage of the naming of Valerie Santos Young as the new Deputy Mayor for Planning and Economic Development.
* The May issue of the
Waterfront Watch newsletter
on doings around the Anacostia River is now available.
* The June Hill Rag has a
summary of May's ANC 6D meeting
, where Capitol Riverfront BID executive director Michael Stevens gave a primer on the BID's operations and plans.
Quick Pics from Artomatic Sneak Preview
May 29, 2009 3:02 PM
Hard to believe, after the weeks of buildup, that the opening of
Artomatic
is going to turn out to be the
*second* most exciting event
in Near Southeast today, but it should still be noted that it did indeed open its doors at noon today, running for hours and hours between now and July 5. You can get all the specifics at the
Artomatic web site
, and I'm sure many local blogs and media outlets will give it coverage far beyond what my left-brain-ness is capable of providing, but I did take a
few photos at the kick-off this morning
that might whet your appetite to go give it a visit. And these shots were from just one of the eight floors' worth of offerings, so there's plenty that I plan to go back to see. (I also took a few photos of the surrounding skyline, since this was my first visit inside Monument's
55 M
.)
WalkingTown DC Capitol Riverfront Tour
May 28, 2009 8:52 AM
In yesterday's
Upcoming Events post
, I forgot to include one other item: this Sunday's
WalkingTown DC
tour of the "Capitol Riverfront," led by the BID's executive director, Michael Stevens and sponsored by the BID and Forest City Washington (developers of
The Yards
). It starts at 11 am at the Metro entrance at New Jersey and M, and no reservations are required. The description: "The Capitol Riverfront is DC's new neighborhood on the river, a growing district-within-the-District that extends the city's skyline to the water's edge. Discover the history behind the growth of this new neighborhood, its industrial heritage, and historic buildings now under renovation as part of The Yards development with a focus on sustainable development and riverfront renewal."
Upcoming Events, Updates, and Whatnot
May 27, 2009 4:22 PM
* Tomorrow (Thursday, May 28) at 10:30 am is the groundbreaking ceremony for the
Park at the Yards
, the first phase of which is scheduled to be completed next spring. The mayor is supposed to be in attendance--I may have to create a
Shovel-Wielding Fenty
photo gallery, since I now have
quite
a few of
those
shots.
* Friday (May 29) at noon is the opening of
Artomatic
at
55 M Street
. I'm giving everyone advance warning that I am hopelessly left-brained, so I won't really even be trying to cover it much beyond wandering through to get the flavor. It runs until July 5, so everyone has plenty of time to get there and check it out. (You can see some of the installations already through the windows.) See
my calendar
for the specific days and hours (it's closed Mondays and Tuesdays).
* An extremely helpful commenter
in this thread
has explained why some of the flyovers and ramps are missing from the new
Skanska/Facchina schematic
of the new
11th Street Bridges
design that I linked to: "[It] does not show all the ramp connections in the FEIS design because the District could only find $260 million to fund the project, and the FEIS design is estimated to cost $360 million. The District asked for proposals to build as much of the project as possible for the availible $260 mill, and the schematic shows how much the winning bidder Skanska/Facchina proposed to build. It is a lane-mile more than the next best proposal. The District's plan is to build the rest when they can secure funding (maybe sooner than later.)"
* While not mentioning Near Southeast specifically, this
Post article from yesterday
talks about the very tough office-space market in DC and surroundings: "'Unless they're already in the ground, they're not starting,' said Steven A. Levin, managing director at Spaulding & Slye. 'Any development project needing a loan over $25 million requires multiple lenders, and the guarantees are onerous. The amount of money you can borrow is also reduced.' [...] Dennis K. Moyer, a commercial real estate lawyer with Goulston & Storrs, said some of his clients are reviewing their existing loans and wondering whether they'll be paid, even on properties that are doing well. 'The next wave that comes is likely the workouts, foreclosures and restructurings,' he said."