Near Southeast DC: Past News Items
Events
Go to Full Blog Archive
---
Eagles (the Band) to Play Nats Park on June 15
Mar 16, 2010 10:46 PM
(I've just gotten back from a week traipsing around Arizona, so apologies for light/slow posting, including this one)
It was announced today
that the Eagles, with special guests the Dixie Chicks and Keith Urban, will be playing at
Nationals Park
on Tuesday, June 15, with tickets going on sale at tickets.com on March 29 at 10 am. This is the second concert scheduled for the stadium this summer, with the
Dave Matthews Band playing on July 23
.
Astute readers might remember all
sorts of rumors back in 2008
that the Eagles were going to play the first-ever concert at the ballpark, an honor which eventually went to Billy Joel and Elton John, last year (unless you want to count the Pope).
Some Quick Friday Afternoon Links
Feb 26, 2010 6:00 PM
* The
Douglass Bridge
(South Capitol Street) will be closed on Sunday morning for its swing span test, from 4 am to approximately 9 am, weather permitting.
* Tickets went on sale this morning at 10 am for the Dave Matthews concert at
Nationals Park
on July 23--looks like
good seats are still available
.
* There's been some press over the past few days about the new
DDOT web site
, especially the "
Transportation Access Portal
" that gives detailed information about projects around the city, but I was kind of underwhelmed until I found out that the projects of most interest to Near Southeast are under an "
Anacostia Waterfront Initiative
" tab rather than in the Ward 6 section. There you can find all sorts of project-management details (cost, schedule) for the
11th Street Bridges
, the
new Douglass Bridge
(coming in 2018!), and even the RFK ramp demolition.
*And, in the gosh-why-would-you-think-I-was-killing-time-on-a-Friday-afternoon department, a shot of what the 1000 block of
K
THIRD Street SE would look like if it were in Mr. Roger's Neighborhood (
see large version
):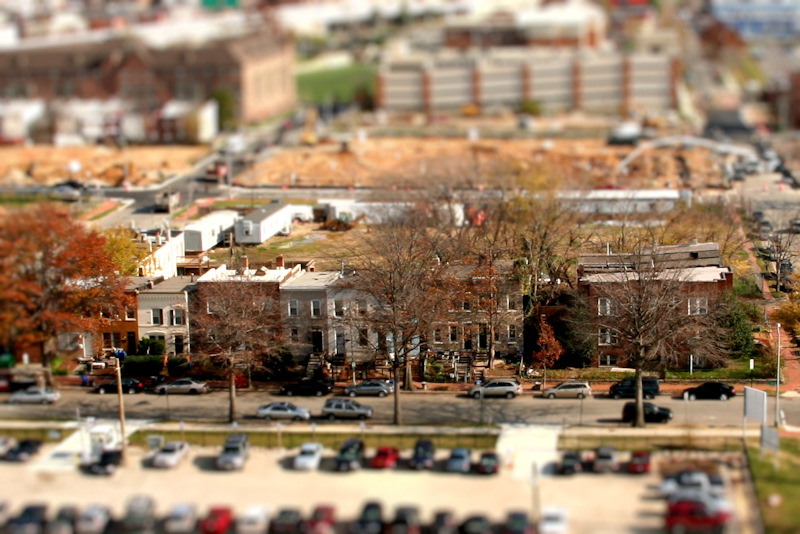 * Plus, I think I have some cool items on the way next week. Fingers crossed.
* UPDATE:
Shoot, I knew there was something else I meant to include:
Minutes and materials
from the last Lower 8th Street visioning session. A report will be submitted to the Office of Planning.
Next Week's Events (Justin's Cafe Liquor License, Boathouse Lighting, ANC6B)
Dec 3, 2009 9:17 AM
A couple events on the calendar for the week of Dec. 7 to highlight:
* On Wednesday, Dec. 9, ANC 6D's ABC committee will be having its monthly meeting (in advance of the
full ANC meeting
on Dec. 14), and on the agenda is "presentation of plans by Justin Ross re Justin's Cafe planned for 1st & L Streets, SE." This is the first step in the (long) process for
Velocity's
restaurant to get its liquor license, although I haven't yet seen an announcement/posting for their official ABRA hearing (maybe it'll be in tomorrow's DC Register). The meeting is at 7 pm at King Greenleaf Recreation Center, 201 N Street, S.W.
Upcoming Events (11th Street Bridges, Last Movie, Capitol Quarter Ribbon Cutting)
Aug 18, 2009 12:40 PM
A slew of upcoming events to pass along:
* On Wednesday (Aug. 19), there's going to be an
11th Street Bridges
Open House
, billed as an update for Ward 8 residents about the status of the bridge replacement project. (But I'm guessing people from other wards can come, too.) It's from
7 pm to 8:30 pm
, at the Union Temple Baptist Church at 1225 W St., SE.
* Thursday (Aug. 20) is the last night of the BID's 80's Outdoor Movies series, with "Ghostbusters"
on the bill
(rescheduled from a rainout earlier this year). Apparently the BID is planning a four-week fall movie series starting in September; I'll pass more along on that when I get it.
* Next Wednesday (Aug. 26) the DC Housing Authority is holding an official ribbon cutting and grand opening at
Capitol Quarter
, from 10 am to noon at Fourth and L, with the mayor expected to be in attendance. This is just a little over two years after
the ceremonial groundbreaking
, held on a sweltering day in June 2007.
* If you're desperate for something to do Wednesday morning but a ribbon cutting isn't your thing, the
U.S. Navy Museum
at the
Washington Navy Yard
will host "
Pirate or Privateer? War of 1812 Day
," a series of demonstrations and lectures on the War of 1812. The program, which runs from 10 am to 2 pm, includes Gun Drills in the replica of the USS Constitution and Sea Chanteys. The event is free and open to the public, though note that there's no parking available inside the gates for visitors.
* The National Capital Planning Commission again has the design of the
11th Street Bridges
on their
tentative agenda
, for their Sept. 3 meeting. It had also been on the tentative agenda for the July meeting, but didn't make the final cut; hopefully that won't happen again, because NCPC always puts together such great reports on the projects it votes on (and posts them on their web site), so it's a good place to get details that have been hard to find elsewhere.
* This is still a few weeks away, but residents might want to mark their calendars that the next ANC 6D meeting, on Sept. 14 will be held in Southeast, at the
Courtyard by Marriott
at New Jersey and L. I've been attending ANC meetings off and on for six years, and this is the first one I remember that will be crossing South Capitol Street.
Diamond Teague Progress, Cornercopia Peek, Plus a Few Other Photo Updates and a Parking Lot Update
Jul 16, 2009 8:46 PM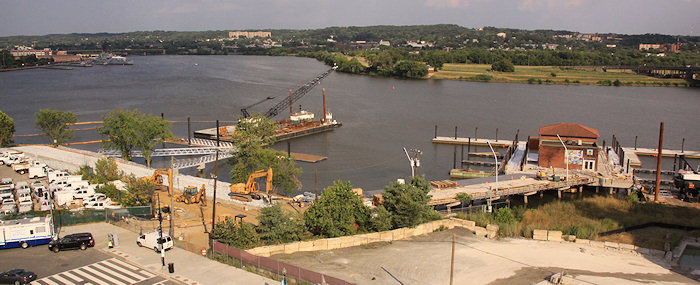 I took advantage of the sunny evening to dart around getting some desperately needed photo updates. First up is
Diamond Teague Park
, where progress on not only the water-taxi piers but the "on-land" portion of the park itself is now clearly visible from the
viewing platform at Nationals Park
. The last projected opening date I heard, a few months back, was July, but while it looks like maybe the park won't be pulled together in the next two weeks, it definitely appears to be getting there. See
my Teague page
for the latest pics.
I also snuck a peek through the door at Cornercopia and
snagged a quick photo
, showing goods now stocked on the shelves, but perhaps just short of being ready to open. Maybe they can get ready for all the folks heading to the ballpark this weekend? Don't forget, my offer still stands of a free sandwich to the first person who
reports to me
that it's open....
I also took some updated photos at Fourth and K in
Capitol Quarter
, where framing has sprouted on the
north side of K
. Then I wandered down to
the Yards
to get some better shots of the
southeast corner of Fourth and Tingey
, which is
where the Trapeze School is going to be located
. (You can also see the
entire batch of today's photos
, where you can then click on the
icon to see an angle's entire history.) Speaking of the Trapeze School, the Post's Health section had a story today on
what it's like to take a class from them
. (You probably won't ever see *me* flying through the air with the greatest of ease.)
One other item--the
WashTimes reported today
that the
Elton/Billy stage
left centerfield in a bit of a mess, requiring the grass to be painted. As you can see from
this shot I took during batting practice
, it seemed to work pretty well.
Lastly, it only took me half the season, but I've now updated my
Stadium Parking map
to show the many options for cash parking (official and unofficial), in addition to the official Nats season ticket lots. And to think that there was a time when *some* people were worried there wouldn't be enough parking.
Upcoming Events, and Other Linky Goodness
Jul 14, 2009 12:14 PM
* This Sunday (July 19), there's going to be a "Grill-Off" at Nationals Park before the 1:30 game against the Cubs. Phil Bucco, who oversees the menus at the ballpark, will be competing against Teddy Folkman, the executive chef at Granville Moore's. It'll be an Iron Chef-like challenge, where the chefs won't know the ingredient they're working with beforehand. The event starts at noon, but the first-come first-served seats (in the Nats Family Fun Area) can be grabbed starting at 11 am, when the gates open. Plates will be judged at 1 pm.
* On Tuesday, July 21, the BID is hosting a
"Mental Mapping" event
, where they're asking residents to "Sketch out your shopping route to assist in a study about neighborhood retail needs." It's at
Capitol Hill Tower
at 6:30 pm; RSVP to
rsvp@capitolriverfront.org
.
* On Saturday, Aug. 8, the
3rd Annual Youth River Sports Day
will be held at the
Anacostia Community Boathouse
, from 10 am to 2 pm. Rowing and paddling instruction, guided river tours, and more will be offered;
my photos from last year's event
give a taste of the activities.
* This is a ways off, but
SWDC Blog reports
that the next ANC 6D meeting, on Sept. 14 (no August meeting) will be held in Southeast, at the Courtyard by Marriott at New Jersey and L. I've been attending ANC meetings off and on for six years, and this is the first one I remember that will be crossing South Capitol Street.
* Even farther off (well, the next day), Urban Land Institute Washington is holding its third
Urban Marketplace Conference and Expo
, which brings together "the private, nonprofit, and public sectors to explore redevelopment opportunities and best practices in emerging neighborhoods and corridors across the Washington metropolitan region." One of the day's discussions will focus on the ballpark district (and I'm one of the panelists). Early-bird registration ends July 31.
* In non-event news,
Fox 5 reports
on how the Nationals' problems on the field "are making the city's $700-million stadium look like a bad investment." To wit: "Before the stadium was built, the city projected average attendance at 34,708 per game and tax revenues from tickets and merchandise of $15.1 million for this season. The reality, average attendance is about 23,213, ranking the Nationals 24th out of 30 teams. Based on attendance figures through June, the city now estimates tax revenues of about $8.9 million. The office of the Chief Financial Officer says tax revenues could increase because average attendance has improved slightly since June." However, "The office of the Chief Financial Officer estimates the city will raise $50.2 million through its Ballpark Revenue Fund, more than enough to make the $32-million bond payment on the stadium with money left over. The bulk of that however does not come from the Ballpark itself, but rather from a utility tax and a business tax in the city."
* Since I was out of town this weekend, I missed all the Elton/Billy hullabaloo. Here's
a pile of reviews and blog posts
having to do with the big show.
* For your (off-topic) Real Estate Development Collapse reading pleasure, a long piece on
Williamsburg, NY
: "Most unsettling are the cases of the developers who seem to have vanished, leaving behind so many vacant lots and half-completed buildings--eighteen, to be precise, more than can be found in all of the Bronx--that large swaths of the neighborhood have come to resemble a city after an air raid."
Setting the Stage for Elton/Billy; Cornercopia Update
Jul 9, 2009 4:25 PM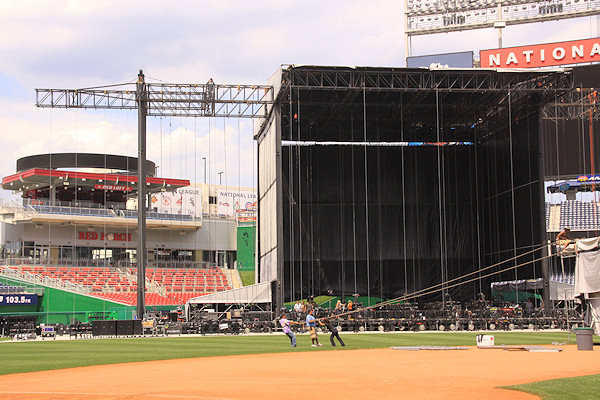 These aren't the most exciting photos I've ever posted (and goodness knows there are a lot of pictures at JDLand that already fall into this category), but I couldn't pass up the opportunity, so here are some shots from inside Nationals Park today
showing the construction of the stage
for Saturday's Elton John and Billy Joel concert. It's in dead centerfield, taller than the Red Loft but not quite as big as the scoreboard. (There will be seating on the field, it just hasn't been set up yet.) And, if you make to the bottom of the page, there's a couple non-stage shots that might be of interest, too.
In other news, I stopped in Cornercopia, and they tell me that they have all their city permits, and are now just waiting to get set up with their distributor, so they could be opening next week. They also told me that they will have tables with umbrellas, chairs, and benches, and the all important water dish for dogs. If you
didn't chime in on the last thread
on what goods you'd like to see for sale there, leave a comment below; you never know who might be reading!
Billy and Elton on Saturday
Jul 8, 2009 10:40 AM
A reminder that the first big concert at
Nationals Park
(well, other than the Pope) is this Saturday, with Billy Joel and Elton John. Metro has just sent out
a press release with its plans
: "In anticipation of large crowds, Metro will operate additional eight-car trains on the Green Line leading up to the start of the concert. Additional personnel will be on hand at the Navy Yard Metrorail station on the Green Line, which is just one block away from Nationals Park. Upon conclusion of the concert, Metro will deploy eight-car shuttle trains that will operate between the Navy Yard and Mt. Vernon Sq/7th St Convention Center Metrorail station."
UPDATE: As for parking, apparently ticketholders have received e-mails urging them to prepurchase parking in the official Nats lots, and cash parking lots will be available as well.
Video of Obama at Five Guys, Ward 6 Family Day, and Other Tidbits
Jun 3, 2009 10:19 PM
* Admit it: you know you want to see it--here's
NBC's coverage of the Obama visit to Five Guys
, from Tuesday night's "Inside the Obama White House" special. (Click on "Part 5", "Out to Lunch with Obama.") With a bunch of brief glimpses of the Little Red Building!
* The
Third Annual Ward 6 Family Day
is happening on June 20, from 11 am to 3 pm at the Rosedale Rec Center in Northeast.
Tommy Wells's web site says
activities will include "Capitol Hill Bikes free bike safety inspections and adjustments, celebrity kickball game, Washington Humane Society animal adoption and training, basketball games, face painting, moon bounce, corn hole tournament, horseshoes and live music. In addition, the pool will be open for the summer."
* The Nationals are having their first
Ladies Night and Homerun Happy Hour
of 2009, Thursday night (June 4). Free food (Hard Times) and beverages, and "shopping, dancing, massages and manicures with participating vendors." There'll even be a mechanical bull.
Tickets are $30
, and include a seat in sections 101-104.
* The Board of Zoning Adjustment has
approved Donohoe's requested extension
on the
special exception
it received
back in 2007
for its planned office building at
1111 New Jersey Avenue
, which would have expired at the end of this year. I didn't watch the hearing, so I don't know how long the extension is good for.
*
WBJ
and
City Paper
have coverage of the naming of Valerie Santos Young as the new Deputy Mayor for Planning and Economic Development.
* The May issue of the
Waterfront Watch newsletter
on doings around the Anacostia River is now available.
* The June Hill Rag has a
summary of May's ANC 6D meeting
, where Capitol Riverfront BID executive director Michael Stevens gave a primer on the BID's operations and plans.
Quick Pics from Artomatic Sneak Preview
May 29, 2009 3:02 PM
Hard to believe, after the weeks of buildup, that the opening of
Artomatic
is going to turn out to be the
*second* most exciting event
in Near Southeast today, but it should still be noted that it did indeed open its doors at noon today, running for hours and hours between now and July 5. You can get all the specifics at the
Artomatic web site
, and I'm sure many local blogs and media outlets will give it coverage far beyond what my left-brain-ness is capable of providing, but I did take a
few photos at the kick-off this morning
that might whet your appetite to go give it a visit. And these shots were from just one of the eight floors' worth of offerings, so there's plenty that I plan to go back to see. (I also took a few photos of the surrounding skyline, since this was my first visit inside Monument's
55 M
.)
WalkingTown DC Capitol Riverfront Tour
May 28, 2009 8:52 AM
In yesterday's
Upcoming Events post
, I forgot to include one other item: this Sunday's
WalkingTown DC
tour of the "Capitol Riverfront," led by the BID's executive director, Michael Stevens and sponsored by the BID and Forest City Washington (developers of
The Yards
). It starts at 11 am at the Metro entrance at New Jersey and M, and no reservations are required. The description: "The Capitol Riverfront is DC's new neighborhood on the river, a growing district-within-the-District that extends the city's skyline to the water's edge. Discover the history behind the growth of this new neighborhood, its industrial heritage, and historic buildings now under renovation as part of The Yards development with a focus on sustainable development and riverfront renewal."
Upcoming Events, Updates, and Whatnot
May 27, 2009 4:22 PM
* Tomorrow (Thursday, May 28) at 10:30 am is the groundbreaking ceremony for the
Park at the Yards
, the first phase of which is scheduled to be completed next spring. The mayor is supposed to be in attendance--I may have to create a
Shovel-Wielding Fenty
photo gallery, since I now have
quite
a few of
those
shots.
* Friday (May 29) at noon is the opening of
Artomatic
at
55 M Street
. I'm giving everyone advance warning that I am hopelessly left-brained, so I won't really even be trying to cover it much beyond wandering through to get the flavor. It runs until July 5, so everyone has plenty of time to get there and check it out. (You can see some of the installations already through the windows.) See
my calendar
for the specific days and hours (it's closed Mondays and Tuesdays).
* An extremely helpful commenter
in this thread
has explained why some of the flyovers and ramps are missing from the new
Skanska/Facchina schematic
of the new
11th Street Bridges
design that I linked to: "[It] does not show all the ramp connections in the FEIS design because the District could only find $260 million to fund the project, and the FEIS design is estimated to cost $360 million. The District asked for proposals to build as much of the project as possible for the availible $260 mill, and the schematic shows how much the winning bidder Skanska/Facchina proposed to build. It is a lane-mile more than the next best proposal. The District's plan is to build the rest when they can secure funding (maybe sooner than later.)"
* While not mentioning Near Southeast specifically, this
Post article from yesterday
talks about the very tough office-space market in DC and surroundings: "'Unless they're already in the ground, they're not starting,' said Steven A. Levin, managing director at Spaulding & Slye. 'Any development project needing a loan over $25 million requires multiple lenders, and the guarantees are onerous. The amount of money you can borrow is also reduced.' [...] Dennis K. Moyer, a commercial real estate lawyer with Goulston & Storrs, said some of his clients are reviewing their existing loans and wondering whether they'll be paid, even on properties that are doing well. 'The next wave that comes is likely the workouts, foreclosures and restructurings,' he said."
Upcoming Events (Including the Bullpen?)
May 5, 2009 6:40 PM
*
MissChatter has heard from
a representative of the Bullpen beer garden at Half and N, saying that they'll officially open on May 15 at 5 pm, and from 11:30 am to midnight for the next day's doubleheader. We shall see. And, for folks who can't wait, or who would prefer a different type of pre-and post-game food and drink,
this Hill Rag piece
mentions that Eighth Street establishments Lola's and the new Molly Malone's (former Fin MacCool's) as well as the Ugly Mug are all running free electric-cart shuttles to and from the ballpark, starting two hours before gametime through 45 minutes after the final out.
* The fourth
Anacostia Waterfront Forum
is scheduled for May 19 from 6:30 pm to 8:30 pm at the MLK Library. This month's subject: "Waterfronts and the World's Great Capital Cities," with Harriet Tregoning, the director of the city's Office of Planning.
* Hard to think about when the weather remains so cruddy, but
WalkingTownDC's Spring Edition lineup
is available, and again includes a Capitol Riverfront Tour, leading by the BID's executive director Michael Stevens. It's on Sunday, May 31, from 11 am to 12:30 pm. Reservations for all tours will start being accepted on May 11.
Capitol Power Plant Going Green?; Yards Park Phase 2 Zoning Hearing Monday; Lawsuit to Stop 11th Street Bridges
Mar 1, 2009 9:56 AM
* (h/t reader F) The
AP takes a look
at the Capitol Power Plant just north of the SE Freeway, the neighborhood's second most "favorite" landmark (after the school buses) with its smokestacks obscuring the view of the Capitol dome from many locations. On Thursday, Harry Reid and Nancy Pelosi
wrote a letter
to the Architect of the Capitol asking that the power plant switch from burning coal to using natural gas for its operations, saying "The switch to natural gas will allow the CPP to dramatically reduce carbon and criteria pollutant emissions, eliminating more than 95 percent of sulfur oxides and at least 50 percent of carbon monoxide...We strongly encourage you to move forward aggressively with us on a comprehensive set of policies for the entire Capitol complex and the entire Legislative Branch to quickly reduce emissions and petroleum consumption through energy efficiency, renewable energy, and clean alternative fuels."
The AP's story
tells how Congress has been trying to clean up the plant and make it more "green," and the potholes in the road to making it run completely on natural gas. I'm guessing it wouldn't be wise to start counting the minutes until the smokestacks are gone.
* On Monday at 6:30 pm the Zoning Commission is scheduled to have
its hearing
on the Phase 2 plans for the
park at The Yards
, though we'll see if the weather wreaks havoc with the schedule.
Here's my notes
on the presentation of the designs to ANC 6D, and my
Yards Park
page has renderings.
* (
UPDATE
) Missed this--the
Examiner reported on Friday
that the Capitol Hill Restoration Society has filed suit to stop construction of the new
11th Street Bridges
, citing its "significant, irreversible, adverse effects" on the surrounding area. The
CHRS web site
has a bit more detail as well.
Billy and Elton to Play Nats Park on July 11
Feb 23, 2009 2:11 PM
The Nationals have now officially announced that the "Face 2 Face" Billy Joel and Elton John concert tour will be at
Nationals Park
, on Saturday, July 11 at 7:30 pm. Tickets go on sale Saturday (Feb. 28) at 10 a.m., exclusively at
tickets.com
. Prices are $56.50, $102, and $182.
Big Concert Coming to Nationals Park
Feb 19, 2009 10:53 AM
Looks like something's brewing at the
ballpark
.... On Monday the Nats are going to be having a press conference with Live Nation and Mayor Fenty "to unveil Washington, D.C.'s biggest summer concert and first-ever musical performance at Nationals Park." I wonder if the name of the artist(s) will stay a secret until then!
UPDATE:
The
PostRock blog says
the rumor is it will be Elton John and Billy Joel, who are doing joint dates at two other ballparks this summer (Wrigley and Citizens Bank [Philly]).
UPDATE II:
Per Jay in the comments,
DC Wire has confirmed
that it's the piano men. Will have to wait until the press conference on Monday to get date and ticket information.
Artomatic 2009 Official Announcement
Feb 12, 2009 3:30 PM
(h/t
DCist
) What has been unofficially official around here since early December is now officially official: Artomatic 2009 will be held in Near Southeast, at Monument Realty's
55 M Street
office building on top of the west entrance of the Navy Yard Metro station, from
May 29 to July 5
. Here's the
Artomatic press release
, which says that registration for artists wishing to participate will begin in March.
What exactly is Artomatic? "Held regularly since 1999, Artomatic transforms an unfinished indoor space into an exciting and diverse arts event that is free and open to the public. In addition to displays by hundreds of artists, the event features free films, educational presentations and children's activities, as well as musical, dance, poetry, theater and other performances." Free to the public, it will be open Wednesdays and Thursdays from noon to 10 p.m., Fridays and Saturdays from noon to 1 a.m., and Sundays from noon to 10 p.m. (Closed Mondays and Tuesdays.) Artomatic is also looking for volunteers; see
the press release
for more details.
Capitol Quarter Houses on the Market; Sunday Concert at Marine Barracks Annex
Feb 5, 2009 9:21 PM
Two small tidbits:
* EYA sent out an e-mail today announcing that they are releasing "the final townhomes in Phase 1" at
Capitol Quarter
, with prices starting from the $630s. I don't know how many units are in this batch, or where in the Phase I blocks they're located. I'm pretty sure that a while back Phase 1 was billed as "sold out"--if I'm correct, these would be some houses originally reserved but now back on the market. (Buyer decides not to buy, buyer's credit worthiness tanks, etc. etc.)
UPDATE, 2/7:
EYA tells me that the houses released are spread throughout the development: 421 L Street, under construction and expected to be ready in April (listed for $720,340 on the
EYA "Move In Now" list
), two houses in the block just to the north (expected to be ready in the fall), and four houses in the block bounded by I/Virginia, Fifth, Fourth, and K that could be ready by the end of the year. On all of these blocks the reservations placed by homeowners over the past few years have now been converted to contracts; that is expected to happen for the final Phase 1 block (between Third and Fourth and Virginia and I) later this year.
* From
the Post
calendar listings, word of a concert on Sunday Feb. 8 at the
Marine Bachelor Enlisted Quarters
. (This is the first time I've ever heard of a concert there, though it's more than possible that the news of previous ones didn't make it onto my radar.) Here's the particulars: "MARINE CHAMBER ENSEMBLE, performance of works by Libby Larsen, Telemann and Stravinsky; followed by a tour of the facility; light refreshments served. 2 p.m., Marine Barracks Annex, John Philip Sousa Band Hall, Seventh Street and Virginia Avenue SE. Free. 202-433-4011." (hat tip to reader S.)
ANC 6D Doings, Part 1: Artomatic, Nats Express, and Capper PUD Modification Requests
Dec 8, 2008 11:10 PM
Just got back from ANC 6D's meeting, and I'll leave you waiting until Tuesday for the first details on
Akridge's Half Street plans
(I don't want to give it short shrift) but here's the other Near Southeast items of the evening:
* Commissioner David Sobelsohn said an announcement is likely coming next week that the city's 2009
Artomatic
festival will be held in ANC 6D, "most likely ANC 6D07" (which is Near Southeast). I know nothing more than that.
* Sobelsohn also introduced a resolution to send a letter to Tommy Wells, DDOT, and other officials expressing the ANC's support for the continuation of free parking at RFK and the Nats Express shuttle buses "to reduce the incidence of illegal on-street parking in ANC 6D by people attending events at Nationals Park." The resolution passed 6-0. A few weeks ago it was reported that
Wells wants to discontinue the service
.
* The DC Housing Authority came requesting the ANC's support for
a series of zoning items
having to do with the
Capper
PUD, including extending some deadlines and also expanding the number of residential units offered. (You can
read all about them here
; I'm too worn out to go into them all again tonight.) There wasn't much discussion of the request itself, because the commissioners were, shall we say, displeased that a huge packet of supporting materials arrived on their doorsteps just last Friday (6D07's Bob Siegel didn't receive his at all, and were unmoved when told it was basically the same information they had received in July.
There was also displeasure expressed about the request to delay the start date for the
Community Center
at 5th and K to 2012, with the commissioners wondering what level the DCHA would consider a "critical mass" of residents that would make the center viable. (Only 300 of the planned 1500 units have been built so far, so it would seem that the threshold might perhaps be a bit higher.) But the Housing Authority made clear that obtaining financing for the project is the larger hurdle. The support request will be brought up again at the ANC's January 12 meeting.
* I admit that I didn't stick around for the late-in-the-agenda item on the
Capper trash enclosures
. But DCHA mentioned that they had met with the city's Public Space Committee in advance of their monthly meeting, and were making progress on modifications to the design. ANC chair Moffatt asked if the enclosures still exist at all in the new design, and when he got the "yes" answer, that ended the discussion.
Tiny Items to Mask the Reality That I Have No News
Sep 24, 2008 3:37 PM
* The
Congress for the New Urbanism
has named the 11th Street Bridges (along with the Southeast Freeway) to its
Freeways Without Futures list
, recognizing the top 10 locations in the U.S. "where the opportunity is greatest to stimulate valuable revitalization by replacing aging urban highways with boulevards and other cost-saving urban alternatives." It mentions the opposition of the
Capitol Hill Restoration Society
to the plans to
reconstruct the 11th Street Bridges
, scheduled to start next year.
* A few folks wrote in to mention that there's a new sign up advertising the planned office building at
1111 New Jersey
. Despite some building permits recently in the pipeline, developer Donohoe told me a few weeks ago that no announcement of a groundbreaking is imminent.
* I seem to always manage to be out of town during
WalkingTown DC
, and so missed last weekend's jaunt around the "Capitol Riverfront." Blogger fourthandeye from
The Triangle was there
, however, and gives a nice overview via eyes that don't look at these streets every day.
* The weather forecast does not look good for Thursday night's final home game of the season at
Nationals Park
.