Near Southeast DC: Past News Items
US Dept. of Transportation HQ
Go to Full Blog Archive
---
Hill Country 'Working On' Possible Outdoor Venue at USDOT
May 20, 2013 2:18 PM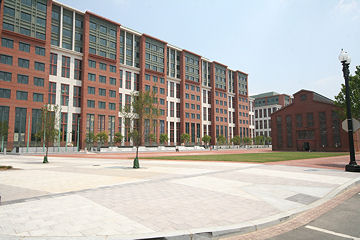 WashBizJournal
reports today
(and it's verified in
my building permit feed
) that
Hill Country
, esteemed purveyor of slabs of meat, is looking at the possibility of a pop-up "outdoor venue with tents, food and beverage sales and live music" on Tingey Plaza behind the
US Department of Transportation HQ
, at New Jersey and Tingey.
But this isn't a done deal--WBJ quotes Hill Country reps as saying that they've started the permitting process but "we don't have a deal yet that would allow us to proceed with that opportunity." Getting all the moving parts together could take a while, as WBJ says the restaurant found with the
similar pop-up it recently launched
on the lawn of the National Building Museum.
If this happens, it could join the
Fairgrounds
at Half and M and possibly the "
Riverfront at the Ball Park
" site at
Florida Rock
as temporary outdoor offerings catering mainly to Nats Park attendees. And Rocklands BBQ has set up shop on gamedays at 1st and N, and is in the process of getting a liquor license.
The Tingey Plaza site is owned by JBG Cos., the developers of the USDOT building, which was completed in 2007.
As for the empty historic red brick building on the southeastern corner of the plaza, it was slated to be a retail/food court of sorts back when the plans for DOT were unveiled, but so far....
Thursday Tidbits: Post-Independence-Day Haze Edition
Jul 5, 2012 9:41 AM
Clearing out the tidbit hopper:
* Capitol Riverfront and NoMa/H Street are "the District's hottest (read: largest price increases) rental markets," sayeth Delta Associates, with rents having grown by 10.3 percent and 9.0 percent, respectively. (via the
Examiner
)
* I waited too long to post the tidbit that "rumors are swirling that
JBG Companies
' plan to sell the 1.35 million square foot Southeast Federal Center have stalled, fueling speculation that the home to the
Department of Transportation
will be recapitalized," so I have to point you to the
Google cache version
of the Citybiz post. It's also probably too late to ding both them and
originator Real Estate Finance Intelligence
for equating the 11-acre DOT HQ site with the entire 55-acre Southeast Federal Center, 44 acres of which is now
The Yards
.
* I waited even longer to tell you that the
Camden South Capitol apartment building
across from Nats Park
topped off its construction
in early June. It's expected to begin leasing in about a year. (
SWTLQTC
)
* Hey, look,
reserved "Nationals Park Parking"
! Your choices being the lot nestled next to the Douglass Bridge at 1620 South Capitol or the underground parking lot at 4th and M SW. There's
plenty of other choices
that are standard cash lots, along with the Nationals' lots. (via
WaPo
)
* The Fairgrounds is advertising a "
First Annual DC Funky Fresh Foodie Fest
" on August 25 from 1 to 9 pm. Four live bands, 10 food trucks, the "DC Karaoke Invitational," and more. Unlike its sibling Truckeroo, however, this won't be free, with limited early-bird tickets
starting at $42
, which includes drinks (the number of drinks depends on whether you buy a regular or premium admission ticket).
Vote for Summer Movies, and Yards Park Events Gearing Up
Mar 7, 2011 2:55 PM
With "Academy Award Movies" having been the
winning theme
for the Capitol Riverfront BID's 2011 summer outdoor movie series, the BID is now asking people to
vote on which Academy Award movies should be screened
. The series starts on May 26, and will once again be on Tingey Plaza, at New Jersey and Tingey just behind the
USDOT building
. (Last year's screening location, the
Canal Park
footprint, will be unavailable this summer because the locusts have arrived, dogs and cats are sleeping together, and it appears that construction is about to get underway.)
While the movie series isn't being held at the
Yards Park
(just a smidge to the north of it) the BID is working on an ever-growing list of events that will keep the park hopping through the year:
* Kicking off the slate, there will be a
Family Fun Day
on April 2 from 11 am to 4 pm, in conjunction with the
National Cherry Blossom Festival
. According to the
press release
, activities at the free event will include sake tasting and a Japanese beer garden by Mie N Yu, lantern making, sushi from Nooshi Sushi, a moonbounce, and more. (Then everyone can take a leisurely walk down M Street to the Southwest Waterfront for the
Fireworks Festival
, which actually starts at 1 pm and runs until the fireworks kick off at 8:30 pm.) This is also the day of the first Saturday home game of the year at
Nationals Park
, just two blocks to the west, starting at 1:05 pm against the Braves.
*
Sensorium
, the "culinary and sensory experience" announced
a while back
, starts its multi-week run on April 12.
* The previously mentioned DC Music Fest on May 7 has now announced its lineup.
* While the summer movies will be on Thursday nights, the park will also host a free
summer concert series on Friday nights
from 6 to 8 pm, kicking off on May 13 and running through August 19. This will be in addition the the lunchtime concert series that the BID has run for the past three years, and is expected to feature music ranging from jazz and blues to rock and reggae. (If you're a food provider and you want to serve at the concerts, here's
the RFP
.)
* July 9 will see
MetroDash
, the "country's premier obstacle race series," which includes obstacles such as tire flips, rope swings, 15-foot cargo net climbs, wall jumps, monkey bars, the "strongman shuffle." You can
sign up here
(if you
dare
), though the web site doesn't seem to be responding right now.
There are also plenty of private events already on the
park's calendar
, so if you were thinking about
throwing your own shindig there
, you won't be alone.
UPDATE, 3/20:
According
to their web site
, the May 7 DC Music Fest has been cancelled, "due to lack of funding and sponsorships."
Democrats Looking to Name USDOT for Rep. Oberstar
Dec 9, 2010 10:31 AM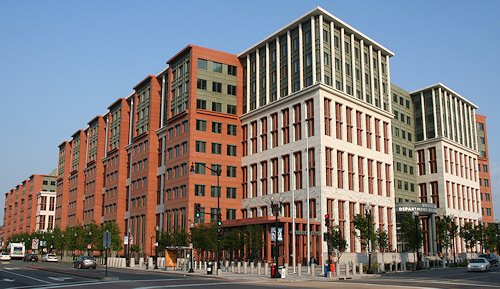 This morning WBJ's Michael Niebauer
tweeted
news about
a bill introduced
in the House of Representatives on Wednesday to name the
US Department of Transportation headquarters
on M Street, SE, for retiring Minnesota Democrat Jim Oberstar, who is
described on his own web site
thusly: "In the 34 years he has served in Congress, Jim has become known as the body's leading expert on transportation policy. From 1989 through 1995, he chaired the Subcommittee on Aviation, passing important legislation that has led to better maintenance and safer aircraft. Later, as the ranking democrat of the full Transportation Committee, he worked in a bipartisan manner to take the Highway Trust Fund off budget to ensure that gas taxes are used to fix roads and bridges and not to make the budget deficit look smaller."
The bill has 45 co-sponsors, including DC delegate Eleanor Holmes Norton, who led the push to get USDOT to move to what was then known as the
Southeast Federal Center
nearly
a decade ago
. The building, which houses 7,000 federal workers in 1.35 million square feet on 11 acres, opened in spring, 2007.
Knowledgeable Hill observers (*cough*
brother
*cough*) say that the bill is likely to get through the Democratic-controlled House, but as with everything in Congress-land these days, who knows what might happen when it hits the Senate.
Transportation Secretary LaHood Meets with DC Officials About Pedestrian Safety Near USDOT
Aug 6, 2010 4:43 PM
(h/t to reader JL) US transportation secretary Ray LaHood just
posted on his "Fast Lane Blog"
an entry about the recent accidents on M Street, SE near the
USDOT headquarters
that have resulted in one DOT employee
being killed
and another being
seriously injured
after being hit by dump trucks. He writes that he is "really, really worried about our employees' safety," and that he met today with DC Police Chief Cathy Lanier, DDOT's director Gabe Klein, and staff from both agencies to talk about ways to prevent future pedestrian injuries.
He writes
: "We agreed to work on a plan that attempts to solve this problem from a variety of angles. Some ideas under consideration include: Extended crossing-guard hours; Stepped-up pedestrian and vehicle enforcement; Pedestrian training and education; Speed trailers (the roadside digital signs that display a driver's speed); Prohibiting "right turn on red" in the Southeast Federal Center area."
But, he also reminds everyone that "the quickest way I can think of to prevent more accidents like these is for employees and visitors walking to and from our building to, please, stay alert." As he says, "[W]hether you're a pedestrian, a bicyclist, or a driver, having the right-of-way does not guarantee your safety."
Judging by
the comment thread
in my post about Wednesday's incident, there's a lot of concern about pedestrian safety in Near Southeast, not just on M Street but on most of the other streets, as well.
Pedestrian Struck at First and M; Driver to be Charged
Aug 4, 2010 4:39 PM
Those who don't follow
my Twitter feed
may not be aware that a pedestrian was struck by a dump truck at First and M streets, SE, today, necessitating
a helicopter landing
at Canal Park in order to transport the female victim to Washington Hospital Center.
According to WTOP
, she was in a crosswalk, and charges are pending against the truck driver. The victim has not been identified, but a
tweet from a reader
indicated that she is a USDOT employee.
ABC 7 says
that her injuries are not as serious as initially thought. I'll update this post with additional news as it comes along.
This is the second serious incident involving a pedestrian being struck on M Street this year--
on April 29
, 42-year-old Amy Polk of Takoma Park was killed near First and M.
UPDATE, 8/13:
TBD reports that the truck driver in this incident
was not be cited
.
Capital Bikeshare Coming to Near Southeast
Aug 4, 2010 1:15 PM
I'm catching up on a few items now that I'm more or less back to full speed, and one of them is DDOT's new
Capital Bikeshare program
that set the DC blogosphere on fire a week or so ago. One thousand bikes
spread across 100 stations
will be arriving in September, allowing users to borrow a bike for round trips or one-way journeys.
In the initial rollout, Near Southeast will have one station, right in front of the Starbucks in the
USDOT
building at New Jersey and M, which I'm guessing will make transportation secretary
Ray LaHood
happy. (It's marked properly on
the official map
, but ignore notations calling the location "400 M Street, SE." I've confirmed with DDOT that the Starbucks location is the correct one, and they'll be giving it the proper designation of 1200 New Jersey Avenue SE soon.) The next closest location is at 8th and I, just north of the freeway on Barracks Row. There will also be one just north of the new Southwest Safeway, at 4th and I, SW.
DDOT also says they'll be looking to add an additional bikeshare station at
Nationals Park
next spring, in time for the 2011 season.
[Rare personal aside: I'm really looking forward to this new project, because I'm not really interested in riding my bike *to* work, but I'll like having bike stations within three blocks that will allow me to ride home when the appropriate mood, weather, and clothing strike simultaneously.]
Summer with the BID: Movies and Music
May 14, 2010 11:06 AM
The
BID
has released its
Summer Outdoor Movie lineup
, with the theme for this year being "Ultimate Underdogs." It kicks off
June 3
with
Hoosiers
, then runs most Thursdays through August 5, with
Forrest Gump
,
Finding Nemo
,
The Karate Kid
,
To Kill a Mockingbird
,
Star Wars
(I'm so there),
Slumdog Millionaire
,
Cool Runnings
,
Happy Gilmore
, and
Rocky
. They'll be held on the
Canal Park
site at Second and M, with the movies starting at 8:45 pm but with activities (including big-screen Wii beforehand). The
Sauca
food truck will be in attendance, and the weekly Farmers Market at New Jersey and M will also be open to buy goodies.
Also getting underway is the
Lunchtime Concert series
, starting on May 19 and running every Wednesday through August 25. They'll be from noon to 2 pm on the plaza behind
USDOT
.
Upcoming Events (Market, Leukemia Fundraising)
May 5, 2010 7:30 AM
For your calendars:
* Thursday (May 6) is the first
Capitol Riverfront Farmers Market
of 2010, running from 3 pm to 7 pm through November on the northwest corner of New Jersey and M, adjacent to the Navy Yard Metro station entrance. More than 10 local farmers and vendors will sell produce, baked goods, prepared foods, and more. The first 50 customers to attend the farmers market on Thursday will be given a $5 off coupon for any purchase at the market.
* Alas, I missed the kickoff of the
USDOT farmers' market
, which started today (oops) and will be held every Tuesday from 10 am to 2 pm on the pedestrian plaza between the two buildings, at Third and M.
And, here are two events that I'm passing along on behalf of
Lisa Pagano
, the Nationals' manager of communications, who has been very good to JDLand over the years. She is running for the Leukemia and Lymphoma Society Woman of the Year award, and is trying to raise $75,000 by June 12 (
more info here
and
here
), with two fundraising events being held in Near Southeast over the next week or so:
* A
Cornhole Tournament
is being held at the Bullpen on Wednesday, May 12, with the party starting at 6 pm and the tournament itself at 7 pm. There will be live music and raffle items in addition to the tournament. Admission is $5 for the event and $20 for teams of two entering the tournament (with one free beer per player!). More info can be
found on Facebook
.
* Buy a $22 Scoreboard Pavilion seat for the
May 20 Nats vs. Mets game
, and $8 of the ticket price will go directly to the Leukemia and Lymphoma Society. For more information, and to purchase tickets online, visit
nationals.com/mwoy
.
Rounding Up Recent Links
Mar 8, 2010 2:32 PM
A few articles I've recently pointed to from my
Twitter feed
that might be of interest but aren't necessarily "news":
*
The Examiner says
the city spent $115,000 to house snow plow drivers at the
Courtyard
on New Jersey Avenue during the record February snowstorms--what we always refer to as the "trash transfer station" is also the city's snow plow yard, and so the drivers were being put up close by. (Lots of money was spent at McDonald's, too, presumably the one within walking distance on I Street.)
* The Nats' Stan Kasten speaks
to the DC Sports Bog
on the rumors of the NHL Winter Classic coming to town. ("I think it's a fun rumor, it's a fascinating rumor, [but] I really do think you're jumping a little bit ahead.... I think it would be great for our city, and great for our ballpark, and together we'd do a hell of a job.")
* In Senate testimony, US DOT secretary Ray LaHood used "the area around the ballpark" as an example of "livability" during a sharp exchange with Sen. Kit Bond. You can
see the video here
(skip to the 92-minute mark), or read the story about LaHood's testimony on
Streetsblog
.
* Three Nats games -- April 3, 7, and 8 -- have been deemed "official events" in the
National Cherry Blossom Festival
. (via
the Nats
)
* The ANC 6D meeting tonight is at the Courtyard in Near SE, but
SWDC Blog posted photos
of the commission's new digs in the about-to-open Waterfront development.
*
WashCycle thinks
that the 10-block temporary tunnel CSX says it will build on Virginia Avenue when reconstructing the existing tunnel ought to be kept for bike/pedestrian use ("lighting would have to be a must", they say).
Yards Gets LEED Gold; Buzzard Point Planning; Other Links (Parking, DOT HQ, Lower 8th, Jeff Neal)
Nov 24, 2009 9:42 PM
*
The Yards
has been designated a
LEED Gold Certified Neighborhood Development Plan
, based on the 42-acre project's stage two design plan, which "integrates the principles of smart growth, urbanism, and green building into the first national system for neighborhood design."
Read Forest City's press release
, or learn more about the
LEED for Neighborhood Development
program.
*
Southwest...The Little Quadrant With the Really Long Blog Name
(hey, we kid because we love)
gives a full report
on the meetings last week to create a plan for Buzzard Point. The American Planning Association
has posted its press release
summarizing the sessions, saying that "Buzzard Point is a distinct area and should build on its strong existing residential character" and that any future plans should "[a]void using a cookie-cutter approach to redeveloping the neighborhood; the type of redevelopment taking place east of South Capitol Street is not what should occur west of South Capitol Street." (Yikes, now there's going to be a rumble in the
South Capitol Street
median.)
* Michael Perkins is not the person you want to be
unable to find a parking space
. Speaking of which, here's the
second part of GGW's report
on last week's Ward 6 Performance Parking public meeting.
* The
US Department of Transportation HQ
on M Street has been named a winner of
the Phoenix Award
, which "honors excellence in brownfield redevelopment" and honors companies and individuals who have worked "to solve critical environmental and community challenges when transforming formerly used real estate into productive new uses."
*
Voice of the Hill reports
on the latest
Lower 8th Street visioning sessions
: "Barracks Row Main Street executive director James Dalpee suggested that a Columbia Heights-style model, with several big anchor stores, might be what's needed to spur retail in the area," though "while they are dreaming big dreams, planners also have to contend with a number of potential obstacles. They include CSX's plans to tear up Virginia Avenue from 2nd to 11th streets for up to three years to make room for a double-stack train tunnel; the Marine Barracks master plan, which is set to be unveiled soon; and the
11th Street Bridges expansion project
."
* WBJ's
Breaking Ground blog
points to a video by the Huffington Post's investigative unit on "
Commercial Real Estate: the Next Hole in the Economy
," which "stars" Jeff Neal of Monument Realty talking about the buying "binge" his company went on
to snap up lots
around the ballpark site in 2004 and 2005. (Though I think it's funny to see WBJ getting a bit snippy about news organizations "discovering holes in the ground" after they did, since I'd be willing to wager that they weren't the first to report on those sites, anyway.) WBJ also says that Neal is developing a reality TV show. Also be sure to check out the comments on
the YouTube video
for the sort of level-headed, reasoned discourse that we've all become accustomed to on the interwebs.
Updates on Yards Park Funding Hearing and Third Street Gas Smell/Underpass Parking Restrictions
Jun 25, 2009 11:24 AM
A few follow-ups from
a recent entry
:
* The Committee on Finance and Revenue held its hearing on Tuesday morning on B18-0299, the "
Waterfront Park at the Yards Funding Act of 2009
," which will create a fund to maintain and "program"
the park
from a special assessment on development at
the Yards
, plus sales tax revenues at the park's retail venues for five years, and proceeds from any "naming rights." The hearing wasn't exactly a barnburner--there were three three-minute statements by Jamison Weinbaum of the Office of the Deputy Mayor, Alex Nyhan of Forest City, and Michael Stevens of the Capitol Riverfront BID--Nyhan described the funding set-up as "taxing ourselves extra," and also mentioned that an $2 million for getting the park started has been secured from the
USDOT
PILOT funding.
Jack Evans really only had one question: how much will it cost the city? Weinbaum explained that the sales taxes from the retail pavilions that would normally go into the city's general fund will for five years go into this new maintenance fund, but since there is no income from the park's property now, there will be no net loss to the city, and then will be a gain after five years. Evans said that he likes this model of having the private sector taking care of the park (even though the park will be city-owned when it's completed).
If you want to see the testimonies and questions,
watch the streaming video
(you can skip ahead to the 1:09:00 mark, since it was a long hearing).
* The Twitter box at the top of my home page was out of commission on Tuesday, so those of you who don't suscribe to my Tweets either
directly
or on
Facebook
missed out on the flurry of updates about the natural gas smell at Third and Virginia. Reader MB (who had already called Washington Gas four times) talked to a cop who was parked at the intersection Tuesday morning, who called in the smell, and before long fire trucks had arrived, followed by Washington Gas. The southern part of the intersection was closed until nearly 9:30 that night, with two pretty deep holes dug and all sorts of work done. MB reports this morning that the smell appears to be gone (I didn't notice it when driving through this morning, unlike on Monday).
* Speaking of that stretch of Third Street, the new No Parking during rush hour signs have now been posted on both sides of Third Street beneath the SE Freeway. If you drive north out of Near Southeast during afternoon rush, let me know if traffic appears to be flowing better.
Summer Outdoor Movies Start Thursday
Jun 2, 2009 1:32 PM
The
BID's Thursday night outdoor summer movie series
is starting this week (June 4), and like last year it's being held on the plaza at New Jersey and Tingey (behind
USDOT
). It's a "Best of the 80s" theme, and they're starting with
Back to the Future
. The rest of the lineup:
The Princess Bride, Ghostbusters, Ferris Bueller's Day Off, Caddyshack, The Breakfast Club, E.T., Top Gun, Dirty Dancing
, and
Big
. There are also giveaways and other activities--
check the flyer for more information
. The movies are free and begin at sundown, and food and drinks are available from the On the Fly food carts.
Friday Tidbits: BID Newsletter, ANC Agenda
May 8, 2009 10:38 AM
Between it being Friday and the sun finally being out, I bet everyone's feeling a bit better today. Maybe even
Biking to Work
! So, a few tidbits:
* The
latest Capitol Riverfront BID newsletter
is out, with a few items of note. First off, there's a new "branding" campaign going on--"Be Out Front." Look for signs promoting "Front Yard," "Front Office," "Front Door," "Store Front," etc. And they'll soon be launching an equally rebranded web site.
Also, the current estimated population within the BID is 1,584 residents; the newsletter says that there are now more than 2,000 residential units, more than half of which are leased/sold and occupied.
The newsletter also gives the
Bullpen
's official opening date as May 15, and also mentions that the weekly Tuesday farmer's market at USDOT is now underway, and that the weekly Wednesday lunchtime concerts start on May 20.
* The agenda for Monday's ANC 6D meeting is out (hopefully
it'll show up online
before the meeting itself), and the only Near Southeast item is a presentation by Michael Stevens of the BID--kind of a BID 101 tutorial for the ANC commissioners. Otherwise, it's voting on marathons, bus stops, after-school programs, and also an announcement of a "Southwest Night" at Ft. McNair on July 1. The meeting is at 6th and M streets, SW, at 7 pm. (Maybe next month it'll finally move to the new digs at the new 1D police station at the former Bowen Elementary.)
* The
Examiner reports
that the 2010 federal budget includes $15 million for "
Southeast Federal Center
remediation." There's certainly been piles of environmental cleanup there over the years (not surprising when it used to be blocks and blocks of munitions factories).
* EYA has spiffed up its web site a bit--their
Capitol Quarter page
is worth a visit if you haven't checked it out before.
Comments
(2)
More posts:
Akridge/Half St.
,
ANC News
,
Capitol Riverfront BID
,
Pedestrian/Cycling Issues
,
Fairgrounds/Bullpen
,
Capper
,
Capitol Quarter
, US Dept. of Transportation HQ,
Restaurants/Nightlife
,
meetings
,
Nationals Park
Memory Lane: April 2004 and 2005
Apr 5, 2009 11:06 AM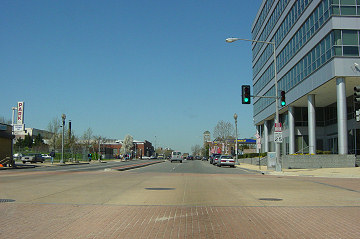 Without quite so much new stuff to look at these days, I'm going to do some digging into the
Photo Archive
, to look at the changes that have come to the neighborhood with a slightly different approach than I usually use, highlighting photos that have tended to disappear from easy view because of the way the archive works. Today it's a survey of what the selected spots looked like in April
2004
and
2005
, when construction was underway at
Capitol Hill Tower
and the
US DOT HQ
. The Star Market at Second and L (now just called the "little red building") was standing all alone in April 2004 as digging was just beginning on the CHT site, and the profile of M Street was so very different without USDOT looming. There's also some photos from throughout
Capper
, which was beginning to be emptied out but hadn't become completely boarded up yet.
Remember to click on the
beneath any photo to see all the images I've posted of that angle, both before and after these 2004 and 2005 images.
The $6 Billion Neighborhood (Better, Stronger, Faster)
Mar 15, 2009 10:38 PM
It certainly doesn't feel like it's the case, so you might be surprised to find out that the District of Columbia thinks that Near Southeast is worth about $1.5 billion more than it was a year ago, at least in terms of the
latest tax assessments
now available. With a total assessment last year of around $4.5 billion for the blocks bounded by the SE Freeway, South Capitol Street, and the Anacostia River (to just west of the Sousa Bridge), this bump up edges the neighborhood's "worth" to just over $6 billion.
A chunk of that change is coming from the first official assessment of
Nationals Park
, valued at $999,982,800 (geez, Mr. Tax Assessor, just round it to $1 billion and be done with it), a rise of nearly $650 million from the assessed value of just the land last year. Blocks that saw projects get completed in 2008 (
70/100 I
,
100 M
and
Onyx
, and
55 M
) got hefty bumps in their valuations, while other spots (
20 M
, the
Capper
blocks,
USDOT
,
Maritime Plaza
) saw their assessments go down.
I created a report
comparing 2008 and 2009's numbers overall and by block, though I wouldn't swear to the exactness of each number down to the penny (but they're probably close enough).
As for the trend of the overall valuation of Near Southeast over the past nine years, it's still *up*:
2001: $221,096,652
2002: $428,312,487
2003: $640,209,280
2004: $771,006,345
2005: $894,123,520
2006: $1,781,481,650
2007: $2,539,618,280
2008: $4,467,137,880
Comments
(10)
More posts:
100 M
,
20 M
,
70/100 I
,
assessments
,
Capper
, US Dept. of Transportation HQ,
jpi
,
Maritime Plaza
,
Monument/Half St.
,
Onyx
,
Square 743N
,
Nationals Park
More Info on DC Inaugural Gala, River Restrictions, and Recently Twittered Items (and a Manifesto!)
Jan 11, 2009 4:55 PM
*
Last week I posted about
the "DC Inaugural Gala" scheduled for Monday, Jan. 19 at the
US DOT HQ
at New Jersey and M. I didn't have much information, but a little more has come down the pike. It will be featuring the O'Jays and Salsa "king" Johnny Pacheco, as well as local artists Brian Lanier, Familiar Faces, Tommy Bryant and the Giants of Sound, and Nuera.
Mayor Fenty, Council Chairman Gray, and DC delegate Eleanor Holmes Norton are scheduled to attend, and it's being billed as the first (outside) event ever held at US DOT. Also, according to the
press release
, "The hundreds of guests in attendance also will be able to visit small intimate parties in special 'neighborhood rooms' that will be decorated by residents to make local people feel at home and give visitors a taste of District of Columbia communities."
Ticket prices have been, um, revised to $144 per person, along with higher-priced tickets with additional bells and whistles. Tickets can be purchased online at
DCPresidentialGala.com
(though as of Sunday afternoon it still lists the previous higher price for single tickets).
And, FYI, my employer doesn't let me go to inaugural balls other than on official business, so everyone be sure to tell me all about the parties, and think about me while I stay home cleaning the house and cursing my wicked stepmother and stepsisters.
* The
Coast Guard has released the specifics
of the security on the Anacostia and Potomac rivers surrounding the inauguration. On Jan. 18 and 19, recreational boaters will not be allowed in the security zone (which, for the Anacostia, is from Route 50 down to the Potomac), and those moored within the zone must not move without authorization. From 11 pm Jan. 19 until early Jan. 21, all vessel movements (recreational and commercial) will be prohibited.
And now, rehashing the other
Twitter updates
of the past few days:
* Tommy Wells has
posted the list of Ward 6 establishments
that have applied to stay open during the Inauguration extended hours. None of the hundreds of Near Southeast restaurants and bars are on the list (unless you want to count the Capitol Skyline Hotel at South Capitol and I, SW), but a number of Southwest Waterfront, Barracks Row, and Pennsylvania Avenue joints are on the list.
* It's a shame that
Diamond Teague Park
isn't done yet, because it could have gotten into the Inauguration Water Taxi biz--the
Post's Inauguration Watch blog reported on Friday
that there will be water taxi service from Alexandria to 600 Water Street, SW (Pier 4). $90 round-trip, $50 one-way. More info starting Monday at
InauguralWaterTaxi.com
, which just redirects to the Potomac Riverboat Company's web site. (They're the ones gunning for Teague service, when the docks are ready.)
* The
comments
on my
new Douglass Bridge design post
from Friday veered off unexpectedly into
my posting a bit of a manifesto
in response to the people who from time to time admonish me or implore me to lead some sort of "movement" of one kind or another for or against some project in Near Southeast. If you find my bland just-the-facts recitations of the latest news items aggravating or bewildering, this might help explain a bit.
And it also reveals why I leapt off the fence for the first time and expressed a design preference against the cable stayed swing that so many people wanted: on the arched bascule bridge (as well as the retractile and stayed bascule designs), there will be pedestrian/bike paths on both sides of the bridge, while the cable stayed swing design would only have one path, smack in the center of the bridge, slightly elevated but still surrounded by six lanes of high-speed traffic. To me, if I'm going to cross a grand promenade bridge by foot or bike from one liveable, walkable community to another (someday!), I'd rather be able to stop and gaze out at the waterfront and the shorelines instead of white-knuckling across it as fast as possible to get away from the cars whizzing by me on both sides.
Now I shall return to keeping my preferences to myself!
DC Presidential Inaugural Gala To Be at USDOT on Jan. 19
Jan 5, 2009 3:44 PM
There's now a second inaugural shindig scheduled for the neighborhood, with the
Post reporting on
a "
DC Presidential Inaugural Gala
" to be held at the
US DOT HQ
at New Jersey and M on
January 19 from 8 pm to midnight
. It's being run by the "District of Columbia Presidential Inaugural Committee" (
I don't yet know whether it's an official city entity or not; sure sounds like it, but I haven't yet confirmed
). This is not Mayor Fenty's official ball (at the DC Armory) or the council's official ball (at the Wilson Building). Still trying to find out more.
Tickets are a mere $244.51 per person, says the Post. More when I get it. This is the night after the
Capitol Riverfront Gala
being thrown at
70 I Street
. No actual inauguration-night balls for Near Southeast yet, though.
Here's a comprehensive list
of all the galas, balls, and other festivities planned throughout the four-day extravaganza.
President Bush at USDOT on Tuesday
Nov 17, 2008 5:42 PM
Be prepared that on Tuesday (Nov. 18), President Bush will be visiting the
US Department of Transporation headquarters
on M Street. Given that no parking will be allowed at DOT until noon on Tuesday because of security concerns, be prepared for an onslaught of extra transit passengers at the Navy Yard Metro station and on the bus lines, and extra cars in the daily lots around the neighborhood. No doubt there will also be some traffic disruptions as the president arrives and leaves, too.
Norton Pushing Feds to Move to Near Southeast
Jul 10, 2008 8:56 AM
This is kind of old, but I only heard about it after the fact--on July 1, DC Delegate Eleanor Holmes Norton held a "Capitol Riverfront BID briefing" at the
US DOT HQ
as part of her continuing efforts to encourage federal agencies to move to "developing" areas of DC.
We heard last week
that the Department of Agriculture is looking around down here, and perhaps the FBI as well. Here's
Norton's press release on the briefing
--I'm interested in the paragraph near the bottom listing the area's coming amenities, where it says "two first class supermarkets are planned." We know that there's space for one in the ground floor of the proposed office building at
401 M Street at The Yards
, which isn't scheduled to be completed until 2011--I don't know about any firm plans for another one.