Near Southeast DC: Past News Items
Development News
Go to Full Blog Archive
---
National Community Church Buying More Property
Oct 15, 2010 9:39 AM
A few weeks ago
I wrote about the purchase of the "Miles Glass" site on the southwest corner of 8th and Virginia by the
National Community Church
, the "theater church" group that's also behind the rehabbed
Ebenezers Coffeehouse
near Union Station. Now, in a
post on his blog
, NCC leader Mark Batterson says that he has "just locked in another contract on an empty lot that abuts 733 Virginia Avenue, SE."
Given Batterson's description that the church will now have frontage on 7th, 8th, Virginia, and L, it would appear that the new lot under contract is
the empty one
directly across from the Marine Barracks on 7th, where a few years back a small developer had
dreams of an apartment building
, but never followed through; the lot then sold for $400,000 through a
foreclosure sale last year
.
Batterson says that this lot will enable NCC to add about 15,000 square feet to their final footprint--"and I don't think we're done yet." (Maybe that auto garage on the
southeast corner of 7th and K
is noticing that the church will soon own the land on both sides of it.)
The church is buying the properties because they're running out of space for services and staff at Ebenezers,
Batterson has written
. There's been no official announcement of what exactly they're planning for the site, but in a
tweet to me
right after I wrote about the first land purchase, Batterson said, "definitely another Ebenezers and we'd like to design a theater."
Some More Details on the 100 M Foreclosure
Oct 4, 2010 6:52 AM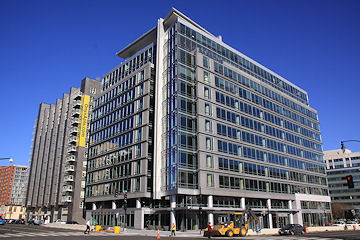 While normal people have spent their weekend recreating and taking it easy, I've been trying to find out more about the
just-announced foreclosure sale
of
100 M
, the 220,000-square-foot office building that has been tied up in Opus East's
Chapter 7 liquidation
.
My big question was about why this is being billed as a sale of a "60-Year Leasehold Interest," and what I've found out is that Opus never owned the land, but instead had entered into a lease with and paid rent to the landowners. (Who are the people behind "Square 743 Inc"? I'd love for
someone to tell me
!) When Opus's operations went south, their lender (Bank of America) stopped funding the construction loan, so contractors stopped being paid, liens were filed, bankruptcy case got ugly, etc. etc.; basically, it's been a mess.
BoA is now washing its hands of it all, and is looking to get back some amount of the $58 million currently owed on the construction loan. (The land ownership is not being foreclosed on.) I've heard that BoA contracted with CB Richard Ellis earlier this year to sell the loan, and there's speculation that BoA may have a deal with an investor already, even though the Notice of Foreclosure Sale still lists BoA as the holder of the note. This would be similar to the way JPI's empty lot at
23 I Street
changed hands
a year ago
, with SunTrust Bank selling the note to Ruben Companies, who then instituted foreclosure proceedings and took ownership of the property when no bidders came forward.
However, while the word "foreclosure" usually conjures up feelings of doom and gloom, for 100 M this should be a step up from Opus's liquidation. Instead of continuing to be tied up with companies and lenders and courts who have no interest or wherewithal to spend the money needed to clean up the mess and to market and lease the building's office and retail spaces, there may now be at least one investor--and maybe others, if the foreclosure sale brings bidders--who feels that the building is worth taking a gamble on now for a return on investment later. (Though it's worth noting that there is not a similar feeling of optimism about any new office projects in the area any time soon, with on-spec construction still completely DOA.)
We shall see how it all shakes out.
The auction is scheduled for
Oct. 28 at noon
, so this building can be yours for a mere $5 million deposit and an all-cash winning bid. It's currently 43 percent leased.
100 M Street SE Headed for the Auction Block
Oct 1, 2010 5:30 PM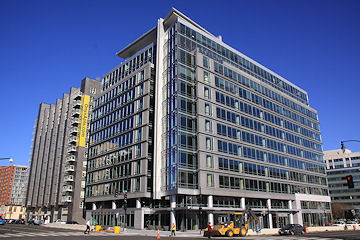 [Great--big news at 5 pm on Friday. Hope somebody actually reads this] On Sept. 21, a notice of foreclosure sale was filed for
100 M Street SE
, the 220,000-square-foot office building built by Opus East and completed in late 2008. A few months later, Opus became the biggest Near Southeast casualty of the recession,
filing for Chapter 7 liquidation
and leaving their 440,000-square-foot office project at
1015 Half St.
unfinished. While 1015 Half was soon picked up by the Douglas Wilson Companies and is now being completed, 100 M has remained at sea, despite a
rumor
a year ago (
quickly shot down
) that Mayfield Gentry was buying it for $80 million.
The 100 M auction is scheduled for
Oct. 28 at noon
; I admit to being pretty clueless on foreclosures and auctions and CRE minutiae, so I don't know if the fact that it is technically an auction of a "60-Year Leasehold Interest" in the building has any significance to us lay folks. I imagine the business press will have more on this story.
According to the auctioneers, 100 M is currently 43 percent leased.
(And, by the way, the blue sky in the above image is not faked. I've never ever seen as electric blue a sky as I did the morning I took that photo.)
[hat tip to reader J]
Maritime Plaza Changes Hands for $119M
Sep 28, 2010 11:10 PM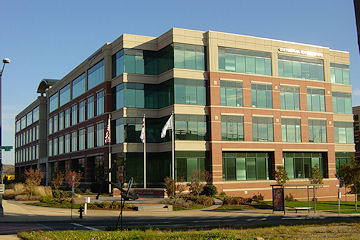 A release went out on the wires today announcing that Corporate Office Properties Trust

has spent $119 million, including the assumption of a $70.1 million mortgage, to buy

Maritime Plaza, the 12-acre site at 12th and M, SE.

This is the third time the site has changed hands since construction on the second office building was completed in 2003, with Bernstein Cos. selling it for

$92 million in 2004

, and then

Brickman Associates

reportedly paying

$115 million in October of 2005

. The site, which has two completed office buildings with 100 percent occupancy, has included plans for two additional 175,000-square-foot office buildings and a 250-room hotel; leasing is handled by

Lincoln Property Company

. The land beneath the buildings and plans, however, continues to be owned by Washington Gas, as it has been since pretty much the dawn of time.

[The rumors of this sale were reported

back in early August

, and I'm exhausted from three days of dealing with computer issues after my one-year-old machine up and croaked, forcing me to buy a new box, so apologies for basically just pasting-and-editing my previous entry. I figure no one read it anyway. :-) ]
Miles Glass Site at 8th and Virginia Bought by National Community Church
Sep 22, 2010 10:56 AM
The "Miles Glass" site on the
southwest corner of 8th and Virginia
has been
vacant and for sale
for a number of years now, but in late August it was purchased for $3.5 million, by the
National Community Church
, the group behind the rehabbed
Ebenezers Coffeehouse
near Union Station in Northeast. According to their web site, NCC is "one church with [six] locations," broadcasting their Sunday services at multiple locations in addition to Ebenezers, such as the old Tivoli Theater in Columbia Heights and movie theaters in Georgetown, Ballston, Kingstowne, and Potomac Yard.
The church's head, Mark Batterson,
wrote on his blog in late August
about the purchase of the 8th and Virginia site, which he called "the last piece of property on Capitol Hill." The church is running out of space for services and staff at Ebenezers, he wrote, and since his vision for NCC is 20 locations and more than 100 staffers, they're looking at "going vertical" and constructing a building with about 50,000 square feet of space.
I don't know anything at this point about timing, design, or anything, but I'm guessing because of its location on 8th Street any proposed building will have to go through the city's zoning processes (as well as probably historic preservation and ANC 6B). And it looks like they may be in the very early stages of design themselves, because
today is apparently the "visioning charrette"
for the new property.
Note that the purchase covers the Miles Glass building and attached garage as well as the vacant lot just to the west. But the adjacent storefronts on 8th Street, including Al's Deli, are not part of the purchase.
As for managing to secure the property, apparently there must have been some divine intervention, because according to Batterson, NCC lost the contract to other parties three times before finally purchasing the site.
City to Move 225 Virginia Avenue, So to Speak
Aug 5, 2010 1:31 PM
While wandering around the web site for the city's
Department of Real Estate Services
, I found out that the
deadline has been extended until noon tomorrow
for the
request for offers to lease data center space
at the revamped
225 Virginia Avenue
(aka the old Star/Post Plant). They've also
posted a Q&A
about the RFO that may or may not hold any nuggets of interest.
But what broke my heart is the last sentence of a
press release from mid-July
touting the financing deal that's allowing construction to begin on the project late this year:
"In related news, the address for 225 Virginia Avenue, SE will change. The new address will be 200 I Street, SE."
Waaaaaaahhhhh! It will always be 225 Virginia to me!
But, looking at the rendering of the redesign, it appears that they're moving the main entrance to the south side of the building, facing
Canal Park
, hence the I Street designation.
Maritime Plaza About to Change Hands?
Aug 2, 2010 9:34 PM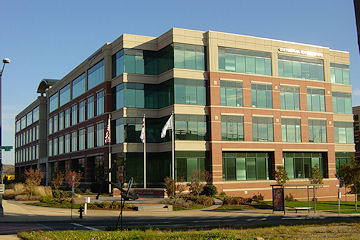 Multiple anonymous sources are allowing
CityBiz Real Estate
to report: "
Corporate Office Properties Trust
is awaiting lender approval on a $120 million acquisition of
Maritime Plaza
, a 12-acre site located at the East End of the Washington, D.C. Naval Yard, multiple sources tell citybiz real estate." This follows
a story earlier today
saying that COPT was close to purchasing an unnamed site, described only as being a fully leased location occupied primarily by defense contractors.
If this goes through, it would be the third time the site has changed hands since construction on the second office building was completed in 2003, with Bernstein Cos. selling it for
$92 million in 2004
, and then
Brickman Associates
reportedly paying
$115 million in October of 2005
. The site, which has two completed office buildings, has included plans for two additional 175,000-square-foot office buildings and a 250-room hotel; leasing is handled by
Lincoln Property Company
. The land beneath the buildings and plans, however, continues to be owned by Washington Gas, as it has been since pretty much the dawn of time.
DDOT's Move to 55 M Still in the Works
Jul 21, 2010 10:15 AM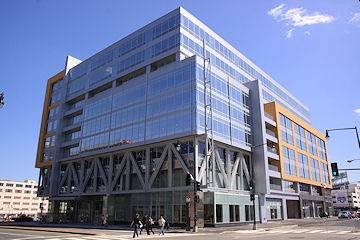 WBJ
updates its story from
a few months ago
to basically say, yes, DDOT is still planning to move to
55 M Street
, Monument Realty's building on top of the west entrance of the Navy Yard station. The city council has until close of business today (Wednesday) to decide if it wants to hold up the plans, and apparently the council's budget office is taking a close look at the lease, since it will cost DDOT about $6.9 million per year over 10 years to consolidate all of its workers in Near Southeast, compared to the $3.1 million it's paying now to lease space in multiple buildings.
With
USDOT
just two blocks to the east, M Street SE would turn into Transportation Row if DDOT does indeed come to 55 M.
First Rendering of 'Reskinned' 225 Virginia
Jul 19, 2010 3:04 PM
The city's Department of Real Estate Services (formerly OPM) has
put out a solicitation
to sublease 50,750 square feet of below-grade space at
225 Virginia Avenue
as a data center. While that may be terribly interesting to some people, probably the item of greater interest is the rendering on the first page, which is the first glimpse of the "reskinned" building, showing the current gray windowless monolith rebuilt into a more open structure that actually resembles an office building. The rendering is from the building's southwest corner, so the SE Freeway (not shown) would run "behind" the building. You can just barely see
Capitol Quarter townhouses
at far right, making that Third Street.
The solicitation also says that construction is expected to begin in November of this year and last 15 months, with development being handled by
StonebridgeCarras
while the city continues to own the land. When completed, three city agencies will occupy the building--the Commission on Arts and Humanities, the Office of the Chief Technology Officer [hence the data center stuff], and the Child and Family Services Agency. If you see people wandering around the site on Tuesday, it's a site tour for parties interested in the data center colocation. Responses to the solicitation are due to the city on July 30.
If you're just joining the story now, feel free to
read my past 225 Virginia posts
to catch up on the many twists and turns this building has seen over the past few years. (h/t
DCMud
)
DDOT Rumored to be Moving to 55 M Street
May 7, 2010 9:42 AM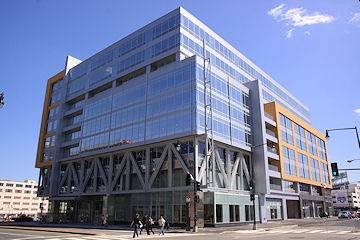 Oh, I've wanted to post this rumor for so long (and have hinted at it on Twitter) but never could bring myself to pull the trigger when I couldn't get anything out of Monument or DDOT or any first-level source. But,
here's WBJ
going where I wouldn't (subscribers only): "[The District Department of Transportation] has signed a letter of intent and is close to a deal on a 10-year lease for 150,000 square feet in Monument Realty's Half Street building at
55 M St. SE
, according to sources." Neither Monument nor DDOT would confirm to WBJ either, with DDOT spokesman John LIsle quoted as saying, "We are hoping to move this year. It may be ambitious, but that is our goal."
Originally DDOT was going to move to the Anacostia Gateway project, but that was cancelled a few months ago. WBJ says that, between DDOT's space and existing tenant Sayres and Associates (who apparently will be adding another 10,000 square feet to their lease), 55 M will be about two-thirds leased.
Another Waterfront Project on the Boards
May 6, 2010 11:49 AM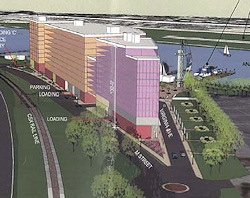 Thanks to one of the National Capital Planning Commission's
fabulous documents
, we're starting to get first hints of plans by the
Cohen Companies
for what they are describing as a three-building, 815,000-square-foot office, hotel, retail project on the very eastern end of M Street, nestled between
Boathouse Row
and the CSX tracks east of
Maritime Plaza
. It's so early in the process that it's not even on Cohen's
New Projects page
, but City Paper's Housing Complex blog
has learned
that the company will be putting together a planned unit development application to the Zoning Commission "over the next six to nine months." (No financing is lined up, though, so don't look for digging to start anytime soon.) See the
NCPC document for some early drawings
and some basic information on how they envision the offerings of the three buildings.
(Cohen Companies, by the way, is the developer of
Velocity
.)
Back in 2003-ish, there were plans for this site to be a townhouse development (see
page 15
), but those never got off the ground partly because of
zoning issues
, which then begat
an attempted rezoning of the area in 2004
that failed. But rezoning of the site will have to be back in the forefront when this project's PUD application hits the zoning committee, since the space is still zoned "M" (industrial).
The project is in front of NCPC because of Cohen's request to close "paper street" segments of Virginia Avenue, M, and 14th streets. This is a part of a settlement between 1333 M Street, SE, LLC and the city from a lawsuit over waterfront development in South*west*, where the Cohen Companies are agreeing to release their claims in exchange for three small pieces of government land at 1333 M SE as well as the city's support in requesting the street closures. (The street closures themselves have been approved by the city council as bill
B18-0572
, and are expected to become law later this month.)
The NCPC is objecting to the street closures; and thankfully Greater Greater Washington has been writing in detail on the case, so I'm just going to
throw it over to them
for all the nitty gritty, because it's way out of my league. (
Read also this GGW entry
about connecting this area to the neighborhoods to its north if/when the remnants of the freeway to Barney Circle are removed.) But, again, the
NCPC staff recommendation report
is also a great read for not only the NCPC's concerns but also for the history of the area under review and other details. The NCPC board is meeting this afternoon, and we'll see what comes out of the session (I assume GGW will be hot on the trail).
If you've never ventured down that way,
my East M page
has a few not-particularly-current photos of the location (I don't get there very often myself), along with more images of
Boathouse Row
. When the project begins to wind its way through the zoning process, I'll get more on the ball. The city's
2009 Boathouse Row Planning Study
is also a good spot to learn more about the area.
UPDATE:
Thanks to commenter Evan, I'm reminded that I should have included the additional information that, because this is part of the old Washington Gas (and I think Steuart Petroleum) site, there are some serious remediation issues to be addressed, which are mentioned both by Ron Cohen on page 25 of this
2003 ZC transcript
and on page 19 of this
2004 ZC transcript
(saying that the contaminated soil is 11 feet down). Remediation is also mentioned in the
2009 Boathouse Row Planning Study
and in
this EPA document
(under "Washington Gas and Light"). Oh, and the
EPA's 1999 record of decision
on what cleanup remedies would be needed. It should be noted that both Maritime Plaza buildings were completed after this document. (This is all before my time, so I'm researching on the fly.)
UPDATE II:
Here's a
WBJ article
(subscribers only for 7 days) on the NCPC angle; it also reminds that, outside the monumental core of the city, NCPC's rulings are purely advisory.
1015 Half Starting Again (Again) (Again)?
May 3, 2010 1:17 PM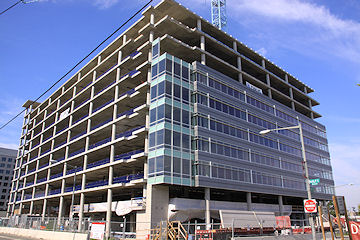 We went through this
back in early March
, when sharp-eyed JDLand readers passed along indications of work re-starting at the stalled
1015 Half Street
office building project, with a Skanska sign going up at the skeleton. But it disappeared soon afterward, along with the workers that had briefly materialized. But last Tuesday, faithful Tweeters again reported signs of life at the work site, and now
WBJ is reporting
that
Skanska USA Building
is indeed about to re-start construction, expecting to finish the 440,000-sq-ft office and retail project by the end of the year.
This building, on the site of the old Nation nightclub, was first started in late 2007 before
the collapse of developer Opus East
ground work to a halt in May 2009. (
These photos
show the timeline pretty well!) The
Douglas Wilson Companies
was named receiver a few months later, and
originally announced
that work would re-commence in October of last year, but nothing has happened until now.
No tenants have been announced. See
my 1015 Half page
for more details on the long and winding road this project has taken.
Movement at 1015 Half Street
Mar 9, 2010 10:07 AM
Some alert readers reported today via e-mail and Twitter that there is renewed activity at the site of
1015 Half Street
, where construction of the 440,000-sq-ft office building was halted in the middle of 2009 when owner Opus East
went bust and liquidated
. (The
Douglas Wilson Companies
was
named receiver for the property in August
.) I've heard no official announcements, but the many liens against the property were settled in January, and apparently people are on-site, and a new fence and "Skanska" sign are now up at Half and L, so we'll see if the project is in fact moving again.
Construction Starting Again at 1015 Half
Oct 3, 2009 11:47 AM
I'm hearing that the
Douglas Wilson Companies
--a San Diego developer specializing in "distressed properties and crisis management" that was appointed in late July as receiver for both
1015 Half Street
and
100 M
--is getting construction moving again at 1015 Half (along with "aggressively" marketing and leasing of the building). Also, a "disposition strategy" for 100 M is expected to be in place later this month. This appears to be Wilson's first foray into the DC market, though the company also has branches in Atlanta, Las Vegas, Miami, Orlando, and San Francisco. This
San Diego Business Journal profile
of Wilson and his company gives a bit more info not only on the organization but on the role of a receiver in dealing with distressed properties. The two buildings hit the skids when Opus East collapsed and liquidated.
Opus East Files for Chapter 7 Liquidation
Jul 1, 2009 6:55 PM
Opus East, the development company whose portfolio includes the already completed
100 M
and under construction
1015 Half
office buildings, filed on Wednesday for Chapter 7 liquidation, according to the
Washington Business Journal
. The article mentions the falling through of Opus's deal to sell 100 M to MayfieldGentry Realty Advisors earlier this year as part of the company's woes, and the building is part of the bankruptcy filing and liquidation. The
1015 Half Street
project, expected to finish late this year or early next year, is presumably part of it as well. No tenants for the 440,000-sq-ft office building have been announced.
Tough Times for Opus East and Monument Realty
Jun 19, 2009 9:05 AM
Two pieces from today's Washington Business Journal, both for subscribers only, tell of difficulties for two of Near Southeast's developers:
* Opus East
, which birthed
100 M
and the under construction
1015 Half
, is "
teetering on the verge of bankruptcy
" because the "U.S. General Services Administration has refused to pay the developer for 'even one penny' of the more than $35 million the company has invested in erecting a new federal building in College Park." Its parent company, Opus Corp., is exploring bankruptcy or restructuring for Opus East and Opus West--two other Opus companies went into Chapter 11 this spring. The article also says that Opus East's deal with MayfieldGentry Realty Advisors of Detroit to buy 100 M fell through in May; but 1015 Half is, for now, "continuing in full swing."
* And
Monument Realty
is
having trouble
, though not on
Half Street
--"At the end of May, at least three contractors filed suit in D.C. Superior Court to enforce more than $1.3 million in mechanic's liens the contractors filed against the last of three condominium buildings Monument is building at Potomac Place Tower near the Southwest waterfront. [...] At least one of the contractors is asking the court for a forced sale, if necessary, to collect amounts due."
JPI East, Akridge Principals Form New Company
Jun 12, 2009 10:25 AM
From today's
Washington Business Journal
(subscribers only), news that Jim Butz and Greg Lamb of what was once JPI East have taken over what was left of that company (down to 22 employees from 380 a few years ago) and are partnering with Matt Klein and other principals at Akridge to create the Jefferson Apartment Group. Butz and Lamb "continue to hold a partnership stake in JPI [Multifamily]'s holdings," which includes
70 and 100 I
and
909 New Jersey
. The article says that Jefferson Apartment Group is "already targeting five properties" in DC, Philadelphia, and Boston, and "is in the early stages of planning and zoning new developments in Fairfax Count and Philadelphia," but doesn't mention what may be happening with
23 I
, the fourth JPI property in Near Southeast on the Wendy's site at Half and I.
Tenants Coming to 20 M and 55 M?
Jun 5, 2009 12:17 PM
From
today's print edition of the Washington Business Journal
(subscribers only), news that two as-yet-unoccupied office buildings in Near Southeast may be close to securing tenants. WBJ says that Monument Realty is "in discussions" with Booz Allen Hamilton to lease more than 30,000 square feet of space at
55 M
(currently home to
Artomatic
), though Booz is apparently also looking at Lerner's
20 M
across the street and the under-construction
1015 Half
a block to the north.
The article also says that an "undisclosed federal agency is on the cusp of announcing" a 100,000-sq-ft lease at
20 M
. I have heard murmurings of some outfit moving to 20 M--if someone wants to whisper in my ear who it is,
I'm listening
!
Fun With Permits; Meeting Reminder; Bullpen
May 19, 2009 9:38 AM
The city's
building permits feed
hasn't been working with perfection of late, so I'm only now seeing some recent permits of interest:
* As many folks have seen (and as I
Twittered
last week), the asphalt is being pulled up on the southern end of
Canal Park
(here's
a photo from last Friday
, taken at Second and M). Two building permits have been approved for the southern two blocks, allowing for "interior cleaning [...] to remove pavement import top soil and plant grass." Hopefully the northern block will get a makeover too.
(UPDATE:
Commenter Scott says that work on the northern block is already underway.)
* Monument Realty has gotten a six-month extension on the raze permit for the Domino's at
South Capitol and M
. And, though it's outside my redrawn boundaries, I'll mention that
1244 South Capitol
(home to the stalled Camden Development apartment building) got a final six-month extension on a raze permit for that site. (Though I was bummed to see on Opening Night at the ballpark that the little red brick building that had been left standing for so long
was finally gone
.)
* A final (belated) reminder that the latest
Anacostia Waterfront Forum
is tonight at 6:30 pm at the MLK Library. The topic is "Waterfronts and the World's Great Capital Cities," with office of planning director Harriet Tregoning.
* The Post wrote a piece in the Sunday Business Section
about Bo Blair
, the Georgetown Events "restaurateur / entrepeneur." Fun fact: he's paying $25,000 a month in rent for the space on
Akridge's land
at
Half and N
.
Demolition Underway at Old Bus Garage
Mar 28, 2009 6:50 PM
Don't know if the work started on Friday or today, but a late-evening drive down M Street brought the surprise news that demolition is now underway on the old
WMATA Southeastern Bus Garage
at Half and M. The demo is starting at its southeastern end (closer to N Street), and I can't imagine it'll take too long to dismantle the building. There's scaffolding now in place for a pedestrian walkway along the garage's M Street face. This is the first demolished building of 2009 in the neighborhood, and the 154th since I started photographing the neighborhood. (Browse the previous 153 via my
Demolished Buildings gallery
.) The bus garage site, now owned by Akridge, is slated to be replaced with 700,000-sq-ft of office, residential, and retail offerings, with construction perhaps beginning in 2010.
When I was circling the block to check the extent of the demolition (made more difficult by Half Street currently being closed so that infrastructure work can be done), I drove past the Center Field Gate at the
ballpark
and saw that the blank concrete wall that used to be the northern face of the Red Porch restaurant is now floor-to-ceiling windows, looking onto the plaza.