Near Southeast DC: Past News Items
CSX/Virginia Ave. Tunnel
Go to Full Blog Archive
---
CSX to Do Some Core Sampling in Virginia Ave. Park; First Public Meeting on Tunnel Project Coming Soon
Sep 21, 2010 10:20 PM
It's not exactly the biggest news I've written about, but tonight ANC 6B voted unanimously to write a letter in support of CSX's request to the Department of Parks and Recreation to do some minor digging in Virginia Avenue Park as part of its
NEPA
requirements for the Virginia Avenue Tunnel expansion project. They'll be taking core samples, 1.5 inches in diameter, five feet in depth, about every 200 feet, looking for any archaelogically significant findings. (And, no, these samples won't be taken in the community garden.) If anything is found in the samples, CSX would then need to get new permits to do more extensive digging. There are also two other locations relatively close to the park where they'll take core samples, over by 11th Street.
Steven Flippin of CSX also told the commissioners that the first public meeting required by the NEPA process is tentatively scheduled for Oct. 20, at a time and place to be determined. This will be a "scoping" meeting, laying out the overall parameters of the project and the NEPA process. It will be followed, after a 30-day comment period, by an "alternatives" meeting. After another comment period, the final "overall" meeting about the tunnel project will be held, most likely in February of 2011.
I should also mention that commissioner Kirsten Oldenburg thanked CSX for paying for
the new fence
at Virginia Avenue Park that has now created the separate-enclosed-space-that-in-no-way-should-be-construed-as-being-an-official-dog-park.
Back from the Midwest; A Few Events This Week
Sep 20, 2010 9:39 AM
I'm back from spending the past week wandering around Ohio (Columbus, Cincinnati, Cleveland) and then spending some time in the Detroit area, where my husband
grew up
and where
I lived
for a few years as a tyke many years ago. If I was sent back in time 10 years and told to be a city blogger again but that I couldn't do Near Southeast, I would gladly have chosen to document the decay (and
perhaps eventual return
) of Detroit, because it's really on a scale that is hard for people to understand unless they've spent a lot of time driving all around the city (and not just on the freeways). It also means I would have spent the past 10 years eating plenty of Detroit Pizza at
Buddy's
and
Cloverleaf
and having far easier access to a bazillion breakfast options (at the
Coneys
and other "family dining" establishments) than we'll ever have in the DC Metro area. Plus there's the
cider mills
.
We also very much enjoyed Columbus, particularly the
Short North
and
German Village
neighborhoods (and driving through the Ohio State campus in my University of Florida-festooned car--
ha ha
!), and my husband also noted the bars and restaurants in the
Arena District
and asked if that's what will eventually be coming to Half Street. (I then asked him if he ever reads my blog.) Downtown Cincinnati has some great "old stock" storefronts and signage (which we're always big fans of), but we also enjoyed the Kentucky towns of Covington and
Newport
, right across the river from Cincy's two stadiums. It helped that our hotel was three blocks from the massive
Covington Oktoberfest celebration
. And yes, we ate
chili
. Cleveland was mainly a pilgrimmage to the
Rock and Roll Hall of Fame
for me, but we did wander around to eat in the
Tremont
and
Ohio City
neighborhoods, and took a peek at
Shaker Heights
.
(Are you as worn out from our vacation as I am? We do tend to cover a lot of territory.)
I don't think I deprived you of any big news while I was gone, so, instead, we'll look ahead at a few events this week:
* Today begins the Nats' final homestand of the 2010 season, against the Astros, Braves, and Phillies, with the final home game on Wednesday Sept. 29 at 7:05 pm. And note that this Thursday's game (Sept. 23) against the Astros is a 4:35 pm start, and Saturday's game (Sept. 25) against the Braves is at 1:05 pm. Then you can start looking ahead to the
2011 Nationals schedule
, where they get an Opening Day home game on March 31 against the Braves.
* Tomorrow (Tuesday, Sept. 21) is ANC 6B's monthly meeting (delayed a week to avoid coinciding with the election), and the
agenda
includes CSX's plans for an archaeological dig at Virginia Avenue Park. The meeting is at 7 pm at the People's Church, 535 8th St., SE.
* Thursday is the Washington Area Bicyclist Association's
"Moonlight Ride at Yards Park", which includes an 11-mile ride starting from the Park at 8:30 pm heading west to the Potomac River, and a 6-mile ride starting at 9 pm that will go east over the Anacostia River into Anacostia Park and Historic Anacostia. The rides are free and open to the public, but they ask that you

register in advance.

* And, looking ahead a bit, the

newly redesigned

"

Parcel D

" residential/retail/grocery development on the southeast corner of 4th and M in the Yards will be presented to the National Capital Planning Commission

on Oct. 7

.

UPDATE:

I guess I should also be mentioning the launch of

Capital Bikeshare

today, with two locations in Near Southeast, at New Jersey and M by USDOT, and what the map says is another station at First and N, SE, by

Nationals Park

(which I had heard wasn't coming until next spring).
Comments
(9)
More posts:
ANC News
,
Pedestrian/Cycling Issues
, CSX/Virginia Ave. Tunnel,
Events
,
meetings
,
Nationals Park
,
Stadium Events
,
Virginia Ave Park
,
The Yards
,
Twelve12/Teeter/Yards
,
Yards Park
Tidbits: Spiffying Up the NJ Avenue Underpass; CSX Archaelogy Digging; More Near SE History
Sep 7, 2010 9:09 AM
A few things to pass along as we kiss summer goodbye (yes, I know it technically doesn't end for another few weeks, blah blah blah):
* The Capitol Riverfront BID is applying for a
DC Public Art Building Communities grant
to get funding to "improve the look, feel and experience of traveling into and out of the Capitol Riverfront along New Jersey Ave., SE, while also creating unique gateway art that represents the identity, sense of place and community in the Capitol Riverfront neighborhood." They will be presenting their concepts at the Sept. 13 ANC 6D meeting, with applications being due on Oct. 13. If the project is selected to receive a grant, there would be public meetings sometime next year to "refine" the concepts, with hopes to complete the project by fall 2011. Though I can't imagine why anyone would want to beautify
THIS
!
* I'm not seeing this on the
posted agenda
yet, but a reader reports to me that CSX will be making presentations to ANC 6B's Planning and Zoning Committee tonight (Sept. 7) and the full ANC on Sept. 21 about a permit the freight company is apparently requesting to conduct an archaeological survey of Virginia Avenue Park prior to their planned expansion of the tunnel that runs under the park.
* Tonight you might see some folks with clipboards hanging around the Navy Yard Metro station entrances; they will be part of the
Public Transportation Takes Us There
petition drive by the American Public Transportation Association, trying to convince Congress to pass a long-term surface transportation funding bill. For the point of view of someone who has signed the petition, read this
recent Richard Layman post
. (I am wondering, and have no answer, whether this is the bill that CSX has been looking toward [along with other public money options] for funding the rest of the
National Gateway project
, which includes the expansion of the Virginia Avenue Tunnel.)
* You may have seen commenter MJM referencing recently his newfound obsession with the history of Near Southeast, and now
he's put up a blog
where you can share in the fruits of his research.
Checking in with CSX on the Virginia Avenue Tunnel
Jul 19, 2010 7:48 PM
The folks at CSX led a few local bloggers on a little tour late this afternoon along the footprint of the Virginia Avenue Tunnel, between New Jersey Avenue and 12th Street, SE, to give us a feel for the scope of the upcoming work to widen (and deepen) the tunnel to allow for double tracking and double-stacked railcars.
There isn't really any
news
to report--it wasn't a shock that there weren't any sudden outbursts of information about noise and dust abatement, traffic measures, access to the houses in the 300 block of Virginia Avenue, or anything along those lines, because CSX is holding all of its cards veeeeeeery close to its corporate vest until the
NEPA process
gets underway. They are expecting that their actual plans will go out for public comment sometime in the November-December timeframe, if all goes according to schedule. That said, here are a few items worth passing along (some of which I may have posted before but are worth repeating). But keep in mind that this is all still preliminary, the exact alignment won't be known until the design/build and NEPA process are completed, yadda yadda yadda.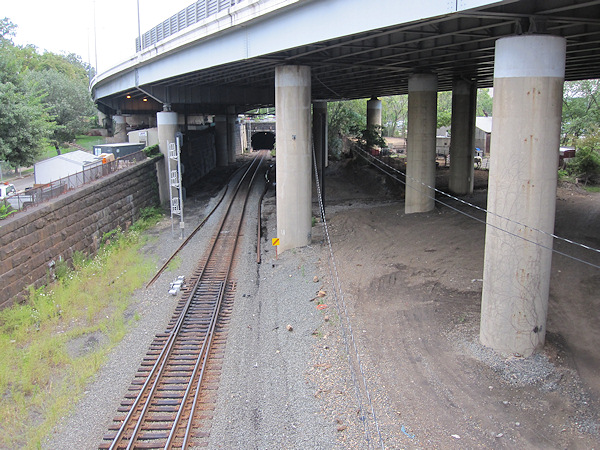 * If you stand on the bridge over the train tracks at New Jersey Avenue and look eastward toward the mouth of the tunnel at Second Street (seen at right), you can envision the beginning of the parallel track that will run first between the pillars of the SE Freeway, then in an open trench all the way to 12th Street while they're widening the existing tunnel. The new tunnel will expand four feet on either side of the current alignment, and the open trench will be dug on a line that extends about 19 feet south from the new wider footprint. They are working with the owner of the Charley Horse Stables just to the south of the train tracks to see how her operations can be handled during the estimated three-year construction time.
* The temporary trench will run along the south side of Virginia Avenue on a line that will include most of the sidewalk and grass in front of
225 Virginia Avenue
(right up to where the in-ground grates are, at which point the trench will shift northward toward the freeway somewhat). There will be coordination between CSX and StonebridgeCarras, who will be working on the
reconstruction of 225 Virginia
at the same time.
* Then, if you stand just south of the intersection at Fourth and Virginia and look west, there is a lamp post a few feet south of the stop sign in that spot--the edge of the trench will be about 9 feet south of that lamp post, which means the trench will be very close to the first house on Fourth, but gets farther from the houses in the 300 block as it goes west back to 225 Virginia. (I should have taken a picture. Oops.)
* At Fifth and Virginia, the off-ramp from the freeway will be shifted a couple feet northward--not that there's more than a few feet for it to move--so that it sits directly next to the embankment. Then, it looks like the Marines' fence along the 500 block of Virginia will have to be shifted about halfway down the hill from its current alignment, along with some of their HVAC equipment near Seventh Street.
* The work may require the closure of the on-ramp to the freeway at Eighth Street, requiring drivers to head to 11th and N to get on the
11th Street Bridges
(at least until the new on-ramps are completed at 11th and M).
* At Ninth and Virginia, Dogma's property might not be clipped, but CSX will be working to help reorient Dogma's operations toward L Street (since the current access via Virginia Avenue will be unavailable). It's possible that L Street might temporarily become two-way during construction.
* The trench will come very close to the northern fence of the Virginia Avenue Garden, but they aren't sure yet of the exact final location.
* And if you've never seen the east end of the tunnel, east of 11th Street,
here you go
.
Of course, through all of this, all of Virginia Avenue will be closed to traffic, and the current sidewalks will be gone as well. There will be "bridges" across the tunnel and trench for vehicular and pedestrian traffic at Third, Fourth, Fifth, Seventh, and Eighth, and apparently pedestrian access will be maintained to the underpass at Second Street to get to Garfield Park.
But, as I said, the information residents most want to know isn't yet public, and I wouldn't expect hard news about the plans and mitigation measures until the NEPA process gets futher along. There will be a public comment period after a series of public meetings, though they are continuing to work with the city and the Feds behind the scenes. It will be interesting to see what comes to the table.
Comments
(18)
More posts: CSX/Virginia Ave. Tunnel
Latest on Virginia Ave. Tunnel: Still Not Many Specifics
Apr 12, 2010 5:53 PM
I was invited to a little briefing today by CSX for a few bloggers, so the company could give a bit of a status update on the expansion plans for the Virginia Avenue Tunnel. They explained the background of the project (which is already available on their
National Gateway web site
), and emphasized the more than two dozen community meetings they've attended; they'll be going to both ANC 6D tonight and ANC 6B on Tuesday to report on the results of a draft traffic study they commissioned to show the impacts of closing Virginia Avenue between Second and 11th streets, SE, for two to three years, and also some renderings of some improvements they are offering to undertake to the various freeway underpasses and along Virginia Avenue to help beautify the stretch once the work is completed.
I arrived armed with a lot of
questions from readers
(thanks everyone!), but alas most of them had to do with specifics of the construction process, which CSX says it will not be able to address until they begin the design/build phase of the project.
They did pass along a few basics--they will be building a second/parallel track, in an open trench, to allow for train movement while they work to widen and deepen the existing track to allow for two tracks and double-height rail cars. (The tunnel originally had two tracks, but as equipment grew wider the second track was taken out of commission. So they will be adding about four feet of tunnel space on each side to bring back double tracking.) The temporary parallel track trench will be filled back in once construction is finished.
They will build temporary bridges across the open Virginia Avenue trench at the cross streets, which will necessitate each street being closed for three to five days. Construction would mostly run from 7 am to 7 pm, but trains would go through the open trench at all hours, though mostly at night. They "will work to mitigate" noise issues and construction dust and debris, and used the existing houses at Garfield Park as an example of how people already live very close to open rail trenches without an undue amount of difficulty. (The Garfield Park houses are a bit farther away from the train tracks than the new EYA houses on Virginia Avenue, of course.)
They did say that it's *possible* that some of the trench in the 300 block of Virginia Avenue could be decked over in order to preserve "access" to the new EYA houses in that block, and that they are working closely with EYA to make sure those concerns are addressed.
As for traffic impacts (which weren't discussed too much in today's group), ANC 6B commissioner Norm Metzger in
a blog post on Friday
gave a few specifics in regards to the Sixth Street freeway exit ramp: "The 6th street exit ramp will remain open, but traffic must turn left on 6th street[.] Traffic trying to get to, say, M Street, SE, will have execute a several blocks U-turn, using 6th, I, and then 4th streets. There will be inevitably be problems, not least trying to anticipate the flow of 'local' traffic from the re-designed 11th street bridges. i.e. commuters may still be tempted to use. There is considerable skepticism by some (including me) of DDOT's estimate of how much commuter traffic that is supposed to use the SE/SW Freeway to get to downtown will actually stay off local streets."
There is still no timeline for when construction would start--they are continuing to "look at many possible sources" of funding, from a hoped-for federal transportation reauthorization bill that isn't as yet showing much movement to a new USDOT Tiger II grant program to other possibilities. They also need to go through an environmental impact study, which they didn't have a timeline for but which won't start before June and could take six months to a year. As has been said, they are very much wanting to get this tunnel done by 2015, and they consider this tunnel a supreme bottleneck in their entire east coast operations.
They also say that "the community" has told them that they want this project done sooner rather than later, preferring a lot of hassle for a shorter period of time compared to a medium amount of hassle for a longer period of time. And CSX also feels there's interest in seeing this project get finished before any additional development starts cropping up along the Virginia Avenue corridor.
Hopefully some of the renderings and other documents they showed today will be posted online somewhere soon. But CSX considers this to be a project still in its very early stages, and clearly believes that the amount of neighborhood outreach they are doing to be a strong indication of how they want to work with the community to lessen the impacts of the coming construction, much in the same way that the Marines are pointing to their
Community Intregated Master Plan
project for the new barracks site and its many neighborhood meetings as a "new way of doing things."
UPDATE:
This post at GGW
gives an overview (which I've long since stopped bothering with ;-) ) on why CSX is undertaking the project.
Comments
(23)
More posts: CSX/Virginia Ave. Tunnel
ANC 6D Agenda Posted
Apr 11, 2010 6:14 PM
The agenda for Monday's ANC 6D meeting
is now available
, with a few items of Near Southeast interest. There will be an update on the
CSX Virginia Avenue Tunnel project
, a presentation by the owner of
American River Taxi
(the company working toward water taxi service between Georgetown, the SW Waterfront,
Diamond Teague Park
, and other spots), and a liquor license application for the Patriot II, which is the boat run by the new DC Harbor Cruises outfit that
just began running river tours
from Teague. There's also the usual gamut of road races and other items, along with I'm sure the latest on the opening this week of the new SW Safeway.
The meeting is at 7 pm at St. Augustine's Church, Sixth and M streets, SW. (This *might* be the last time the ANC meets at this location, with its new space at the Waterfront building at Fourth and M being close to its debut.)
If you're interested in the CSX stuff and can't make the Monday meeting, remember that there's also an update being given the next night at
ANC 6B's meeting
.
CSX Press Briefing on Monday; Questions to Ask?
Apr 9, 2010 3:08 PM
I've been invited to a press/blogger briefing being held on Monday by Stephen Flippin, who handles federal affairs for CSX. It's to give an update on the Virginia Avenue Tunnel project, with a look at some renderings and other materials that CSX will have available.
What questions would you folks like to have asked? Leave your thoughts in the comments, and I'll see what I can do about getting responses. (Don't worry, I'll be sure to get the basics, like a timeline.)
Also, Flippin is scheduled to update ANC 6B at their
Tuesday night meeting
, if you'd prefer not to get your information through the SLANTED JDLAND MEDIA FILTER!
Comments
(12)
More posts: CSX/Virginia Ave. Tunnel
Recent Tidbits (Cap Quarter Sold Out, Akridge in 2011, Va. Ave. Dog Park?, Photos of 11th Street Bridge Work)
Apr 9, 2010 9:59 AM
With the
opening
of the 2010 season at the
ballpark
and
lots
of
other
interesting
news
of late, my blogging time and focus has been geared toward these bigger items. But there's a fair amount of little stuff that I point to every day on my
Twitter feed
(also available on
Facebook
), mainly news stories that might be of interest but that aren't really important or newsy enough to devote much more than 140 characters to. I may eventually transition to leaving those completely to Twitter, but I still feel guilty enough for now to round them up here on the blog every so often. But if you're wanting all news items at warp speed, best to start reading the Tweets.
* EYA has passed the news to me that all
Capitol Quarter
Phase I townhouse units are now sold. They are gearing up to begin sales of the Phase II houses, which will start "soon." (Though I wouldn't take your tent down to their sales office just yet.) I imagine they will do the releases of these next houses in groups based on location, as they did with phase I. It's still expected that the entire townhouse development will be built out by the end of 2012.
* Last weekend
Bisnow took a walk around the neighborhood
with a camera (a novel idea!), and gave their readers an update on some of the projects. The only section that I've not seen reported before is
Akridge
now saying that construction for their 700,000-sq-ft mixed-use
Half Street project
is now pegged at "hopefully before next baseball season," likely meaning 2011. But, "once shovels hit the dirt, the one residential and two office buildings will likely go up at once," Bisnow quotes an Akridge rep as saying. It also says that Forest City is "hoping" to get started on the
Boilermaker Shops
retail renovation at
the Yards
before the end of this year. (Lots of "hoping" going on!) There's even a picture of the Pillsbury Doughboy that gazes out over the neighborhood from
Capitol Hill Tower
.
*
Voice of the Hill says
there's a possibility of a temporary dog park being installed at the Virginia Avenue Park (Ninth and Potomac, SE), at least until CSX starts on its tunnel construction project (more on CSX coming in another post later today). This is coming to the forefront because the principal of Tyler Elementary has now banned dogs from the school's playing field.
* Some
neat overhead photos from DDOT
showing the progress on the
11th Street Bridges construction
. I'm hoping to get some ground-level images myself before too much longer.
*
CNN reports on
how Nationals Park has become a very hot venue for political fundraising, actively pursued and encouraged by the team. "[F]ederal candidates, major political parties, and political action committees have spent at least $432,000 on fundraising events either at Nationals games or at their facility, according to campaign finance documents filed with the Federal Election Commission."
Rounding Up Recent Links
Mar 8, 2010 2:32 PM
A few articles I've recently pointed to from my
Twitter feed
that might be of interest but aren't necessarily "news":
*
The Examiner says
the city spent $115,000 to house snow plow drivers at the
Courtyard
on New Jersey Avenue during the record February snowstorms--what we always refer to as the "trash transfer station" is also the city's snow plow yard, and so the drivers were being put up close by. (Lots of money was spent at McDonald's, too, presumably the one within walking distance on I Street.)
* The Nats' Stan Kasten speaks
to the DC Sports Bog
on the rumors of the NHL Winter Classic coming to town. ("I think it's a fun rumor, it's a fascinating rumor, [but] I really do think you're jumping a little bit ahead.... I think it would be great for our city, and great for our ballpark, and together we'd do a hell of a job.")
* In Senate testimony, US DOT secretary Ray LaHood used "the area around the ballpark" as an example of "livability" during a sharp exchange with Sen. Kit Bond. You can
see the video here
(skip to the 92-minute mark), or read the story about LaHood's testimony on
Streetsblog
.
* Three Nats games -- April 3, 7, and 8 -- have been deemed "official events" in the
National Cherry Blossom Festival
. (via
the Nats
)
* The ANC 6D meeting tonight is at the Courtyard in Near SE, but
SWDC Blog posted photos
of the commission's new digs in the about-to-open Waterfront development.
*
WashCycle thinks
that the 10-block temporary tunnel CSX says it will build on Virginia Avenue when reconstructing the existing tunnel ought to be kept for bike/pedestrian use ("lighting would have to be a must", they say).
This Week's Events (ANCs and M Street)
Mar 7, 2010 9:40 AM
The lineup. all front-loaded on Monday and Tuesday:
* Monday has the ANC 6D meeting (didn't we just do this?), at 7 pm at the Courtyard by Marriott at New Jersey and L, SE. The
agenda is now posted
, and includes updates on the Nats and the ballpark's
Transportation and Parking Plan
.
* Tuesday has Tommy Wells's
public meeting on improvements to M Street
, from 6-7:30 pm at the MPD First District station at 101 M St., SW.
* Tuesday is also
ANC 6B's meeting
, in its new home at 535 8th St., SE, at 7 pm. The update from CSX on the Virginia Avenue Tunnel project originally slated for this meeting has been moved to the April meeting.
Public Meeting on Improvements to M Street
Mar 3, 2010 8:09 PM
From
Tommy Wells's office
(via ANC 6D):
"Please join us to discuss the possibilities for M Street.
Tuesday, March 9th, 6:00 - 7:30 pm
MPD First District Station, 101 M Street, SW
"Councilmember Wells, in conjunction with the Southwest Neighborhood Assembly and ANC 6D, is hosting a neighborhood meeting to discuss how Southwest and near Southeast neighborhoods can make safety improvements to M Street through what's known as a 'complete street.'
"'Complete street' is a term of art for planning and renovating streets to reduce the number and speed of cars on the roadways, provide better pedestrian safety and access, and support alternate means of travel that connects neighborhoods. Currently, AARP and other advocacy groups strongly support the concept for the potential it holds to build better and safer streets for seniors, families and other pedestrians. AARP will attend to share its efforts to bring complete streets to more communities like ours.'
For much more information on the "complete street" concept, here's the
National Complete Streets Coalition web site
. I also imagine that the
M Street bike lanes concept
that was presented to BID members a few months back will be discussed at this public meeting as well.
UPDATE: Just a note that, for people who are wanting to attend this but are worried about the conflict with ANC 6B's meeting that night, I'll note that the planned update from CSX about their Virginia Ave. Tunnel project has been postponed to 6B's April meeting.
Virginia Ave. Tunnel Project Doesn't Get TIGER Funding
Feb 18, 2010 12:17 PM
On Wednesday the US Department of Transportation announced its
TIGER grant awardees
, and while the massive
National Gateway
rail project did receive $98 million, it was for a stretch of rail in Ohio, Pennsylvania, and Maryland, and not for the projects planned in DC, including the expansion of the
Virginia Avenue Tunnel
, which would result in a multiyear closure of the street in order to add a second track and lower the track bed to allow for double-height cars.
ANC 6B03 commissioner Norm Metzger
received a statement from CSX
that says: "The Virginia Avenue tunnel piece is a 2-3 year project that we would like to have finished in time for the expansion of the Panama Canal in 2015. Our original intent was to pursue funding through the transportation authorization bill, and this will continue as will seeking other funding opportunities." (I'm trying to find out more about this authorization bill they're talking about, using my
best source for what's going on in Congress
, but don't have anything just yet, other than the fact that there isn't an actual authorization bill currently written or under debate.)
In other words, as of now there's still no indication of when this project will start, which may or may not be good news for the people who have put down deposits for the row of Capitol Quarter townhomes along Virginia between Third and Fourth, since the lack of impending construction may be offset by the uncertainly of when the hammer might finally drop. For more on the project, read my
various past entries
, and also
the documents that CSX submitted
last year to the National Capital Regional Transportation Planning Board for some additional details.
Comments
(13)
More posts: CSX/Virginia Ave. Tunnel
A Few Tidbits While Waiting for Normalcy to Return
Feb 15, 2010 11:02 AM
Some small items I've
tweeted
(or just forgotten to post) recently:
* Construction delays related to last week's epic snows have put the kabosh on the
trapeze school
's planned opening today--they may open for business on Friday, Feb. 19, but are still in need of their certificate of occupancy. Check their
web site
or
Facebook group
for updates.
*
ANC 6B commissioner Norm Metzger
is following CSX's plans for expanding the Virginia Avenue Tunnel pretty closely, and has recently passed along a link to a new "National Gateway Project Updates" web site, including
this page on the Virginia Avenue portion
. CSX still isn't really giving any details about how the construction will impact the area, but they are certainly touting all the public meetings they've been to! In a similar vein, Norm also posted a link to a new blog, "
Capitol Hill Against Railroad Tunnel Expansion
," by folks who are unhappy with the plans.
* Look for ANC 6D's monthly meeting to be rescheduled to some day this week--they didn't send out any announcements as their attempts to hold the meeting last week were postponed, so
checking their web site
for the new date will be necessary.
ANC 6B
has rescheduled its meeting to Feb. 23.
*
WBJ reports
that the city used $10 million in surplus receipts from the ballpark tax to "shore up its fiscal 2010 budget," instead of paying off the ballpark debt early, which was what businesses who pay the tax expected to happen in the event of surpluses. And they're not happy.
Yards Gets LEED Gold; Buzzard Point Planning; Other Links (Parking, DOT HQ, Lower 8th, Jeff Neal)
Nov 24, 2009 9:42 PM
*
The Yards
has been designated a
LEED Gold Certified Neighborhood Development Plan
, based on the 42-acre project's stage two design plan, which "integrates the principles of smart growth, urbanism, and green building into the first national system for neighborhood design."
Read Forest City's press release
, or learn more about the
LEED for Neighborhood Development
program.
*
Southwest...The Little Quadrant With the Really Long Blog Name
(hey, we kid because we love)
gives a full report
on the meetings last week to create a plan for Buzzard Point. The American Planning Association
has posted its press release
summarizing the sessions, saying that "Buzzard Point is a distinct area and should build on its strong existing residential character" and that any future plans should "[a]void using a cookie-cutter approach to redeveloping the neighborhood; the type of redevelopment taking place east of South Capitol Street is not what should occur west of South Capitol Street." (Yikes, now there's going to be a rumble in the
South Capitol Street
median.)
* Michael Perkins is not the person you want to be
unable to find a parking space
. Speaking of which, here's the
second part of GGW's report
on last week's Ward 6 Performance Parking public meeting.
* The
US Department of Transportation HQ
on M Street has been named a winner of
the Phoenix Award
, which "honors excellence in brownfield redevelopment" and honors companies and individuals who have worked "to solve critical environmental and community challenges when transforming formerly used real estate into productive new uses."
*
Voice of the Hill reports
on the latest
Lower 8th Street visioning sessions
: "Barracks Row Main Street executive director James Dalpee suggested that a Columbia Heights-style model, with several big anchor stores, might be what's needed to spur retail in the area," though "while they are dreaming big dreams, planners also have to contend with a number of potential obstacles. They include CSX's plans to tear up Virginia Avenue from 2nd to 11th streets for up to three years to make room for a double-stack train tunnel; the Marine Barracks master plan, which is set to be unveiled soon; and the
11th Street Bridges expansion project
."
* WBJ's
Breaking Ground blog
points to a video by the Huffington Post's investigative unit on "
Commercial Real Estate: the Next Hole in the Economy
," which "stars" Jeff Neal of Monument Realty talking about the buying "binge" his company went on
to snap up lots
around the ballpark site in 2004 and 2005. (Though I think it's funny to see WBJ getting a bit snippy about news organizations "discovering holes in the ground" after they did, since I'd be willing to wager that they weren't the first to report on those sites, anyway.) WBJ also says that Neal is developing a reality TV show. Also be sure to check out the comments on
the YouTube video
for the sort of level-headed, reasoned discourse that we've all become accustomed to on the interwebs.
NBC4 Covers CSX/Virginia Ave./Capitol Quarter
Nov 17, 2009 8:08 PM
NBC4's Tom Sherwood did a piece today
on CSX's plans to expand the Virginia Avenue Tunnel, and he focused on a to-be owner of a
Capitol Quarter
townhouse on Virginia Avenue (in the block between Third and Fourth, where foundation pouring is currently underway). There wasn't any real news in the piece for people who've been
following the story recently
, but it does highlight that that one block could really become a problem for CSX, and is perhaps an issue that no one had given much thought to. (But, in their defense, it's not like there was a five-year window when Virginia Avenue was completely deserted. Oh, wait....) I also wonder how the city agencies that will be new tenants at
225 Virginia
will handle the impact of three years of construction outside their front door.
There still aren't any details posted online by CSX or the District about exactly how the Virginia Avenue Tunnel project will work (though
we do have notes
from their various recent public outreach sessions), but at a cost of about $140 million, it's not a small piece of the $842 million "
National Gateway
" project. In the
documents that were part of
the National Capital Region Transportation Planning Board vote on the project back in September, CSX described the Virginia Avenue Tunnel as a "bottleneck that when unlocked improves the freight efficiency and mitigates the expected freight growth in the region."
Back Soon, I Promise; But Here's a Few Tidbits
Nov 13, 2009 1:15 PM
I warned last week that this was going to be a week where I'd be missing almost everything, and I haven't disappointed. This is probably the longest period this site has been quiet in many years, and I apologize. But all will be back to normal in the next few days, and I'll catch up with all the various doings, I promise.
In the meantime, mark your calendars for two meetings:
The next
Lower 8th Street Visioning sessions
, on Nov. 17 at 8:30 am and 7 pm, where one topic of discussion is apparently going to be the CSX plans for Virginia Avenue. (This was discussed at Tuesday's ANC 6B meeting, and one of my readers was nice enough to
send his detailed notes from the session
; also, here's
the report from The Hill is Home
.)
The next night, on November 18, DDOT is
holding a public meeting on the Ward 6 Performance Parking Pilot program
. There will be updates on signage improvements, the revenue generated from the meters, plans for "non-automotive transportation improvement modifications" that will be paid for with the meter revenue, and more. It's at Friendship Baptist Church, 900 Delaware Ave., SW, from 6:30 to 8:30 pm. If you're not sure exactly what the Performance Parking Pilot program is,
here's the scoop
.
Also, I see on the DCRA Building Permits Feed that the building permit for Justin's Cafe at
Velocity
was approved on Nov. 9. No evidence yet online of a liquor license application yet.
Hope this can satisfy everyone's insatiable thirst for Near Southeast news for a little while longer....
Canal Park Briefing at ANC 6D; CSX Meetings; Lower 8th Street Documents and Agenda
Nov 5, 2009 9:46 PM
Here's a bunch of little items and event reminders. Alas, next week's pile of happenings come at a bad time on my calendar, and I'm going to have to miss almost all of them, so this would be a good chance for everyone to attend these meetings themselves instead of sitting around waiting for me to tell you what happened at them. :-)
*
ANC 6D
(Southwest and Near Southeast) has posted the
agenda for its November meeting
, which includes an update on the plans for
Canal Park
. It's on Monday, Nov. 9, at 7 pm, at St. Augustine's, Sixth and M streets, SW.
* The next night,
ANC 6B
(Capitol Hill SE and Eighth Street) is having its November meeting, where there will be a presentation by CSX on its planned Virginia Avenue Tunnel construction. (Voice of the Hill
recently wrote about the plans
, and you can
read my posts
about them, which include links to some source documents.) ANC 6B's meeting is Nov. 10 at 7 pm at the Old Naval Hospital at 921 Pennsylvania Ave., SE.
* Plus, the Friends of Garfield Park are having their own informational meeting about the CSX plans, on Thursday, Nov. 12, at 7 pm at Capitol Hill Day School (Second and South Carolina, SE).
* The
Lower 8th Street Visioning Process
folks have posted the
minutes
,
historical background
, and
main presentation slides
from their two October sessions. They've also posted the agenda
for their November meetings
, scheduled for 8:30 am and 7 pm on November 17 at the People's Church, 535 Eighth St., SE.
* And, if these events aren't enough for you, you can also watch on Nov. 12 the city council's Committee on Finance and Revenue Hearing on the bill that would allow the sale of bonds via the city's CFO office that would pay for a considerable amount of "Phase 3" infrastructure work for
Capper/Carrollsburg
redevelopment, encompassing some as-yet-undetermined combination of underground work on the Second Street blocks, the relocation of the DPW operations at New Jersey and K and demolition of that block, and the construction of I Street between Second and New Jersey. (This is above and beyond the
$9.5 million in federal stimulus funds
that the city is receiving to allow
Capitol Quarter's second phase of townhouses
to go forward.) The council hearing is on the 12th at 10 am, and you can watch on DC cable channel 13 or via the
channel's web site
.
Here's my post about this proposed bill
, if you want to know more.
RiverFront/Florida Rock Seeking Time Extension From Zoning Commission; More Zoning, CSX, CapitalSpace
Oct 18, 2009 2:49 PM
The agenda for
Monday's ANC 6D meeting
has been posted, with two Near Southeast items listed. The first is that the developers of the
RiverFront
(aka Florida Rock) site between the Anacostia and the
ballpark
are apparently filing for a time extension on their zoning PUD ("planned unit development," for those of you mercifully unaware). When the
zoning approval
for this project
finally came through in 2008
(after years of slogging through the process), the developers were given until May of 2010 to apply for building permits for the first phase of the project (an office building on the east end of the site, near
Diamond Teague Park
), with construction then required to start by May 2011. So, although
it was recently reported
that
Florida Rock Properties
is looking for an equity partner to help finance the development of the site, they clearly believe that it will be tough for them to meet the zoning order timeline.
Timeline extensions are increasingly common cases being heard by the Zoning Commission these days, as financing for commercial real estate development continues to be extremely difficult to procure; the
Capper redevelopment
received one
earlier this year
. I don't yet see a hearing date for FRP's extension request on the
zoning calendar
.
In other tidbits:
* Also on the 6D agenda is the "
Casa degli Angeli
" at
Third and L
, which has a Board of Zoning Adjustment hearing
scheduled for Nov. 17
. The six-unit building, which is currently operating as a month-to-month room rental, is looking for a zoning change to become a full-fledged bed and breakfast.
* The latest issue of
Voice of the Hill has more detail
on the CSX plans to expand the Virginia Avenue tunnel; you can read
the documents that CSX submitted
to the National Capital Regional Transportation Planning Board for some additional details. Quoting the Voice: "CSX spokesperson Bob Sullivan said the project would take between two-and-a-half and three years, while a District Department of Transportation Department official made a slightly lower estimate. 'We anticipate that there would be some traffic impacts during the course of this project, which is probably going to last a couple of years,' said agency spokesperson John Lisle.'" Neighbors in the area are concerned: ANC 6B will be getting a briefing about the plans at its Nov. 10 meeting.
* On Oct. 27,
there's a public meeting
about the
CapitalSpace plan
, "the first comprehensive analysis of Washington's parks and open space in almost 40 years," which is attempting to get the various federal and local agencies that run the many parks in the city more closely coordinated, along with other plans to improve the parks themselves. The meeting is at the MLK Library from 5:30 to 7:30 pm.
Roundup of Recent Little Items
Sep 28, 2009 7:23 PM
Some
recently Tweeted tidbits
, and a few other morsels:
* Cornercopia is now open on Sundays from 10 am to 6 pm, according to
a Tweet from Albert
today.
* It's the last homestand of the 2009 season at the ballpark, with a 7:05 pm start on Tuesday and a 4:35 pm on Wednesday. (Oh--it's the Mets.)
* There's going to be a
big Halloween shindig at the Bullpen
on Oct. 31 from 9 pm to 1 am; three bands, a DJ, and costumes required.
*
Velocity Condos
is having its
"Grand Opening" event
on Oct. 3 and 4. Settlements on units in the building
were supposed to begin on Sept. 21
, but I haven't heard whether they have indeed started.
*
WAMU did a brief report this morning
on the BID's work (via events like the recent picnic and walking tour) to drum up interest in the neighborhood, especially to show retailers that there's a customer base. "Some 2,100 people live in the redevelopment zone, but McManus says more 'urban pioneers' need to arrive before retailers can move in."
* A group of owners, merchants, and residents working on ideas to perk up the southern end of Eighth Street (south of the freeway)
now have a blog
. There are apparently going to be a series of public meetings as part of the "visioning process," on Oct. 20, Nov. 17, Dec. 15, and Jan. 19, at 8:30 am and 7 pm. Their aim is to "attempt to gain consensus on a vision for the area and to address issues of height, density, mix of uses, parking and access, as well as what should be the character of a redesigned Virginia Avenue Park as an amenity or community benefit for the Capitol Riverfront neighborhood and Capitol Hill. If consensus can be reached on the vision, it could serve as the basis for asking the Office of Planning to develop a small area neighborhood plan that could then be used as justification for any agreed upon zoning or density changes."
* The
Examiner reported last week
that CSX is proposing to expand the amount of freight it moves through DC, which would require the expansion of the Virginia Avenue tunnel, the New Jersey Avenue overpass, and other locations to allow for double-height rail cars. The plan is supported by the National Capital Regional Transportation Planning Board and by DDOT.