Near Southeast DC: Past News Items
Community Center
Go to Full Blog Archive
---
29 Blog Posts Since 2003
Go to Page:
1
|
2
ANC 6D Doings, Part 1: Artomatic, Nats Express, and Capper PUD Modification Requests
Dec 8, 2008 11:10 PM
Just got back from ANC 6D's meeting, and I'll leave you waiting until Tuesday for the first details on
Akridge's Half Street plans
(I don't want to give it short shrift) but here's the other Near Southeast items of the evening:
* Commissioner David Sobelsohn said an announcement is likely coming next week that the city's 2009
Artomatic
festival will be held in ANC 6D, "most likely ANC 6D07" (which is Near Southeast). I know nothing more than that.
* Sobelsohn also introduced a resolution to send a letter to Tommy Wells, DDOT, and other officials expressing the ANC's support for the continuation of free parking at RFK and the Nats Express shuttle buses "to reduce the incidence of illegal on-street parking in ANC 6D by people attending events at Nationals Park." The resolution passed 6-0. A few weeks ago it was reported that
Wells wants to discontinue the service
.
* The DC Housing Authority came requesting the ANC's support for
a series of zoning items
having to do with the
Capper
PUD, including extending some deadlines and also expanding the number of residential units offered. (You can
read all about them here
; I'm too worn out to go into them all again tonight.) There wasn't much discussion of the request itself, because the commissioners were, shall we say, displeased that a huge packet of supporting materials arrived on their doorsteps just last Friday (6D07's Bob Siegel didn't receive his at all, and were unmoved when told it was basically the same information they had received in July.
There was also displeasure expressed about the request to delay the start date for the
Community Center
at 5th and K to 2012, with the commissioners wondering what level the DCHA would consider a "critical mass" of residents that would make the center viable. (Only 300 of the planned 1500 units have been built so far, so it would seem that the threshold might perhaps be a bit higher.) But the Housing Authority made clear that obtaining financing for the project is the larger hurdle. The support request will be brought up again at the ANC's January 12 meeting.
* I admit that I didn't stick around for the late-in-the-agenda item on the
Capper trash enclosures
. But DCHA mentioned that they had met with the city's Public Space Committee in advance of their monthly meeting, and were making progress on modifications to the design. ANC chair Moffatt asked if the enclosures still exist at all in the new design, and when he got the "yes" answer, that ended the discussion.
What's Next at Capper/Carrollsburg
Jul 31, 2008 12:04 PM

While the focus lately has been on the start of the
Capitol Quarter townhouses
, there is more to the redevelopment of the old Capper/Carrollsburg public housing complex. There are the two completed seniors buildings (
Capper Seniors #1
and
400 M Street
), now providing 300 of the 700 old Capper public housing units that are being replaced. The first phase of Capitol Quarter includes 39 subsidized rental units, and the second phase (which is probably not going to start delivering until 2011) will have another 47 subsidized rentals; this is in addition to the sales of 121 market-rate and 91 workforce-rate townhouses throughout both phases. That leaves a little over 300 public housing units to come, which will be included in the 1,300 apartments expected to be constructed at Capper over the next five years or so.
There are
five new apartment buildings
slated to be built, three of which along the east side of
Canal Park
where the temporary parking lots are, and another at New Jersey and K on the trash transfer site. And there is a new plan for a fifth apartment building, on L Street across from the
Marine Bachelor Enlisted Quarters
(B.E.Q), on the northern portion of the
old Capper Seniors
footprint.
Under the
original Capper plans
, there was to be a strip of 61 townhouses built on this spot, but the DC Housing Authority has recognized that these homes would be dwarfed by the B.E.Q. to the north and the two planned office buildings directly behind them at 600 M Street. So DCHA has now
filed a request with the Zoning Commission
to allow an expansion in the total number of housing units allowed at Capper to 1,747, which would allow the construction of a four-story 189-unit apartment building (with a massing very similar to the B.E.Q.) on this stretch of L Street known as Square 882N. This Zoning Commission request is also looking to expand the number of units in the planned apartment building on the south side of L Street between Second and Third (let's call it Square 769N) to 171 units, as a result of its block-mate
250 M Street
having
recently gotten approvals
to be built higher than originally requested.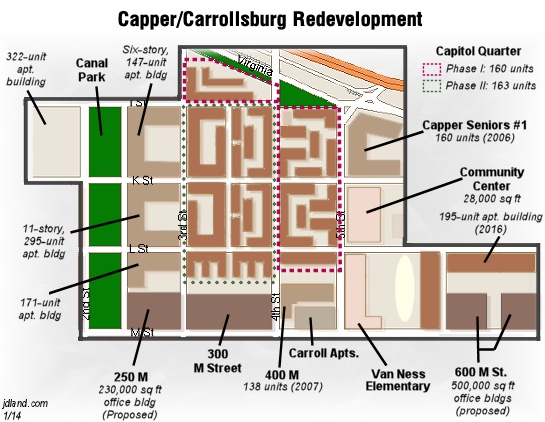 I've updated the map and descriptions on my
Capper Overview page
to reflect these latest plans for the area, and it's worth taking a look at if you're not really familiar with exactly how wide-ranging the Capper Planned Unit Development is. (Reading the
2004 zoning order
establishing the PUD and laying out the requirements isn't a bad idea, either.) I should also note that the apartment and office buildings will combine to have about 50,000 square feet of ground-floor retail. There should also be a new community center at Fifth and K, but it doesn't seem to be on the front burner just yet.
Of course, the question then becomes: when? Timelines are always dicey and should be taken with a couple pounds of salt, but it appears that these two L Street apartment buildings (882N and 769N) would be first up on the agenda, perhaps being delivered in 2011. The other two buildings on Second Street would come next, and the anticipated 400-unit building on the trash transfer site would probably be the last one to be built, finishing maybe sometime in 2013. The three office buildings and the second phase of Capitol Quarter townhouses would be sprinkled throughout that time frame as well, with 250 M Street probably being the first office building to get underway, possibly even later this year. (Have I thrown in enough "maybe"s and "possibly"s and "perhaps"s for you?)
At least these plans don't have to wait until school buses get moved!
Capper/Carrollsburg Groundbreaking (and Capper Background)
Jun 24, 2007 10:30 AM
The DC Housing Authority is having a
groundbreaking ceremony
on Tuesday (June 26) at 11 am for the first phase of the
Capper/Carrollsburg
mixed-income townhouses (i.e.,
Capitol Quarter
), at 4th and L by the EYA sales office. This isn't a signal for the actual start of "vertical" construction, though--that won't begin until later this year.
And maybe this makes for a good time to have a
refresher
on what exactly "Capper/Carrollsburg" is:
In 2001, DC
received a $34.9 million Hope VI grant
to redevelop the 23-acre 700-unit Capper/Carrollsburg public housing project as a mixed-income development, replacing every one of the low-income units and then adding to them another 700-plus market-rate and workforce-rate rental and ownership units. The redevelopment project is being handled as a joint venture by
Forest City Washington
,
Mid-City Urban LLC
, and the Housing Authority.
The
townhouse
portion of the redevelopment, being marketed by
EYA
as Capitol Quarter, will have approximately 121 market-rate and 91
"workforce"-rate
ownership houses; an additional 65 townhouses will contain 111 subsidized rental units and Section 8 ownership units. The market-rate houses are already being made available for reservations in monthly blocks, with the attendant
tent cities popping up
at the sales center as hopeful homeowners stake their claims. There was a lottery back in 2006 for the first 20 workforce units; I imagine another will be coming before too long.
Three hundred low-income rental units have already been completed (or are about to be) as part of the new
Capper Seniors #1
and
Capper Building #2
projects. The rest of the public housing rental units will be included in
four mixed-income apartment buildings planned
along
Canal Park
, three on the eastern side of the park between 2nd and 3rd and I and M, and a fourth on the site of the DPW Trash Transfer lot at New Jersey and K. None of these are anticipated to start construction before 2010, so in the meantime,
temporary surface parking lots
will soon appear on those blocks to help ease the expected
Nationals stadium
parking crunch.
Additionally, 700,000 sq ft of office space will eventually be built within the Capper redevelopment area;
250 M Street
is a 190,000-sq-ft joint venture between
William C. Smith
and the DC Housing Authority, and although it now has all of
its zoning approvals
, we just learned
a few days ago
that Smith is going to wait until the building is 30 percent leased before beginning construction. There will eventually be another 500,000 sq ft of office space developed at 7th and M on the site of the
old Capper Seniors building
(itself scheduled to be demolished late this year), but with no current timetable for that project a temporary surface parking lot is coming to that site as well. There will also be another 30-45 townhomes built along L Street behind these new office buildings, but those are a long ways off.
Topping it all off, a new 28,000-sq-ft
community center
is planned at 5th and K, replacing the one demolished earlier this year. It could start construction in 2008, but those plans might change if, say, a developer or the Housing Authority manages to snag from DCPS the Van Ness Elementary School site at 5th and M, which
was closed in 2006
and is now administrative space. A new elementary school could be then constructed to serve families as they move into the rebuilt Capper neighborhood, and the community center could be part of the school rather than being a standalone project. But with the changes in the structure of the public schools' governance, who knows when any decision like this could happen, if at all. Just some Sunday morning speculation for you.
(This info has all been available on my
Capper overview page
, but it's good to get it out front once in a while.)
Community Center Demolition Underway - Update: Now Finished
Mar 24, 2007 10:54 AM
Demolition has begun of the old
Capper Community Center
at 5th and K--this will eventually be replaced with a new two-story 28,000-sq-ft center (see renderings on
my page
) that will include a daycare facility for 66 children, a rec center, a computer lab, a gym, a game room, and meeting/classrooms. I'm told that the Spring 2007 issue of
Architecture DC
has an article about the center and some renderings, but it's not online and I haven't seen the print version yet; I'll post it here when it's available on their site. I'll add photos of the demolition soon.
UPDATE, 3/24:
Oops, meant to mention that the Community Center's demolition was completedearlier this week.
Its page
has been updated again with photos, and it's now Addition #116 to my
Demolished Buildings
page.
More posts: Community Center
Today the saga of the
Capper/Carrollsburg
residential demolition neared its end, as the last building at 2nd and L (which stood partially demolished for most of December) was finally brought down, and one of the four buildings on the final block (bounded by 2nd, 3rd, K, and I) came down; a good portion of one of the other builidings was stripped away as well. I
took a few photos
of the changed landscape, even though it was an ugly day for pictures. Apparently sometime in January the demolition team will then move to 5th and K to demolish the
old community center
, at which point the only remnant of the entire 51-building old Capper/Carrollsburg will be
Old Capper Seniors
at 7th and M, which will itself be demolished once its residents are moved to Capper Seniors
#1
and
#2
. (The city is eyeing that lot for possible baseball parking, even though it's eight blocks from the
stadium
, so I'm betting Old Capper Seniors will be gone by April 2008.) And then the wait will begin for the construction of the new
Capitol Quarter
townhomes (most likely to begin in Spring 2007) and the announcement of when any of the planned apartment buildings for the stretch between 2nd and 3rd will begin to move forward.
News from
Zoning Commission
land: at Monday's meeting, the
text amendment to the Capitol Gateway Overlay
about the
stadium
was finally approved. As soon as it gets posted in the
DC Municipal Regulations
, I'll post it here, although in the meantime you can read the
text of the amendment
from the July 29
DC Register
. In other DCOZ news, there will be a
hearing on Dec. 19
on
Capper/Carrollsburg
, to consider Phase I Final Approval and modifications to the consolidated and prelimary PUD. Phase I final approval references the land between 3rd and 4th and K and M Streets, where they are proposing to build 91 3- to 4-story residential units (note that the existing private homes in these blocks will not be demolished); this application also addresses the plans to build a new community center on 5th Street between K and L Streets. At the ANC 6D meeting on Oct. 17, it was indicated that the breakdown of the 91 units would be: 51 units would be 3-4 bedroom townhouses sold at market rate or moderate (80%-120% median income), 11 would be section 8 ownership units, and 29 would be public housing rental units. These units are in addition to the ones already in the pipeline for the blocks between 4th and 5th and Virginia and M--there will be a total of 208 market-rate townhouse units in these first two phases. The community center will include a daycare facility for 66 children, a rec center, a computer lab, a gym, a game room, and meeting/classrooms. AND 6D will be voting on this at their Nov. 14 meeting.
29 Posts:
Go to Page:
1
|
2