Near Southeast DC: Past News Items
Capitol Quarter
Go to Full Blog Archive
---
A Few Upcoming Events, and a Few New Photos
Aug 2, 2010 11:23 AM
This week's calendar of events:
* Tuesday at 5 pm is
PSA 105
's "ice cream social and dog treat event" to celebrate
America's Night Out Against Crime
. It will be held across the street from the MPD 1-D substation at 5th and E, SE, in Marion Park. (Also, for your long-range calendar, note that the PSA's annual dog show will be on Sept. 25 at 10 am, also at Marion Park.) If you're just tuning in, PSAs are the Metropolitan Police Department's
Police Service Areas
.
* Also on Tuesday, at 6:30 pm, is the second Capitol Riverfront Heritage Trail Meeting, a joint project between
Cultural Tourism DC
and the
Capitol Riverfront BID
to create a Neighborhood Heritage Trail for the area. It's at Capper Seniors #1, 900 Fifth Street, SE. (Here's
the flyer for the first meeting
.)
*
Thursday's outdoor movie
, weather permitting, is
Rocky
. It starts at 8:45 pm at
Canal Park
.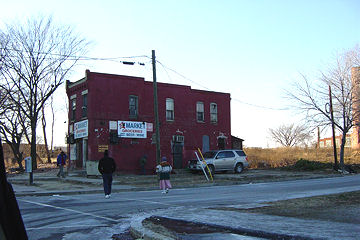 And, I took a long-delayed photo trek around the neighborhood on Sunday (though remind me to never do it again on a game day--too many cars and buses getting in the way!). They aren't really terribly exciting pictures, and the clouds were uncooperative at times, but I did get updated images of the progress at
1015 Half Street
, and of the final block (
east
and
west
sides) of
Capitol Quarter
's first phase. And I
documented the now-empty space
where the Little Red Building used to be. You can also
browse the entire batch of the days' photos
, and click on the
icon to see all photos for a given location.
Brief Break from Blogging Breather for Bullet Points
Jul 9, 2010 2:36 PM
I'm still eyeing a couple more days of (mostly) blog-free living, but a few items should probably be mentioned before the weekend, and so that you don't think I'm never coming back. First, the calendar:
* On Monday at 6:30 pm, the Zoning Commission will take up the Housing Authority's new request for another time extension to the
zoning order
that requires construction of the
Capper Community Center
. DCHA had asked for a two-year extension last year, but
was only granted one year
, and made clear at that time that they didn't foresee having the money to start the center in that shorter time frame, and that they'd be back to ask for another extension. And now they are.
* Speaking of the community center, there's now a big sign on its footprint (at Fifth and L) touting that the second phase of
Capitol Quarter
's townhouses is being funded by the American Recovery and Reinvestment Act.
But you knew that already
.
* Monday at 7 pm is the monthly ANC 6D meeting. I was hoping the agenda would be out before I posted this, but alas, no. Check back here or on their
web site
to see what scintillating topics will be up for discussion. (
UPDATE:
the agenda is
now out
, and there's nothing really major on it, other than a public space permit for the street work for Phase 2 of Capitol Quarter.)
* On Tuesday, July 13, the Capitol Hill Group Ministry is having its "
All-Star Party Night
" at
Nationals Park
, offering the chance to take batting practice, throw pitches in the bullpen, tour the locker room, meet Teddy, and more. Tickets are $55 per person and $15 for children under 12, with proceeds going to CHGM's programs for homeless and low-income families.
And a few other items:
* Today's
WBJ reports
that a third piece of "public" art is coming to
Nationals Park
; this time it will be 30 "stainless steel-domed forms which will accurately follow the theoretical model of the trajectory of a curving fast-ball pitch," which will be hung early next year on the exterior of the eastern garage. The steel spheres with cutout "laces," each seven feet in diameter, will feature programmable LED lights; the piece will cost about $950,000. As for the other two pieces of public art already at the stadium (the bronze statues in the Center Field Plaza and the "Take Me Out to the Ballgame" mobile near the First Base Gate), I'll quote WBJ's Michael Neibauer: "The first two pieces of public art at the stadium were, to be kind, not well-received at their unveiling in April 2009. The works were selected by arts professionals and D.C. residents, according to the arts commission, but some wonder: Did anyone ask the fans?"
* A reader reports that the
Anacostia Boathouse
at 11th and O, in between the
11th Street Bridges
spans, has been demolished, which was expected because of the footprint of the new bridges. Haven't seen for myself yet to confirm.
* And I haven't felt the earth shift on its axis yet, so I assume the Little Red Building's exterior is still standing, although interior demolition has been going on all week.
Comments
(7)
More posts:
11th Street Bridges
,
ANC News
,
Boathouse Row
,
Capper
, Capitol Quarter,
Community Center
,
Little Red Bldg/Lot 38 Espresso
,
meetings
,
Retail
,
Nationals Park
,
zoning
Agenda for June 14 ANC 6D Meeting
Jun 11, 2010 3:21 PM
The
agenda is now posted
for Monday's ANC 6D meeting, and it does have a few Near Southeast-related items on it. So it follows logically that I'm not going to be able to be there.
Items include: A report from the housing authority on a request for a zoning time extension for the planned (and long-delayed)
community center
at Fifth and K streets, SE; an update on the
upcoming second phase
of
Capitol Quarter
(which EYA tells me resulted in 11 reservations in the first 15 days); an update on the stadium
Traffic Operations and Parking Plan
, presumably coming out of the two recent
public meetings
; and reports/possible votes on Justin's Cafe's proposed sidewalk cafe and the proposed "Harry's" liquor store at New Jersey and I, both of which you can get more detail on
from my report on last week's ABC subcommittee meeting
.
The meeting is at 7 pm at St. Augustine's church at Sixth and M streets, SW--they're trying to get moved to their space in the new Waterfront buildings, but it still hasn't happened.
I'm going to try to find out more about the
community center
request, though I imagine there isn't much more to it other than DCHA says it doesn't still have the money to build it yet and so can't meet the deadline that was set in the zoning
PUD
(planned unit development) for Capper. The time frame for the community center
has already been extended once
, and in fact DCHA told the Zoning Commission last year that they fully expected that new deadline of filing building permits by Jan. 1, 2011, would be too short and that they'd be back to request another extension. Which appears to be what's transpiring.
Comments
(0)
More posts:
909 New Jersey
,
ANC News
,
Capper
, Capitol Quarter,
Community Center
,
Restaurants/Nightlife
,
Harry's Reserve
,
Justins Cafe
,
liquor
,
meetings
,
Retail
,
Traffic Issues
,
zoning
Capitol Quarter Phase II Update
May 23, 2010 9:23 PM
I'm untethering myself from
Lost
long enough to pass along the news from
Capitol Quarter
that six houses were reserved in today's first offering of Phase 2 units, and apparently more will be released on Monday. (I don't know which, or anymore beyond that.) Now, back to my last precious moments with
Desmond
.
Presto! Capitol Quarter Phase II Announced
May 18, 2010 8:44 PM
An e-mail has just gone out from EYA saying that "reservations for Phase II market rate townhomes at
Capitol Quarter
will begin on Sunday, May 23rd, at 11 AM on a first come, first served basis." Nine houses will be made available in this first batch, ranging in base price from $640,000 to $829,000. The specific models and more information
are available here
; the e-mail also says that other homesites made be made available. (See
yesterday's entry
for more details.)
Capitol Quarter's Second Phase Coming *Very* Soon
May 17, 2010 10:39 PM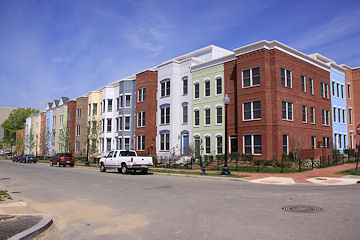 The news has filtered my way that EYA is about to begin taking reservations for market-rate townhouses in the second phase of
Capitol Quarter
. The timeframe is *very soon*, quite possibly within the next week or so. This phase will cover the three remaining blocks of the development, between Third and Fourth streets SE, south of I down to the stretch just south of L (backing up to the 300 M Street office building). There will be infrastructure work to do first (including carving out the new north-south "3 1/2 Street" running between I and L), with "vertical construction" then starting in the fall, followed by the first move-ins happening in mid-2011. There will be 77 market-rate and 34 workforce-rate houses, 47 affordable rental units, and five Section 8 purchase units. (There will be a lottery for the workforce units, but I don't know when.)
When I get word of when reservations will start being taken, I will post ASAP. I don't know if there will be people camping out like in the
old
days
, but it will be interesting to see the response. I don't know anything about prices or anything else beyond the fact that we'll know more soon.
One footnote that might be of interest: what helped get this second phase kicked off was the
$9.5 million grant from HUD
that the DC Housing Authority received late last year, which came from a pool of federal stimulus funds. DCHA had been unable to get any financing for the second phase throughout last year thanks to the moribund municipal bond market, but the HUD grant allowed DCHA to pay for the completion of construction drawings, the land preparation costs, and other costs that then made it possible for the second phase to begin to move forward.
New Photo Batch, at Last (Capitol Quarter)
May 1, 2010 12:19 PM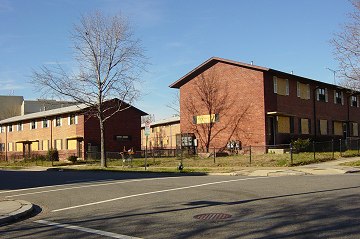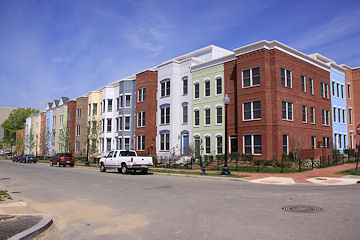 I haven't been able to go anywhere near
Fifth and Virginia
for weeks now without feeling desperately guilty--I haven't taken photos of the
Capitol Quarter
construction there since JANUARY. (In my defense, that intersection is my personal Waterloo--I've never been able to standardize my spots for photos.) I also hadn't gotten updated photos along the northern part of Fourth Street since
the snows of February
. I've been a little better about the upper block of Third, but not a lot.
Recent Tidbits (Cap Quarter Sold Out, Akridge in 2011, Va. Ave. Dog Park?, Photos of 11th Street Bridge Work)
Apr 9, 2010 9:59 AM
With the
opening
of the 2010 season at the
ballpark
and
lots
of
other
interesting
news
of late, my blogging time and focus has been geared toward these bigger items. But there's a fair amount of little stuff that I point to every day on my
Twitter feed
(also available on
Facebook
), mainly news stories that might be of interest but that aren't really important or newsy enough to devote much more than 140 characters to. I may eventually transition to leaving those completely to Twitter, but I still feel guilty enough for now to round them up here on the blog every so often. But if you're wanting all news items at warp speed, best to start reading the Tweets.
* EYA has passed the news to me that all
Capitol Quarter
Phase I townhouse units are now sold. They are gearing up to begin sales of the Phase II houses, which will start "soon." (Though I wouldn't take your tent down to their sales office just yet.) I imagine they will do the releases of these next houses in groups based on location, as they did with phase I. It's still expected that the entire townhouse development will be built out by the end of 2012.
* Last weekend
Bisnow took a walk around the neighborhood
with a camera (a novel idea!), and gave their readers an update on some of the projects. The only section that I've not seen reported before is
Akridge
now saying that construction for their 700,000-sq-ft mixed-use
Half Street project
is now pegged at "hopefully before next baseball season," likely meaning 2011. But, "once shovels hit the dirt, the one residential and two office buildings will likely go up at once," Bisnow quotes an Akridge rep as saying. It also says that Forest City is "hoping" to get started on the
Boilermaker Shops
retail renovation at
the Yards
before the end of this year. (Lots of "hoping" going on!) There's even a picture of the Pillsbury Doughboy that gazes out over the neighborhood from
Capitol Hill Tower
.
*
Voice of the Hill says
there's a possibility of a temporary dog park being installed at the Virginia Avenue Park (Ninth and Potomac, SE), at least until CSX starts on its tunnel construction project (more on CSX coming in another post later today). This is coming to the forefront because the principal of Tyler Elementary has now banned dogs from the school's playing field.
* Some
neat overhead photos from DDOT
showing the progress on the
11th Street Bridges construction
. I'm hoping to get some ground-level images myself before too much longer.
*
CNN reports on
how Nationals Park has become a very hot venue for political fundraising, actively pursued and encouraged by the team. "[F]ederal candidates, major political parties, and political action committees have spent at least $432,000 on fundraising events either at Nationals games or at their facility, according to campaign finance documents filed with the Federal Election Commission."
Links Roundup (Barracks Meeting Handouts, PSA 105, City Paper 'Best of DC' Nods)
Mar 25, 2010 6:02 PM
* The Marines have posted the
slides
and
handouts
from this week's
workshops
on potential sites for their new barracks. If you didn't see my update, here's
Norm Metzger's additional take
on Tuesday night's meeting.
* MPD's
PSA 105
is having its monthly meeting on Saturday (March 27) at 10 am at the 1D substation at 500 E Street, SE.
* The Washington City Paper's annual "
Best Of DC
" issue is out, and Near Southeast gets a couple of nods:
Cornercopia
was given a Staff Pick for
Best New Bodega
,
Capitol Quarter
is the Readers' Pick for
Best Designed Residential Development
, and the
11th Street Bridges reconstruction
gets a Staff Pick for
Best Construction Project
. Alas, this also means that now my year-long reign as
Second Best Local Web Site
(and "
favorite nasty local blogger
") has come to an end.
* The Washington Project for the Arts is holding its "
WPArade
" in Near Southeast, on June 5 at 12 pm along Half Street from M to N. This parade, modeled after similar events in other cities, "is an extravaganza of artists connecting with community to create a moving visual spectacle of art and culture." They've got a
call for participants
out, and it notes that "participants can traverse the route in any manner that is non-motorized (wagons, bicycles, walking, etc. are acceptable)." It'll culminate with a party at the Bullpen until 3 pm. Who will be the first to enter a giant papier-mache Stephen Strasburg?
Bond Sale Pending for Capper Infrastructure Improvements (and Some Timeline Hints)
Mar 22, 2010 11:43 AM
It's more than 100 pages of high finance and headache-inducing legalese, but nonetheless I've gotten my hands on the "
Preliminary Official Statement
" for what is expected to be a $29 million PILOT bond sale to fund a series of infrastructure improvements for future phases of the
Capper/Carrollsburg redevelopment
. (This is the document written for investors to help them decide whether or not to purchase the bonds.) If you want to know all about how these bonds are being structured (with monies from the Downtown TIF playing a part), this is the document for you. It also has some good background on the Capper project if you're just catching up.
But it also has a few tidbits on the current and projected path of some upcoming parts of the overall project, starting on page 19. Here are the items that are probably of most interest, with the usual caveats that no timeline is written in stone anymore:
* Financing for the second phase of
Capitol Quarter
is being negotiated and is expected to close in mid-2010. Development work would then begin in August, and vertical construction in November. (Phase 2 covers the blocks between Third and Fourth and I and M, and will contain 116 new for-sale townhouses and 47 public housing rental units.)
* All but five of the 121 CQ phase 1 townhouses have sold, and two of those are being held back as model units.
* Financing is "being negotiated" for the planned apartment building on the northern half of
Square 882
, the site that's been the subject of my
recent
posts
on the Marines coveting the site as well. That financing is expected to close in late 2010 according to this document, with an expected completion date of the apartment building in April 2012.
This $29M bond sale is not the last one for Capper infrastructure; the city council approved a total of $55 million in bond funding back in 2006, and the document says that the city "expects" another bond issuance for the rest of the money, "though the timing of such issuance is currently uncertain" (page 10).
As for what exactly the monies will be funding, the document lays out the following (page 22), though this is for the entire $55 million, so it can't be said that this current $29 million offering will cover all this (which will bum out the people who see the phase "community center"). Some of this work would also happen on the streets surrounding
Canal Park
:
* Repairing and replacing underground water and utility lines;
* Repairing streets and streetscapes and adding landscaping;
* Demolishing the DPW building (and smoke stack!) at 900 New Jersey, relocating DPW's operations, environmental site remediations (remember, that site was operating as a trash transfer site as far back as
1905
);
* Building I Street through to New Jersey Avenue; and
* Constructing the
new community center
at Fifth and K.
It's expected that the bonds will be "priced" this week, with the sale closing by the end of the month.
I hear rumors that DPW could be out of their site by next spring, as the search continues for a new home for their operations (and maybe is getting close to a resolution).
Updated Photos from On High, Finally
Mar 7, 2010 11:13 AM
I'm embarrassed to admit how long it's been since I've visited the roof perch along New Jersey Avenue to take new photos of the land down below, but I finally got back there on Friday and have eased my conscience (though I wish it had been sunnier), and you can
see the results here
.
I now have my first overhead shots of the townhouses at
Capitol Quarter
, seen here compared with the same view in March 2006:

There's also photos of the view to the west, showing the changes the past few years have wrought: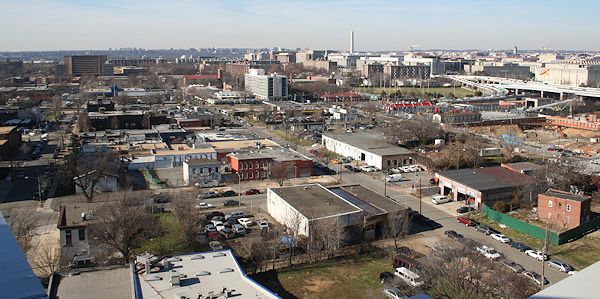 The
entire batch is here
, though be sure to look for the

icon because I wasn't able to update every angle. Also, use the "See All" links if you want to see the "between" photos of each angle.
Near Southeast Assessments, Down 1.8 Percent (Or Up 1.9 Percent, Depending on Your Point of View)
Mar 2, 2010 9:52 AM
It's assessment season again, and
the Examiner reports
that, citywide, commercial property assessments are down 10 percent, with residential numbers dropping between three and four percent. So I fired up the database I keep of the numbers for Near Southeast, added the new data as I do each year when the new numbers come out, and came up with a total assessed value for all properties of just under $5.9 billion, which is a 1.8 percent drop from the $6.01 billion tally reported in
March of 2009
.
But, wait! As I dug a little further, I found a flaw in my methodology that hadn't quite occurred to me before this year (though it probably hadn't been an issue too often before now): 11 of the big commercial buildings in Near Southeast had apparently appealed their initial 2010 assessments (sent out last year), lowering their tax bills by between 2 percent and 38 percent, from a combined $1.13 billion in the initial assessments to $909.36 million post-appeals. (Ten other buildings are showing no change in those assessments, and one--
909 New Jersey
--actually saw an 8 percent bump upwards, which was probably more of a function of the initial estimate being from before the building was completed.)
Taking these changes into account, the total assessments for 2010 for the neighborhood is closer to $5.88 billion, meaning that tally of the 2011 numbers just released of $5.89 billion would actually be a 1.9 percent
increase
. Except that I imagine that some property owners will be appealing again (since some of the 2011 numbers go right back to the original 2010 numbers that were appealed), and the $5.99 billion number will come down again.
Not all property in the neighborhood took a hit--with the opening of the first portions of
Capitol Quarter
, the blocks between Fourth and Fifth Street saw an increased value of $33 million, and the completion of
Velocity
raised the assessed value of its block from $99 million to $162 million.
And, since everyone will want to know: the behemoth of the area--
Nationals Park
--has an assessment unchanged from last year, at just a hair under $1 billion.
I'll check the numbers again later this year to see how many proposed 2011 assessments get altered.
Here's a quick table of the big properties that saw their 2010 assessments change from the original number released early in 2009:
Property
Original 2010
Revised 2010
% Diff.
Proposed 2011
300 M
$132.26M
$82.00M
-38%
$74.69M
55 M
$162.60M
$110.66M
-32%
$110.66M
80 M
$124.08M
$92.75M
-25%
$111.27M
100 M
$90.98M
$68.18M
-25%
$90.98M
1201 M (Martime #1)
$87.97M
$72.57M
-18%
$64.74M
1100 NJ
$142.79M
$121.40M
-15%
$139.16M
100 I
$85.20M
$73.00M
-14%
$85.20M
70 I
$132.28M
$119.00M
-10%
$132.28M
1000 NJ *
$84.46M
$81.06M
-4%
$79.75M
770 M (Blue Castle)
$23.93M
$23.17M
-3%
$23.93M
1220 12th (Maritime #2)
$66.99M
$65.57M
-2%
$47.57M
909 NJ
$68.05M
$73.58M
8%
$79.93M
* This is for the residential portion of Capitol Hill Tower; the 2010 assessments on the Courtyard by Marriott show no change.
CapQuarter Framing at Fourth and I; Final Velocity Pics
Nov 28, 2009 2:53 PM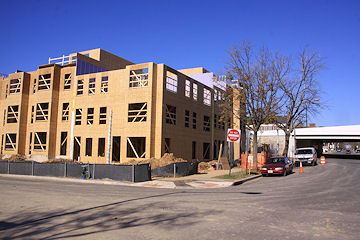 Though I'm about to disappear down the college football rabbit hole for the the rest of the day, I couldn't resist getting a few quick photos of the new framing that's going up on the last block of
Capitol Quarter's first phase
, on the
northwest corner of Fourth and I
.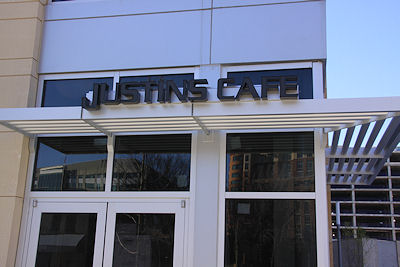 I also wandered over to First Street to get "final" photos of
Velocity
building now that the building has opened, including a shot of the
sign now up at Justin's Cafe
(not that you can really see the sign, thanks to poor sun positioning. Might have to sneak back over there early in the morning).
NBC4 Covers CSX/Virginia Ave./Capitol Quarter
Nov 17, 2009 8:08 PM
NBC4's Tom Sherwood did a piece today
on CSX's plans to expand the Virginia Avenue Tunnel, and he focused on a to-be owner of a
Capitol Quarter
townhouse on Virginia Avenue (in the block between Third and Fourth, where foundation pouring is currently underway). There wasn't any real news in the piece for people who've been
following the story recently
, but it does highlight that that one block could really become a problem for CSX, and is perhaps an issue that no one had given much thought to. (But, in their defense, it's not like there was a five-year window when Virginia Avenue was completely deserted. Oh, wait....) I also wonder how the city agencies that will be new tenants at
225 Virginia
will handle the impact of three years of construction outside their front door.
There still aren't any details posted online by CSX or the District about exactly how the Virginia Avenue Tunnel project will work (though
we do have notes
from their various recent public outreach sessions), but at a cost of about $140 million, it's not a small piece of the $842 million "
National Gateway
" project. In the
documents that were part of
the National Capital Region Transportation Planning Board vote on the project back in September, CSX described the Virginia Avenue Tunnel as a "bottleneck that when unlocked improves the freight efficiency and mitigates the expected freight growth in the region."
Canal Park Briefing at ANC 6D; CSX Meetings; Lower 8th Street Documents and Agenda
Nov 5, 2009 9:46 PM
Here's a bunch of little items and event reminders. Alas, next week's pile of happenings come at a bad time on my calendar, and I'm going to have to miss almost all of them, so this would be a good chance for everyone to attend these meetings themselves instead of sitting around waiting for me to tell you what happened at them. :-)
*
ANC 6D
(Southwest and Near Southeast) has posted the
agenda for its November meeting
, which includes an update on the plans for
Canal Park
. It's on Monday, Nov. 9, at 7 pm, at St. Augustine's, Sixth and M streets, SW.
* The next night,
ANC 6B
(Capitol Hill SE and Eighth Street) is having its November meeting, where there will be a presentation by CSX on its planned Virginia Avenue Tunnel construction. (Voice of the Hill
recently wrote about the plans
, and you can
read my posts
about them, which include links to some source documents.) ANC 6B's meeting is Nov. 10 at 7 pm at the Old Naval Hospital at 921 Pennsylvania Ave., SE.
* Plus, the Friends of Garfield Park are having their own informational meeting about the CSX plans, on Thursday, Nov. 12, at 7 pm at Capitol Hill Day School (Second and South Carolina, SE).
* The
Lower 8th Street Visioning Process
folks have posted the
minutes
,
historical background
, and
main presentation slides
from their two October sessions. They've also posted the agenda
for their November meetings
, scheduled for 8:30 am and 7 pm on November 17 at the People's Church, 535 Eighth St., SE.
* And, if these events aren't enough for you, you can also watch on Nov. 12 the city council's Committee on Finance and Revenue Hearing on the bill that would allow the sale of bonds via the city's CFO office that would pay for a considerable amount of "Phase 3" infrastructure work for
Capper/Carrollsburg
redevelopment, encompassing some as-yet-undetermined combination of underground work on the Second Street blocks, the relocation of the DPW operations at New Jersey and K and demolition of that block, and the construction of I Street between Second and New Jersey. (This is above and beyond the
$9.5 million in federal stimulus funds
that the city is receiving to allow
Capitol Quarter's second phase of townhouses
to go forward.) The council hearing is on the 12th at 10 am, and you can watch on DC cable channel 13 or via the
channel's web site
.
Here's my post about this proposed bill
, if you want to know more.
Updated Photos of Capitol Quarter Progress
Oct 25, 2009 5:06 PM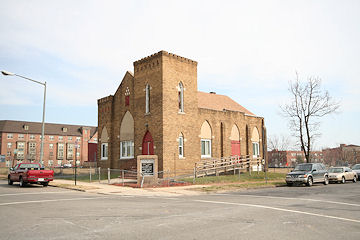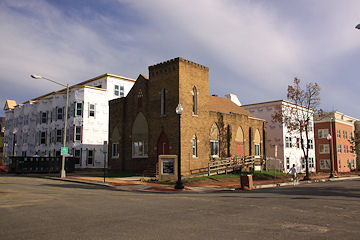 I played cat-and-mouse with the clouds today and took some photos of the progress in the third block of
Capitol Quarter
, where the townhouses have sprung up pretty quickly over the past six weeks, meaning that St. Paul's Church at Fourth and I (above) and the private homes along Fifth Street are no longer the lonely outposts they've been since late 2004.
So that your computers (and my server) don't collapse, here are the (separated) links of these new befores-and-todays, which take you on a walk around the block:
Fourth and Virginia
,
Fourth and I
,
Fourth and K
,
Fifth and K
, and
Fifth and Virginia
. You'll also see on the
northwest corner of Fourth and I
that the concrete foundations are now being poured for the fourth and final block of Capitol Quarter's first phase.
It will be five years ago next week that the demolition began on the blocks where all these new townhouses are going up; paging through the
photos I took during November 2004
while the wrecking crews worked, it in some ways seems a lot longer than that. The eastward view along K at Fourth is a pretty good representation of what these blocks have been through: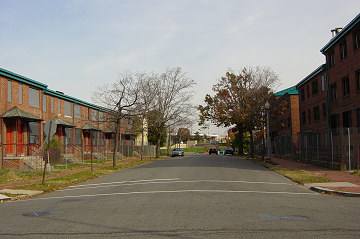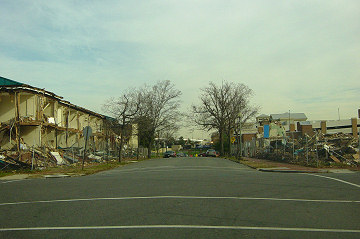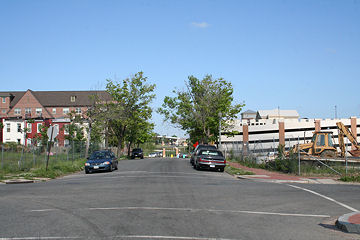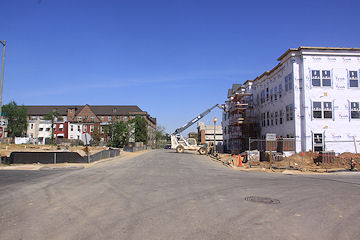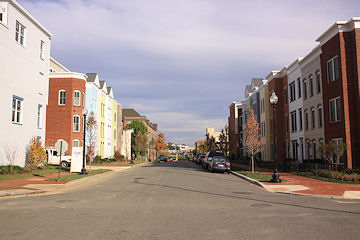 See the
whole batch here
; you can click on any
you see in the archive or use the
Photo Archive Map Browser
to track the fall and rise of any other location.
DCHA Gets $9.5M HUD Grant for Capper Phase 2
Sep 24, 2009 3:02 PM
Yesterday the US Department of Housing and Urban Development
announced the awarding
of $500 million in stimulus-money grants to housing authorities around the country, with the DC Housing Authority receiving the
$9.5 million it requested
to help get the second phase of Capper townhomes at
Capitol Quarter
moving forward.
In my post on DCHA's application
back in June
, I explained it this way:
According to this "narrative and schedule" that DCHA included with its application to HUD, the money would finance both public infrastructure and private site improvements needed to begin the construction of the second phase of the Capitol Quarter

mixed-income townhouse development (the

blocks between Third and Fourth south of I), which will have 163 units, 47 of which are public housing rental units (along with 60 market-rate, 39 workforce-rate, and 17 public housing home ownership units). The narrative indicates that the $55 million Capper PILOT bonds approved by the city council last year that were to fund the new community center

and infrastructure improvements not only in the Phase II blocks but also on the north and east sides of

Canal Park

and over to the DPW site never made it into the bond market; attempts to secure loans from both Fannie Mae and Wachovia also were fruitless.

There's a lot of detail in the

narrative

that I'm not going to try to summarize (I start to glaze over once I get to Low Income Housing Tax Credits [LIHTC] and anything having to do with "leveraging"):, but it does say that if awarded the HUD CFRC grant money, DCHA would immediately have its engineers complete permit drawings, which can then be put into the city's permitting process (estimated to last 90 days), after which infrastructure work can begin--the schedule at the end of the document estimates a start date of Dec. 1. This work would include repair or replacement underground water, sewer, and "dry utilities" lines, new streets, curbs, and gutters, additional lighting, and public landscaping.

The HUD funds would also be used to pay for the land preparation costs and foundation construction of the 47 public housing units, covering a $1 million gap that occurred in the planned Phase II funding thanks to problems in the LIHTC market.

From what I understand, DCHA is already talking to contractors, with hopes of being able to start delivering the first phase 2 townhomes by late next year; this would be in the blocks between Third and Fourth south of I.

There may also be some money coming for the other Capper-related improvements listed above that were to be paid for by the $55 million PILOT bonds, but not as part of this grant.

New Photos Posted (Hat Tip: Mr. Blue Sky)

Sep 20, 2009 6:24 PM

Even at my laziest, it's hard to not pull out my camera on a day like today and head to the Hood. But without a lot of projects going on, I had the chance to also wander by some locations I've not paid as much attention to as I should. Here's the highlights:

I stopped by

11th

and

12th

streets to get caught up on the RFK ramp demolition that's part of the

11th Street Bridges

project. The ramps across M have been down for a while now, making M Street along this stretch seem slightly less claustrophobic. The remaining concrete pillars (like the one at left, and the stubs on the south side of M) make for some interesting sculptures.

Capitol Quarter

continues to progress on its third block (between K, I, Fifth, and Fourth), with

some houses now bricked

and framing coming soon to the north side of the block, making St. Paul's church

not look quite so lonely anymore

. Plus, the first foundations are being poured on the fourth and final block of phase 1, along Virginia Avenue between Third and Fourth.

I even ventured down to the fences at the

Park at the Yards

to see what I could see, and on the west side of the footprint I could glimpse some of the work being done on the Canal Basin water feature at the foot of Third Street as well as some clearing of the area that will be the Great Lawn. Here's

the latest photos

, or check the

Yards Park

page to see some of them matched with the renderings of what the spots will look like.

This isn't the most earth-shattering shot of the day, but I did feel it necessary to finally get

a shot of 900 M Street

now that Domino's is open.

Last but not least, I wandered around Virginia Avenue Park, finally getting my set of

"baseline" photos along Ninth Street

(only six years later than I should have). I also took some photos of the park itself but I'm going to take a little more time and not do a rush-job on the park photos; the one above, of the community garden, will have to tide you over a little longer.

As always, on any of these pages, click on the

icon to see a complete set of before-and-afters of the location you're viewing. (And boy, am I loving being able to post larger thumbnails of photos here in the blog entries, thanks to the redesign of the home page. But don't forget to click through to see the non-thumbnailed versions.)

Photos from Today's Ribbon Cutting at Capitol Quarter; Updated Before-and-Afters

Aug 26, 2009 1:56 PM

More than five years after the first demolitions at the old

Capper/Carrollsburg

public housing complex, city officials, developers, and residents gathered at Fourth and L today for a ribbon cutting at what is now known as

Capitol Quarter

, the mixed-income townhouse development that's been under construction since last year. (Residents actually started moving in this spring, but let's not spoil the party.)

As most readers know by now, the old 707-unit

Capper complex

is being replaced with what will eventually include 1,500 residential units (with a one-to-one replacement of all 700 public housing units), 700,000 square feet of office space, and 50,000 square feet of retail. Two apartment buildings with 300 units for low-income seniors and moderate income residents--

Capper Seniors #1

and

400 M

--opened in late 2006 and 2007;

four more mixed-income buildings

will eventually be built on lots by

Canal Park

.

My

photos of the festivities are posted

--and enjoy them, because there aren't many ribbon cuttings in Near Southeast's near future!

I also finally updated my photos along

Fifth Street

this morning, and at

Fourth and I

and

Fourth and K

yesterday and today, making for a pretty striking batch of before-and-afters, especially since these are the first photos I've taken since the framing really took off on the north side of K. Also, digging is now getting started on the final block of phase 1 (Square 797, between Third, Fourth, Virginia, and I), and framing should begin in October or November, with those final first phase homes expected to be finished next spring. When will phase 2 start sales and pre-construction? As soon as they get some money, and everyone knows how easy that is right now....

Capitol Quarter Ribbon Cutting Tomorrow; A Few Late-Summer Not-Really-News Links

Aug 25, 2009 1:16 PM

* A reminder that tomorrow (Wednesday) at 10 am the DC Housing Authority is holding an official ribbon cutting and grand opening at

Capitol Quarter

, Fourth and L, with the mayor expected to be in attendance. If the sun is out, I may use this as the motivation to finally get some updated photos of the construction, with the framing in block three (north of K between Fourth and Fifth) now well underway.

*

The Post reports

on how the many new apartment buildings in the area are aggressively competing for tenants, with the new buildings in Near Southeast apparently leading the way: "The ones around Nationals Park, for instance, collectively have offered the deepest concessions since Delta started tracking rents 18 years ago. Some of those projects gave away the equivalent of four months' rent in concessions, which helps explain why effective rents in the District plunged 7.8 percent in June compared with a year ago. Without the ballpark area, rents fell 4 percent."

* From the

BID

's newsletter last week: "Mark your calendars for September 19th for the FRONT Door Home Tour & Canal Park Picnic from 10 am - 2 pm. The FRONT Door Tour will feature a variety of unique residents' homes and highlight the Capitol Riverfront as a new residential neighborhood in DC. The event will include a community picnic at the future site of

Canal Park

(located at intersection of M St., SE and 2nd St., SE) with food, music, and lawn games. The FRONT Door Tour will be free and open to the public. More information to come soon."

And, two items about off-topic projects by Near Southeast developers:

*

Monument Realty

announced yesterday that its long-planned renovation of

Potomac Place Tower

on Fourth Street in SW is now going to move forward. From their press release: "Monument Realty acquired the Potomac Place project in 2001 and in 2005 completed construction of a new, 302-unit condominium adjacent to the existing Potomac Place Tower, which was built in 1959. In 2003, Potomac Place Tower was designated a historic landmark by the District of Columbia and in 2005 the residents of Potomac Place Tower elected to convert the property to a condominium. Monument Realty's longstanding history and commitment to the project gave the new lender the confidence to retain its services for the completion of Potomac Place Tower."

* Forest City Washington

has been selected

by the government of Puerto Rico as the program manager for the redevelopment of a 100-acre portion of San Juan's waterfront district. Residential, hotel, office, retail, public parks, and a marina--

sound familiar

? (I don't think I mentioned that a few weeks ago the District selected Forest City as an advisor for the redevelopment of Poplar Point.)