Near Southeast DC: Past News Items
Capitol Quarter
Go to Full Blog Archive
---
Updated Photos of Capitol Quarter Progress
Oct 25, 2009 5:06 PM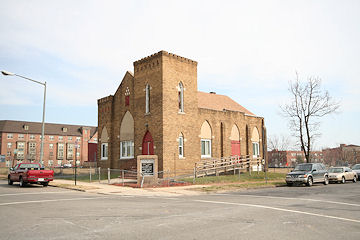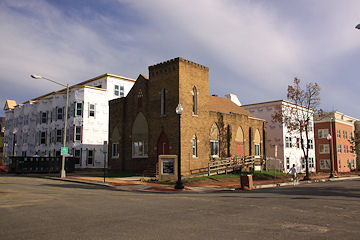 I played cat-and-mouse with the clouds today and took some photos of the progress in the third block of
Capitol Quarter
, where the townhouses have sprung up pretty quickly over the past six weeks, meaning that St. Paul's Church at Fourth and I (above) and the private homes along Fifth Street are no longer the lonely outposts they've been since late 2004.
So that your computers (and my server) don't collapse, here are the (separated) links of these new befores-and-todays, which take you on a walk around the block:
Fourth and Virginia
,
Fourth and I
,
Fourth and K
,
Fifth and K
, and
Fifth and Virginia
. You'll also see on the
northwest corner of Fourth and I
that the concrete foundations are now being poured for the fourth and final block of Capitol Quarter's first phase.
It will be five years ago next week that the demolition began on the blocks where all these new townhouses are going up; paging through the
photos I took during November 2004
while the wrecking crews worked, it in some ways seems a lot longer than that. The eastward view along K at Fourth is a pretty good representation of what these blocks have been through: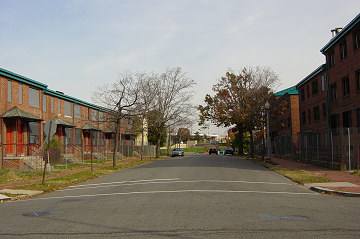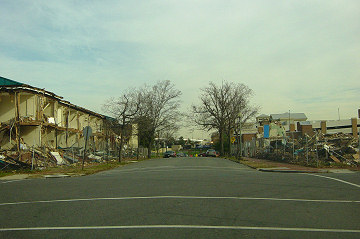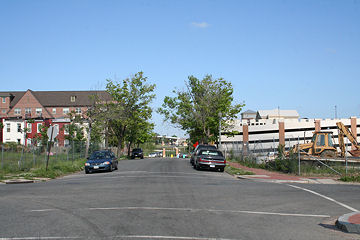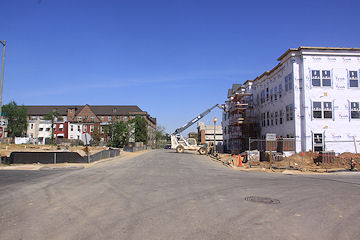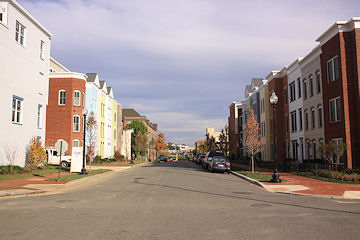 See the
whole batch here
; you can click on any
you see in the archive or use the
Photo Archive Map Browser
to track the fall and rise of any other location.
DCHA Gets $9.5M HUD Grant for Capper Phase 2
Sep 24, 2009 3:02 PM
Yesterday the US Department of Housing and Urban Development
announced the awarding
of $500 million in stimulus-money grants to housing authorities around the country, with the DC Housing Authority receiving the
$9.5 million it requested
to help get the second phase of Capper townhomes at
Capitol Quarter
moving forward.
In my post on DCHA's application
back in June
, I explained it this way:
According to this "narrative and schedule" that DCHA included with its application to HUD, the money would finance both public infrastructure and private site improvements needed to begin the construction of the second phase of the Capitol Quarter

mixed-income townhouse development (the

blocks between Third and Fourth south of I), which will have 163 units, 47 of which are public housing rental units (along with 60 market-rate, 39 workforce-rate, and 17 public housing home ownership units). The narrative indicates that the $55 million Capper PILOT bonds approved by the city council last year that were to fund the new community center

and infrastructure improvements not only in the Phase II blocks but also on the north and east sides of

Canal Park

and over to the DPW site never made it into the bond market; attempts to secure loans from both Fannie Mae and Wachovia also were fruitless.

There's a lot of detail in the

narrative

that I'm not going to try to summarize (I start to glaze over once I get to Low Income Housing Tax Credits [LIHTC] and anything having to do with "leveraging"):, but it does say that if awarded the HUD CFRC grant money, DCHA would immediately have its engineers complete permit drawings, which can then be put into the city's permitting process (estimated to last 90 days), after which infrastructure work can begin--the schedule at the end of the document estimates a start date of Dec. 1. This work would include repair or replacement underground water, sewer, and "dry utilities" lines, new streets, curbs, and gutters, additional lighting, and public landscaping.

The HUD funds would also be used to pay for the land preparation costs and foundation construction of the 47 public housing units, covering a $1 million gap that occurred in the planned Phase II funding thanks to problems in the LIHTC market.

From what I understand, DCHA is already talking to contractors, with hopes of being able to start delivering the first phase 2 townhomes by late next year; this would be in the blocks between Third and Fourth south of I.

There may also be some money coming for the other Capper-related improvements listed above that were to be paid for by the $55 million PILOT bonds, but not as part of this grant.

New Photos Posted (Hat Tip: Mr. Blue Sky)

Sep 20, 2009 6:24 PM

Even at my laziest, it's hard to not pull out my camera on a day like today and head to the Hood. But without a lot of projects going on, I had the chance to also wander by some locations I've not paid as much attention to as I should. Here's the highlights:

I stopped by

11th

and

12th

streets to get caught up on the RFK ramp demolition that's part of the

11th Street Bridges

project. The ramps across M have been down for a while now, making M Street along this stretch seem slightly less claustrophobic. The remaining concrete pillars (like the one at left, and the stubs on the south side of M) make for some interesting sculptures.

Capitol Quarter

continues to progress on its third block (between K, I, Fifth, and Fourth), with

some houses now bricked

and framing coming soon to the north side of the block, making St. Paul's church

not look quite so lonely anymore

. Plus, the first foundations are being poured on the fourth and final block of phase 1, along Virginia Avenue between Third and Fourth.

I even ventured down to the fences at the

Park at the Yards

to see what I could see, and on the west side of the footprint I could glimpse some of the work being done on the Canal Basin water feature at the foot of Third Street as well as some clearing of the area that will be the Great Lawn. Here's

the latest photos

, or check the

Yards Park

page to see some of them matched with the renderings of what the spots will look like.

This isn't the most earth-shattering shot of the day, but I did feel it necessary to finally get

a shot of 900 M Street

now that Domino's is open.

Last but not least, I wandered around Virginia Avenue Park, finally getting my set of

"baseline" photos along Ninth Street

(only six years later than I should have). I also took some photos of the park itself but I'm going to take a little more time and not do a rush-job on the park photos; the one above, of the community garden, will have to tide you over a little longer.

As always, on any of these pages, click on the

icon to see a complete set of before-and-afters of the location you're viewing. (And boy, am I loving being able to post larger thumbnails of photos here in the blog entries, thanks to the redesign of the home page. But don't forget to click through to see the non-thumbnailed versions.)

Photos from Today's Ribbon Cutting at Capitol Quarter; Updated Before-and-Afters

Aug 26, 2009 1:56 PM

More than five years after the first demolitions at the old

Capper/Carrollsburg

public housing complex, city officials, developers, and residents gathered at Fourth and L today for a ribbon cutting at what is now known as

Capitol Quarter

, the mixed-income townhouse development that's been under construction since last year. (Residents actually started moving in this spring, but let's not spoil the party.)

As most readers know by now, the old 707-unit

Capper complex

is being replaced with what will eventually include 1,500 residential units (with a one-to-one replacement of all 700 public housing units), 700,000 square feet of office space, and 50,000 square feet of retail. Two apartment buildings with 300 units for low-income seniors and moderate income residents--

Capper Seniors #1

and

400 M

--opened in late 2006 and 2007;

four more mixed-income buildings

will eventually be built on lots by

Canal Park

.

My

photos of the festivities are posted

--and enjoy them, because there aren't many ribbon cuttings in Near Southeast's near future!

I also finally updated my photos along

Fifth Street

this morning, and at

Fourth and I

and

Fourth and K

yesterday and today, making for a pretty striking batch of before-and-afters, especially since these are the first photos I've taken since the framing really took off on the north side of K. Also, digging is now getting started on the final block of phase 1 (Square 797, between Third, Fourth, Virginia, and I), and framing should begin in October or November, with those final first phase homes expected to be finished next spring. When will phase 2 start sales and pre-construction? As soon as they get some money, and everyone knows how easy that is right now....

Capitol Quarter Ribbon Cutting Tomorrow; A Few Late-Summer Not-Really-News Links

Aug 25, 2009 1:16 PM

* A reminder that tomorrow (Wednesday) at 10 am the DC Housing Authority is holding an official ribbon cutting and grand opening at

Capitol Quarter

, Fourth and L, with the mayor expected to be in attendance. If the sun is out, I may use this as the motivation to finally get some updated photos of the construction, with the framing in block three (north of K between Fourth and Fifth) now well underway.

*

The Post reports

on how the many new apartment buildings in the area are aggressively competing for tenants, with the new buildings in Near Southeast apparently leading the way: "The ones around Nationals Park, for instance, collectively have offered the deepest concessions since Delta started tracking rents 18 years ago. Some of those projects gave away the equivalent of four months' rent in concessions, which helps explain why effective rents in the District plunged 7.8 percent in June compared with a year ago. Without the ballpark area, rents fell 4 percent."

* From the

BID

's newsletter last week: "Mark your calendars for September 19th for the FRONT Door Home Tour & Canal Park Picnic from 10 am - 2 pm. The FRONT Door Tour will feature a variety of unique residents' homes and highlight the Capitol Riverfront as a new residential neighborhood in DC. The event will include a community picnic at the future site of

Canal Park

(located at intersection of M St., SE and 2nd St., SE) with food, music, and lawn games. The FRONT Door Tour will be free and open to the public. More information to come soon."

And, two items about off-topic projects by Near Southeast developers:

*

Monument Realty

announced yesterday that its long-planned renovation of

Potomac Place Tower

on Fourth Street in SW is now going to move forward. From their press release: "Monument Realty acquired the Potomac Place project in 2001 and in 2005 completed construction of a new, 302-unit condominium adjacent to the existing Potomac Place Tower, which was built in 1959. In 2003, Potomac Place Tower was designated a historic landmark by the District of Columbia and in 2005 the residents of Potomac Place Tower elected to convert the property to a condominium. Monument Realty's longstanding history and commitment to the project gave the new lender the confidence to retain its services for the completion of Potomac Place Tower."

* Forest City Washington

has been selected

by the government of Puerto Rico as the program manager for the redevelopment of a 100-acre portion of San Juan's waterfront district. Residential, hotel, office, retail, public parks, and a marina--

sound familiar

? (I don't think I mentioned that a few weeks ago the District selected Forest City as an advisor for the redevelopment of Poplar Point.)

Upcoming Events (11th Street Bridges, Last Movie, Capitol Quarter Ribbon Cutting)

Aug 18, 2009 12:40 PM

A slew of upcoming events to pass along:

* On Wednesday (Aug. 19), there's going to be an

11th Street Bridges Open House

, billed as an update for Ward 8 residents about the status of the bridge replacement project. (But I'm guessing people from other wards can come, too.) It's from

7 pm to 8:30 pm

, at the Union Temple Baptist Church at 1225 W St., SE.

* Thursday (Aug. 20) is the last night of the BID's 80's Outdoor Movies series, with "Ghostbusters"

on the bill

(rescheduled from a rainout earlier this year). Apparently the BID is planning a four-week fall movie series starting in September; I'll pass more along on that when I get it.

* Next Wednesday (Aug. 26) the DC Housing Authority is holding an official ribbon cutting and grand opening at

Capitol Quarter

, from 10 am to noon at Fourth and L, with the mayor expected to be in attendance. This is just a little over two years after

the ceremonial groundbreaking

, held on a sweltering day in June 2007.

* If you're desperate for something to do Wednesday morning but a ribbon cutting isn't your thing, the

U.S. Navy Museum

at the

Washington Navy Yard

will host "

Pirate or Privateer? War of 1812 Day

," a series of demonstrations and lectures on the War of 1812. The program, which runs from 10 am to 2 pm, includes Gun Drills in the replica of the USS Constitution and Sea Chanteys. The event is free and open to the public, though note that there's no parking available inside the gates for visitors.

* The National Capital Planning Commission again has the design of the

11th Street Bridges

on their

tentative agenda

, for their Sept. 3 meeting. It had also been on the tentative agenda for the July meeting, but didn't make the final cut; hopefully that won't happen again, because NCPC always puts together such great reports on the projects it votes on (and posts them on their web site), so it's a good place to get details that have been hard to find elsewhere.

* This is still a few weeks away, but residents might want to mark their calendars that the next ANC 6D meeting, on Sept. 14 will be held in Southeast, at the

Courtyard by Marriott

at New Jersey and L. I've been attending ANC meetings off and on for six years, and this is the first one I remember that will be crossing South Capitol Street.

Updated Photos (Cap. Quarter, Canal Park, 1015 Half)

Jun 25, 2009 4:44 PM

It's been a while since I've posted a big batch of new photos (and be assured that the guilt has been killing me), so I made a couple of quick runs today to rectify this. The showiest shots are to be had at

Capitol Quarter

, of course, with the houses on both sides of L between Fourth and Fifth now mostly occupied, and those up Fourth and on the south side of K now painted and landscaped. If you want an even fuller set of photos than what's on my CQ page, go to the

CQ Phase I Expanded Archive

to see all angles of the intersections where construction is either completed or still underway. (The multicolored houses up against the bright blue sky, lit by the summer-solstice-height-sun, show why I tend to wait for sunny days to update the photo archive. Well, that and I'm lazy and am always looking for an excuse to not go take pictures.)

Meanwhile, at

Canal Park

, I finally got some photos of the sod on the southern block, and the first hints of grass on the other two blocks as the seeding starts to grow in.

And, over at

1015 Half Street

, the glass continues to be hung on the northern exterior, so I took some photos of that side of the building. (The southern side looks the same as it did in May, so I happily skipped those photos.) The block does now look a little different from when Nation was there.... (See the

expanded archive

for additional shots.)

Here's

the complete batch of today's photos

, but to see their "before"s, as well as the other photos along the way, click the

icon. Or you can just

browse the Photo Archive

by street, direction, and/or date.

Sneak Peek: Capitol Quarter Models, Sales Center

Jun 18, 2009 6:26 PM

On Saturday EYA will be opening its new

Capitol Quarter

Sales Center and two model homes, in the row of houses now being finished along Fourth Street just north of L. They were nice enough to give me a sneak peek this afternoon, and I've

posted some very quick photos

of the interiors. The models are the

Addison II

and

Banneker II

designs, with the sales center in the ground floor of the Banneker. (You'll have to march up to the Banneker's third floor to see all the finishes and options.)

My photos of

Capitol Quarter itself

are a little outdated (damn rain)--the houses on both sides of L between Fourth and Fifth are now done and owners are moving in, while the houses along Fourth will start having their closings next month. The houses along Fifth are framed but not yet bricked, and foundations are being built in the next block, north of K Street. There's currently 21 houses for sale.

The grand opening is from noon to 4 pm on Saturday, at 1020 Fourth Street, SE, for those of you who need an address for your GPS.

Scads of New Photos: Bullpen, Fence-less Canal Park, 1015 Half, Capitol Quarter (Again)

May 10, 2009 6:02 PM

With thanks to Mom for decreeing that my Mother's Day responsibilities had been taken care of

last week

, I was able to take not one but two treks through Near Southeast on this beautiful Sunday, and have uploaded a pile of new photos. Some--like the ones I took at

909 New Jersey

and

55 M

--are the last ones I expect to take of certain angles for a long time to come, but I did get some good "change" shots:

There's now a sign up at "The Bullpen" at

Half and N

(opening Friday?), and I also snuck a shot of the tent and piled-up picnic tables, which you can see on my

Akridge Half Street page

(scroll down a bit if the link doesn't jump you down). You'll also see updated shots of the garage-less Half and M corner.

It's not very easy to take a picture that well-represents the lack of cyclone fences, but I gave it a shot with a

few different angles

of the south end of

Canal Park

. I have to admit that was I was surprised by how much wider the block now seems; when it becomes a real park, with tall buildings on all sides, that extra width will be welcome.

Next up is

1015 Half Street,

the 400,000-sq-ft office building now topping out on the old Nation nightclub site. With Half, K, and L being so narrow, it's not a bad idea to step back a block or two to see 1015's impact on the skyline, so check out the

Expanded Photo Archive

. The next phase of construction should be the hanging of the exterior glass.

It's pretty hard to stay away from the goings-on at

Capitol Quarter

, as brickwork is all but complete along Fourth between I and K. The

Expanded Archive

shows all the CQ shots I took today, along with the ones from two weeks ago showing the first completed stretch of homes, on the south side of L between Fourth and Fifth.

You might also see a few new shots of

Onyx

,

100 M

, and

Velocity

if you visit those pages, and some other

images in the random shots at the top (and bottom) of the JDLand home page, since I took a pretty complete set of photos from New Jersey to Half and from M to I. And, without much new construction going on, I don't anticipate taking many photos other than at Capitol Quarter and 1015 Half (and I guess

Teague

and Canal parks) over the next few months. (I'll also be ready if/when Akridge demolishes the buildings

along First between K and L

.) So, enjoy these, and take the time to really compare them to their "befores."

Friday Tidbits: BID Newsletter, ANC Agenda

May 8, 2009 10:38 AM

Between it being Friday and the sun finally being out, I bet everyone's feeling a bit better today. Maybe even

Biking to Work

! So, a few tidbits:

* The

latest Capitol Riverfront BID newsletter

is out, with a few items of note. First off, there's a new "branding" campaign going on--"Be Out Front." Look for signs promoting "Front Yard," "Front Office," "Front Door," "Store Front," etc. And they'll soon be launching an equally rebranded web site.

Also, the current estimated population within the BID is 1,584 residents; the newsletter says that there are now more than 2,000 residential units, more than half of which are leased/sold and occupied.

The newsletter also gives the

Bullpen

's official opening date as May 15, and also mentions that the weekly Tuesday farmer's market at USDOT is now underway, and that the weekly Wednesday lunchtime concerts start on May 20.

* The agenda for Monday's ANC 6D meeting is out (hopefully

it'll show up online

before the meeting itself), and the only Near Southeast item is a presentation by Michael Stevens of the BID--kind of a BID 101 tutorial for the ANC commissioners. Otherwise, it's voting on marathons, bus stops, after-school programs, and also an announcement of a "Southwest Night" at Ft. McNair on July 1. The meeting is at 6th and M streets, SW, at 7 pm. (Maybe next month it'll finally move to the new digs at the new 1D police station at the former Bowen Elementary.)

* The

Examiner reports

that the 2010 federal budget includes $15 million for "

Southeast Federal Center

remediation." There's certainly been piles of environmental cleanup there over the years (not surprising when it used to be blocks and blocks of munitions factories).

* EYA has spiffed up its web site a bit--their

Capitol Quarter page

is worth a visit if you haven't checked it out before.

Comments

(2)

More posts:

Akridge/Half St.

,

ANC News

,

Capitol Riverfront BID

,

Pedestrian/Cycling Issues

,

Fairgrounds/Bullpen

,

Capper

, Capitol Quarter,

US Dept. of Transportation HQ

,

Restaurants/Nightlife

,

meetings

,

Nationals Park

Updated Capitol Quarter Photos

Apr 27, 2009 5:15 PM

Capitol Quarter photos

, showing the now-partially-occupied first row of townhouses (on L between Fourth and Fifth) as well as the progress in the block to their north. I can also report that foundation digging has now begun on the third CQ block, on the north side of K between Fourth and Fifth.

If you want to see more photos than just the ones on my main CQ page (and given all the change, it's worth it), here's my

Capitol Quarter Expanded Archive

; and don't forget to click the

icon if you want to see the photos between the Befores and the Afters, like the progression above, showing the southern side of L Street at Fifth, from 2004 to today.

BID Newsletter; Bike Rack Ceremony; Capper Zoning Vote?; Teague Dedication

Apr 26, 2009 6:18 PM

The latest

Capitol Riverfront Connections newsletter

from the BID was sent out late last week, with updates on the LEED for Homes plaque presentation

last week

at

Capitol Quarter

, an interview with BID executive director Michael Stevens

on Newschannel8

, and news of a ceremony coming tomorrow (Monday) at 2 pm on the Tingey Plaza at

USDOT

, where Mayor Fenty will kick off the launch of 28 new artistic bike racks around the city.

Also on Monday, at 6:30 pm, is a Zoning Commission hearing where a first vote could possibly come on the batch of zoning changes being requested for Capper/Carrollsburg to which I've dedicated

so many bytes

lately.

And, on Tuesday morning at 8:30 am is a

dedication ceremony

and breakfast fundraiser (also with the mayor) for

Diamond Teague Park

, being held across the street at the foot of the stadium's grand staircase. Tickets are $50 per person.

Capitol Quarter Workforce Lottery; First Settlements

Apr 20, 2009 9:16 PM

I am briefly surfacing from the whirlwind that is my "real" life these days to pass along an update from Saturday's

workforce housing lottery

at

Capitol Quarter

: the folks at EYA tell me that 58 prospective buyers entered the lottery for the 15 houses that were for sale. (Three additional houses that were being released for sale under the workforce program were snapped up by former

Capper/Carrollsburg

residents, who had first option prior to the public release).

Also, it can now be said that Capitol Quarter is an actual residential community: the first purchase settlements took place last week, and homeowners have moved in, six years after the old public housing units in that section of the Cappers first began being closed. Settlements are expected to continue on a regular (even weekly) basis until CQ's first phase is completed, in the middle of next year.

If you're looking for an excuse to go see the considerable construction progress (especially since a certain blogger has completely failed lately at providing updated photos), a reminder that on Wednesday at 11 am EYA will be celebrating Earth Day with a ceremony marking the first CQ house to achieve

LEED for Homes

certification, with a plaque presentation by the US Green Building Council. The proceedings start at 11 am, with a "light luncheon" at 11:30, at the sales office at Fourth and L, SE.

(And, along those Earth Day lines, a last-minute reminder about Tuesday's

Anacostia Waterfront

Forum, focusing on "Green Waterfront, Green Jobs, Green Living in a Green DC." It's at the MLK Library at Ninth and G, NW, with an open house beginning at 6:30 pm and the forum running from 7 to 8:30 pm. The April

"Waterfront Watch" newsletter

has more information on the forum, as part of its focus on "Green DC.")

Finally, as a heads up, unless there's big news (or incredibly quick and easy items to post), I'm probably going to be a bit scarce for the next couple of weeks. (Though every time I say that, I seem to end up posting just as much if not more than usual.) I will probably

Twitter

some, though, since even from within the maelstrom I can probably manage to string 140 characters together every so often--and, if you're on Facebook but not Twitter, you can now see my Tweets directly in your Facebook news feed by becoming a

fan of JDLand.com

. Who knows--maybe that Profile Page could even become a "social network" of sorts!

Heading to Opening Day? What You'll See That You Didn't See Last Year

Apr 12, 2009 7:59 PM

[Note: I'm back in town after almost a week away (reminder to self: next year don't skip town the week before the home opener), so apologies if my coverage of the various events and media pieces has seemed even less scintillating than usual. And now I'm going to end the week with one more less-than-perfect entry, which I should have written before I left but didn't do it until now....]

If you haven't been back to

Nationals Park

or the surrounding Near Capitol Ballpark River Yards neighborhood since last year's Opening Day, here's what you'll see that wasn't completed on your last visit:

*

55 M Street

- Right on top of the west entrance of the Navy Yard Metro station, at the head of Half Street, is Monument Realty's 275,000-sq-ft office building, which has been finished in the last few months and which will be home to

Artomatic

this summer. No office or retail tenants have been announced, although

WBJ reported a few weeks back

that

Gordon Biersch

may be eyeing some of 55 M's ground-floor space. The rest of Monument's Half Street site remains a large hole in the ground, with financing for the planned 350 residential units and adjoining hotel directly across from the ballpark nowhere to be found.