Near Southeast DC: Past News Items
Capitol Quarter
Go to Full Blog Archive
---
Quick Capitol Quarter Photo Update
Aug 31, 2008 11:44 PM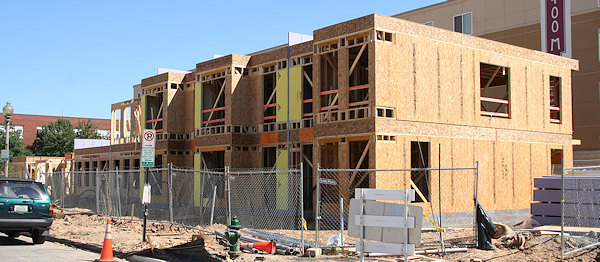 It was too pretty of an afternoon to pass up a new batch of photos at Fourth and L, to document 10 days' worth of framing work on these first
Capitol Quarter townhouses
. (I'm sure the novelty of this construction will wear off soon. Hopefully before my camera gives out.)
Updated Photos: First Frames at Capitol Quarter, Vertical Construction in the 1015 Half Street Hole
Aug 24, 2008 8:36 PM

I took a lot of photos today, but let's start with the ones showing new construction phases underway. First off, we have the first framing at
Capitol Quarter
(top), where the wood outlines of the first four houses east of the
Fourth and L intersection
are now up. (At least the photos are more exciting than the ones a few weeks ago of the concrete block foundations.)
Then there's
1015 Half Street
, the 410,000-sq-ft office building under construction on the old Nation nightclub site. The crane arrived within the past week or so, and I finally got to a spot where I could see down into the hole to confirm that the first pillars are underway. So, by Thanksgiving, there should be the beginnings of yet another new addition to the skyline.
More photos in the next few days.
Late Night Update on Hood Happenings
Aug 21, 2008 9:12 PM
* As I mentioned below, the garage that housed both the Merritt and Four Star cab companies started getting brought down today. They didn't get it all on Thursday, but I imagine by sundown Friday the rest will be gone. (See
pictures from midmorning
, though it's hard to see much in the way of a difference from First and K, since they took out the back of the building and only a smidgen of the K Street facade.)
* Only a few hours
after I said
that
Capitol Quarter
framing would start "in the next few days," lumber went up on the first house on the south side of L east of Fourth. (No pictures yet--this weekend!)
* Sometime this week the crane was put up at
1015 Half Street
, so we should be seeing vertical construction before too long.
New Capitol Quarter Photos (Foundations. Yay.)
Aug 11, 2008 4:22 PM
I can't pretend that photos of not-very-high cinderblock foundations coming up along L and Fourth streets are really all that exciting (unless you own one of the houses-to-be), but that didn't stop me from taking a quick batch of
new Capitol Quarter photos
this morning, despite having to tiptoe around the serious infrastructure work clogging up L and Fifth.
Capper Foundations, Bike Valet, More New Photos
Aug 5, 2008 1:20 PM
* The foundations are rising at
Capitol Quarter
on the south side of L Street between Fourth and Fifth. Next obsessive milestone to watch out for: delivery of lots of lumber!
* Speaking of foundations, I peeked into the big hole at
1015 Half Street
on Sunday and saw that they appear to have reached bottom--there's concrete poured on the northern portion.
* In addition to the other photos I've pointed you to in the past couple days, I've posted updated shots of
Velocity
and
55 M
.
* The
August issue of the Hill Rag
has an interesting little piece
on the bike valet service
at the
ballpark
.
What's Next at Capper/Carrollsburg
Jul 31, 2008 12:04 PM

While the focus lately has been on the start of the
Capitol Quarter townhouses
, there is more to the redevelopment of the old Capper/Carrollsburg public housing complex. There are the two completed seniors buildings (
Capper Seniors #1
and
400 M Street
), now providing 300 of the 700 old Capper public housing units that are being replaced. The first phase of Capitol Quarter includes 39 subsidized rental units, and the second phase (which is probably not going to start delivering until 2011) will have another 47 subsidized rentals; this is in addition to the sales of 121 market-rate and 91 workforce-rate townhouses throughout both phases. That leaves a little over 300 public housing units to come, which will be included in the 1,300 apartments expected to be constructed at Capper over the next five years or so.
There are
five new apartment buildings
slated to be built, three of which along the east side of
Canal Park
where the temporary parking lots are, and another at New Jersey and K on the trash transfer site. And there is a new plan for a fifth apartment building, on L Street across from the
Marine Bachelor Enlisted Quarters
(B.E.Q), on the northern portion of the
old Capper Seniors
footprint.
Under the
original Capper plans
, there was to be a strip of 61 townhouses built on this spot, but the DC Housing Authority has recognized that these homes would be dwarfed by the B.E.Q. to the north and the two planned office buildings directly behind them at 600 M Street. So DCHA has now
filed a request with the Zoning Commission
to allow an expansion in the total number of housing units allowed at Capper to 1,747, which would allow the construction of a four-story 189-unit apartment building (with a massing very similar to the B.E.Q.) on this stretch of L Street known as Square 882N. This Zoning Commission request is also looking to expand the number of units in the planned apartment building on the south side of L Street between Second and Third (let's call it Square 769N) to 171 units, as a result of its block-mate
250 M Street
having
recently gotten approvals
to be built higher than originally requested.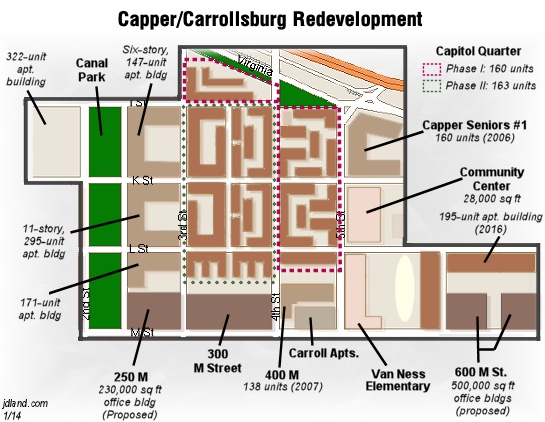 I've updated the map and descriptions on my
Capper Overview page
to reflect these latest plans for the area, and it's worth taking a look at if you're not really familiar with exactly how wide-ranging the Capper Planned Unit Development is. (Reading the
2004 zoning order
establishing the PUD and laying out the requirements isn't a bad idea, either.) I should also note that the apartment and office buildings will combine to have about 50,000 square feet of ground-floor retail. There should also be a new community center at Fifth and K, but it doesn't seem to be on the front burner just yet.
Of course, the question then becomes: when? Timelines are always dicey and should be taken with a couple pounds of salt, but it appears that these two L Street apartment buildings (882N and 769N) would be first up on the agenda, perhaps being delivered in 2011. The other two buildings on Second Street would come next, and the anticipated 400-unit building on the trash transfer site would probably be the last one to be built, finishing maybe sometime in 2013. The three office buildings and the second phase of Capitol Quarter townhouses would be sprinkled throughout that time frame as well, with 250 M Street probably being the first office building to get underway, possibly even later this year. (Have I thrown in enough "maybe"s and "possibly"s and "perhaps"s for you?)
At least these plans don't have to wait until school buses get moved!
Updated Capitol Quarter Photos (Digging Underway)
Jul 24, 2008 3:58 PM

You'll probably need your x-ray specs to really glean any progress from my usual vantage points, but that shouldn't stop you from taking a look at today's batch of
Capitol Quarter photos
, taken on the blocks bounded by Fourth, Fifth, L, and Virginia. As the above photo shows (there's a bigger version on the project page), foundations are indeed now being dug for the first townhouses, on the south side of L between Fourth and Fifth. And meanwhile, the streets are getting pretty new granite curbs and brick gutters. The blocks north of L now have a lot of "private" infrastructure work underway (meaning, the pipes and whatnot that will run beneath the houses), so all in all there's no denying that, after a long long wait, the heart of the
Capper/Carrollsburg
redevelopment is now underway. We should be seeing the first hints of structures rising out of the ground next month.
And, if you really really can't get enough of seeing what's happening in that section of the neighborhood, go to the
Capitol Quarter Phase I Expanded Archive
, where you can see all vantage points. And be sure to click on the
icon anytime you want to see the complete range of photos from a certain spot (to watch the old Capper buildings come down, then see the weeds grow, then see the beginnings of construction).
UPDATE, 7/25: Within 24 hours of my visit, the first concrete footers were poured.
Tiny Items of Note from This Weekend's Wanderings
Jun 23, 2008 12:53 PM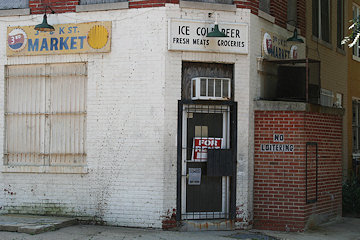 * DDOT told me these were coming a long time ago, and a reader whose e-mail I've lost gave me a heads up a few weeks back, but now I've finally visited for myself to see that the
ugly cyclone fences
on the South Capitol and M overpass have been
replaced with pretty gray-painted ironwork
.
* You have to look kind of closely, but construction has indeed started at
Capitol Quarter
, with pretty new curbs being installed on the south side of L Street between Fourth and Fifth. You can see them if you squint at the photos on my
Capitol Quarter Phase I page
.
* The owner of the
Third and K Market
at, um, Third and K must be keeping track of what's going on nearby, because there's now
a For Rent sign tucked in the door
. (Alas, all the info sheets were gone when I got there.) If you've ever dreamed of running a corner market, here's your chance. The market's been closed since about 2006.
* The "
Wachovia Coming Soon
" sign is back in the window at
20 M
, so my
building permit reading
was on the mark. (It's in the window on the
far western edge of the building
.)
UPDATE:
Speaking of 20 M, GlobeSt.com is reporting (tucked
in a piece on LEED Gold certification
for 1100 New York Avenue) that
several leasing deals are pending for 20 M
. So perhaps that's why Wachovia has decided to start moving forward.
* I did a bit of needed housingcleaning to the
home page map and project directory
--adding in
88 K
as a "featured project", demoting
1345 South Capitol
to "star-only" status until the project starts moving forward again, and adding a few additional stars for projects like the coming retail renovation of
900 M Street
.
I also did some updating of the tabs with the lists of projects--if you don't realize the tabs are even there (look just above the map for "Residential/Office/Retail/Hotel"), take some time during this lazy summer to click on them and be stunned and amazed by the easy access to project information....
Tweaking My Capitol Quarter Page(s)
Jun 10, 2008 1:04 PM
As I was walking on Third Street toward the ballpark last night, I squinted east down L Street and thought I spied construction equipment on the south side of the street east of Fourth, which is where work is
supposed to be getting underway
on
Capitol Quarter
's first townhouses. This spurred me to finally give some long-needed TLC to my Capitol Quarter page: I've now split out onto separate pages the before-and-during photos of the
Phase I blocks
(between Fourth and Fifth and L and Virginia), the
Phase 2 blocks
, and some additional photos of the
sales center
and its street-layout model.
If you're somewhat of a newcomer to Near Southeast, or if you've forgotten what Capper/Carrollsburg used to look like, these pages have a lot of images from 2003 and 2004 that you might find of interest, showing the months when the eastern end of the Cappers was slowly boarded up and then demolished.
If the
Phase I page
isn't enough for you, I've also created a
Capitol Quarter Phase I Expanded Photo Archive
, showing
every
view in the archive of the blocks that make up Phase I. I took a lot of photos last week of the Phase I blocks, so look for the

icon, and also remember to click the
icon to see all photos between the oldest and the newest ones (especially if you like demolition photos). I'll now be taking photos every few weeks of the Phase I blocks where construction is underway. (This area is substantially larger than the 21-acre tract where I almost killed myself trying to keep track of the
ballpark's construction
, but hopefully it will be a bit easier to handle.)
In Case You Missed It (Last Week's News Again)
Jun 2, 2008 10:11 AM
There was a big pile of news this past week from Near Southeast, so I'll boil it down to bullet points and links in case you couldn't keep up:
* Construction is
really about to begin
on the first townhouses at
Capitol Quarter
, now that financing has been closed for the public housing units;
* The first phase of the
waterfront park at The Yards
got the
thumbs up from the Zoning Commission
, and is expected to be completed by summer 2009;
*
Onyx on First
will be opening its first five floors of apartments in late July or early August, and
initial rents have been announced
;
*
100 M
will be
substantially completed in November
, and tenants should start moving into the office building early in 2009. SunTrust Bank is the first retail tenant, and the developer is looking for restaurants for the other spaces;
Financing Closes for Capitol Quarter Rental Units; Construction Phase Starts Monday
Jun 1, 2008 9:43 AM
On Friday, the DC Housing Authority successfully closed the financing for the 39 public housing rental units scattered within the 121 market- and workforce-rate townhouses at
Capitol Quarter
. The $5.1 million in bonds and other high-finance actions outside of my limited ability to explain will fund the $10 million in construction costs needed for these Phase 1 rental units, which will be available to persons making between 30 and 60 percent of the area's median income (adjusted for family size).
Because the private financing is already in place for the for-sale townhouses, the closing of this deal and the acquisition of various other approvals, permits, and whatnot allows EYA to start construction forthwith, and they tell me that the construction phase will indeed start tomorrow (Monday) with "land moving." The first buildings should start coming out of the ground in July on L Street between 4th and 5th, behind the
400 M Street
apartment building, and residents should start moving in by the end of the year or early 2009. The rest of phase one houses will be built on the blocks between Fourth and Fifth streets and the triangular block bounded by Virginia, I, Fourth, and Third.
EYA also tells me that the next workforce housing release should be coming later this summer.
First Capitol Quarter Sales Contracts Being Signed
May 6, 2008 5:10 AM
Word has arrived (and EYA has confirmed) that people who snagged reservations for market-rate townhomes at
Capitol Quarter
are starting to be brought in to sign actual sales contracts. Those with the earliest reservations (which go back to
October 2006
) are having their contracts written this week, and over the next few months all reservation holders will do likewise. Construction is still expected to start this summer, with some of the early-reservation-people being told to expect delivery of their houses in early 2009, though perhaps a bit sooner.
Capitol Quarter Building Permits Continue to Flow
Apr 8, 2008 4:36 PM
It's not the same as seeing townhouses sprout from the ground, but it might still be worth noting that
today's data feed
for DC building permits shows a slew of approvals for
Capitol Quarter
addresses on Fourth, Fifth, and I street addresses....
Morning Roundup: Capper in the NYTimes, Photos
Mar 21, 2008 8:57 AM
* The
New York Times looks at the plans
for replacing
Capper/Carrollsburg
with
Capitol Quarter
. (They also sent it out via their news service, so it's appearing in lots of papers
around the country
.) "Bucking national trends and citing what they call 'a moral goal,' District of Columbia officials have pledged to preserve and even expand low-income housing, replacing dangerous projects with new communities that keep both poor and 'work force' residents -- firefighters, teachers and laborers -- in the mix. The redevelopment of the Arthur Capper and Carrollsburg projects, where Ms. Jackson lived, is the first in the country to promise replacement of all low-income units within the same neighborhood[.]" There's a lot of good detail about the public-housing side of the project, along with comments from former residents.
* Here's a few photos that show
the fences around the Capper surface lots
that I was blathering about yesterday, if you haven't seen them.
* Don't miss yesterday's photos
from on high
.
* Coming as soon as I can finish writing it, big news about a milestone finally passed for one of Near Southeast's oldest "new developments."
What's the Deal With: Capitol Quarter (Again)
Mar 19, 2008 9:05 AM
About five readers in the past week have submitted the same question:
What's the Deal With
Capitol Quarter
? And it's hard not to be wondering that, as one of the first announced projects to revitalize Near Southeast still hasn't seen the start of construction, with a number of target dates having slipped past. (You can read my
WTDW Capitol Quarter
from December to see the last update.)
EYA told me this week that they're now looking at
June or July
as when the first townhomes will get underway, a little past the "Spring" start date that was projected a few months ago. As for the "why", I've mentioned before that we shouldn't really be surprised when companies working on projects worth hundreds of millions of dollars aren't spilling their guts to a pesky neighborhood blogger about the reasons for bad news, so I have no answer. But perhaps the new 2008 reality of a much tougher real estate market and the "credit crunch" are playing a part?
This isn't to say that nothing's happening at Capitol Quarter, since work at the site has been chugging along for the past few months. The first phase of public infrastructure improvements, which has been the cause of all the ripping up of Fourth, Fifth, I, K, and L streets, is all but finished (except for some last work along L Street). And work has started on installing "private infrastructure"--the wet and dry utility lines for the new houses--which will be followed by preparing the lots for vertical construction. But of course none of this is terribly flashy work, and until the townhouses start popping up, it's easy to feel like nothing's happening.
It's still anticipated that all the Phase I townhouses will be completed by the end of 2010.
If you want to get caught up on previous WTDW... entries,
here they are
. To submit a WTDW question of your own,
drop me a line
, keeping in mind that I don't always get to these right away.
PS:
No need to further inundate me with
WTDW Canal Park
questions. Many people (including me) are way ahead of you. Rumors are flying, and I'm trying to get some answers, so I'll post as soon as I have something.
WTDW: Another Thrilling 'I Don't Know' Edition
Jan 10, 2008 8:12 AM
Time to dip back into the
What's the Deal With...?
mailbag, where once again I'm being asked fabulous questions that I don't actually have any answers for. But that hasn't stopped me yet....
* Readers B. and K. are the most recent readers to ask about the
Public Space Storage building
on South Capitol between M and N, just a few feet north of the
ballpark
, wondering whether it has any plans to close. I know that
Monument Realty
was interested in acquiring the building, since it owns the lots just to the building's south as well as all other parts of the block not owned by WMATA, but that was before Metro awarded the
Southeastern Bus Garage
and its parking lot (on the north side to the storage building) to Akridge. It's certainly a valuable piece of land, and I don't think it's going out on a limb to say that I doubt it will be there many years from now, but as of this point I've heard of no deals.
* Reader R. has asked about
Canal Park
, which continues to appear stalled, with no public pronouncements on it in months. (And with that "Spring 2008" still displayed for all to see on the sign at Second and M.) Is it still the school buses throwing up the roadblock, which is what we last were told? Is there some new wrinkle? I haven't heard anything, I'm sad to report.
* Reader F. asks about
Ann's Beauty and Wig Shop
, the dazzlingly pink building sandwiched between
St. Matthew's
and
Onyx
at 125 L Street, wondering if it's going to be sold. Ann's came to this block in 2005, after I believe being forced out of Waterside Mall in SW, and the owner has apparently been pretty vehement with potential suitors that she has no intention of selling. Perhaps the
pending sale of St. Matthew's
to Ruben Companies could change that, but as of now, I've heard nothing.
That's the best I can do for now--absolutely no useful information at all! No doubt there's scuttlebutt on each of these that I'm not privvy to, but I continue to be unsuccessful in my quest to get all city officials and private-sector parties operating in Near Southeast to inform me at all times about all their dealings. It's almost like they think I'm just some sort of powerless pesky neighborhood blogger or something....
Got a WTDW question? (maybe even one that I might know the answer to?)
Pass it along
. But I'll close with a hint--when it comes to oft-discussed projects around Near Southeast, as soon as I hear information that I can confirm, I post it. (I do tend to stay away from posting rumors, and considering some of the ones I've heard over the years that have turned out to be fabulously incredibly wrong, I don't regret this.) If you haven't seen any updates lately about Canal Park, or
Capitol Quarter
, or the
Post Plant
, or any other project, it's because nothing new has come my way. I'm as desperate to post the latest news flashes as you are to read them....
Some Capitol Quarter Building Permits Approved
Jan 3, 2008 1:16 PM
Nineteen building permits for various addresses around
Capitol Quarter
have been approved in the last week, as you can see in the
Building Permits feed
(check it out, homeowners-to-be--your address might be there!). These don't mean that houses will start popping up next week, but it is another step in the long process toward work getting underway. As I've mentioned before, the digging you see currently in the old Capper area is the work on the public infrastructure; the laying of the pipes and utilities under the homesites themselves (known as the private infrastructure) will come next, followed by the "vertical construction" of the houses, which people are still telling me should start in the spring.
Council Passes Alley Closing and Capper PILOT
Dec 11, 2007 3:33 PM
Two bills of Near Southeast interest passed their first readings at today's city council meeting, on the consent agenda, no less. (Consent agenda = no discussion or bickering! Yay!) First was
Bill 17-0448
, which authorizes the closing of the public alley on
Square 696
(bounded by Half, First, I, and K), and which had been interesting mainly for the affordable housing trust fund contribution discrepancy that
came up during the bill's hearing
a few weeks ago, when the developers noted that they expected their contribution to be in the neighborhood of $900,000 and the Office of Planning determined the required sum be closer to $8 million. Apparently the final bill calls for a $1.1 million contribution, which council chairman Vincent Gray said is the largest trust fund contribution ever as the result of an alley closing. The developers also have agreed to create a 20-foot-wide pedestrian right-of-way through the middle of the block to allow for easy access from I Street to the planned public plaza on K Street, though apparently DDOT requested that this right-of-way be upgradable for "motorized access" in the future if necessary. This alley closing will allow DRI Development to move forward with their plans for 800,000 square feet of office space in three buildings with 37,000 square feet of ground-floor retail. There've been noises that the first construction on the site could begin in the summer of 2008, but nothing official has been announced. (The last tenants on the block, in the cab garage at First and K, are expected to move out in February when their lease expires.)
Also passed today was
Bill 17-0292
, the Capper PILOT funding bill that I
just wrote about in detail a couple days ago
. This authorizes a bond issuance of up to $55 million that will yield close to $37 million to pay for infrastructure improvements at
Capper/Carrollsburg
. The bonds will then be repaid by landowners making payments in lieu of property taxes. I should mention that these PILOT funds won't only be repaid by residents of Capitol Quarter--there are two planned office developments totaling 750,000 square feet that are within the Capper PILOT area (600 M Street at the
old Capper Seniors site
and
250 M Street
) that will generate PILOT payments.
Each bill will come before the council again in January for their final votes.
Capper Building 2 (Now 400 M Street) Move-Ins Underway
Nov 25, 2007 10:19 PM
[bump] Residents are now starting to move into
400 M Street
, the building long known around these parts as
Capper Building #2
. They've launched a web site,
400mdc.com
, and the sales office at the building is now open. There's a one-bedroom furnished model, of which one measley photo is posted on my
Capper #2 page
along with other photos from the building's interior.
The 139-unit building was originally designed for low-income seniors, but its profile has been expanded to also include renters who earn a moderate income of between 50 and 60 percent of the area's median income (AMI). This translates to a household income between $33,000 and $38,000 for one person and $38,000 to $45,000 for two people, and up to $54,000 for a family of four. The rental price is then set at 30% of the household income, which makes the rent for a one-bedroom unit range from $877 to $993 per month. But even with the change to allow renters with higher incomes, the building continues to rent to fixed-income seniors and other residents with lower incomes, placed through the D.C. Housing Authority, in order to maintain an overall income level of 45 percent AMI.
Fifty of the building's units have already been rented, including the four two-bedroom corner units facing the intersection at Fourth and M, which have some nice views of The Yards and the U.S. Department of Transportation headquarters. Twenty of the one-bedrooms and one of the two-bedrooms are for the mobility-impaired. As I mentioned
in a post a few weeks ago
, the building's first floor has a community room with kitchenette, and laundry, computer, fitness, and conference rooms. Outside there's a landscaped interior courtyard that also serves as a stormwater management system, and is also available for use by the residents of the Carroll Apartments low-income senior-citizens building next door.
Capitol Quarter: Another Nine Released, Phase I Finished
Nov 3, 2007 4:34 PM
I received word earlier today that immediately on the heels of the nine home sites that EYA released at
Capitol Quarter
as scheduled at 11 this morning, they decided on the spot
to release an addtional nine units
, which have probably been snapped up by now and which complete the market-rate homes that make up Phase I of the project. (Phase 2, with no announced timetable, will be the townhomes on the blocks south of I Street between Second and Third.) There will still be additional workforce-level income houses to be offered, but those will be filled through a different process (last time it was a lottery) and no dates have been announced. (And low-income rental units are sprinkled throughout the development as well.) Bet it was a wild scene at the sales center when word of the additional units hit the people standing in line....