Near Southeast DC: Past News Items
Capper
Go to Full Blog Archive
---
ANC 6D Supports Capper PUD Modifications
Mar 10, 2009 10:57 AM

I can't hardly bring myself to write about the
Capper
PUD
modification requests
*again* (my first post on them was back in
July
), so I'll just stick to the basics and say that on Monday night ANC 6D voted to support the three requests, with provisos that the Zoning Commission request the start date for construction of the
community center
be in 2011 and not 2012 and that the Housing Authority provide *50* parking spaces in the lot at 7th and M for health-care workers who visit the
Capper Seniors #1
apartment building, where apparently there is trouble with parking (according to commissioner Robert Siegel, who lives across the street). The delay on the community center was again a major sticking point (just as it was at the
February meeting
where these requests were also presented, giving Monday night a very Groundhog Day feel), and the Housing Authority representatives again explained that the center must be financed with bonds, which are all but impossible to "float" these days given the economic realities. (The bonds that eventually pay for the community center will also pay for the demolition of the trash transfer station and the other infrastructure work needed on the western edge of the Capper footprint, around
Canal Park
.) Cries of "but what about the Obama stimulus money?" also were left unsatisfied. But, in the end, with the extra wording proposed by Commissioner Sobelsohn and approved by Siegel, the resolution passed.
ANC 6D Meeting on Monday
Mar 6, 2009 1:44 PM
The agenda has been sent out (though
not yet posted
) for Monday's ANC 6D meeting, at 7 pm at St. Augustine's church at 6th and M streets, SW. The only Near Southeast item on the agenda is a vote on the three zoning PUD modifications being sought for the
Capper/Carrollsburg
redevelopment--they were presented to the ANC back in February, which you can
read about here
. Other agenda items include updates on the Waterside Mall redevelopment and the Southwest Zoning Planning process, the SunTrust marathon, the proposals for the new firehouse at 4th and School, SW, and the job fair held in Southwest earlier this week for employment at
Nationals Park
.
New Photos: Capitol Quarter and Freeway Views
Feb 8, 2009 3:20 PM
I took advantage of this beautiful February (!) day to grab some quick photos. First up are the action shots at
Capitol Quarter
, showing the brickwork underway on the
southeast corner of 4th and L
and the framing continuing on the north side.


And, for the first time since August, I've updated my views of the neighborhood from the SE Freeway. Clearly I'm out of practice because I kind of screwed up the angles, but you can still get the idea when you
compare these new images to their "before"s
. This is one of my favorite galleries, since I do have one grainy photo from 2000 (when 80 M was still under construction), and some others from 2005, before the vertical rush really began. You can also see that
1015 Half Street
is about to really dominate the view, probably permanently obscuring the view of
55 M
from the freeway. Remember to click the
icon if you want to see all the photos between the "before" and now.

I also updated the one shot I have from the freeway at New Jersey;
watch the progression
from 2005 when
Capitol Hill Tower
was the dominant building through the construction of
Onyx
and now with
909 New Jersey
and
Velocity
on display.
You can see all photos from today paired with their "before"s
on one page
, if you don't feel like clicking around and if you don't mind waiting a bit for it all to load.
(Alas, despite attempts to clean my lens just before taking these shots, they all look like they're being filtered through Vaseline. I'll just pretend I was being arty.)
Lazy Weekend Tidbits: Capitol Quarter, ANC 6D
Feb 8, 2009 11:10 AM
Been kind of a nice few days here without much news, so now I'm having to force myself back into the routine. I'll start small:
* An update to
the post
about the new houses released at
Capitol Quarter
: EYA tells me that the houses released are spread throughout the development: 421 L Street, under construction and expected to be ready in April (listed for $720,340 on the
EYA "Move In Now" list
), two houses in the block just to the north (expected to be ready in the fall), and four houses in the block bounded by I/Virginia, Fifth, Fourth, and K that could be ready by the end of the year. On all of these blocks the reservations placed by homeowners over the past few years have now been converted to contracts; that is expected to happen for the final Phase 1 block (between Third and Fourth and Virginia and I) later this year.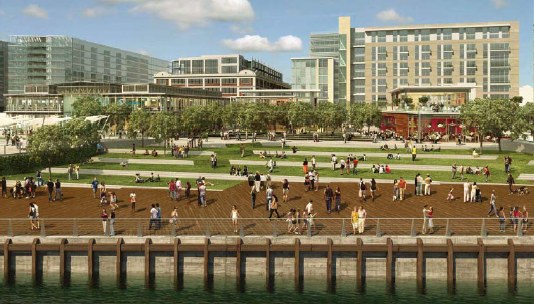 * The agenda for Monday night's ANC 6D meeting
is posted
, and it includes a vote on the Phase 2 designs of the
Yards Park
that were discussed at
last week's special meeting
. I've also now added a bunch of those Phase 2 renderings to my
Yards Park page
. Other items on the ANC 6D agenda are about Southwest subjects, though I should note that the
National Marathon
on March 21 (which they'll be discussing) will be coming across the
Douglass Bridge
, briefly using South Capitol Street until it turns west on P Street.
There's also an agenda item about a BZA application for 1101 South Capitol St., SW, which was the old KFC. This is a good opportunity for me to mention that, with
two
blogs
about Southwest now in full flight, I'm going back to my original boundaries, which old-timers will remember stopped in the median of South Capitol Street, which is where Southeast ends and Southwest begins. I'm lucky enough to be watching a neighborhood that has probably the firmest boundaries of any in the city, so I'm going to respect them!
* City budget season is nearly upon us. I've added to
my calendar
a partial list of dates for FY08-09 oversight and FY10 budget hearings, for agencies that have the most bearing on Near Southeast. Check the
DC Council web site
for the full list.
Capitol Quarter Houses on the Market; Sunday Concert at Marine Barracks Annex
Feb 5, 2009 9:21 PM
Two small tidbits:
* EYA sent out an e-mail today announcing that they are releasing "the final townhomes in Phase 1" at
Capitol Quarter
, with prices starting from the $630s. I don't know how many units are in this batch, or where in the Phase I blocks they're located. I'm pretty sure that a while back Phase 1 was billed as "sold out"--if I'm correct, these would be some houses originally reserved but now back on the market. (Buyer decides not to buy, buyer's credit worthiness tanks, etc. etc.)
UPDATE, 2/7:
EYA tells me that the houses released are spread throughout the development: 421 L Street, under construction and expected to be ready in April (listed for $720,340 on the
EYA "Move In Now" list
), two houses in the block just to the north (expected to be ready in the fall), and four houses in the block bounded by I/Virginia, Fifth, Fourth, and K that could be ready by the end of the year. On all of these blocks the reservations placed by homeowners over the past few years have now been converted to contracts; that is expected to happen for the final Phase 1 block (between Third and Fourth and Virginia and I) later this year.
* From
the Post
calendar listings, word of a concert on Sunday Feb. 8 at the
Marine Bachelor Enlisted Quarters
. (This is the first time I've ever heard of a concert there, though it's more than possible that the news of previous ones didn't make it onto my radar.) Here's the particulars: "MARINE CHAMBER ENSEMBLE, performance of works by Libby Larsen, Telemann and Stravinsky; followed by a tour of the facility; light refreshments served. 2 p.m., Marine Barracks Annex, John Philip Sousa Band Hall, Seventh Street and Virginia Avenue SE. Free. 202-433-4011." (hat tip to reader S.)
Capper Zoning Changes Presented to ANC 6D
Feb 4, 2009 3:17 PM

The last item to summarize from Monday's ANC 6D presentation hearing was an update on the
series of changes being requested
to the
Capper/Carrollsburg
PUD
. I've been writing about some portion of these requests since
July
, so here's some bullet points I've previously written (I just can't bring myself to have to compose new entries about this stuff AGAIN), along with comments from the ANC commissioners:
*
Expanding the number of units at Capper:
"There are

five new apartment buildings

slated to be built, three of which along the east side of

Canal Park

where the temporary parking lots are, and another at New Jersey and K on the trash transfer site. And there is a new plan for a fifth apartment building, on L Street across from the

Marine Bachelor Enlisted Quarters

(B.E.Q), on the northern portion of the

old Capper Seniors

footprint.

"Under the

original Capper plans, there was to be a strip of 61 townhouses built on this spot, but the DC Housing Authority has recognized that these homes would be dwarfed by the B.E.Q. to the north and the two planned office buildings directly behind them at 600 M Street. So DCHA has now

filed a request with the Zoning Commission

to allow an expansion in the total number of housing units allowed at Capper to 1,747, which would allow the construction of a four-story 189-unit apartment building (with a massing very similar to the B.E.Q.) on this stretch of L Street known as Square 882N. This Zoning Commission request is also looking to expand the number of units in the planned apartment building on the south side of L Street between Second and Third (let's call it Square 769N) to 171 units[.]"

The ANC was told that the Square 769N building was originally designed to be a market-rate condo building only, but that financing realities have forced a switch to rentals. And because rental units can be smaller, they were able to not only add more than 60 units, but make 34 of those units public housing, allowing a lower proportion of public housing units in the other four apartment buildings while still maintaining the required Hope VI one-to-one replacement of the original 695 Capper public housing units.

As for the Square 882 buildings, the change to apartments from townhouses would require a boost in parking spaces from 49 to 172--but they are proposing to lower the total spaces at the office building from 400 to 284. This is part of a request to bring down the overall number of required parking spaces from 1,845 to 1,780, including the removal of the requirement for 70 off-site spaces for

400 M Street

, which have been determined to be unnecessary.

(Note that the Square 769 and Square 882 issues before the Zoning Commission are technically a PUD second-stage review.)

*

Time Extensions:

"

There were also requests for three time extensions: to extend the first-stage PUD for an additional five years, to extend the deadline for filing second-stage approvals for the apartment building sites along Canal Park (including the trash-transfer station site) to 2013, and to extend the deadline for filing a building permit application for the planned community center

at Fifth and K to January 2011, with an included extension of the start of construction to January 2012."

Commissioner Bob Siegel in particular is very unhappy about the delay in the community center construction, saying that the senior residents of 900 5th Street need an exercise room and other amenities. But he was told that, simply, the community center is unfinanceable right now.

And Commissioner Ron McBee wants to revisit the community benefits that were agreed to in the original Capper PUD, asking the presenters to get him a list of those benefits--I can do it for them, by pointing to

pages 12-14 of the 2004 zoning order

.

The Zoning Commission will be hearing all these items on March 19. You can see the

hearing notice

for the zoning-related specifics on the three cases

Morning Roundup of Recent Little Items

Feb 4, 2009 8:49 AM

A couple small things from the past few days:

* For the second time in eight years,

Capitol Quarter's

EYA has been

named America's Best Builder

by Builder Magazine,

which cited

"its commitment to high-quality design, building in areas featuring life within walking distance, and industry leading results on homebuyer satisfaction and referral sales."

*

From WTOP

, news that the current occupants of the encampment at

First and M

are seeing the tab for their move escalate a touch: "The estimated cost of building a sprawling new complex at Fort Belvoir to house [the

National Geospatial-Intelligence Agency

] and its 8,500-strong work force will be $350 million more than prior estimates, according to a report from government auditors." It's mandated that they have to be moved into their new digs by September 2011, but the GAO report "warned that the agency's small window for delays means that 'any unmitigated disruptions can jeopardize' meeting the 2011 deadline." The price tag is now $2.44 billion.

Pre-Weekend Roundup

Jan 30, 2009 12:57 PM

Some little items to head into the weekend:

* The

Capitol Riverfront BID

is going with a Best of the 80s theme for its Riverfront Reel summer outdoor movie series, and

has a survey up

to determine the most popular flicks. (Though let me just say that the omission of

Die Hard

has me white with rage....)

* DDOT is holding an "

Anacostia Waterfront Forum

" on Feb. 17 at the MLK Library at 6:30 pm, "on the role that replacing the

11th Street Bridges

will have in creating a more inclusive and sustainable Distrct."

* Also from the BID, news that the

Earth Conservation Corps

has scheduled a dedication ceremony for

Diamond Teague Park

on

April 28

. I've been told that if all goes "as planned," the construction of the in-water structures (the docks and the piers) should be completed by Opening Day, though the plantings and other work on the dry-land portion of the park would be completed by the beginning of July.

*

Greater Greater Washington is not happy

that the

US DOT

is having a "sale" on its parking spaces.

*

City Paper's Housing Complex blog is bewildered

about where this

Capitol Quarter

"neighborhood" might possibly be. (

Teh Google

probably could have answered that.)

* The US Department of Justice and some Shell Oil entities are nearing a

$2.1 million settlement

for damages and cleanup costs at the Southeast Federal Center (now

the Yards

) after what the feds allege was benzene, toluene, ethylbenzene and xylene contamination of soil and groundwater "from leaking underground storage tanks located at a former filling station adjacent to the contamination."

* I did attend last night's zoning hearing on Akridge's

Half Street project

, and will post a summary when I recover from the nearly four-hour session. But I did hear that the bus garage on the site will be demolished pretty soon, to make way for temporary parking. Both Akridge and Monument are talking with the Nationals about providing their spaces for gameday parking. (Monument has told me that their underground garage at

55 M

--and the little addition to the south--will be complete by Opening Day.) That's a lot of spaces that weren't around last year....

Special ANC 6D Presentation Meeting on Feb. 2

Jan 27, 2009 7:45 PM

With developers of three large projects needing to make presentations, ANC 6D has decided to have a

separate presentation meeting on Feb. 2

in advance of its Feb. 9 monthly business meeting. And all three are Near Southeast spectaculars:

* The Housing Authority will be there to talk about the

various modifications it's seeking

to the

Capper

PUD, in advance of its

March 19 Zoning Commission hearing

;

* DDOT will be making a presentation on the final

South Capitol Street Environmental Impact Statement

(this includes the plans for the

new Douglass Bridge

), which I

wrote about a few weeks back

; and

* Forest City will be making a presentation about the

park at the Yards

(I believe these are the designs for Phase II, which include the various pavilions and the docks and marinas). The National Capital Planning Commission will be taking a look at Yards designs at their

Feb. 5 meeting

, and the Zoning Commission hearing on the park's second phase is scheduled for

March 2

.

The meeting is at the ANC 6D offices on the second floor of 1501 Half Street, SW, at 7 pm.

'LEED For Homes' at Capitol Quarter

Jan 26, 2009 3:31 PM

From a press release just out

, word that EYA will be seeking

LEED for Homes

certification for

Capitol Quarter

: "The neighborhood's proximity to public transportation, employment centers, parks and neighborhood retail reduces the amount of time homeowners spend in their cars. Add to that environmentally friendly building materials such as Energy Star appliances and windows, water saving plumbing fixtures, high efficiency heating and cooling equipment, and low VOC paints and finishes. The homes at Capitol Quarter provide more energy savings, better indoor air quality, and less impact on the environment than standard new townhomes -- all qualities that the LEED for Homes program is designed to promote." Also from the release, this: "Traditionally, LEED certification has been sought by builders for commercial buildings and custom residential homes. Capitol Quarter will serve as a model for volume builders in how to implement LEED for Homes on a larger scale."

UPDATE:

Here's the

release on EYA's site

, which reminds me to note that this will be the largest LEED for Homes development in the country.

New Construction Photos: Teague, Capitol Quarter, 1015 Half (and More)

Jan 25, 2009 5:49 PM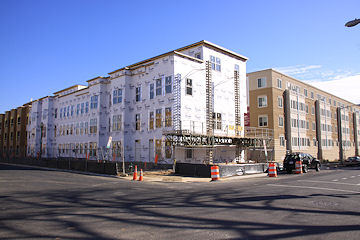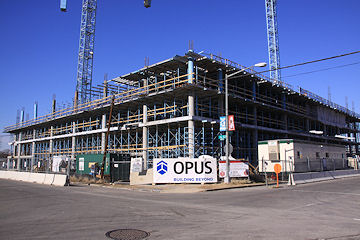 I took a nice tour of the action spots around the neighborhood today, getting updated photos of the very showy progress at
Capitol Quarter
and
1015 Half Street
.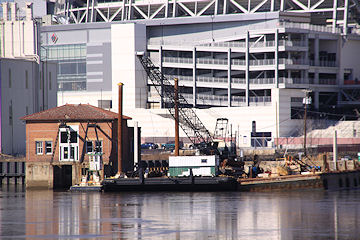 I also snuck across the river (don't tell) to get a peek through my zoom lens at the goings-on at
Diamond Teague Park
, plus I took a photo or two through the fence at First and Potomac. It looks like the gangplank from the shore to the pumphouse has been dismantled; and there's definitely "in-water" work going on.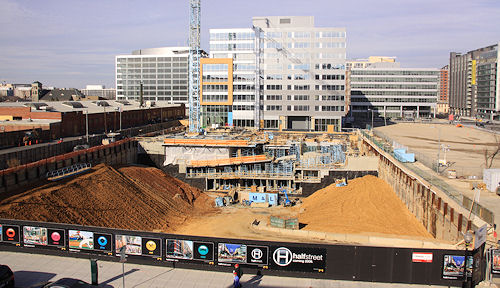 I also got a good batch of updated photos for 55 M, and gave my
Monument Half Street page
a badly needed refreshing--there's also this shot of the construction on the extension of the underground garage (and the shored-up hole on the south end of the block), as seen from Nats Parking Garage B.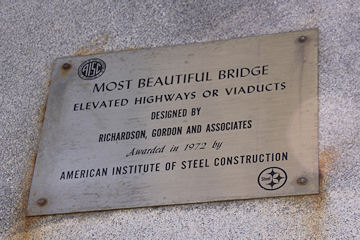 I even took my first(!) set of photos
at 11th and L
, where the Southeast Freeway bends toward the
11th Street Bridges
, to get an official "before" baseline in advance of the reconstruction and reconfiguration of it all. (And I found
this plaque
on one of the flyover pillars, which might be worth a chuckle or two.)
If you want to see the entire batch of new photos on a single page,
here they are
, though it's about a hundred of them so be patient. But the links above are better if you want to see them matched with their "before"s.
(Oh, and that dinky little For Sale sign at 10th and M by the Exxon that
I wrote about on Friday
is gone. Drunken property advertising?)
Capitol Quarter Construction Moves North
Jan 22, 2009 11:05 AM
I haven't seen it with my own eyes yet, but a couple readers reported yesterday (as I
Twittered
) that
Capitol Quarter
vertical construction has now begun on the north side of L Street between Fourth and Fifth, across from the units already well underway. (There's also a rumor that bricking will begin on those first townhouses soon.) The foundations have been underway on this block for a while, so I'm assuming it's the showier framing work that has begun. I'll give them a day or two to make some progress, and will get photos this weekend.
Akridge Gets ANC Backing for Half Street
Jan 13, 2009 9:38 AM
I was unfortunately unable to get to
Monday night's ANC 6D meeting
, thanks to an avalanche of Inauguration-related work at my real job that couldn't wait, plus there was the arrival yesterday afternoon of my brother's third child, Teddy. (And if you think you've got it bad over the next week, light a candle for him--he's
Washington correspondent
for the Cox Radio Network, and has to cover all of the inauguration while tending to a newborn and two other kids under the age of five who will be wondering what that squirming, crying package is that arrived at the house.)
Anyway, I've been able to find out that the ANC gave its support to
Akridge's planned 700,000-sq-ft mixed-use project
on Half Street between M and N, subject to the finalization of the community benefits package. I wrote a long entry after last month's ANC meeting
describing Akridge's designs for the project
, if you want all the details. I hope to get renderings within the next few weeks, in advance of the
January 29
Capitol Gateway Overlay Review
.
I hope to find out soon whether the illustrious
Capitol Quarter
trash enclosures
discussions have been brought to a close.
(And I hope to make it to tonight's ANC 6B meeting, which will have a briefing on the
South Capitol Street EIS
. But only if work doesn't intervene again.)
ANC 6D Meeting Monday Night
Jan 9, 2009 9:38 AM
The agenda is out (though not net yet
online
) for Monday's ANC 6D meeting, and if you've liked the past few meetings, you'll love this one, because it's pretty much a rehash of
recent agendas
: the
Capper
PUD modifications (
described here
), the
Capitol Quarter
trash enclosures
(perhaps the fourth time's the charm), and
Akridge's Half Street project
, which is going to the Zoning Commission
at the end of this month
. (For Southwest folks, the Hogate's liquor license discussion is back, too.) And, although it's not on the agenda now, I'm guessing there might be some inauguration-related discussions. The ANC meets at St. Augustine's church, Sixth and M streets, SW, at 7 pm.
New Douglass Bridge Design - Coming Soon? (Post on Upcoming Meetings)
Jan 5, 2009 8:38 PM
New Year, New Meetings:
*
ANC 6B
(mostly Capitol Hill, but also including the Eighth Street area of Near Southeast) has posted its January 13 meeting agenda, and one of the items on it is "South Capitol Street Draft Environmental Impact Statement."
This draft EIS
, which envisions substantial changes to the section of
South Capitol Street
from the Southeast Freeway across the
Douglass Bridge
to Firth Sterling Avenue, was released last year, and at December's Anacostia Waterfront Fair
it was announced
that the final EIS is expected to come this spring.
It may not sound like much to get excited about, but one of the cornerstones of the final EIS should be the unveiling of the chosen
design for the new Douglass Bridge
. I
wrote a long entry about the Draft EIS
when it was released, and on my Douglass Bridge page you can also
see the four preliminary designs
. (And you can also relive
2007's Extreme Makeover
!) Feel free to sound off in the comments on which bridge design you want--but, please, no wagering.
Also on ANC 6B's agenda is "ZC # 03-12I/03-13I, Modification to the Arthur Capper Carrollsburg PUD," which I imagine is the series of deadline extensions and other zoning items that I've previously written about.
(
UPDATE:
This has apparently been removed from the 6B agenda, at the Housing Authority's request.)
This meeting is at the Old Naval Hospital, 921 Pennsylvania Ave., SE, at 7 pm.
* ANC 6D's monthly meeting will be on the previous night, Jan. 12, at St. Augustine's Church at 6th and M Streets, SW. No agenda yet posted. (6B usually wins this race by a country mile.)
* This Thursday (Jan. 8), Metro's Customer Service, Safety and Operations Committee will be voting on whether to
authorize a mid-February hearing on the discontinuation of the N22 bus
, which runs between the Union Station, Eastern Market, and the Navy Yard subway stations and which is expected to be replaced by DC Circulator route. I'm not sure why this is on the agenda again--my understanding was that they
approved it in December
, as did the full board. Read my previous posts with more detail on this change
here
and
here
.
Images and Updates from the Last Photo Trek of 2008
Dec 29, 2008 6:26 PM
I don't dare tally up how many photos I've taken over the past 12 months, but suffice to say it's a lot. That didn't stop me from a quick lunchtime trek around the neighborhood to grab my final pictures of 2008, with a starkly blue sky as an end-of-year gift. Here's a boatload of before-and-afters for your perusal: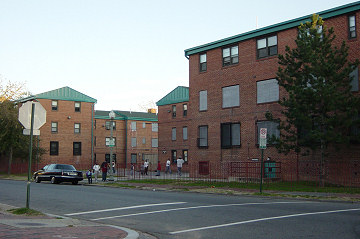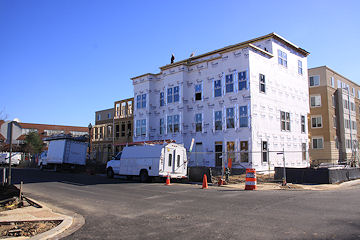 I started at
Capitol Quarter
, where the first three townhouses at Fourth and L are already framed, wrapped, and window'ed (I imagine the developers are trying to get those units finished as close to "on schedule" as possible). Here's the
before-and-afters for the intersection's southwest corner
; be advised that taking southward-facing photos in winter is no fun at all, so apologies for all glare, skipped angles, etc.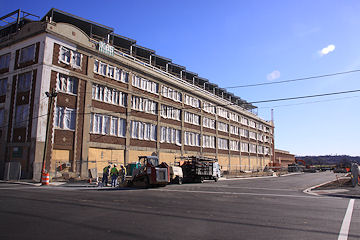 I next ventured to
The Yards
(USDOT security guards be damned!) for updated photos of the
Foundry Lofts construction
, where most of the framing of the two new top floors appears to be finished. And both Third and Tingey streets are now nicely paved and curbed, which you can see along with the Foundtry Lofts construction in these
Third and Tingey photos
, and also in shots from one block west, at what someday will be
Second and Tingey
. And, for the heck of it, here's a few new
New Jersey and Tingey images
. (Remember to look for the

icon, as always.)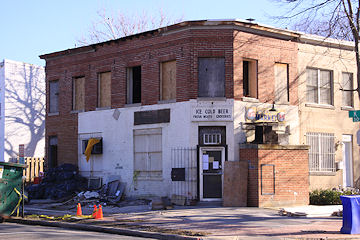 And, acting on tips from alert readers, I checked out the
Third and K Market
, which is now being gutted. There was no one around to answer any questions as to what is up, but seeing work getting done a few months after a For Rent sign went up (and quickly disappeared) would seem to be a good sign....?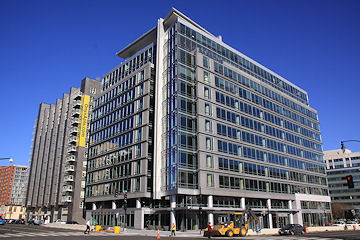 I also went to First and M, where workers at
100 M
have now given back one lane of M Street and told me that the median east of First will be rebuilt soon (as the one west of M recently was). The silver bullding against the unbelievably blue sky makes for a nice tableau
in these updated photos
.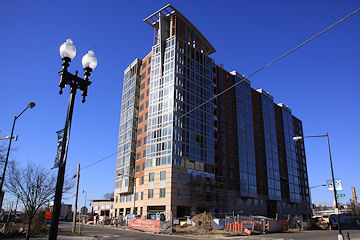 There are also a few updated shots of
909 New Jersey
, taken mainly from the
First and I intersection
, which is also notable for the nice little fence and landscaping that's now gone in across the empty lot to the east of
100 I
, visible in
many of these new photos
.
Will that tide everyone over until the new year? I know I'm now good for a while....!
ANC 6D Doings, Part 1: Artomatic, Nats Express, and Capper PUD Modification Requests
Dec 8, 2008 11:10 PM
Just got back from ANC 6D's meeting, and I'll leave you waiting until Tuesday for the first details on
Akridge's Half Street plans
(I don't want to give it short shrift) but here's the other Near Southeast items of the evening:
* Commissioner David Sobelsohn said an announcement is likely coming next week that the city's 2009
Artomatic
festival will be held in ANC 6D, "most likely ANC 6D07" (which is Near Southeast). I know nothing more than that.
* Sobelsohn also introduced a resolution to send a letter to Tommy Wells, DDOT, and other officials expressing the ANC's support for the continuation of free parking at RFK and the Nats Express shuttle buses "to reduce the incidence of illegal on-street parking in ANC 6D by people attending events at Nationals Park." The resolution passed 6-0. A few weeks ago it was reported that
Wells wants to discontinue the service
.
* The DC Housing Authority came requesting the ANC's support for
a series of zoning items
having to do with the
Capper
PUD, including extending some deadlines and also expanding the number of residential units offered. (You can
read all about them here
; I'm too worn out to go into them all again tonight.) There wasn't much discussion of the request itself, because the commissioners were, shall we say, displeased that a huge packet of supporting materials arrived on their doorsteps just last Friday (6D07's Bob Siegel didn't receive his at all, and were unmoved when told it was basically the same information they had received in July.
There was also displeasure expressed about the request to delay the start date for the
Community Center
at 5th and K to 2012, with the commissioners wondering what level the DCHA would consider a "critical mass" of residents that would make the center viable. (Only 300 of the planned 1500 units have been built so far, so it would seem that the threshold might perhaps be a bit higher.) But the Housing Authority made clear that obtaining financing for the project is the larger hurdle. The support request will be brought up again at the ANC's January 12 meeting.
* I admit that I didn't stick around for the late-in-the-agenda item on the
Capper trash enclosures
. But DCHA mentioned that they had met with the city's Public Space Committee in advance of their monthly meeting, and were making progress on modifications to the design. ANC chair Moffatt asked if the enclosures still exist at all in the new design, and when he got the "yes" answer, that ended the discussion.
Monday Mishmash: Framing at Capitol Quarter, BID Holiday Market, Third Street Doings, and More
Dec 8, 2008 5:26 AM
*
As Tweeted
on Saturday night (after cheering my Gators onto victory), framing has indeed begun on
Capitol Quarter v2.0
. They're not exactly the most thrilling photos (it was some tough almost-winter lighting conditions), but if you need proof,
here they are
, with their befores.
* Yet another mid-month event announcement to pass along--on December 16th, 17th, and 18th, the
BID is putting on a Holiday Market
at 1100 New Jersey Avenue. It will run from 11:30 am to 6 pm, and will feature "local artisans selling handcrafted jewelry, pottery, crafts, watercolors, photography, and more."
* Looks like maybe the
3rd and K Market
might be stirring. I haven't heard anything official (though we saw that "For Rent" sign in the door a few months back), but there's been a slew of permits and the concrete surrounding the building has been torn up to apparently do some re-pointing of the bricks near ground-level.
* Less pleasant news from the same block--looks like there was a fire just within the past few days in the second floor of one of the rowhouses on Third Street--the top-row windows are gone, and there's black soot across the upper part of the front of the house. Anyone know what happened?
* I finally gave the new camera its first Hood workout on Sunday morning, despite the 40-mph winds and "variably sunny" weather that provided some
icky overcast shots
followed seconds later by
brilliant blue-sky vistas
, though it must be said that this model does a much better job of handling
backlit buildings
than my previous one. (And it was too dang cold to think about sticking around waiting for clouds to clear.) I'll post them in separate entries over the next few days. Got to s-t-r-e-t-c-h out the decent content nowadays.
ANC 6D Meeting Monday (First Peek at 25 M)
Dec 5, 2008 12:44 PM
The agenda
for Monday's ANC 6D monthly meeting is out, and the most enticing item is Akridge looking for the commission's support in advance of its
Jan. 29
Capitol Gateway zoning overlay review
for its
new 700,000-sq-ft mixed-use development at 25 M
, on the site of the old WMATA Southeastern Bus Garage, in the block directly north of
Nationals Park
. At this point, little has been put forth publicly about the project other than it'll be a office/residential/retail mix, and is expected to get underway in early 2010.
Also on the agenda is a
third
go-round with the DC Housing Authority over the designs for some external trash enclosures for some of the units at
Capitol Quarter
. I wrote about the first discussion
here
, and the
Hill Rag has the report
on the second one. Will the third time be the charm, or will bad things come in threes? There will also be a status report about the
Capper
redevelopment in general.
There's also apparently a letter being brought by Commissioner Sobelsohn to express the ANC's support for retaining the Nats Express shuttle bus that brings stadium-goers to the neighborhood from the parking lots at RFK. I imagine that the ANC will be expressing some level of concern about increased traffic and parking problems if that shuttle service goes away (it was
reported last month
that Tommy Wells is in favor of ending it).
The ANC meeting is at 7 pm at St. Augustine's Church at Sixth and M streets, SW.
Capitol Quarter 2.0: Moving Forward
Dec 5, 2008 9:10 AM
For those who haven't wandered by Fourth and L recently to check out what's happening at
Capitol Quarter
, I can report that new slabs have been poured, and vertical construction should get underway (again) next week. (If you haven't been following along, this is a second start for these townhouses, after the initial construction in August
showed foundation problems
and resulted in the demolition of the first units that were underway.)