Near Southeast DC: Past News Items
Capper
Go to Full Blog Archive
---
Financing Closes for Capitol Quarter Rental Units; Construction Phase Starts Monday
Jun 1, 2008 9:43 AM
On Friday, the DC Housing Authority successfully closed the financing for the 39 public housing rental units scattered within the 121 market- and workforce-rate townhouses at
Capitol Quarter
. The $5.1 million in bonds and other high-finance actions outside of my limited ability to explain will fund the $10 million in construction costs needed for these Phase 1 rental units, which will be available to persons making between 30 and 60 percent of the area's median income (adjusted for family size).
Because the private financing is already in place for the for-sale townhouses, the closing of this deal and the acquisition of various other approvals, permits, and whatnot allows EYA to start construction forthwith, and they tell me that the construction phase will indeed start tomorrow (Monday) with "land moving." The first buildings should start coming out of the ground in July on L Street between 4th and 5th, behind the
400 M Street
apartment building, and residents should start moving in by the end of the year or early 2009. The rest of phase one houses will be built on the blocks between Fourth and Fifth streets and the triangular block bounded by Virginia, I, Fourth, and Third.
EYA also tells me that the next workforce housing release should be coming later this summer.
First Capitol Quarter Sales Contracts Being Signed
May 6, 2008 5:10 AM
Word has arrived (and EYA has confirmed) that people who snagged reservations for market-rate townhomes at
Capitol Quarter
are starting to be brought in to sign actual sales contracts. Those with the earliest reservations (which go back to
October 2006
) are having their contracts written this week, and over the next few months all reservation holders will do likewise. Construction is still expected to start this summer, with some of the early-reservation-people being told to expect delivery of their houses in early 2009, though perhaps a bit sooner.
Capitol Quarter Building Permits Continue to Flow
Apr 8, 2008 4:36 PM
It's not the same as seeing townhouses sprout from the ground, but it might still be worth noting that
today's data feed
for DC building permits shows a slew of approvals for
Capitol Quarter
addresses on Fourth, Fifth, and I street addresses....
Morning Roundup: Capper in the NYTimes, Photos
Mar 21, 2008 8:57 AM
* The
New York Times looks at the plans
for replacing
Capper/Carrollsburg
with
Capitol Quarter
. (They also sent it out via their news service, so it's appearing in lots of papers
around the country
.) "Bucking national trends and citing what they call 'a moral goal,' District of Columbia officials have pledged to preserve and even expand low-income housing, replacing dangerous projects with new communities that keep both poor and 'work force' residents -- firefighters, teachers and laborers -- in the mix. The redevelopment of the Arthur Capper and Carrollsburg projects, where Ms. Jackson lived, is the first in the country to promise replacement of all low-income units within the same neighborhood[.]" There's a lot of good detail about the public-housing side of the project, along with comments from former residents.
* Here's a few photos that show
the fences around the Capper surface lots
that I was blathering about yesterday, if you haven't seen them.
* Don't miss yesterday's photos
from on high
.
* Coming as soon as I can finish writing it, big news about a milestone finally passed for one of Near Southeast's oldest "new developments."
Clear Sunny Skies. That Must Mean....
Mar 20, 2008 3:51 PM


Caught a break with such beautiful weather today, and so I snagged a
new batch of overhead photos
from up high at the
Courtyard by Marriott
. I took the entire batch, both east and west, and
have paired them with the first ones I took
, in March 2006. It's quite a difference; these are the views that people should see when they're carping about "how the area around the ballpark is one big construction zone" -- yes, it is, but look what that construction has done in just two years. (And think of what the commentary would be if this construction *weren't* happening.) You can also toggle to
include all the photos from here in 2007 as well
, to watch the process step-by-step.
Comments
(0)
More posts:
100 M
,
600 M/Square 882/Old Capper Seniors
,
70/100 I
,
909 New Jersey
, Capper,
jpi
,
Courtyard/Marriott
,
mnorth
,
Onyx
,
Square 743N
,
Square 699n
This Morning's Ballpark Odds and Ends
Mar 20, 2008 7:45 AM
* The prettiest darn fences, about four feet high, popped up around parking lots
T and U
on Third Street within the past two days. An unexpected touch. (I originally said wrought-iron, but now that I think about it, that's not what they are. Just black steel or some other metal I'm not smart enough to recognize. But still cool. Photos to come.)
* The
Prince George's Gazette
says that
Nationals Park
"could bring jobs and an economic boon to the southern part of the county."
* This is a few days old, but the US Park Police and the National Park Service
say you'd better not think
of parking at Anacostia Park during ballgames and other events at the stadium: "The NPS and USPP remind those seeking parking for events at the new Nationals' stadium that parking within Anacostia Park is open to park users only. Parking on turf is illegal within Anacostia Park. Park users are asked to be aware that increased vehicular traffic is anticipated and to make plans accordingly."
* Dr. Gridlock on his
Get There blog
talks about the "National Trifecta" on March 29--the
National Marathon
(which
wrought all sorts of havoc
in Southwest last year), the
National Cherry Blossom Festival
, and the Nationals-vs-Orioles exhibition game--that could make for rough driving around the city on that Saturday.
What's the Deal With: Capitol Quarter (Again)
Mar 19, 2008 9:05 AM
About five readers in the past week have submitted the same question:
What's the Deal With
Capitol Quarter
? And it's hard not to be wondering that, as one of the first announced projects to revitalize Near Southeast still hasn't seen the start of construction, with a number of target dates having slipped past. (You can read my
WTDW Capitol Quarter
from December to see the last update.)
EYA told me this week that they're now looking at
June or July
as when the first townhomes will get underway, a little past the "Spring" start date that was projected a few months ago. As for the "why", I've mentioned before that we shouldn't really be surprised when companies working on projects worth hundreds of millions of dollars aren't spilling their guts to a pesky neighborhood blogger about the reasons for bad news, so I have no answer. But perhaps the new 2008 reality of a much tougher real estate market and the "credit crunch" are playing a part?
This isn't to say that nothing's happening at Capitol Quarter, since work at the site has been chugging along for the past few months. The first phase of public infrastructure improvements, which has been the cause of all the ripping up of Fourth, Fifth, I, K, and L streets, is all but finished (except for some last work along L Street). And work has started on installing "private infrastructure"--the wet and dry utility lines for the new houses--which will be followed by preparing the lots for vertical construction. But of course none of this is terribly flashy work, and until the townhouses start popping up, it's easy to feel like nothing's happening.
It's still anticipated that all the Phase I townhouses will be completed by the end of 2010.
If you want to get caught up on previous WTDW... entries,
here they are
. To submit a WTDW question of your own,
drop me a line
, keeping in mind that I don't always get to these right away.
PS:
No need to further inundate me with
WTDW Canal Park
questions. Many people (including me) are way ahead of you. Rumors are flying, and I'm trying to get some answers, so I'll post as soon as I have something.
Prez to Throw Out First Pitch; Parking Lot Updates
Mar 16, 2008 10:45 AM
* We knew he'd been asked, but
it's now confirmed
that President Bush will be throwing out the first pitch at Nationals Park on Opening Night (March 30). Officials from the team have told me that they've acquired more than 50 magnetometers to handle the security checks for the expected 41,000-person sellout crowd. But it's also one more reason to get there plenty early; the gates will open at 3:30 pm.
Barry passes along
the message from Stan:
Take Metro
! Stan also says, as we've heard from multiple sources lately, that the team is continuing to work on some same-day/cash lot parking, though it isn't in place yet. (They've said previously that they're trying to figure out how to offer these spots in a way that would prevent too much additional congestion, perhaps by requiring spaces to be purchased via the Internet beforehand.)
* As for the
surface parking lots
, work is speeding up (just in time!). Striping and lighting looks to be mostly done on one of the Blue Zone lots at Third and Tingey in
The Yards
(
dull parking lot photo here
), and work continues on the two lots along First Street north and east of the ballpark. Ditto for the lots on
Capper/Carrollsburg
land, all of which are in the Orange Zone. Asphalt is being laid at Lot W at Seventh and M on the
old Capper Seniors
site (
another dull parking lot photo here
). Stormwater management systems, gravel, and lighting are in at lots U and T on Third Street between I and L (more not-quite-so-dull photos
here
and
here
, both of which show the new signs now posted).
To manage these Capper lots, the DC Housing Authority has chosen
UStreet Parking
, a certified DC Local, Small, Disadvantaged Business (
LSDBE
) that handles the parking at RFK, the Convention Center, and
many swank spots
that geeky old neighborhood bloggers will never see the inside of, such as Love and Ultra. Look for some free parking days in April, along with monthly parking accounts and possibly some cash parking, especially now that the
Performance Parking
signs (and the enforcement expected to accompany them) have taken away the bountiful free parking on Capper streets that local residents and workers have gotten used to.
UPDATE:
And yes, I've gotten an updated version of the Maine Avenue sign. And "Nationals Park" is now added to the Sixth Street and South Capitol Street exit signs, though not yet with the Curly W attached.
WTDW: DPW's 900 New Jersey Ave. Site
Feb 8, 2008 2:28 PM
In our latest edition of
What's the Deal With....
, reader JD of JDLand.com asks: "WTDW with the old trash transfer site at
900 New Jersey Avenue
, that place with the smokestack and all the Department of Public Works operations?"
At Wednesday's
marathon capital budget hearing
(no, I'm still not done watching it) the agency's director mentioned both the New Jersey Avenue site and the maintenance yard on O Street beneath the 11th Street Bridges as DPW locations that will eventually be moving to make way for development associated with the city's Anacostia Waterfront initiatives. I e-mailed DPW to get some clarification on his remarks, and have been told that the street sweepers that currently operate out of 900 New Jersey will be relocating in November to DPW's Bryant Street, NW, facility, but that other DPW functions are going to remain at New Jersey and K until the Office of Property Management can find them a new home.
This site is eventually supposed to be redeveloped as a mixed-income apartment building under the
Capper/Carrollsburg
Hope VI plan, but no timeline has been announced. And William C. Smith's plans for a 1-million-square-foot project on the block just to DPW's north, which include reopening I Street between New Jersey and Canal, would seem to need DPW to move out before they can get started.
As I wrote about over the summer, neighbors have been wanting that building closed
for a long, LONG time
.
Photo Update: N Street, 55 M, Willco, 23 I
Jan 28, 2008 11:02 AM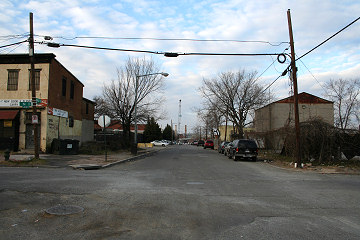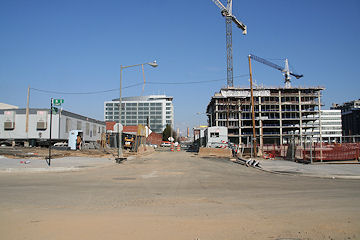 I wandered around on Sunday for a photo session, wishing that spring would hurry up and get here so that the sun will rise higher during the day and set farther west so that I can stop dealing with the damn glare whenever I face southward.
* I have new images along N Street
just north of the ballpark
between Half and First, which show the work at the entrance plaza at Half Street, including glass now being installed on the ground floor of the western parking garage, as well as the structures that will make up the entrance gates.
* In fact, I updated
all 12 angles of the Half and N intersection
, which now that it has its new wide sidewalks, curbs, streetlights, and an initial paving job, is really a
stunning testament to 24 months of change
, not only on the four corners of Half and N but the blocks to the north as well. It's definitely worth a look.
* I took a lot of photos of the
now-demolished Willco stretch
along First Street (and gave the project its own page as well), and of course I got
all the usual angles
of
55 M Street
.
* On Half Street between I and K, where JPI's
23 I Street
residential project is expected to start this year, a pile of red-and-black advertising banners have been hung on every available surface, and a "JPI Permit Parking only" sign has appeared on the entrance to the former towing company's parking lot on that block. I'm guessing JPI's purchase of the property just closed. I haven't heard anything about potential start dates for this project, or when the Wendy's might close.
* If you
browse all the photos I took yesterday
, you'll also see a smattering of
70/100 I
and
100 M
shots as well as images of the
two blocks along Third Street
where temporary surface parking lots are going in (so now my pictures of those blocks have changed from post-demolition views of nothing to pre-blacktop views of nothing). And the always popular shots
from the SE Freeway at South Capitol
are updated, too.
And don't forget to click on the
icon wherever you see it to see all photos in the archive of a certain location.
Comments
(0)
More posts:
100 M
,
23 I
,
70/100 I
, Capper,
Capper New Apt Bldgs
,
jpi
,
Monument/Half St.
,
Square 743N
,
Square 697n
,
staddis
,
Nationals Park
,
Square 701
Documentary on Capper and Gentrification
Jan 25, 2008 3:02 PM
DCist alerts us
to a new documentary,
Chocolate City
, which looks at gentrification in DC by following the story of the 400 families at
Capper/Carrollsburg
who have been moved out as part of the Hope VI redevelopment of the project. There will be a screening on Saturday night (Jan. 26) at Busboys and Poets at 2021 14th St., NW at 11 pm, and
two other screenings
in the next two weeks.
WTDW: Another Thrilling 'I Don't Know' Edition
Jan 10, 2008 8:12 AM
Time to dip back into the
What's the Deal With...?
mailbag, where once again I'm being asked fabulous questions that I don't actually have any answers for. But that hasn't stopped me yet....
* Readers B. and K. are the most recent readers to ask about the
Public Space Storage building
on South Capitol between M and N, just a few feet north of the
ballpark
, wondering whether it has any plans to close. I know that
Monument Realty
was interested in acquiring the building, since it owns the lots just to the building's south as well as all other parts of the block not owned by WMATA, but that was before Metro awarded the
Southeastern Bus Garage
and its parking lot (on the north side to the storage building) to Akridge. It's certainly a valuable piece of land, and I don't think it's going out on a limb to say that I doubt it will be there many years from now, but as of this point I've heard of no deals.
* Reader R. has asked about
Canal Park
, which continues to appear stalled, with no public pronouncements on it in months. (And with that "Spring 2008" still displayed for all to see on the sign at Second and M.) Is it still the school buses throwing up the roadblock, which is what we last were told? Is there some new wrinkle? I haven't heard anything, I'm sad to report.
* Reader F. asks about
Ann's Beauty and Wig Shop
, the dazzlingly pink building sandwiched between
St. Matthew's
and
Onyx
at 125 L Street, wondering if it's going to be sold. Ann's came to this block in 2005, after I believe being forced out of Waterside Mall in SW, and the owner has apparently been pretty vehement with potential suitors that she has no intention of selling. Perhaps the
pending sale of St. Matthew's
to Ruben Companies could change that, but as of now, I've heard nothing.
That's the best I can do for now--absolutely no useful information at all! No doubt there's scuttlebutt on each of these that I'm not privvy to, but I continue to be unsuccessful in my quest to get all city officials and private-sector parties operating in Near Southeast to inform me at all times about all their dealings. It's almost like they think I'm just some sort of powerless pesky neighborhood blogger or something....
Got a WTDW question? (maybe even one that I might know the answer to?)
Pass it along
. But I'll close with a hint--when it comes to oft-discussed projects around Near Southeast, as soon as I hear information that I can confirm, I post it. (I do tend to stay away from posting rumors, and considering some of the ones I've heard over the years that have turned out to be fabulously incredibly wrong, I don't regret this.) If you haven't seen any updates lately about Canal Park, or
Capitol Quarter
, or the
Post Plant
, or any other project, it's because nothing new has come my way. I'm as desperate to post the latest news flashes as you are to read them....
Too Darn Many New Photos, Including N Street, At Last
Jan 6, 2008 9:32 PM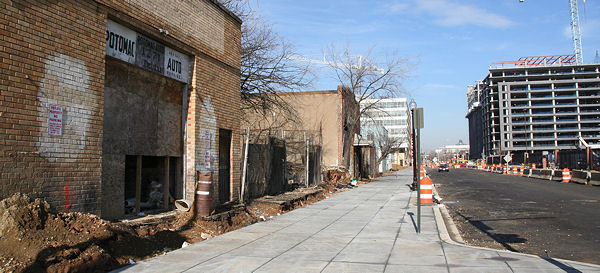 It was time this weekend to catch up on photos for a bunch of locations, including the most aged batch of them all, the views of the
ballpark
's northern footprint
along N Street
, which haven't been updated since September, so you can now have your fill of photographs of imposing parking garages. The curbs and historic streetlamps are now in, and N Street has been paved from South Capitol to Half, and it looks like the paving east to First isn't far behind. So even though the half-shadow half-sunlight conditions weren't the best to work with, I took full updates of the
First
,
Half
,
Cushing
, and
Van
intersections along N,
all of which you can see here
.
One thing that really struck me today for the first time is just how wide First Street is becoming, as you can see in
this batch of northward-looking photos
. I also saw that all the businesses on the west side of First south of M have now vacated--as you can
see above
, it's odd to see those old about-to-be-demolished buildings with sparkly new sidewalks and streetlamps in front of them.
I also trudged around the road construction along First Street north of M as best I could to update photos of
100 M
,
Onyx
, and
70/100 I
, and also got a good new batch of
55 M photos
as well as the always showy views from
the freeway at South Capitol
. And I finally got the last set of
old Capper Seniors photos
to show that the building is indeed gone. And heaven help me I even took a photo of
the new sign
advertising the
Square 696 project
, and also a few shots barely showing that work started this week on the
first Capper parking lot at Third and I
(because there's nothing more exciting than documenting the construction of a parking lot). There's just too much change, and I couldn't stop until it had all been documented! Aaaiiiieeeeee!!!!
For those of you brave enough to try,
here's all the photos from the past two days
on one page. (Thank heavens I've done a lot of work over the past year or so to automate the update process as much as possible.) Don't forget to click on the
icons to see all photos of a location over the years....
Comments
(0)
More posts:
100 M
,
1015 Half
,
600 M/Square 882/Old Capper Seniors
,
70/100 I
, Capper,
jpi
,
mnorth
,
Monument/Half St.
,
Onyx
,
Square 743N
,
Square 699n
,
staddis
,
Nationals Park
,
Square 701
Some Capitol Quarter Building Permits Approved
Jan 3, 2008 1:16 PM
Nineteen building permits for various addresses around
Capitol Quarter
have been approved in the last week, as you can see in the
Building Permits feed
(check it out, homeowners-to-be--your address might be there!). These don't mean that houses will start popping up next week, but it is another step in the long process toward work getting underway. As I've mentioned before, the digging you see currently in the old Capper area is the work on the public infrastructure; the laying of the pipes and utilities under the homesites themselves (known as the private infrastructure) will come next, followed by the "vertical construction" of the houses, which people are still telling me should start in the spring.
Old Capper Seniors Skeleton All Gone
Dec 19, 2007 8:30 PM
Having driven by this evening, I can report that the last wing of the
old Capper Seniors building
has come down in the past few days. Nothing left but a big pile of rubble. I'll go back and get photos when it's not, um, DARK.
First Parking Lots About to Start, RFP Issued for Management
Dec 17, 2007 10:27 AM
While
the plan that Tommy Wells announced last week
to address on-street parking around the ballpark and on Capitol Hill is just beginning its trek through the legislative process, the first of the new parking lots that the city and the Nationals will want stadium-goers to use will get underway soon. Building permits have been approved in the last few weeks for temporary surface lots in the
Capper
footprint at Second and K, Second and L, and Sixth and M, and work on the first two should be starting this month. (The third lot will get started in January, after the wreckage from the almost-completed demolition of the old Capper Seniors building is cleared away.)
At the same time, a
Request for Proposals
has been issued by
DC Housing Enterprises
for the management of these lots, offering a one-year contract with up to four one-year renewal options. The RFP, while chock full of selection criteria, required certifications and other specifications, also gives a few details about the planned operations of the lots themselves, which together will have about 670 spaces (or more, if valet parking is used). They will be offering monthly prepaid public parking on weekdays from 6 am to 7 pm, at a rate of not less than $150 per month; some daily parking may be allowed as well.
But users of the lots will have to vacate prior to any Nationals game, since the lots are "expected to be subject to an exclusive arrangement" with the team that gives all spaces over to ballgame parking from two hours before the game until three hours after. And a nice arrangement it is--the DC Housing Authority will apparently receive $10 per parking space per game, whether all spaces are used or not.
The
zoning rule
passed earlier this year that allowed the creation of temporary ballpark-area lots such as these says that they may also be used for a "seasonal or occasional market for produce, arts or crafts with non-permanent structures," though no plans for anything like that have been announced. The rule also states that the lots can only last until April 2013, since it is believed development around the ballpark will bring plenty of underground parking that will negate the need for these surface lots. The three Capper lots will eventually be replaced with a mix of apartment buildings, townhouses, and office buildings, though start dates for those projects have not been announced.
One block south of Capper, at the Yards,
another batch of temporary surface lots
are planned, which would have about 700 spaces. Beyond these and the garages with 1,225 spaces on the ballpark site itself, no other stadium parking locations have been publicly identified, though the Nationals have said they have found enough parking spaces for all season ticket holders--they just haven't said where they all are yet. And the city and the team continue to say that Metro will be the best way to get to the ballpark.
You can check out my
stadium parking map
to see where these new lots are--it also shows the other locations where zoning allows temporary lots, plus existing lots and underground garages where parking could be made available.
Updated Photos, Albeit With Gray Skies
Dec 16, 2007 11:47 AM


Before the snow-that-never-was arrived yesterday, I took a quick spin to get some updated photos. There was still a smidgen of sun when I visited the
old Capper Seniors
site, where only the southwest wing of the huge building remained standing when I was there (but even that could be gone by now). I also
wandered along Tingey Street
behind the
DOT HQ
for the first time in a long time to see what's going on with the work at The Yards--they're now preparing to build some temporary parking lots and are doing their infrastructure work before starting
the rehabs next year
of three existing buildings into residential and retail offerings. I also took some shots along M Street and at
Onyx on First
and
100 M
to take advantage of the overcast skies in those spots, since the building shadows on winter days when the sun's out are almost impossible to work with. Finally, I got updated photos of
55 M Street
, the northern portion of
Monument's Half Street project
, where the section along M Street is now three stories high and a fourth story is underway on the southern edge of the building.
Here's the
entire batch of new photos on one page
--don't forget to click the
if you want to see all photos in the archive from a certain angle. And in case you missed these a few days back, I recently took new overhead photos of the
North of M
area (looking
south and west
and
northwest
), showing quite a change in the last 21 months.
Morning Roundup
Dec 13, 2007 10:32 AM
Here's your dreary Thursday morning reading material:
*
The Post writes
about the labor disputes at the ballpark: "Labor leaders are defending the hiring practices at the construction site of the new Washington Nationals ballpark, saying that efforts to give jobs to D.C. residents have been an 'unequivocal success.' [...] [T]he leader of the Metropolitan Washington Council of the AFL-CIO said the project has been successful in hiring District workers. The letter disputed criticism from some local activists that the ballpark had not come through with jobs for city residents."
* The
Examiner
, NBC4
,
WBJ
, and
the Post
write about the presentations last night of the four finalists' plans for
redeveloping Poplar Point
. Channel 4 also includes a
slideshow of the designs
and links to information on each plan's community benefits. Apparently one of the propsals includes "an
aerial tram
that would carry passengers across the river to the new baseball stadium."
And Now, Anacostia
has some bullet points on the various presentations as well.
* Also from the Post,
a District Extra piece
on last week's council hearing on the Taxation Without Representation tote boards that some city council members want to put on the Wilson Building and the stadium. (
Here's my report on the hearing
.)
Council Passes Alley Closing and Capper PILOT
Dec 11, 2007 3:33 PM
Two bills of Near Southeast interest passed their first readings at today's city council meeting, on the consent agenda, no less. (Consent agenda = no discussion or bickering! Yay!) First was
Bill 17-0448
, which authorizes the closing of the public alley on
Square 696
(bounded by Half, First, I, and K), and which had been interesting mainly for the affordable housing trust fund contribution discrepancy that
came up during the bill's hearing
a few weeks ago, when the developers noted that they expected their contribution to be in the neighborhood of $900,000 and the Office of Planning determined the required sum be closer to $8 million. Apparently the final bill calls for a $1.1 million contribution, which council chairman Vincent Gray said is the largest trust fund contribution ever as the result of an alley closing. The developers also have agreed to create a 20-foot-wide pedestrian right-of-way through the middle of the block to allow for easy access from I Street to the planned public plaza on K Street, though apparently DDOT requested that this right-of-way be upgradable for "motorized access" in the future if necessary. This alley closing will allow DRI Development to move forward with their plans for 800,000 square feet of office space in three buildings with 37,000 square feet of ground-floor retail. There've been noises that the first construction on the site could begin in the summer of 2008, but nothing official has been announced. (The last tenants on the block, in the cab garage at First and K, are expected to move out in February when their lease expires.)
Also passed today was
Bill 17-0292
, the Capper PILOT funding bill that I
just wrote about in detail a couple days ago
. This authorizes a bond issuance of up to $55 million that will yield close to $37 million to pay for infrastructure improvements at
Capper/Carrollsburg
. The bonds will then be repaid by landowners making payments in lieu of property taxes. I should mention that these PILOT funds won't only be repaid by residents of Capitol Quarter--there are two planned office developments totaling 750,000 square feet that are within the Capper PILOT area (600 M Street at the
old Capper Seniors site
and
250 M Street
) that will generate PILOT payments.
Each bill will come before the council again in January for their final votes.
Quick Photo Update - Capper Seniors, 55 M
Dec 8, 2007 12:19 PM


Foggy air with low-in-the-sky not-very-bright December sun is not conducive to snappy photos, so this is just a brief update to capture the most pressing changes to the skyline. Demolition started back up this week at
Old Capper Seniors
: the southeast wing is now gone, and the east wing is getting smacked with the wrecking ball this morning. You can see the demolition from all angles in the old Capper Senior
Expanded Archive
. I also took a few shots of
55 M
's progress (look for the

icon in its
Expanded Archive
).