Near Southeast DC: Past News Items
Canal Park
Go to Full Blog Archive
---
Canal Park Groundbreaking Ceremony Next Week
Aug 23, 2010 2:19 PM

Here's a news item that people have been waiting on for a good long while--the official
Canal Park
groundbreaking ceremony has been scheduled for
Monday, August 30
Tuesday, August 31
, at 10:45 am, with the mayor expected to be in attendance. Construction on the three-block publicly funded park is expected to take 12 to 14 months, so look for it to be finished in probably late 2011--just in time to get a lot of use out of the ice skating rink.
[Here's a slightly edited version of a description I wrote
a few months ago
] For those who haven't been following along, Canal Park will stretch from I to M streets SE along the two parts of Second Street--some people may know this location as the open field across from Subway and Five Guys, about three blocks northeast of
Nationals Park
. The southern block, across from the
US Department of Transportation headquarters
, will have a large plaza, a "significant water feature" that will transform into an ice skating rink in winter, and a large two-level pavilion that will be home to a cafe and observation area. The middle block has a rain garden, a children's play area, a small performance stage, and an open lawn. The northern block, the "most pastoral of the three," will have a large open lawn, and the slight grade of the block as it slopes upward toward I Street has allowed the designers to envision this as an informal amphitheater, for events like summer movie nights and whatnot. There is also a "linear rain garden" that runs along the eastern edge of the park's three blocks. (Note that K and L streets will still be open to traffic, though there will be well-marked crosswalks.)
If you want to know more, visit
the park's official web site
. Or
my page
, if you want to see lots of photos of schoolbuses from the old days. And
this report from the National Capital Planning Commission
goes deep into the design, if you want to know *still* more. And you can read
all my old Canal Park blog posts
, back to the beginning, to relive the long road to this groundbreaking.
This groundbreaking will be just a week before the opening of the neighborhood's other new signature open space, the
Yards Park
, just a few blocks to the south, along the Anacostia River.
UPDATED: The groundbreaking has shifted by one day, to Tuesday, August 31.
Summer Doldrums Bullet List (Light Tower, Traffic, Hula Hoops, Signage, BID Survey, DC Blogs)
Aug 13, 2010 12:37 PM
Hasn't been much swirling around lately worthy of a full blog post, but here are a couple items so that people don't think I've shut down (though most of them have already been seen on
my Twitter feed
, aka the "I'm Too Lazy to Blog" feed):
* The light tower at the
Yards Park
is being installed today, about four weeks in advance of the scheduled grand opening on Sept. 10. I hope to have pictures at some point.
* Greater Greater Washington
reports that MPD fanned out
around
Nationals Park
on Wednesday night, ticketing drivers and pedestrians and handing out
flyers on safety
. GGW also brings up
the public meeting held by Tommy Wells back in March
about the notion of reworking M Street under the "
Complete Streets
" principles of creating road networks that work for pedestrians young and old, cyclists, public transportation users, and drivers. by doing things such as adding dedicated bike lanes, creating safer crosswalks, etc. At that meeting, residents of Southwest were unimpressed with the possibilities, but the few Southeast residents in attendance seemed more open to it.
UPDATE:
TBD reports that the truck driver in
last week's incident
is not being cited
.
* The
Post did a video feature
on
Hoopernatural
, the hula hooping fitness outfit. They are running classes for mixed-levels of hoopiness during August at
Canal Park
, on Saturday mornings from 10 to 11 am.
* The
Capitol Riverfront BID
is running a survey to get feedback from residents, workers, and visitors on the types of events the BID holds (concerts, outdoor movies, farmers' market, etc.).
Let your feelings be known here
.
* While my
griping about the bad signage
on the SW Freeway (
highlighted again by the Post
on Thursday) is technically out-of-boundaries, it is on topic to
also mention to DDOT
that the various blue "services" signs for the South Capitol Street exits on I-395 probably need to get rid of the gas station icons, since the days of having three gas stations right on South Capitol and two within a few blocks to the east are long gone. (But @DDOTDC has put me in a time out after Thursday's flurry of transit-related tweets, which also included
this good suggestion from a reader
about the need for a left-turn signal on northbound Third Street, SE at Virginia Avenue, for people needing to get onto I-395 southbound.)
* And I stumbled across
this study by the New America Foundation
about "online-only" news outlets in DC. It counted 61 of them, noting that the "city's oldest local blogs that still command an audience began to spring up in 2003," with JDLand being one of the "original few," thanks to my January 2003 vintage. The piece looks at
DCist
,
GGW
,
Prince of Petworth
,
And Now Anacostia
, and
TBD
(though it hadn't yet launched), along with a few nice words about this site. But I have been thinking a lot lately about how I'm an old lady compared to the rest of the DC neighborhood blogosphere, and this article (coming on the heels of my [redacted] birthday) certainly reminded me of it. :-)
Upcoming Events: Seabiscuit, Dave Matthews, SoS
Jul 22, 2010 2:33 AM
For your scheduling pleasure:
*
Thursday's BID outdoor movie
is
Seabiscuit
, the heartwarming tale of a horse swimming across the ocean for food (no, wait, that's not right). It starts at
Canal Park
at Second and M streets, SE, at 8:45 pm, but you can arrive early for some hula hooping with Hoop Jams at 8 pm. Rain cancellations will be posted on the
BID web site
by 4 pm.
* On Friday night (July 23) the
Dave Matthews Band
will be in concert at 7 pm at
Nationals Park
, with the
Zac Brown Band
opening.
Tickets are still available
, and the concert will go on rain or shine. (If you're heading to the ballpark for the concert and are unfamiliar with the territory, here's my
Stadium Parking information page
. But make it easy on yourself just take
Metro
.) Speaking of the stadium parking page, I've now added the new (tiny) $10 lot on the northwest corner of New Jersey and I.
* The rest of the weekend will be quiet (and hot), but then on Tuesday the 27th the Summer of Strasburg will return to the neighborhood, as Stephen is expected to pitch against the Atlanta Braves in a 7:05 pm game.
NCPC Gives Glowing Approval to Canal Park Design
Jun 2, 2010 1:20 PM

The National Capital Planning Commission has posted its "
staff recommendation
" on the final designs for
Canal Park
, and it's safe to say that they are pleased with what they've seen. They commended the city on its "work toward providing this much-needed public amenity that will undoubtedly support and strengthen the continued revitalization of the Near Southeast neighborhood." It also says that "the park will likely become a highly sought after place for visitors, workers, and residents of this burgeoning mixed use neighborhood" and that the city "has worked diligently to prepare an overall design that is simple, while still providing a wide range of activities and amenities." And, "staff appreciates that while the new park design is distinctive and will likely set a new standard for future parks in the District of Columbia, it does so by acknowledging and building upon the unique historical significance of the site and its surrounding neighborhood."
For those who haven't been following along (and the park has only been in the works for seven years or so, so you've probably saved yourself some grief), Canal Park will stretch from I to M streets SE along the two parts of Second Street. The southern block, across from the
US Department of Transportation
headquarters, will have a large plaza, a "significant water feature" that will transform into an ice skating rink in winter, and a large two-level pavilion that will be home to a cafe and observation area. The middle block has a rain garden, a children's play area, a small performance stage, and an open lawn. The northern block, the "most pastoral of the three," will have a large open lawn, and the slight grade of the block as it slopes upward toward I Street has allowed the designers to envision this as an informal amphitheater, for events like
summer movie nights
and whatnot. There is also a "linear rain garden" that runs along the eastern edge of the park's three blocks. (Note that K and L streets will still be open to traffic, though there will be well-marked crosswalks.)
The staff recommendation document is 18 pages, but if you have any interest in the plans for the park,
you need to read all of it
. Lots and lots of updated renderings, detailed explanations of the park's features and amenities (including its sustainable design), first peeks at the sculptures that will be installed, and how the park will work with its surroundings are all included.
Serious Canal Park groupies may also be interested in what the
Commission of Fine Arts had to say
about the designs when it reviewed them at their April 15 meeting (scroll down to section G). They approved the designs as well, though some CFA commissioners expressed a few concerns about the many plans for activities and "programming." The minutes characterize thoughts from commissioner Elizabeth Plater-Zyberk thusly, that the "park embodies the notion that people need a constant stream of entertainment, a concept related to retail marketing and Disney parks that has become part of our modern culture. She said that the proposal could be accepted within this context, but the commitment of the sponsoring organizations to care for it must be clear." (The park is owned by the city, but the Canal Park Development Association has been created to oversee the park, and the Capitol Riverfront BID will be handling much of the upkeep and scheduling.)
I haven't heard any recent updates on a construction schedule, so I'll just lean on my
last post on the subject
; it's expected that infrastructure work around the park will begin this summer, with construction on the park itself starting in the fall and lasting a year or so. Hopefully by then I can get my
Canal Park project page
updated with all the new details.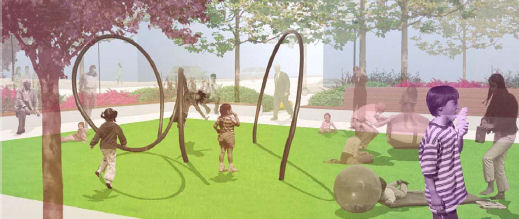 Near Southeast Residents Demand a Grocery Store! (The More Things Change...)
Jun 1, 2010 8:49 PM
I'm just now coming across a Washington Post story entitled "Housing Area Pushing for Supermarket," which says that a group of residents "in a small triangle of Southeast Washington launched a 'supermarket project' yesterday to persuade a grocery chain to build a store in their neighborhood," with a planned petition drive looking to get 1,500 signatures.
But, of course, I'm yanking your chain, since this Post article is dated Dec. 16, 1965.
The group, the "Community Commitee Group," planned to visit the regional offices of Safeway, Giant, and Kroger to present the case that the residents of the area bounded by 8th, Virginia, M, and New Jersey had only two corner groceries, with the closest supermarket being at Seventh and G, SE, which was too far for the "aged who live in the Carrollsburg Dwellings project at Fourth and M." Also, because many of the residents in the area qualified for food stamps, they needed to be able to shop at a full supermarket, where the stamps would stretch farther.
The group "also hopes to interest a chain drug store and a combination dry cleaning-shoe repair shop to locate next to the proposed supermarket." Their suggested locations? "The west side of New Jersey Avenue between K and L Streets to replace some condemned buildings [
ahem
], the Washington Navy Yard parking lot on 2nd Street between M and I Streets [
ahem
], and the Lennox School annex at 4th and M Streets [
ahem
]."
In the meantime, while you're mourning the fact that no progress has been made in the brief 45 years since this article was published, you can think about another big development that Near Southeast missed out on: In the early 1990s the Federal Bureau of Prisons was looking for a location for a new 1,000-bed federal detention center, and one of the spots it considered was on the north side of I Street between South Capitol and New Jersey, the spot that's now home to the
Axiom and Jefferson
apartment buildings. And McDonald's. And Splash. (The other possible locations were in Northeast, but after battles with the National Capital Planning Commission and thanks to some pretty staunch opposition by city officials and residents, the Justice Department scrapped the plans in 1993.)
Canal Park Final Design Headed to NCPC on June 3
May 19, 2010 1:30 AM

The
tentative agenda is out
for the National Capital Planning Commission's June 3 meeting, and one of the items is "approval of preliminary and final site and building plans" for
Canal Park
. We should get a peek at the designs by around June 1, when the NCPC Staff Recommendation document is released.
As I posted not too long ago
, the current timeline is for construction on the park itself to begin in September, with the opening coming in Fall 2011. There will also be some infrastructure work being done around the park site this summer;
here's the details
. (The rendering above is from earlier this year; we'll see how close it comes to the final designs.)
Summer with the BID: Movies and Music
May 14, 2010 11:06 AM
The
BID
has released its
Summer Outdoor Movie lineup
, with the theme for this year being "Ultimate Underdogs." It kicks off
June 3
with
Hoosiers
, then runs most Thursdays through August 5, with
Forrest Gump
,
Finding Nemo
,
The Karate Kid
,
To Kill a Mockingbird
,
Star Wars
(I'm so there),
Slumdog Millionaire
,
Cool Runnings
,
Happy Gilmore
, and
Rocky
. They'll be held on the
Canal Park
site at Second and M, with the movies starting at 8:45 pm but with activities (including big-screen Wii beforehand). The
Sauca
food truck will be in attendance, and the weekly Farmers Market at New Jersey and M will also be open to buy goodies.
Also getting underway is the
Lunchtime Concert series
, starting on May 19 and running every Wednesday through August 25. They'll be from noon to 2 pm on the plaza behind
USDOT
.
Updates from Capitol Riverfront BID Newsletter
Apr 11, 2010 10:25 AM
It's not online that I can see, but here are some items from the most recent "FRONT Page News" e-mail newsletter from the BID:
* "Capitol Riverfront neighborhood day at
Nationals Park
will be Wednesday, April 21st with ticket discounts available to residents, employees, and friends of the BID." The on-street supervisor of the BID's Clean and Safe Team will be singing the National Anthem. [I think, though, that Southwest is going to be part of this "neighborhood day" as well, even though it's not in the BID. This was mentioned at an ANC 6D meeting a few weeks ago.]
* There will be a "
Fitness in the Front
" event at
Canal Park
on May 1, with free classes offered by local instructors and information tables (and freebies!).
See the link
for the lineup and additional info.
* Residential update: "The residential population in the Front is estimated to have reached 3,030 as of the first quarter of 2010. Rental properties including the
Onyx
,
Axiom, Jefferson
and
909
are 95% leased. For sale units including
Capitol Quarter
,
Capitol Hill Tower
and
Velocity
are 71% sold. The residential population is predicted to reach 3,500 by the end of 2010."
The Current Canal Park Timeline
Mar 25, 2010 9:52 AM

A few days ago,
WBJ reported
Deputy Mayor Valerie Santos saying that
Canal Park
"will move forward" in June. With the previous comments on the park's timeline
indicating a September start of construction
, my curiosity was piqued, so I contacted the park association's executive director, Chris Vanarsdale, to find out the latest. To wit:
At this point, work is continuing on the design documentation, which is expected to be completed in June, and it's still expected that construction on the park itself will begin in September. However, the plans now also include $1.5 million of infrastructure work beneath Second Place (the road that runs on the eastern side of the park), which will be paid for out of the
$29 million in Capper bonds
that are hitting the market this week. (This wouldn't appear to be any sort of evil cost-shuffling by the city, since Second Place runs along blocks that will eventually house
three Capper apartment buildings
and WC Smith's
250 M Street
office building that is also technically part of
Capper's Hope VI redevelopment
.)
The work on the utilities below Second Place, which are apparently quite a mess, will also allow the park to install stormwater management infrastructure to be in place for when the new apartment buildings are constructed, so that the park can capture water from those buildings' roofs to be used in the park for irrigation, fountain water, and whatnot. And, if there's any money left over after the infrastructure work, there's now streetscape designs for the east side of Second Place that complement the park's design, which would extend the "feel" of the park across the street.
It's this infrastructure work that will begin this summer, prior to the actual start of work on the park itself. The hope is to have a groundbreaking ceremony in July, though at this point all timeline forecasts are subject to the completion of the permitting process for construction, and we know how THAT can sometimes go. This also assumes that there aren't any (more) big surprises lurking beneath Second Place in terms of the existing water, sewer, and other utility lines.
The park's opening date is still pegged at fall 2011, since the work on the park itself is expected to take between 12 and 14 months. The design is still pretty much the one that we've been seeing for a while--there are a few renderings on
my Canal Park page
, and you can also visit the
official park web site
for more details.
Canal Park Update: Design Development Phase Nearing Completion, But....
Dec 8, 2009 1:29 PM
At its November meeting, ANC 6D received an update on the progress of
Canal Park
, but I was out of town and missed the presentation, so I've gotten a quick status update from Chris Vanarsdale of the
Canal Park Development Association
. He passes along that the design development phase is nearing completion, and that hopefully in a few weeks they'll make available a revised plan view of the park--the middle block has apparently undergone some significant changes, with the addition of a much larger water feature and the reconfiguration of the pavilion in that block. You can see some renderings of the pavilions planned for the south end of the park (at M Street) on my
Canal Park page
, although there will probably be some revisions to the designs of these structures as well.
On the flip side, the anticipated start of construction is now being quoted as September 2010, about six months later than what's been on the boards for most of this year. It was reported
back in October
that the design approved by the National Capital Planning Commission would cost $18 million, $5.5 million more than the grant the CPDA has received to design and build the park; I don't know whether the park's design is being scaled back or whether they're still hoping to raise the extra funds (I've asked, but haven't received an answer).
BID Holiday Market; Justin's Cafe Photos
Nov 27, 2009 9:28 AM
News from the Capitol Riverfront BID:
* They've announced their
second annual Holiday Market
, running Dec. 15-18, from noon to 6 pm each day, at Second and M, on the Canal Park footprint.. "For four days, the Capitol Riverfront will present a festive holiday market with local artisans selling handcrafted jewelry, crafts, photography, holiday trees and greenery, and more. Enjoy a variety of festive foods and live music daily from noon - 2 pm."
* The BID has also posted a few photos of the construction work (and the sign) at the "soon-to-open" Justin's Cafe at
Velocity
on their Facebook page
.
Canal Park Briefing at ANC 6D; CSX Meetings; Lower 8th Street Documents and Agenda
Nov 5, 2009 9:46 PM
Here's a bunch of little items and event reminders. Alas, next week's pile of happenings come at a bad time on my calendar, and I'm going to have to miss almost all of them, so this would be a good chance for everyone to attend these meetings themselves instead of sitting around waiting for me to tell you what happened at them. :-)
*
ANC 6D
(Southwest and Near Southeast) has posted the
agenda for its November meeting
, which includes an update on the plans for
Canal Park
. It's on Monday, Nov. 9, at 7 pm, at St. Augustine's, Sixth and M streets, SW.
* The next night,
ANC 6B
(Capitol Hill SE and Eighth Street) is having its November meeting, where there will be a presentation by CSX on its planned Virginia Avenue Tunnel construction. (Voice of the Hill
recently wrote about the plans
, and you can
read my posts
about them, which include links to some source documents.) ANC 6B's meeting is Nov. 10 at 7 pm at the Old Naval Hospital at 921 Pennsylvania Ave., SE.
* Plus, the Friends of Garfield Park are having their own informational meeting about the CSX plans, on Thursday, Nov. 12, at 7 pm at Capitol Hill Day School (Second and South Carolina, SE).
* The
Lower 8th Street Visioning Process
folks have posted the
minutes
,
historical background
, and
main presentation slides
from their two October sessions. They've also posted the agenda
for their November meetings
, scheduled for 8:30 am and 7 pm on November 17 at the People's Church, 535 Eighth St., SE.
* And, if these events aren't enough for you, you can also watch on Nov. 12 the city council's Committee on Finance and Revenue Hearing on the bill that would allow the sale of bonds via the city's CFO office that would pay for a considerable amount of "Phase 3" infrastructure work for
Capper/Carrollsburg
redevelopment, encompassing some as-yet-undetermined combination of underground work on the Second Street blocks, the relocation of the DPW operations at New Jersey and K and demolition of that block, and the construction of I Street between Second and New Jersey. (This is above and beyond the
$9.5 million in federal stimulus funds
that the city is receiving to allow
Capitol Quarter's second phase of townhouses
to go forward.) The council hearing is on the 12th at 10 am, and you can watch on DC cable channel 13 or via the
channel's web site
.
Here's my post about this proposed bill
, if you want to know more.
Canal Park Needing More Funds?
Oct 1, 2009 11:31 PM
From this Examiner story
about today's various
National Capital Planning Commission actions
, news that not only did the commission (as expected) give approval to the
conceptual designs for Canal Park
, but that the
park's development association
is needing more money to complete the project: "But designs have already surpassed the $13.5 million grant the CPDA received from the D.C. Office of the Deputy Mayor for Planning and Economic Development. [CPDA executive director Chris] Van Arsdale estimates an $18 million total cost based on the design approved by NCPC, which includes a large playing field, a rain garden and a plaza that would accommodate in-ground water fountains in the summer and an ice rink in the winter. Van Arsdale said CPDA was trying to use new market tax credits through the Treasury Department to raise the millions still needed for the project."
NCPC Comments Favorably on New Canal Park Design
Sep 30, 2009 6:46 PM
I'm racing out the door, so here's nothing more than a quick link to the National Capital Planning Commission's
staff document on the new Canal Park concept design
in advance of the commission's meeting on Thursday, in which a "favorable comment" is recommended. It also "[c]ommends the applicant on a revised concept that is both simple in its design, and high-performing in the range of amenities it will provide to the surrounding community. The revised concept incorporates simple park amenities such as an abundance of flexible open space, plentiful seating, and interactive water features to ensure that the park can be enjoyed by a variety of users."
It's a 14-page document with scads of renderings and details about the plans for the park, including the many low-impact design features. The NCPC does have some questions that it requests be addressed when the design comes back to the commission at the preliminary design stage, which you can see on page 2. It also says that the construction start date for the park is still expected to be March 2010, with a one-year timeline for completion.
Lazy Repost of Recent Tweets on Canal Park, Nats '10 Schedule, Ferries, More
Sep 16, 2009 12:03 PM
Here's a bunch of small items that I've
Tweeted
over the past few days; I'm succumbing to abject laziness and only barely bothering to rewrite them (who needs all those extra words, anyway?):
* RT @
TWTSports
: #Nats will open the 2010 season at Nationals Park against the Phillies on April 5. [
schedule link
]
* RT @
LPags03
: #Nats host BOS for exhibition game on 4/3.
* The new
Canal Park
design is on the preliminary agenda for the Oct. 1 NCPC meeting. Hope it makes the final agenda:
link
* Study of commuter ferry service to waterfront from Woodbridge pegs a $30M price tag just for needed improvements:
link
* From @
octolabs
: DC Citywide Data Warehouse won coolest gov innovation award for
DC Data Catalog/Data Feeds
:
link
[and thanks for the shout-out!]
* RT @
Cornercopia
: Owner of blue civic with Maryland plates parked in front should probably move their car. 2 tickets already since Mon.
Canal Park Picnic/Home Tour on Saturday
Sep 14, 2009 10:30 AM
I think I mentioned this a few days back, but here it is again: On Saturday (Sept. 19) from 10 am to 2 pm, the
BID
is hosting a
Canal Park Picnic and Home Tour
: "Enjoy live music, food, drink, and lawn games at Canal Park! Tour selected rowhouses, condos, apartments and townhouses of residents in the new Capitol Riverfront neighborhood. See what it's like to live in the Front!" It's free and open to the public. Food will be provided by Cornercopia, "Smokin' Somethin'" (BBQ) and Sweetgreen (frozen yogurt). The two 45-minute neighborhood walking tours start at 10:30 am and 12:30 pm.
Snippets, Reminders, and Whatnot
Sep 9, 2009 10:47 AM
Pulling together smallish items from hither and yon:
* Last night saw the first arrival of a commercial water taxi at
Diamond Teague Pier
;
WTOP covered the trip
, which is a good thing, since I neither rode the boat nor stood on the dock to watch it sail in. I suck.
* A stroll through the city's building permits feed (which alas isn't as easy or useful as it used to be, since they pile every single permit into the feed over and over, rather than just posting new/updated ones) uncovered that back in August, a raze permit was issued for
156 L Street
, home of the old Star Market and better known as the "
Little Red Building
"; the owner has spoken of plans to build a new two-story structure that would be a combination liquor store and deli. I haven't heard of any timeframe for the demolition, new construction, or store opening.
* From
And Now, Anacostia
, a heads up that today's Kojo Nnamdi show will include a segment called "Paris on the Anacostia: A Provocative Idea for DC's Waterfront," which will discuss the idea of *narrowing* the Anacostia River, "with the goal of bringing in new businesses, training new workers, and completely changing the relationship between folks East and West of the River." It'll be available online
here
.
* Tomorrow night (Thursday) is the second
Outdoor Space Movie
at
Canal Park
; this time it's
Star Wars
. The Force will be with you, starting at 7:30 pm.
* And Thursday night is also the deadline for pre-registration for
ULI Washington
's
Urban Marketplace conference and expo
on Sept. 15. Among lots of other sessions about urban development, it includes a panel discussion about the ballpark neighborhood, with Michael Darby of Monument Realty, Matthew Klein of Akridge, Michael Stevens of the BID, Harriet Tregoning of the Office of Planning, and me. It'll be a barn-burner!
* Saturday night is the second annual
Opera in the Outfield
at
Nationals Park
; the Washington Times
previews it here
. It's the
Barber of Seville
; but don't be alarmed when the first lines
aren't
"Welcome to my shop/let me cut your mop, let me shave your crop/Daintily, Daintily!"
* Forest City
announced its second-quarter earnings
, for those who know how to decipher these things. It does mention the
Park at the Yards
, still listing the completion date of the first phase as summer 2010. And their outlook? "While some see signs of a potential end of the recession, we are taking a conservative course based on what we can observe and are experiencing directly: continued weak fundamentals and little improvement in overall near-term conditions. As a result, we remain very cautious going forward. We expect the second half of the year to be challenging for our Company and for the entire industry, and we do not anticipate meaningful improvement in market conditions in the near or mid-term."
Outdoor Space Movies at Canal Park this Fall
Sep 1, 2009 9:39 AM
The
Capitol Riverfront BID
has decided that everyone liked the summer outdoor movie series so much, they're launching a four-week fall outdoor movie series, held this time at Second and M, on the future
Canal Park
site. The lineup is:
Star Wars
on Sept. 10,
Toy Story
on Sept. 17,
Spaceballs
on Sept. 24, and
Apollo 13
on Oct. 1. (And the press release on the movie series says that construction on Canal Park will begin in Spring 2010, which is pretty much the same start date that's been on tap for awhile now.)
Capitol Quarter Ribbon Cutting Tomorrow; A Few Late-Summer Not-Really-News Links
Aug 25, 2009 1:16 PM
* A reminder that tomorrow (Wednesday) at 10 am the DC Housing Authority is holding an official ribbon cutting and grand opening at
Capitol Quarter
, Fourth and L, with the mayor expected to be in attendance. If the sun is out, I may use this as the motivation to finally get some updated photos of the construction, with the framing in block three (north of K between Fourth and Fifth) now well underway.
*
The Post reports
on how the many new apartment buildings in the area are aggressively competing for tenants, with the new buildings in Near Southeast apparently leading the way: "The ones around Nationals Park, for instance, collectively have offered the deepest concessions since Delta started tracking rents 18 years ago. Some of those projects gave away the equivalent of four months' rent in concessions, which helps explain why effective rents in the District plunged 7.8 percent in June compared with a year ago. Without the ballpark area, rents fell 4 percent."
* From the
BID
's newsletter last week: "Mark your calendars for September 19th for the FRONT Door Home Tour & Canal Park Picnic from 10 am - 2 pm. The FRONT Door Tour will feature a variety of unique residents' homes and highlight the Capitol Riverfront as a new residential neighborhood in DC. The event will include a community picnic at the future site of
Canal Park
(located at intersection of M St., SE and 2nd St., SE) with food, music, and lawn games. The FRONT Door Tour will be free and open to the public. More information to come soon."
And, two items about off-topic projects by Near Southeast developers:
*
Monument Realty
announced yesterday that its long-planned renovation of
Potomac Place Tower
on Fourth Street in SW is now going to move forward. From their press release: "Monument Realty acquired the Potomac Place project in 2001 and in 2005 completed construction of a new, 302-unit condominium adjacent to the existing Potomac Place Tower, which was built in 1959. In 2003, Potomac Place Tower was designated a historic landmark by the District of Columbia and in 2005 the residents of Potomac Place Tower elected to convert the property to a condominium. Monument Realty's longstanding history and commitment to the project gave the new lender the confidence to retain its services for the completion of Potomac Place Tower."
* Forest City Washington
has been selected
by the government of Puerto Rico as the program manager for the redevelopment of a 100-acre portion of San Juan's waterfront district. Residential, hotel, office, retail, public parks, and a marina--
sound familiar
? (I don't think I mentioned that a few weeks ago the District selected Forest City as an advisor for the redevelopment of Poplar Point.)
Summer Vacation (But With Canal Park Renderings)
Aug 3, 2009 11:57 AM
I'm going to take it *very* easy for the next couple of weeks, so updates will probably be minimal unless some big news breaks. But, so as to not leave everyone completely without something fresh, here are some renderings of the new Canal Park, on the
web site of STUDIOs Architecture
(with thanks to commenter "NotAlwaysReliable," who is King of Every Conceivable Canal Park Detail); you'll need to either do a search for Canal Park, or click on "Projects/On the Boards," since Flash web sites (grrrrrr) don't allow for direct links. I don't know anything about these renderings, so questions should probably go to the folks at the
Canal Park Development Association
.
So, I guess until I get back you can use this as an open thread. What's on everyone's mind these days? (But try to avoid asking me piles of questions, because I'm hoping that "vacation" can also mean "Vacation from Answering Stuff For a Few Days." )