Near Southeast DC: Past News Items
Canal Park
Go to Full Blog Archive
---
Canal Park Needing More Funds?
Oct 1, 2009 11:31 PM
From this Examiner story
about today's various
National Capital Planning Commission actions
, news that not only did the commission (as expected) give approval to the
conceptual designs for Canal Park
, but that the
park's development association
is needing more money to complete the project: "But designs have already surpassed the $13.5 million grant the CPDA received from the D.C. Office of the Deputy Mayor for Planning and Economic Development. [CPDA executive director Chris] Van Arsdale estimates an $18 million total cost based on the design approved by NCPC, which includes a large playing field, a rain garden and a plaza that would accommodate in-ground water fountains in the summer and an ice rink in the winter. Van Arsdale said CPDA was trying to use new market tax credits through the Treasury Department to raise the millions still needed for the project."
NCPC Comments Favorably on New Canal Park Design
Sep 30, 2009 6:46 PM
I'm racing out the door, so here's nothing more than a quick link to the National Capital Planning Commission's
staff document on the new Canal Park concept design
in advance of the commission's meeting on Thursday, in which a "favorable comment" is recommended. It also "[c]ommends the applicant on a revised concept that is both simple in its design, and high-performing in the range of amenities it will provide to the surrounding community. The revised concept incorporates simple park amenities such as an abundance of flexible open space, plentiful seating, and interactive water features to ensure that the park can be enjoyed by a variety of users."
It's a 14-page document with scads of renderings and details about the plans for the park, including the many low-impact design features. The NCPC does have some questions that it requests be addressed when the design comes back to the commission at the preliminary design stage, which you can see on page 2. It also says that the construction start date for the park is still expected to be March 2010, with a one-year timeline for completion.
Lazy Repost of Recent Tweets on Canal Park, Nats '10 Schedule, Ferries, More
Sep 16, 2009 12:03 PM
Here's a bunch of small items that I've
Tweeted
over the past few days; I'm succumbing to abject laziness and only barely bothering to rewrite them (who needs all those extra words, anyway?):
* RT @
TWTSports
: #Nats will open the 2010 season at Nationals Park against the Phillies on April 5. [
schedule link
]
* RT @
LPags03
: #Nats host BOS for exhibition game on 4/3.
* The new
Canal Park
design is on the preliminary agenda for the Oct. 1 NCPC meeting. Hope it makes the final agenda:
link
* Study of commuter ferry service to waterfront from Woodbridge pegs a $30M price tag just for needed improvements:
link
* From @
octolabs
: DC Citywide Data Warehouse won coolest gov innovation award for
DC Data Catalog/Data Feeds
:
link
[and thanks for the shout-out!]
* RT @
Cornercopia
: Owner of blue civic with Maryland plates parked in front should probably move their car. 2 tickets already since Mon.
Canal Park Picnic/Home Tour on Saturday
Sep 14, 2009 10:30 AM
I think I mentioned this a few days back, but here it is again: On Saturday (Sept. 19) from 10 am to 2 pm, the
BID
is hosting a
Canal Park Picnic and Home Tour
: "Enjoy live music, food, drink, and lawn games at Canal Park! Tour selected rowhouses, condos, apartments and townhouses of residents in the new Capitol Riverfront neighborhood. See what it's like to live in the Front!" It's free and open to the public. Food will be provided by Cornercopia, "Smokin' Somethin'" (BBQ) and Sweetgreen (frozen yogurt). The two 45-minute neighborhood walking tours start at 10:30 am and 12:30 pm.
Snippets, Reminders, and Whatnot
Sep 9, 2009 10:47 AM
Pulling together smallish items from hither and yon:
* Last night saw the first arrival of a commercial water taxi at
Diamond Teague Pier
;
WTOP covered the trip
, which is a good thing, since I neither rode the boat nor stood on the dock to watch it sail in. I suck.
* A stroll through the city's building permits feed (which alas isn't as easy or useful as it used to be, since they pile every single permit into the feed over and over, rather than just posting new/updated ones) uncovered that back in August, a raze permit was issued for
156 L Street
, home of the old Star Market and better known as the "
Little Red Building
"; the owner has spoken of plans to build a new two-story structure that would be a combination liquor store and deli. I haven't heard of any timeframe for the demolition, new construction, or store opening.
* From
And Now, Anacostia
, a heads up that today's Kojo Nnamdi show will include a segment called "Paris on the Anacostia: A Provocative Idea for DC's Waterfront," which will discuss the idea of *narrowing* the Anacostia River, "with the goal of bringing in new businesses, training new workers, and completely changing the relationship between folks East and West of the River." It'll be available online
here
.
* Tomorrow night (Thursday) is the second
Outdoor Space Movie
at
Canal Park
; this time it's
Star Wars
. The Force will be with you, starting at 7:30 pm.
* And Thursday night is also the deadline for pre-registration for
ULI Washington
's
Urban Marketplace conference and expo
on Sept. 15. Among lots of other sessions about urban development, it includes a panel discussion about the ballpark neighborhood, with Michael Darby of Monument Realty, Matthew Klein of Akridge, Michael Stevens of the BID, Harriet Tregoning of the Office of Planning, and me. It'll be a barn-burner!
* Saturday night is the second annual
Opera in the Outfield
at
Nationals Park
; the Washington Times
previews it here
. It's the
Barber of Seville
; but don't be alarmed when the first lines
aren't
"Welcome to my shop/let me cut your mop, let me shave your crop/Daintily, Daintily!"
* Forest City
announced its second-quarter earnings
, for those who know how to decipher these things. It does mention the
Park at the Yards
, still listing the completion date of the first phase as summer 2010. And their outlook? "While some see signs of a potential end of the recession, we are taking a conservative course based on what we can observe and are experiencing directly: continued weak fundamentals and little improvement in overall near-term conditions. As a result, we remain very cautious going forward. We expect the second half of the year to be challenging for our Company and for the entire industry, and we do not anticipate meaningful improvement in market conditions in the near or mid-term."
Outdoor Space Movies at Canal Park this Fall
Sep 1, 2009 9:39 AM
The
Capitol Riverfront BID
has decided that everyone liked the summer outdoor movie series so much, they're launching a four-week fall outdoor movie series, held this time at Second and M, on the future
Canal Park
site. The lineup is:
Star Wars
on Sept. 10,
Toy Story
on Sept. 17,
Spaceballs
on Sept. 24, and
Apollo 13
on Oct. 1. (And the press release on the movie series says that construction on Canal Park will begin in Spring 2010, which is pretty much the same start date that's been on tap for awhile now.)
Capitol Quarter Ribbon Cutting Tomorrow; A Few Late-Summer Not-Really-News Links
Aug 25, 2009 1:16 PM
* A reminder that tomorrow (Wednesday) at 10 am the DC Housing Authority is holding an official ribbon cutting and grand opening at
Capitol Quarter
, Fourth and L, with the mayor expected to be in attendance. If the sun is out, I may use this as the motivation to finally get some updated photos of the construction, with the framing in block three (north of K between Fourth and Fifth) now well underway.
*
The Post reports
on how the many new apartment buildings in the area are aggressively competing for tenants, with the new buildings in Near Southeast apparently leading the way: "The ones around Nationals Park, for instance, collectively have offered the deepest concessions since Delta started tracking rents 18 years ago. Some of those projects gave away the equivalent of four months' rent in concessions, which helps explain why effective rents in the District plunged 7.8 percent in June compared with a year ago. Without the ballpark area, rents fell 4 percent."
* From the
BID
's newsletter last week: "Mark your calendars for September 19th for the FRONT Door Home Tour & Canal Park Picnic from 10 am - 2 pm. The FRONT Door Tour will feature a variety of unique residents' homes and highlight the Capitol Riverfront as a new residential neighborhood in DC. The event will include a community picnic at the future site of
Canal Park
(located at intersection of M St., SE and 2nd St., SE) with food, music, and lawn games. The FRONT Door Tour will be free and open to the public. More information to come soon."
And, two items about off-topic projects by Near Southeast developers:
*
Monument Realty
announced yesterday that its long-planned renovation of
Potomac Place Tower
on Fourth Street in SW is now going to move forward. From their press release: "Monument Realty acquired the Potomac Place project in 2001 and in 2005 completed construction of a new, 302-unit condominium adjacent to the existing Potomac Place Tower, which was built in 1959. In 2003, Potomac Place Tower was designated a historic landmark by the District of Columbia and in 2005 the residents of Potomac Place Tower elected to convert the property to a condominium. Monument Realty's longstanding history and commitment to the project gave the new lender the confidence to retain its services for the completion of Potomac Place Tower."
* Forest City Washington
has been selected
by the government of Puerto Rico as the program manager for the redevelopment of a 100-acre portion of San Juan's waterfront district. Residential, hotel, office, retail, public parks, and a marina--
sound familiar
? (I don't think I mentioned that a few weeks ago the District selected Forest City as an advisor for the redevelopment of Poplar Point.)
Summer Vacation (But With Canal Park Renderings)
Aug 3, 2009 11:57 AM
I'm going to take it *very* easy for the next couple of weeks, so updates will probably be minimal unless some big news breaks. But, so as to not leave everyone completely without something fresh, here are some renderings of the new Canal Park, on the
web site of STUDIOs Architecture
(with thanks to commenter "NotAlwaysReliable," who is King of Every Conceivable Canal Park Detail); you'll need to either do a search for Canal Park, or click on "Projects/On the Boards," since Flash web sites (grrrrrr) don't allow for direct links. I don't know anything about these renderings, so questions should probably go to the folks at the
Canal Park Development Association
.
So, I guess until I get back you can use this as an open thread. What's on everyone's mind these days? (But try to avoid asking me piles of questions, because I'm hoping that "vacation" can also mean "Vacation from Answering Stuff For a Few Days." )
The Stakes and Spray Paint at Canal Park
Jul 29, 2009 4:03 PM
A number of readers have written in over the past few days asking about some new stakes in the ground and spray paint that appeared on the
Canal Park
site recently, asking if this meant that construction was coming soon. I checked in with the park's overlord, Chris Vanarsdale, and this is his explanation: "The stakes and paint on the lots reflect major design features as reflected in the current schematic design documents. Staking out the site was a design exercise in order to get a better sense of proportion and relationship of the features on the site before we make any final decisions -- the design may be modified somewhat as a result. We may stake it out again after the next iteration." If you want to see the early look and feel of the (new) preliminary design, check the official web site at
CanalParkDC.org
.
Also, Chris mentioned some other changes folks will soon see on the site: "We will be taking down the orange fence on the south block and putting up "no dogs permitted" signs there in order to protect the sod. We will soon open the north block to dogs and place signs and plastic bags for dog waste -- we want to give the grass a little more time to establish before doing so. Folks should keep in mind that leashes will be required."
Updated Photos (Cap. Quarter, Canal Park, 1015 Half)
Jun 25, 2009 4:44 PM
It's been a while since I've posted a big batch of new photos (and be assured that the guilt has been killing me), so I made a couple of quick runs today to rectify this. The showiest shots are to be had at
Capitol Quarter
, of course, with the houses on both sides of L between Fourth and Fifth now mostly occupied, and those up Fourth and on the south side of K now painted and landscaped. If you want an even fuller set of photos than what's on my CQ page, go to the
CQ Phase I Expanded Archive
to see all angles of the intersections where construction is either completed or still underway. (The multicolored houses up against the bright blue sky, lit by the summer-solstice-height-sun, show why I tend to wait for sunny days to update the photo archive. Well, that and I'm lazy and am always looking for an excuse to not go take pictures.)

Meanwhile, at
Canal Park
, I finally got some photos of the sod on the southern block, and the first hints of grass on the other two blocks as the seeding starts to grow in.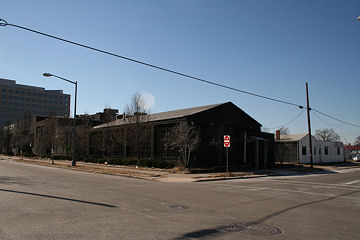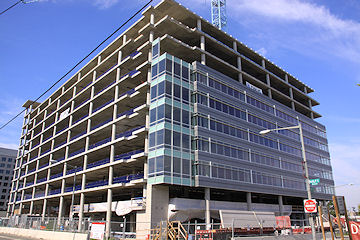 And, over at
1015 Half Street
, the glass continues to be hung on the northern exterior, so I took some photos of that side of the building. (The southern side looks the same as it did in May, so I happily skipped those photos.) The block does now look a little different from when Nation was there.... (See the
expanded archive
for additional shots.)
Here's
the complete batch of today's photos
, but to see their "before"s, as well as the other photos along the way, click the
icon. Or you can just
browse the Photo Archive
by street, direction, and/or date.
Council Looking at Redirecting Capper/Yards PILOT Funds to Convention Center Hotel
Jun 16, 2009 8:56 PM
From the
Washington Business Journal
: "The D.C. Council may consider withdrawing millions of dollars in subsidies from stalled city real estate projects to publicly finance a convention center hotel. D.C. Chief Financial Officer Natwar Gandhi met with members of the D.C. Council on Monday and discussed the list of projects with $704 million in subsidies that have already been passed and could be diverted to the hotel. The list includes the Southwest waterfront, the Arthur Capper / Carrollsburg residential development on the Capitol Riverfront, the mixed-use O Street Market in Shaw and seven other economic development incentives."
The list names both the PILOT fundings for
Capper
($55 million) and the
Yards
($30 million), though I'm not sure exactly how that would work, given that some of that money is already going to the construction currently underway at
Capitol Quarter
, the
Park at the Yards
, and
Diamond Teague Park
. (Though the $30 million cited for the Yards/DOT PILOT is a lot less than the total $112 million sum received from that PILOT; the Capper $55 million, though, is the full amount of that PILOT.) There's a hearing now scheduled for June 24.
If you want more background on what exactly the PILOT funds are and how they work, here's
some old entries of mine to browse
.
UPDATE:
In the "What Does This Mean for Capper?" department: The funding is in place to finish Phase I of the Capitol Quarter townhomes now under construction (unless the council is *really* grabby), but the Housing Authority has been having a hard time looking for funding for CQ's second phase as well as the
four mixed-income apartment buildings
slated to be built around Canal Park. So I'm *guessing* that the money the council is wanting to grab would further delay that work? But I'm not sure, because I don't know exactly how much of the PILOT's $55 million is already spent or being spent just on CQ's first phase.
The two parks, as well as some other projects along the Anacostia Waterfront, are tied to what
my archives say
was a $112 million PILOT from the construction of the
US Department of Transportaton HQ
. I just confirmed earlier today that Diamond Teague is still on schedule for a mid-July opening, and given all the flourishes (such as the
groundbreaking
) of the public/private partnership for the Park at the Yards I would think they wouldn't grab that money away. (I was wrong in an early version of this post to say that Canal Park was part of the DOT PILOT; it was originally, but not in
the final version
, apparently.) The DOT PILOT
is also supposed to fund
Marvin Gaye Park and Kingman Island; and DMPED said at the time that "Funds could also be used to finance parks and infrastructure at Poplar Point, the Southwest Waterfront, the Southwest Waterfront Fish Market, along South Capitol Street and a pedestrian bridge connecting the Parkside neighborhood to the Minnesota Avenue Metrorail Station."
Shooting at 7th and M; Canal Park Sod; Ballpark Fireworks Temporarily Snuffed Out
Jun 8, 2009 1:42 PM
This morning's
news-filled Tweeting
, merely cut-and-pasted because I'm tired and cranky (though still on a high from Federer's win):
* "Reader J reports that there was a shooting this morning in the 7th and M parking lot across from the Navy Yard entrance." Followed by: "MPD says on
1D mailing list
that 7th & M shooting suspect "is not at large" and that this involved MPD and US Marshalls."
* "RT @atweber: on a positive note they are rolling out the sod at
Canal Park
. (JD sez--just the southern block; other 2 to be seeded.)"
And, if grass and guns aren't enough for you, read
City Paper
, the
Sports Bog
, and
the Post
on how the DC fire chief is snuffing out all fireworks at Nationals Park after debris fell on him at Sunday's game, with the
WashTimes is now reporting
that the fireworks will most likely be restored."
UPDATE:
Here is the
Post story on the shooting
:
"An armed homicide suspect being sought by D.C. police died of a gunshot wound today after officers confronted him on M Street SE near the Washington Navy Yard, authorities said. It was not immediately clear whether the wound was self-inflicted or from a police bullet.
"Police said the man, whose identify was being withheld pending notification of his next of kin, was being sought by the D.C. police fugitive task force in connection with a May 31 slaying in the city. Members of the task force encountered him at midmorning in the 600 block of M Street, not far from Nationals Park, police said.
"After the man brandished a handgun, police said, at least one officer fired at him, but there was some indication that the fatal wound was self-inflicted. The shooting was still under investigation this afternoon."
UPDATE II:
WTOP says
the man, 38-year-old Allan Haggins, shot himself.
UPDATE III:
NBC says
Haggins [different spelling] was being pursued in for the murder of Goldean Hawkins, whose funeral was being held this morning' at St. Matthew's Church at New Jersey and L. Haggins was spotted by police in the 500 block of M Street SE, and pursued him to the parking lot in the next block, where "Haggins produced a handgun in the parking lot, police said, prompting two officers to fire their handguns at the suspect, striking his body. Haggins then shot himself, police said."
FIREWORKS UPDATE:
City Paper says
that the fire department says the problem has been fixed: "Alan Etter, the spokesperson from the fire department, says the angle in which the devices were being deployed had to be changed so the fallout would end up outside the stadium. 'They did tell me that the product itself is being revised so that there's less debris that is subject to fall on people,' Etter says. But adds: 'None of this stuff is on fire.'"
Updated Canal Park Pictures (No More Trailers)
Jun 1, 2009 1:00 PM
On Sunday I wandered around What Will Someday Be
Canal Park
(dodging the crowds at the Obama Five Guys, where
business is apparently up 50 percent
since Friday), and got my first photos of the completely cleared blocks, now that the trailers have been hauled away. I gave my
Canal Park page
a bit of a refreshing, with some new angles and lots of before-and-afters.
North End of Canal Park Cleared; Wendy's Gone
May 23, 2009 5:45 PM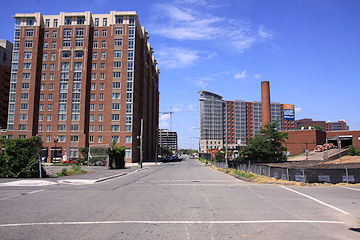 The clearing of the northern block of
Canal Park
is now pretty well complete, so I had to go get some photos, from both the
east
and
west
sides (you'll see the new ones paired with their "befores", in case you've already forgotten the fences and overgrowth). I also scooted past Wendy's, where the
demolition was continuing
and is probably done by now, making it #155 in my
Demolished Buildings gallery
--as soon as I get around to actually adding it.
I also swung over to
12th and M
to check on the demolition of the ramps to and from RFK, but the first few days of work appears to have been on decking (not viewable from street level), so no before-and-afters from there yet. Maybe next week.
Official Web Site for Canal Park Goes Live
May 22, 2009 2:55 PM
A birdie has whispered in my ear that
Canal Park
now has an official web site that's just gone live, at
CanalParkDC.org
. There's a lot of information there, including a first rendering of the new design. They are apparently committing to an ice skating rink, along with a restaurant/cafe pavilion, both near M Street. The site says March 2010 for the beginning of construction, with the park opening in March 2011. They're also posting photos of the progress, which I think is a *fine* idea. (heh heh)
UPDATE:
Looks like maybe some Powers That Be weren't too happy that I heard about this, and have pulled the site down.
UPDATE II: And now it's back.
Quick Photos From North End of Canal Park
May 19, 2009 4:47 PM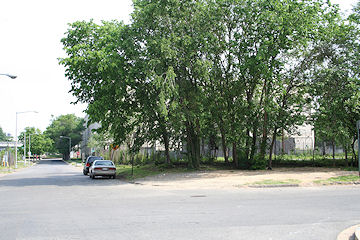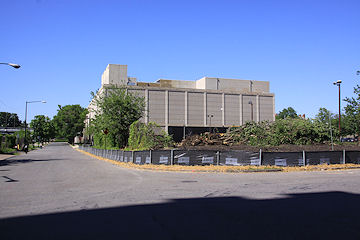 With a couple commenters giving the scoop that workers were starting cleanup on the northernmost (and most neglected) block of
Canal Park
, I had to go see what was up, with camera in hand of course. Here's the
batch of photos
, and you can use the
icons on that page to see them paired with their befores. (You'll also see a few shots of the southernmost block.) While snapping away, I ran into Chris VanArsdale of the Canal Park Development Association, who was also taking photos of the new-look block. He said that the trailers in the middle block should be gone this week, and that the southern block (at M Street) will be sodded while the other two blocks will have grass planted.
Fun With Permits; Meeting Reminder; Bullpen
May 19, 2009 9:38 AM
The city's
building permits feed
hasn't been working with perfection of late, so I'm only now seeing some recent permits of interest:
* As many folks have seen (and as I
Twittered
last week), the asphalt is being pulled up on the southern end of
Canal Park
(here's
a photo from last Friday
, taken at Second and M). Two building permits have been approved for the southern two blocks, allowing for "interior cleaning [...] to remove pavement import top soil and plant grass." Hopefully the northern block will get a makeover too.
(UPDATE:
Commenter Scott says that work on the northern block is already underway.)
* Monument Realty has gotten a six-month extension on the raze permit for the Domino's at
South Capitol and M
. And, though it's outside my redrawn boundaries, I'll mention that
1244 South Capitol
(home to the stalled Camden Development apartment building) got a final six-month extension on a raze permit for that site. (Though I was bummed to see on Opening Night at the ballpark that the little red brick building that had been left standing for so long
was finally gone
.)
* A final (belated) reminder that the latest
Anacostia Waterfront Forum
is tonight at 6:30 pm at the MLK Library. The topic is "Waterfronts and the World's Great Capital Cities," with office of planning director Harriet Tregoning.
* The Post wrote a piece in the Sunday Business Section
about Bo Blair
, the Georgetown Events "restaurateur / entrepeneur." Fun fact: he's paying $25,000 a month in rent for the space on
Akridge's land
at
Half and N
.
Scads of New Photos: Bullpen, Fence-less Canal Park, 1015 Half, Capitol Quarter (Again)
May 10, 2009 6:02 PM
With thanks to Mom for decreeing that my Mother's Day responsibilities had been taken care of
last week
, I was able to take not one but two treks through Near Southeast on this beautiful Sunday, and have uploaded a pile of new photos. Some--like the ones I took at
909 New Jersey
and
55 M
--are the last ones I expect to take of certain angles for a long time to come, but I did get some good "change" shots:
There's now a sign up at "The Bullpen" at
Half and N
(opening Friday?), and I also snuck a shot of the tent and piled-up picnic tables, which you can see on my
Akridge Half Street page
(scroll down a bit if the link doesn't jump you down). You'll also see updated shots of the garage-less Half and M corner.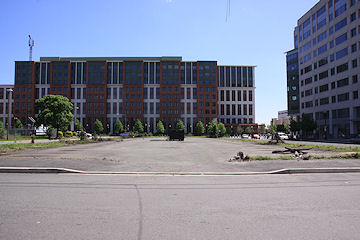 It's not very easy to take a picture that well-represents the lack of cyclone fences, but I gave it a shot with a
few
different
angles
of the south end of
Canal Park
. I have to admit that was I was surprised by how much wider the block now seems; when it becomes a real park, with tall buildings on all sides, that extra width will be welcome.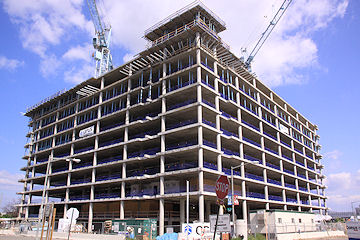 Next up is
1015 Half Street,
the 400,000-sq-ft office building now topping out on the old Nation nightclub site. With Half, K, and L being so narrow, it's not a bad idea to step back a block or two to see 1015's impact on the skyline, so check out the
Expanded Photo Archive
. The next phase of construction should be the hanging of the exterior glass.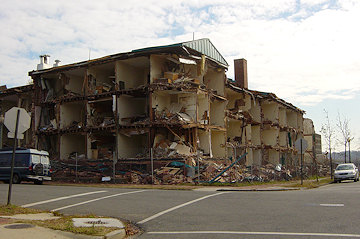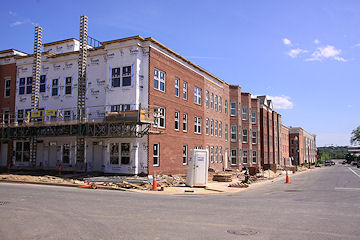 It's pretty hard to stay away from the goings-on at
Capitol Quarter
, as brickwork is all but complete along Fourth between I and K. The
Expanded Archive
shows all the CQ shots I took today, along with the ones from two weeks ago showing the first completed stretch of homes, on the south side of L between Fourth and Fifth.
You might also see a few new shots of
Onyx
,
100 M
, and
Velocity
if you visit those pages, and some other

images in the random shots at the top (and bottom) of the JDLand home page, since I took a pretty complete set of photos from New Jersey to Half and from M to I. And, without much new construction going on, I don't anticipate taking many photos other than at Capitol Quarter and 1015 Half (and I guess
Teague
and Canal parks) over the next few months. (I'll also be ready if/when Akridge demolishes the buildings
along First between K and L
.) So, enjoy these, and take the time to really compare them to their "befores."
Fences at Canal Park Coming Down
May 9, 2009 9:36 AM
A couple of readers have reported in this morning that workers are starting to take down the fences around the old schoolbus parking lots at the
Canal Park
site. One was told by the workers that it should take about two weeks (weather permitting). The plan is to then take up the asphalt (on all three blocks, not just the bus lots on the south end) and put in sod as a "placeholder" until construction starts on the park itself, currently scheduled for 2010.
Proof the School Buses Have Departed
Apr 4, 2009 4:26 PM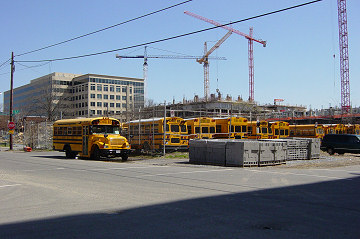 I ended up getting a little more behind schedule than I'd like today, so here
are
some
very
quick
photos
showing that the Sea of Yellow is in fact gone from the two southern blocks of the
Canal Park
site. (Though the trailers are still there.) And there was much rejoicing. I hope to get my Canal Park project page reflecting this sea change within the next day or so.