Near Southeast DC: Past News Items
Pedestrian/Cycling Issues
Go to Full Blog Archive
---
Pedestrian Struck at First and M; Driver to be Charged
Aug 4, 2010 4:39 PM
Those who don't follow
my Twitter feed
may not be aware that a pedestrian was struck by a dump truck at First and M streets, SE, today, necessitating
a helicopter landing
at Canal Park in order to transport the female victim to Washington Hospital Center.
According to WTOP
, she was in a crosswalk, and charges are pending against the truck driver. The victim has not been identified, but a
tweet from a reader
indicated that she is a USDOT employee.
ABC 7 says
that her injuries are not as serious as initially thought. I'll update this post with additional news as it comes along.
This is the second serious incident involving a pedestrian being struck on M Street this year--
on April 29
, 42-year-old Amy Polk of Takoma Park was killed near First and M.
UPDATE, 8/13:
TBD reports that the truck driver in this incident
was not be cited
.
Capital Bikeshare Coming to Near Southeast
Aug 4, 2010 1:15 PM
I'm catching up on a few items now that I'm more or less back to full speed, and one of them is DDOT's new
Capital Bikeshare program
that set the DC blogosphere on fire a week or so ago. One thousand bikes
spread across 100 stations
will be arriving in September, allowing users to borrow a bike for round trips or one-way journeys.
In the initial rollout, Near Southeast will have one station, right in front of the Starbucks in the
USDOT
building at New Jersey and M, which I'm guessing will make transportation secretary
Ray LaHood
happy. (It's marked properly on
the official map
, but ignore notations calling the location "400 M Street, SE." I've confirmed with DDOT that the Starbucks location is the correct one, and they'll be giving it the proper designation of 1200 New Jersey Avenue SE soon.) The next closest location is at 8th and I, just north of the freeway on Barracks Row. There will also be one just north of the new Southwest Safeway, at 4th and I, SW.
DDOT also says they'll be looking to add an additional bikeshare station at
Nationals Park
next spring, in time for the 2011 season.
[Rare personal aside: I'm really looking forward to this new project, because I'm not really interested in riding my bike *to* work, but I'll like having bike stations within three blocks that will allow me to ride home when the appropriate mood, weather, and clothing strike simultaneously.]
Pedestrian Fatally Struck at First and M, SE
Apr 29, 2010 11:56 AM
From DCist
: "A pedestrian was fatally struck this morning near the intersection of First and M streets SE, not far from the entrance to the Navy Yard Metro station. D.C. police said the victim was an adult female, but have not released her identity. She was declared dead on the scene by emergency responders. The collision took place at about 10:30 a.m. this morning."
UPDATE:
This WUSA story
reports that the pedestrian was not a crosswalk when she was hit. Still waiting for MPD to put out a release about it.
NBC4 aired a report
as well.
UPDATE II:
This statement from Tommy Wells's office: "The collision highlights the problems with M Street and is exactly why Tommy wants to push the complete street model -- slowing cars, reducing traffic and creating safer pedestrian and bicycle pathways. DDOT likely won't be able to move quickly with the ANC not in support and the pushback experienced at the recent meeting." (
Here's my report
on the Complete Streets meeting being referenced.)
A Summary from Tonight's M Street Meeting
Mar 9, 2010 11:13 PM
I made it to Tommy Wells's meeting on
possible changes to M Street
, and there was a bigger crowd than I might have expected, one which seemed to be weighted more heavily toward Southwest residents than Southeast folks. Tommy opened the meeting by talking about how much development is coming to this area that he calls the "most multimodal neighborhood in the world" (with everything from cars to buses to the subway to electric jitneys to water taxis to horse carriages), but that the street itself is does not display the sort of character one might want, and that it's "not an inspiring architectural area saying 'Welcome.' " He has become very interested in the
"Complete Streets" concept
, which aims to create road networks that work for pedestrians young and old, cyclists, public transportation users, and drivers. by doing things such as adding dedicated bike lanes, creating safer crosswalks, etc.
Last year he talked to the Toole Design Group and asked them for some basic renderings that would imagine M Street in this new way, for what he called an illustration that he could take to people, which they provided, paid for by the Capitol Riverfront BID. But when he took the resulting drawings to a meeting of the BID's members and
*someone* blabbed and posted the designs
as if the changes were coming soon, it "created confusion," he said. (Ahem.) He wanted to make clear that no decisions have been made, but that he does want a dialogue about whether M Street is "really what we need for the uses."
Adam Goldberg of the AARP then did a presentation about Complete Streets, saying that what's good for 50-plus folks is good for younger people, too, and that the basic idea is to create networks that are "safe, comfortable, and convenient for travel by auto, foot, bike, and transit, regardless of age or ability." You can see the 128-page AARP report on "
Planning Complete Streets for an Aging America
," and the "
In Brief
" sheet he handed out is available as well.
Tommy's office was also nice enough to
forward his presentation slides
.
Funds from the
Ballpark Performance Parking Pilot
could be used for these sorts of alterations to M Street, and clearly Tommy has a great interest in "transforming" M Street "into a showcase street," though he said that he's not excited about doing it if the community doesn't want it. And there was definitely trepidation in the room about the possibility of shrinking M down to four driving lanes from six, even though Tommy says the 10,000 vehicles a day that M carries could ostensibly be handled by the smaller footprint. Other attendees spoke enthusiastically about the ideas, so there was certainly no consensus from the audience. ANC commissioner Andy Litsky made clear his desire for a traffic and parking study that covers all of Near Southeast and Southwest before embarking on any changes to M Street. (Other speakers were a bit vociferous in their distaste for bike lanes, with the word "elitist" getting tossed around by one particular speaker who seemed especially agitated by the idea.)
There was no indication of what the next steps may be, and indications from the
BID meeting a few months back
were that businesses along M (including the Nationals) were expressing some concerns as well, so for now I'd suggest following the above links for more basic background on what sorts of changes are being thought about for M Street, and getting in touch with
Tommy's office
with your thoughts. I'm guessing
WashCycle
will have coverage of the meeting as well, and I'll link to any posts from them.
Rounding Up Recent Links
Mar 8, 2010 2:32 PM
A few articles I've recently pointed to from my
Twitter feed
that might be of interest but aren't necessarily "news":
*
The Examiner says
the city spent $115,000 to house snow plow drivers at the
Courtyard
on New Jersey Avenue during the record February snowstorms--what we always refer to as the "trash transfer station" is also the city's snow plow yard, and so the drivers were being put up close by. (Lots of money was spent at McDonald's, too, presumably the one within walking distance on I Street.)
* The Nats' Stan Kasten speaks
to the DC Sports Bog
on the rumors of the NHL Winter Classic coming to town. ("I think it's a fun rumor, it's a fascinating rumor, [but] I really do think you're jumping a little bit ahead.... I think it would be great for our city, and great for our ballpark, and together we'd do a hell of a job.")
* In Senate testimony, US DOT secretary Ray LaHood used "the area around the ballpark" as an example of "livability" during a sharp exchange with Sen. Kit Bond. You can
see the video here
(skip to the 92-minute mark), or read the story about LaHood's testimony on
Streetsblog
.
* Three Nats games -- April 3, 7, and 8 -- have been deemed "official events" in the
National Cherry Blossom Festival
. (via
the Nats
)
* The ANC 6D meeting tonight is at the Courtyard in Near SE, but
SWDC Blog posted photos
of the commission's new digs in the about-to-open Waterfront development.
*
WashCycle thinks
that the 10-block temporary tunnel CSX says it will build on Virginia Avenue when reconstructing the existing tunnel ought to be kept for bike/pedestrian use ("lighting would have to be a must", they say).
Public Meeting on Improvements to M Street
Mar 3, 2010 8:09 PM
From
Tommy Wells's office
(via ANC 6D):
"Please join us to discuss the possibilities for M Street.
Tuesday, March 9th, 6:00 - 7:30 pm
MPD First District Station, 101 M Street, SW
"Councilmember Wells, in conjunction with the Southwest Neighborhood Assembly and ANC 6D, is hosting a neighborhood meeting to discuss how Southwest and near Southeast neighborhoods can make safety improvements to M Street through what's known as a 'complete street.'
"'Complete street' is a term of art for planning and renovating streets to reduce the number and speed of cars on the roadways, provide better pedestrian safety and access, and support alternate means of travel that connects neighborhoods. Currently, AARP and other advocacy groups strongly support the concept for the potential it holds to build better and safer streets for seniors, families and other pedestrians. AARP will attend to share its efforts to bring complete streets to more communities like ours.'
For much more information on the "complete street" concept, here's the
National Complete Streets Coalition web site
. I also imagine that the
M Street bike lanes concept
that was presented to BID members a few months back will be discussed at this public meeting as well.
UPDATE: Just a note that, for people who are wanting to attend this but are worried about the conflict with ANC 6B's meeting that night, I'll note that the planned update from CSX about their Virginia Ave. Tunnel project has been postponed to 6B's April meeting.
Details on Plans for M Street Bike Lanes
Nov 29, 2009 6:34 PM
With the launch a few weeks back of a
bike lane on 15th Street NW
, attention is beginning to focus on other locations in the city where there is a desire to place new dedicated bike lanes, and one of those spots is
M Street
SE/SW, running from Sixth Street, SW to 11th Street, SE, which is a route that Tommy Wells has been interested in for quite a while.
Back in early October,
WashCycle reported
that DDOT's Bicycle Advisory Facility Committee discussed the M Street concept, and in mid-November the members of the Capitol Riverfront BID were briefed on a
feasibility analysis
done by the
Toole Design Group
, with the assembled BIDders told that FY10 funds are available and that there's a desire by Wells and DDOT to get the lanes built before the start of the 2010 baseball season, which apparently caught a number of the briefing attendees by surprise.
In the analysis that was presented to the BID (which you
can see here
, although appendices A and B were left blank in the handouts), the main recommendations are:
* Configure the two curb lanes on M Street as "cycle tracks" with flexible posts, a temporary measure suggested because of the "unknowns" of any future streetcar implementations along M Street. There would also be a widening of the sidewalks between Half streets SE and SW, moving the cycle track onto the widened sidewalk, because this area is where the "most intense traffic on the corridor occurs."
* Eliminate all parking along M Street at all hours, though "after a period of evaluation it may be appropriate to allow parking adjacent to the cycle track if it is desired."
* Move all transit stops to the far sides of intersections, where buses and bikes can more easily cross and where buses can still pick up and drop off passengers at a curb rather than on street level.
* Reconfigure all traffic signals to allow bikes time to get through intersections before vehicle traffic gets a green light (the bikes and the pedestrian "walk" signals would go green first, followed then by the vehicular greens).
The "very preliminary" cost estimates for the options developed by the study come in around the $450,000 range according to the document, but it must be remembered that this is a study, and not the final plans, and the numbers could go up or down.
There apparently were some business owners at the BID meeting who were displeased with the plans, centering mainly around the traffic implications of the loss of one lane in each direction, which during rush hour and ballpark events are travel lanes and which are parking for customers/workers/residents/etc. the rest of the time.
This could especially be an issue during events at
Nationals Park
, a scenario which isn't mentioned at all in the feasibility study and which has the Nationals particularly concerned (as apparently voiced by the Nats' Gregory McCarthy at the briefing), since it's not out of the realm of possibility (my words, not theirs) that attendance at the ballpark could rise substantially if the team's fortunes improve, making the backups that are seen when the stadium is sold out--such as during the Red Sox series this summer--considerably worse.
There's been no meeting with ANC 6D commissioners yet about this, though reportedly one is coming soon. I've got a request in to Tommy Wells's office for more information (and what better time to ask a question like that than right around Thanksgiving), so no doubt there is much more to come.
NCPC Staff Recommends Favorable Comment on 11th Street Bridges Design (Except for the Streetcar Part)
Aug 31, 2009 12:42 PM
The
final agenda
is now out for Thursday's meeting of the National Capital Planning Commission, and contained in it is
a long document setting out the commission staff's recommendations
for a vote on the design of the
11th Street Bridges
.
For anyone interested in the bridges as a driver, bicyclist, pedestrian, water recreationist, neighbor, or construction enthusiast, it's a worthwhile read (even at 26 pages). To cut to the chase, the staff is recommending that the commission "comment favorably" on the designs for the bridges, even though the designs are still in the very early stages, and there's very little new in this document that we didn't see in
the EIS
or other releases. There's even mention of how the city's Comprehensive Plan envisions the eventual dismantling of the Southeast-Southwest Freeway, but that the new bridges are needed until the time comes that I-395 comes down (i.e., far past the date I shuffle off this mortal coil).
However, they are not at all happy with DDOT's decision to choose a streetcar system with overhead wires, and the document goes into detail on how this works against federal interests, as well as listing what non-overhead-wire streetcar options exist out there (none in the US so far). Their conclusions (page 22):
"Recommends that DDOT not include streetcar system components for overhead wires as part of the 11th Street Bridge project and that DDOT prepare an environmental impact statement for its proposed District wide streetcar system that examines potential impacts on the L'Enfant City and Georgetown and that includes an analysis of propulsion systems that do not require the use of overhead wires.
"Advises DDOT that the Commission does not support a streetcar system with overhead wires because it supports the unobstructed views to important landmarks along the city's streets and avenues that are integral to the District's unique character and result from the long-standing federal statutory prohibition against using overhead wires in Washington City (the L'Enfant City) and Georgetown.
"Encourages DDOT to pursue alternative propulsion technologies for the proposed streetcar system that do not require overhead wires in accordance with its January 24, 2008 commitment to include dual vehicle propulsion requirements in a solicitation package for the development and implementation of the broader streetcar system beyond the Anacostia and H Street/Benning Road corridors."
Friday Tidbits: BID Newsletter, ANC Agenda
May 8, 2009 10:38 AM
Between it being Friday and the sun finally being out, I bet everyone's feeling a bit better today. Maybe even
Biking to Work
! So, a few tidbits:
* The
latest Capitol Riverfront BID newsletter
is out, with a few items of note. First off, there's a new "branding" campaign going on--"Be Out Front." Look for signs promoting "Front Yard," "Front Office," "Front Door," "Store Front," etc. And they'll soon be launching an equally rebranded web site.
Also, the current estimated population within the BID is 1,584 residents; the newsletter says that there are now more than 2,000 residential units, more than half of which are leased/sold and occupied.
The newsletter also gives the
Bullpen
's official opening date as May 15, and also mentions that the weekly Tuesday farmer's market at USDOT is now underway, and that the weekly Wednesday lunchtime concerts start on May 20.
* The agenda for Monday's ANC 6D meeting is out (hopefully
it'll show up online
before the meeting itself), and the only Near Southeast item is a presentation by Michael Stevens of the BID--kind of a BID 101 tutorial for the ANC commissioners. Otherwise, it's voting on marathons, bus stops, after-school programs, and also an announcement of a "Southwest Night" at Ft. McNair on July 1. The meeting is at 6th and M streets, SW, at 7 pm. (Maybe next month it'll finally move to the new digs at the new 1D police station at the former Bowen Elementary.)
* The
Examiner reports
that the 2010 federal budget includes $15 million for "
Southeast Federal Center
remediation." There's certainly been piles of environmental cleanup there over the years (not surprising when it used to be blocks and blocks of munitions factories).
* EYA has spiffed up its web site a bit--their
Capitol Quarter page
is worth a visit if you haven't checked it out before.
Comments
(2)
More posts:
Akridge/Half St.
,
ANC News
,
Capitol Riverfront BID
, Pedestrian/Cycling Issues,
Fairgrounds/Bullpen
,
Capper
,
Capitol Quarter
,
US Dept. of Transportation HQ
,
Restaurants/Nightlife
,
meetings
,
Nationals Park
Bike to Work Pit Stop at Nats Park; Two Awards for the Ballpark
Mar 10, 2009 4:40 PM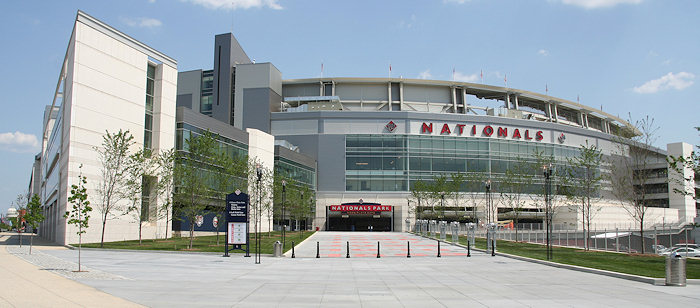 As we near the one-year anniversary of the opening of
Nationals Park
, here's a few recent items worth noting:
* (h/t to reader J) May 15 is
Bike to Work Day
, and the Washington Area Byclist Association has chosen the ballpark as one of the "pit stops," which will "offer breakfast, entertainment, dynamic speakers and chances to win bicycles and other prizes." And free t-shirts, too!
See the web site
for more details.
* Last week the ballpark was named one of the
thirteen most significant projects of 2008
by the Associated General Contractors of America, all recognized "for their complexity, innovation, success and ultimately, for their significance to the construction community and the nation at large."
DOT Curb Cuts Not ADA Compliant; Positive Nature Rally; Douglass Bridge Ceremony Coverage
Mar 18, 2008 9:06 AM
* The Examiner writes about the
Washington Area Bicyclists Association
's look last week at the crosswalks and curbs at the
US Department of Transportation HQ
, which WABA says are not ADA compliant: "An inspection of the area Friday found security bollards blocking curb ramps, bus shelters with virtually no sidewalk access, and multispace parking meters inaccessible to people in wheelchairs. Also, several crosswalks at non-signalized intersections feed into curbs with no access ramp[.]" DDOT says that the crosswalk at Second and M is not supposed to be used anymore (since there is a fully compliant crosswalk just to the west at New Jersey Avenue) and will be sending crews to take away the crosswalk marks.
* City Paper continues its saturation coverage of the Positive Nature youth program at 1017 New Jersey with
video from Saturday's rally
. The organization is trying to stave off eviction thanks to the huge increase in its property taxes.
Garfield Park - Canal Park Connector Project Underway; Design Workshop on Oct. 24
Sep 21, 2007 4:01 PM
A project is underway to design and create a "Connector Path" between Garfield Park just north of the Southeast Freeway and the to-be-constructed
Canal Park
in Near Southeast one block south of the freeway, with the goal of improving "the bicycle and pedestrian passage under the Southeast Freeway at 2nd Street, SE; making this linkage into a functional and attractive route between Capitol Hill and Near Southeast." There's
a web site
now online for information about this project, and on
October 23
there will be a
design workshop
for those interested in participating in the process. It will be at St. Peter's Catholic Church (Social Hall), 128 2nd St., SE, from 6 to 9 pm.
UPDATE, 10/1: The date on this workshop has been changed to October 24. Same time, same place.
Media Briefing on Riverwalk - Update
May 7, 2007 2:49 PM
On Monday (May 7),
DDOT is having a media briefing
to announce that construction has begun on the
Anacostia Riverwalk Trail
. This is the first phase, and so doesn't actually include the planned portion of the trail through Near Southeast (from the 11th Street Bridges to the Frederick Douglass Bridge)--according to the AWC page and a meeting AWC held a few weeks back, I believe what's now being constructed is Phase I, the trail on the west side of the Anacostia from the Navy Yard to the National Arboretum. Phase 2 will be on the east side of the river, from Poplar Point to Pennsylvania Avenue, and Phase 3 (the Near Southeast portion) is probably looking at a 2010 date (when the Waterfront Park at
the Yards
is completed, and they can build the pedestrian bridge to link that park to
Diamond Teague Park
and
Florida Rock
.
UPDATE, May 7:
A
post-briefing press release
says that the section of the Riverwalk now under construction is a two-mile stretch that will run from the
Navy Yard
east to Benning Road. There's also a link to a
fact sheet on the trail
(albeit from June 2006) that has a map of the planned trail and other information. And here's
a WTOP piece
on the new section.