Near Southeast DC: Past News Items
Capitol Riverfront BID
Go to Full Blog Archive
---
BID Statement on Dangerous Neighborhood Ranking
Oct 6, 2010 4:44 PM
Just passed my way from the
Capitol Riverfront BID
, a statement taking strong exception to the WalletPop/NeighborhoodScout.com ranking of "L Street, SE" as the
9th Most Dangerous Neighborhood in the US
.
[Note: If you want to peruse the crime statistics for the neighborhood from 2005 to today,
here they are
, viewable by year, crime/type, etc. The information comes directly from the city's data feed for crime.]
"In direct contradiction to recent media reports, the popular Capitol Riverfront neighborhood around L Street, SE hosts one of the safest streets in the nation's capital, according to the Capitol Riverfront Business Improvement District (BID).
"'The Capitol Riverfront is a safe and welcoming neighborhood,' said Michael Stevens, executive director of the Capitol Riverfront BID. 'The Capitol Riverfront BID District takes crime very seriously and will not allow fictitious reporting about crime rates in our neighborhood to go unchallenged.'
"On October 4th, the Website walletpop.com posted a ranking of the 25 most dangerous neighborhoods in America based on data credited to another site, neighborhoodscout.com. The ranking listed the L Street SE neighborhood, a significant portion of the Capitol Riverfront BID, as the ninth most dangerous neighborhood in America, a fact the BID vigorously refutes.
"'We demand that walletpop.com and Dr. Andrew Schiller of neighborhoodscout.com remove L Street SE from their ranking and correct this inaccurate and fictitious data,' said Stevens.
"According to the Metropolitan Police Department 2009 statistics for the L Street SE corridor, there have been zero homicides in the area since 2004, and the violent crime rate was 8.98 crimes per 1,000 people, in sharp contrast to the overinflated and erroneous violent crime rate of 111.34 per 1,000 reported by neighborhoodscout.com and walletpop.com. The scant rate of 8.98 of violent crimes per 1,000 along the L Street SE Corridor, is below even Walletpop.com's overall DC average of 14.59 violent crimes per 1,000 residents. Even as far back as 2007, the L Street Corridor SE saw only 45 violent crimes.
"'NeighborhoodScout.com's disclaimer that "
Although we work hard to provide premium quality information, the content contained in any NeighborhoodScout Report is a work of art
" is not a justification for inaccurate data, erroneous conclusions, and the posting of unsubstantiated rankings and misinformation about a safe neighborhood to the public,' said Stevens."
Comments
(10)
More posts: Capitol Riverfront BID
Free Tickets to RiverFrontFest for Hood Residents
Sep 21, 2010 1:32 PM
I wrote
over the weekend
about
RiverFrontFest
, a new arts and music festival that will be held on Saturday, Oct. 9, on Fourth and Water streets near the
Yards Park
. While tickets are $12 in advance and $15 at the door, the organizers
are offering complimentary tickets
for residents of Near Southeast. The tickets are limited to two per resident, and proof of residency with ID must be shown. The tickets can be picked up any time between now and Oct. 9 at either Justin's Cafe or Cornercopia, though both businesses ask that if possible people avoid coming to get tickets during the busy 11 am to 2 pm rush times. Here's
the flyer with details on the free tickets
, which you'll probably also see being handed out in the various apartment buildings in the neighborhood over the next few days.
WalkingTown DC 'Hood Tours Sunday Morning
Sep 21, 2010 11:25 AM
Missed this in yesterday's post on this week's events:
WalkingTown DC
is this weekend, and among the many (many!) walking and biking tours is once again a Capitol Riverfront BID-branded tour, "Capitol Riverfront: From Navy Yard to Front Yard", on Sunday (Sept. 26) from 10 am to 11 am. The tour, lead by BID executive director Michael Stevens, meets at the New Jersey Avenue entrance to the Navy Yard Metro station.
If you're in really (really!) good shape, you can then zip from this tour to the Stadium-Armory Metro station for a Ward 6 biking tour led by Tommy Wells, "Ward 6 Past Meets the Future Bike Tour." It's a 6.5-mile ride from 11 am to 12:30 pm that will start at Kingman Island and hit Eastern Market and Barracks Row before hitting the parks of Near Southeast (
Canal
,
Yards
,
Teague
, and
Nationals
) and then continuing on into Southwest.
No reservations are required for either tour. (I'd link directly to the entries for each, but the WalkingTown site isn't set up for that. So here's the lists of
Sunday morning walking tours
and the
biking tours
. Start scrolling!)
Tidbits: Spiffying Up the NJ Avenue Underpass; CSX Archaelogy Digging; More Near SE History
Sep 7, 2010 9:09 AM
A few things to pass along as we kiss summer goodbye (yes, I know it technically doesn't end for another few weeks, blah blah blah):
* The Capitol Riverfront BID is applying for a
DC Public Art Building Communities grant
to get funding to "improve the look, feel and experience of traveling into and out of the Capitol Riverfront along New Jersey Ave., SE, while also creating unique gateway art that represents the identity, sense of place and community in the Capitol Riverfront neighborhood." They will be presenting their concepts at the Sept. 13 ANC 6D meeting, with applications being due on Oct. 13. If the project is selected to receive a grant, there would be public meetings sometime next year to "refine" the concepts, with hopes to complete the project by fall 2011. Though I can't imagine why anyone would want to beautify
THIS
!
* I'm not seeing this on the
posted agenda
yet, but a reader reports to me that CSX will be making presentations to ANC 6B's Planning and Zoning Committee tonight (Sept. 7) and the full ANC on Sept. 21 about a permit the freight company is apparently requesting to conduct an archaeological survey of Virginia Avenue Park prior to their planned expansion of the tunnel that runs under the park.
* Tonight you might see some folks with clipboards hanging around the Navy Yard Metro station entrances; they will be part of the
Public Transportation Takes Us There
petition drive by the American Public Transportation Association, trying to convince Congress to pass a long-term surface transportation funding bill. For the point of view of someone who has signed the petition, read this
recent Richard Layman post
. (I am wondering, and have no answer, whether this is the bill that CSX has been looking toward [along with other public money options] for funding the rest of the
National Gateway project
, which includes the expansion of the Virginia Avenue Tunnel.)
* You may have seen commenter MJM referencing recently his newfound obsession with the history of Near Southeast, and now
he's put up a blog
where you can share in the fruits of his research.
More Info on Yards Park Opening Weekend Festivities
Aug 18, 2010 2:35 PM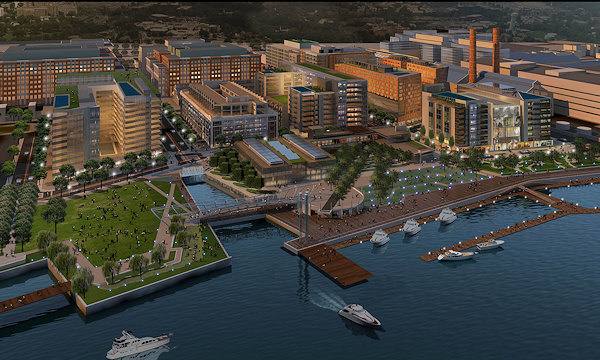 The
Capitol Riverfront BID
is gearing up for its job as maintainer, programmer, and promoter of the soon-to-open
Yards Park
by
sending out this flyer
with details on the festivities planned for the park's opening weekend, planned for Sept. 10-12.
Live music, food tasting, and a "beer garden" will be available all three days, along with special activities such as an art show by the
Art Whino gallery
, fitness classes, a
Trapeze School
demonstration, contests at the dog run, and a fireworks show on Saturday (in addition to being a new spot to watch the Nationals' postgame fireworks on Friday).
The events, which are free and open to the public, run from 3:30 to 11 pm on Friday, Sept. 10, 9 am to 10 pm on the 11th, and 10 am to 1 pm on the 12th.
Summer Doldrums Bullet List (Light Tower, Traffic, Hula Hoops, Signage, BID Survey, DC Blogs)
Aug 13, 2010 12:37 PM
Hasn't been much swirling around lately worthy of a full blog post, but here are a couple items so that people don't think I've shut down (though most of them have already been seen on
my Twitter feed
, aka the "I'm Too Lazy to Blog" feed):
* The light tower at the
Yards Park
is being installed today, about four weeks in advance of the scheduled grand opening on Sept. 10. I hope to have pictures at some point.
* Greater Greater Washington
reports that MPD fanned out
around
Nationals Park
on Wednesday night, ticketing drivers and pedestrians and handing out
flyers on safety
. GGW also brings up
the public meeting held by Tommy Wells back in March
about the notion of reworking M Street under the "
Complete Streets
" principles of creating road networks that work for pedestrians young and old, cyclists, public transportation users, and drivers. by doing things such as adding dedicated bike lanes, creating safer crosswalks, etc. At that meeting, residents of Southwest were unimpressed with the possibilities, but the few Southeast residents in attendance seemed more open to it.
UPDATE:
TBD reports that the truck driver in
last week's incident
is not being cited
.
* The
Post did a video feature
on
Hoopernatural
, the hula hooping fitness outfit. They are running classes for mixed-levels of hoopiness during August at
Canal Park
, on Saturday mornings from 10 to 11 am.
* The
Capitol Riverfront BID
is running a survey to get feedback from residents, workers, and visitors on the types of events the BID holds (concerts, outdoor movies, farmers' market, etc.).
Let your feelings be known here
.
* While my
griping about the bad signage
on the SW Freeway (
highlighted again by the Post
on Thursday) is technically out-of-boundaries, it is on topic to
also mention to DDOT
that the various blue "services" signs for the South Capitol Street exits on I-395 probably need to get rid of the gas station icons, since the days of having three gas stations right on South Capitol and two within a few blocks to the east are long gone. (But @DDOTDC has put me in a time out after Thursday's flurry of transit-related tweets, which also included
this good suggestion from a reader
about the need for a left-turn signal on northbound Third Street, SE at Virginia Avenue, for people needing to get onto I-395 southbound.)
* And I stumbled across
this study by the New America Foundation
about "online-only" news outlets in DC. It counted 61 of them, noting that the "city's oldest local blogs that still command an audience began to spring up in 2003," with JDLand being one of the "original few," thanks to my January 2003 vintage. The piece looks at
DCist
,
GGW
,
Prince of Petworth
,
And Now Anacostia
, and
TBD
(though it hadn't yet launched), along with a few nice words about this site. But I have been thinking a lot lately about how I'm an old lady compared to the rest of the DC neighborhood blogosphere, and this article (coming on the heels of my [redacted] birthday) certainly reminded me of it. :-)
Upcoming Events: Seabiscuit, Dave Matthews, SoS
Jul 22, 2010 2:33 AM
For your scheduling pleasure:
*
Thursday's BID outdoor movie
is
Seabiscuit
, the heartwarming tale of a horse swimming across the ocean for food (no, wait, that's not right). It starts at
Canal Park
at Second and M streets, SE, at 8:45 pm, but you can arrive early for some hula hooping with Hoop Jams at 8 pm. Rain cancellations will be posted on the
BID web site
by 4 pm.
* On Friday night (July 23) the
Dave Matthews Band
will be in concert at 7 pm at
Nationals Park
, with the
Zac Brown Band
opening.
Tickets are still available
, and the concert will go on rain or shine. (If you're heading to the ballpark for the concert and are unfamiliar with the territory, here's my
Stadium Parking information page
. But make it easy on yourself just take
Metro
.) Speaking of the stadium parking page, I've now added the new (tiny) $10 lot on the northwest corner of New Jersey and I.
* The rest of the weekend will be quiet (and hot), but then on Tuesday the 27th the Summer of Strasburg will return to the neighborhood, as Stephen is expected to pitch against the Atlanta Braves in a 7:05 pm game.
Neighborhood Heritage Trail Creation Meeting
Jun 19, 2010 2:37 PM
Via the
BID's latest newsletter
: "Share your stories of the historic Southeast DC neighborhood as we embark on the creation of a new Neighborhood Heritage Trail in the Capitol Riverfront. Cultural Tourism DC, in partnership with the Capitol Riverfront BID, is holding two community meetings for the public to share stories, bring photos and help shape the community's heritage trail. The first meeting will be on Wednesday, June 23rd at 7 PM at Arthur Capper Senior I, 900 Fifth Street, SE."
See the flyer
for more information.
(This is also a good time to mention that there won't be a Sunday Rearview Mirror this weekend--I have a good one on tap for next week, though.)
Upcoming Events: Shrek, SoS Continues, More
Jun 16, 2010 8:59 PM
Highlighting doings of interest over the next few days in convenient bullet form:
* Thursday is
BID
day, with three separate activities, starting with the Capitol Riverfront Farmers Market at New Jersey and M (up behind the fences) from 3 to 7 pm. Then there's the "Front Run Club," a new gathering for runners of all fitness levels that meets every Thursday night at 6 pm at Second and M. And of course it's movie night, as the Ultimate Underdog Movie Series continues with
Shrek
, with festivities starting at Second and M at 7:30 pm and the movie itself beginning around 8:45 pm. There will also be a hula hooping "
Hoops Jam
" before the movie.
* The
Summer of Strasburg (SoS)
continues with the phenom's second home start, on Friday night against the White Sox. Game time is 7:05 pm, with the gates at
Nationals Park
opening at 4:30 pm, and the swarms of sudden baseball fans descending on the neighborhood soon after. Be prepared for big crowds on Metro, roads, sidewalks, bike lanes, etc.
* Also at Nationals Park this weekend is "
Nats U
," which is being held on Saturday and offers women ages 15 and up "
the opportunity to learn the ins and outs of America's favorite pastime from the experts at the Washington Nationals." For $50, female fans can sign up for either beginner or advanced sessions, and also receive tickets to Saturday's 4:10 pm game against the White Sox.

* There's also a series of additional events and promotions at the ballpark tied into Father's Day (you DID remember that Sunday is Father's Day, right?), which you can read about

here

.
Tidbits: Five Guys; Gump; 295 Lane Closures; SoS
Jun 10, 2010 1:12 PM
* There's been discussion on
Twitter
about this, but I guess it needs to be elevated to the blog--last week a sign went up at Five Guys on Second Street saying that it would be closed for maintenance from June 4 - 14. It certainly looks like they're doing work in there, and I doubt that if it were closing for good they would have given a timeframe, but I know people are nervous, given the dearth of other choices. I don't know any additional details, so feel free to post in the comments if you have any scuttlebutt to add.
* The BID's summer outdoor movie season continues tonight (Thursday) with
Forrest Gump
. Festivities start at Second and M streets, SE, at 7:30 pm, though the movie itself doesn't begin until after sundown.
(I'm already making plans for the July 8 showing of Star Wars--if anyone wants to hang out with me, I can regale you young whippersnappers with tales of seeing it at the Uptown in the summer of 1977, and how my mother almost made us leave because she couldn't quite get hip to robots walking around in sand dunes.)
Aak! They've taken it off the list, and replaced it with
Legally Blonde
! Waah!
* From DDOT, a notice about some
lane closures this weekend on DC-295
, which are technically outside my iron-clad boundaries but which do have to do with the
11th Street Bridges project
: "From 9 pm on Friday, June 11 into the evening of Sunday, June 13, DDOT contractors will close one travel lane in each direction of DC 295 between the 11th Street Bridge and Pennsylvania Avenue. The work is part of the 11th Street Bridge Project. In addition, there will be single lane closures Saturday on both the northbound and southbound sides of Kenilworth Avenue (DC 295) at Eastern Avenue. This work if related to the replacement of the Eastern Avenue Bridge." They warn that there could be backups of two miles or more.
* I didn't really blog about Wednesday's phenomenal debut of Stephen Strasburg (though I was at the game and Tweeted here and there) because I figured that there might be one or two other outlets where you could get the latest. But it will be interesting to watch the impact on the neighborhood if he continues to pitch like an alien being--will all of his games bring huge crowds? Will attendance start to lift at games when he isn't playing? Will game-day traffic and transit issues that haven't really been at the forefront become a sore point if more people come to games more often? And will restaurants and bars (and retailers and office tenants and residents) start thinking a little more about being near the
ballpark
? The
Summer of Strasburg (SoS)
could get quite interesting....
QUICK ADD: From the Nats: "The Washington Nationals will host their annual blood drive, in partnership with Inova Blood Donor Services, this Saturday, June 12 in the Nationals Park Conference Center from 8:00 a.m. to 5:00 p.m. In addition to helping save a life, blood donors will receive two tickets to a future Nationals game, a limited edition Build-A-Bear Workshop bloodhound and the opportunity to take an exclusive behind-the-scenes tour of Nationals Park." There will be a second drive on Aug. 28, from 8 am to 2 pm.
WPArade! An Art Parade on Saturday
Jun 3, 2010 9:00 PM
A reminder that on Saturday (June 5) is "
WPArade! An Art Parade in the Capitol Riverfront
" (their exclamation point, not mine), presented by the Washington Project for the Arts. It's described as "an extravaganza of artists connecting with community to create a moving visual spectacle of art and culture" with "[a]rtists, performers, musicians, and visual arts organizations will come together in Washington's first Art Parade to display moving art, floats, placards, portable sculpture and street performance along Half Street SE." It starts at Half and M at noon, with a midblock stop for performances before culminating in a party alllllllllll the way down at the Bullpen at N Street, running until 3 pm. All portions are free and open to the public;
see a list of the artists here
.
Summer with the BID: Movies and Music
May 14, 2010 11:06 AM
The
BID
has released its
Summer Outdoor Movie lineup
, with the theme for this year being "Ultimate Underdogs." It kicks off
June 3
with
Hoosiers
, then runs most Thursdays through August 5, with
Forrest Gump
,
Finding Nemo
,
The Karate Kid
,
To Kill a Mockingbird
,
Star Wars
(I'm so there),
Slumdog Millionaire
,
Cool Runnings
,
Happy Gilmore
, and
Rocky
. They'll be held on the
Canal Park
site at Second and M, with the movies starting at 8:45 pm but with activities (including big-screen Wii beforehand). The
Sauca
food truck will be in attendance, and the weekly Farmers Market at New Jersey and M will also be open to buy goodies.
Also getting underway is the
Lunchtime Concert series
, starting on May 19 and running every Wednesday through August 25. They'll be from noon to 2 pm on the plaza behind
USDOT
.
Upcoming Events (ANCs and Business Summit)
May 9, 2010 9:00 PM
On your agenda for the near future, should you choose to accept the mission:
*
ANC 6D
(Southwest and most of Near Southeast) meets Monday night at 7 pm at St. Augustine's Church at Sixth and M streets, SW. (When are they moving to their new meeting space, dangit?)
The agenda is posted
--no big Near Southeast items, except for perhaps an update from the Nationals, a brief update on
Traffic/Parking issues
from a member of Tommy Wells's staff, and request for support for a liquor license for the new
Patriot II river cruise ship
operating out of
Diamond Teague Park
. One other item that might be of interest is an update on the
14th Street Bridge Environmental Impact Statement
, which has been quiet for a while.
*
ANC 6B
(south side of Capitol Hill and Near Southeast south of the freeway east of Seventh [excluding the Navy Yard]) meets the next night, Tuesday, at 7 pm at its new meeting place, the People's Church at 535 Eighth Street, SE.
Here's the agenda
, which is chock full of liquor license renewals and home remodeling projects.
Upcoming Events (Market, Leukemia Fundraising)
May 5, 2010 7:30 AM
For your calendars:
* Thursday (May 6) is the first
Capitol Riverfront Farmers Market
of 2010, running from 3 pm to 7 pm through November on the northwest corner of New Jersey and M, adjacent to the Navy Yard Metro station entrance. More than 10 local farmers and vendors will sell produce, baked goods, prepared foods, and more. The first 50 customers to attend the farmers market on Thursday will be given a $5 off coupon for any purchase at the market.
* Alas, I missed the kickoff of the
USDOT farmers' market
, which started today (oops) and will be held every Tuesday from 10 am to 2 pm on the pedestrian plaza between the two buildings, at Third and M.
And, here are two events that I'm passing along on behalf of
Lisa Pagano
, the Nationals' manager of communications, who has been very good to JDLand over the years. She is running for the Leukemia and Lymphoma Society Woman of the Year award, and is trying to raise $75,000 by June 12 (
more info here
and
here
), with two fundraising events being held in Near Southeast over the next week or so:
* A
Cornhole Tournament
is being held at the Bullpen on Wednesday, May 12, with the party starting at 6 pm and the tournament itself at 7 pm. There will be live music and raffle items in addition to the tournament. Admission is $5 for the event and $20 for teams of two entering the tournament (with one free beer per player!). More info can be
found on Facebook
.
* Buy a $22 Scoreboard Pavilion seat for the
May 20 Nats vs. Mets game
, and $8 of the ticket price will go directly to the Leukemia and Lymphoma Society. For more information, and to purchase tickets online, visit
nationals.com/mwoy
.
Big Pile of Upcoming BID-Sponsored Events
Apr 28, 2010 2:34 PM
It's almost May, when a business improvement district's thoughts turn to.... programmed events! And the Capitol Riverfront BID is not disappointing. Here's what's coming over the next couple of weeks:
* The weekly
farmer's market
, now dubbed the Capitol Riverfront Market, is returning for another run, starting May 6 and running through Nov. 18. This year it'll be set up on the plaza on top of the Navy Yard Metro station at New Jersey and M, each Thursday from 3 pm to 7 pm, and will feature fresh produce, "specialty products," and locally prepared foods.
Here's the flyer
.
*
Fitness in the Front
is coming this Saturday, May 1, at Second and M from 9 am to noon. Classes are free, with no sign-up ahead of time, and feature boot camp, kickboxing, yoga, pilates, "Hoopnotica," and Zumba dance. There will also be information tables for Results the Gym and other groups.
More details here
. Along the same outdoor activity vein, the
DC Pickup Frisbee League
will be playing at Canal Park Tuesdays at 6 pm, and the resident-organized
Front Run Club
will be starting up again on May 6, meeting at 6 pm also at Canal Park.
Comments
(2)
More posts: Capitol Riverfront BID
Updates from Capitol Riverfront BID Newsletter
Apr 11, 2010 10:25 AM
It's not online that I can see, but here are some items from the most recent "FRONT Page News" e-mail newsletter from the BID:
* "Capitol Riverfront neighborhood day at
Nationals Park
will be Wednesday, April 21st with ticket discounts available to residents, employees, and friends of the BID." The on-street supervisor of the BID's Clean and Safe Team will be singing the National Anthem. [I think, though, that Southwest is going to be part of this "neighborhood day" as well, even though it's not in the BID. This was mentioned at an ANC 6D meeting a few weeks ago.]
* There will be a "
Fitness in the Front
" event at
Canal Park
on May 1, with free classes offered by local instructors and information tables (and freebies!).
See the link
for the lineup and additional info.
* Residential update: "The residential population in the Front is estimated to have reached 3,030 as of the first quarter of 2010. Rental properties including the
Onyx
,
Axiom, Jefferson
and
909
are 95% leased. For sale units including
Capitol Quarter
,
Capitol Hill Tower
and
Velocity
are 71% sold. The residential population is predicted to reach 3,500 by the end of 2010."
2010 State of the Hood: Looking Back, and Ahead (and Updated Residential Occupancy Numbers, Too)
Jan 19, 2010 1:22 PM
It's become a tradition for me to do a yearly overview of what's happened in Near Southeast over the preceding 12 months, and what the next 12 months are looking like, and in my typically understated way, I've dubbed it "the State of the Hood."
This year's missive is now posted
, and while the expectation would be that 2009 was a whole lot of nothing, there were more milestones of note than perhaps it seemed--two residential buildings and one office building were finished, the first residents moved into
Capitol Quarter
, water taxis and Circulators arrived, Cornercopia opened, and work began on the new
11th Street Bridges
. There were less auspicious events, too, with construction being halted on two projects, foreclosures hitting various commercial properties and private homes, and the drying up of the "development pipeline." But there's still a few new things coming in 2010, like the
Park at the Yards
and Justin's Cafe.
Whether you're new to the neighborhood, or an old hand, I hope you'll take a few minutes to
plow through the whole thing
. (And maybe even read the old ones, too, to relive the insane years of
2006
,
2007
, and
2008
.)
As part of putting the SOTH together, I got the updated residential occupancy numbers from the BID--they say that nearly 2,800 people now live in the "Capitol Riverfront." Here's the breakdown of leasing/sales percentages for the multi-unit buildings:
Rentals
Onyx
95.5% leased, 94% occupied (250 of 266 units occupied)
Axiom
91% leased, 89% occupied (219 of 246)
Jefferson
77% leased, 76% occupied (340 of 448)
909 New Jersey
82% leased, 75% occupied (178 of 237)
400 M
100% leased and occupied (138 of 138)
Condos and Co-ops
Capitol Hill Tower (Co-op)
83% sold and occupied (285 of 344)
Velocity
32% sold, 8% occupied (16 of 200)
Capitol Quarter
82% sold, 28% occupied (32 of 113)

(ownership units, 56 still under construction)
(Note that Capitol Quarter's numbers are a little behind the others, so these are higher now as the move-ins continue)
Capitol Riverfront BID Annual Meeting Summary
Dec 18, 2009 2:37 PM
The
Capitol Riverfront Business Improvement District
held its annual meeting and luncheon on Thursday, on the ninth floor of
55 M Street
. Stan Kasten of the Nationals opened the festivities with some brief but energetic remarks about how excited the Nationals are about the neighborhood's continuing development. He was followed by Tommy Wells, who is equally enthusastic about the neighborhood as a prime example of a "liveable, walkable community," saying that people are increasingly choosing "five-minute living." But, he added that if this area ends up looking like every other neighborhood, "then we've failed."
After making presentations and awards to the BID's Clean and Safe team members, BID executive director Michael Stevens presented his
State of the Capitol Riverfront report
, chock full of statistics, including my perennial favorite, the number of bags of trash collected during 2009 (7,526!). The BID estimates there are now about 2,500 residents in the area, with another 500 expected to arrive in 2010. He also spent some time comparing the size and scope of the plans for "the Front" to other waterfront redevelopment projects such as Battery Park City in New York and Mission Bay in San Francisco, and of course detailing the many ways the BID works to publicize and advocate for the neighborhood.
Stevens was followed by Christopher Leinberger of the Brookings Institution, who discussed "
The Structural Shift in Building
." This area and DC as a whole, he said, are the model for the sort of development that cities want to emulate going forward, as he described the pendulum swing from the suburban model of the second half of the 20th century to the new "walkable urbanism," being driven mainly by the Millennial generation, empty-nested retirees, and the growth in the percentage of child-free households.
Leinberger's
presentation slides
are definitely worth paging through, and folks who are big fans of public transportation will especially appreciate his feeling that the slogan going forward should be "The Green Line is the New Red Line," since the biggest opportunities for development around transportation hubs exist near those stations, and that the BID should actually consider expanding its consulting and other offerings to the smaller emerging neighborhoods along the Green Line that need those types of services. (Perhaps this is what Michael Stevens was alluding to in his report, where a Green Line Research Project was mentioned. And, by the way, next year will mark the 20-year anniversary of the opening of the Navy Yard metro station.)
Finally, BID chairman Eric Siegel announced that the BID is planning an environmental summit in May 2010 (perhaps at
Nationals Park
), to focus on the cleanup of the Anacostia River and other environmental issues with the many public and private stakeholders along the river.
This Week's Events, and a Few Other Quick Items
Dec 14, 2009 10:41 AM
Rounding up the items on this week's agenda:
* Tonight is
ANC 6D
's monthly meeting. Alas,
no agenda
released yet, a common occurrence that should put them on Santa's "naughty" list.
* Tuesday through Friday is the
BID's Holiday Market
, running each day on
Canal Park
from noon to 6 pm, with live music from noon to 2. (If you're seeing activity at Second and M today, that's what it is.)
* Tuesday has the next
Lower Eighth Street Visioning
meetings, at 8:30 am and 7 pm at 535 8th St., SE. These sessions will "focus on best practice examples and build-out scenarios," and
an agenda
just mailed out by the BID (which is running the sessions) shows guest speakers Richard Lake of
Roadside Development
(the folks behind the redo of the
O Street Market
) and Wayne Dickson of
Blake Real Estate
. There's also an agenda item on "The Need for a Community Center."
* On Wednesday (Dec. 16) the BID is throwing a free
Residents' Holiday Party
at the Courtyard by Marriott, from 6:30 to 8:30 pm. They'll also keep the Holiday Market open an extra hour (until 7 pm) for residents, and there'll be live music.
* The BID is having its annual meeting on Thursday, with speakers Tommy Wells, Stan Kasten of the Nationals, and Christopher Leinberger, a walkable urbanism expert from the Brookings Institution. In
previewing the event
on the Breaking Ground blog last week, WBJ's Melissa Castro listed a series of stats about the Capitol Riverfront provided by Jones Lang LaSalle, including that the total office vacancy rate for the area through the third quarter is at 19.2 percent (though it's listed as being at 14.7 percent at the end of October in
this subsequent WBJ article
). It would have been nice, though, if she'd given
@capitolhilldc
credit (rather than just "a Twitter user") for the tweet about being the 24th person in line at the DOT Starbucks Thursday morning, which also brought
a few fun responses
when I retweeted it.
* ANC 6D07 rep Bob Siegel mentioned this at last week's ABC committee meeting, and it's confirmed in the city's land records: there are now 12 units occupied at
Velocity
.
BID Holiday Market; Justin's Cafe Photos
Nov 27, 2009 9:28 AM
News from the Capitol Riverfront BID:
* They've announced their
second annual Holiday Market
, running Dec. 15-18, from noon to 6 pm each day, at Second and M, on the Canal Park footprint.. "For four days, the Capitol Riverfront will present a festive holiday market with local artisans selling handcrafted jewelry, crafts, photography, holiday trees and greenery, and more. Enjoy a variety of festive foods and live music daily from noon - 2 pm."
* The BID has also posted a few photos of the construction work (and the sign) at the "soon-to-open" Justin's Cafe at
Velocity
on their Facebook page
.