Near Southeast DC: Past News Items
ANC News
Go to Full Blog Archive
---
A Few Tidbits While Waiting for Normalcy to Return
Feb 15, 2010 11:02 AM
Some small items I've
tweeted
(or just forgotten to post) recently:
* Construction delays related to last week's epic snows have put the kabosh on the
trapeze school
's planned opening today--they may open for business on Friday, Feb. 19, but are still in need of their certificate of occupancy. Check their
web site
or
Facebook group
for updates.
*
ANC 6B commissioner Norm Metzger
is following CSX's plans for expanding the Virginia Avenue Tunnel pretty closely, and has recently passed along a link to a new "National Gateway Project Updates" web site, including
this page on the Virginia Avenue portion
. CSX still isn't really giving any details about how the construction will impact the area, but they are certainly touting all the public meetings they've been to! In a similar vein, Norm also posted a link to a new blog, "
Capitol Hill Against Railroad Tunnel Expansion
," by folks who are unhappy with the plans.
* Look for ANC 6D's monthly meeting to be rescheduled to some day this week--they didn't send out any announcements as their attempts to hold the meeting last week were postponed, so
checking their web site
for the new date will be necessary.
ANC 6B
has rescheduled its meeting to Feb. 23.
*
WBJ reports
that the city used $10 million in surplus receipts from the ballpark tax to "shore up its fiscal 2010 budget," instead of paying off the ballpark debt early, which was what businesses who pay the tax expected to happen in the event of surpluses. And they're not happy.
ANC Supports Liquor License for Justin's Cafe
Jan 11, 2010 11:46 PM
Tonight ANC 6D gave its support in two separate votes to restaurateur Justin Ross's liquor license application for his new "Justin's Cafe" sandwich/salad/pizza place in the ground floor of the
Velocity
condo building at First and L streets, SE. There was little discussion, other than some concerns by commissioner Roger Moffatt about voting to support the full liquor license before the hearing is even "placarded," i.e., posted on the restaurant site, because he felt that this might prevent residents' concerns from being part of the ANC's decision (though, of course, the ABRA liquor license hearing process specifically allows for public comment). Two residents in the audience spoke strongly in favor of the proposed plans, and, in the end, the votes were 6-0-1 for a temporary "stipulated" license and 6-1 for the full license (Moffatt voting present/against on the two motions).
There's still no date set for the license hearing (Justin filed his application on Dec. 30), but he indicated that things should be moving pretty quickly in terms of getting the restaurant opened, and the stipulated license will allow him to serve alcohol until the full license is voted on.
Other Near Southeast-related tidbits:
* The Marines are going to be hosting an open house on January 27 from 5 to 8 pm at Eastern Market's north hall--they are formulating a new master plan for all of their space needs, and are looking to "partner" with residents, developments, government agencies, or any organization that can provide the space they're looking for. The open house seems to be the first step in "reaching out," though it all seemed a bit murky, and perhaps will be better explained when announcements for the open house are released. (Though "
lower Eighth Street
" was mentioned.)
* The commission also elected its offers for 2010, with Ron McBee being named chair. Vice chair Robert Siegel, secretary David Sobelsohn, and treasurer Jane Jorgensen retained their posts.
* This was the first time in all the ANC 6D meetings I've attended (starting in probably 2004) that I actually stayed until the very end (it lasted a mere three hours). Whether this is something to celebrate is another issue, especially on a night like this one where the heat at St. Augustine's seemed particularly, um, nonexistent. They did announce that soon the ANC and the Southwest Neighborhood Association will be moving to new digs at Waterfront (the new development about to open at the old Waterside Mall site at Fourth and M, SW). They will also have a public meeting space that presumably will have both sufficient HVAC offerings and decent acoustics, so that I will actually be able to *hear* what's going on.
Tidbits (ANC 6D, Boathouse, Georgia Ave, Cupcakes!)
Jan 11, 2010 12:00 PM
A few items of note:
* Tonight is
ANC 6D'
s monthly business meeting, at 7 pm at St. Augustine's Church, Sixth and M, SW. But, as is so often the case, there's no agenda yet released. However, the commission should be voting on whether to support the liquor license application of Justin's Cafe,
which was approved
by the ANC's alcohol/beverage subcommittee last week. Other than that, the lineup will just be a bundle of surprises!
UPDATE:
The
agenda is now posted
.
*
The folks with
A rower from the
Anacostia Community Boathouse Association
has
started a blog
to track the move of the boathouse operations away from its current home in between the
11th Street Bridges
up-river to the Anacostia Marina. The move is happening because the new bridges are going to necessitate the demoition of the
two existing boathouse buildings
. (
UPDATED
with a new name for the blog, along with a clarification)
* The Hill is Home has
a "Lost Capitol Hill" post
about the original Georgia Avenue, SE, which is now Potomac Avenue. On
these maps from the early 1900s
of Near Southeast, you can see Georgia Avenue in
1903
, but not in
1909
. (If you haven't wandered through these maps before, they're worth a few minutes. Go to
the main page
, click on a section of the neighborhood, and then you can use the links to go from 1903 to 1909 to 1915 to 1921.
*The
Curbside Cupcake
folks are venturing into Near Southeast these days, and will be at New Jersey and M tomorrow (Tuesday, Jan. 12) from noon to 1 pm. (They set up shop there for a while last Tuesday, too.)
* And, while outside my boundaries, I think it's worth mentioning that Big Chair Coffee opened at 2122 MLK Avenue in Anacostia this morning--And Now, Anacostia has a
pile of photos
of the place, which is one of the only (if not
the
only) coffee house east of the river.
Justin's Cafe Gets 6D's ABC Committee Support
Jan 6, 2010 9:40 PM
A very quick update from tonight's meeting of ANC 6D's alcohol/beverage committee, which voted 3-0 both to recommend support Justin's Cafe's application for a liquor license, and to recommend that a "stipulated license" be granted. This means that the restaurant could operate under a temporary license until its (still as yet unscheduled) hearing in front of the liquor board is completed. The full ANC will vote on these recommendations at their meeting on Monday (Jan. 11).
Owner Justin Ross said that the build out isn't quite complete yet and that there's still a few weeks of work to take care of, but he's hoping to open within four weeks or so.
This Week's Events, and a Few Other Quick Items
Dec 14, 2009 10:41 AM
Rounding up the items on this week's agenda:
* Tonight is
ANC 6D
's monthly meeting. Alas,
no agenda
released yet, a common occurrence that should put them on Santa's "naughty" list.
* Tuesday through Friday is the
BID's Holiday Market
, running each day on
Canal Park
from noon to 6 pm, with live music from noon to 2. (If you're seeing activity at Second and M today, that's what it is.)
* Tuesday has the next
Lower Eighth Street Visioning
meetings, at 8:30 am and 7 pm at 535 8th St., SE. These sessions will "focus on best practice examples and build-out scenarios," and
an agenda
just mailed out by the BID (which is running the sessions) shows guest speakers Richard Lake of
Roadside Development
(the folks behind the redo of the
O Street Market
) and Wayne Dickson of
Blake Real Estate
. There's also an agenda item on "The Need for a Community Center."
* On Wednesday (Dec. 16) the BID is throwing a free
Residents' Holiday Party
at the Courtyard by Marriott, from 6:30 to 8:30 pm. They'll also keep the Holiday Market open an extra hour (until 7 pm) for residents, and there'll be live music.
* The BID is having its annual meeting on Thursday, with speakers Tommy Wells, Stan Kasten of the Nationals, and Christopher Leinberger, a walkable urbanism expert from the Brookings Institution. In
previewing the event
on the Breaking Ground blog last week, WBJ's Melissa Castro listed a series of stats about the Capitol Riverfront provided by Jones Lang LaSalle, including that the total office vacancy rate for the area through the third quarter is at 19.2 percent (though it's listed as being at 14.7 percent at the end of October in
this subsequent WBJ article
). It would have been nice, though, if she'd given
@capitolhilldc
credit (rather than just "a Twitter user") for the tweet about being the 24th person in line at the DOT Starbucks Thursday morning, which also brought
a few fun responses
when I retweeted it.
* ANC 6D07 rep Bob Siegel mentioned this at last week's ABC committee meeting, and it's confirmed in the city's land records: there are now 12 units occupied at
Velocity
.
A Few Tidbits on Justin's Cafe
Dec 10, 2009 11:11 AM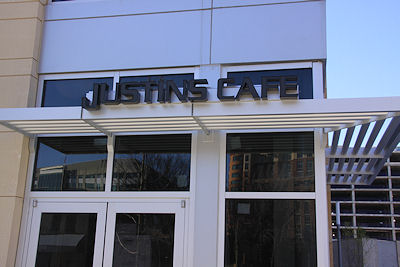 From last night's meeting of ANC 6D's ABC Committee, some bullet points on Justin's Cafe, the planned "fast casual" restaurant in the ground floor of
Velocity
on First Street between K and L (some of these are old, some are new, but for those just tuning in...):
* Justin Ross, the owner, is hoping to open the place by late January, although because of some issues with an ill partner, the liquor license has not yet been applied for, but he hopes that the paperwork will be filed with the city within the next week. (He won't open the restaurant until the liquor license has been granted, although he says the construction is now about 85 percent done.) He's applying for a Class C restaurant license, for beer, wine, and liquor.
* Expected hours are 11:30 am to 11 pm for food service (10 pm Sunday), with hopes that the bar can stay open later, perhaps until 2 am Friday/Saturday and 1 am other days.
* The space is not huge, about 1,400 square feet--it will have 24 seats for eating, and nine stools at the bar. There will be no outside tables. It will be an order-at-the-counter-and-sit set up (though he also expects a fair amount of takeout orders for nearby offices).
* No live entertainment, just TVs and music.
* The menu is salads and soup, sandwiches/paninis, and American-Neapolitan pizzas. Lots of veggies with the sandwiches and on the pizzas (he handed out a draft of it at the meeting). Sweet potato fries are on the menu, and bread choices are three-grain wheat, ciabatta, baguette, and spinach tortilla wrap (along with white/wheat crusts for the pizzas).
*
JustinsCafe.com
will be the web site, though it's not up yet.
Nats fans should note that this will become the closest *indoor* bar to the
ballpark
, as it's only two blocks north of the parking garages.
The ANC and Justin will be negotiating a voluntary agreement, which will probably go to the ANC for approval at its January meeting, but the subcommittee members and the 6D commissioners in attendance seem very pleased with the project.
Canal Park Update: Design Development Phase Nearing Completion, But....
Dec 8, 2009 1:29 PM
At its November meeting, ANC 6D received an update on the progress of
Canal Park
, but I was out of town and missed the presentation, so I've gotten a quick status update from Chris Vanarsdale of the
Canal Park Development Association
. He passes along that the design development phase is nearing completion, and that hopefully in a few weeks they'll make available a revised plan view of the park--the middle block has apparently undergone some significant changes, with the addition of a much larger water feature and the reconfiguration of the pavilion in that block. You can see some renderings of the pavilions planned for the south end of the park (at M Street) on my
Canal Park page
, although there will probably be some revisions to the designs of these structures as well.
On the flip side, the anticipated start of construction is now being quoted as September 2010, about six months later than what's been on the boards for most of this year. It was reported
back in October
that the design approved by the National Capital Planning Commission would cost $18 million, $5.5 million more than the grant the CPDA has received to design and build the park; I don't know whether the park's design is being scaled back or whether they're still hoping to raise the extra funds (I've asked, but haven't received an answer).
Next Week's Events (Justin's Cafe Liquor License, Boathouse Lighting, ANC6B)
Dec 3, 2009 9:17 AM
A couple events on the calendar for the week of Dec. 7 to highlight:
* On Wednesday, Dec. 9, ANC 6D's ABC committee will be having its monthly meeting (in advance of the
full ANC meeting
on Dec. 14), and on the agenda is "presentation of plans by Justin Ross re Justin's Cafe planned for 1st & L Streets, SE." This is the first step in the (long) process for
Velocity's
restaurant to get its liquor license, although I haven't yet seen an announcement/posting for their official ABRA hearing (maybe it'll be in tomorrow's DC Register). The meeting is at 7 pm at King Greenleaf Recreation Center, 201 N Street, S.W.
Canal Park Briefing at ANC 6D; CSX Meetings; Lower 8th Street Documents and Agenda
Nov 5, 2009 9:46 PM
Here's a bunch of little items and event reminders. Alas, next week's pile of happenings come at a bad time on my calendar, and I'm going to have to miss almost all of them, so this would be a good chance for everyone to attend these meetings themselves instead of sitting around waiting for me to tell you what happened at them. :-)
*
ANC 6D
(Southwest and Near Southeast) has posted the
agenda for its November meeting
, which includes an update on the plans for
Canal Park
. It's on Monday, Nov. 9, at 7 pm, at St. Augustine's, Sixth and M streets, SW.
* The next night,
ANC 6B
(Capitol Hill SE and Eighth Street) is having its November meeting, where there will be a presentation by CSX on its planned Virginia Avenue Tunnel construction. (Voice of the Hill
recently wrote about the plans
, and you can
read my posts
about them, which include links to some source documents.) ANC 6B's meeting is Nov. 10 at 7 pm at the Old Naval Hospital at 921 Pennsylvania Ave., SE.
* Plus, the Friends of Garfield Park are having their own informational meeting about the CSX plans, on Thursday, Nov. 12, at 7 pm at Capitol Hill Day School (Second and South Carolina, SE).
* The
Lower 8th Street Visioning Process
folks have posted the
minutes
,
historical background
, and
main presentation slides
from their two October sessions. They've also posted the agenda
for their November meetings
, scheduled for 8:30 am and 7 pm on November 17 at the People's Church, 535 Eighth St., SE.
* And, if these events aren't enough for you, you can also watch on Nov. 12 the city council's Committee on Finance and Revenue Hearing on the bill that would allow the sale of bonds via the city's CFO office that would pay for a considerable amount of "Phase 3" infrastructure work for
Capper/Carrollsburg
redevelopment, encompassing some as-yet-undetermined combination of underground work on the Second Street blocks, the relocation of the DPW operations at New Jersey and K and demolition of that block, and the construction of I Street between Second and New Jersey. (This is above and beyond the
$9.5 million in federal stimulus funds
that the city is receiving to allow
Capitol Quarter's second phase of townhouses
to go forward.) The council hearing is on the 12th at 10 am, and you can watch on DC cable channel 13 or via the
channel's web site
.
Here's my post about this proposed bill
, if you want to know more.
ANC 6D Doings (Short Version: Three Thumbs Up)
Oct 19, 2009 8:56 PM
While my dinner is in the oven, here's the speediest of reports from tonight's
ANC 6D
meeting:
* The ANC voted 7-0 on a resolution supporting the city council's proposed
marriage equality act
.
* They voted 5-2 to support Florida Rock Properties' pending request in front of the Zoning Commission to extend the deadline for the first building permit application at
RiverFront
two years, to June, 2012, which would push the deadline for the start of first-phase construction to 2013. (
Read this entry
for more details, and see my
project page
for specifics on the development itself.) It's expected that this will be taken up at the November 9th ZC public meeting.
David Briggs of Holland and Knight, representing FRP, said that while the developer has worked "assiduously and tenaciously" since last year to find either equity or construction funding, the notion of starting the first-phase office building within the current zoning timeline is "just not viable." FRP does say, though, that they will be continuing to search for funding if they receive the extension. In the meantime, FRP made its required $800,000 payment to the city last fall to help defray the costs of
Diamond Teague Park
next door; I asked if there were any possibility that perhaps the land on the very east end of the Florida Rock site, which will eventually be a public plaza that abuts Teague Park, might be cleared and opened as public space before the construction begins on the office building--they're "looking at options."
* The commissioners also voted 7-0 to support the zoning special exception request by the operator of the six-unit "
Casa degli Angeli
" at
Third and L
, which is currently operating as a month-to-month room rental and which is looking for a zoning change to become a full-fledged bed and breakfast. The Board of Zoning Adjustment hearing is
scheduled for Nov. 17
.
RiverFront/Florida Rock Seeking Time Extension From Zoning Commission; More Zoning, CSX, CapitalSpace
Oct 18, 2009 2:49 PM
The agenda for
Monday's ANC 6D meeting
has been posted, with two Near Southeast items listed. The first is that the developers of the
RiverFront
(aka Florida Rock) site between the Anacostia and the
ballpark
are apparently filing for a time extension on their zoning PUD ("planned unit development," for those of you mercifully unaware). When the
zoning approval
for this project
finally came through in 2008
(after years of slogging through the process), the developers were given until May of 2010 to apply for building permits for the first phase of the project (an office building on the east end of the site, near
Diamond Teague Park
), with construction then required to start by May 2011. So, although
it was recently reported
that
Florida Rock Properties
is looking for an equity partner to help finance the development of the site, they clearly believe that it will be tough for them to meet the zoning order timeline.
Timeline extensions are increasingly common cases being heard by the Zoning Commission these days, as financing for commercial real estate development continues to be extremely difficult to procure; the
Capper redevelopment
received one
earlier this year
. I don't yet see a hearing date for FRP's extension request on the
zoning calendar
.
In other tidbits:
* Also on the 6D agenda is the "
Casa degli Angeli
" at
Third and L
, which has a Board of Zoning Adjustment hearing
scheduled for Nov. 17
. The six-unit building, which is currently operating as a month-to-month room rental, is looking for a zoning change to become a full-fledged bed and breakfast.
* The latest issue of
Voice of the Hill has more detail
on the CSX plans to expand the Virginia Avenue tunnel; you can read
the documents that CSX submitted
to the National Capital Regional Transportation Planning Board for some additional details. Quoting the Voice: "CSX spokesperson Bob Sullivan said the project would take between two-and-a-half and three years, while a District Department of Transportation Department official made a slightly lower estimate. 'We anticipate that there would be some traffic impacts during the course of this project, which is probably going to last a couple of years,' said agency spokesperson John Lisle.'" Neighbors in the area are concerned: ANC 6B will be getting a briefing about the plans at its Nov. 10 meeting.
* On Oct. 27,
there's a public meeting
about the
CapitalSpace plan
, "the first comprehensive analysis of Washington's parks and open space in almost 40 years," which is attempting to get the various federal and local agencies that run the many parks in the city more closely coordinated, along with other plans to improve the parks themselves. The meeting is at the MLK Library from 5:30 to 7:30 pm.
Streetcar Meetings; Corus/Starwood Deal; ANC 6D; Seniors H1N1 Shots
Oct 15, 2009 10:23 AM
If you can wait an extra minute or to before going back to bed and pulling the covers over you until this cold rain is over, here's a few (very) small items:
* DDOT sent out a press release late Wednesday announcing a series of public meetings to "engage residents and businesses in the implementation of improvements proposed for the transit system for the city, including streetcars", the first phase of which should eventually run across the
11th Street Bridges
from Anacostia to H Street NE. They haven't posted the release
on their own web site
yet, but
Streetcars for DC has it
(
UPDATE
: it's now
posted at DDOT, and amended slightly
). The closest meeting to Near Southeast is the first one, Oct. 22 from 7 to 8:30 pm at J.O. Wilson Elementary, 660 K St., NE. For more information, visit
DDOT's Streetcar pages
.
And, via
BeyondDC
,
the WBJ is reporting
that the H Street portion of the first phase will be completed first, thanks to lobbying by Tommy Wells. Wells is also working to overturn the longtime ban on overhead wires in parts of the city that include H Street, according to the article. But no timeline for the start of construction has been mentioned. (
UPDATE 2:
In a tweet
, DDOT says this: "Our official target date is still late 2012 for Anacostia, but we are working to accelerate that line as well as H/Benning.")
Unfortunately, DDOT's current site doesn't include the early studies for the project, but
Richard Layman ferreted out
the
web archive version of the site
, where you can see the line down M Street SE and SW was one of
the possible additional lines
at this time. Will there be one in the next phase of plans?
* It may not seem like
the sale of Corus Bank's portfolio of distressed construction loans
to a group led by Starwood Capital Group would be of much interest, but included in that portfolio are the construction loans for both
Velocity Condos
and Monument's
55 M Street
office building. This shouldn't have much of an impact on Velocity, but could help 55 M in its quest to lease space, as potential tenants see more certainty surrounding the building's financing.
*
ANC 6D
's October monthly meeting is Monday, Oct. 19, at 7 pm at St. Augustine's, 6th and M streets, SW.
No agenda released as of yet
(which is why I cry when I
see
other
ANCs that post their agendas well over a week [sometimes two] before their meetings).
*
Tommy Wells
has arranged for free seasonal flu shots (not H1N1) to be given to senior citizens in Southwest and near Southeast on Saturday, Oct. 17, from 9 am to noon at the Greenleaf Recreation Center, 201 N Street, SW. The shots will be free for seniors with Medicare Part B as their primary insurance, or $30 otherwise.
* (ADDED) I linked to a story about this idea a few weeks back, but here's a detailed post from
TSArchitect
(cross-posted at GGW) on "McMillan Two," which would radically remake the Anacostia Waterfront by filling in much of the river to narrow it to a width of about 500 feet, the same as the Seine in central Paris.
Group Working on Dog Park at Virginia Ave. Park
Sep 10, 2009 1:41 PM
There's a move afoot to create a dog park in a portion of Virginia Avenue Park, the little-known greenspace nestled between Ninth and 11th streets, SE, just south (and under!) the SE Freeway. (I'm as guilty as anyone for not swinging by there more often--I only have a
few
paltry
photos
posted, and hardly any recent ones.) "Capitol Canines" is proposing to use space on the 11th Street side of the park, and at Tuesday's ANC6B meeting, the commissioners voted unanimously to support the proposal.
This idea is still very much in its early stages, and the group will be needing to raise money to get the improvements built. (Virginia Avenue Park itself is run and maintained by the city's Department of Parks and Recreation, although property records say the land is owned by the feds.) Here's
an early rendering of the vision
for the park, with the dog park at right; at left is a new playground that a private developer/individual is interested in creating, and the existing community garden is at the bottom, along L Street. The three groups will need to coordinate together as the project moves forward.
If you're interested in being part of the project or in getting more information, you can join the
Google Group
they've set up; the petition they're circulating for support is
also available online
.
Upcoming Events (11th Street Bridges, Last Movie, Capitol Quarter Ribbon Cutting)
Aug 18, 2009 12:40 PM
A slew of upcoming events to pass along:
* On Wednesday (Aug. 19), there's going to be an
11th Street Bridges
Open House
, billed as an update for Ward 8 residents about the status of the bridge replacement project. (But I'm guessing people from other wards can come, too.) It's from
7 pm to 8:30 pm
, at the Union Temple Baptist Church at 1225 W St., SE.
* Thursday (Aug. 20) is the last night of the BID's 80's Outdoor Movies series, with "Ghostbusters"
on the bill
(rescheduled from a rainout earlier this year). Apparently the BID is planning a four-week fall movie series starting in September; I'll pass more along on that when I get it.
* Next Wednesday (Aug. 26) the DC Housing Authority is holding an official ribbon cutting and grand opening at
Capitol Quarter
, from 10 am to noon at Fourth and L, with the mayor expected to be in attendance. This is just a little over two years after
the ceremonial groundbreaking
, held on a sweltering day in June 2007.
* If you're desperate for something to do Wednesday morning but a ribbon cutting isn't your thing, the
U.S. Navy Museum
at the
Washington Navy Yard
will host "
Pirate or Privateer? War of 1812 Day
," a series of demonstrations and lectures on the War of 1812. The program, which runs from 10 am to 2 pm, includes Gun Drills in the replica of the USS Constitution and Sea Chanteys. The event is free and open to the public, though note that there's no parking available inside the gates for visitors.
* The National Capital Planning Commission again has the design of the
11th Street Bridges
on their
tentative agenda
, for their Sept. 3 meeting. It had also been on the tentative agenda for the July meeting, but didn't make the final cut; hopefully that won't happen again, because NCPC always puts together such great reports on the projects it votes on (and posts them on their web site), so it's a good place to get details that have been hard to find elsewhere.
* This is still a few weeks away, but residents might want to mark their calendars that the next ANC 6D meeting, on Sept. 14 will be held in Southeast, at the
Courtyard by Marriott
at New Jersey and L. I've been attending ANC meetings off and on for six years, and this is the first one I remember that will be crossing South Capitol Street.
Upcoming Events, and Other Linky Goodness
Jul 14, 2009 12:14 PM
* This Sunday (July 19), there's going to be a "Grill-Off" at Nationals Park before the 1:30 game against the Cubs. Phil Bucco, who oversees the menus at the ballpark, will be competing against Teddy Folkman, the executive chef at Granville Moore's. It'll be an Iron Chef-like challenge, where the chefs won't know the ingredient they're working with beforehand. The event starts at noon, but the first-come first-served seats (in the Nats Family Fun Area) can be grabbed starting at 11 am, when the gates open. Plates will be judged at 1 pm.
* On Tuesday, July 21, the BID is hosting a
"Mental Mapping" event
, where they're asking residents to "Sketch out your shopping route to assist in a study about neighborhood retail needs." It's at
Capitol Hill Tower
at 6:30 pm; RSVP to
rsvp@capitolriverfront.org
.
* On Saturday, Aug. 8, the
3rd Annual Youth River Sports Day
will be held at the
Anacostia Community Boathouse
, from 10 am to 2 pm. Rowing and paddling instruction, guided river tours, and more will be offered;
my photos from last year's event
give a taste of the activities.
* This is a ways off, but
SWDC Blog reports
that the next ANC 6D meeting, on Sept. 14 (no August meeting) will be held in Southeast, at the Courtyard by Marriott at New Jersey and L. I've been attending ANC meetings off and on for six years, and this is the first one I remember that will be crossing South Capitol Street.
* Even farther off (well, the next day), Urban Land Institute Washington is holding its third
Urban Marketplace Conference and Expo
, which brings together "the private, nonprofit, and public sectors to explore redevelopment opportunities and best practices in emerging neighborhoods and corridors across the Washington metropolitan region." One of the day's discussions will focus on the ballpark district (and I'm one of the panelists). Early-bird registration ends July 31.
* In non-event news,
Fox 5 reports
on how the Nationals' problems on the field "are making the city's $700-million stadium look like a bad investment." To wit: "Before the stadium was built, the city projected average attendance at 34,708 per game and tax revenues from tickets and merchandise of $15.1 million for this season. The reality, average attendance is about 23,213, ranking the Nationals 24th out of 30 teams. Based on attendance figures through June, the city now estimates tax revenues of about $8.9 million. The office of the Chief Financial Officer says tax revenues could increase because average attendance has improved slightly since June." However, "The office of the Chief Financial Officer estimates the city will raise $50.2 million through its Ballpark Revenue Fund, more than enough to make the $32-million bond payment on the stadium with money left over. The bulk of that however does not come from the Ballpark itself, but rather from a utility tax and a business tax in the city."
* Since I was out of town this weekend, I missed all the Elton/Billy hullabaloo. Here's
a pile of reviews and blog posts
having to do with the big show.
* For your (off-topic) Real Estate Development Collapse reading pleasure, a long piece on
Williamsburg, NY
: "Most unsettling are the cases of the developers who seem to have vanished, leaving behind so many vacant lots and half-completed buildings--eighteen, to be precise, more than can be found in all of the Bronx--that large swaths of the neighborhood have come to resemble a city after an air raid."
L Street Doings, and Stories on Stuff There's Already Been Stories On
Jun 4, 2009 11:21 PM
*
ANC 6D
's meeting on Monday night (June 8) looks to be a little shorter than usual, with only a few agenda items, one of which is a public space permit request by the
Courtyard by Marriott
to expand (?) their sidewalk cafe.
* Speaking of L Street, a reader wrote today about the
Little Red Building at Second and L
, once known as the Star Market. Apparently the owner was posting a liquor license hearing notice, which gives me a feeling of deja vu, since this
also happened in September 2006
. The owner told my anonymous tipster about his plans for the building, which are pretty much what we've been hearing since 2006: tear down the building and build a new two-story structure, with the first floor being a liquor store and the second floor being a deli (at other points over the past few years it was a
sushi bar
and then a wine bar on the second floor). The plans have even stayed mostly the same after the
building changed hands last year
for $900,000. See
my various posts from 2006 through 2008
about the previous attempts to change the building's liquor license and the negotiations with the ANC.
Video of Obama at Five Guys, Ward 6 Family Day, and Other Tidbits
Jun 3, 2009 10:19 PM
* Admit it: you know you want to see it--here's
NBC's coverage of the Obama visit to Five Guys
, from Tuesday night's "Inside the Obama White House" special. (Click on "Part 5", "Out to Lunch with Obama.") With a bunch of brief glimpses of the Little Red Building!
* The
Third Annual Ward 6 Family Day
is happening on June 20, from 11 am to 3 pm at the Rosedale Rec Center in Northeast.
Tommy Wells's web site says
activities will include "Capitol Hill Bikes free bike safety inspections and adjustments, celebrity kickball game, Washington Humane Society animal adoption and training, basketball games, face painting, moon bounce, corn hole tournament, horseshoes and live music. In addition, the pool will be open for the summer."
* The Nationals are having their first
Ladies Night and Homerun Happy Hour
of 2009, Thursday night (June 4). Free food (Hard Times) and beverages, and "shopping, dancing, massages and manicures with participating vendors." There'll even be a mechanical bull.
Tickets are $30
, and include a seat in sections 101-104.
* The Board of Zoning Adjustment has
approved Donohoe's requested extension
on the
special exception
it received
back in 2007
for its planned office building at
1111 New Jersey Avenue
, which would have expired at the end of this year. I didn't watch the hearing, so I don't know how long the extension is good for.
*
WBJ
and
City Paper
have coverage of the naming of Valerie Santos Young as the new Deputy Mayor for Planning and Economic Development.
* The May issue of the
Waterfront Watch newsletter
on doings around the Anacostia River is now available.
* The June Hill Rag has a
summary of May's ANC 6D meeting
, where Capitol Riverfront BID executive director Michael Stevens gave a primer on the BID's operations and plans.
Friday Tidbits: BID Newsletter, ANC Agenda
May 8, 2009 10:38 AM
Between it being Friday and the sun finally being out, I bet everyone's feeling a bit better today. Maybe even
Biking to Work
! So, a few tidbits:
* The
latest Capitol Riverfront BID newsletter
is out, with a few items of note. First off, there's a new "branding" campaign going on--"Be Out Front." Look for signs promoting "Front Yard," "Front Office," "Front Door," "Store Front," etc. And they'll soon be launching an equally rebranded web site.
Also, the current estimated population within the BID is 1,584 residents; the newsletter says that there are now more than 2,000 residential units, more than half of which are leased/sold and occupied.
The newsletter also gives the
Bullpen
's official opening date as May 15, and also mentions that the weekly Tuesday farmer's market at USDOT is now underway, and that the weekly Wednesday lunchtime concerts start on May 20.
* The agenda for Monday's ANC 6D meeting is out (hopefully
it'll show up online
before the meeting itself), and the only Near Southeast item is a presentation by Michael Stevens of the BID--kind of a BID 101 tutorial for the ANC commissioners. Otherwise, it's voting on marathons, bus stops, after-school programs, and also an announcement of a "Southwest Night" at Ft. McNair on July 1. The meeting is at 6th and M streets, SW, at 7 pm. (Maybe next month it'll finally move to the new digs at the new 1D police station at the former Bowen Elementary.)
* The
Examiner reports
that the 2010 federal budget includes $15 million for "
Southeast Federal Center
remediation." There's certainly been piles of environmental cleanup there over the years (not surprising when it used to be blocks and blocks of munitions factories).
* EYA has spiffed up its web site a bit--their
Capitol Quarter page
is worth a visit if you haven't checked it out before.
ANC Concerns about Capper Returns, Community Center Construction Delays
Apr 14, 2009 2:22 PM
At Monday night's meeting, ANC 6D voted 6-0-1 to approve a letter drafted by commissioners McBee and Siegel responding to submissions by the Housing Authority in the wake of the
marathon March 20 zoning commission hearing
on the various
modifications and extensions
being requested for the
Capper
PUD
. As I wrote on the 20th, there was much discussion about DCHA's request to delay construction of the planned
community center
until at least 2011, and there was also testimony by two former Capper residents that DCHA isn't adhering to what the
2004 zoning order
requires in terms of job training and other social services for the former Capper residents.
The letter ANC 6D is now forwarding to the Zoning Commission
can be read here
, and it addresses in detail the
Community Support Services Program
(CSSP) and the community center. The DCHA numbers quoted in the ANC letter show an initial CSSP case load since 2005 of 828 cases, with only 394 cases now active due to residents declining to participate, being declared ineligible, or having gone "missing." The letter also says that no further funding for the CSSP program is forthcoming from HUD, and says that the numbers provided by DCHA "do not paint a good picture for a Hope VI Project whose main objective is sustainability and empowerment for the effected community."
As for the
community center
planned for Fifth and K, the ANC says that its delay "has already done sufficient damage" and that its absence "will fail to address the social and educational needs of the residents." The ANC also notes a lack of any mention of the center in various testimonies by DCHA on their budget and on stimulus dollars coming to the city, saying "we now have no confidence [...] that the Center will ever be built."
The Zoning Commission's next hearing on these Capper doings is expected to be on April 27.
Details on the Akridge 'Festival Park' at the Stadium
Apr 13, 2009 10:12 PM
Tonight ANC 6D gave its support to a plan for "Festival Park on Half Street," a 14,000-square-foot combination food, drink, and activity space on the
northwest corner of Half and N streets
, on land
owned by Akridge
directly across from
Nationals Park
.
This is the "beer garden" that caused
a bit of a stir
last week, and representatives of Akridge,
Georgetown Events
, and
Headfirst Sports
were on hand to explain their concept to the ANC. A document handed out describes it as a space with "a large tent that will include a beverage station, a temporary stage for live music, porta johns, tables with seating, possible baseball netting cages for live instruction, and a children's activity area." It would be open on game days beginning three hours before game time and ending two hours after (or before midnight regardless of whether the game is over). The newly erected 12-foot-high wooden fence would surround the site, with one entrance where IDs will be checked and bracelets given to those 21 and older, with up to 12 security employees on hand. There would be food from third-party vendors as well as
Georgetown Events
' own restaurants (
Surfside
,
Jetties
, and the
Rookery
). There's also the possibility of activities in the space (such as farmers' markets or other events) on non-gamedays, though the lease for the space ends at the beginning of November.
Headfirst Sports
(named by Sports Illustrated for Kids as the "Best Summer Camp in the Entire Washington Area") is planning to run in the park a "variety of games, contests, and competitions as well as small clinic and group instruction aimed at teaching young Nationals fans how to play and love baseball and softball." The operator of Headfirst also made clear his interest in working with youth groups from the neighborhood in sessions apart from the gameday activities.
The ANC commissioners were supportive of the plans, although they had a lot of questions (too bad you all missed the long discussion of whether the phrase "frozen drinks" is a legal term), and 6D07 commissioner Bob Siegel complimented the group, saying "you convinced us that this is going to possibly work." Some specifics still need to be hammered out in the "voluntary agreement" that Georgetown Events is entering into with the ANC, but the commissioners voted 7-0 to support the group's application for a "Tavern" liquor license. An April 30-May 1 opening date is being targeted, but there is still city bureaucracy to contend with.
As for the Akridge site, baseball fans
heading to the ballpark today
were met with a slew of new signage on the west side of Half Street advertising "Akridge at Half Street"--the
new web site
shows some of the art on the signs, and I also took a few photos of the fences and put them on my
Akridge Half Street page
, though the skies were so gloomy that I couldn't bring myself to post the complete set. There's a spot where local artists will be creating works right on the fence, and there is also a chalkboard where passers-by can write messages, as many did today.
UPDATE:
Some additional details on the plans
from WBJ
.