Near Southeast DC: Past News Items
ANC News
Go to Full Blog Archive
---
ANC 6D Report #3: Newest Florida Rock Design
Jan 18, 2008 1:35 PM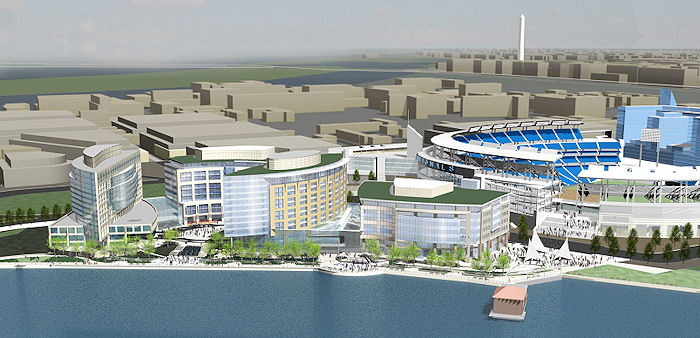 The last Near Southeast item on Monday's ANC 6D meeting was a request for the commission's support of the latest design of
RiverFront on the Anacostia
, better known as Florida Rock. This is the nearly six acres of land directly south of the
ballpark
, on the Anacostia River, where developers have spent 10 years trying to transition away from the concrete business currently operating there to a 1.1-million-square-foot mixed-use waterfront destination. They came close to an approved design in 2006, but in February 2007 the
Zoning Commission unexpectedly sent the architects back to the drawing board
, wanting a greater amount of residential space in the project, better views to and from the ballpark, and a better "expression of place."
After nearly a year, a revised design is ready to go to the Zoning Commission for approval. It now includes 323,000 square feet of residential space, 80,000 square feet of retail and 465,000 square feet of office space.
Some of the ideas floated
early in the redesign process
have been modified or removed, most notably "The Pitch", the plaza directly across from the
ballpark
's grand staircase and adjacent to the planned
Diamond Teague Park
. This space no longer has pitcher and catcher statues but is instead now a "festive" open plaza that will be more "integrated" with Teague and will help with the expected flow of ballpark visitors coming to and from the water taxi piers that someday may materialize out by the little red brick pumphouse.
Also, the residential and hotel buildings have had their heights grow to 130 feet, to allow for the extra square footage the zoning commission wanted. But the hotel's top two floors will now be "pure residential".
As for when some movement will actually be seen at the site, David Briggs of Holland & Knight set out a
timeline
based on zoning approvals, construction drawings, and the vaunted DC permitting process that estimates the start of construction on the first phase (the eastern office building) in probably
fall of 2009
.
He mentioned a number of times the amount of
pressure
that Florida Rock is under to shut down the concrete plant and to build temporary parking lots, but he explained that the site currently makes money for its company and shareholders, and there's little interest in closing it down sooner than necessary. (Briggs did say that a
temporary landscaping
of the eastern plaza, next to Diamond Teague, could be a possibility once the zoning approvals are received, but that the underground parking for RiverFront does extend beneath that plaza, and so excavation and construction work will need to be done there.)
It should be noted that this timeline is really about the first two phases (the eastern office building and the 160-unit residential building), because the western office building and the hotel can't be built until the construction of
a new Douglass Bridge
allows Florida Rock to use its land that is currently occupied by the old bridge. (The year 2016 was tossed around as a possible date for when these later phases could get started.)
Community benefits remain similar to past presentations, including an estimated 25 units of workforce housing, anticipated LEED certification for the buildings, First Source and LSDBE hiring, and a combined underground loading dock for the three western buildings, as well as the more basic amenity of replacing a huge concrete plant with shiny new buildings and access to the waterfront. The ANC has always been enthusiastic about this project, and this time around was no different, with the commissioners voting 5-2 to support the new design. The Zoning Commission hearing, for what is officially considered a modification to the project's second-stage PUD, is scheduled for March 20.
I'm really trying to just hit the newsiest items here--definitely take some time to look through my
RiverFront
page (have to stop calling it Florida Rock sometime) for much more detail on the current design. And read all the
archived news items
, too, if you want a better feel for the twists and turns this project has taken.
ANC Report #2: Monument Alley Closing Request
Jan 17, 2008 5:44 PM
At Monday night's ANC 6D meeting,
Monument Realty
presented its request for the ANC's support in closing a 2,417-square-foot alley that runs between South Capitol and Van streets not far north of N Street. This alley is north of the now-closed BP Amoco and south of what is now a WMATA employee parking lot on land owned by Monument (there used to be a
neon yellow bungalow
there, until late 2006). Christy Shiker of Holland & Knight told the commissioners that the Amoco property--which faces the
ballpark
's western parking garage--is too small to develop on its own, but with the alley closed and the lots combined, Monument would build a 130-foot-high
residential building
with approximately 150 to 200 units plus 14,000 square feet of ground-floor (or perhaps two-story) retail. Monument is not committing at this time to pursuing LEED certification for this building.
Shiker then described the community benefits package that Monument was offering to the ANC in return for the loss of this public space, including a $50,000 contribution to the community fund, the retail,
First Source
employment preferences, and an affordable housing component that would match whatever is called for whenever the city's Inclusionary Zoning mandates are finally hammered out. Monument would also work toward agreements on ANC6D resident preferences, to be determined with the ANC at a later date.
This became a sticking point, with Commissioner David Sobelsohn concerned about giving the ANC's support for this project merely on promises to make agreements later. Shiker pointed out that Monument has made these agreements before for their
other Ballpark District projects
, and also that the ANC will have another crack at the project when down the road it undergoes its mandatory
Capitol Gateway Overlay Review
. But Sobelsohn still felt that the ANC was being handed a "take it or leave it" proposition.
An audience member asked if Monument would be planning to build a temporary parking lot if the alley closing is approved, but Shiker said that Monument's goal is to develop the land, that they "want a building, not a parking lot." (Though one must admit that that is some pretty plum stadium-parking territory.) There were also questions about the Public Space Storage building just to the north (echoing my
WTDW entry from last week
), but Monument's representatives said that they didn't think the storage company would be moving.
Commissioner Bob Siegel moved to support the alley closing with further negotiations on the proposed benefits package as the project proceeds, but the ANC voted 2-2-1 and so the resolution did not pass.
The alley closing bill is
B17-0552
, and Shiker told the ANC that she expected a public hearing in late February, with perhaps council action in March or April. No date for actual construction of the project was mentioned.
Coming tomorrow--a recap of the
Florida Rock
portion of the ANC meeting, though you don't have to wait until then to see
the latest project renderings
that were presented. But my long-winded summary of what was said during the meeting will have to wait a bit longer.
ANC Doings -- 1111 New Jersey CG Overlay Review
Jan 16, 2008 1:42 PM
(This is the first of three dispatches I'll be posting over the next few days from Monday's
ANC 6D
meeting. Can you feel the excitement building?)
The developers of the planned office building at
1111 New Jersey
came looking for the ANC's support in advance of their
Jan. 31 Capitol Gateway Overlay Review
at the Zoning Commission. This project has been revised over the past few months after Donohoe
was chosen by WMATA
to acquire the 5,000-square-foot lot on top of the Navy Yard Metro's east entrance at New Jersey and M--by expanding 1111 New Jersey's footprint to this lot, which fronts M Street, the project became subject to a
CG Overlay
Review (
boring tutorial here
). While the WMATA land is being sold to Donohoe, this is in fact a joint development project with WMATA, who I imagine will receive a dollar or two over the coming years once the building is built and leased.
The new design was described by
WDG Architecture
as 220,000 square feet of office space with 5,700 square feet of ground-floor retail in a glass-facade building. While it uses a smidge of the WMATA land, the project will not be built on top of the station entrance as is happening with
55 M
--the station canopy will remain, and a there will be a large public plaza at this "important corner", along with a 60-foot setback with a double line of trees stretching up New Jersey. (Non-obsessive observers might not remember that 1111 NJ's footprint does not include the site of St. Matthew's Church immediately to the north--that lot is
being acquired by Ruben Companies
for a rumored residential project
, where no plans have yet been made, a Ruben rep tells me.)
Donohoe indicated that it plans to go for LEED certification for 1111, and mentioned that some of the ground-floor space would be designed with restaurant uses in mind, though the presenters said they remain aware of the requirements for community-oriented retail and preferred uses in the overlay area.
Beyond the LEED certification, retail, and public spaces, the developer offered no community benefits package to the ANC. Donohoe considers this project a matter of right that requires no additional benefits offerings, a stand which reopened the wounds from
back in April
when the earlier iteration of this project came before the ANC looking for support for a zoning special exception (and was voted down, though the
BZA approved the waiver
anyway).
The feelings of the commissioners hadn't changed in the intervening months, and they voted 5-0 not to support the project because of the lack of community benefits. (There was some procedural wrangling about the wording of the motion, but since the church where the ANC meetings are held is absolutely impossible to hear in, I didn't get the specifics--something about voting "not to support" versus voting "to oppose", I believe.)
No timeline for the start of construction was mentioned. Perhaps more information will be forthcoming at the Jan. 31 zoning hearing.
More ANC reports coming tomorrow--I'll have news of Monument Realty's plans for the
BP Amoco site
at South Capitol and N, followed by the latest in the
Florida Rock
saga. Stay tuned!
UPDATE:
Donohoe was nice enough to pass along the rendering of the new design, which I've added to the top of my
1111 New Jersey page
.
UPDATE II: Correcting a smidge of misinformation on the St. Matthew's site.
ANC and Zoning Commission Reports - Coming Soon
Jan 14, 2008 11:48 PM
Having pledged to pace myself a bit better over the next three months so that I don't have to cover Opening Day from a padded room, I'll be posting the results of Monday night's ANC 6D and Zoning Commission meetings in drips and drabs over the next few days. So stay tuned, especially if you're interested in
Florida Rock
, or
Diamond Teague Park
, or Monument Realty's projects
north of the ballpark
, or
1111 New Jersey
, or
250 M Street
.
This of course means that all the local media outlets checking in at JDLand looking for leads and tips will have to wait too. (The information is all free, of course, but some small hat tip some day would be nice. Although I do enjoy being an assignment editor of sorts....)
Stadium Traffic and Parking Plan Hearing Summary
Jan 11, 2008 10:11 PM
Having just about reached my limit when it comes to writing about
stadium parking
, I'm going to cut to the chase and pass along the biggest items from today's hearing by the Committee on Economic Development on parking and traffic issues at the
new Nationals ballpark
. (It's a torrent of words, so I've bolded the most important items.)
The session began with ANC representatives testifying about the community's concerns that
no traffic and parking management plan has yet been unveiled
, and with not many days to go (no one was sure whether it was 82 or 81 or 80 days--it's actually 79, but I didn't pipe up), neighbors are getting increasingly nervous that plans and signage won't be ready by Opening Day. While Tommy Wells's proposed
Performance Parking plan
could eventually become the mechanism for handling on-street parking near the ballpark, it won't be able to be in place by Opening Day, and so residents want to know how parking is going to be restricted to prevent stadium-goers from descending on nearby streets in search of free parking and bringing what has frequently been referred to as "
controlled chaos
."
Kwame Brown became frustrated when trying to find out who is actually in charge of coordinating all the government agencies who have a hand in the ballpark and communicating information to the public--"
Who do I call? Who's driving the train?
" he asked a number of times. After much back and forth with Greg O'Dell of the Sports and Entertainment Commission and Judi Greenberg from the Office of the Deputy Mayor for Planning and Economic Development, it was finally agreed that
DDOT is now in charge of organizing and implementing the stadium's traffic and parking plans
.
Determining this was a good step for this hearing that had been convened to discuss those plans, except for one small detail--council member Brown's Committee on Economic Development does not have oversight responsibilities for DDOT, so
no one from the agency was in attendance
.
Oops.
(Apparently there had been plans to hold this hearing jointly with Jim Graham's Committee on Public Works and the Environment, which oversees DDOT, but that did not come to pass.)
It was said that
DDOT will be unveiling the traffic operations and parking plan next week
, though of course no one from DDOT was actually there to confirm or deny this.
Greg McCarthy of the Nationals testified about the
team's continuing efforts to plan for the onslaught of fans
, ranging from the mailing next week of parking information to season ticket holders to a planned media onslaught beginning in February to educate stadium-goers about the best ways to get to the park. (
Short version: Take Metro! Walk! Bike! Park in Metro parking lots! Don't drive to the ballpark unless you've already got a parking pass!
)
There
still is no signed agreement
between the Nationals and the city for use of
RFK as free satellite parking for non-season-ticket holders
, though clearly both sides anticipate it will get done, especially since the Nationals are working out the best routes for the free shuttle buses they plan to provide from RFK to the new stadium. (But Kwame Brown did not seem too enthused that the city might not be getting any revenue from the parking spaces.)
The team anticipates having 5,000 spaces for season ticket holders available in lots within walking distance to the ballpark--and, other than one lot that sits on the west side of South Capitol Street underneath the freeway,
all lots will be in Southeast
and none will be in Southwest.
Tommy Wells focused a number of times on the idea of the
neighborhood embracing the ballpark
as part of its culture and part of the character of the community. How neat it will be for residents to be able to walk to games, he said, expressing his hopes that the ballpark is a positive experience for both fans and residents. (Putting the stadium there "was
not a hostile act
by the government," he said). He also spoke of how the stadium's on-time and on-budget completion should be a real celebration for the city, but that he doesn't want it to become known as the "
ballpark with a traffic catastrophe.
"
My favorite moment of the hearing was when discussion turned to how exactly the onslaught of papal groupies will be handled when the Pope comes to the ballpark on April 17: I realized that all this time I had assumed
Pope = Mass = Sunday
, when in fact the event will be on a
Thursday morning
, which will make traffic and parking that much more of a challenge. Start planning your vacation day now.
Other
items of interest
:
* Charter buses are expected to be parked across the South Capitol Street bridge during games.
* The Nationals have secured 4,000 of the 5,000 spaces they are eyeing near the ballpark, and expect to have the other 1,000 by Opening Day. There will be about 3,000 spaces at RFK, in Lots 7 and 8, and the team will be running a test of the RFK shuttle buses on Friday.
* There will be 130 handicapped parking spaces in the two lots on the ballpark site.
* The Navy Yard Metro station is expected to be ready by Opening Day.
* The Nationals will be responsible for clean-up around the ballpark and surrounding streets after games, most likely through an augmentation of the Capitol Riverfront BID's "clean teams".
* There are still plans for two job fairs to be held in Southwest, perhaps on Feb. 9 and 23 at Greenleaf Rec Center.
There's probably other items I missed that some people might be interested in, but I think that's more than enough for a Friday night.
It's anticipated that a joint hearing of both the Committee on Economic Development and the Committee on Public Works and the Environment--which oversees DDOT--will be scheduled soon.
Jan. 14 Public Meetings (And One from Last Night)
Jan 11, 2008 3:18 PM
Agendas are out for two public meetings on Monday night (Jan. 14) that have Near Southeast items of interest:
*ANC 6D's
agenda
includes presentations and requests for support on the following: a new request for an alley closing on the southern end of the block bounded by Half, M, N, and South Capitol (
B17-0552
, "Closing of a Public Alley in Square 700"); the
Capitol Gateway Overlay Review
for
1111 New Jersey Ave.
, which will be at the Zoning Commission on Jan. 31; and new design/modified second-stage PUD for
RiverFront on the Anacostia
(Florida Rock), which is expected to go to the Zoning Commission in the next few months. The meeting is at St. Augustine's Church, 6th and M Streets, SW, at 7 pm.
* The Zoning Commission will hear requests for "minor modifications" to William C. Smith's
250 M Street
project and Monument's
Half Street
project; alas, I haven't been able to find out what these modifications are. That meeting is at 6:30 pm at 441 Fourth St., NW, and is also available via
live webcast
.
I should also mention here that last night the Zoning Commission voted preliminary approval of a series of
text and map amendments
at the
Yards
, most of which are far too dull for even me to get into; read the
hearing announcement
if you want more details.
This Month in the Hill Rag
Jan 9, 2008 3:00 PM
Update on Ballpark Liquor License Application
Jan 2, 2008 4:18 PM
A
hearing had been scheduled
for today in front of the
Alcohol and Beverage Control board
about the
ballpark
's liquor license application; but I've been told that no one filed a protest about the application, so the public hearing was cancelled. The ABC board still must review the application and rule on it, presumably in the near future. For a little more background, read
my post from last month
about the ANC's decision to support the application--there were concerns that a protested ABC license might spur either the city council or the DC Sports and Entertainment Commission to enact a license outside of the ABC's regulatory reach.
Ballpark and Beyond, and Stadium-Related Tidbits
Dec 20, 2007 9:06 AM
This week's
Ballpark and Beyond column
in the Post is my summary of
ANC 6D's deliberations
on the
ballpark
liquor license. It also references a meeting held last night between community leaders and city and team representatives (though my deadline was before the meeting, so the column couldn't actually include anything *from* the meeting).
The meeting included updates on the road improvements in the area and the
Navy Yard Metro station
upgrades, both of which are still on track to be basically done by opening day (the Metro station might "still need another coat of paint", it was said, but will be "serviceable").
The Nationals are still working out their parking plans, not only in terms of the lots near the ballpark but also the satellite parking at RFK, and all the additional planning that goes with it (traffic flow, signage, shuttle buses, drop off/pick up locations, etc.). It appears as of now that there might not be season-ticket-holder lots in Southwest at all, not even at Buzzards Point. There was also mention that stadium-goers will not be funneled through the South Capitol Street exit of the freeway--the team is going to try very hard to move fans through all the other close-by freeway exits, but not South Capitol Street.
Circulator buses will not be part of the transit plans for the first season. But they're planning plenty of bike racks around the ballpark perimeter, and are also still working on a bicycle "valet" parking service.
Also, there's tentative plans for two stadium job fairs, possibly on Feb. 2 and Feb. 26 (details still being worked out).
And, everybody knows that the first few games will be "a challenge."
The general tone of the meeting was more cooperative and collegial than some of these meetings have been in the past (maybe because Tommy Wells was there for the first part and everyone wanted to be on their best behavior). There's plans for more meetings and workshops between these "stakeholders" (I really hate that word) to try to hammer out the best plans for traffic, pedestrian flow, and "curbside management" (aka on-street parking) before it's all then unveiled to the community at public meetings. There was also agreement that the group should get together after the first homestand in April to talk about what works/what doesn't.
UPDATE:
Speaking of public meetings, here is
the official announcement
about the Jan. 11 city council Committee on Economic Development oversight hearing on "Parking and Traffic Plan for the Nationals' Stadium." It contains information on how to testify at the hearing, if you're so inclined.
ANC Supports Yards Zoning Changes
Dec 11, 2007 12:17 PM
It's nowhere near as exciting as
a liquor license
at the
ballpark
, but I should still pass along that the ANC voted 4-0-3 to support Forest City Washington's
request for map and text amendments
at
The Yards
that is going in front of the Zoning Commission on Jan. 11. (The three abstentions were because those commissioners had not received the packet of explanatory materials before the meeting.) The amendments are all pretty technical (larger setback along the Yards's boundary with the Navy Yard, clarifications about ground-floor retail requirements, etc.). You can see the amendments spelled out in the
Zoning Commission hearing announcement
.
ANC Votes to Support Stadium Liquor License
Dec 10, 2007 9:50 PM
I just got back from ANC 6D's monthly meeting, where the commissioners voted 6-0 (with one abstention) to support the application by Volume Services Inc. for a "CX Arena" liquor license at the new ballpark. This single license would cover all concessions at the stadium, including kiosks, restaurants and boxes, and at individual seats.
The ANC had asked representatives of the Nationals and concessionaire CenterPlate to discuss potential issues with alcohol sales at the ballpark in greater detail, but it became a more freewheeling discussion between the team officials, who are trying to assure nearby residents that the team wants to be a good neighbor, and the commissioners, who feel that the community has received very little communication up to now from the DC Sports and Entertainment Commission and other city agencies about traffic, parking, and other stadium-related issues.
Nationals senior vice president for business affairs Michael Shapiro spoke a number of times of the Nationals' "sincere desire to become a member of the community," and that they want the neighbors "to be proud" of the new ballpark. Shapiro and director of ballpark operations Matthew Blush offered to meet on a regular basis with community leaders, which appeared to be well received by the commission's vice chair Andy Litsky, who described the ANC's dealings with the Sports and Entertainment Commission on ballpark-related issues over the past two years as a "horror show."
Greg McCarthy, who is senior director of the Nationals' ballpark district dealings, spoke about parking and traffic issues, explaining that season ticket holders will be assigned to specific lots and will be given detailed instructions on the correct routes to use, to prevent the cut-through traffic and circling for on-street parking that the team says it will be actively discouraging. The commissioners made clear that parking issues remain a huge concern for residents, and that they want to hear specifics soon about how gameday parking will be handled.
Shapiro and Blush described upcoming outreach efforts such as bringing neighborhood kids to the ballpark for batting practice, getting jobs at the stadium for local residents, and having ambassadors and security outside the ballpark itself before and after games as part of making "the building work for the community." Commissioners and audience members were particularly interested in job opportunities at the ballpark, with the hope that the Nationals will go beyond "hanging out a sign" to actively recruit nearby residents.
As for the liquor license, Shapiro indicated that most of the rules in place at RFK (such as no alcohol sales after the seventh inning) would be in place at the new ballpark, and suggested that the Verizon Center would be used as a guide for how to handle alcohol-related issues for non-baseball events such as concerts. (I'm guessing that liquor sales might not be an issue at the first non-baseball event at the new stadium, which is scheduled to be the April 17 mass by Pope Benedict XVI.)
With some concerns that protesting or otherwise hindering this application might spur the sports commission or the city council to issue a liquor license outside of the city's Alcohol Beverage Control jurisdiction, the ANC gave its support. The license hearing is scheduled for Jan. 2.
In the meantime, the DCSEC, the Nationals, and community leaders have another meeting scheduled for Dec. 19.
Community Papers, Canal Park Connector, Other Quick Tidbits
Dec 1, 2007 9:05 AM
This morning's quick hits:
* The Voice of the Hill
has posted a piece on its web site
surveying the community reaction to the
11th Street Bridges EIS
, while the December issue of the Hill Rag
looks at the project from the perspective of Hill East
.
* The
Hill Rag
also has
a recap of the November ANC 6D meeting
, which focused mainly on Southwest issues, though there is a small blurb about the ballpark
liquor license
(it sounds like there were some concerns about the 8 am to 3 am time frame listed on the application).
* Meanwhile, the
December Southwester
reports on the Oct. 3 groundbreaking at The Yards by reprinting much of the
Forest City press release
on the project.
* Out of my realm, but I'll still pass along that the four short-listed development teams will be
presenting their proposals for Poplar Point
at Dec. 12 at 6:30 pm at Birney Elementary School, 2501 Martin Luther King, Jr., Ave., SE.
Florida Rock Back at the Zoning Commission
Nov 19, 2007 12:02 AM
Monday (Nov. 19) is the monthly
Zoning Commission
meeting, and
Florida Rock
(or, "RiverFront on the Anacostia") is one of the agenda items. I *believe* it's going to be a request for a new hearing on the project's revised design, which I
first posted here in June
, and which
received favorable comments
from the Zoning Commission in July. (This is a modification to the second-stage PUD, for those In The Know.) The meeting is at 6:30 pm, and will be shown via
live webcast
.
As always, this monthly zoning meeting overlaps with
ANC 6D
's monthly meeting; I haven't yet seen an agenda for that meeting, so at this point, I'm going to commit myself to finding out what's up with Florida Rock. (I knew I shouldn't have given the entire JDLand staff the week off at Thanksgiving.)
If you're arriving late and don't know what
Florida Rock
is, the project page will give you most of the scoop. But the short version is that it's the nearly six acres of land directly south of the
ballpark
, on the Anacostia River. The developers have been working for nearly 10 years to get this property transitioned away from the concrete business currently there to a 1.1 million square foot mixed-use waterfront destination.
At the February meeting where approval of the design was expected, the
Zoning Commission unexpectedly sent the architects back to the drawing board
, wanting a greater amount of residential space in the project, better views to and from the ballpark, and a better "expression of place." And now the developers are hoping to get this project moving forward, so that perhaps the first phase--an office-building with ground-floor retail and a public plaza on the easternmost end of the site, next to
Diamond Teague Park
--could get underway in 2008. The rest of the project, with a hotel, residential building, office building, public spaces, retail, and the riverwalk along the Anacostia, could take a while to be completed, especially given that the western portion of the site is probably not going to be ready until the
current Douglass Bridge
is demolished and the new
new Douglass Bridge
is built.
You can see the latest renderings, along with some watercolors and much more detailed descriptions of the revised design, on the
project page
.
Hearing on Bridge Projects
Nov 16, 2007 2:30 PM
Here's my in-depth learned summary of today's city council
hearing on proposed bridge projects
in the city, about 98 percent of which focused on the
future plans
for the
11th Street Bridges
:
* Some people are against it.
* Some people are for it.
The three-hour hearing should be posted soon on the Channel 13
On Demand lineup for this week
, if you want to see for yourself the specifics. But really, it all boils down to arguments over capacity, over whether local streets will see a reduction in cut-through commuter traffic, and differences between Capitol Hill residents and advocacy groups and east-of-the-river residents and advocacy groups, none of whom spoke with any sort of uniform voice.
And since no one spoke about any of the preferred design's impacts on Near Southeast specifically (of which
there are a few
, mainly the revamped interchanges at 11th and M), I'll just leave it to others to go into more detail.
ANC 6D Presentation Meeting Tonight
Nov 5, 2007 1:49 PM
Apologies for the late notice, but tonight
ANC 6D
is having an "presentation meeting", to break out the issues that people and organizations want to bring in front of the ANC but which don't require an official vote. This is an attempt to shorten the monthly business meetings, which can run for hours and kill numerous brain cells of all in attendance. The meeting will be at 25 N Street, SW, at
either 7:00 or
7:30 pm
(now confirmed). Items on tonight's agenda include WASA talking about lead pipe replacement in the neighborhood and an update on Arena Stage construction and schedule.
There's also going to be a presentation by a group called the Coalition of Concerned Citizens of Eastern Washington, who are raising questions about the various road and bridge projects planned along the Anacostia and who have been contacting city officials over the past few months requesting that a new "traffic mobility study" be undertaken. (Here's
their flyer and a copy of a letter to Mayor Fenty
they sent back in August.) I imagine this group will also be interested in the Nov. 16 hearing before the City Council's Committee on Public Works and the Environment on "
Major Bridge Construction Projects in the District
".
Monument Reiterates Navy Yard Metro On Time
Oct 29, 2007 8:48 AM
From
the Post
: "
Monument Realty
, which has filed a federal lawsuit against Metro over a land dispute, said Friday that the
expansion of the Navy Yard station
near the
new Washington Nationals baseball stadium
would be completed on schedule. Executives at the District company had threatened to slow work on the project because the transit agency plans to sell
land near the stadium
to another development company,
Akridge
. Jeff Neal, a Monument principal, said in a written statement that the project would be completed before the start of the 2008 baseball season. 'We have worked diligently and transparently to develop an aggressive timeline,' he said. Lisa Farbstein, a spokeswoman for Metro, said, 'We have every reason to believe that they will fulfill that pledge.' " Monument also stated that the station would be done on time
a few weeks ago
in a letter to ANC6D vice chair Andy Litsky and others, which
I posted here
. You can see my
Monument Half Street page
for more information on the station expansion as well as 55 M Street, the office building that Monument is constructing on top of it. (There's also the
Half Street Web Cam
for tracking the progress, but it's been offline for the past few days.
UPDATE
: It's back now.)
Another Zoning Request for More Ballpark Surface Parking Lot Locations
Oct 16, 2007 9:18 AM
With Opening Day 2008 inching closer, the cobbling together of parking at the
new ballpark
is apparently turning out to be a greater challenge than constructing an on-time on-budget stadium. So this week the city put in another zoning amendment request to allow more temporary surface parking lots, this time covering eight squares in Southwest, all between P, T, 2nd, and South Capitol streets. (See
my Stadium Parking page
for a map with the new lots highlighted.) You can
read the Office of Planning's report on the new case
(07-08A) for more detail.
On Monday night the Zoning Commission approved this request on an emergency basis, meaning that the zoning change takes effect immediately, lasting 120 days while a hearing is scheduled and a permanent amendment is voted on.
As with the
original amendment approved earlier this year
, the lots can last no more than five years, are required to be available for public parking during non-game times, and must have District Department of Transportation approval of their traffic routing plans to ensure that access to the lots is not directed along I, P, or Fourth streets, SW. There's also a new requirement being added with this latest request, that a minimum of five percent of the spaces in these lots be reserved for a car/ride-share program.
These new lots are still subject to the cap of 3,775 total spaces laid out in the first amendment, unless special exceptions are obtained after the cap is reached from the Board of Zoning Adjustment on a per-lot basis. As with the squares covered earlier this year, it's not expected that lots will suddenly sprout on every one of the locations covered in the request; the main goal appears to be additional flexibility in finding possible spots for the needed spaces.
A separate zoning action a few months ago approved three temporary surface lots totaling under 800 spaces at The Yards, across the street from the stadium. There are also apparently negotiations underway about using the lots at RFK and providing shuttle service to the new ballpark.
There are other locations within a few blocks of the ballpark that will no doubt become temporary parking lots as well--one example is the Lerners' recent permit applications to build a lot on land they own at 1000 South Capitol Street.
At Monday's ANC 6D meeting, when this new zoning amendment was discussed, commissioners mentioned rumors of additional lots perhaps coming to the recently closed KFC and Exxon locations on the west side of South Capitol. But these blocks are not in the Capitol Gateway Zoning Overlay, and so don't require the special approval needed for the squares in the previous amendment requests. And these additional locations still require the Nationals to contract with the landowners, which might not always be an easy negotiation.
The ANC commissioners did not bring up many concerns about this new request, other than asking for confirmation that the traffic controls in the initial amendment cover these new lots, which Judi Greenberg of the Office of the Deputy Mayor for Planning and Economic Development assured was the case.
Commissioner Ron McBee said that he hopes to organize a town hall meeting for Southwest residents about all the parking plans when they are more concrete, and vice chair Andy Litsky reminded Greenberg that the DC Sports and Entertainment Commission is supposed to be meeting with community leaders to address ballpark-related concerns, but that there hasn't been a meeting in six months.
The zoning commission's approval of the emergency action came with little discussion, perhaps reflecting that most of the potential issues with these temporary lots were hashed out in the first request.
Time should solve many of the initial parking issues around the ballpark; right now there are seven office and residential projects already under construction around Near Southeast that by 2008 and 2009 will have multiple levels of underground parking that could potentially be available for gametime, just as with the lots are in the buildings around the Verizon Center. Most of the squares in these recent zoning requests, along most every other block between South Capitol and Second, will also eventually be home to buildings with underground parking.
UPDATE: An e-mail sent out today to Nationals season ticket holders says that 2008 ticket package information will be sent out "in the next month or so", and that a "comprehensive transportation package will also be sent to all season ticket holders shortly after you have received your seat location information." Presumably the "transportation package" means parking plans for season ticket holders (and maybe a really good Metro map!).
More ANC 6D Doings
Oct 16, 2007 8:43 AM
In other news from Monday's ANC meeting:
* Council Member Phil Mendelson spoke about his concerns that the new
consolidated crime lab
construction schedule is continuing to slip. The new lab, which is supposed to be built at Fourth and School streets, SW, can't get underway until a new home (temporary or permanent) is found for the police department's First District station currently located there. Up until recently, of course, 1D was supposed to move to the old Post plant at
225 Virginia Avenue
, but with that now scuttled, the Office of Property Management is hunting for a new 1D home somewhere in Southwest, perhaps using either the Amidon or Bowen elementary school buildings, both of which are at only 60 percent capacity and could be consolidated by moving the sixth graders to Jefferson Junior High School. Mendelson, "irritated" at how the city is handling the space shuffling, wants the process of finding a new 1D home speeded up, even if it means taking 1D out of Southwest, which of course was viewed as a nonstarter by this ANC that represents Southwest; Commissioner Sobelsohn commended Mendelson on his "bravery" for coming to Southwest and telling the residents they shouldn't have a police station. (It also sounds like Mendelson is still hoping for a return to using 225 Virginia, given his numerous references to the $500,000 checks the city is writing each month to lease the empty building.)
* The Randall School redevelopment project by Monument Realty and the Corcoran Gallery was approved, thanks mainly to a negotiated community benefits package that includes a $200,000 contribution by Monument to the ANC's Community Investment Fund, preferences for ANC 6D residents when filling the affordable housing component of the project, and agreements with the Corcoran to support various neighborhood art projects and arts education offerings for Southwest residents. The vote was 5-0; vice chair Andy Litsky did not vote, after expressing his displeasure with what he sees as Monument's threat to slow down the
Navy Yard Metro station expansion
when the company did not win the right to buy WMATA's
Southeastern Bus Garage
. Monument executive vice president Russell Hines, who attended the meeting, reiterated the points he made last week
in an e-mail to Litsky
, that the station expansion is not behind schedule as has been reported and that Monument is committed to getting the work completed by Opening Day 2008.
* A local resident informed the commission that three historic police and fire call boxes along First Street have recently gone missing. Those with x-ray vision can see them in my photos (up until yesterday) of
First and N
and
First and O
, deep in the heart of ballpark construction territory and along the stretch of First Street being renovated by DDOT; the now-missing
First and L box
is pretty hard to see behind the
Onyx
fencing. There's an effort called
Art on Call
, led by Cultural Tourism DC, to find and restore these boxes, and kids from the
Earth Conservation Corps
have been painting the boxes in Near Southeast and Southwest. Calls are in to the District Department of Transportation to see if the boxes have perhaps just been temporarily moved, or if they're, um, history. (The box at
First and K
is still in place, at least.)
ANC 6D Oct. 15 Agenda Posted
Oct 12, 2007 3:12 PM
The agenda is out for
Monday's ANC 6D meeting
; the big item is the
aforementioned
vote on Monument Realty's plans for redeveloping the Randall School at Half and I, SW; also, Council Member Phil Mendelson is slated to talk about the MPD move (I don't know if this means just the 1D station issues, or everything that surrounded the now-aborted use of
225 Virginia Avenue
). Also, there's an agenda item about a
Southwest Neighborhood Association
town hall meeting on
ballpark parking
, but I can't tell if that's just to announce the town hall meeting, or if it already happened. The ANC meeting is at 7 pm at St. Augustine's Episcopal Church at 6th and M, SW.
Monument Replies to ANC on Navy Yard Metro Schedule
Oct 12, 2007 9:37 AM
An e-mail has just been sent by Russell Hines of Monument Realty to Andy Litsky, vice chair of ANC 6D, in reply to
Litsky's Wednesday e-mail
that asked for Monument to withdraw what has been publicized as a "threat" to slow down the completion of the
Navy Yard Metro station's expansion
in response to WMATA awarding the
Southeastern Bus Garage
site across the street to Akridge. Litsky had said that he would oppose Monument's proposed redevelopment of the Randall School site in Southwest if Monument did not pull back.
Hines's e-mail, which was cc'ed to the commissioners of ANC 6D as well as myself and Tommy Wells and WMATA board members Jim Graham and Marion Barry (all of whom had received Litsky's original e-mail) says that the Metro Station is currently on schedule, and asks that the Randall School project be judged on its own merits. Here's the paragraph that is probably of most interest, describing Monument's view of current state of the renovation's schedule:
"Second, Mr. Neal did not threaten to slow the renovation of the Metro Station. At the time the letter was written, the District of Columbia had asked Monument to spend its own money to
accelerate
the completion of the Metro Station. The project had suffered from a variety of delays, including delays that were caused by actions or inaction by other public entities; however, there was no consensus on the impact to the final completion date. Mr. Neal was objecting to spending more money to accelerate the project and pointing out that it was an unreasonable request given WMATA's recent position on the disposition of the bus garage. In short, WMATA wanted to take further advantage of Monument's resources without making any effort to reciprocate by entering into negotiations with Monument as had been promised. Furthermore, by the time this article was written, Monument had already worked with the contractor on a plan and schedule that addressed any perceived or actual delays in the completion of the Metro Station. WMATA officials had this information when they made the false claim that the Metro Station was seven weeks behind schedule. We have since met with District and WMATA officials to discuss this schedule and all parties appeared satisfied. Why WMATA continues to put out inaccurate information about the schedule or let inaccurate reporting go unchallenged is beyond me. I should also point out that when Monument took on this responsibility last December, it was considered a very difficult schedule -- in fact, WMATA staff conceded that they would probably not have finished on time even if they simply installed fare gates at grade and built the standard Metro canopy over the entrance."
UPDATE:
Here's a
Washington Business Journal piece
with additional quotes from Jeff Neal of Monument refuting the "slow down" issue. (And, gosh, I wonder where WBJ saw the Litsky letter?)